Bubba Starling

ubba Starling couldn't hide the tears. Eyes red and a bit swollen, he squinted under the high Kansas sun.
Everyone nearby, as usual, studied Bubba. It's habit. Look away, and you might miss something incredible. But here in this outpost of Pittsburg, some 100 miles south of home on a calm spring evening, they saw a new side of the 18-year-old phenom.
His adolescence was fading.
Minutes after Bubba's final game in a high school uniform, he stood torn between the only life he's known and his fast-approaching destiny. To Bubba's left lurked Scott Boras, the baseball super-agent set to advise the Starlings this summer after a major league club drafts Bubba on Monday, likely among the early picks of the first round.
Dad Jimbo, mom Deb and sister Jamie awaited to Bubba's right, eager to offer support as the future pulls him away.
"He's just a kid," Jamie said after that game. "Everyone thinks he's an adult. But he's so innocent and na´ve. He really is."

"Go with what you love and live with it. In the long run, when you weigh the sports at the professional level against each other, you may get more hype and glory from being a top-notch football player. But in baseball, if you're good, you'll play longer, probably make more money. When you retire, you'll love your benefits and pension in baseball. The other people in football and basketball can't compare. I'll make the presentation for baseball. When it's over, you'll say, 'No way, get out of here. Are you serious?' That's what baseball has to offer."
Dave Winfield
Major League Baseball Hall of Famer who played baseball and basketball at the University of Minnesota and also starred as a high school football player in St. Paul, Minn.
There rests the heart of the issue that surrounds this 6-foot-5, 195-pound once-in-a-generation athlete: Is Bubba Starling ready to surrender his innocence -- the one characteristic that truly captures his greatness for the people of Gardner, Kan.?
Professional baseball, no doubt, is ready for Bubba. He ranks as perhaps the premier athlete in the draft this year, a legitimate five-tool center fielder who drew 50 scouts to watch him stretch and take batting practice before a doubleheader in late April.
For most any athlete in his position, this decision is easy. Take the money. Starling figures to receive an offer of more than $5 million to sign a baseball contract before the August deadline.
But Bubba, signed to play quarterback at the University of Nebraska, is no easy case study. Since he was old enough to tirelessly chase balls around the 20 acres of property his extended family occupies just northwest of town, Bubba has played sports with extraordinary passion.
If you've not seen him compete, it's difficult to describe. Stories about his legendary feats -- the mind-blowing touchdown runs, 500-foot home runs and implausible dunks on the basketball court -- radiate from eastern Kansas.
"I've seen it," said Terry Zerr, who teaches accounting at Bubba's Gardner Edgerton High School and coaches basketball at nearby Baker University. "It's all true."

"I just want Bubba to do what's right him for him. Be a kid. Enjoy things. That's what sports are all about -- enjoying the moment, enjoying time with your teammates. Honestly, I feel for him having to make that choice. You either enter a business right away or you go to college. Wouldn't we all like to go back and enjoy our college experience?"
Kent Glaser
Gardner Edgerton athletic director
Fans at rival schools cheer him and seek autographs.
Really, by now, Bubba is too good for high school sports. He rushed for 395 yards in his final high school football game, a 45-42 loss in the 5A semifinals to rival Blue Valley. As a senior, Bubba rushed 2,417 yards, averaging more than 14 yards per carry, and scored 31 touchdowns. He scored 28.3 points per game in basketball and hit .481 while homering every six at-bats on the diamond.
"I think God blessed me with some pretty special talents," he said.
He's a throwback to the days of Dave Winfield, the baseball Hall of Famer who also played basketball at the University of Minnesota and was drafted by four teams in three sports, or more recently Joe Mauer, who chose playing for the hometown Minnesota Twins over playing QB at Florida State for Bobby Bowden.
"I did it because I enjoyed it," Winfield said. "It wasn't about the glamour and the hype."
Sounds like Bubba.
Everything that defines him appears to push Bubba toward college, where he plans to play football and baseball. He's intending to head north for Lincoln, Neb., in July and leave the money behind. Of course, plans could change by the end of summer.
This is no negotiating ploy. This is the decision of his life. And the suggestion that he's already made a choice disturbs Bubba.
"People think they know I'm going to take the money," he said. "They don't know. They don't know I love football as much as I do."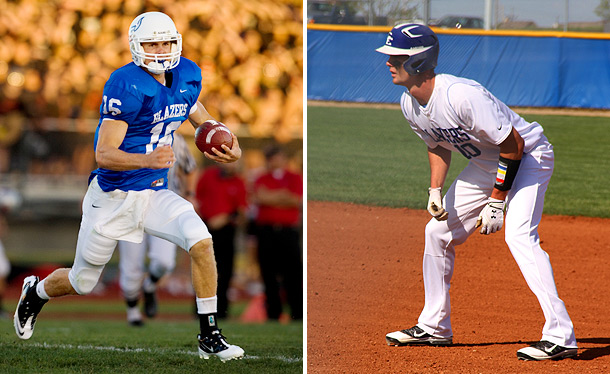 Angie Plank/Jeremy Crabtree
Bubba Starling can do it all. As a senior quarterback in a run-oriented attack, he ran for 2,417 yards and 31 TDs and threw for 8 more TDs. This spring as an outfielder, he hit .481 and homered every six at-bats.
'He's just Bubba'
What makes Derek "Bubba" Starling different than other kids? Start by looking at the people closest to him.
Deb Starling moved to Gardner in 1973 with her parents, Gary and Shirley Strack and two older siblings. Bubba's father, Jimbo, came from nearby Wellsville. Deb and Jimbo married in 1987 and settled on the Strack land.
Deb works as a secretary at the high school, like Shirley before her.

"I want him to go to Nebraska. I want to take road trips to Nebraska. I want to wear Husker red and watch him play."
Jill Starling
Bubba's 15-year-old sister
Bubba has four older cousins, all boys. Each of them played three sports at Gardner Edgerton.
"That's what you do in our family," Deb said. "You compete. I'm not saying they had to do it, but it's expected."
Bubba didn't watch much TV as a kid. He didn't play video games. Didn't play with a lot of kids his age, probably because he was too intense. He would rather shag flies from his mom or fish at the family lake than sit on the couch. If he was tired at 8 p.m., he slept.
"He's a homebody," Jimbo said. "When his buddies go out, Bubba usually just goes to bed."
Bubba isn't on Facebook, though a family friend runs his fan page, "liked" by more than 3,000 of his closest friends.
Jill Starling rolls her eyes at how they worship her brother.
"He's just Bubba," she said, her voice rising as she elongates his name for emphasis.

"When we talk about the future, we don't plan anything but playing football at Nebraska. That's where he's going. He reports the second week of July."
Jimbo Starling
Bubba's father
On a Monday night in May, Jill, who turns 16 in November, asked to drive her dad's prized Camaro Z28 into town to grab a pizza for the family at Gambino's along East Main Street. Jimbo agreed only after Bubba volunteered to ride shotgun.
"He made me drive slow," Jill said, "go the speed limit."
That's Bubba.
He walked Jill into school on her first day as a freshman last fall. He still mows his grandmother's lawn. Last fall, immediately after he returned from Wrigley Field with the 18-and-under U.S. national baseball team, Bubba helped Kent Glaser, the high school AD, prepare coolers of ice for a football game.
The day of that final baseball game in Pittsburg, he delivered lunch to sister Jamie.
Jamie Starling, 21, like her mother did, plays volleyball at Baker. She, too, competed in three sports at Gardner Edgerton. Jill does the same. Despite their accomplishments, around Gardner -- a single-high school town of 19,000 about 30 miles southwest of downtown Kansas City -- they're just Bubba's sisters. There's no escaping the label.

"He doesn't want my advice. I'm just his sister. He thinks I'm crazy. But I want him to go to Nebraska. We've never had that. We're not KU fans. We're not K-State fans. We've never had a team. Since he signed, we're Cornhuskers. Let's go. This is awesome."
Jamie Starling
Bubba's 21-year-old sister
Kind of annoying, but Jamie understands.
"He's a freak," she said. "He's not a normal kid. I knew it was different to have a brother in eighth grade who could dunk. And then freshman year, everyone loved him. That's when all the Bubba stuff happened."
He threw his first no-hitter that spring of 2008. Started the next fall as a sophomore quarterback. Led Gardner Edgerton to the state finals in football as a junior.
Last fall, he was nearly unstoppable. When defenders tackled Bubba short of the goal line, even after a 20-yard run, it marked a small victory. Sometimes, they celebrated. He's unrefined as a passer, but that cannon right arm could eventually make all the throws. Oklahoma, Alabama and Notre Dame, among a long list, wanted him.
Coaches and teammates say if he focused on basketball, it could have been his best sport.
"He jumps out of the gym basically," said Gardner Edgerton sophomore Kyle Huppe, a teammate in basketball and baseball. "You put it up there anywhere on the backboard, and he'll get it."

"I think he's got too good of a deal going in baseball. In today's age, I would hate to ever advise somebody to turn down the opportunity to make a lot of money, especially when you can still go back to college and play another sport if it doesn't work out."
Jeff Langrehr
Gardner Edgerton basketball coach
Thing is, he runs a 4.36-second electronically timed 40-yard dash and gets from first to third base as fast as anyone in the big leagues.
Eric Driskell, the Blue Valley football coach whose team beat Gardner Edgerton in the playoffs and ended Bubba's senior season, also coaches track. When he heard Gardner Edgerton lost in the first round of district play in baseball, his heart skipped a beat. Might Bubba, who even without practice could place in several events and likely win a couple, run track at the state meet? No.
"If he tried for a day, he could long jump 25 feet," Gardner Edgerton baseball coach Jerald Van Rheen said. "Our golf coaches kid me about how they'd like to get him out on the course for one day. He doesn't think he can play, but if you gave him a week, he'd probably be the best golfer in our school.
"I'm convinced that some kids just have it. Bubba can do whatever he wants."
Often, it sounds too good to be real.
"When you see him play," Van Rheen said, "you're like, 'Shoot, it's all true.'"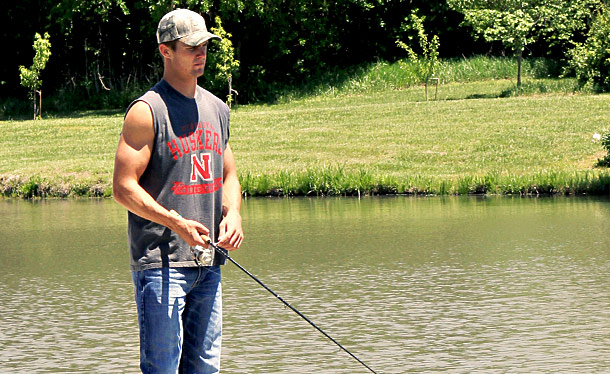 Becky Crabtree
Don't expect to find Bubba Starling out and about, or playing video games. When he's not on the football field or baseball diamond, he's more than likely just fishing on his family lake to get away from it all.
Something special
Cousins Jeremy and Jeff Strack earned NAIA All-America honors in baseball. From a young age, they knew Bubba would surpass their achievements.

"I think football is good leverage for him. But he needs to sign a pro baseball contract. He'd be crazy to go to Nebraska. I understand he'd be the big man on campus. But with the kind of money out there right now, he'd be nuts. And I think baseball needs him. It's in baseball's best interest to have Bubba Starling playing the game."
Keith Law
ESPN baseball analyst and former Toronto Blue Jays executive
"His attention span when it came to sports was unreal," said Jeremy Strack, an assistant baseball coach at Wofford College in South Carolina. "Watching him grow up, I knew he was special. But the thing, as a coach, that I see now is the competitive fire and the intangibles. He knows every sport and has a feel for it. And he has more ability and talent than you could ask for."
Glaser arrived at the school seven years ago. Football coach Marvin Diener came two years later from Salina, Kan. They heard plenty about Bubba right away, even as he only began to approach middle school.
"We hadn't seen him yet," Glaser said, "but we heard this kid was coming."
Don Bechard recognized special talent in Bubba Starling even before the others.
The three children of Don and Jan Bechard grew up with the Starling kids. Deb babysat them all. And Don, who lived for competition and came from a renowned Kansas sports family, saw something in Bubba by the time he turned 5.
In those years, Jan Bechard often tried to persuade her husband into considering retirement. No way, he said; not until he got the chance to coach Bubba in high school basketball.

"There is not a bad decision he can make. I truly believe in the long run, his family will make the best decision. Right now, he's very serious about the football thing. I think there's a great chance he'll go there [to play at Nebraska]. And as a football coach, man, I'd love to go watch him play. But if he chooses not to, I'll have no problem."
Marvin Diener
Gardner Edgerton football coach
Bubba played for him as a freshman in 2007-08, but Don Bechard died the next September of pleomorphic liposarcoma, a rare form of cancer. Jan said Bubba never talked to her about Don. He's too shy, she said, though Deb Starling has mentioned to Jan that Bubba often told his mother he wished Don had lived to coach him through high school.
The admiration was mutual.
"Toward the end," Jan Bechard said, "there was a month when he was on a lot of medication, and he would talk about Bubba in his kind of random, crazy talk."
He would revel today in Bubba's accolades and accomplishments. After all, the old coach was right about him.
Before Don's death, Bubba gave him the baseball from that first no-hitter.
"I'm always going to think about Don when I watch Bubba," Jan said.
The face of Gardner
From one ailing coach to an entire region, Bubba's impact has extended rapidly.
Kids form long lines for a chance to shake his hand and take a picture. On Senior Day this spring, he greeted fans for 20 minutes after playing his final home game.
Naturally introverted, Bubba has embraced his role as a representative of his school and hometown. He's polite almost to a fault, agreeing recently to three separate TV interviews before a baseball game. They all asked the same questions.
"It really has not been easy to be in his shoes," Gardner Edgerton basketball coach Jeff Langrehr said. "Our community takes a lot of pride in Bubba, and he takes a lot of pride in representing us the right way."
So if not Bubba, for what would Gardner be known?
"Gosh," said Van Rheen, the baseball coach, "I don't know. I really don't."
Bubba, at the center of the storm, finds peace in fishing. It serves as his escape. Cousin Jeremy Strack, on a recent visit home, sat with Bubba for a while at the lake. With the baseball draft just two weeks away, Bubba hardly mentioned it.
"He asked me more questions than I could ask him," Strack said.
Basically, he feels no sense of entitlement, according to observers. He's grown to understand his responsibility, but that's not to say Bubba is ready for the real world.
Last summer, in fact, when traveling with the national team, he struggled to cope.
"He's a family kid," Deb Starling. "That's why this year is going to be so hard. He's leaving us one way or the other. It's either four more years to grow up, learn to be a man, or buck up and here you go -- join the real world."
Which brings us to the big decision.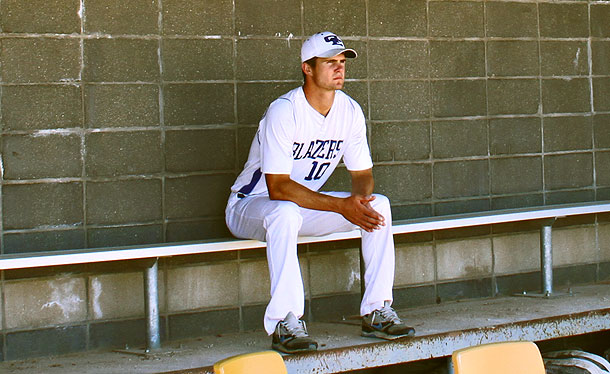 Becky Crabtree
When Bubba Starling looks into the future, what does he see? Himself in a Nebraska Cornhuskers uniform playing football and baseball? Maybe he's playing baseball in a Kansas City Royals uniform? Only he knows.
Which road to take?
If Gardner represents one side of the decision, Boras stands for the other.
Boras, whom the Starlings retained as an adviser, met the family in person for the first time during his trip to watch Bubba play in Pittsburg. Deb was nervous. Turns out, he's a nice guy.

"If you're going to have regrets or look back, especially as good as I've heard he is, I'd say go play football. Baseball can still work out down the road. Baseball's not going to be over just because you go to college."
Alex Gordon
Kansas City Royals outfielder, former All-America third baseman at Nebraska and No. 2 pick in 2005 baseball draft
NCAA rules prohibit Boras from representing Bubba in contract negotiations. The 58-year-old Californian, known for landing huge contracts for the likes of J.D. Drew, Mark Teixeira and Stephen Strasburg -- not to mention Alex Rodriguez -- can only advise the family; they must negotiate the deal.
"It's kind of ridiculous in America that people are denied the right of counsel," Boras said. "But we follow the NCAA rules, so our job is to educate families."
And as Boras said, "I've done it many times [and] been somewhat effective."
Rest assured, you don't align with Boras unless you're serious about professional baseball.
Still, Boras said he believes college is usually the right choice for an athlete with options. Boras advised Chad Hutchinson out of high school in 1995. A first-round pick of the Atlanta Braves, Hutchinson opted to attend Stanford and play football. He later pitched for the St. Louis Cardinals and played quarterback in the NFL.
"College gave him a foundation," Boras said.
"Professional sports isn't exactly what I would call a career. It's not something you do for a long time. The idea of learning how to learn, the idea of the college environment, for most athletes, is a path that I find well suited for all their interests in being a success in life."
Still, even Boras admits that for extraordinary athletes who receive massive offers, the decision turns complex.

"I'm happy I'm not the one who has to make that decision. I don't give him advice unless he asks me for it; he's got enough people telling him what to do. I think he's got a good perspective, but I try to stay out of it. It's not my decision. Either way, it's going to change his life dramatically."
Jeremy Strack
Bubba's 24-year-old cousin and former NAIA All-America outfielder at William Jewell College
For now, Bubba's not budging. He's eager to get to Nebraska this summer.
Pro baseball or college football, it's unlikely he'll reach a verdict long before Major League Baseball's Aug. 15 signing deadline. Football practice in Lincoln opens about two weeks prior. Expect him in pads.
"He'll tell you it's a family decision," Deb Starling said, "but it's his decision and we'll support him. Yeah, we'll tell him if we think it's stupid, but he's the one who's got to do all this."
As for money, maybe it's not quite the factor that some think.
"I don't think they'd know what to do with that kind of money," Jan Bechard said. "They won't sit still. That's the kind of people they are."
Jimbo Starling, recently laid off from work, said they don't discuss the money. The subject appears to make them grow uncomfortable.
"Whatever happens is going to happen for a reason," Bubba's father said.
No amount of money would change Bubba's family, Jamie Starling said. It's money, not happiness. After three years of college, she said she believes Bubba needs a similar experience.
"College is a huge step in life," she said. "I think everyone needs to experience it, because you learn so much about yourself in that time."
From afar, Winfield watches, remembering his own decision more than 40 years ago.
In a recent interview, he inquired all about Bubba. The details intrigued the baseball icon, one of the first in this breed of rare athletes.
"I'll have my eye on him," Winfield said.
Join the club.
Mitch Sherman is a senior writer for ESPN.com. He can be reached at mshermanespn@gmail.com. Follow Mitch Sherman on Twitter: @mitchsherman