Revenge of the Baseball Gods
"Outside the Lines" revisits the battle between Danny Almonte and Matt Cerda in the 2001 Little League World Series.


Nineteen days before, these boys had played a crisp Little League World Series ballgame, a ballgame that would make one of them an icon and one of them weep. The tall one was Danny Almonte, all arms, legs and strikeouts. He was 5-foot-9, bigger than his head coach, left-handed and master of four pitches. His repertoire was fastball, changeup, curveball, slider -- all this at the supposed age of 12 -- and, from 46 feet away, these weren't pitches so much as blurs and shadows and molecules. The tiny one, the one who intended to take Almonte to the gap, was Matthew Cerda, owner of a preposterous .875 batting average. He was a 4-foot-10, 82-pound spitfire, the puniest, youngest player in the tournament, but also the most likely to break up the no-hitter everybody assumed Almonte was going to throw. Just days prior, Almonte had tossed the first perfect game in the 44-year history of the Little League World Series, whiffing 16 of 18, and now he was back again, in the United States semifinals, to face the tyke of all tykes: Cerda.
What happened that night, and over the ensuing 19 days, consumed and captivated the country. It was hyperbole followed by fraud, a feel-good story that ultimately felt bad, an infatuation that morphed into private investigations and magazine exposés and medals being stripped and a confused Dominican boy being paparazzi'd. It was the end of Little League innocence, until, 19 days later, came the real end of innocence: 2,751 dead at the World Trade Center.
After 9/11, the Danny Almonte scandal didn't entirely go away, but the heat was off. And that enabled two boys to go back to baseball, to see where it could lead them, to see whether they could go someplace huge.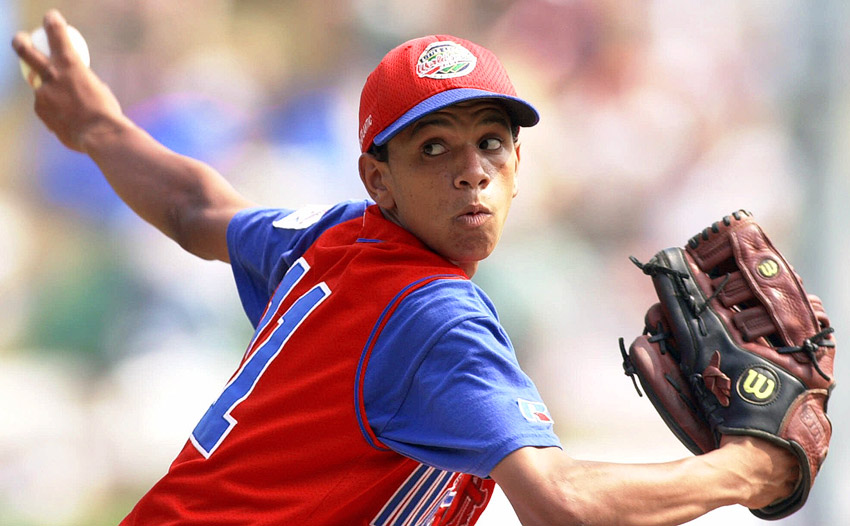 AP Photo/Chris Gardner
Danny Almonte didn't look like a 12-year-old on the mound at the 2001 Little League World Series ... and it turned out that he wasn't.
Too big, too strong, too good to be true
If she'd had to take a stab at it back in August 2001, Jo Marie Cerda would have guessed 17.
That's how old Almonte looked to her as the Little League World Series commenced on a red-hot day in South Williamsport, Pa. The give-away, she thought, was the harem of blond Pennsylvania girls, always on his hip, always sitting just a picnic blanket away. She remembers his Adam's apple, the veins popping from his neck. She had her own 17-year-old son at home, who looked just like this, and she was convinced that, given a pair of car keys, Danny Almonte was brazen and mature enough to drive straight to Pittsburgh.
"Outside the Lines"
For more about Danny Almonte and Matt Cerda, watch
"Outside the Lines"
at 3 p.m. ET on Friday on ESPN. Also, SportsCenter will catch up with Almonte on Sunday at 10:30 a.m. ET.
On the other hand, her younger son, Matthew, who'd just turned 11 in late June, paid no attention to girls. Girls had cooties. Matthew's idea of a good time was an hour in the batting cage, or curling up after dinner to watch Web Gems on "Baseball Tonight." He was his father's son, a baseballaholic who swung at his first real fastball at the age of 4. Every time his big brother got into a right-handed batting stance, he'd stand opposite him in a left-handed stance -- which is how he became a lefty hitter. His nickname was "One More," because at the end of every midget baseball practice, he'd beg for one more ground ball or one more hack or one more game of pepper. He wrote an essay in the fourth grade, about how he hoped to be a big leaguer someday, and his teacher scolded him, telling him he "needed to accept reality.'' Jo Marie was livid at that because she'd always told her son, "Honey, you can be whatever you want to be." Matthew was offended, too, but as the LLWS was about to kick off that August, the honest truth was this: The boy didn't look a day over 8.
So, how he and Almonte could end up on the same field, in the same tournament, in the same batter's box was a crime -- literally -- but it sure made for riveting television, the perfect Brent Musburger moment. The almighty Almonte, from the Bronx, vs. mighty mite Cerda, from Oceanside, just outside San Diego. East vs. West, Goliath vs. David, the Little Big Unit vs. Tanner from "Bad News Bears."
Subplots were everywhere. Oceanside had been the last team to clinch a World Series spot, and had flown hurriedly to Williamsport from San Bernardino only two days before the opening ceremony. Their kids were so weary, several fell off the top of their dorm bunk beds, and had to be checked for concussions. They also had to find an emergency catcher, because their regular backstop was battling tendinitis in his knee. Coach Daryl Wasano had a replacement in mind, but when the kid heard he'd have to wear a protective cup, he wailed, "I can't wear that!" Which is when Cerda, the runt infielder, stepped up and said, "I'll do it. I'll catch. I'll play anywhere."
All that week, the players had been bombarded by the Almonte hype machine. They'd been told his pitches topped out at 76 mph, the equivalent -- given the short distance between Little League mound and plate -- of a 103-mph big league fastball. They all went to see him pitch his perfect game against Apopka, Fla., and they walked away hyperventilating. According to Little League rules, Almonte could pitch only every other game, and they half-hoped and half-dreaded they'd see him in the semifinals, unless the Bronx coaches decided to save him for the final, which seemed unlikely.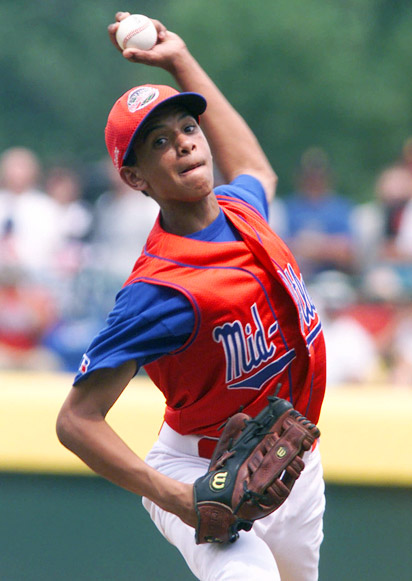 AP Photo/Rusty Kennedy
Almonte's dominating perfect game against Apopka, Fla., definitely got the attention of the kids from Oceanside, Calif.
"The Bronx knew, in order to get past us, they'd have to throw him against us," Wasano says. "I told our kids, 'This will be the game of the tournament.'"
Sure enough, the Bronx named Almonte its semifinal starter, and ESPN2 scheduled the game for prime time. It rained much of the day, and, in the underbelly of the stadium, the Oceanside coaches tried to simulate Almonte's pitches by standing just 20 feet away from home plate and firing no-holds-barred fastballs. "Oh, yeah, we were just pegging them," says one of the coaches, Dennis Carroll. "We were so close that if you wanted more children, you'd better not be throwing."
Cerda, naturally, volunteered to bat leadoff that night. The kid was 7-for-8 for the World Series thus far, his only out a line drive to third. Tony Gwynn, the Padres superstar who'd been watching back home, told a reporter, "That's the sweetest swing I've ever seen from a kid that age," and Cerda was hitting the ball so squarely there were dents all over his trusty aluminum bat. All that said, Cerda's dad, Mike -- the team's third-base coach -- was wary. Before the opening at-bat against Almonte, he told his son to take a pitch, just to see how 103 mph felt.
"Pretty fast, if you ask me," Matthew recalls.
That entire first at-bat was a blink -- called strike, swinging strike, swinging strike. Cerda wasn't sure whether he'd just seen a curve or a slider. "I mean, I didn't even know what a slider looked like," he says.
Cerda's second at-bat also lasted about 10 nanoseconds. Cerda faked a bunt, missed a bunt and swung wildly at a slider -- then jogged, cringing, to the dugout. "I just hated striking out," he says. "I was pouting, crying, because I wanted it so bad."
Heading into the top of the fifth inning, there was no score in the game. The Oceanside starter, a skateboarding whiz named Thomas Eukovich, who was hurling it 65 mph, had matched Almonte pitch for pitch, and quickly retired the first two batters. But pinch hitter Santo Sierra singled for the Bronx, and pinch runner Reynaldo Guava scooted to third on an ensuing double down the right-field line. On the replay, Musburger and his broadcast partner, Orel Hershiser, noticed Guava had missed second base, and a Eukovich relative -- watching on TV -- dialed Eukovich's father, Joe, in the stands. Someone rushed to tell Wasano to appeal the play, and the Oceanside fans began howling to the players: Touch second base! Touch second!
That's when Cerda asserted himself. He rushed halfway to the mound, urging everyone to simmer down. He then directed Eukovich to throw to second base for an appeal, but the infield umpire called the runner safe. The Oceanside fans were apoplectic, but, again, Cerda kept the peace. Wasano called for an intentional walk, loading the bases, hoping Eukovich could retire the Bronx's Rolando Torres.
On the first pitch, Torres hit a nubber in front of home plate. Both Eukovich and Cerda charged it -- a total instinct play. But no one was around to cover home, and the Bronx took a 1-0 lead. Adios. Almonte hadn't given up a run all season.
Back in Southern California, a major league area scout named Denny Henderson, was watching on TV, his radar up. He thought the Oceanside kids were impressive, and he hoped the little squirt catcher would keep eating his Wheaties. He was particularly impressed by how fundamentally sound the boy was. Right after the Bronx scored its run, Cerda chased down a wild pitch and stared down the runners without making a foolish throw. Hershiser praised the kid's restraint, over the air, and Oceanside made it out of the inning trailing by just a run. Henderson was riveted.
Like clockwork, Almonte then mowed down the next five Oceanside batters, leaving him one lousy out from victory. Up stepped ... who else but Cerda? "I was like, 'Wow, I can't believe our last out is in the hands of our youngest player,'" Eukovich remembers. "It was pretty intense."
Mike Cerda waved his kid down to the third-base coaching box, knowing what was coming. Matthew had seen six pitches from Almonte, and hadn't nicked one of them. He told the boy to take a look at the crowd, that 23,000 people had battled the rain just to see them -- him -- play. He told Matthew to smile, that he might never again play in front of an SRO crowd, that he loved him. "I didn't want him to feel that he was alone," Mike says. "Making the last out in a tournament like that can be devastating to a kid, and that's what he was -- just a kid."
The at-bat lasted six pitches, with Cerda actually tipping a foul ball into the dugout. But he finally whiffed on a slider, way out of the zone, and headed straight for the team van to cry.
On the field, Almonte was being mobbed on the mound, and, on television, Musburger's commentary rang in the audience's ears: "I think everyone, including the youngsters from California, are realizing they're watching Little League greatness out here on the mound. No one knows what will happen down the road for this young man, but, oh, my goodness, what a future he could have."
Would he end up as a Yankee or Met? All over New York, on Aug. 23, 2001, that was the big question.
A circus from coast-to-coast
A lot of Dick Tracys began snooping around. Two rival teams -- not Oceanside -- hired private investigators to round up Almonte's birth certificate, because the consensus was he had facial hair.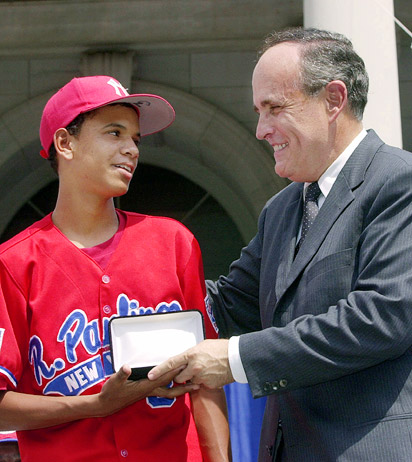 AP Photo/Suzanne Plunkett
New York mayor Rudy Giuliani presented Almonte and his teammates with the key to the city before the age controversy disgraced the squad.
His Bronx team had ended up losing in the U.S. final, to Apopka, mostly because Almonte wasn't allowed to pitch in back-to-back games. But amid all the innuendo, he returned to his borough as a conquering hero, having pitched a no-hitter, a perfect game and a one-hit shutout. The private investigations had uncovered nothing, and the Almonte Tour hit all the hot spots. The Yankees invited him and his fellow Baby Bombers out to the Stadium, and Mayor Rudy Giuliani handed over the key to the city.
Out in Oceanside, Cerda and his crew came home to a full-out parade. They rode in convertibles, straight down to the beach, and if Matt Cerda ever managed to hit puberty, there were precocious California girls waiting for him on every corner.
It was already a circus on two coasts ... and then, on Aug. 30, Sports Illustrated's exposé hit newsstands. Two reporters had traveled to Moca in the Dominican Republic and learned Almonte's birthday was April 7, 1987, not 1989 as his father Felipe insisted. On Aug. 31, Dominican officials confirmed the report, and Almonte was disgraced. He couldn't speak English, which was convenient, because every New York scribe was knocking on his door for a one-on-one.
The team had to forfeit its victories, his no-hitters, his punchouts, all of it. Almonte's dad was not only banned from Little League, but prosecuted in the Dominican for falsifying a birth certificate. President Bush chided the Bronx adults for cheating, before admitting he'd never seen a spicier Little League slider in his life. Almonte told friends he knew nothing about the fake birth certificate, but he was nevertheless fair game. And when he enrolled in the eighth grade -- the eighth grade! -- in early September at P.S. 52, the paparazzi wanted in to the school cafeteria.
Back in California, Cerda heard about the scandal from his father. Now they knew the truth: Cerda was a whole three years and two months younger than Almonte. And the sixth-grader-to-be had only one thing to say: "Yeah, I foul-tipped a 14-year-old!"
Cerda and his buddies felt vindicated, and on Sept. 9, the hometown San Diego Chargers invited the team onto the field for their season opener against the Redskins. Cerda stared at the enormous crowd of 60,000-plus, and rubbed his eyes. He wondered when all this hoopla would end.
Two days later.
A 34-day pro career
Juxtaposed against the disasters at the World Trade Center and the Pentagon, the Little League story was irrelevant. Almonte disappeared into the barrio, momentarily invisible, and Cerda slipped back into his own grassy backyard. "The whole world changed," Jo Marie Cerda says. "The Little League thing kind of just went away.
As a result, the fallout was more subtle and private than it would normally have been, and, for Almonte, the more pressing issue became coaching and willpower. Almonte was constantly hearing he was "can't miss," and with his controlling father banished to the Dominican, there was no one around to supply the much-needed humility. Coaches wanted to ride his coattails more than they wanted to ride him for missing workouts, and his work ethic became an undeniable weakness. Yes, he went on to pitch in the 2004 public school championships. But to those carefully eyeballing him, Almonte seemed complacent. Baseball wasn't first, or not first enough.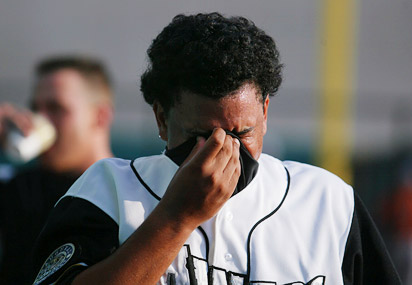 Courtesy of Southern Illinois Miners
Almonte's baseball career has been filled with more lows than highs since he burst on the national stage in 2001.
By his senior year in 2006, he was the top pitcher for Monroe High in the Bronx, but there just wasn't as much hair on his fastball. Once a sure bet to be drafted, he was now throwing in the low- to mid-80s, and scouts were skeptical about his home life. He was rumored to have married a 30-year-old woman, 11 years his senior, and, he confirmed in May 2006 that hairdresser Rosy Perdomo was his wife. Speculation was he'd married her due to visa problems, just so he could stay in the country, and, once again, the circus came to Danny Almonte.
The cruel jokes resurfaced, and the paparazzi stalked the mystery couple. But Almonte's friends say the marriage made him finally feel attached here, not just in the barrio, but in New York and this country. All he ever wanted was to belong, to some place or to some thing -- particularly after 9/11 -- and he began to talk of applying for his permanent residency card, because, other than reaching the major leagues, that was possibly the pinnacle for him. But permanent residency was years down the road, and, in the short term, the wedding publicity simply brought back the unpleasant scent of South Williamsport.
Almonte thought about escaping to a junior college in New Mexico, but instead, the Exploitation Train pulled back into the station. The Southern Illinois Miners, a brand new team in the independent Frontier League, were looking for some sis-boom-bah. They figured a Danny Almonte signing was the quickest way to a packed house and a full press box, so they gave him a contract, sight unseen, and handed him a baseball.
Almonte wasn't about to say no. He was a professional pitcher now, even though the Frontier League reeked of Barnum & Bailey, and he hoped, if he excelled, the Yankees or Mets would revisit his world. He intended to strike out every last batter, but the ball wasn't listening.
In his last 30 innings of high school ball, Almonte had K'd 60 and walked two. But for the Miners, in the spring of 2007, Almonte walked 19 in his first six outings. The manager, a seasoned baseball man named Mike Pinto, could tell Almonte was overthrowing, trying to live up to the impossible hype. And the kid couldn't calm himself. His ERA was up to 5.28, and, worse, Almonte wasn't asking for any bullpen sessions to get it fixed. Maybe he was too proud or embarrassed or distracted, but the Miners decided they'd gotten their 40,000 or so fannies in the seats and cut him loose after those first six games. Danny Almonte's pro career had lasted 34 days.
The Little Big Unit was out of baseball -- another Musburger moment, if only Brent had been around. Almonte went home to Rosy, scratching his head.
There had to be a better way.
"Welcome to the Gun Show"
The Matthew Cerda Way was baseball day and night, or at least until bedtime.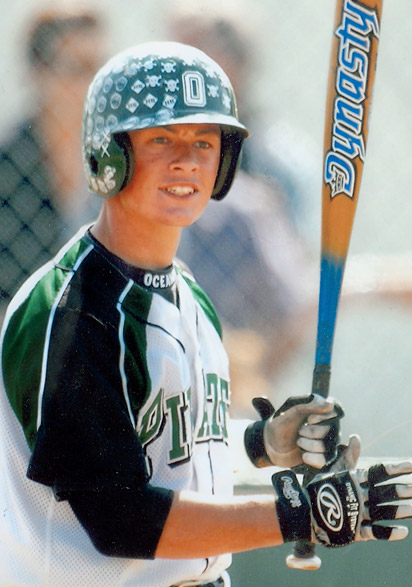 Courtesy of the Cerda family
Little Matthew Cerda blossomed into a muscular hitting machine once he reached high school.
The kid hadn't been home from Pennsylvania a week when he was in the backyard hitting 200 to 300 balls off a tee each day. His mom or dad would film him, and then he'd pore over the video looking for the hitch in his swing.
But there wasn't any hitch. Almonte had struck him out fair and square -- or unfair and square, if you wanted to get technical about it. But Cerda had always played in a higher age division, had always taken on older kids, and, over time, he shrugged off the South Williamsport embarrassment. His dad, Mike, was wrong -- the kid hadn't been devastated by the last out. In fact, he'd been inspired.
His only issue was his shirt and pant size: XS. Young Matthew wasn't growing much, and each ensuing year, whenever he'd blow out his birthday candles, he'd wish to be 6-1. "That was his dreaammmm," Jo Marie says. "We kept telling him, 'Honey, I don't think you're gonna to get 6-foot-tall.' And then finally he's, 'Well, at least 5-10. Let me get to 5-10.'"
It appeared to be a pipe dream, because, by his freshman year of high school, Cerda was a scrawny 5-foot-3, 115 pounds -- the same weight Almonte had been at the Little League World Series. He would beg his parents to let him pump iron, but the Cerdas' family doctor had put the kibosh on it, telling them his body wasn't sturdy enough. They promised he could lift as a high school sophomore, but until then, it had to be pushups in his bedroom or nothing at all.
Once he made it to 10th grade -- hallelujah! -- he worked out obsessively. He'd go to baseball practice, then take extra BP, then take extra grounders from his dad, then eat dinner, then do his homework and then head to the gym from 8:30 to 11. At the gym, he'd meet up with one of the football coaches at his high school, who had him squatting and power-lifting and curling. By his junior year he was up to 5-6 and 140, and the baseballs started vaporizing off his bat. Once a singles hitter, Cerda was now a doubles hitter, and the goal for his senior season in 2008 was to hit dingers.
His body was clearly changing. His calves were massive, his biceps were half-moons, and he knew it. He'd wrestle everyone at home -- his brother, his mom, his two older sisters -- just because he finally could.
"Yeah," his dad says, "he'd show his biceps, and say, 'Welcome to the Gun Show.' But only at home."
Away from home, he'd just circle the bases. His senior season was an absolute demolition. He shattered almost every Oceanside High School single season record -- most of which were set by former Pittsburgh Pirate Jose Hernandez -- blasting 16 home runs, batting .542, slugging 1.075 and getting a hit in 26 straight games. Not only that, Cerda was a flawless fielder at shortstop, a team leader and, best of all, 5-9 and 165 pounds.
Nobody had a bad word to say about him. Late in the season, the team had wrapped up a road game, and while all the other players were on the bus, Cerda was alone in the dugout -- cleaning up. "He was picking up trash and putting it in the trash can," his father says. "He just wanted to make sure they left the dugout the way they found it."
Every teammate gravitated to him, and, in the course of their conversations, that name would inevitably come up: Danny Almonte.
"Would you like to face him again, Matty?"
"Just one more time," Cerda would say.
"What would happen?"
"It'd be a lot more fair, that's for sure," he'd say.
Then they'd ask him what Almonte was doing these days. And young, swashbuckling, sprouting Matthew Cerda would shake his head. "No idea," he'd say. "No idea."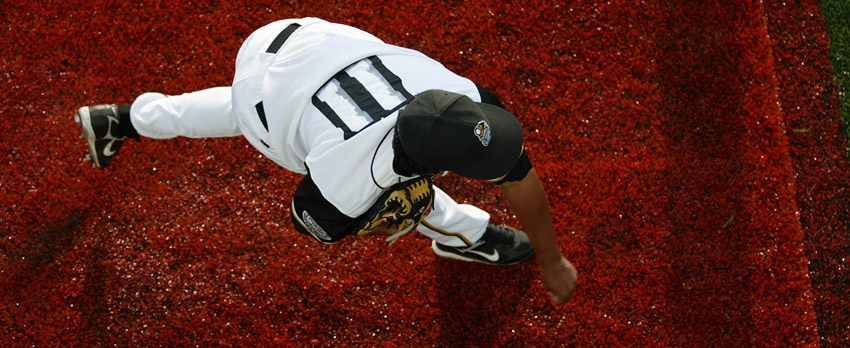 Courtesy of Southern Illinois Miners
During his stint with the Southern Illinois Miners, Almonte struggled to live up to the hype.
From Almonte to "Just Danny"
The first thing that had to go was the slider.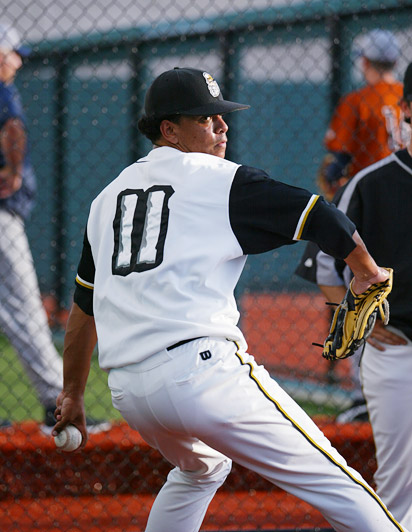 Courtesy of Southern Illinois Miners
Eschewing his slider, Almonte is utilizing his curveball more and working to regain the velocity on his fastball.
Danny Almonte had just dusted himself off, swallowed his pride and flown to remote Altus, Okla. -- and now he was being told to bag his most famous pitch?
"That's exactly what I told him," said his new pitching coach, Matt Kruse. "I said, 'Danny, we're scrapping that slider. The President loved that pitch, but we're effin' scrapping it.'"
It was all part of the most crucial makeover of Almonte's life, and the best news was he listened. After his Southern Illinois flameout, Almonte had returned to the Bronx to rot. He hadn't fired a baseball for months on end or watched his diet. But he bumped into an old baseball buddy in the barrio, Manny Paula, and Paula told him again about Kurt Russell.
Russell, a Boston native and the head coach at a junior college called Western Oklahoma State, had been recruiting the Bronx since Almonte was 17, looking specifically for young Hispanic talent. One of those kids had been Paula himself, who'd been a teammate of Almonte's at Monroe High and who had gone out to Western in 2005 and hit .490.
By January 2008, Paula was an assistant coach at Western, and, when he saw Almonte and another Bronx ballplayer, Juan Carlos Perez, were out on the street, he dialed Russell. The recruitment pitch was simple: Come to Altus or enter a beer league. The other selling points were that half of Russell's team was Latin and the rent in Oklahoma was just $350 a month for a three-bedroom bungalow. Russell had checked it out, and Almonte was eligible. The junior college rule is that if a person has played pro ball for fewer than 90 days at a level of Class A or below, he can suit up right away. Almonte was a dead-on fit. And so he became a 21-year-old freshman.
Upon arrival, Almonte went to the mound, reared back ... and hit only 82 to 85 mph on the speed gun. He might have been 6-1 and pushing 200 now, an absolute grown man, but he was soft at the core, easily winded, and the coaches thought maybe he was exclusively a first baseman/outfielder. His senior year in high school, Almonte had batted .511 and driven in 31 runs. Maybe he was more Rick Ankiel than Rick Sutcliffe.
Kruse, the pitching coach, was desperate to find out. He studied Almonte, along with Russell, and noticed he was "dropping his arm slot" on his slider. They told him to stay with one arm slot -- to stick with just the fastball, curveball and change -- and a light seemed to go on.
"His curveball, shoot, it had depth, it was tight," Kruse says. "I was, 'Man, screw the slider, stay with the curve.'"
It dawned on Russell and Kruse that the kid had barely been coached, or had barely paid attention when he was. But this was a humbled Almonte, and Russell and Kruse capitalized. "Guys have been scared to coach Danny Almonte," Kruse says, "because they say, 'He's Danny Almonte.' But, coming here, Kurt was like, 'Hey, forget your last name.' That's the joke around here: He's got no last name. He's just Danny."
The media wasn't buying it, and they called from all over -- New York included -- for interviews. But Russell stonewalled everyone, telling Almonte, "I'm not gonna let anyone in. No interviews from now on. I'd like to give you two or three years back and let you be a kid, let you just focus on baseball and see what you can do."
According to Russell, Almonte's velocity increased to the upper-80s -- occasionally hitting 90 -- and he began the season as the team's Monday starter, in non-conference games. He finished with a 7-1 record, although his ERA was unusually high, at 5.59, partly because of an incessant prairie wind that blew out to left field. On non-pitching days, he patrolled right field, and batted an obscene .497, leading all Division II junior colleges for much of the season. The team reached the Juco World Series, finishing 52-12 and fourth in the nation, and the lasting memory of the season was Almonte's toothy smile.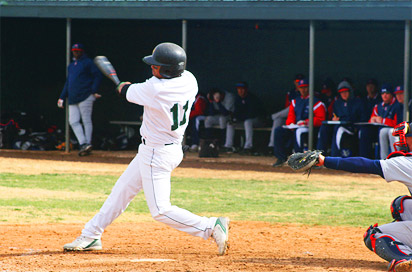 Courtesy of Western Oklahoma State
Almonte was one of the best junior-college hitters in the nation last season.
No one seemed to be able to wipe it off his face, although some tried. One day, while Almonte was in the on-deck circle, a ball got fouled off toward him when he wasn't looking. The opposing manager was forced to fetch the stray ball, and he blurted, "You'd think when they checked your birth certificate, they'd have showed you how to pick up an effin' foul ball."
In another game, a big league cross-checker started ripping Almonte from the stands, on a day he was throwing only 84 to 86 mph. Loud enough for several parents to hear, the scout called Almonte an overhyped cheater. It got back to Russell, who tracked down the scout afterward to say, "Hey, buddy, can you tell me how many 14-year-old kids you know that can make a fake birth certificate?"
But, clearly, Almonte's reputation was preceding him, and, as the 2008 baseball draft approached, Russell and Kruse were hoping that maybe, just maybe, some big league team would take a flier on him. "He wants to make it," Kruse says, "but it just boils down to somebody forgetting what his last name is."
Danny went home to Rosy ... and waited.
A karmic role reversal
Two boys were eligible for the June draft, two boys who'd passed in the South Williamsport night seven years earlier.
Matthew Cerda didn't know what to make of his chances, not until he and his parents met a man named Denny Henderson, a man who knew all about them. Henderson was now an area scout for the Chicago Cubs, and after Cerda's torrid senior season, he had come to invite the boy to a pre-draft camp.
"And after he invited him, he looked at Matt and said, 'Make sure you bring both your gloves,'" Mike Cerda says. "And I looked at my wife and said, 'Both his gloves? He only plays middle infield.' And he looked at us, and he goes, 'Bring his catcher's glove.' And we told him, 'Denny, he hasn't caught since he was 11 years old.' And he smiled, and he goes, 'I know.'"
Henderson had never forgotten that night, the Almonte night, the night that squirt catcher Matt Cerda had struck out three times on 12 pitches. He had kept tabs on him, patiently waiting, for years. It's a Henderson specialty -- "In our business, you've got to remember a lot of things," he says -- and, in an era when great-hitting catchers are at a premium, it served him well to recollect August 2001. "These are the kind of things that I keep under the rug," Henderson says. "I don't want other people to know what I'm thinking about. But I remembered he was a catcher. And, trust me, it can work in reverse order sometimes. You can wait on a kid at 14 who's as good then as he's ever going to be. But not Matty. He continued to work at it and get better. He has baseball instincts that are so advanced for his age."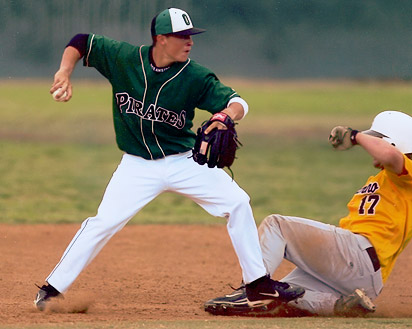 Courtesy of the Cerda family
A flawless fielder at shortstop, Cerda also rewrote the offensive record book at Oceanside High School.
At the Cubs' pre-draft camp, they pointed Cerda toward home plate, and -- just as on the night his teammate wouldn't wear a cup -- he blurted: "I'll do it. I'll catch. I'll play anywhere." It was his first time in a chest protector since the Almonte game, and he then took BP off of the Cubs' scouting director Tim Wilken, spraying balls everywhere. Wilken was semi-awestruck. The Cubs' organizational philosophy is to take wicked hitters with average speed and high baseball IQs, and turn them into backstops. Geovany Soto, Henry Blanco and Koyie Hill were all converted to catcher at one point -- by the Cubs or someone else -- and Cerda fit the blueprint. When he left the pre-draft camp, the book on the kid was clear: great bat, better head.
"We never want to push someone to switch positions like that, but he jumped in, hook, line and sinker," Wilken says. "He swung the bat, had a real good arm and had the kind of makeup you can't coach. It just looked like a glove that had a chance to fit."
The Angels also remembered him from the Almonte game, but they never thought "catcher." The Red Sox, Giants and Astros also were hovering, so it was just a matter of who was going to bite first. On draft day, Cerda took his high school civics final in the morning, then parked himself by a phone. Sure enough, the Cubs called, saying they wanted to scoop him up in the third round. They said they'd be offering a $500,000 bonus, and Cerda, whose fallback option was the University of San Diego, exhaled and said, "Take me."
But, when the third round arrived, the Cubs took a pitcher who'd unexpectedly slid down to them, Chris Carpenter of Kent State. Cerda began to pace. The Angels called next, as the fourth round was revving up, but their offer was decidedly lower than Chicago's, and Cerda had the guts to tell them he preferred college. Then the Cubs called back, offering the same $500 grand in the fourth -- $115 grand more than they had offered Carpenter in the third. Again, Cerda told them, "Take me." When they did, the whole family wept, and then went to hang a Cubs flag on their front porch. Tiny Matthew Cerda was the 131st overall pick, at the surreal age of 17.
It was a whirlwind 24 hours. He got ready to sign his contract, was told he'd be reporting to the Cubs' rookie league team in Mesa, Ariz., and found himself a brand spanking new catcher's glove, straight out of the plastic wrap. The similarities to Little League were almost eerie. Not only would he be catching again -- "Well, they tell me it's the fastest way to the big leagues," he says -- but he'd be facing Danny Almontes all over again. Cerda was the club's absolute youngest draft pick, and most of his teammates and opponents would be a good four years older. The sliders and two-seamers and splitters and slurves would be coming at him from all directions, although Henderson -- the scout who'd kept him in his hip pocket for seven years -- was hardly worried. "He's a pretty special kid," Henderson says. "About as special a kid as I've ever seen. I think this'll turn out favorably for the people at Wrigley Field. He's a dandy."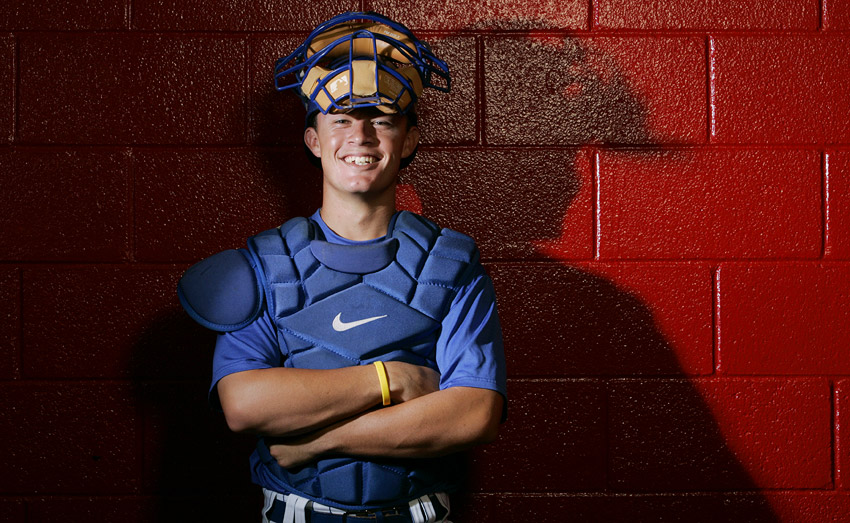 Jason Wise for ESPN.com
Cubs scout Denny Henderson remembered Cerda as an 11-year-old catcher, and now the fourth-round draft pick is back in a chest protector.
Meanwhile, back in the Bronx, a 21-year-old pitcher sat awkwardly and impatiently by the phone. A Royals scout named Lloyd Simmons -- the winningest juco coach of all time -- had told Russell a month before the draft that Almonte might very well be coming to Kansas City. But a couple of weeks before draft day, Simmons told Russell he needed an angioplasty and wouldn't be healthy enough to sit in the Royals war room. It meant he couldn't whisper in the decision-makers' ears, fighting for Almonte, and the Royals -- and every other big league team -- ended up ignoring the kid altogether.
"It's almost like they link him with Jeffrey Maier, that kid who grabbed the home run ball at Yankee Stadium," Kruse says. "They see him as a sideshow pick. But he can make the big leagues in a role that fits him. It's just that reality has set in: He's not going to be a first-rounder that signs for $3 million and be a No. 1 starter. But he can be a lefty specialist, out of the pen. I go to Triple-A games all the time, man. He's got good enough stuff."
It was a bittersweet day for Almonte. His buddy from the barrio, Perez, had been selected by the Giants, after hammering 37 home runs, which meant Almonte would be returning to Western Oklahoma State alone this year, hoping to be the ace and the three-hole hitter, hoping to get drafted next June at the rather elevated age of 22. "This is his last shot right here," Russell says.
In every way, the ignominy of that draft day, the irony of it, the payback part of it, was hard to escape. It was another Musburger moment -- the lightest, youngest, puniest kid from South Williamsport had beaten the tallest, buffest and oldest to a major league franchise. But at least Almonte still had Rosy, and at least he was finally close to his other dream, the dream he'd had ever since 9/11: his permanent residency.
So, who'd have predicted this happy ending? Matthew Cerda about to have a rookie card, and Danny Almonte about to have his green card.
Tom Friend is a senior writer for ESPN.com and ESPN The Magazine.
Join the conversation about "Revenge of the Baseball Gods."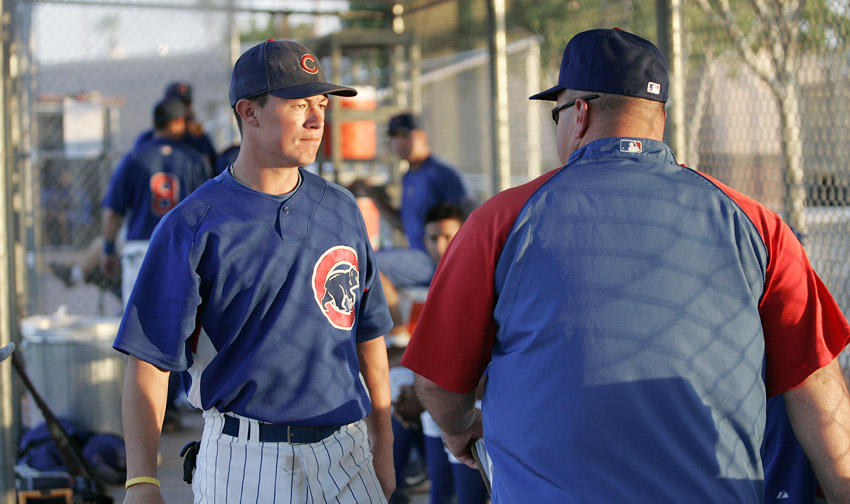 Jason Wise for ESPN.com
" I think this'll turn out favorably for the people at Wrigley Field. He's a dandy," says Henderson of Cerda.