NFL draft 2011: Tracing Cam Newton's journey to the NFL
"Cam's the kind of kid where things just roll off his back like water."
-- Dallas Allen, Newton's football coach at Atlanta's Westlake High School
By Elizabeth Merrill/ESPN.com

he Cam Newton story starts, conspicuously, on the southwest end of Atlanta. Not since the Mannings, or maybe the Clintons, have people been so fixated on one Southern family. Cecil Newton shows up at a football game -- or doesn't show up -- and it's huge news. The path to their house is well-worn. Six-figure scandals can do that, flash the spotlight on kin.
In most years, when a young man is on the verge of being the No. 1 overall pick in the NFL draft, his beginnings are well-documented. Cam's aren't. Cecil's son exploded onto the college football scene so fast and the family's fall was so quick, the headlines changed from CAM FOR PRESIDENT to HEISMAN HYPOCRISY within a matter of days.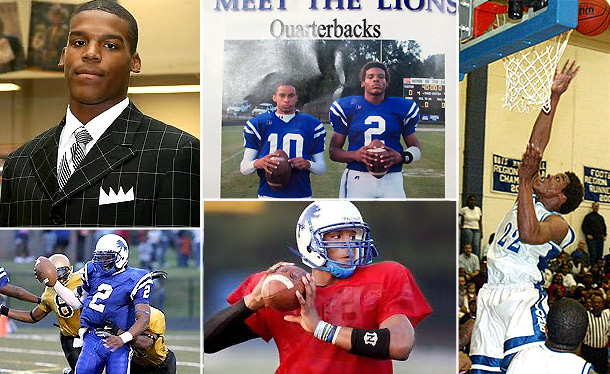 Courtesy Westlake High School
Cam Newton, who also played basketball at Westlake High School in Atlanta, made the varsity football team as a freshman.
So the Newtons, naturally, are lying low, especially Cecil. He's at the center of it all, and he isn't about to go down Memory Lane for the sake of some pre-draft profile. But he hands his cell phone to his son Cecil Jr. while they're in the car on the way to the airport. The other Cecil Newton is a mere footnote in this whole saga, a 25-year-old man whose career, so far, has been boiled down to a couple of sentences in tiny type. That's right; Cam Newton has a brother who played in the NFL. Who knew?
Cecil Jr. is an offensive lineman, so it's in his nature to be protective. Like Cam, he will continue to stand up for his family.
It has taken a village to raise young Cam. When he was a kid and liked to crack jokes instead of focusing on his assignments, it was their mother, Jackie, who waited for his report cards. She would go to Camp Creek Middle School to straighten out her son. When the boys wanted to goof off on Saturdays, it was Cecil Sr. who always made sure they were working, on football or doing odd jobs around the neighborhood to earn a few bucks and buy their own sneakers.
"We were always raised to work hard," Cecil Jr. says. "My father was a key figure in both of our lives."
Some former classmates at Westlake High say the elder Newton, a big man like his sons, cast a large shadow.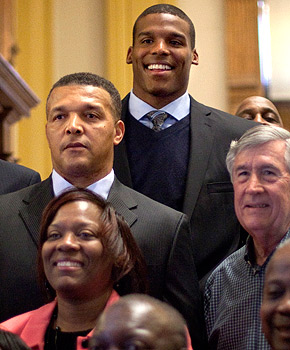 AP Photo/David Goldman
Classmates at Westlake High say Newton's father, Cecil (left), had a reputation for being strict. Newton's mom, Jackie, is at bottom left.
"He wasn't the type to be seen screaming [at games]," said Adam Tolliver, who played sports with both brothers at Westlake, "but he had a reputation for being a strict father.
"It was clear that he was a figure [Cam] took seriously in life."
It seemed as if Cam had the opposite personality. He liked to laugh so much that one of his high school coaches nicknamed him "Joka." But when it was time to get serious on the football field, Newton locked in.

Cecil Jr.
Kent Davis, an assistant at Westlake, said Newton was so intense sometimes that he used to level his smaller teammates in practice. One game, he was hurt and sat out the first half with the Lions clinging to a 6-0 lead. He played in the second, and his team cruised to a 49-0 win.
He made varsity his freshman season, which was a rarity at Westlake. Back then, he was known as Cecil's little brother. Still scrawny and not far removed from his glasses-wearing middle-school days, he had little chance to see the field. Then, Westlake's starting quarterback got hurt in a televised game against rival Mays, and Newton was called off the bench.
Nerves jangling, Cam held his own. He had his brother there at center, snapping him the ball. On first-and-goal, Cecil Jr. snapped it hard, as he always did. Cam wasn't ready; the ball bounced, and the Lions fumbled. Cecil Jr. took the blame after the game.
Their coach at the time, Dallas Allen, said he was ready to choke both of them. The fumble was the turning point in a gut-wrenching, one-point loss. "You guys live in the same household," he told the brothers. "Bobbling a snap is the last thing you guys should do."
Cecil Jr., obviously, was down. Football did not come easy for him as it did for Cam. Everything Cecil Jr. got, he had to work hard for, be it the scholarship he earned after he walked on at Tennessee State or the spot on the Jacksonville Jaguars' roster.
But back to the game against Mays. The stadium was packed, but Cam was unflappable. He didn't take the fumble too hard.
"Cam's the kind of kid where things just roll off his back like water," Allen said. "He'd go back in the huddle, ready for the next play."