"I saw the potential in Cam and thought he could be a heck of a player. With his athleticism and speed, you knew he could have been Tebow-like."
-- Linebacker Ryan Stamper, Cam Newton's roommate at Florida
By Edward Aschoff/ESPN.com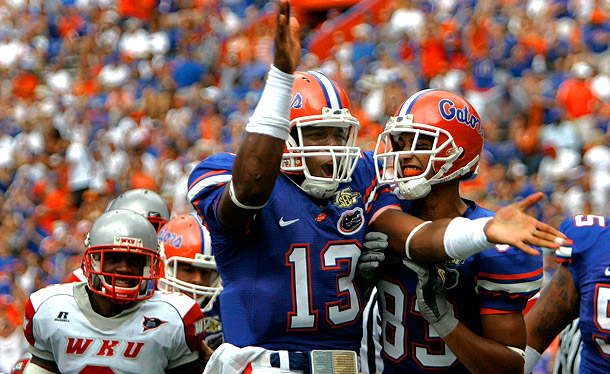 AP Photo/John Raoux
As a freshman at Florida, Newton impressed teammates. "You knew physically that he was a man," one said.
Surrounded by teammates under the blistering summer sun in Gainesville, Fla., Cam Newton battled what many consider giants.
Only a freshman, the 6-foot-5, 230-pound quarterback competed in Urban Meyer's popular, testosterone-soaked, circle-of-life drill in which two players, surrounded by teammates, squared off to see who could wrestle the other to the ground first.
It was not combat suited for quarterbacks, but Newton constantly flung himself into the man-made ring.
He was pitted against linebackers, most notably Brandon Spikes, and held his own against the fierce defenders.
"That showed you how strong he was," said former linebacker Ryan Stamper, Newton's roommate at Florida.
"You knew physically that he was a man."
Players were amazed at Newton's physique. Signed to play quarterback, he looked more like a tight end. He was tall and chiseled and ran a 40-yard dash time that receivers train for.
Stamper said Newton reminded players of Tim Tebow, then a sophomore. They had seen the impact Tebow made his freshman season and expected the same from Newton.
Newton played in five games as a backup in Tebow's 2007 Heisman Trophy season. He threw for 40 yards on 5-of-10 passing and ran the ball 16 times for 103 yards and three touchdowns.
It was the last significant time he saw at Florida. Newton redshirted his sophomore year, playing only in the season opener.
Coaches said Newton was bothered by an ankle injury. John Brantley, also from the 2007 recruiting class, became Tebow's backup.
Stamper said that Newton became more distant and distracted and that the overwhelming popularity, immense scrutiny and social scene at Florida got to him.
"There are a lot of things athletes have to face and go through at Florida that a lot of athletes at other schools will never have to go through," Stamper said.
"Some people can handle it; some people can't."
Rumors spread that Newton was moving to tight end. Everything changed on Nov. 21, 2008.
Newton was arrested and charged with felony counts of burglary, larceny and obstruction of justice after allegedly stealing a laptop worth $1,700 from a fellow UF student and later throwing it out his dormitory window, according to a UF police report.
The report also said the laptop had been painted black and had "Cam Newton" written in white on the lid.
The State Attorney's Office later dropped the grand theft and tampering charges after Newton completed a pretrial intervention program for first-time offenders. Newton has since said that he was unaware the laptop was stolen when he bought it from another student.
Newton was suspended indefinitely, and, three days before Florida's national championship win over Oklahoma, he announced his intention to transfer.
Newton had his issues, but his former teammates say there was no denying he had the athletic gift to become a star.
"I saw him running over people when he was at Florida," Stamper said.
"I saw the potential in Cam and thought he could be a heck of a player. With his athleticism and speed, you knew he could have been Tebow-like."