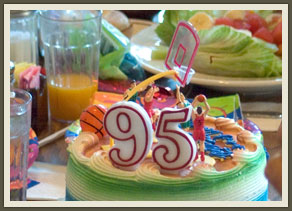 Photo Nik Kleinberg/ESPN.com
Wednesday morning, 8 a.m., and the pale light of the sun comes pouring through the plate-glass windows of VIPs, a coffee shop on Ventura Boulevard, just as Walton comes busting through the front door tooting on a noise maker and singing the most god-awful rendition of "Happy Birthday" you've ever heard in your life. He's carrying paper party hats, balloons and a banner, and Coach Wooden, sitting at a booth in the back, cringes a bit at the sight of him. "You've gone too far, Bill," he says.
Walton kicks it up a notch. "Come on!" he says. "You only turn 95 once." It's a party. In addition to Wooden and Walton, Hill is there, along with former players Kenny Washington (Class of '66), Lynn Shackelford (Class of '69), Jamaal Wilkes (Class of '74) and Marques Johnson (Class of '77).
Washington and Walton hang the banner on the brick wall above the booth, Hill blows a horn, Shackelford tries to decode the mysteries of something called a "musical candle," and, in a particularly delicious theater-of-the-absurd bit, Wilkes struggles -- "This is the hole, isn't it?!?" -- to blow up a metallic SpongeBob Squarepants balloon. Everyone but Coach has strapped on a goofy hat, and the quips are flying fast and furious. It's a table full of Shriners, it's the poker game in "The Odd Couple." Except at this table, everyone has shaved within the hour -- "You've gotta shave for Coach," Johnson says. "You've got to."
"Happy Birthday!" Walton shouts. "Coach, you made it. You're now of age. Congratulations!"
"I appreciate the thoughtfulness," Wooden says. "I just wish you meant it."
"You know, Coach, now that I've learned to speak, you can't get me to shut up," Walton says, referring to the stutter that plagued him for most of his life.
"That's what your mother said," Wooden shoots back, showing no mercy.
That's right. The Wizard of Westwood, the coach of the century who has lived almost a century himself, is doing the dozens, going "Yo' Mama" on The Big Redhead, over breakfast. "The rest of us can only hope we're half as sharp at 95 as he is," Hill says. "Heck, most of us would settle for being half as sharp now."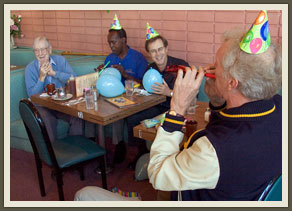 Photo Nik Kleinberg/ESPN.com
But make no mistake, Walton and company give as good as they get here.
Could they ever have imagined they'd be sitting here with Wooden now, celebrating his 95th birthday?
"I thought he was dead when we played for him," Walton says.
"That's true," Shackelford chimes in. "You know, I think he looks better now than he did then."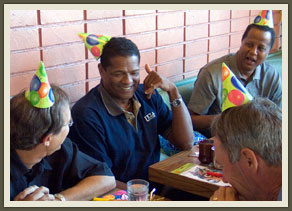 Photo Nik Kleinberg/ESPN.com
They reminisce about practices, and about how and when they first came to UCLA. Washington tells of coming out on the bus from South Carolina and being afraid to get off of it when he arrived. Wooden mimics Wilkes' inimitable, elliptical jump shot. Hill, who rode a lot of pine, proudly claims his two points a game made him a Jewish All-American, once upon a time. Walton and Johnson compare notes on where each man was taken for his recruiting dinner (Johnson got a steak at Chasen's, Walton recalls "maybe a bowl of dry cereal"). Shackelford tells you Coach would prefer it if their wives had come, "because they're much better looking than we are." And they all laugh about pantomiming their way through Wooden's infamous imaginary shooting and rebounding drills. "I still start my day every single morning with that," Walton says. "I go out in the backyard, put the imaginary ball up in the air, and yank it down, arrgghh, elbows out."
It's a special scene, full of warmth and wit. A handful of VIPs customers who've stumbled upon it can't believe what they're seeing. Wooden, Walton, Wilkes -- this is once-in-a-lifetime stuff.
Only here's the thing: It happens all the time.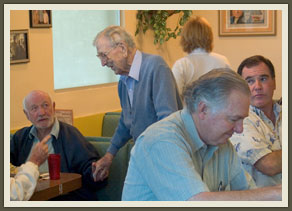 Photo Nik Kleinberg/ESPN.com
Wooden is a regular at VIPs, has been for 12 years. "I only go six or seven mornings a week, that's all," he says with a sly grin. He's met at the door each morning by Paul Ma, the proprietor, and before he sits down to his usual (egg scrambled, bacon brittle, English muffin and fruit), Wooden makes the rounds, slowly walking with his cane, greeting folks at the swivel-stool counter and in the sea-green vinyl booths. "Good morning, Coach," they all say, shaking his hand, putting an arm lightly around his waist, maybe offering the sports section from the morning's Los Angeles Times.
"Ed and Margaret are always in the next booth," he says. "And Millie is always in the next one, and then at the counter right across is always Lois, and Barbara is next, Mike is next, Scotty is next, Jerry is next, and Jack is next. It's just family. All the waitresses you know by name, and you know something about their families. It's a home place."
For years now, Wooden's former players, his "boys," have been part of this home place. The birthday bunch is only a sample; Mike Warren, Keith Erickson, Kareem Abdul- Jabbar, Bob Webb, Larry Hollifield, Swen Nater and many others regularly dine at VIPs with Coach. And when they can't come, they call. Daily. He keeps a hand-written calendar that would make diplomats and doctors half his age feel like no-account slackers. Sit with him in the den for an hour and the phone will ring half-a-dozen times. He lets it go to the machine, and picks up when he recognizes the voice. Ring. "That's Bob and Larry." Ring. "He played on my first team at UCLA in 1948." Ring. "This will probably be Bill."