OTL: At The Turn

UGUSTA, Ga. -- Sitting at the head of the table, surrounded by a small group of family and friends, Gary Player keeps his thoughts to himself. It's three nights before the start of the 2009 Masters, and they are gathered in an airy rented mansion tucked into the pines off Wheeler Road. A chef and his team are prepping dinner in the open kitchen. The hats on the fireplace mantel, specially made for the occasion, have the number 52 printed on them. It is Gary's 52nd Masters -- his final one.
Some of the family members heard the sad news only a few hours ago, and the party feels a bit like a wake. Earlier, as they flew into town on a private jet from Florida, his children noticed he was quiet. "I could see there was a lot going on," daughter Theresa Alexander says. "A lot of contemplation. A lot of deep thoughts. It's a lifetime. I think he was quite nervous. It was a big, big day for Dad."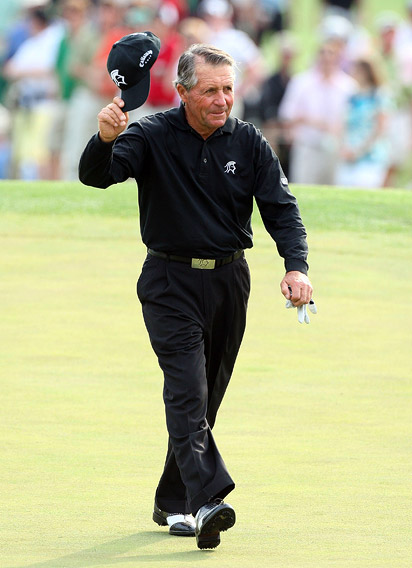 David Cannon/Getty Images
Gary Player makes the familiar walk to the 18th green at Augusta.
Despite the nerves, he had nailed his afternoon announcement in the press room, easing from one joke to the next. The humor, his family felt, was a window into Gary's feelings. "It was to overcome his fear of actually saying, 'This is the end,'" Theresa says.
Quietly, his wife, Vivienne, says to a dinner guest that her husband has no shot of making the cut, though good luck getting him to admit it. In his head, he's still the kid who married the golf pro's daughter and went out to tour the world, winning nine majors. Not long ago, Vivienne came across a photo from his first British Open win in 1959. He was 23. Player asked why he couldn't play like that anymore.
"That was 50 years ago," she said.
Soon it's time for dinner. Marc Player, his son, clinks a glass when all 18 people are seated. "It's a particularly special week for us," he says. "It's Dad's 52nd time -- a year of his life -- playing in the Masters."
"And his last."
"Raise a glass."
Everyone salutes the man who made all this possible. At the end of the table, Theresa looks down at her father, who is still stoic. "He is highly emotional," she says, "but he has -- he lost his mother at such a young age -- an ability to keep his emotions together. But it's hugely emotional. It's been a journey. You can't imagine."
She wipes her eyes. She's crying for him. For all that's been gained and all that's being lost. Later, her dad is quiet, seems tired and a bit small, with his wife on one side and the CEO of Callaway Golf on the other, surrounded by the clink of wine glasses and the buzz of conversation. The lines in his face show the miles he has traveled since he first left home.
Tuesday, April 7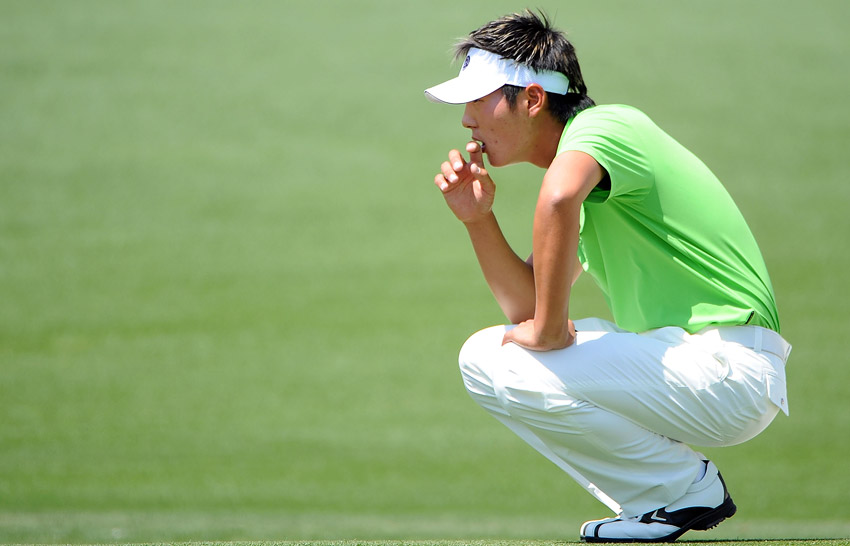 Harry How/Getty Images
Amateur Danny Lee arrived at Augusta wanting to take a shot at beating Tiger Woods.
As one journey ends, another begins. The next day, an 18-year-old named Danny Lee wakes up in the famous Crow's Nest atop the Augusta National clubhouse. This is his first Masters. There are no lines on his face.
He's the U.S. Amateur champion, the youngest ever, and will turn pro when this tournament ends. Before he got here, he had talked a lot about wanting his shot at Tiger Woods. "I'm gonna beat him," was the exact quote. Then he arrived at Augusta National, and thousands of people watched his every move, following him around the course, taking pictures of him standing in front of the clubhouse. In Tiger's world for the first time, Danny flinched. Welcome to the jungle.
Now his stomach hurts, and his hands shake when he swings a club. The pressure closes in from everywhere. This bed? That's where Tiger slept his first time here. Oh, look, there's the 1959 and 1961 U.S. Amateur champion on the putting green. "You play well," Jack Nicklaus says. Standing right behind Jack is the 1954 U.S. Amateur champ. Arnold Palmer smiles and welcomes the kid to Augusta. Expectations are everywhere, for Danny and the other two high-profile teens, Rory McIlroy and Ryo Ishikawa, playing their first Masters, too. He sees the crowds and all these former champions and realizes that people expect him to be them. Suddenly, the hubris evaporates.
"I don't know why people think I'm so good at golf," he says.
He's not the first phenom to say he's not afraid of Tiger Woods. You just have to chuckle while imagining the day when, if they are lucky, they will get to step to the first tee on Sunday and find Woods in his red shirt staring back, with Stevie scowling, and that stuffed Tiger protecting the driver. Not scared? They'll throw up on their shoes. Player's daughter, Theresa, always laughs at the kids. "There's a naivete of anybody that's starting something," she says. "You can't buy knowledge. You can't buy tradition. It evolves."
Danny doesn't run from that burn in his stomach. He embraces it. "I'm having really bad nerves at the moment, seriously," he says during his first Masters news conference. "I know as soon as I go outside the clubhouse and watch all of those crowds out there, I cannot get relaxed or, like, nice and calm like that. But I'm still working on it, because my nerves are breaking down."
The press room is crawling with people from International Management Group. They cannot say anything about their potential involvement with Danny, who will sign with the agency soon, but when he finishes, two people from IMG, an agent and a publicist, discuss what just happened. The shaping of a modern star is beginning; one day, Danny Lee will walk into rooms and make them his own, filling up every corner with his energy and confidence. The agent is worried he seemed like a deer in headlights and has taken notes of things Danny can work on for his next news conference.
The PR guy thinks the honesty will play well. "That stuff is endearing," he says.
The next day, Danny and his mom walk through the crowd toward the par-3 course. She's his caddy for the Wednesday afternoon event -- an official will ask her whether she's his girlfriend or wife, surely making her day -- and they need to get to the first tee. Coming down the road past the famous clubhouse, unescorted, they arrive at the top of the hill, thousands of people forming a wall below. Both of them stop and look around.
Danny Lee has a tee time but no idea where to go.
As Tuesday turns to Wednesday, the tournament approaches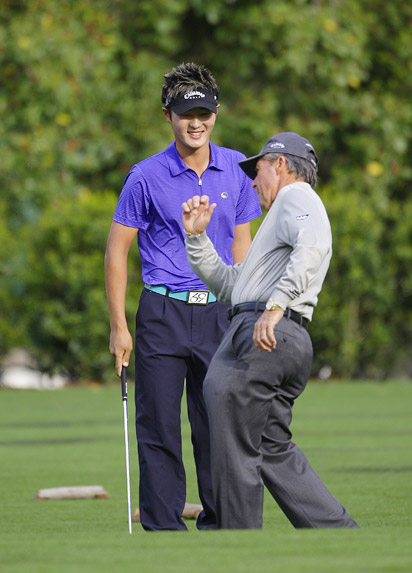 AP Photo/Rob Carr
Player has won this tournament three times, so Lee listens.
Early in the week, both the old man and the kid are confronting opposite ends of the same problem: How do you step off a stage, and how do you climb on?
Others in this tournament are facing similar questions about beginnings and endings: Greg Norman with his second shot at slaying demons, Tiger Woods with his first major test after three knee surgeries, the three teenagers, Fuzzy Zoeller also playing his final Masters. Although Augusta National and its traditions give the impression of permanence, it's just an illusion.
With his playing career almost over, Player stands in the living room of that house on Wheeler Road considering the future. It's been a helluva ride so far: millions of miles crisscrossing the globe, wineries, a thoroughbred stud farm, a ranch, a real estate business, a golf course design business, the chef whose coat carries his famous Black Knight logo, all the trappings of empire. … Should we take the Global Express or the Learjet? … Can we get the grandkids in from Cape Town? The CEO of Callaway Golf, George Fellows, sits on the couch and flips through a scrapbook. He's drinking a glass of red wine.
"These gentlemen are drinking Gary Player," someone says.
"It's a nice blend," Marc Player says. "It needs to breathe a bit."
Fellows mentions a South African wine he loves, made by Boschendal, and Marc smiles. "We bought Boschendal," he says.
This is the family's world, created out of nothing by the son of a poor gold miner. Marc handles all the business deals, has the company expanding. With the golf coming to an end, diversity is important. "The nice thing about your brand is the exclusivity," Fellows says, "the touch of class."
"Everything he does is with the brand in mind," Gary says proudly. "Marc is very much like Mark McCormack."
McCormack founded IMG. Palmer was his first client. Player was his second. Nicklaus was his third. The fourth?
"The pope," Player says, laughing.
Now, all these decades later, IMG will direct Danny's career, too. In just a few days, he will be CEO of Danny Lee Inc., and there's some concern that he doesn't get that. He wants to be Gary Player on the course, which means he'll have to be Gary Player off it as well. "A golfer is like your own entity," IMG's Michael Yim says. "He'll start to definitely realize that, once he turns pro. You're your own company."
Danny's handlers also worry when there's a long pause before he answers an interview question; he is liable to say anything. He got in trouble in New Zealand -- his family moved there from South Korea when he was 8 -- for cracking a bomb joke at an airport. He goes after impossible pins. Immature is a word that comes up. But he's also hilarious, a normal teenager, exactly what he should be at his age. Teenagers aren't equipped with the tool kit to handle everything that comes with success.
"It's dealing with the unknown," Yim says. "In the real world, it's not only business, but relationships. When you're 18, you don't think, 'I have to be nice to this guy because he might help me down the line.'"
For now, in the last days of one life, it's hard to get him to focus on serious business discussions; he's more likely to slip out of the room to play video games.
"He's kidlike," Yim says. "He likes cartoons."
Wednesday, April 8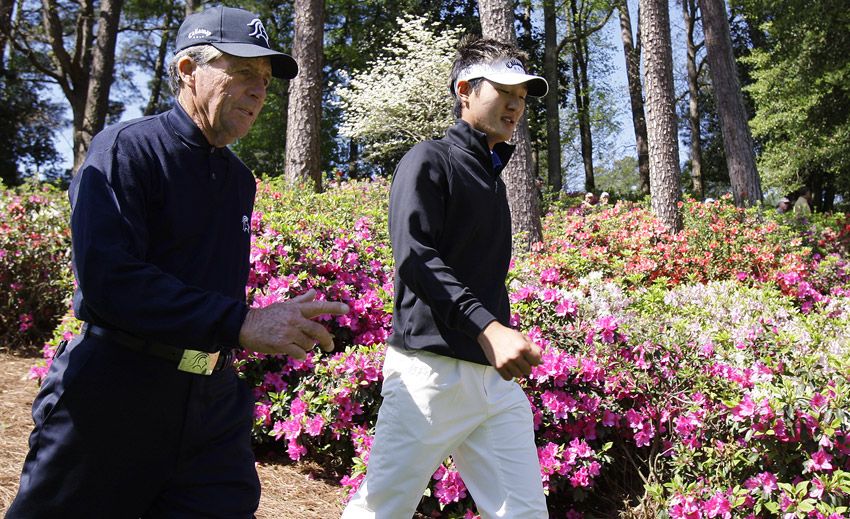 AP Photo/Chris O'Meara
Player enjoyed the teaching moments during a Wednesday practice round with Lee.
They might have passed like two ships in the night, except that, on Wednesday before the tournament, Gary Player asks Danny Lee to play a practice round. They each need something from the other, and each has something to give.
Player takes special joy in helping young golfers, remembering the people who gave so generously to him. Veterans' passing down tips, or helping ease rookie nerves, is part of Masters history. Norman remembers walking down the first fairway of his first Masters, quaking, and having Nicklaus put his hand on his shoulder and say, "I hope you're as nervous as I am."
Player, like Nicklaus, has accumulated a lifetime of knowledge about the course; when he's gone, it will be lost forever. He has played Augusta practice rounds with countless young men, some who became stars and some who faded into anonymity, and the last one he'll play as a Masters competitor is with Danny Lee.
Player gets to help once more, showing Danny where and where not to aim, pointing at the hidden traps of Augusta National, such as the black hole on No. 2; if a ball lands there, you'd better call your travel agent, because you're going home.
He plays cheerleader, making an announcement on one tee: "That's your U.S. Amateur champion. He's 18 years of age. How about that?"
He is a coach. On one green, after Danny misses a putt, Player reloads him and points to a spot on the ball where he should make contact. After a few more instructions, Danny knocks the next one into the middle of the cup. Makes the one after that, too.
"Yes, yes, that's it!" Player cries.
He is an elder, someone who has traveled the road Danny dreams of traveling. Walking up one of Augusta National's green fairways, he turns to Danny. There is something he wanted to say, but how? How do you sum up five decades of love and loss? How do you tell a young man how he will feel about this place when his hair turns gray and his back is stooped? Gary Player looks at the golf course that has meant so much to him.
"Millions of boys try to get to Augusta," he tells Danny. "Enjoy it."
A funny thing happens as they make their way from hole to hole. The nerves, which had been easing, seem to go away. With Danny's stomach settled, he feeds off Gary's confidence, watching in awe at how Player holds the gallery in his hand. "He makes me really calm," Danny says.
When it is over, Michael Brennan, Player's practice-round caddy, feels as though he has watched history. "It was the old with the new," he says, standing behind the pro shop on the driving-range side. "I wish people could see it."
With just a day left before the tournament begins, the kid playing his first Masters and the man playing his last stand in the shade of the big oak tree in front of the clubhouse and smile.
"He's like my granddad," the 18-year-old Danny says.
"It was like playing with your son," the 73-year-old Gary says.
Thursday, April 9
With just two rounds left at Augusta National, the Player family is on a nostalgia trip. Theresa looks for the spots where she sat 21 years ago when Gary won the green jacket for the third and final time. Vivienne, standing in the shade on the side of a back-nine fairway, has been to every one of those 52 Masters. They met when he was 14 and she was 13 -- the second time he saw her, he told his stepbrother they would get married -- and she has followed him around the globe. Contender or not, she lives and dies with every shot. Player is just off the green, and making par's gonna be tough.
"Come on, Gary," she says. "Get it close. Just make two putts, please."
When he strikes the ball, she knows.
"It's not enough," she says softly. "It's not enough. It's not enough, Gary."
That's why this is his last Masters. He just doesn't have the juice. A lifetime of working out obsessively has him looking as though he's in his 60s, but that's not nearly sufficient. Obsolescence is a hard thing to take. When he was a teenager, wondering whether he had the stuff to be a star, he told his father, "Dad, I'm too small."
"Nonsense," Harry Player said. "It all depends on the guts you have. It's what's inside of you that matters."
For years, that mantra led him to one success after another. Now, there aren't guts enough to handle Tiger-proofed golf courses. The game has passed the 5-foot-7 Player by, though he doesn't like to show he knows it. On the next hole, a par-5, he stands by his bag and stares at the distant green, as if he's actually contemplating going for the green in two. Marc laughs as three generations of Players stand by his side.
"He's just acting," he says. "He knows he's not, but he wants people to think he is. Is he a man? Is he a mouse?"
Player lays up.
"He's Minnie Mouse," Marc cracks.
The grandkids laugh. When the next player bombs one onto the green, one of them says, "That's what Grandpa should have done."
The holes go by quickly, and he'll finish with, given his age, a remarkable 78. On the famous par-3 16th, Theresa is taken back in time to 1978, when she watched in awe as her dad rolled in a scary 15-foot downhill putt, eventually winning the tournament by a stroke after birdieing three of the last four holes. She believed he could do anything. Still does. Today, she watches as he walks toward the same green. The crowd rises from its chairs, an intense standing ovation.
"Unbelievable," she says. "One hole after the next. Unbelievable."
Gary stands over the ball.
"He's moving his head all over the place," Theresa says. "Sit still."
"Hit the hole," Marc says.
"Go for it, Dad," she says. "Just go for it."
He misses, but the family and fans clap and cheer anyway, enjoying a final few moments in the sun.
Thursday, April 9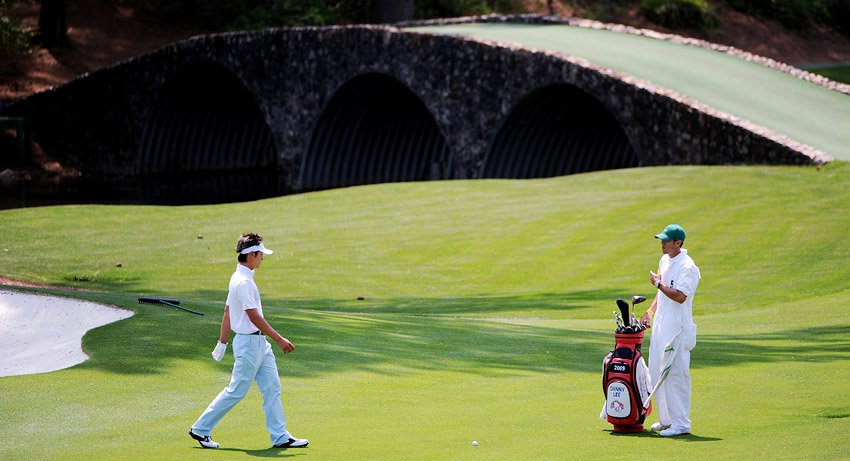 Harry How/Getty Images
Amateur Danny Lee felt the pressure of his first Masters.
Danny Lee is on the front nine of his first Masters round, even par, with two separate groups following his every swing. There is his family, including his mom, a golf teacher who introduced him to the game, and his U.S.-based uncle, Rambert Sim, who caddies for Danny much of the time. Then there are also three IMG people. No, wait, four. Vice president Sherry Whay approaches Yim.
"Where are they?" she asks. "Where's the family?"
Yim looks down the rope line, scanning the faces.
"They're in the crowd," he says. "I saw his mom."
While all this happens on the sideline, Danny handles his business between the ropes. The nerves really do seem to be gone.
"I can sense it," Sim says.
Sim knows Danny's game as well as anyone; they spent most every moment together during his Western and U.S. Amateur wins. In one tournament, because of a rain delay, they slept in the car in the parking lot of a Denny's. The week of the U.S. Amateur Championship, Sim saw Danny so nervous he couldn't eat, still hitting all the shots. When it was over, Danny had lost 15 pounds -- but won the tournament. Sim has seen Danny's willingness to go for the big shot, either disregarding or not understanding the stakes. "He's got guts just like Tiger," he says.
About that moment, Tiger's mom walks past. Not far away, on the side of the eighth fairway, Danny's mom huddles with two potential advisers. While Danny is living his present, the adults are planning his future.
Friday, April 10, to Saturday, April 11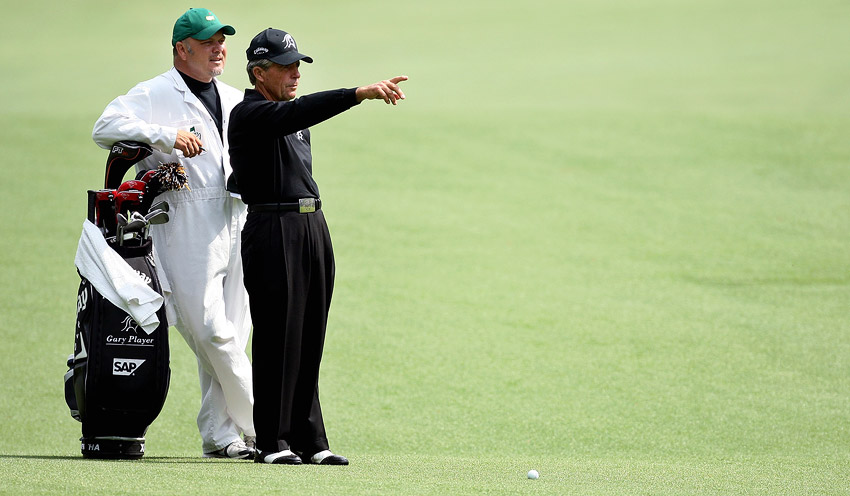 David Cannon/Getty Images
Player waits on the 13th hole with his caddie, Dave King.
On the 18th fairway for the last time, Gary Player finally loses control of his emotions. A group of fans make room for Vivienne to slide in front. Grandson Willeam climbs onto Marc's shoulders. Theresa wipes her eyes. Player walks to the front of the green, blowing a kiss to the fans and kneeling in thanks for 52 years of memories. The gallery stands and cheers, more ringing applause. In some ways, it's like attending your own funeral. "It was a feast," he says. "It was something you'll never, ever forget. You'll go to your grave knowing you had tremendous love showered upon yourself."
He strokes the final putt, and when he bends down to get the ball, his hand lingers inside the cup for a few extra seconds. It's over. Standing behind the green are all the South Africans who've finished their rounds; they are there to pay homage to the man who showed them success was possible. He signs his card and opens the door of the scorer's building to find three generations of his family waiting to give him hugs. Player's voice catches when he mentions Vivienne. "If you've got a great family, you're blessed," he says later in the interview room.
After answering the final question, he climbs down from the stage and his wife opens her arms wide. Gary looks at Vivienne, who has followed him and his dreams since they were teenagers.
"Do you think you can come with us now?" she asks.
Together, they walk out the door.
Friday, April 10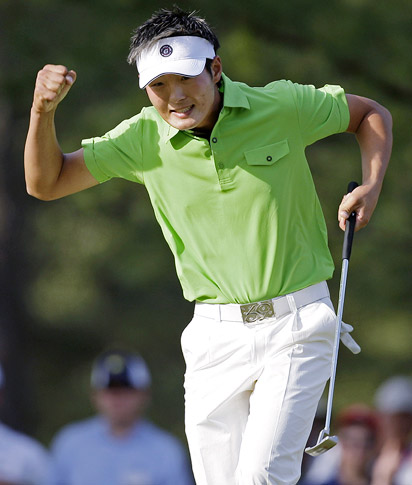 AP Photo/Chris O'Meara
Lee shot a 74 on Thursday and an 81 on Friday and missed the cut.
When we left Danny, he was cruising on the eighth hole. On the next hole, the wheels began to fall off, a double-bogey, a little taste of his what's to come. Friday, he starts strong, eagling No. 8, birdieing 9 and then coming to the hole that would be his undoing: 10. He six-putts from about 10 feet. Twice more coming home to an 81, he double-bogeys, unraveling on national TV. "Now he's just spooked," IMG's Kevin Lynch says after the second double-bogey.
Team Lee is stunned. This was not how they imagined this going. Missing the cut? Sure. Imploding? Never. Danny Lee stepped into the furnace for the first time ... and melted. Walking alone, looking lost, Sim wipes tears from beneath his wraparound sunglasses. When the round is over, Danny looks stunned, too. Reporters gather behind the green to ask him what happened. He's not ready to answer questions, and after a series of head shakes, Masters officials escort him away. At the clubhouse, the IMG people try to wave off questioners, acting less like agents, more like friends trying to help someone they care about. Danny's a few steps away from the clubhouse and safety from the prying eyes and inquisitive minds.
Only, instead of running from his failure, he turns around and wades right into the phalanx of cameras. He'll take questions. It seems like a big moment: Faced with the option of a mature or immature way to handle a situation, he chooses correctly. He says he couldn't refocus after the six-putt. He says he needs to work on really fast greens.
"I'd love to come back here," he says.
The next afternoon, his clubs put away, he joins the rest of the fans following Tiger Woods. He had come here to beat him but ended up in the gigantic gallery, listening for roars, looking for small holes in the crowd to catch a glimpse. If he hadn't taken a photo with Tiger, it would be hard to believe he had been in the tournament a day before.
Walking around, he doesn't feel good. Earlier that day, he had been using mouthwash when then-leader Kenny Perry came up to say hello. Danny got flustered … and swallowed the mouthwash. Now, in a shaded area to the side of a fairway, he looks behind him at the mass of people jockeying for position. IMG's Lynch sees him staring.
"Just be ready for it," he says. "About a year from now. You gonna be able to handle it a year from now?"
Danny shrugs his shoulders and smiles a bit.
"It's nothing," he says.
Wright Thompson is a senior writer for ESPN.com and ESPN The Magazine. He can be reached at wrightespn@gmail.com.
Join the conversation about "At the Turn."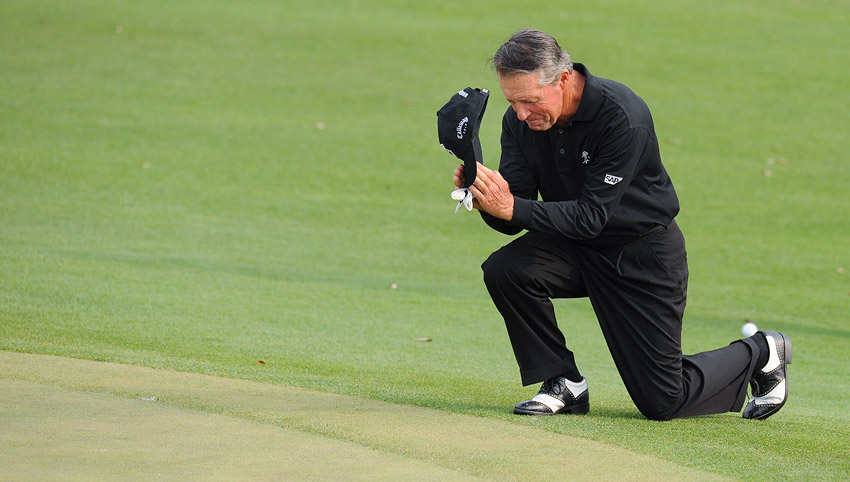 Don Emmert/AFP/Getty Images
Player bids farewell to the course and the fans at the 18th green.