OTL: Dream On A Shelf

ALMDALE, Calif. -- The summer night Bill Harrington realized he had become a pariah here in his hometown, he was 85 miles down the road, watching one of the most dazzling prospects scouts could recall, who also happened to be his son.
This was seven years ago, in Long Beach, at a game being played at a tiny 3,000-seat stadium -- an independent league game in which the participants were mostly trying desperately to revive failed dreams of major league glory. On this particular night, however, there was one player whose name was even more recognizable than some of the former big leaguers who were passing through on their way to athletic oblivion, a name that somehow had become representative of all that fans hate about modern-day players. Synonymous with greed. That would be Bill's son, Matt Harrington, who -- after being selected No. 7 in the baseball draft only two years earlier -- had turned down almost $5 million from the Colorado Rockies and who eventually would go on to become the first player in major league history drafted five times without ever signing.
Watch the "Outside the Lines" story on Matt Harrington's failed major league dream.

But before that dubious record would become a reality, before Matt would end up working in the tire department at Costco for $11.50 an hour, he was still trying to find his way back to the money, back to the talent that once had him ranked as the best high school pitching prospect in the country. So here he was, making less than $1,500 a month with the Long Beach Breakers, loosening up in the bullpen before starting that 2002 summer night.
Fun? Not hardly. And the Breakers fans were not helping. "You know you're the reason baseball tickets are so expensive!" one bellowed at Matt from the behind the wall of the bullpen, and others quickly joined in.
The abuse was distracting Matt, in part because it was coming from people in his community, the same locals who once had seen him as a symbol of hope, the Palmdale kid who grew up without much money but who one day would be a superstar pitcher in the bigs and make millions of dollars, the repository of their own unfulfilled dreams. So when Matt crashed and burned, they didn't take it well. On this day, they were hammering him, berating him for his stupidity.
"How could you turn down all that money? What are you, an idiot?"
The insults, second-guessing, guilt, shame, fear, devastation -- all of it had been welling inside Bill and Troy, Matt's brother, who found themselves trapped in the belly of the beast. In the two years since the debacle with the Rockies and the one year since Matt and his family had turned down another seven-figure contract from the San Diego Padres, they had found coping mechanisms for dealing with the disappointment of missing out on all that money. But the cruel taunts that day hit home like never before. This was too much -- this was coming from their people -- and Bill and Troy became unhinged.
Troy was the first to lunge for the fans, and Bill was right behind because, well, that's what Bill is always doing: riding shotgun with his kids, fighting for them, pushing them as far as possible and as hard as necessary.
And who could blame him? Because just a few miles down the road from where he had lived most of his life, from the community he had given so much time and effort and love to, Bill Harrington suddenly realized his family's name had become a punch line.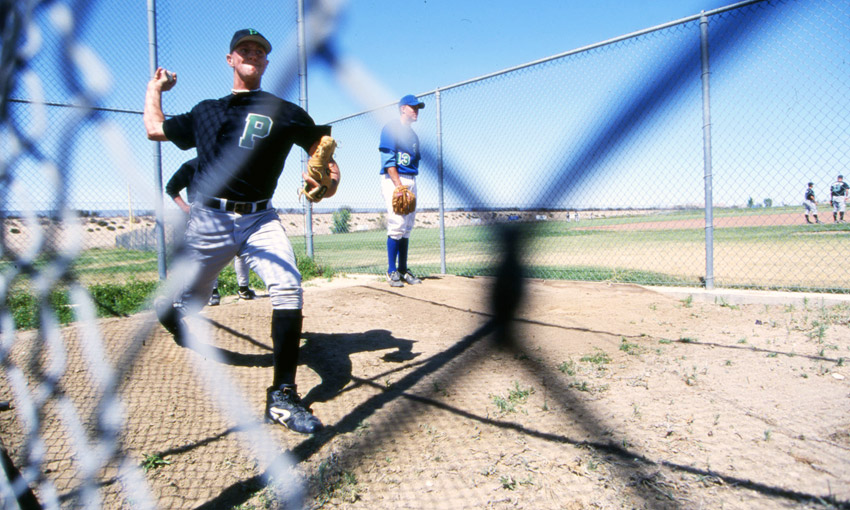 Baseball America/Larry Goren
A dominating presence on the mound at Palmdale High School, Matt Harrington had the professional scouts drooling.
For love of the game
Bill Harrington was born in Sepulveda, Calif., 52 years ago to Skip, a self-employed swimming pool installer, and Helen, a secretary at a local insurance company. Skip wasn't an athlete, but he was a devoted father who loved baseball and whose favorite player was Mickey Mantle. Helen was also a big baseball fan, and the family would often go to Dodger Stadium to watch the Dodgers and the Angels, who in those days played in Dodger Stadium when the Dodgers were on the road.
One of Bill's favorite childhood memories is going to a Yankees-Angels game with his dad on Father's Day. Bill was 11 years old, and Mantle hit home runs from both sides of the plate.
Skip first signed up his son for Little League when Bill was 8. Every day, Bill would await his dad's return home from work, standing at the door holding his dad's glove. "He always caught me," Bill says. "He never said no."
When Bill was a freshman, he tried out for his high school's junior varsity. But his dream of making the major leagues did not get off to the best start; he clashed with the coach and failed to make the cut. After a couple of years of brooding, Bill, missing the sport, tried out again as a senior. Though he believed he had thrown well enough to make the team, that same coach had other ideas.
A year later, in 1976, Bill attended Valley Junior College in Los Angeles and made the team as a walk-on pitcher, first as a reliever and by the end of the season as a starter. "I wasn't Matt," Bill says. "I didn't have a bunch of scouts knocking down my door. I wished I would have."
Bill's college career would be short-lived; the next season he tore his rotator cuff while throwing a bullpen session and was never able to regain the strength in his shoulder. Once he realized competitive baseball was over, college became meaningless to him. He dropped out and started working for his father in the pool supply business. "And I've been working ever since," he says.
Which left Bill Harrington with this: The joy baseball provided him as a child he was determined to extend to his own nuclear family.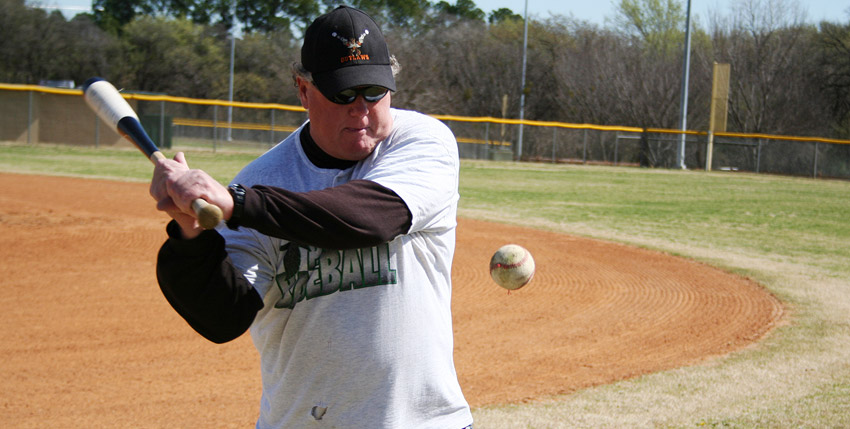 Bob Humphries
Known as "Mr. Palmdale Pony," Bill Harrington has always loved baseball and would gladly put in extra hours to work with his Pony League kids.
A multimillion-dollar arm
Kevin Towers was one of the many who flocked to watch Matt pitch. Towers is the Padres' longtime GM, but his roots are as a scout. He made the drive with his scouting director to Lancaster, where Matt, a senior in high school at the time, was pitching in a tournament. By then, Matt and his 98 mph fastball were no longer a secret. His outings typically attracted at least a dozen radar guns to the stands.
"He had great size, delivery, quick arm," Towers says. "Life with [his] fastball, [a] plus-slider. This guy was a competitor. When he crossed the lines, he was all business. We thought once he signed, [he] would be on the fast track to the big leagues."
On the ride back to San Diego, Towers and his scouting director practically giggled with excitement. "I hope he falls to us in the draft," Towers said.
Back then, baseball in the high desert area, known as the Antelope Valley, was quite competitive. Although Matt was clearly the elite prospect, his competition was none too shabby. Delwyn Young of Littlerock High School was a fourth-round pick to the Dodgers, Jason Kubel of Highland High School was a 12th-rounder to the Twins, and Dana Eveland, a teammate of Matt's at Palmdale was a 16th-rounder to the Oakland A's in 2002. All have made the majors, and all were drafted significantly lower than Matt. His domination of the area's top-notch talent only had scouts salivating all the more.
Towers recalls that when Matt pitched, it was a man against boys. He generated such buzz that even Pete Rose and George Brett watched one of Matt's outings. His starts became events, and as the draft grew closer, an entire community awaited Matt's multimillion-dollar payday, the chance to celebrate its hometown hero and, by osmosis, itself.
Matt was selected as Gatorade's Player of the Year, and Baseball America -- the pre-eminent magazine on amateur players -- made him its cover boy. There was little doubt he was going to be a superstar. Bill was in heaven, his dream about to be realized not only for his son but also for himself.
Before the scouts, before the multimillionaire dreams, before the endless nights spent working out in a home gym Bill made, before the wind sprints and daily bullpen sessions, baseball had been ingrained in Matt by his father at such an early age that he was practically forced to like it.
It started in Little League. Bill, known as "Mr. Palmdale Pony" for his involvement with the kids in Pony League, was one of Matt's coaches. Bill could be intense, and not just with Matt. If a kid, any kid, wanted to practice, play or learn, Bill would stay on the field until the sun went down, hitting grounders, playing catch, teaching fundamentals. He just loved baseball and would have given anything to work in the sport for a living. And when it came to Matt, there was no sacrifice too extreme.
"He wasn't negative [but] he was strong on his son," says Craig Briggs, one of Matt's high school teammates. "He taught his son a work ethic I've never seen before in my life. ... It's above and beyond everyone else's."
Bill told Matt that if he truly wanted to be a baseball player, he had to commit fully. So there would be no other extracurricular activities, no fun and no games other than baseball. "I missed out on a lot of things growing up because of [baseball]," Matt says. "But I wouldn't change it."
Upon entering Palmdale High School, Matt made three goals for himself:
Make the varsity team as a freshman. (Which he did.)
Give himself a chance to get a college scholarship. (He was offered a full ride to Arizona State.)
Play in the big leagues.
Three years later, when Matt was drafted, there wasn't a soul in Palmdale, with the Rockies or from his family who could have predicted just how elusive Goal No. 3 eventually would be for Matt Harrington.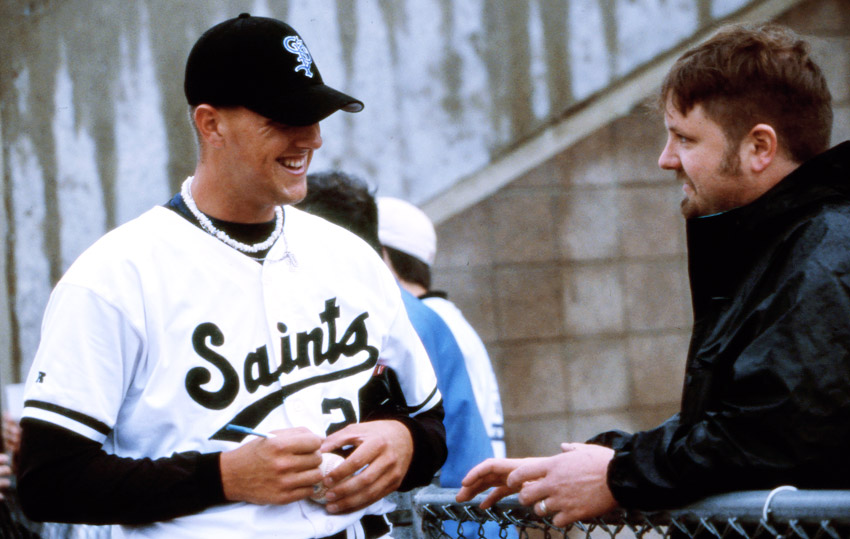 Baseball America/Linda Cullen
Happy to sign autographs for Independent League fans in St. Paul, Minn., Harrington never signed that multimillion-dollar deal.
Pointing fingers
It was Tommy Tanzer's fault. Actually, it was Josh Byrnes'. No, it was Bill Harrington's. Actually, why didn't Matt just put a stop to it all and sign? It's his fault.
Blame, it seems, is something everyone wants to assign. And, nine years later, there is still plenty to go around. But Briggs, Matt's teammate from Palmdale, sums up the blame game most succinctly: "I don't think we'll ever know what really happened."
What is known is that as the draft approached, Tanzer, the agent the Harringtons had selected to represent their son, informed teams Matt would be looking for a big signing bonus -- $4.95 million, to be exact. Most teams were scared off, but not the Colorado Rockies, who got Tanzer's message, or at least that's what the agent said. The Rockies used the No. 7 overall pick on Matt that year, and their young assistant GM, Josh Byrnes, was point man for most of the negotiations.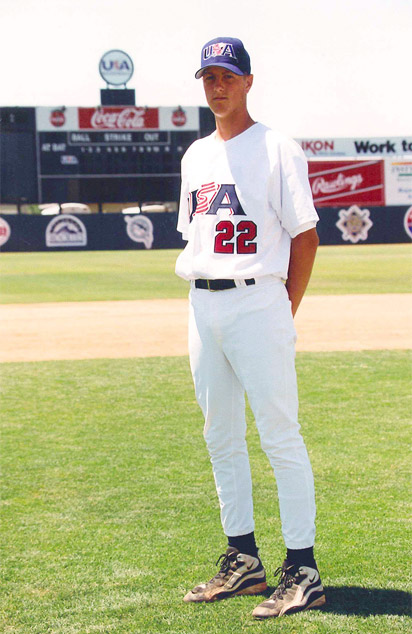 Courtesy of USA Baseball
When Matt was with USA Baseball in November 2000, his teammates encouraged him to take the deal from Colorado.
"That's one of the reasons why we got an agent," says Sue Harrington, Matt's mother. "We know baseball, but we don't know the business of baseball. And we felt that getting an agent was probably in Matt's best interest."
When the Rockies' first offer came in at $2.2 million, the Harringtons were told by Tanzer that it was part of the game, that it was a PR ploy; because Tanzer claimed Byrnes had already agreed to the $4.95 million, the Harringtons say they were told the "negotiation" was basically a formality. The problems started when Byrnes disputed Tanzer's claim. A war of words ensued -- first privately, then publicly through the media -- and the divide between the team and the Harringtons grew.
In August, two months after the draft and after numerous offers and counteroffers between Tanzer and the Rockies, Harrington was finally offered $4.9 million, but there were conditions: The offer was no longer a bonus but instead a salary to be spread out over eight years, plus Matt had to forgo three years of arbitration. According to the Harringtons, they were pressured by Tanzer not to take the deal, not only because the overall value of the offer was far less than they were looking for but also because it would have set a bad precedent for future players. Tanzer even got players' union chief operating officer Gene Orza on the phone. The Harringtons say Orza told them it was a bad deal. Orza says he doesn't remember the specifics of the conversation but acknowledges he would never advise anyone to sign a contract like that.
Because they weren't savvy and trusted Tanzer, who assured them the Rockies had everything to lose by not signing their first-round pick, the Harringtons rejected the $4.9 million offer. "I was told, 'They'll never not sign you. They'll never not sign you,'" Matt says, "Well, obviously that wasn't true."
Over the course of the next year, relations grew steadily worse between Tanzer and the Rockies, and by the time the next draft neared, the $4.9 million was off the table, gone for good. Matt went back into the draft, and Towers, who had so yearned to snatch up Matt a year earlier, took him with the Padres' second-round pick, 58th overall. The Harringtons still retained Tanzer, but a few months into negotiations, they fired him, filed a lawsuit against him for mishandling Matt's negotiations and hired Scott Boras. Even the superagent couldn't fix the mess left in Tanzer's wake: mistrust of the process by the Harringtons and cantankerous negotiations that left the public with the perception Matt was greedy. Matt, his parents and Towers all say the Padres made an offer, somewhere in the $1.2 million range, although Boras says an official offer was never submitted in writing. No matter. The result was the same: Matt, his agent and the team could not agree on the terms of the contract, and once again Matt went unsigned.
It didn't help that Matt wound up pitching for the independent St. Paul Saints against older players who had the advantage of a professional season and Matt was overthrowing to compensate. As a result, he was steadily losing velocity on his fastball, and his stock was plummeting. "I wasn't doing the same things I was a year and a half [before]," Matt says. "I can't blame anybody for saying, 'Oh, he's not the same guy.' I always, in my head, thought I could get back to that guy."
The Harringtons say they let Matt handle almost all the communication with Boras during the negotiations, and he followed Boras' advice. Matt says it came down to small details that Boras and the Padres could not agree on, although he can't recall what those details were.
"He didn't have any leverage at that time," Towers says. "He wasn't going to college. He was in an independent league. After what he just went through the previous year and he does it again, you start to wonder, 'Is that drive and desire really there?'"
The Harringtons contend all they did was follow bad advice, first from Tanzer, then from Boras. "I felt very responsible because, as a father, I should have been able to take more control of it," Bill says. "But at the same time, we did trust another human being we hired to make sure that was taken care of properly. We didn't want to be taken advantage of by an organization, but we didn't want things to fall apart, either."
Ultimately, Matt would be drafted three more times, by the Devil Rays, the Reds and the Yankees. Each time, he did not sign.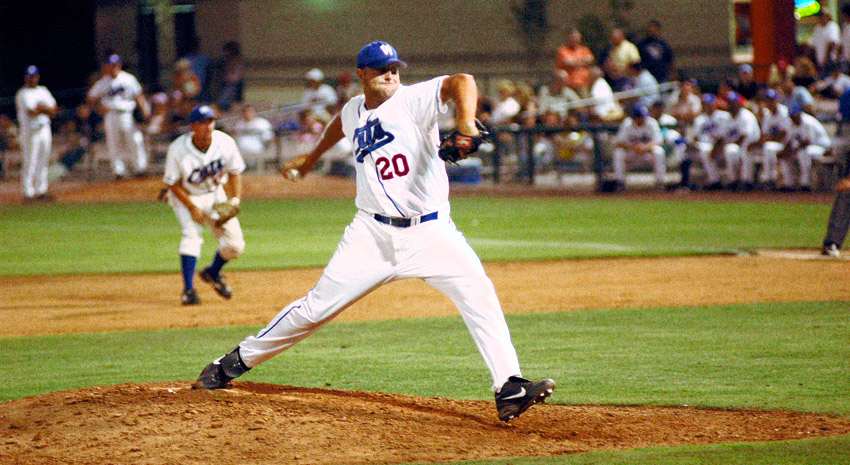 Courtesy of Fort Worth Cats
Matt tried to keep his major league dreams alive with the Fort Worth Cats, and his parents followed him to Texas.
No place left to hide
The stacked cereal boxes and jars of baby food at Food-4-Less became Sue Harrington's refuge. It was there, during the 2000 negotiations that spilled into 2001, she would take an empty shopping cart and slowly walk up and down the aisles, quietly crying. The local grocery store was the only place she felt safe releasing the grief and confusion she felt about Matt's failed negotiations and plunging stock price.
It seemed as though there were people in her home every day, calling, tweaking, stressing over the money, the years, the respect Matt deserved. As weeks, then months, passed without any resolution, Sue started to worry her family was making a grave mistake. She was the matriarch of the family; the woman who had raised five children on her salary at Target as a night manager and Bill's income with the pool supply company. She told herself she needed to remain strong, confident the process would play out. But in her moments of doubt, when she was truthful with herself about the realities of her son's situation, she needed an escape, and the Food-4-Less was it.
As each successive year passed and Matt remained unsigned, life for the Harringtons became increasingly insufferable in Palmdale. Sue Harrington no longer felt comfortable enough to roam the grocery aisles and weep. Bill Harrington had fewer kids ask him for help at the local park; no longer Mr. Palmdale Pony, Bill now was known as the overbearing father who probably cost his kid millions of dollars.
Says Sue, "It got to the point he still couldn't go to a high school game without somebody saying something to him about the negotiations with Matt."
Friends stopped returning phone calls; whispers in the crowd at local games grew louder. Bill would park along the outfield at local games, flip down the tailgate of his pickup truck, and sit alone, where nobody could bother him. One time, he went to a game in the San Fernando Valley with a friend. As they stood watching from beyond the outfield, a man started chatting with Bill and his friend. When the man heard Bill was from Palmdale, he brought up Matt. "Hey, you know that pitcher who turned down all that money?" the man asked.
Bill's friend started to inch away from the conversation, embarrassed about what was happening, and knowing what likely would ensue. The stranger kept talking trash about the stupidity of Matt Harrington, when Bill finally had had enough. "So you think you know all the details?" Bill said. "You don't know jack. I'm the kid's father."
That happened to Bill more than once. He and Sue increasingly felt as though they were on an island and as though their perceived mistakes had created an alternate identity for their family, one Bill realized that day in Long Beach they would never escape. In June 2004, they decided they would move to Texas, where Matt was pitching for the independent Fort Worth Cats.
"They wanted a fresh start," says Willy Tonkin, a good friend of the Harringtons'. "They wanted to get away from here; it reminded them of what happened. They saw the ugly side."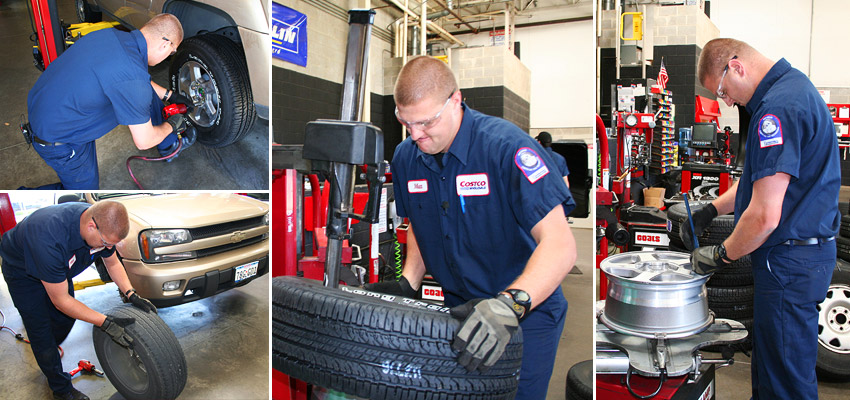 Bob Humphrey photos
Now working in the tire department at Costco, Matt has come to grips with his missed opportunity.
Forced from their home
It's an unusually windy spring day in Palmdale, and Craig Briggs is standing atop Smoker's Hill, from which Bill Harrington, who was too emotional for the other parents in the grandstand, used to stand with the smokers and watch most of Matt's games at Palmdale High.
Briggs was a teammate of Matt Harrington's, and now he's a coach at Palmdale High. It has been nearly nine years since the Rockies called Matt to tell him they had drafted him. Briggs says he still gets asked by people in Palmdale -- and all over the Antelope Valley -- what happened to his former teammate.
"A lot of people do think it was a bad decision," Briggs says. "I'm not going to sit here and lie, I don't know how he [didn't sign]."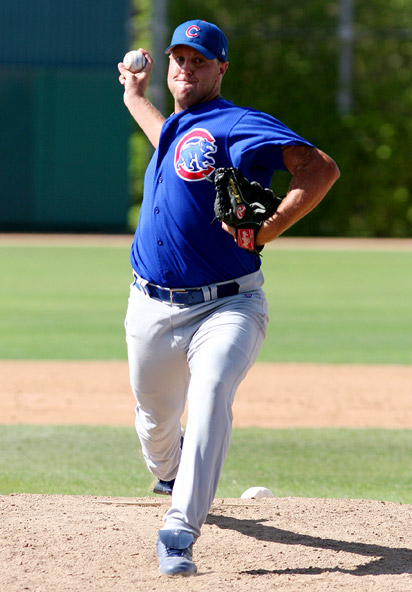 Baseball America/Bill Mitchell
Matt's last chance at a pro career ended with a failed stint in Cubs spring training in 2006.
Briggs says the Harringtons are looked upon negatively even now, nine years later. He admits in Palmdale, the Harrington name will always be associated with folly. "Bill's an emotional guy," Briggs says. "I can see why he wanted to leave."
But there is one part of the story that most in Palmdale don't know: Despite everything that went wrong, Matt Harrington still became a millionaire. A few months after Matt was drafted in 2000, the Harringtons took out an insurance policy for loss of skill with Lloyd's of London. Matt collected on it a few years later, after he had shoulder surgery and it became clear he would never regain top velocity. The details of the settlement are sealed under court order, and Matt says he can't discuss it. He and Tanzer also settled their lawsuit, which charged Tanzer with mishandling the negotiations. "What happened happened, and it is what it is," Tanzer says. "I've made my peace with these people."
Now 59, Tanzer still represents a few clients but is basically out of baseball and living in Park City, Utah, semiretired. "I'm not without blame here. I have to take 50 percent of the responsibility here," he says. "It was my job to get him signed. Again, there were a lot of reasons. I think the story is a tragedy for him and for everybody involved."
As for Matt, he looks at his saga much differently than his father does. After a failed spring training stint with the Cubs in 2006, Harrington went back to independent ball and reinjured his shoulder. He went fishing for a week and realized he was actually enjoying it and not pining for the game. He was 25 years old, and having just spent a spring with 21- and 22-year-olds who could throw harder and had better stuff than him, he decided to retire. He told himself it wasn't worth it anymore.
"I want to be home," Matt thought at the time. "I want to be doing the things as a family more than I want to be on the road all the time playing baseball."
Matt believes that were it not for his pitching in Fort Worth, he would never have met his wife, Kacee, or had his two children. He's happy with his life -- even working at Costco -- and while he loved baseball, he's not looking back with regret. "It's kind of a joke with people: 'You've been drafted five times and never signed,'" Matt says. "In order to live with it … well, you've got to turn it into something different because otherwise it'll eat you alive. It's in the past now, and I just take it as what it is, you know?"
The night before Bill Harrington's exodus to Dallas -- where he would move a few streets down from Matt, Kacee and their two children -- he and Sue had dinner with Willy Tonkin and his wife. Tonkin and Bill had coached together. Tonkin, as an umpire, called Matt's games in high school, and his son-in-law, the Twins' Jason Kubel, had become what Bill Harrington so wanted for his son -- a successful major leaguer.
"I'll probably never get over it," Bill says, still haunted by the fact that he failed to take a more active role in negotiations. (Public perception erroneously had him pulling all the strings.) "We've got friends who have kids in the big leagues, and I'm jealous. Matt should be there, too. I know Matt's gotten over it. I think Sue's gotten over it. This will haunt me until the day I die. It probably will until I go to my grave."
Willy has seen the pettiness of the people the Harringtons once called friends; he has seen them dismiss the Harringtons as greedy and selfish, only believing what they read in the papers, never knowing the full story. Tonkin knows Bill Harrington -- who always has been supportive of Kubel and his success despite his professed jealousy -- did not want to leave his home, his community, his oldest daughter and her family, his grandchildren. Bill Harrington thought he'd live in California his entire life.
And so in their last hours spent together, the couples shared dinner and cried as they said goodbye, knowing that the future held nothing but phone calls and holiday cards, and that more than money had been lost.
Amy K. Nelson is a writer for ESPN.com.
Join the conversation about "Dream On A Shelf."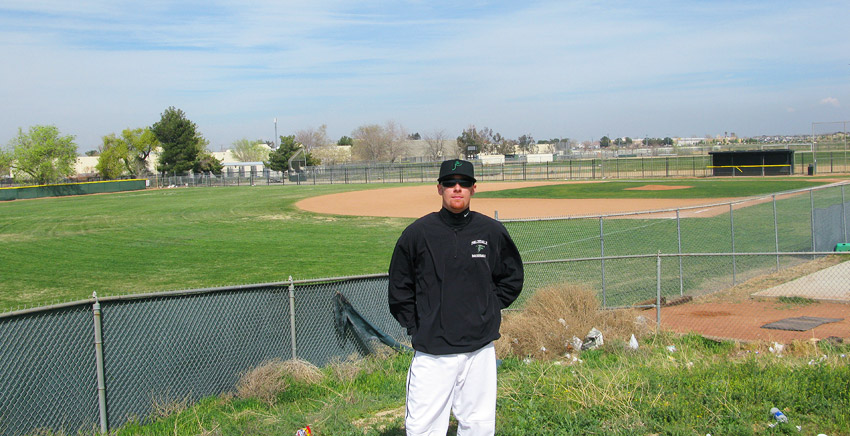 Amy K. Nelson

Craig Briggs, standing atop Smoker's Hill and now a coach at Palmdale, still can't believe his high school teammate never signed.