ETROIT -- This is the story that convinces me Dave Bing can save this city:
In 1971, entering his sixth season in the NBA, Bing was hit in the face in a preseason game against the Los Angeles Lakers. He was told he had a detached retina and his basketball career was over.
Understand that, at the time, Bing was a scoring machine, one of the most unstoppable players in the league. Lean, athletic and explosive, he had averaged 22.6 points and 7.8 assists for his career with the Detroit Pistons, who drafted him second overall in 1966. Jim Boeheim, his college roommate at Syracuse, described Bing's game as "ahead of his time by about 40 years." And Boeheim is not prone to hyperbole.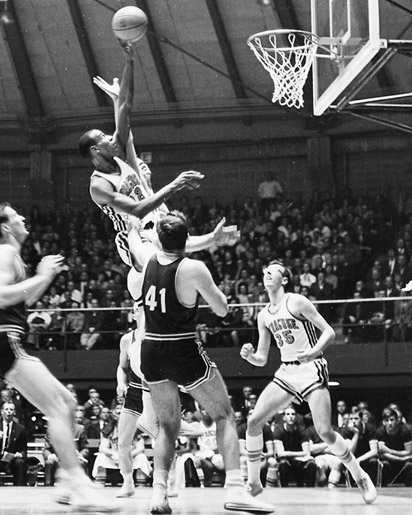 Syracuse University Athletic Communications
At Syracuse, Dave Bing played a game that was ahead of his time, says teammate Jim Boeheim, far right.
Anyway, the detached retina meant Bing had two bad eyes. When he was 5, he nailed two wooden sticks together to play "horsey," one of his favorite games. One day, as he was galloping down his block with his "horse," he tripped, and the nail plunged into his left eye.
Bing's father, Hasker, a bricklayer, had no insurance and couldn't afford an operation for his son, so the eye had to heal on its own. Bing never told his high school or college teammates about it, never used it as an excuse. All he did was become a high school and college All-American and lead Syracuse in scoring for three straight seasons -- all with fuzzy vision.
So the news that he had a detached retina could mean only one thing: See ya, NBA. "I didn't have any depth perception or peripheral vision," Bing says.
Bing sat out 2½ months of the 1971-72 season. His first game back -- against the New York Knicks with their All-Star backcourt of Walt Frazier, one of the NBA's best defenders, and Earl "The Pearl" Monroe -- Bing scored 21 points.
The second eye injury changed things, all right, but not the way Bing's doctors expected. He played better defense and shed his gunner mentality. He played in only 45 games that season, averaging 22.6 points. "That first year, I couldn't see my teammates. I was just throwing to a uniform."
In 1990, Bing was inducted into the Basketball Hall of Fame.
In 1996, he was named to the NBA's 50 Greatest Players list.
Think about what he might have done with two good eyes.
Now imagine what he could do for Detroit.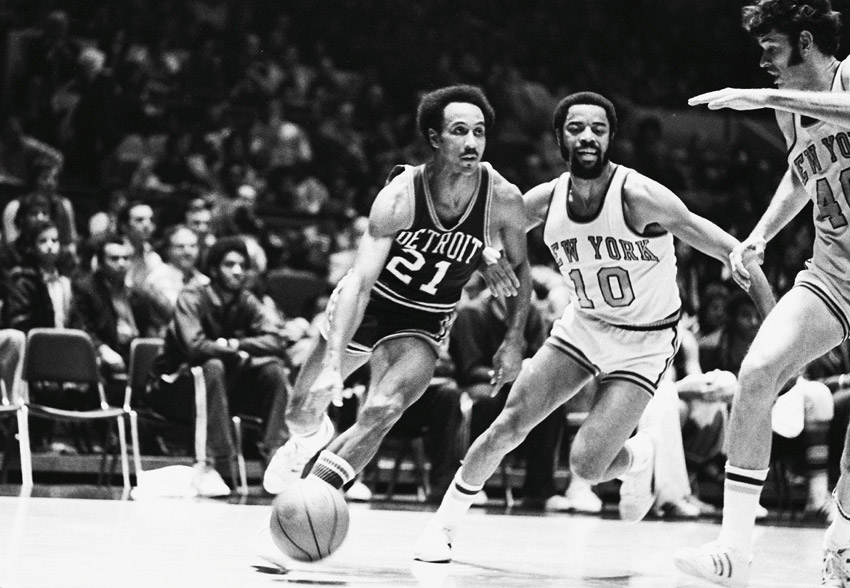 Rogers Photo Archive/Getty Images
Bing, who averaged 20.3 points per game in a 12-year NBA career, was named one of the league's 50 greatest players.
Who would want this job?
Is a 65-year-old who runs one of the most successful African-American-owned companies in the country crazy to want to be mayor of Detroit?
Detroit isn't just in a recession, it's in the gutter. (Because I was born and raised here, I can say that.) The auto industry, the city's heartbeat since Henry Ford rolled out the Model T in 1908, has just about bottomed out. General Motors is teetering on the brink of bankruptcy. Chrysler filed for federal bankruptcy protection Thursday. Even if the Obama administration succeeds in its desperate attempt to bail out American automakers -- far from a sure thing -- the industry will never be as powerful as it once was in Michigan.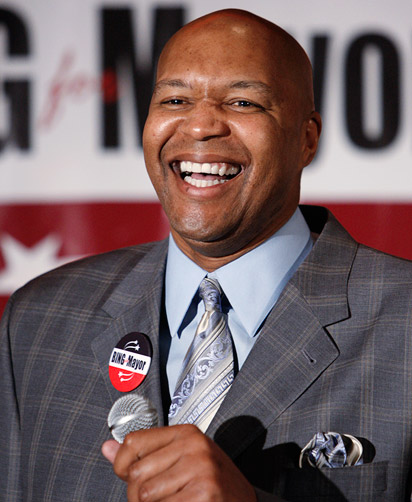 AP Photo/Paul Sancya
Detroit native Derrick Coleman is one of several former NBA stars to throw their support behind Bing.
Take away the heart, and the body soon follows. Detroit is near the top of the list in all the worst categories: poverty, foreclosures, a failing educational system, unemployment and crime. A third of Detroiters live below the poverty line ($19,157 household income per year), and Detroit's unemployment rate is an astonishing 23.2 percent. Gov. Jennifer Granholm calls Detroit's economic situation "our own Katrina."
"Detroit is like Somalia," says Adolph Mongo, a longtime political consultant and Detroit native who served two previous mayors, including recently ousted Kwame Kilpatrick. "There is no central government. We got pirates controlling the city."
The city is $300 million in debt. Detroit could be placed into receivership, the embarrassing civic equivalent of a 40-year-old asking Mom for an allowance so he won't starve to death.
When Kilpatrick was forced to resign in September after pleading guilty to obstruction of justice (he was sentenced to four months in jail), it was another blow to a city that really can't take another blow. "It's made us the laughingstock of the country," says former NBA player and fellow Syracuse alum Derrick Coleman, a native Detroiter who considers Bing a mentor and father figure.
Kilpatrick's removal means Detroit could have four mayors in one year. If Bing wins Tuesday's special election, he will complete Kilpatrick's vacated term and presumably participate in the August primary and November general election. Coups d'etat in Third World countries are staged less frequently.
Despite what's at stake in the mayoral race between Bing and current interim mayor Ken Cockrel Jr., apathy has overtaken the city. Detroiters are politicked and promised out. The February primary had only a 15 percent voter turnout, with Bing the leading vote-getter at 29 percent.
A Democratic candidate, Bing believes he can fix Detroit despite his complete lack of political experience. History suggests that's exactly the kind of man who has saved Detroit before.
In the late 1800s, Detroit was in trouble much the way it is now, infested with corruption and unemployment. In 1890, Detroiters elected Hazen Pingree, a successful shoe manufacturer and the city's first mayor with no previous political history. He was an agent of change and, according to some experts, possibly the best mayor Detroit ever had.
"You have got to give people hope," Bing says. "You got to give people the opportunity to see the bright side. I think we have bottomed out at this point in time, and we have no place to go but up."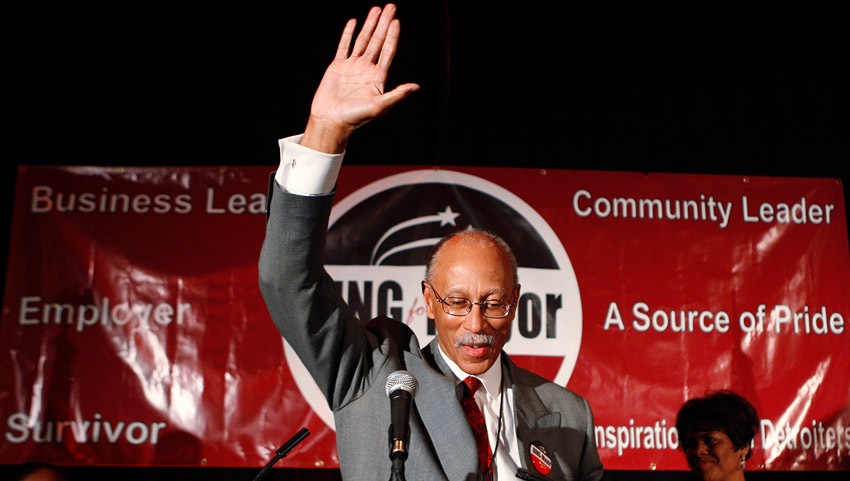 AP Photo/Paul Sancya
On Tuesday, Bing hopes Detroiters will elect him to try to lead the city out of its tough times.
Hope or hype?
Good question. To put it gently, Bing has been elusive about his plans, a move that hasn't gone unnoticed by his critics. When I asked Bing to list his priorities if elected, he didn't say anything unexpected. Change the business climate. Reduce crime. Focus on education. He says he doesn't want to "overpromise," but is that because he doesn't have a handle on the issues or because, considering the severity of Detroit's problems, the only thing anybody in his or her right mind could comfortably guarantee is effort?
Throughout his campaign, Bing has promised to lean on his strong business contacts to create badly needed jobs. Whether he can persuade businesses to invest in Detroit remains to be seen. Coleman, for one, is a believer.
"I've listened to the candidates, and everybody has valid ideas about what they're trying to do and the direction of the city," says Coleman, who owns local businesses worth an estimated $5 million. "They keep saying, 'Once I get in, I'll be able to do this.' Well, he's already got those relationships."
And considering that Kilpatrick, nicknamed the Hip-Hop Mayor, wore a diamond earring and suits that looked like leftovers from "Harlem Nights," Bing would, at the very least, restore a sense of professionalism to the office. "Dave brings an image that's very positive and calming," says the Rev. Wendell Anthony, president of the NAACP's Detroit branch, adding that he hasn't seen Bing "cuss nobody out yet."
In Detroit, that passes for statesmanship.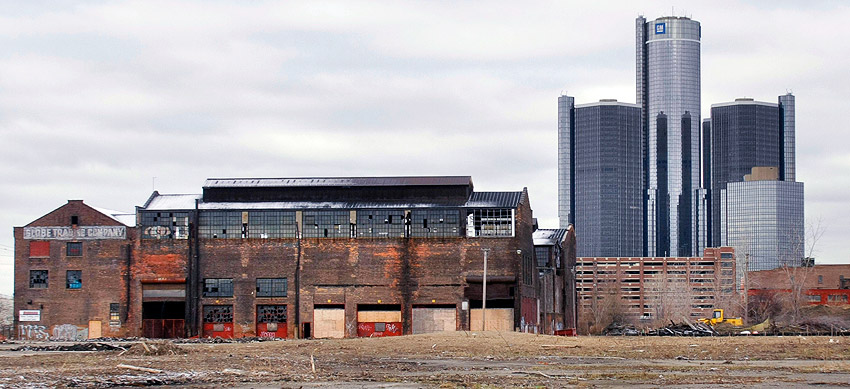 Bill Pugliano/Getty Images
As the American auto industry has struggled, unemployment and home foreclosures have soared in the Motor City.
Is there such thing as a politician without an agenda?
This is why Dave Bing might be the candidate best qualified to serve Detroit: He doesn't need the job.
He doesn't need the money; according to campaign disclosures, he made $870,438 in 2007. He doesn't need the prestige. If elected, Bing says he won't take a salary, but will donate the money to the police department.
There is just one reason for Bing to run for mayor, and I guarantee you it isn't sexy: Bing feels as though he owes Detroit for making him a man.
He was raised in northeast Washington, D.C., but his real growth happened here. He came to Detroit when he was 22 years old. He was married with two daughters, and he had an NBA contract worth a whopping $15,000. He thought his you-know-what didn't stink.
Then he walked into a Detroit bank.
"After living in apartments at Syracuse, I wanted a home," he remembers. "When I came to Detroit, the National Bank of Detroit was the largest bank here, and I went to the bank to try and get a mortgage for my home, and they turned me down. I couldn't understand it because I thought I was a big shot. I'm just coming here to sign my first contract, and I didn't think I'd have a problem at all getting a mortgage to get a home. But they basically said to me, 'You are 22 years old, just out of college. You have never worked, you don't have any credit history, and by the way you've been drafted by the Pistons. And they are not a very good franchise, so we are not sure if we gave you a mortgage whether or not you could pay.'"
That's Detroit, home of the gut check.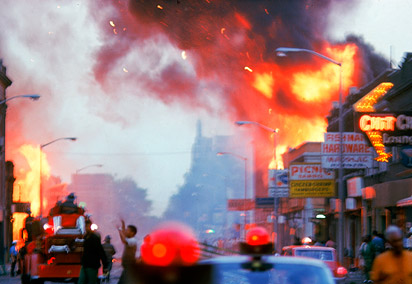 Declan Haun/Time & Life Pictures/Getty Images
During the 1967 riots in Detroit, Bing says, he got the desire to become an agent for change.
Bing's first summer in Detroit was 1967, the year the city transformed from land of opportunity to land left behind. Detroit burned for five days during race riots that eventually claimed 43 lives, injured more than 400, led to more than 7,000 arrests and destroyed 2,000 buildings. In terms of damage, only the Los Angeles riots in 1992 after the Rodney King verdict were worse. "Worst summer I had in my life," Bing says.
But the riots had a huge, life-affirming impact on Bing. He suddenly realized his life needed to be about something more than just basketball. He needed to help Detroit recover. "I knew I wanted to be here," Bing says. "I knew the depths of our problems. I wanted to be a part of change way back then."
First, though, he needed to help himself. Stars in Bing's day didn't make anything close to what the last guy on an NBA bench makes today. Bing returned to the National Bank of Detroit. But this time, he didn't ask for money. He asked for training. Every offseason for the next seven years, Bing worked at the bank … as a teller (imagine the guy who once dunked viciously on Kareem Abdul-Jabbar asking whether you wanted big bills or small ones), in customer relations, in the mortgage department. He learned the principles of financing, setting himself up for a business career that would be as impressive as his playing career.
"He was a gifted athlete, but more so than that, he always seemed to be thinking about something," says Larry Wright, who played with Bing after he was traded to the Washington Bullets in 1975. "He didn't do a lot of talking. When we traveled, we'd play cards for a minute, but then he'd be reading."
Rolling around in Bing's brain was the promise he made to himself after seeing his father struggle as a common laborer. Bing didn't want to be a worker. He wanted to be the boss. He wanted to put something together with his mind, not his hands.
So when Bing's NBA career ended after the 1977-78 season, he was ready. His first post-basketball job was working in a warehouse at a steel-processing company. He was paid $35,000 -- about $215,000 less than what he made his final season in the NBA.
As he did at the bank, Bing learned the ins and outs of Paragon Steel, from shipping to sales. He left after two years to fulfill his mission of running his own company.
He was on his way.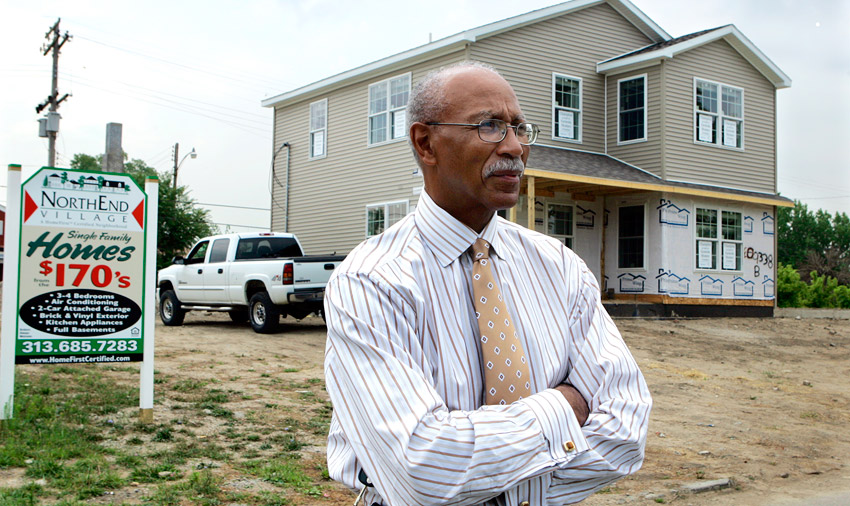 AP Photo/Carlos Osorio
Bing points to his track record of urban renewal, including building single-family homes near his company's offices in Detroit's North End.
Nothing's a layup
This is a story that makes me think Bing is for real:
He began Bing Steel in 1980. He had four employees, a rented warehouse, 80 grand of his own money and a quarter of a million dollars in loans, and no equipment.
Bing explains his mayoral aspirations on "Outside the Lines."

He lost all his money in six months. "It was scary," Bing says. "Nobody took me seriously."
Here he was, a former athlete trying to make it big in a difficult industry as an unproven black man. Chasing an NBA championship looked easy by comparison. But he lost only his shirt, not his hope. Bing kept at it, vowing that no matter how bad things got, he wouldn't dip into his daughters' college fund. He kept pitching, praying and believing.
His hard work paid off. He lowered his sights and reinvented himself as a middleman instead of a manufacturer. He quickly locked up his first major client: General Motors. His second year, revenues increased to $4.2 million and he turned his first profit. Five years later, Bing Steel had expanded to revenues of $40 million, 63 employees and two manufacturing plants. President Ronald Reagan named Bing the National Minority Small Business Person Of The Year in 1984.
Today, Bing Steel is Bing Group, a conglomerate with a sprawling complex in Detroit's North End. Bing has spruced up the once-dilapidated area with new, low-cost homes. Annual sales total $300 million and, if he becomes mayor, his two daughters will run the company.
I asked Wright, Bing's Bullets teammate, why Bing succeeded at everything. Wright told me this story:
"We had a young guy on the team named Joe Pace," he recalled. "Joe always got fined for being late, not showing up for practice. Joe stayed in a lot of trouble. When it was time to get paid, Joe wouldn't have any money. I saw Dave speaking with Joe. He could see Joe was down. He talked with Joe about the things he needed to do. He gave Joe not a little bit of money but a lot, so Joe could live to the next check. I'm talking about two or three thousand dollars. When Joe got his next check, he tried to pay Dave back. He didn't take it. He told Joe, 'When you see somebody else in trouble, you help them.' I never forgot that."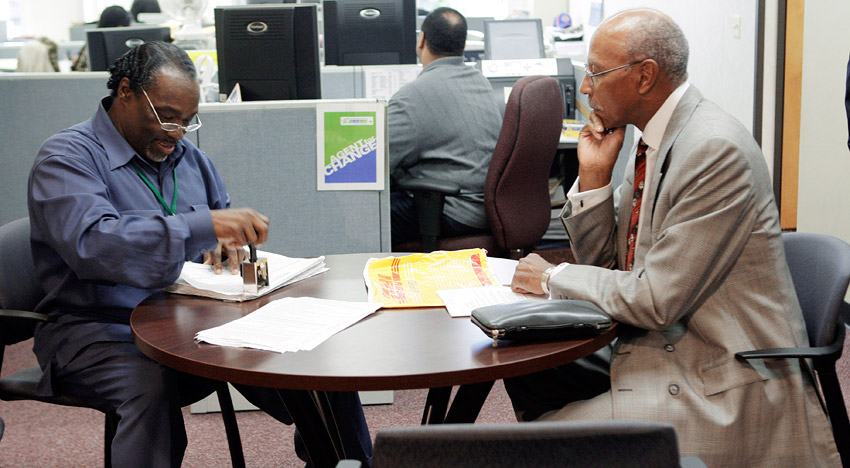 AP Photo/Paul Sancya
Information technician Reginald Smith stamps Bing's petition to enter the mayoral race in October.
Can Bing be trusted?
This is what makes me wonder whether Bing is just a typical politician: He got caught in two "misremembers," and although his business credentials are impressive, a few warts were revealed there, too.
In March, Bing's campaign experienced some turbulence when he was caught making false statements about his education in a video for the National Basketball Retired Players Association.
Bing said he graduated from Syracuse in four years. He did not.
Bing said he had an MBA. He did not.
One of those missteps was more understandable than the other. Bing left Syracuse in 1966 fully believing he had graduated. Nearly 30 years later, Bing discovered he had received an incomplete in a class because he didn't turn in a paper. He completed the minor coursework and received his degree. He thought that was the end of it, but nothing's that simple when you enter politics.
After the controversy arose, Syracuse released a letter backing Bing. The school stated that it has always considered Bing part of the '66 class. The discrepancy was cast as a misunderstanding and nothing that required a Senate inquiry.
But the MBA issue … well, that one is more complicated. In the video, Bing clearly states he has a graduate degree. Later, he backpedaled and explained it as just an honest mistake.
Joe Dumars talks about why Bing would run for mayor.

"I had got my first honorary degrees from [General Motors Institute, now Kettering University], which was in business," Bing explains. "Then I got an honorary degree from the University of Michigan and an honorary degree from Syracuse, and I was trying to explain to our players how important education was going to be, because so many of our guys drop out of school, don't graduate, never go back, and then they wonder why they can't be prepared to go into the real world, the work world. And I was trying to say to them that I had to go back and got a degree. I said MBA, and I shouldn't have said that because that was not the case."
Bing wouldn't be the first businessman who exaggerated his achievements, but considering the buzzwords of his campaign are "transparency" and "honesty," it was an embarrassing gaffe that didn't quite pass the sniff test.
"[I was] a little surprised at that, but it was nothing that threw me off of my perception of him and how he's gotten things done," Pistons president Joe Dumars says. "I've been around him since I came to Detroit 20-plus years ago. And he's always been a very class guy who really carries himself with a lot of dignity and integrity, so whatever that was about, the degree thing wasn't enough for me to get off the bandwagon."
Then there are the numerous safety violations Bing's supply plants have racked up in the past decade, including one that came after a worker was crushed to death.
The Michigan Occupational Safety and Health Administration assessed Bing's plants with 151 safety violations and nearly $200,000 in fines.
MIOSHA director Doug Kalinowski said the violations and fines were "not uncommon," but the blemishes at least somewhat contradict the perception that Bing is a flawless businessman.
"No. 1, [the fatally injured worker] wasn't in one of my plants. It was a joint venture that I had with another company," Bing explains. "It was their facility, and once I found out, once they made me aware of those violations -- because that doesn't always come up to me -- I made sure I got involved. We put the corrective actions in place. It's always tough when somebody gets hurt in your business."
Some of the penalties and fines were reduced, and Bing made sure to reach out to the family of the deceased worker. But the larger issue here is: Can Bing be trusted or not? At least he understands why people might be skeptical. "I think, for the short term, people have to question, 'Is this guy who he says he is?'" Bing says.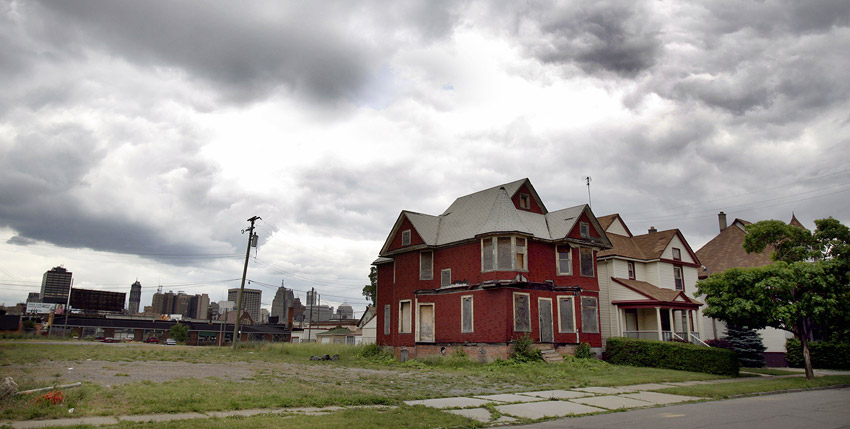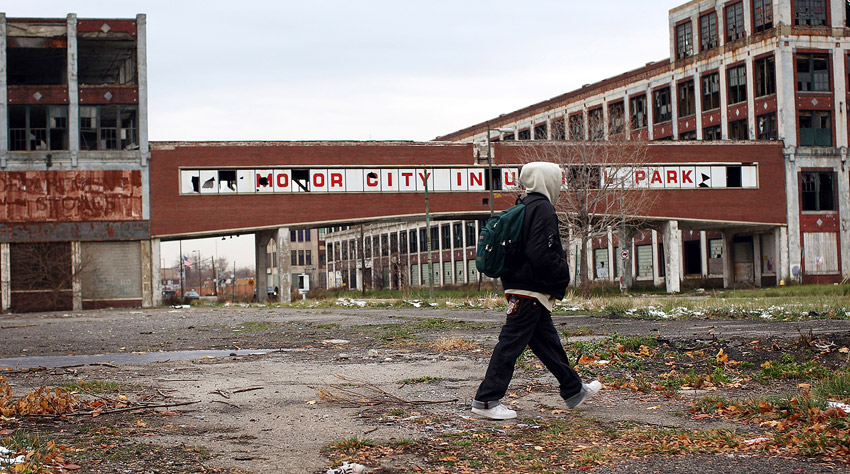 Spencer Platt/Getty Images
Boarded-up homes and abandoned common areas have become all too commonplace throughout Detroit.
A real Detroiter?
Detroit is a city with serious abandonment issues. Detroiters do not trust easily. Some look at Bing and wonder why he, with all his success, would love this city enough to fight for the thankless job of trying to save it. And I wonder why the city, so needy, so desperate, would not embrace such an unconditional act.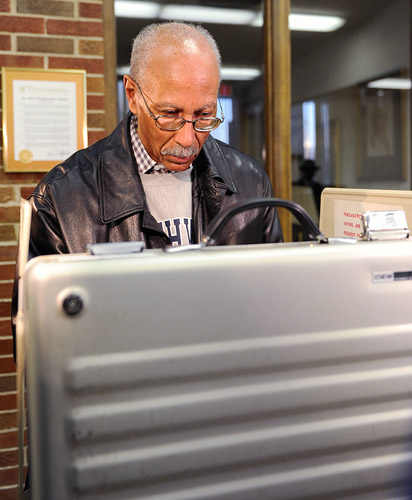 AP Photo/The Detroit News/Velvet S. McNeil
In the Feb. 24 primary, Bing was the leading vote-getter with 29 percent.
But Detroiters are hard to please. We don't embrace you unless you are one of us. The spotty safety record, the misrepresentations of educational achievements don't matter as much as the answer to a simple question: Is Dave Bing a real Detroiter?
And the answer is all about geography. Bing has a home in the neighboring suburb of Franklin, and he didn't buy a condo in Detroit until he announced he was running for mayor. This might seem like an insignificant thing. Bing is a businessman who has made a lot of money. If he wanted a nice home in the suburbs, so what?
But for all of Detroit's shortcomings, one impulse remains strong: civic pride. Longtime residents make a very big distinction between living in metro Detroit and living in Detroit-Detroit. The relationship between Detroit and its suburbs is as uncomfortable as the relationship between fans of Michigan and fans of Michigan State. After the '67 riots spawned white flight, a psychological line was created between the city and the suburbs. The reason Eminem titled his biopic "8 Mile" is because that's the road that divides the two, and longtime Detroiters feel that division in their soul. As Detroit has had to deal with ever-worsening economic depression, Oakland County, home to many of the metropolitan area's prominent suburbs, has become the second-richest county in the U.S.
And even though Bing's business complex is in Detroit -- and he has employed Detroiters for years, engineered a $600,000 fundraising drive that saved many of the city's sports, music and arts programs, and supported the city in countless other ways -- some people look at Bing and see a haughty suburbanite who couldn't possibly understand the challenges of living in a city that everyone looks down on -- particularly residents of Oakland County, where Bing has his primary residence, even though he says he is living in Detroit "70-80" percent of the time these days.
"The people that live here feel the pain," political consultant Mongo says. "You got to be here, pay high taxes for less services. We're dealing with predators. You can't even stop at a gas station at a certain time of night because someone may hijack your car, whether you [are] a cop or not a cop. So Dave Bing don't know the people of Detroit. He might think he knows. Dave Bing runs in that circle like everybody that is in his situation. Saying, 'Well, you know I'm here, I've been here for 40 years, I love the city.' But if you love the city, live in the city."
But this is how I know Bing is no poseur:
The day of the primary, as I sat in his campaign headquarters talking with him about his love affair with the city, an elderly woman approached and whispered something in his ear. Smiling broadly, Bing nodded and patted the woman on the shoulder. Then he directed her to a table filled with pizzas, sandwiches and sodas, a buffet for his campaign volunteers. He whispered something back to her. She smiled, thanked him and walked gingerly toward the table, where she piled a paper plate with food.
I asked him what she wanted. Bing explained she was a supporter on a fixed income who often came to his downtown Detroit headquarters to get a good meal. "She was hungry," Bing said. "I told her, 'I don't see nobody else here eating.'"
Making someone else comfortable, someone who really couldn't do much to help him, seemed as natural to him as tying a shoelace. Considering where he was raised, I can see why relating to Detroit came so easily. Bing grew up in northeast D.C., where pimps and drug dealers infested his neighborhood. Bing's family was so poor that he and his three siblings slept two to a bed. "I'm one of them," Bing says. "I've been here. They see me, feel me, touch me. I want to help, and that's why I am running for this job."
That, and the fact that everything good that has ever happened to Bing happened in Detroit -- the meat of his Hall of Fame career and his evolution into a prominent businessman. He's not turning his back on the city now that it needs help.
"Detroit is home," Bing says. "I've been here 42 years, most of my life, and Detroit is in me, it's all through me."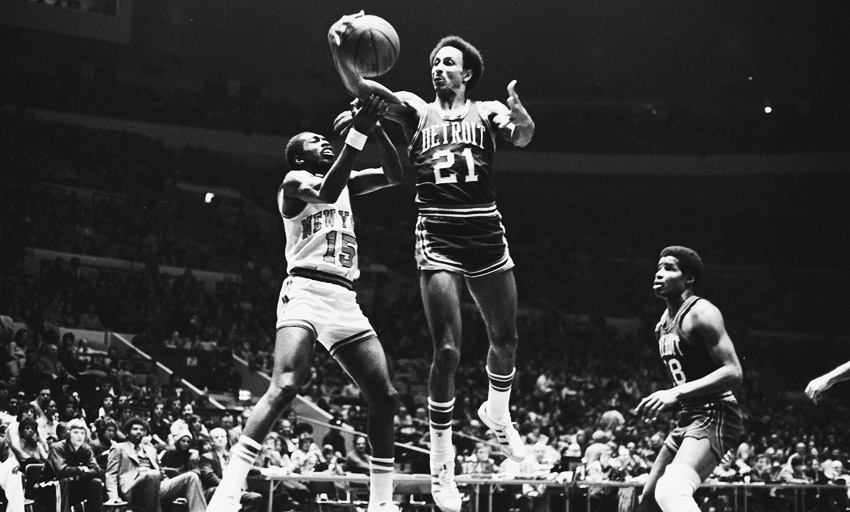 Rogers Photo Archive/Getty Images
Bing was an excellent clutch performer for Detroit, and he hopes to write another comeback story now.
The final tally
But does Bing -- the political outsider and, as some Detroiters tell it, an outsider, period -- really have a shot at winning this impossible job?
Well, just follow the money.
Bing has more money than his opponent and more connections in the business world. Bing has raised almost $1 million, and Cockrel has taken in about $600,000. According to campaign finance records, NBA commissioner David Stern, former Pistons stars Isiah Thomas and Chauncey Billups, and Cavaliers owner Dan Gilbert have given money to Bing's campaign.
But money won't be the only thing that will determine whether Bing can win the election. Bing is up against an experienced politician and a family legacy. In 1997, Cockrel became the youngest person ever elected to the City Council. Cockrel was City Council president before Kilpatrick's misadventures moved him into the mayor's chair. Cockrel's father, a much-beloved Detroiter, also was a council member.
I ask Bing what he will do if he doesn't win. His competitive instincts explode. "I don't think of failure," Bing says, practically spitting out the words. "When somebody asks me, 'What if you lose?' -- I don't think like that. I am going to win, and I am going to do what I need to do to bring this city back. Detroit cannot fail. And if there are enough of us who think like that and feel like that, we'll not allow that to happen. And I want to lead that."
Bing has succeeded at every level -- high school, college, the pros and in business. That's reason for optimism. But being mayor of a Detroit is a challenge from a different universe, and a very hostile one at that. Is he ready?
He believes he is. And he also believes Detroit has "one shot" to turn the city around and it had better start with this election. "If we screw up, there isn't going to be a tomorrow," he warns.
I ask Bing how he fared on the court in crunch time, when his team desperately needed a last-second basket to pull out a victory.
He chuckles. "I did pretty well," he says.
Jemele Hill is a columnist for ESPN.com.
Join the conversation about "No Place To Go But Up."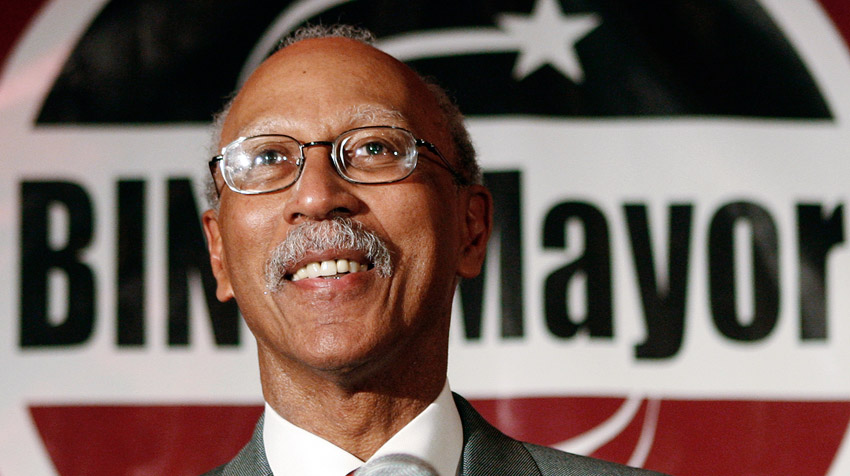 AP Photo/Paul Sancya

"I am going to win, and I am going to do what I need to do to bring this city back," Bing says.