OTL: 'Lock And Load'

AN DIEGO -- It is safe for him to come out now at Mission Beach. Surfers dip their boards into a clear blue ocean that touches the sky. Panhandlers wander around with empty Starbucks cups. That thing they say about time and wounds? Maybe it's true. Because Ed Hochuli is treading through the California sand, loose and out there in shorts and sandals, and nobody feels compelled to hurl a rock at him.
It's sort of poetic that Hochuli has a beach condo here, in the very town that wanted his white hat on a stick, along with his head. His place on Ocean Front Walk is impeccable. No smudges on the windows, no crumbs on the marble counters, and a sign near the doorway that asks potential renters to be courteous and please avoid trashing his offseason pad.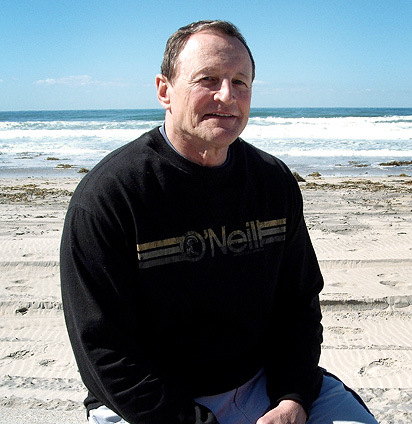 Liz Merrill/ESPN.com
At his beach condo in San Diego, Ed Hochuli is able to escape from the pressures of his work as a lawyer and NFL referee.
"The best thing in the world is to sit in the rocking chair and watch people walk by on this boardwalk," the NFL referee says. "Especially in the summer, when it's so crowded out here. You see people walking by with birds on their shoulders. The dress that you'll see, the hairstyles. ... People are funny."
Sadly, people are not perfect. But before his nationally televised gaffe last September, many would've argued Hochuli was. His muscles exploding out of his tight, striped shirt, he exuded confidence with every blast of his whistle, and women gathered around HDTVs, entranced, as he explained, so forcefully and eloquently, why he had thrown his yellow flag.
It wasn't just the body or the verbosity. Hochuli is one of the most recognizable faces in all of officiating, and his was an excruciatingly precise climb. He didn't just study the rulebook; he wanted to test better than every other official. Before every snap, 160 times a Sunday, Hochuli whispers to himself, "Lock and load," so his mind doesn't wander and his hazel eyes never miss a thing.
For this, there are at least four Web sites devoted to Hochuli, the most notable being WhatWouldEdHochuliDo.com. NFL coaches were polled last season about who was the best referee. Hochuli tied for first with Mike Carey.
And then came the day he missed a whopper of a call, in the final 80 seconds of the San Diego-Denver game Sept. 14, a call that many before him have flubbed but that Hochuli couldn't live down. It followed him throughout the 2008 season, from Kansas City to Green Bay to the warm shores of Miami for a January playoff assignment. Nearly every major officiating mistake, even if his crew was 2,000 miles away, evoked his name. Could a lifetime on the brink of perfection be washed away with a single split-second decision?
What would Ed Hochuli do?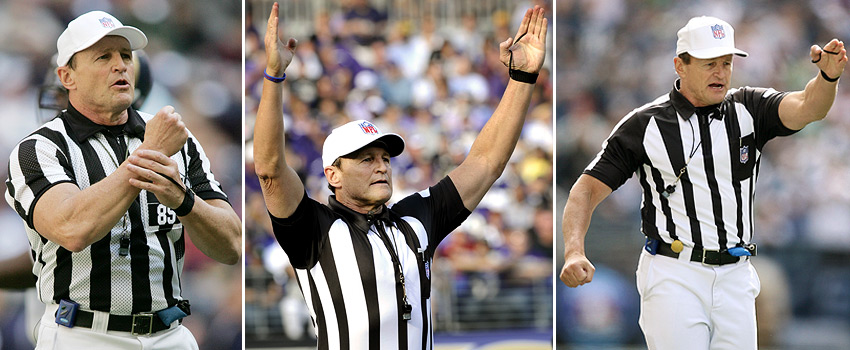 Getty Images
Since 1990, Hochuli has consistently strived for perfection as an NFL official.
Never mess with Ed the Lawyer
An exceedingly polite woman sits at the reception desk in the offices of Jones, Skelton & Hochuli, a Phoenix firm that touts itself as one of the most experienced litigation groups in Arizona. It is unknown whether she's the same brave soul who worked the morning of Sept. 15, the day after the disaster in Denver, when the e-mails poured in from angry Chargers fans and bettors, and the firm's phone lines had to be shut down.
That's one of the drawbacks to being a lawyer-slash-NFL official in the Internet age. When something goes wrong, an industrious man's contact info is only a few clicks away.
It was clear from a fairly young age that Hochuli would be a lawyer, just like his father and two brothers. He loved the research, poring over depositions and precedents, having a box full of jurors look to him for the answers.
And almost always being right.
"As trial lawyers, one of the reasons we [like trying] cases is the adrenaline rush," Hochuli says. "You love that challenge -- the competition, if you will -- of it. It's a game. It's obviously a very important game to people, and I don't mean to diminish the importance of it. ... You have to follow these rules, and there's a win-or-lose outcome. You're on a stage."
One of his first cases as a young litigator was patron v. bar, with Hochuli's firm defending the bar. Guy fell off a barstool, hit his head on a pool table, couldn't taste or smell anymore. The evidence did not favor Hochuli's client, and he and his partner, Donald Myles, knew it. The bar floor had just been waxed; the barstools were wobbly; and witnesses were testifying that the plaintiff wasn't drunk.
It didn't look good for the home team. All Hochuli had was a hospital report saying the guy's blood alcohol content was high. So he opted for a little legal drama: He put the report in a plain brown paper bag and told the jury that the contents of that bag would prove his case but that he wasn't going to reveal what he had in the bag until the end of his presentation. At the climactic moment, Hochuli opened the bag and showed the jurors the report, and they were appropriately impressed. "The jury went out and came back in five minutes with a defense verdict," Myles says. (The judge was not as impressed. He felt the jurors had made their decision based on emotion, not evidence, and overturned their verdict.)
Hochuli and Myles used to jog together. On Friday nights, when the young and upwardly mobile were catching beers, Hochuli was driving to Yuma, a 185-mile drive to the California border, to referee high school games for $38 plus mileage. "Why do you do it?" Myles used to ask.
"I love it," Hochuli said. "I just love still being part of the game."
Like many red-blooded American males, he would have preferred being a football star. He was a scrappy linebacker at the University of Texas-El Paso in the early 1970s before size got in the way. So he started reffing Pop Warner games on Saturdays, making 50 bucks for four games. Sure, at first it was a way for a young father to help pay for law school, but ... "Any official would tell you the same story -- you get hooked," Hochuli says. "It's like having a main line of adrenaline running in your vein for three hours on Sunday night. It's like standing on a cliff."
Pee Wee led to preps, jucos and eventually the Pac-10 in 1985. Hochuli had to work the chains for two years before he got to officiate a college game, and his lawyer buddies would come along to affectionately tease him from the stands at Sun Devil Stadium: Go, Down-Marker Ed! They followed him to his NFL debut in 1990, when he broke into the league as a back judge. His first game was at Lambeau Field, preseason, and Hochuli was nervous. What if somebody figured out he didn't belong there? He threw his flag and felt his stomach sink because he knew immediately that he had gotten the call wrong. Hochuli quickly picked up the flag off the grass and stuffed it in his pocket, and the game went on.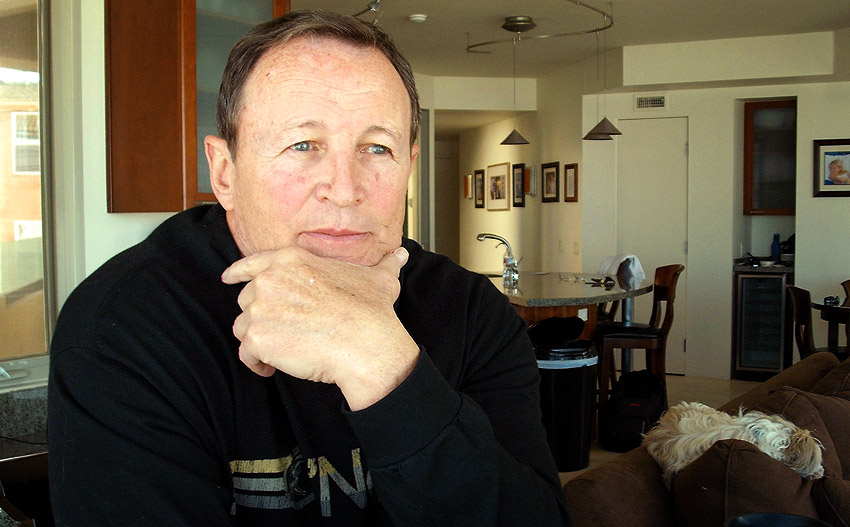 Liz Merrill/ESPN.com
"It's like having a main line of adrenaline running in your vein for three hours on Sunday night," Hochuli says of officiating in the NFL.
Like being the "Incredible Hulk," but with a sense of humor
A ref toils away for 20 years, on average, before he makes it to the NFL. He is scouted, interviewed, tested and graded. In the end, he knows one thing: that, just like the behemoths on the field, he is among the very best.
There are 120 officials in the NFL each season and "another 20,000 who would kill to be there," says Jerry Markbreit, a longtime NFL ref. They don't see themselves as traffic cops or walking rulebooks. They're keepers of the integrity of the game.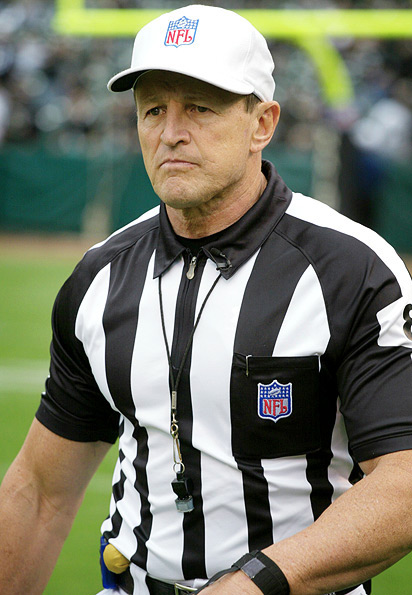 Icon SMI
What would Ed Hochuli do? More often than not, the answer is make the right call.
"It's like a dual life," Markbreit says. "You're transformed into something special, and when you take the uniform off, you're like the 'Incredible Hulk.' You go back to a normal size.
"Every official wants to be perfect. And there is no perfection. You strive for perfection, but you settle for excellent."
They hear the boos, stand within earshot of the sideline tirades, but all that matters, really, are the grades from the boss. The NFL spends roughly eight hours evaluating the officiating ... from each game. Every play gets a grade after being examined from several angles of slow motion. Collect enough bad grades, and you're gone from the big stage.
From the early days, it was clear Hochuli would have a long run. He was uberdriven and bound by the rules but always managed to show a little humanity under the stripes. Say an angry 330-pound tackle approached him to complain and said, God, Ed, are you blind?! I'm being held!
Hochuli would break the tension and say something like: I know he's holding you. But see, we've got this memo that says you're so much better than he is. If we don't let him hold you, he's not going to be in the game.
The tackle laughs, Hochuli says he'll keep an eye on it and the game goes on. Who wouldn't be enamored of Hochuli, his 58-year-old body outrunning those of men half his age, his smooth lawyer tongue assuring you that everything is under control?
When he got his start in the NFL, Hochuli wanted to know everything. He flew to Skokie, Ill., to pick Markbreit's brain, and they talked well into the night, for 10 hours straight. "When they talk about great referees in the NFL," Hochuli told him, "they talk about Norm Schachter, Jim Tunney and Jerry Markbreit. Someday, they're going to talk about Ed Hochuli."
"You get a roomful of [refs], and they're all exactly the same," Markbreit says. "They're risk takers. What they really want to find out is, 'Am I good enough? Am I good enough this week?' Some weeks, you're not.
"It's almost like acting. In real life, if someone confronted you on the street and berated you, you'd probably pop them in the nose. But not here. You pride yourself in not allowing them to get the best of you."
All of which describes Hochuli to a T.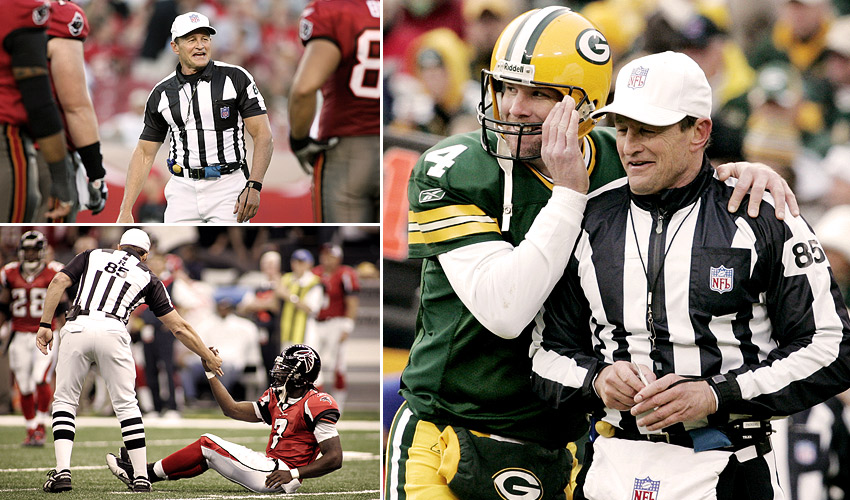 U.S. Presswire (two at left); AP photo (right)
Hochuli tries to bring a little levity to a job in which even the smallest error is heavily scrutinized.
A sudden attack of dyslexia?
The phone was ringing when Hochuli walked into the locker room in Denver on Sept. 14. It was Mike Pereira, the NFL's vice president of officiating, and things were about to blow up. A few minutes earlier, in a huge Week 2 game between the teams expected to contend for the AFC West title, Broncos quarterback Jay Cutler had reared back to throw with 1:17 remaining and the ball had slithered out of his grasp. Fumble. The ball was recovered by the Chargers, but Hochuli ruled incomplete pass and blew his whistle during the play, signaling it dead.
He was standing roughly 7 yards from the play and knew right away that he'd made a mistake. A peek at the replay monitor proved it. But he couldn't give possession to the Chargers because of the league's "inadvertent whistle rule." He walked over to Chargers coach Norv Turner and told him that he had screwed up but there was nothing he could do about it. Denver went on to score, converted a 2-point conversion and won 39-38.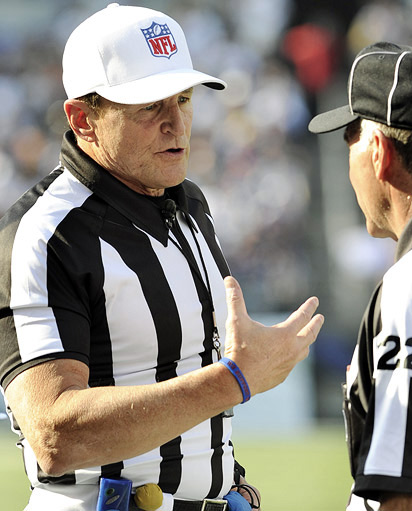 Al Messerschmidt/Getty Images
Hochuli relied on the other members of his crew to get him through the aftermath of the blown call.
"Forget about it, Ed," Pereira said to Hochuli after the game. "It's a mistake."
Nineteen years in the NFL, and one thing was sure: Hochuli rarely made mistakes, especially ones that turned games. He had made the call hundreds of times -- nailed it, over and over. What happened? He rewound the play in his mind and on video. His position was good; his focus was sharp. It was almost as if he were dyslexic, he'd say. He saw what happened and reacted oppositely.
He didn't sleep for three days. And back in Phoenix at his law firm, the phone lines had to be shut down for a day. His colleagues knew he was hurting and gave him some space.
The NFL downgraded Hochuli for the call. Petitions circulated in San Diego, their venom ranging from having Hochuli fined to banned from NFL games. Banned! Even WhatWouldEdHochuliDo.com, the whimsical Web site run by a young Chicago mother, took a beating.
"I mean, these people were out for blood," says Jessica McCartney, who started the site. "Even when I put something up on the site that I had nothing to do with Ed, it just kept coming, even two or three months later.
"I got a couple of people who threatened that if they were ever alone with Ed Hochuli, they would kick his ass or whatever. I'm a huge football fan, but to want somebody to lose their job or wish physical injury to them, that totally goes beyond the scope of normal fandom."
The NFL undoubtedly wanted the controversy to go away, but Hochuli didn't help. He responded to hundreds of angry e-mails, prompting stories in The San Diego Union-Tribune and USA Today about his public display of remorse.
Another 20,000 e-mails landed on his BlackBerry, causing it to freeze. Here's the shocker: Most of them were positive. "It was kind of eye-opening," Hochuli says, "a commentary on society. People were saying how great it was that I admitted I made a mistake. Obviously, I was wrong. Obviously, I felt terrible about it. What's so surprising about it?
"Eventually, you start getting a little bit of sleep again, and I recognize that I've got another game to work next weekend. And I've got a crew that is looking to me to see how I handle this."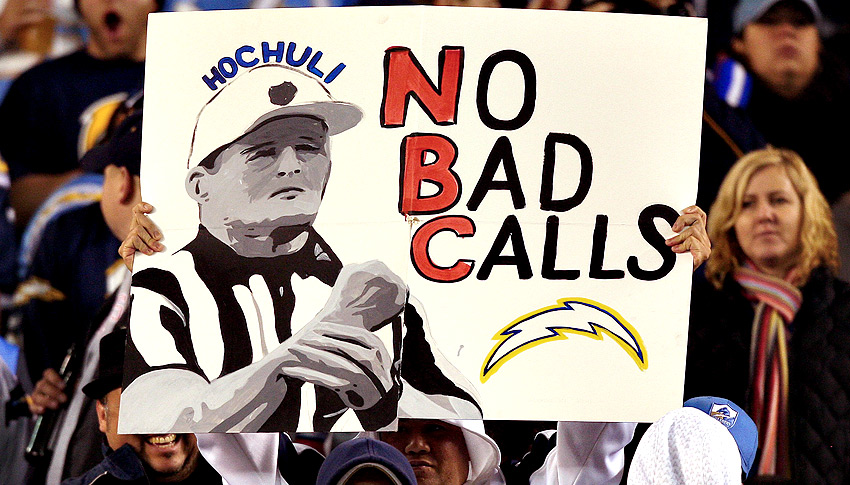 Paul Spinelli/Getty Images
Chargers fans were merciless in reminding Hochuli of his September gaffe in Denver.
Resurrected by his crew
The men in his crew brought him back. They teased him and checked on him. It sounds clichéd, maybe corny, but when seven men spend their weekends together for an entire NFL season, counting on each other to get everything right, they almost become the third team on the field. Family, Hochuli says. They talk at least once a week in the offseason, holding each other up through divorces and job problems.
Old NFL referees see each other on the street and hug, even if they've never worked together. It's a fraternity, a bond that only 120 men each season experience.
TWEET! TWEET! OOPS!
Inadvertent whistles don't just happen in the NFL. A whistling gaffe impacted an NHL playoff game Tuesday night. E.J. Hradek has the details.

Final night of the 2008 season, Week 17, and the Chargers and Broncos met again for a playoff berth. Media types dubbed it as the game that could get Hochuli off the hook. He and the others were a couple thousand miles away in Green Bay.
While they had their annual Christmas party, the Broncos-Chargers game was on TV in the background. In a roomful of refs, a game is always on. Hochuli occasionally glanced up to the screen to see what the score was.
"I didn't marry myself to the TV set," Hochuli says of San Diego's 52-21 victory that negated the effect of his gaffe. "I don't root for teams. You can't root for teams. In that game, whoever won was gonna win. I had long before that come to peace with the fact that it was a defining moment in my life, and you deal with it and you have to move on."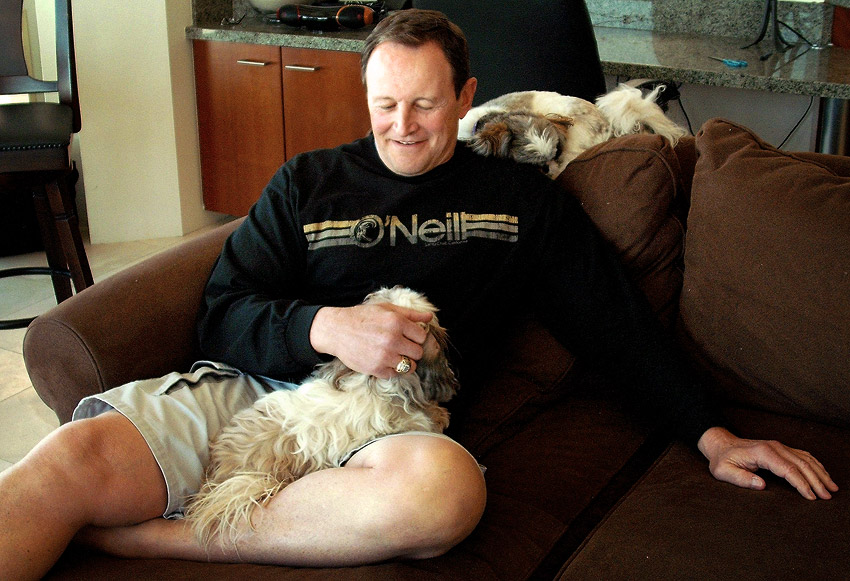 Liz Merrill/ESPN.com
Playing against type, Hochuli has two small shih tzus roaming his home in San Diego.
All's well that ends well
Life, in Southern California, goes on. Playoff worries shift to concerns about LaDainian Tomlinson's staying or going, then shift again to rookie camp. It's a Tuesday, and, as he does on many other days in the offseason, Hochuli is working at his beach condo. His firm has about 150 cases with which he is involved at the moment. But he says the law can be practiced anywhere, and he does much of his offseason work at his satellite office in San Diego. He puts on a pair of old man's glasses and bangs away on his laptop while Sadie and Sophie, his beloved shih tzus, lounge on the couch. "I think if you were to ask what would be the most surprising thing that people don't know about me," Hochuli says, "it's that I own two lapdogs, not scary Rottweilers. But these dogs are very important to me."
He got his first shih tzu years ago, when his youngest daughter, Rachel, begged for a puppy. At first, he wanted nothing to do with the scruffy little beast. But now the kids are gone, and the dogs are with Hochuli and his girlfriend, Cathie, all the time. He drives the six hours from Phoenix to San Diego just so they can come along in the Mercedes, upholstery be damned. When one of them slips past the gate leading to the beach, Hochuli sprints to track down the dog.
The first month or so after the Pro Bowl is Hochuli's "regeneration mode," when he eats copious amounts of Cheetos, compulsively watches "Battlestar Galactica" and lays off the film study. One night, his son Shawn came over, and they watched the chick flick "Love Actually" with their girlfriends. Shawn is a major-college ref. Only 30, the kid is way ahead of where Pops was at that age. Hochuli wants to stay in officiating for a few more years in the hope that someday father and son can work a game together.
He looks out the window, his Popeye arms covered by a long-sleeved surfer T-shirt. But people on the boardwalk still recognize him and wave. He won't deny it -- he likes that strangers know who he is. Charles Barkley once approached him at the airport, and Hochuli thought that was "cool."
Until, of course, he's noticed for something he did wrong on the field. You move on or you don't recover, he says. And Hochuli did. His crew reportedly ended up receiving the highest grade in the NFL this past season, although the league won't confirm or deny that.
At the league meetings in late March, teams voted to expand replay review for quarterback pass/fumbles when the ruling is an incomplete pass. It was referred to, in media circles, as the "Hochuli Rule."
In the months since Sept. 14, he has been asked a hundred times why he didn't just fix it, throw a flag for holding on Denver or make some other makeup call.
Make a mistake on purpose? To anyone who has worn the stripes, strived for perfect but settled for excellent, it sounds abhorrent, a desecration.
And it's just not what Ed Hochuli would do.
Elizabeth Merrill is a senior writer at ESPN.com. She can be reached at merrill2323@hotmail.com.
Join the conversation about "Lock and Load."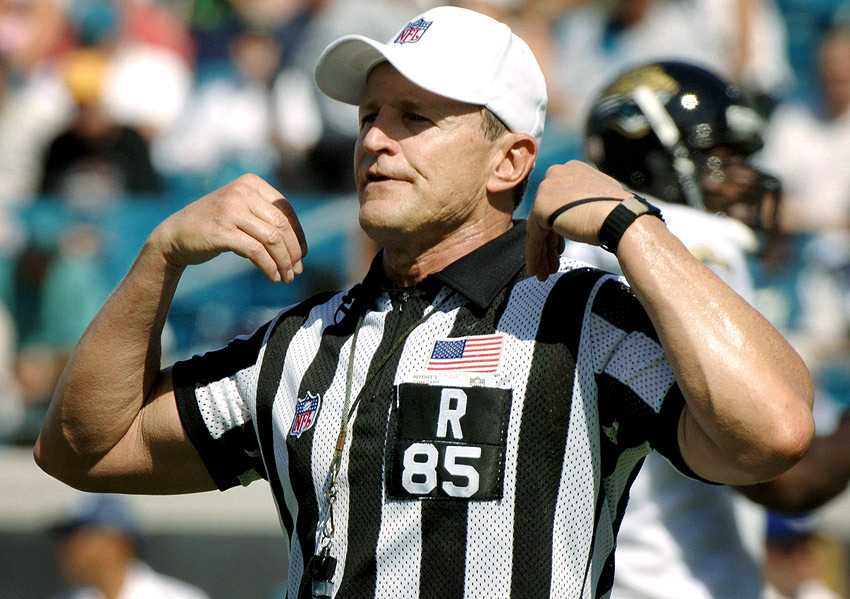 Al Messerschmidt/Getty Images