OTL: The Disposable Superstar

ENVER -- One of Chauncey Billups' ex-teammates -- and there are about a hundred of them -- has his nose pressed against a TV set. The Denver Nuggets have just called time, in the middle of a tight playoff game, and the ex-teammate can't help but notice Chauncey rounding up all the players, all the misfits and flakes, and poking a finger in their chests.
If only these Nuggets understood the history behind this -- because there are pieces of Chauncey Billups strewn all over the league. He might have just rescued George Karl's job and Carmelo Anthony's résumé, but don't be fooled: Billups was once a mystery himself. His eyes are wiser now and his scars are healed, but no elite player in these NBA playoffs has been kicked to the curb as often as he has. None spent their first five seasons on six different teams. None has suited up for 10 different coaches. None has been forced to spend a 12th NBA season revalidating himself.
In a league obsessed with LeBron, Kobe and D-Wade, Chauncey might actually be the one to emulate -- a sturdy playmaker who, mid-career, asked to be taught how to make plays. But now the journey ends where it began, a mile above sea level, with Chauncey teaching his own mercurial team how to pay attention to detail. It's why a zoo of an arena chants "MVP, MVP" in his direction. And it's why his former teammate from Minnesota, a friend he used to call "Unc," wishes he could jump through that TV screen, into that huddle … and tell the Nuggets the whole story. The whole story of "Smooth."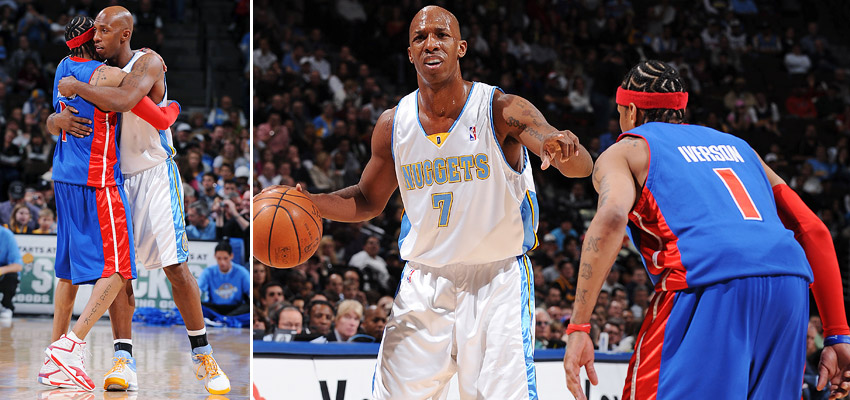 Garrett W. Ellwood/NBAE/Getty Images
After being traded for Allen Iverson in November 2008, Chauncey Billups pointed the Nuggets in the right direction.
Metro State College in Denver, 1994
A chiseled high school junior is attempting to inbound the ball underneath his own basket. He's trying not to panic, but this is the Colorado state championship game, and no one's open. The referee is signaling one, two, three … and the kid can't stand the thought of a five-second call. The house is packed because of him, because he's Denver's greatest schoolboy player ever, so an embarrassing turnover is unacceptable. Just being disorganized is unacceptable. He hates disorganized.
Suddenly, he notices the defender guarding the inbounds pass has turned his back to him. So 18-year-old Chauncey throws the ball off the defender's rear end, catches it, drop-steps and dunks with two hands. Chauncey has himself a bucket and an assist. The crowd snickers … except for his grandmother sitting in the 10th row.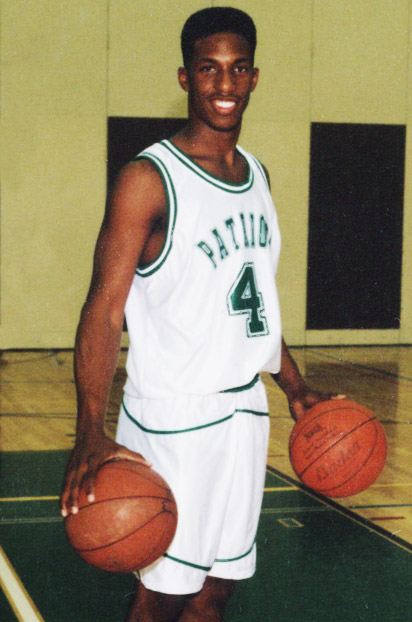 Courtesy of the Billups family
As a schoolboy star at George Washington High School in Denver, Chauncey had his choice of colleges.
Her name is Florence Gresham, and she always has told her grandson to tone it down, to respect his opponent, to play the game "the right way." It's a conversation they have a lot. She lives just blocks from the Skyland Rec Center in Park Hill, where Chauncey plays ball after school, so every day he walks to her house for a soda, and every day she tells Chauncey to behave himself on the court.
So that's why, after his dunk sends the Metro State College arena into a tizzy, Chauncey looks over to his grandmother and mouths: Sorry.
His father's car, 1984-1993
Wherever Ray Billups goes, little Chauncey goes -- and usually, Ray is driving to play basketball somewhere. Ray, in his day, had been an accomplished scorer at Denver's East High School, but, as an adult recreational player, he has turned himself into a selfless distributor. He tells Chauncey to watch how he shares the ball, that point guard is the greatest position on earth. Chauncey, as an 8-year-old, sits and watches most of Ray's games, bouncing a ball the entire time, sometimes accidentally letting it roll onto the court during play. Some of the men think the kid is a nuisance, but Ray just smiles.
Chauncey wants to play basketball with his dad every waking minute, because they're best friends. But Ray has to work. He is up every day at 3:30 a.m., to begin an eight-hour shift at Denver's Safeway warehouse, in frozen foods. So when Ray's not around, Chauncey puts up a coat hanger on a basement door to use as a basket. He shoots a hard, miniature basketball into the coat hanger all day, tearing up the walls. But Ray just smiles.
Ray can tell right away that Chauncey has potential. The kid's sixth-grade team at the rec center is coached by one of the Nuggets' players, Bobby Wilkerson from Indiana, who likes to give a nickname to every kid on the team. But Wilkerson saves his coolest nickname for Chauncey --"Smooth" -- and it sticks. Before long, all over Denver, there's talk of a junior high prodigy called Smooth. Few know his real name, which is how his legend begins.
The more hype Chauncey gets, the more he's a target, and Ray knows he has to toughen him up. In one high school game, an opponent deliberately steamrolls Chauncey. Ray, normally soft-spoken, stands up and, in the direction of the opposing coach, snarls, "That's how you want to play? Chauncey do it right back to him." Chauncey obliges, and, after that, few in Denver get physical with Chauncey again -- "because they all think I'm crazy," Ray says.
Because father and son are always in Ray's car, heading to some game or some gym, Ray has taught Chauncey how to drive at the age of 13. The kid is so mature for his age, he can handle it, and no subject between the two of them is out of bounds … even Ray's drinking.
Back in those days, Ray is shooting pool a lot and throwing back several drinks along the way. He says it's a "bad, awful" habit, and that he often picks Chauncey up in his car with alcohol on his breath. "I was getting pretty tipsy," Ray says, "and we'd be in the car and come home. And he didn't like the way the liquor smelled, and he just said he wasn't going to drink, because of the way it made me feel. My stomach hurt all the time."
By 1993, Ray is diagnosed with pancreatitis, and Chauncey's ecstatic when he hears his father has given up booze. One year goes by, still no drinks. Two years, still no drinks. Four years, still no drinks. Chauncey realizes people can change, realizes what inner strength is. Every morning, his father is still getting up at 3:30 for work. Chauncey begins getting up early himself, to play ball.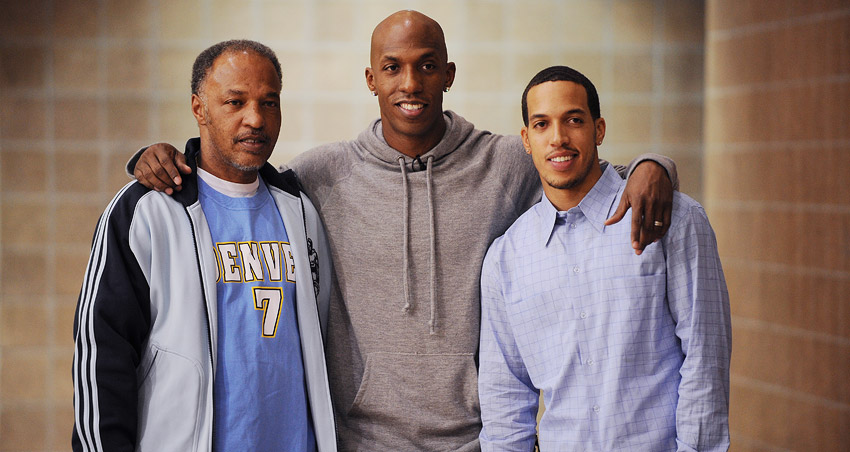 David Sherman/NBAE/Getty Images
Ray Billups instilled a strong work ethic in his sons Chauncey and Rodney, right.
Florence Gresham's funeral, 1994, to the NBA draft, 1997
It is early in Chauncey's senior year of high school when the family learns Florence, stricken with cancer, has only three months to live. When she dies, Chauncey is devastated. He has never lost anyone close to him, and, after the funeral, he walks over to her house and sits on her front steps. He stays more than an hour.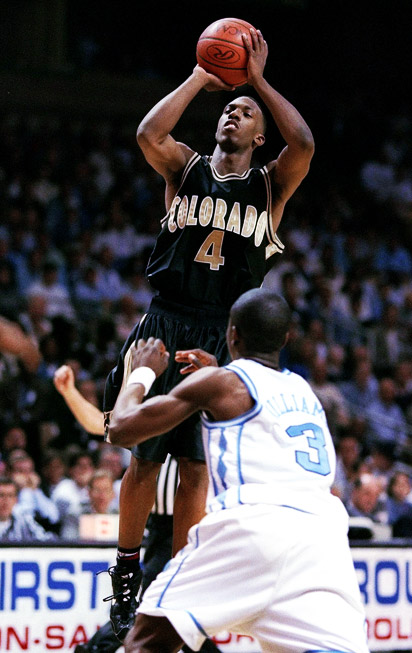 Doug Pensinger/Getty Images
Chauncey took Colorado to new heights with a second-round trip to the NCAA tournament in 1997.
Chauncey's mom Faye, Florence's daughter, is just as despondent, and Chauncey wants to be there for her. Colleges all over the country are recruiting him, and now he is torn about whether to stay home or go. For a while, he has talked about going to Cal with Shareef Abdur-Rahim, as a package deal, to replace Jason Kidd. He even has been invited to Kidd's NBA draft party. But Ray and Faye think Cal's coach Todd Bozeman is too slick, and they tell him Cal is out. Kansas wants Chauncey, too, and Ray is told Roy Williams will take either Paul Pierce or Chauncey -- whoever commits first. But the night before Chauncey is set to visit Lawrence, Pierce commits. So KU is out. Georgia Tech is also interested, but Bobby Cremins is all over Stephon Marbury, too, and Marbury commits while Chauncey is flying home from a campus visit to Atlanta.
Maybe staying home is meant to be. Late in Chauncey's senior year, Ray's father, Tommy D. Billups, also dies of cancer, and Chauncey can't fathom leaving his family. He has several late-night phone calls with University of Colorado assistant Ricardo Patton (who a year later becomes head coach) and decides to commit to CU -- without even taking a visit. His pals from the Park Hill neighborhood in Denver tell him he's nuts. They tell him black athletes aren't treated well on the Boulder campus, and CU never makes the NCAA Tournament. "A lot of my people are like, 'No, what you are doing?'" Chauncey says. "They're like, 'Dude, go somewhere where you can be on TV every week and in the league in a year or two.'"
By his sophomore season, not only is he in the NCAA Tournament, he's staring down Bobby Knight. Chauncey does it all for CU -- dribbling, passing, shooting, putting fannies in the seats -- and, in the first round of the '97 tournament in Winston-Salem, N.C., he pours in 20 first-half points and helps eliminate Knight's Hoosiers. The coach is so ticked he walks 2½ miles back to his team hotel in a downpour. Chauncey thinks that's hilarious, and the whole city of Denver gets engrossed in March Madness. It doesn't matter that CU loses to North Carolina in the second round, with an alum named George Karl watching from behind the Tar Heels bench.
Chauncey is now officially a Denver hoop legend, an icon, the greatest player out of Colorado since Micheal Ray Richardson. Nobody blames him for turning pro after his sophomore season, and when Boston takes him with the third overall pick of the 1997 draft (behind Tim Duncan and Keith Van Horn), Smooth says goodbye to Denver and hello to … disaster?
Poplar Street, 1997, to out on the street, 2000
He is sitting in Ray and Faye's kitchen, handing them the deed to a new home. It's all theirs, 2,500 square feet of high ceilings and marble tile. But Faye is shaking her head: No, no, no. She doesn't want to move out of Park Hill, doesn't want to abandon her family and friends. She'll let Chauncey buy her an E-Class Mercedes with his new $2,384,640 salary, but her yellow and red brick house isn't going anywhere.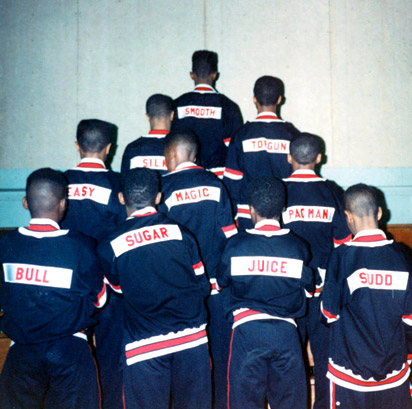 Courtesy of the Billups family
Long before he was "Mr. Big Shot," Chauncey, top, was known as "Smooth" as a sixth-grader for the Skyland rec team.
Chauncey then asks Ray if he still wants to work, if he still wants to rise and shine every morning at 3:30 and drive to the Safeway warehouse in raw temperatures. Ray says, "Of course." This is Chauncey's blue-collar family, like it or not. They are ensconced in their lives and priorities, and they'll only agree to let Chauncey remodel the inside of their home on Poplar Street. So Chauncey hires someone to put in a new garage, new walls and hardwood floors, and heads back to Boston.
The Celtics, unfortunately, are still mourning the fact they've lost the Tim Duncan Sweepstakes. Duncan, Duncan, Duncan -- it's all their fan base can talk about. New coach Rick Pitino had been banking on winning the draft lottery, and when he doesn't, his patience with lesser rookies is limited. Chauncey tells his longtime girlfriend, Piper Riley, that he senses Pitino doesn't like him, and, the truth is, Pitino doesn't respect Chauncey's point guard skills. It's not Chauncey's fault he had to shoot first at CU, but when Pitino sees Chauncey's indecisiveness running the offense, he shops him instead of bearing with him. Then, 51 games into his rookie season, averaging 11.1 points and 4.3 assists, Chauncey is traded to Toronto for Kenny Anderson.
"I was a scoring point guard," Chauncey says. "And if you recall, at that time a scoring point guard wasn't all that popular. It was like a running quarterback."
He goes to Toronto and it hits him: "I don't know when to score and when not to." He finds it difficult, as a point guard, to tell grown men what to do, and he loses his swagger. His image, meanwhile, is in the tank. He is the first first-round pick to be traded as a rookie since Rick Robey in 1978-79, and the labeling starts: He's a bust. He's a shooting guard in a point guard's body. He's selfish.
"It made me look bad," he says. "Because who does that? Who gets traded halfway through their rookie season when they're the third overall pick?"
That summer, he returns home to Denver, where his buddies and his cousins begin throwing him parties, celebrating who he was, or, in his mind, who he used to be. It's not like him to go to clubs night after night -- he has learned that lesson from Ray -- but if ever he needed adulation, now is the time. He doesn't drink much in these clubs, but he's hanging out, throwing money around.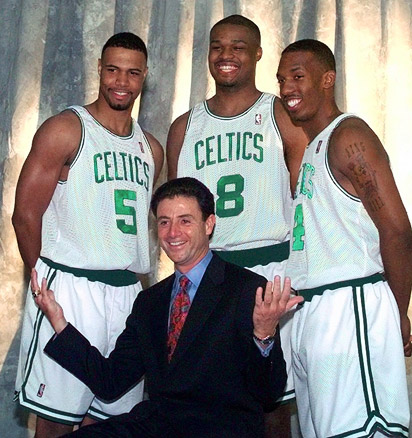 AP Photo/Paul Sancya
Celtics coach Rick Pitino, with Ron Mercer, left, and Antoine Walker, gave up on Chauncey during the No. 3 pick's rookie season.
"He'd been humbled," says Piper, who had just given birth to Chauncey's first child, a daughter named Cydney. "You're the third pick and they trade you? But then he comes home and he's still The Man. Everyone is still loving you like before. He's in his comfort zone again.
"It put a strain on our relationship. He'd be chilling out during the day, going to clubs at night, going on guy trips. I might see him a little bit during the day, but just a little bit."
He parties all the way into January, because the NBA owners have staged a lockout. But when the lockout's lifted, there's news: Chauncey has been traded again, this time to Denver. Poplar Street is just 15 minutes from the arena; he should be euphoric. But after his first practice he's asking himself: When is someone going to let me be a point guard? His new coach in Denver, a young Mike D'Antoni, is telling him he's not going to be a point guard or a shooting guard, but a hybrid. He plans to pair Chauncey with Nick Van Exel, another shoot-first would-be point guard, and let them figure it out themselves: who shoots, who passes, who dribbles. Deep down, Chauncey hates it. Remember high school? Chauncey still hates disorganized.
Worse, being in Denver gives his cousins and buddies the chance to keep riding his coattails. "I didn't want him to come back home," Faye says, "because his family's begging him for tickets, begging for money, begging, begging, begging. And then they would try to influence him to go out and party."
His numbers throughout 1998-99 seem respectable: 13.9 points and 3.8 assists. He can get to the basket whenever he wants; the problem is, once he's there, he's often caught up in the air with an unmakeable shot and nobody to pass to. After the season, the Nuggets fire D'Antoni and hire Dan Issel, and before Issel can figure out what to do with him, Chauncey sprains an ankle and then dislocates his shoulder. He's out for the season, and at the trade deadline is dealt to Orlando, his fourth team in three seasons. Chauncey's floored, because he's simply a throw-in for salary cap reasons, a warm body tossed in so the contracts can match up. "I'm like, 'I'm injured. I can't help Orlando. I can't help nobody. I ain't even relevant,'" Chauncey remembers. "The teams said, 'Put his salary in, not him.' That's the trade I took most personal."
He doesn't go on the road or practice with the Magic, and the Orlando front office has no intention of re-signing him. First of all, they -- like everyone else -- still think he's a 2-guard in a point guard's body, but, mostly, they are on mission to clear cap space to sign Tim Duncan. It's always Tim Duncan.
When the season ends, Chauncey sits distraught in his parents' kitchen on Poplar Street. Faye is washing dishes in the house she loves, and she tells him exactly what Grandma Florence used to tell her. Let it go. Move on. Then, the phone rings. It's Kevin Garnett.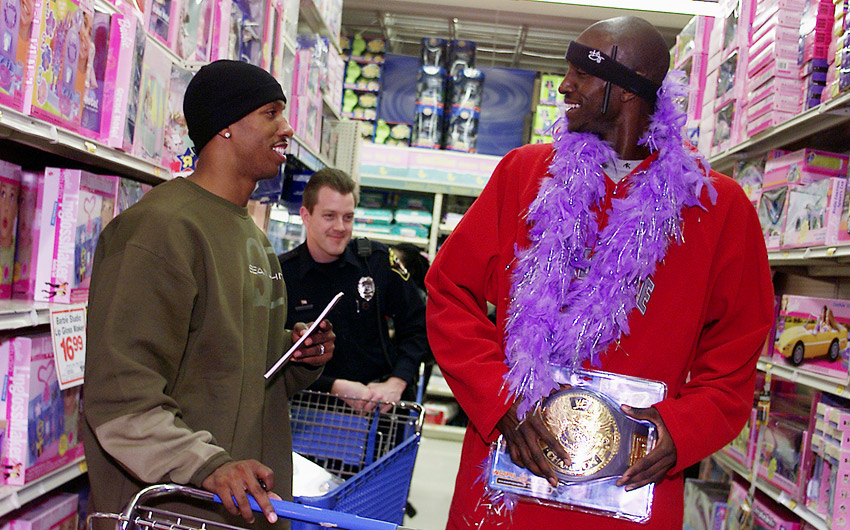 David Sherman/NBAE/Getty Images

Chauncey and Kevin Garnett became fast friends and had some good times together in Minnesota, including this 2001 holiday shopping trip for charity.
Kevin Garnett's basement, 2000 to 2002
KG, his old buddy from the 1995 McDonald's All-American high school game, is recruiting Chauncey, relentlessly. He wants Chauncey to sign in Minnesota, and to entice him, he invites him to his Minneapolis home. On the wall in the cellar is a poster. It reads: The Billups Suite.
After Chauncey signs, KG introduces him around the locker room. "This is my point guard, Terrell Brandon," KG says, "and this is Pops -- Sam Mitchell."
At first, Brandon and Mitchell don't say much. They have seen Chauncey bounce from team to team, have seen his erratic shot selection. They are civil, but have no sense he can fit into their team-first philosophy. But, as the days and practices go by, Chauncey begins tugging on their sleeves, asking questions. At training camp dinners, he makes sure to sit next to Brandon, an All-Star and past winner of the NBA's Sportsmanship Award. "He's always on my right side," Brandon says. "He's moving guys out of the way so he can sit right next to me."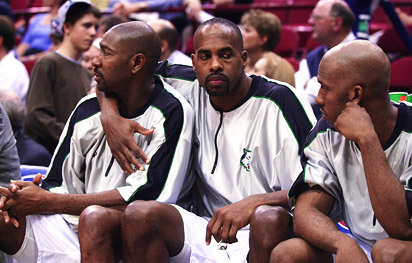 Jonathan Daniel/Getty Images
Sam Mitchell, left, with Dean Garrett and Chauncey, taught the young Timberwolves how to act like veterans.
Chauncey even moves into the locker next to Brandon. He asks him how he knows when to shoot and when to share, and Brandon tells him to simply move the ball. He says his job as a point guard is to make teammates blissful, to get KG 20 shots a game and Wally Szczerbiak 15, to have no ego. He teaches Chauncey how to watch film, how to spend the first half reading how the defense is playing the pick-and-roll … and how to adjust in the second half. He tells him that if KG doesn't have double-figure points by mid-second quarter to start feeding him the rock. He tells him if KG still can't score, then you start scoring. He tells him to know everyone's foul situation -- on both teams -- to know who's already been hit with a technical foul, who's ripe to lose his cool.
"And another thing, you and I can't have more than two turnovers a game."
"Two? Just two?" Chauncey says, laughing.
"Actually, two is too many," Brandon says, not laughing.
Meanwhile, Chauncey marvels at how close KG and Mitchell are. Mitchell is a dozen years older, and yet he and KG seem connected at the hip. Chauncey wants some of that wisdom, too, so he starts asking Mitchell about NBA life, about how to lead his own team someday.
Mitchell tells Chauncey that in order to lead he must learn to follow. He tells him he must be coachable, that he can't be a know-it-all. He tells him there can be no partying the night before games, and no fast food in his diet. He tells him that, if nothing else, he must remember this one basketball maxim: If you take care of the person to your right and the person to your left, the person who benefits most is the one in the middle.
Chauncey clamors for more, so Mitchell begins inviting him to join his early morning breakfasts and workouts with KG. Chauncey always arrives first, which surprises Sam, who doesn't know about Ray and the 3:30 a.m. wake-up calls. "You had heard all this stuff," Mitchell says. "You had heard he was a selfish guy, not a good teammate, that all he wanted to do was shoot the ball. But now he's asking me a thousand questions. I was like, 'This is not the guy I heard about.' So I asked him, 'What happened?' He said in Boston no one ever tried to teach him the position. They just said, 'Look, we're going to bring you off the bench and, when you come in the game, shoot every time you get the ball.' So that's what he did."
NUGGETS ROLL ON
The Nuggets hold a 3-0 lead on the Mavericks and will try to advance to the Western Conference finals with a victory Monday at 9:30 p.m. ET. Click here for complete series coverage.

Ironically, that's exactly what Flip Saunders, his new coach, tells Chauncey to do, too: Shoot it. And Chauncey hates that. But, on Mitchell's advice, he's coachable and follows orders. He becomes a shooting guard and backup point guard, caddying for Brandon and averaging a respectable if unfulfilling 9.3 points and 3.4 assists in his 23 minutes a game.
By training camp the following year, 2001, Mitchell is calling KG his son and Chauncey his nephew. And Chauncey is calling Mitchell "Unc" (short for uncle). At an early morning breakfast one day, KG complains that people still think of him as the "The Kid." Mitchell looks at both of them and says, "Then pull your britches up and put on a tie and jacket. And when people talk to you, look them straight in the eye and give them a direct answer. They treat you like kids because you hold your head down when you talk to people! You act like a kid. Hold your head up, pull your britches up, look people in the eye. Then you'll be a man."
Something clicks. Chauncey tells Piper, whom he has just married, to buy him suits and ties. Then, in February, Brandon suffers a season-ending injury. Finally, Chauncey's a starting NBA point guard. And all he does is take Minnesota to the playoffs. "The light just went on for him," Brandon says. "You could see the elevation. He got taller, bigger, wider. Confidence makes you larger, man. It makes you a superstar."
In the playoffs, against a loaded Dallas team, Chauncey averages 22 points, 5.0 rebounds and 5.7 assists, and although the Wolves are swept, his timing is stellar. He's a free agent now, and learns he has a secret admirer: Detroit GM Joe Dumars. Dumars offers him $4.5 million, the mid-level exception, which the Timberwolves are willing to match. But there's a caveat: G.M. Kevin McHale tells him, "I have to be honest. Terrell's still our starter."
Chauncey thanks McHale for being frank and accepts the Pistons deal, his sixth team in five years. Mitchell almost cries when he hears the news, but Chauncey thanks him and Brandon for making him a point guard. Then, in the Billups Suite, Chauncey and KG share a goodbye embrace.
Both their britches are up.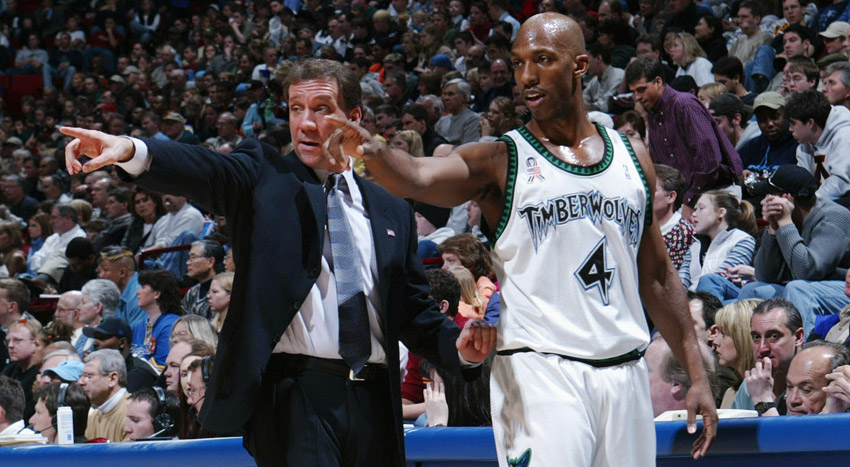 David Sherman/NBAE/Getty Images
In Minnesota with coach Flip Saunders, Chauncey began to develop into a point guard capable of leading an NBA squad.
The NBA Finals, 2004
The lights are down, the crowd's on its feet, Shaq and Kobe are on the opposing bench and the P.A. announcer is revving up his tonsils. And, at guard … Chauncey B-B-B-B-Billups!
His time in Detroit has been an absolute blur. In his first season there, under coach Rick Carlisle, he hits numerous game-tying or game-winning 3-point bombs, earning him the nickname "Mr. Big Shot." But more than that, he is Mr. Calm. No one can rattle him, and his attitude begins to rub off favorably on two young teammates: Rip Hamilton and Tayshaun Prince.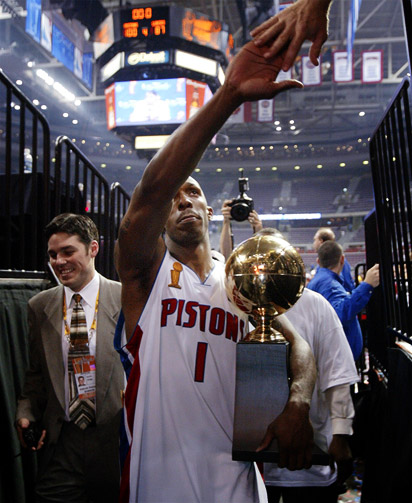 AP Photo/Paul Sancya
Chauncey carried the Pistons to the top of the NBA mountain in 2004 with a five-game upset of the Lakers.
All three have come to town together -- Chauncey via free agency, Hamilton via trade and Prince via the draft -- and Chauncey quickly becomes their counselor. Hamilton is the hyper one who constantly nags the refs, so Chauncey always steps in to say, "Move on." And Tayshaun is the passive one, so Chauncey has to step in to say, "Push on." Under Carlisle in 2002-03, the Pistons win 50 games.
But Detroit is swept by New Jersey in the Eastern Conference finals, and Dumars replaces Carlisle with the maniacal Larry Brown. Mitchell played for Brown at Indiana, so Chauncy calls for a scouting report. "Let me tell you something, nephew," Sam says. "You're going to hate his guts the first 25 games, and then the next 16 you'll start figuring him out. The last 41 … you're going to be the best you've ever been."
Mitchell's prophetic; early in that 2003-04 season, Chauncey tells him, "Unc, I don't know if I'm going to make it. I can't do nothing right." But by March, Chauncey is a finished product. He spends the first half of games analyzing and probing the defense, letting everyone else find their groove, and, in the third quarter, he attacks. Sometimes, he even waits until the fourth, and Sam tells him, "Remember how I told you in order to lead, you had to learn to follow? Well, you learned how to follow in Minnesota, and Larry's taught you how to lead."
In the conference semifinals, the Pistons are down 3-2 to the Nets, facing a Game 6 at the Meadowlands. Before the morning shootaround, Brown bumps into his Carolina buddy George Karl, who's announcing the game for ESPN. Karl has never met Chauncey, but Brown, worried Chauncey might be tuning him out, asks Karl if he'll tell Chauncey to be more assertive. Karl introduces himself to Chauncey, tells him his decisions will decide the game. They shake hands. They say they will see each other down the road.
That night, led by Chauncey, the Pistons win Game 6 by six points and, a couple of days later they take Game 7 by 21. Soon, they are in the NBA Finals -- against Shaq, Kobe and Phil -- with Chauncey staring at Ray and Faye in the fifth row for a championship-clinching game. Chauncey isn't the emotional type, but he's near tears thinking about it. Ray, the best man at Chauncey's wedding, is still working at Safeway, still getting up every morning at 3:30. In fact, Ray has had to switch shifts with co-workers or take vacation time just so he can attend these playoff games.
After the Pistons clinch in five games and Chauncey is named Finals MVP, Ray and Chauncey lock in a long embrace -- a couple of blue-collar guys -- and all those teams that traded Chauncey or let him walk … they have no idea. "When I led a team to the championship is ultimately when I said, 'Ain't nobody who can tell me nothing,'" Chauncey says. "And it wasn't like I was on the bench along for the ride. I was driving. I was driving."
Chauncey invites Ray and Faye to the postgame party, where the champagne is flowing. But Ray does not take a sip. Thirteen years now, and no drinks. No one is more appreciative of Ray than Chauncey, and he wants to do something for him. So, months later, a box arrives in the mail at Poplar Street. Inside the box is a ring, a Pistons championship ring, just for Ray.
He puts it on his finger … and then stops to read the engraved inscription, on the side, near the gold:
Billups: The Right Way.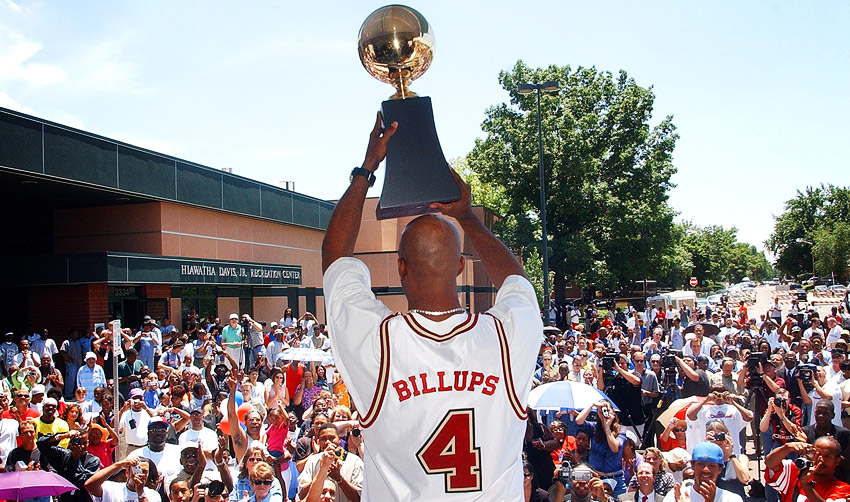 AP Photo/Ed Andrieski
After being named NBA Finals MVP, Chauncey brought his spoils back home to Park Hill.
Hiawatha Davis Jr. Rec Center, Denver, July 1, 2004
It is weeks after the Pistons' title, and the celebration has shifted West to the Rocky Mountains. Denver Mayor John Hickenlooper has decided to give Chauncey the key to the city and name him honorary mayor of Park Hill for a day. About 600 people gather at the old Skyland Rec Center, now renamed Hiawatha Davis, to shout, "Smooooooooth."
"This is the most significant sports event in Denver since the Broncos won the Super Bowl," former Denver Mayor Wellington Webb tells the crowd. "He put the city on the map in terms of great basketball."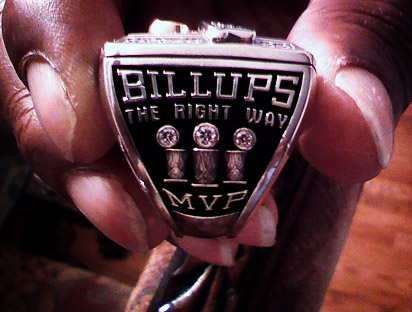 Courtesy of the Billups family
Chauncey gave a championship ring to Ray as a tribute to hard work.
Chauncey looks around. Although he hopes to retire as a Piston and end up in Detroit's front office, he's desperate to give back to Denver. He donates $100,000 to a program founded by local basketball coach Lonnie Porter. They rename it the Porter-Billups Leadership Academy, and, soon, at-risk kids are being bussed to Regis University over the summer to learn life, social and study skills. The program has nothing to do with basketball, and any kid who completes the program all the way through high school earns a full scholarship to the college. The kids all wish Chauncey played for the Nuggets.
The following season, 2004-05, the Pistons return to the Finals, where there's that man again, Tim Duncan. Chauncey's playoff numbers actually improve (to 18.7 points, 6.5 assists), but the Pistons still lose in seven games. Dumars fires Larry Brown and brings in Chauncey's old coach from Minnesota, Flip Saunders. Chauncey can run Saunders' offense with his eyes closed, but Saunders can only take Detroit as far as the East finals, three consecutive years, including a loss to the Celtics last spring.
That Boston series is a painful one. Chauncey plays through a hamstring injury, and Boston's Rajon Rondo makes him look decrepit. Chauncey hears the whispers -- He's 32, he's peaked, he's done -- and is castigated for the first time in Detroit. "Here I am out there trying to tough it out," Chauncey says. "But all I'm hearing is, 'Damn, Chauncey's getting old.'"
After the season, Dumars implies heads might roll. First, he fires Saunders and, at a news conference, he claims the Pistons have "no sacred cows … everybody is in play." He already has let Ben Wallace walk in 2006, and now the question is, Who's next? As the summer of 2008 begins, all signs point to Chauncey.
That offseason, back in Denver, Chauncey bumps into Karl, and the two exchange war stories. Karl asks why the Pistons change coaches so much, why they "blew up" Brown and Saunders. He asks Chauncey if Dumars is serious about making trades.
Chauncey isn't sure, but a soothing word pops into Karl's mind as he speaks with Chauncey:
Karma.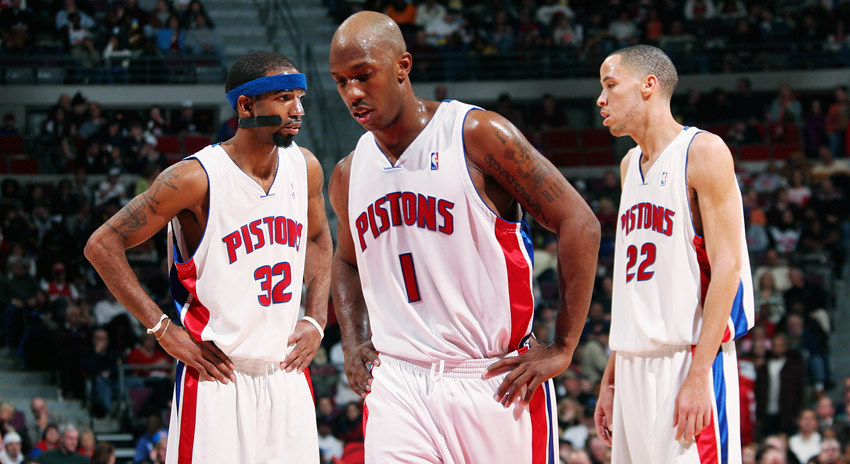 AP Photo/David Zalubowski
Bonded by six straight trips to the conference finals, Richard Hamilton, left, and Tayshaun Prince hated to see Chauncey dealt to Denver.
The Pistons' team charter en route to Charlotte, Nov. 2, 2008
Unaware his world is about to go spinning, Chauncey is flying to North Carolina for an early season game against the Bobcats.
The night before, Piper had predicted he'd be gone by the trade deadline, but Chauncey told his wife, "Why would you say that? We're going to win a championship this year."
But Piper's right; the Pistons want Chauncey out ASAP. First of all, they love Rodney Stuckey and think he can be Chauncey's heir apparent, and they also think their current roster has maxed out. More than that, they're trying to clear cap space so they can make a run at LeBron James, Chris Bosh or Dwyane Wade in the summer of 2010. Rasheed Wallace's contract will be expiring after the season, and if they can deal Chauncey for another expiring contract -- say, Allen Iverson's -- then they'll have cap room galore.
Dumars, before he agrees to settle for Iverson, reportedly asks for Carmelo Anthony. If not for the Olympics, maybe Denver would've considered it -- or at least discussed it -- but Anthony has shown in Beijing that he's more serious about the game. He has played stout defense for Team USA, and, during the ensuing Nuggets training camp, he promises George Karl he'll do it again for him. So Anthony is going nowhere. It has to be a Billups-for-Iverson swap.
The talks are finalized before the team flies to Charlotte, and, on the flight, Chauncey can tell he's being ignored. "He notices Joe and none of the coaches can even look at him," Ray says. "And that's when he knows something is wrong."
When the flight lands, he chats with Antonio McDyess, who tells him about the impending trade. It isn't official yet, but the Pistons have filled McDyess in, because they need to trade his salary to balance the deal. They tell him that Denver will waive him, and they'll want to re-sign him. But they tell Chauncey nothing.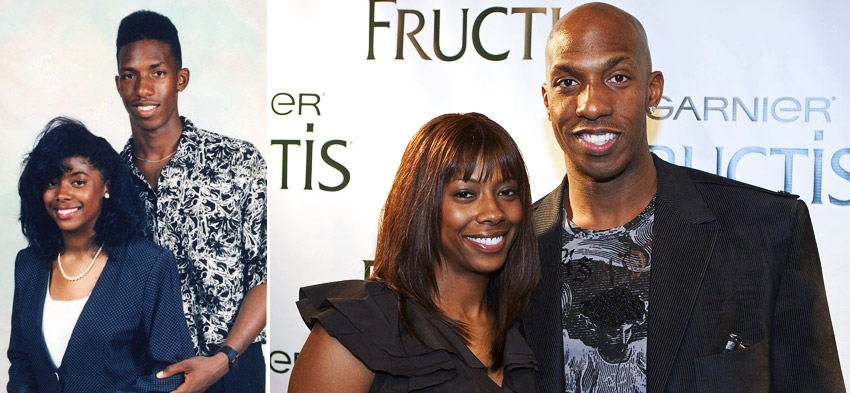 Courtesy of the Billups family; Skip Bolen/WireImage.com
Piper has been with Chauncey throughout his many NBA moves, and she sensed change coming in Detroit.
Though he has been traded three times before, it still stings. At the team hotel, on Nov. 2, Dumars and the coaches are staying right down the hall from him, but no one invites him down for a goodbye chat. Then, on the morning of Nov. 3, before the shootaround, it becomes official: Chauncey to Denver.
He's going home again, but he calls Piper and tells her it feels bittersweet. "I've been through some dark alleys with them dudes, man,'' he tells her. "They're my brothers."
He begins packing at the team hotel, when there's a knock on the door. It's Hamilton and Prince, the trio together one last time. They embrace, cry, laugh and reminisce. They call Ben Wallace, a Cavalier now, and put him on speaker phone. Wallace tells them, "I told you how they are." Hamilton is the most affected of all. He has just signed an extension, and he tells Chauncey he wants to be traded now, that if he'd known they were going to trade Chauncey, he never would've re-upped in Detroit.
They keep talking about games, moments, shots. Hamilton has always told Chauncey he wants his toddler son to someday marry Chauncey's toddler daughter, and he brings it up again. At one point, Piper calls Chauncey's cell and Chauncey tells her, "Call me back. I'm talking to my guys." It goes on this way for three incredible hours that Chauncey says, "I'll never forget. We were, 'Wow, wow,' in disbelief. Just coming to the realization it was over.'"
Eventually, Chauncey tells them he has a flight to catch, and he walks out the door. The three of them enter the elevator, and Chauncey pauses to give Hamilton a last hug.
Hamilton breaks down, sobbing. Absolutely sobbing.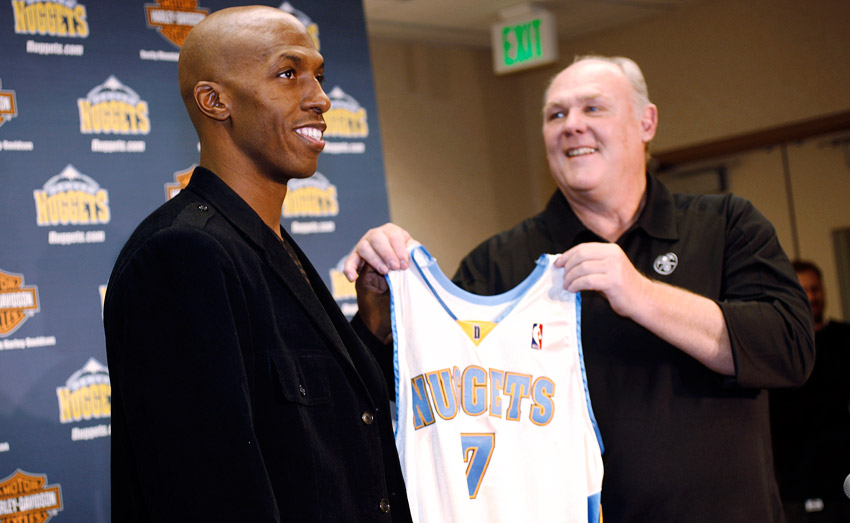 AP Photo/David Zalubowski
Nuggets coach George Karl felt Chauncey was exactly the type of point guard that his young team needed.
George Karl's basement, Denver, Nov. 3, 2008
The trade is one minute old when Karl, the verbose coach of the Nuggets, begins to meditate. For five to 10 minutes in his cellar, he takes deep, patient breaths. He feels a certain lightness come over his body, a sense of peace. He thinks this is perhaps a sign.
Iverson has been popular but counterproductive in Denver. Key members of the organization say that Iverson has partied some nights until 3 in the morning, and that Denver's two most crucial players -- Anthony and J.R. Smith -- have tried to keep up with him. They say Anthony and Smith look at Iverson with reverence, the same way Chauncey's generation looked at Michael Jordan. So when A.I. says, "Let's go out,'" they go out. When A.I. wears a sleeve on his arm, they wear a sleeve. Especially the impressionable Smith, who has never met a shot he didn't like.
The Nuggets have managed to win 50 games in 2007-08 living this way, but it's clear they have hit their ceiling. A.I., Anthony and Marcus Camby are all "ball stoppers," meaning they rarely pass. A lot of times, the Denver offense has consisted of Iverson dribbling right, Iverson dribbling left and Iverson taking a fadeaway. The sorry offense has led to sorrier defense, but Karl's pleas for ball movement have fallen on deaf ears.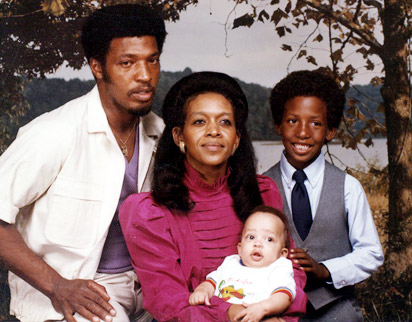 Courtesy of the Billups family
Ray and Faye have kept their family a close-knit unit through the years.
In training camp this season, the players -- led by Anthony and Kenyon Martin -- try to buy in. They promise Karl they'll be professional and play defense … even Iverson. "But you never know," Karl says. "If you lose seven of eight games, they may stop listening and start partying again."
The early practices go well, although Nuggets officials sense that Iverson's legs aren't fresh and that his late nights might be catching up to him. They're dying to make the Chauncey trade -- after moving Camby over the summer -- and when the deal goes down, Karl can't get Chauncey to town fast enough.
"I just don't think I would've survived," Karl says. "I would've quit or they would've fired me. Personnel people get tired of the coach complaining about the same thing. There was a posse of people in Denver that were tired of George Karl."
When he arrives, Chauncey isn't sure what to make of the Nuggets. On paper, he adores their talent. He has worked out with the unpredictable Smith in the past, and has told people Smith can be an All-Star. But his worry is tempo, decision-making. He hates disorganized. "The way they played before I got here was erratic," Chauncey says. "I call it dysfunctional. No discipline. I need some stability. I can't play like that. This game means too much to me."
Karl calls a meeting to introduce Chauncey, who tells his new teammates, "Look, I'm here to win. I ain't here to do a lot of talking. I'll walk the walk, and hopefully y'all be the same way, and we'll be on the same page."
Next, they go over all of the team's plays. Chauncey nods, but, inside, he has a sick feeling. For instance, the Nuggets don't have an underneath-the-basket out-of-bounds play. This isn't high school. He can't throw the ball off someone's back and dunk it. What's going on here?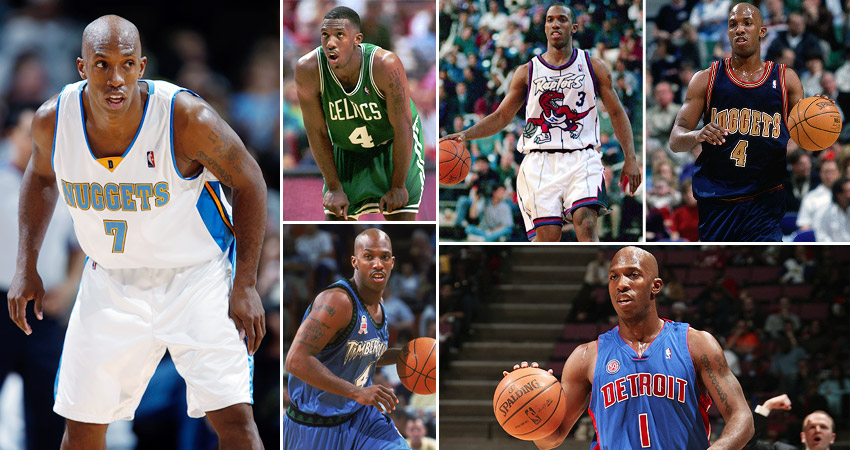 AP Photos (Denver, Boston) and Getty Images
Chauncey has changed jerseys often in his NBA career, but his roots remain at home in Colorado.
The Pepsi Center, Denver, Nov. 7, 2008
Chauncey's driving to the arena -- from Poplar Street -- for his Nuggets debut against the Mavs, and as he approaches the arena, he sees "Welcome Home" signs and his picture on a billboard. He's got something special for his hometown fans tonight: When he peels off his warm-up suit after introductions, they see his number: No. 7. For John Elway. He wants to be their John Elway.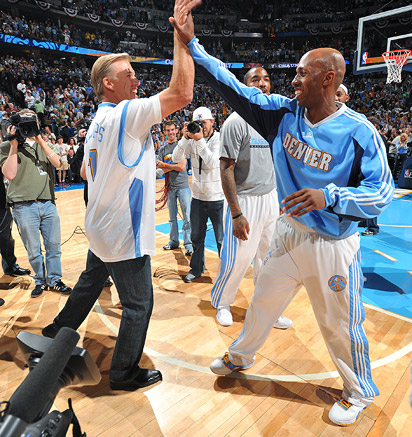 Garrett W. Ellwood/NBAE/Getty Images
Chauncey donned No. 7 in hopes of becoming Denver's new John Elway.
Chauncey is Denver, through and through, and he senses playing at home is going to work this time. Most of the friends and family who begged for tickets 10 years before are older, married and self-sufficient. The knuckleheads are no longer in his life. He can just play ball. Ray and Faye, married 35 years, are seated in the fifth row. Ray keeps checking his watch. He still needs to get up at 3:30 for work the next morning. Here's Chauncey in his 12th year in the NBA, and here's Ray is in his 32nd year in a Safeway warehouse. Ray plans to retire at the end of the season, but not now. Go figure.
After halftime, Chauncey nods to his parents … and starts to attack. He hits an 18-footer and a 3-pointer to start the third period. Always the third quarter, just like in Detroit. He wants this game badly, to prove to the Pistons, to everybody, he's not done. He had spoken to Hamilton earlier in the day, before the Pistons played at New Jersey, and told Hamilton, jokingly, "Hope you lose." Hamilton laughed back.
With 2:54 left in the fourth quarter, the Nuggets are clinging to a 99-98 lead, when the ball goes out of bounds to the Nuggets underneath their own basket. Chauncey's fear is realized. The team has no out-of-bounds play. Karl just wants them to improvise, to use their basketball instincts, but Chauncey can't live that way. So he calls time.
In the huddle, they're all stumped. Smith tells Anthony: "He just got here, and he's calling timeouts?" But Chauncey waves them close and starts in: "Look, George, I need you to draw me up an out-of-bounds play, man, to get the ball in. Because if we don't and we turn the ball over and lose this game because we didn't have something, that just won't sit well with me."
Karl and the team's response is: wow.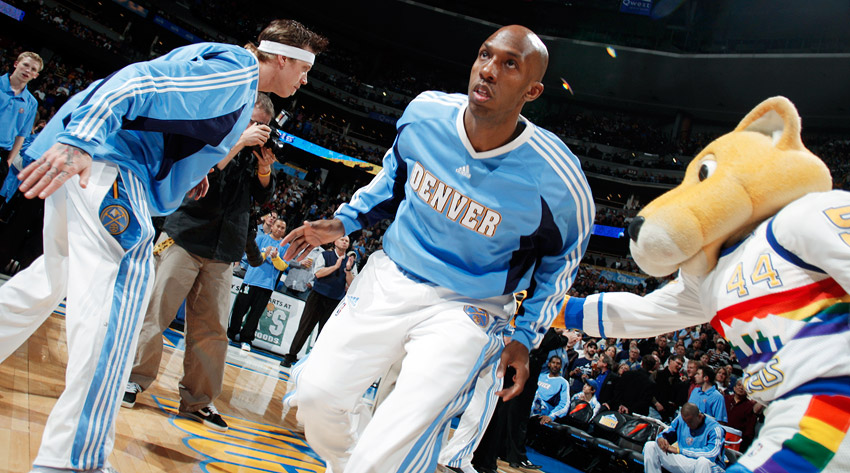 AP Photo/David Zalubowski
Fueled by Chauncey's hot shooting, the Nuggets made quick work of the Hornets in the first round of the playoffs.
The Pepsi Center, April 19, 2009
After a 54-win season, the Nuggets are the No. 2 seed in the Western Conference. It has been a memorable year. Before an early-season game in Boston, Chauncey challenges his teammates' manhood, and the Nuggets end up beating the champion Celtics at their own game. On nights Keynon Martin and Anthony are on the brink of technical fouls, Chauncey steps in and argues for them, getting the techs himself. He polices the locker room, calms down the players who brood over Karl. The Nuggets don't know his story. One day, Martin approaches him and says, "All them times you got traded, I just thought you must've been like the biggest a------. You'd play good, but get traded. I thought something was wrong with you."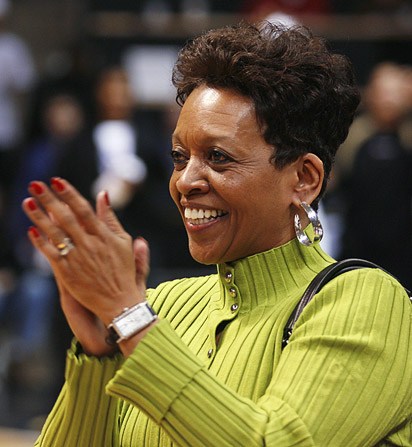 Dee Welsch/WireImage.com
Faye can now watch her son play just a short drive away from her house on Poplar Street.
The truth is, there's something right with Chauncey. He's like a psychologist to the NBA stars. On a night he's watching "Desperate Housewives" with Faye on Poplar Street, Hamilton calls from Detroit to complain about being benched. Hamilton goes on so long, Chauncey misses the whole hourlong episode. The Pistons are absolutely lost without him. Before he left, Chauncey had been Pistons head coach Michael Curry's truest ally, and even had hired Curry's sister-in-law to be his nanny. But, without Chauncey, Curry has no sergeants, no one to talk Rasheed Wallace off the ledge or lower Hamilton's blood pressure.
But the Nuggets are grateful to have him, and team camaraderie skies through the roof. When the players notice Chauncey always finger-rolls his layups -- to preserve energy -- Martin promises to give him $500 if he ever dunks. Then, in Minnesota, Chauncey slams one, and the bench is in stitches. "Did we know he'd be this good for us? No," Karl says. "He's a gift from the basketball gods."
It has been a stunning transformation. And as the Nuggets enter the building, one by one, for their playoff opener against New Orleans, their two most talented, enigmatic players -- Anthony and Smith -- are dressed to kill. Anthony is wearing a grey pinstripe suit, and Smith is wearing black dress pants. Chauncey has made them pull up their britches.
"'Melo and J.R. have dressed up more this year than they ever have," team executive Rex Chapman says. "Not that that wins games for you, but Chauncey's taught them it's OK not to be on cool duty all the time."
Smith, in particular, tells people no one has ever influenced him more than Chauncey. On the court, Chauncey wants him talking on defense, and off the court, Chauncey wants him out of clubs. And Smith is all ears. After a game one night, Smith asks Chauncey why he only shot six times, and Chauncey tells him, "I read the game. I don't play for stats. I don't play for none of that no more. I play for the win." Smith's reaction: "Damn. Makes sense."
Anthony's basketball IQ is up, too. His only major negative incident comes March 1 in Indiana, when he refuses to come out of a game. That night, Anthony had been struggling with his shot, and when he finally hit a couple in a row, he didn't want to sit. The front office suspends him one game, but in his first game back he sprints off the floor whenever Karl takes him out. Apparently, Chauncey's idea.
"This season, my stress level has gone so far down," Anthony says. "It's gone from an eight to a zero. That load's been taken off my shoulders. It's what I've been looking for. You don't have to go out there and try to do it yourself."
On the night of the playoff opener, though, Anthony is nervous. In fact, all the Nuggets seem tight. On the opening offensive play, Nene goes the wrong way, and the team bricks its first three shots. Karl calls a timeout, but only one person is talking and wagging a finger: Chauncey.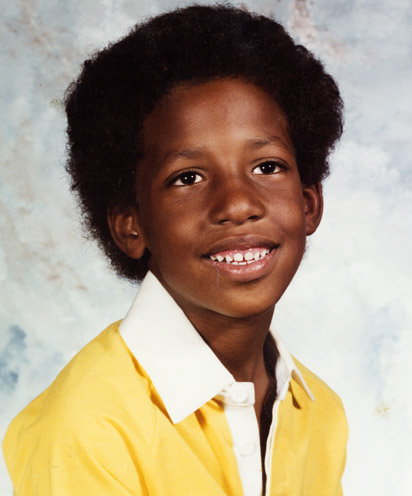 Courtesy of the Billups family
Chauncey is now a star in the city where he grew up.
"How can you f--- up the first play of the playoffs, Nene! You can't f--- up the first play! Get your heads in this!"
It's clear the Nuggets are deer in headlights. The franchise hasn't won a first-round series in 15 years; Anthony has never been to the second round. So why should Chauncey wait until the third quarter? He starts shooting immediately. He makes eight of nine 3-pointers overall, scores 36 points and has zero turnovers in a Nuggets blowout. Chauncey's sent an early playoff message: Relax, I've got your back.
In Game 2, he racks up 31 points and zero turnovers in another blowout. But he doesn't just play a good game, he talks one. During every timeout, he drops pearls of wisdom. Sam Mitchell and Terrell Brandon, each watching at home, swear they can hear Chauncey through the TV set. And they're pretty sure that after a series of hard fouls in Game 3, Chauncey is telling the guys, "Move on." Move on.
Meanwhile, back East, the Pistons -- who finish their season under .500 -- are being swept by the Cavaliers. Iverson has spent the year griping about playing time and is out with a back injury. "I guess they found out what I meant to the team," Chauncey says.
If Chauncey wasn't an MVP candidate before, he is now. In six months, he has saved the Nuggets and destroyed the Pistons, all in one fell swoop. Charles Barkley and Kenny Smith call him "The Bodyguard." Tim Duncan -- that Tim Duncan -- says he has put a head on Denver's athletes. He's getting celebrated. He wins -- get this -- the NBA's Joe Dumars Trophy for sportsmanship. Mark Warkentien, his GM, is named executive of the year for acquiring him. It's Christmas in May. In 12 seasons, four teams have traded him, two teams have let him walk and he still has the only job he ever wanted: point guard on a team deep in the playoffs.
When Sam Mitchell gives clinics nowadays, he tells kids, "Let me tell you the story of my nephew, Chauncey Billups." And when Chauncey Billups gives clinics, he tells kids, "Let me tell you the story of my uncle, Sam Mitchell." This is not the cycle of life; this the cycle of the NBA. Help the player on your right (Carmelo Anthony), help the player on your left (J.R. Smith), and the one who benefits the most is the one in the middle.
Smooth.
Tom Friend is a senior writer for ESPN.com and ESPN The Magazine.
Join the conversation about "The Disposable Superstar."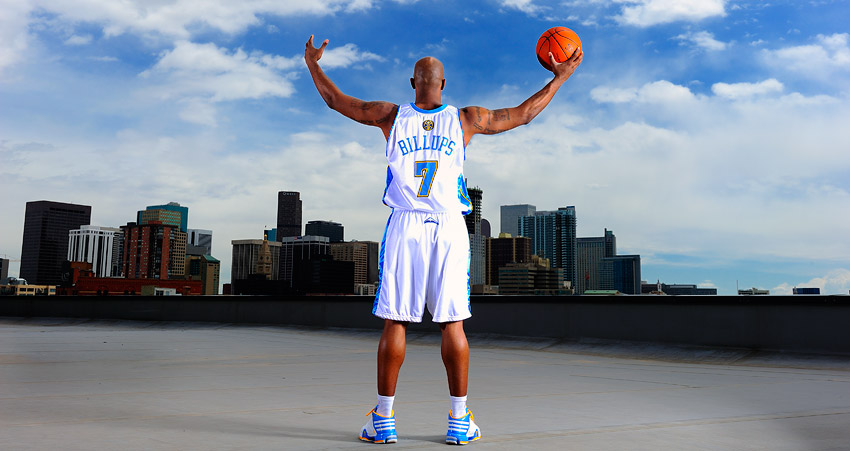 Lucas Gilman for ESPN.com