OTL: Phil At Work

hil Jackson is not thinking about 10 rings.
He's thinking about two. The two that got away, the first to Detroit in 2004 and the second to Boston in 2008. He's thinking about how no one took the Pistons seriously and how dangerous that made them. He's thinking about how he couldn't get his players to truly understand, prepare for and match the intensity of the Celtics' defense. He's thinking about losing, about the sting it left, about the way it lingers even now. He's thinking about surviving it, replacing it, pushing past it.
He's thinking about one. This one. Right here and now. The one still to be fought for and chased down. The one to be won. The one to be celebrated and savored, should it come. The one that says,
Hot damn, look what we're capable of, even with a baby-faced center and a silvered-hair coach.
The one that justifies the time and sacrifice. The one that affirms the faith. The one that can come, with luck, when players connect. The only one there is.
Pursuit of 10 for the sake of 10 is a sucker's bet. A prideful daydream. A giddy overreach. Ask Icarus how that turns out.
Jackson's father, Charles, a small-town Montana preacher, kept a plaque hanging on his office wall when Phil was growing up that read, "The bigger your head gets, the easier your shoes are to fill." Never mind Zen, we're talking about good common sense. Folk wisdom.
A Los Angeles area writer pushes Jackson on the point at an off-day news conference before the NBA Finals begin: Ten rings. … Wouldn't it mean something to be the best of all time? Wouldn't it be sweet to lord that over everyone who had ever doubted you?
Jackson cocks his head to the right and breathes in quietly. "That's just not a place I go," he says.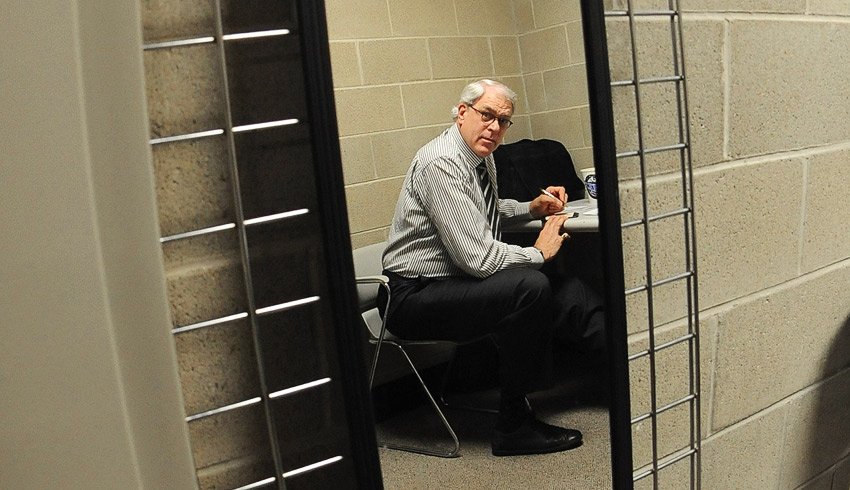 Andrew D. Bernstein/NBAE/Getty Images
Phil Jackson, shown preparing for a first-round playoff game in Utah, has his 10th NBA title in his sights.

watching a moth. With white wings and quick flits, the little bugger has snuck its way into the Staples Center interview room on an afternoon between Los Angeles' first and second games against Orlando.
Jackson, perched on a stool behind a lectern at the front of the hall, describes the way a game can turn on a dime, the way you have to feel for swings and surges in momentum, and all the while his eyes are on the darting moth.
I find myself wondering whether he conjured the damn thing, like Prospero calling on the first hints of a Mediterranean wind. Are bats or swallows far behind? The dude has nine rings and is poised to claim No. 10 -- special powers are not out of the question.
"It's about going out and capturing the actual essence of the game," he says as the moth flies past him, close enough to touch.
It moves up and down, a boat riding on the waves, from one end of the dais to the other. He tracks it, never breaking rhythm in his speech.
And then it's gone, behind a curtain and out a door. Exit stage left.
Jackson raises his eyebrows, curls the right corner of his mouth in a bemused smile and turns his gaze back toward the writers in the room. Easy come, easy go.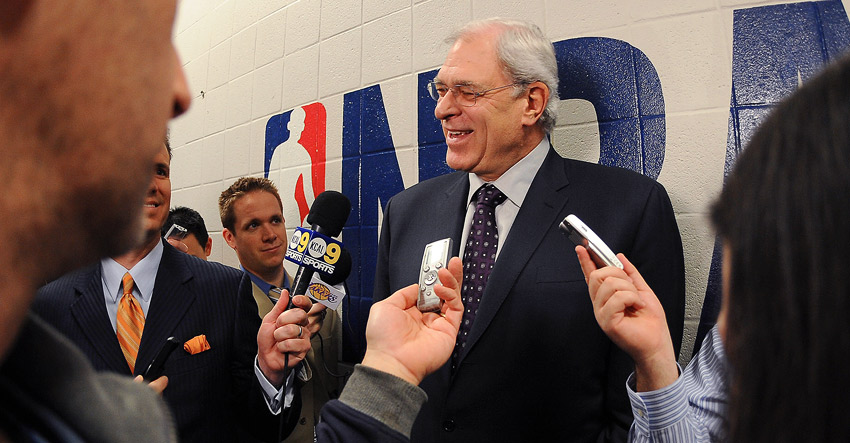 Andrew D. Bernstein/NBAE/Getty Images
Jackson has always been laid-back and playful with the media, but he has taken that to a new level this season.

pushing Pau Gasol. Has been pushing him. Since the beginning of training camp. Since the last seconds ticked off the clock in the Lakers' ugly loss to Boston in Game 6 of the Finals last June.
"He's yelled at Pau more this season than at anyone I can remember in a long time," Lakers assistant coach Kurt Rambis says. "He's been working him, needling him, constantly challenging him to be better than he was then, to be a tougher rebounder, a tougher defender."
Playing with greater resolve -- absorbing blows more carelessly and lowering a shoulder more forcefully -- isn't a switch you throw, it's an attitude you arrive at, a process you survive.
And the process continues.
Near the end of an early June practice, the Lakers' big men wind it down with shooting games. In the first, two guys muscle for a spot in the middle of the key, Rambis throws an entry pass, and the player with the ball makes a post move and tries to score. Make it and you stay in the game; miss it and the defender switches to offense, you're out and the next challenger steps in.
Gasol, at full sweat and throwing his back into his teammates' chests like a battering ram, comes out king of the mountain. He walks toward the bench, eyes wide, where Jackson sits watching.
Jackson proposes a jump shot contest from out near the 3-point line next. Make it and you stay in; miss it and you have to hustle for your own rebound and put it in before the next guy makes his shot.
"Let's go 'Knockout,'" Jackson says. "Pau likes that one -- not so much contact."
Gasol steps back and shakes his head, as if to say, Why you wanna do me like that?
Jackson throws him a "gotcha" grin. No rest for the weary, big fella.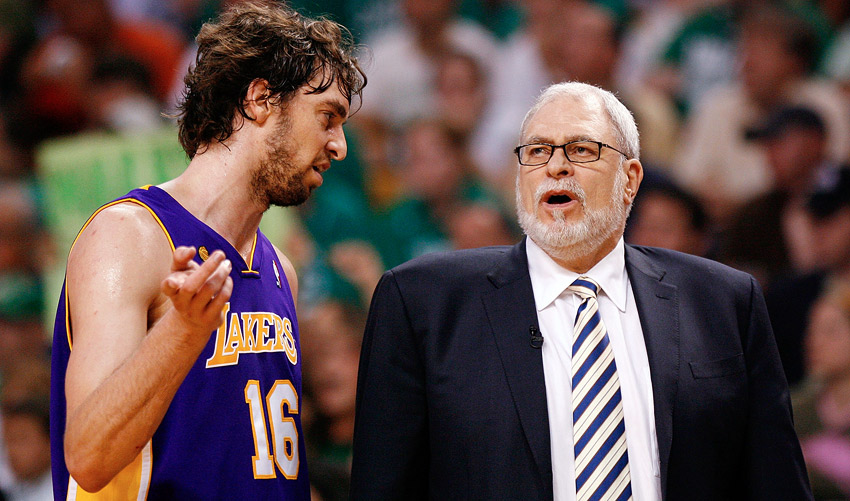 Kevin C. Cox/Getty Images
Pau Gasol is key to the Lakers' title drive -- a fact that Jackson has been reinforcing to his big man all season long.

bending his knees. Lakers reserve guard Jordan Farmar shoots a free throw in practice, and Jackson stands under the basket, just behind the baseline.
He dips at the knees and flexes onto his toes, as though he were the one at the line, as though he were the one dribbling the ball and finding the balance point and rising up to the release.
Have they been working together on Farmar's rhythm? Is Jackson, like Carlton Fisk urging the ball inside the left-field foul pole, somehow willing his guard toward perfect form? Is it just an empathetic instinct, a quiet show of solidarity?
A free throw is a basketball shot broken down into parts. You sense the mechanics of shooting, acutely aware of position, spacing and sequence. Fingertips at the seams, elbow in, legs bent. Get up on the balls of the feet, see the spot, flick the wrist.
Farmar goes through his checklist. Jackson mirrors him.
Free throws are rituals, too. Centering exercises. You feel your breath at the line. Ground and gather yourself. Shake things off. Renew.
Farmar dribbles and bends. Jackson joins him. Splash.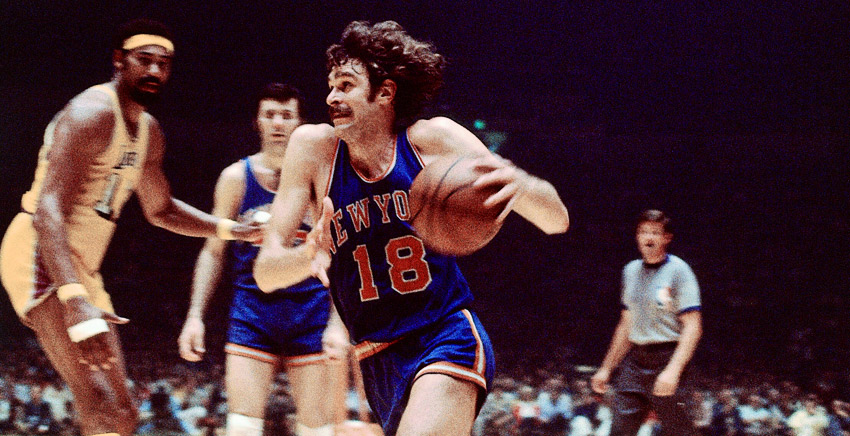 Wen Roberts/NBAE/Getty Images
Jackson was named to the All-Rookie Team in 1967-68 and went on to play 12 seasons with the Knicks and Nets.

reminiscing about the 1974-75 Golden State Warriors. He brings them up before Game 5 of the Western Conference finals against Denver, talks about how they went 10 deep that season, each guy playing double-digit minutes on the way to the title. Red Holzman's Knicks (the teams Jackson played on) were the same way, with 10 players logging double-digit minutes en route to the NBA championship in 1973. And this season's Lakers are following suit, with their own 10 putting in 10-plus minutes throughout the playoffs.
"The team stuff is no joke," says starting point guard Derek Fisher, who has split time down the stretch with Farmar and third-year man Shannon Brown. "Phil wants everyone to feel invested in what's going on, in what we're after together."
There's a basketball ideal in it: a big-band ensemble in which everyone is in tune and each individual knows his role, his contribution to the whole. Every game is another chance to experience and develop a sense of being connected, to anticipate each other's moves, to cover for and collaborate with one another. When it works, the parts aren't interchangeable but interlocked, and movement isn't scripted but instinctive.
"Phil's dedicated to the purity that's possible out there sometimes," Kobe Bryant says. "Those are the moments that still drive him after all he's accomplished. Those are the times he feels that he's honoring Coach Holzman and honoring the game, that we all are."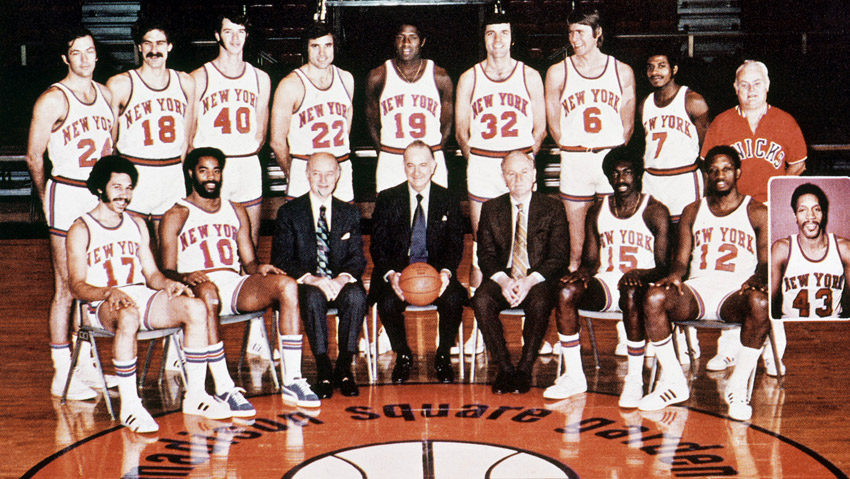 AP Photo
As a member of the NBA champion 1973 Knicks, Jackson (No. 18 in top row) learned the essence of teamwork.

playing whack-a-mole. The topic is in-series adjustments. You take away their low-post threat, they shift emphasis to point guard penetration. You stress closing out on perimeter shooters, they accelerate their ball reversals. You go big, they go little. You double, they kick. You single, they pound it inside.
If the game is an orchestrated promise of some ideal form, a seven-game series is something much more ragged, reactive and, well, nasty. Think Sean Connery's explanation of "the Chicago way" in "The Untouchables."
There is a cool refinement about Jackson now, nearly 20 years into his NBA coaching career. He moves with the deliberate air of a man who has won repeatedly at the highest levels. And he has a system and a philosophy, and much of it hinges on being steady-as-she-goes. "Not too high or too low," reserve forward Luke Walton says. "We try to stay away from big swings."
PHIL'S LEGACY
Eric Neel discusses Phil Jackson's legacy on ESPN Radio with Andy and Brian Kamenetzky. Listen to the podcast

But don't forget the pointy-elbowed scrapper Jackson was as a player. Don't underestimate his will to win. He remembers his old friend Red Kerr, who won a title at 22 in 1955 and never got back. He knows these chances are precious. Experimentation and improvisation are on the table at all times in the pursuit of this crown. "I think he's learned that with this personnel we have now," Fisher says. "I think he's opened himself up to whatever it takes."
The book on Jackson says he doesn't like to play young guys. But he goes to Brown (who wasn't even a Laker until early February and who hadn't yet logged 1,000 NBA minutes coming into the playoffs) for a key second-half stretch in Game 5 against Denver. Conventional wisdom is that he never deviates from the triangle offense, but he has Bryant and Gasol run the high-screen-roll for the vast majority of Game 1 against Orlando. Substitution patterns vary from night to night and series to series. Minutes go up and down.
"It's about finding a way to squelch the other team," Jackson says late one Tuesday night after a conference semifinal game against Houston. "We keep trying to do that, and they keep trying to find a way to pop out."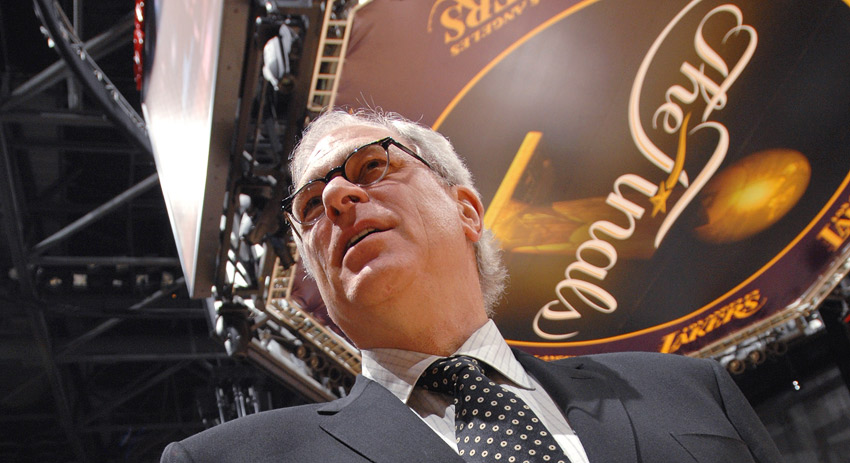 Andrew D. Bernstein/NBAE/Getty Images
Jackson views each seven-game series as a contest of strategic moves and countermoves.

questioning the premise. After the Lakers eliminate Utah in the first round, a writer at the postgame news conference asks which team (Houston or Portland) he would rather face in the second. Jackson grimaces.
"Sorry, I have to ask," the writer says.
"You do, huh?" Jackson replies. "That's a shame."
Phil Jackson talks about the Lakers' Game 4 victory in Orlando.

That one is for laughs in the room, a nod in the direction of the dance we do, a tweak from a guy exhaling just a bit after surviving the first round.
A couple of weeks later, after the Lakers lose to the Rockets in Game 6 of the West semifinals, forcing a deciding seventh game, someone asks whether he's worried about having to play one for all the marbles.
They'll suit up knowing they could fail to reach even the conference finals in a season when their place in the NBA Finals had been assumed since the first week of the season. The stakes are high.
"No, I'm not worried," Jackson says. "There's nothing to be worried about. It's just a game, and we're just going to go out and play, and it's our home court, and it's what we've played for."
At first blush, he's brushing it off, maybe protesting too much, maybe not respecting the Rockets enough.
But that one isn't for the room, and it isn't even for the fans losing their religion on talk radio and local message boards. It's for the players down the hall, sweating out their disappointment and putting on their anxiety. It's for Gasol, itching to prove he can improve on last season's finish. It's for Lamar Odom, needing to dig deep to overcome a lower back injury. It's for Bryant, maybe squeezing the egg so tightly he's in danger of crushing it.
That one is a critique of the idea of worry itself. That one says, Worry is not the disposition that will get us through this. Confidence is what's needed. Faith in the system and the personnel and the preparation is what is required.
That one says, I can't concede the premise. The stakes are too high.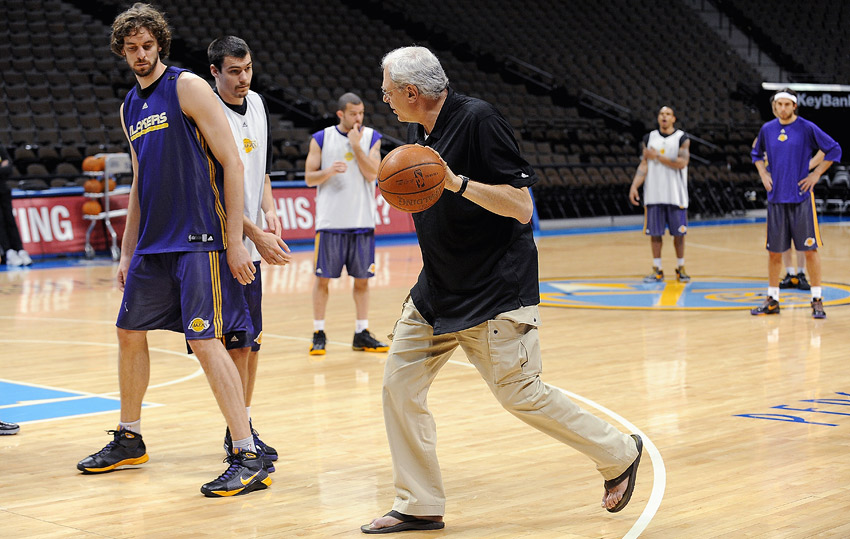 Andrew D. Bernstein/NBAE/Getty Images
We won't offer yet another lesson in Zen philosophy, but we will point out the man is wearing flip-flops at practice.

visualizing his players visualizing. We're walking across the floor at the Lakers' practice facility in El Segundo, Calif. Luke Walton, recovering from an ankle injury, is going through range-of-motion exercises with a trainer in one corner of the gym. A television crew is breaking down its interview kit in the opposite corner. The joint is otherwise empty. Most players have headed for home and the quiet hours before game time.
"You have your rest period you should take, and before you doze off you should visualize how you're going to have to move with and against your opponent," Jackson says. "You have to see yourself moving through that action. It activates you. It's an emotional process. And when the moment arrives in the game, on the floor, you're not a stranger to it."
He looks down at the floor as he talks, and I step closer, and I'm listening to him, and I can hear the echoes of "Sacred Hoops," and I'm calling up the stories of gathering players in a circle for "om" chants, and of recommended readings and inspirational film clips. I know on some level I'm supposed to listen with an ironic ear at a moment like this. That's Phil's shtick, I'm supposed to think.
But that's not what I'm thinking at all. I'm thinking, what if the operative shtick here is ours, not his? What if there's some part of us, some cautious, analog part of our hearts that still clings to the idea that coaches are only coaching when they draw up plays on the chalkboard or stir up players with Gipper speeches?
I'm thinking this cat has stayed true to his school on this stuff, talking about energy, connectedness, intuition and not being a stranger to the moment as you've imagined it, from the jump, for two decades now.
At what point do we stop thinking of him as the eccentric? Will 10 rings do the trick? At what point do we consider the possibility, in earnest, with nary a wink or a nod, that the guy might be on to something? That over and above the X's and O's (which pretty much everyone knows cold anyway), in this era, in conjunction with truly elite talents such as Michael, Scottie, Shaq, Kobe and Gasol, at this level of competition, Jackson might be practicing just the sort of alchemy and philosophical framing that makes the difference between a team's being good and being great, between simply making the playoffs and making the playoffs your plaything.
I'm just saying, there's a record built up here, a record that could get more robust and imposing after the completion of this series, and that maybe we should reckon with it a little bit, that maybe we should at least visualize how visualization might be important.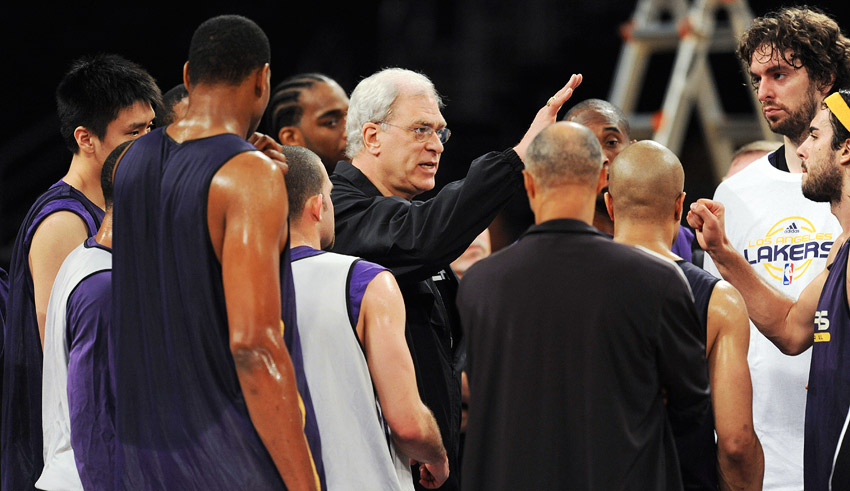 Mark Ralston/AFP/Getty Images
With a young roster, Jackson has to do more teaching and be more patient.

being patient. In Game 1 against Denver in the conference finals, Andrew Bynum plays 16 minutes and pulls down six rebounds and blocks two shots. Right on target. In Game 2, he plays 18 minutes, grabs just two rebounds and blocks one shot. Not so much.
Youngsters are erratic. These aren't the days of veteran role players such as Rick Fox and Horace Grant providing championship ballast for Phil's teams. These are the days of bringing the kids along as key contributors, gently, insistently, tirelessly reminding them of what you need them to do. These are the days of selling Bynum (who one day will be, but is not yet, a go-to stud on this team) on his role. Garbage stuff. Boards and blocks. Putbacks. Twenty minutes of activity in the paint and on the glass. These are the days when you keep hitting the theme, again and again.
Bryant says he sees Jackson playing the father figure more this season than ever before, sees him whisper quiet encouragements, hears him repeat in measured tones the kid's assignments in a particular on-court scenario and the objectives for a given matchup.
"He's been a mentor to Andrew, Trevor [Ariza], Shannon. … He's had to guide them through the different stages of the season and the playoffs," Bryant says. He then lets slip a mischievous smile and adds: "I'm the whip-cracker with those guys."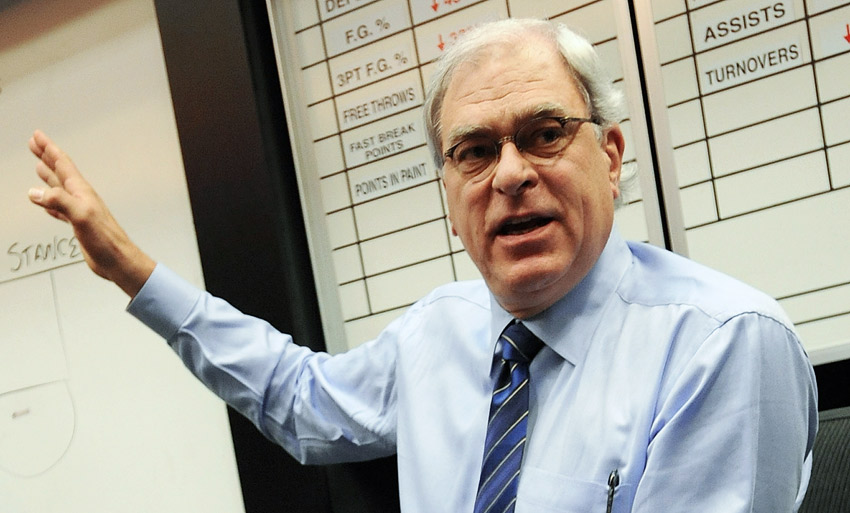 Andrew D. Bernstein/NBAE/Getty Images
With 42 NBA Finals victories, Jackson has passed Red Auerbach for the career record.

running interference. In a news conference before Game 2 of the Finals, Jackson describes the difference between Bryant as a young player with a singular drive and Bryant as an older player who empathizes more with his teammates.
Los Angeles Times basketball writer Mark Heisler follows up: "Now that we're talking about the two stages of Kobe, can you talk about the difference [between] dealing with him in Stage 1 and Stage 2?"
Jackson pauses. Squints Heisler's way. Leans back on his stool and answers:
"No. … I can't."
The room cracks up. Jackson walks off the dais and down a hallway to his office.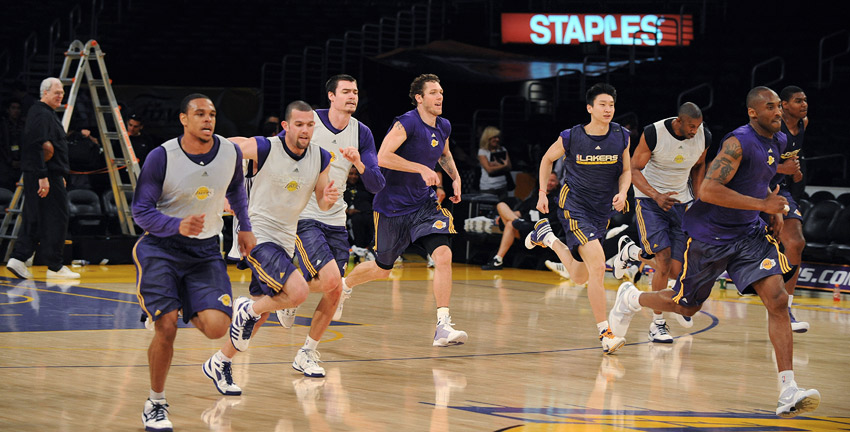 Mark Ralston/AFP/Getty Images
It's not a sprint, it's a marathon, and the Lakers are nearing the finish line.

not getting around quite as quickly as he used to. At 64, he battles chronic plantar fasciitis. He has had both hips replaced in the past few years and sits on the sideline in a special, padded orthopedic chair. He occasionally ambles gingerly from one spot on the practice floor to another.
He conducts one postgame news conference during the Denver series while standing up behind a microphone stand because someone has forgotten the staircase leading to the dais. When he hesitates beforehand, thinking of making the big step up onto the platform and then thinking better of it, the slight awkwardness, the little hesitation in the moment, resonates.
He says the momentum of a season, once it has begun, carries him along, but for how many more seasons will that be the case? What toll is the workload taking on his body now? Will he have the energy to mount another charge?
What else does he have to prove? He won his first title with the Bulls in 1991, and he's one victory away from his 10th now 18 years later.
Are we looking at the last stages of a remarkable run? Will winning or losing a title this season make him more or less likely to hang it up?
Will he have a chance to reflect on his record, on his legacy, at the close of this season? And what will it mean to him, if anything?
The questions seem to hang in the air.
"You sense those things," says longtime assistant Jim Cleamons, reflecting on his run with Jackson since the Chicago days. "Legacy, fatigue, pride, disappointment, you're aware of those things when you're alone in a quiet place, but they're just shadows. It's almost like you see them in passing, out of the corner of your eye. You don't look them straight on. You stay in the work."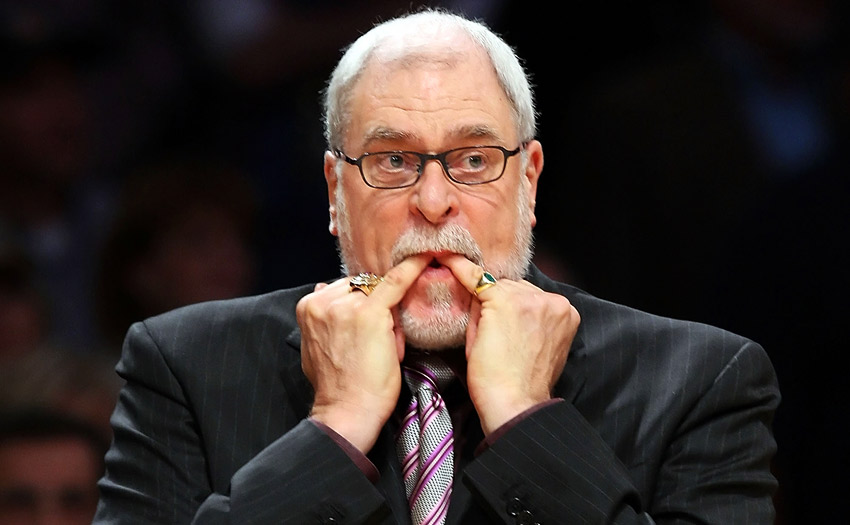 Lisa Blumenfeld/Getty Images
Even in the loudest NBA building, Jackson's whistle calls his players to attention.

whistling. It's late in Game 2 of the Finals, but it could be any time. He puts a pinkie finger over the lip of each corner of his mouth and lets out a sound piercing enough to cut through the noise of the loudest arena.
He puts the players on alert with it. Trap now. Watch the double. Jump out on that screen-roll. See what the opponent is doing -- read the floor. Its meaning shifts. It's a text to be read, interpreted and acted upon.
He told the story on ESPN Radio in L.A. recently: His brother taught him the whistle when they were kids. Jackson used it to call his dog from far off when they were walking through the streets of his hometown of Williston, N.D. When he got to the NBA, and shouting stripped his voice, he turned to the whistle.
"Now it's the source of his power, in a way," assistant coach Brian Shaw says. "If it were words he was shouting, you could hear them or not hear them, but with the whistle, he's asking you to think, he's putting it on you."
It's equal parts advance and retreat, right? He commands attention, then backs off, maybe leans back in his courtside chair, even puts his hands in his lap. The whistle says he's here and he has expectations, and at the same time it says he trusts you, believes you can do what needs doing.
"He doesn't overdo things, that's a part of the whole tone he's setting," Fisher says. "He uses his voice, the whistle, his authority -- he uses all of it sparingly, when needed. And so you stay open to it. You don't tune him out."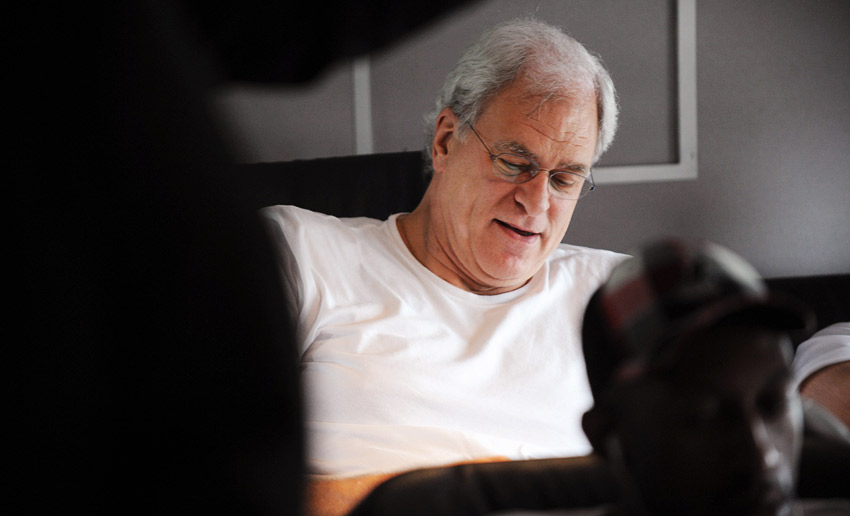 Andrew D. Bernstein/NBAE/Getty Images
Jackson, shown making the long flight from Los Angeles to Orlando earlier this week, has coached in 12 Finals in just 18 NBA seasons.

pretending he didn't quite understand me. I ask him how much empathy a coach has to have to lead a club at this time of the season. I want to know, for example, does he need to appreciate where Brown is, no doubt full of jitters before his first Finals game? Does he consider the gap between someone like Brown and Bryant, a hardened vet on a holy quest, and how does he account for the difference? Or does he pull back from such considerations and let each man rise to his own level? How much is he feeling what they are feeling right now?
He lights up a bit at the mention of the word "empathy," but it's only a little more than an hour before tipoff, and he quickly goes to game face, cheeks down, jaw set. No time for self-reflection, it seems. Instead, like William S. Burroughs doing a cut-up, he picks and chooses the parts of the question he likes and answers one of his own design (one that is decidedly not about him) that must have gone something like this:
Phil, do you think the young guys on the team will be nervous tonight?
To which he replies, basically:
Yeah, but they'll get over it.
And all of a sudden I feel as if I can empathize with Gasol a little bit.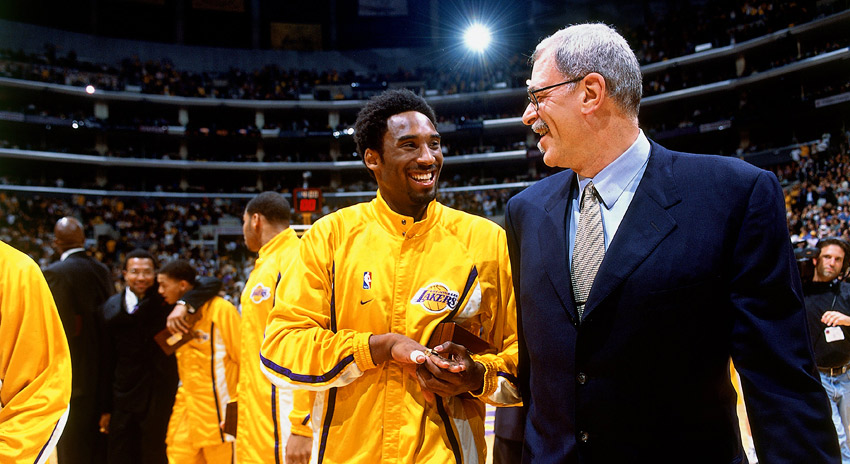 Andrew D. Bernstein/NBAE/Getty Images
Kobe Bryant picked up his first ring in 2001 and has been to six NBA Finals with Jackson.

still sitting on the Lakers bench. After Bryant's shot is blocked by Hedo Turkoglu at the end of regulation in Game 2 of the Finals, Kobe walks back to the bench, steaming.
And there's Jackson, not up and pacing, not out on the floor in a coaches huddle with a clipboard, but sitting in his chair, waiting on his superstar with a kind of Stan Laurel "whodathunkit" look of wonder on his face.
There's nothing to say or do, I guess. No push, no instruction, no bit of wisdom to offer. These guys know each other of old. Jackson's presence in that spot -- a quiet, familiar admonishment and an unwavering commitment all at once -- is enough.
A couple of weeks earlier, Bryant discussed the winding path he and Jackson have taken together, and something he said comes back to this scene of the two of them on the bench now.
"We're in this together, Phil and me," he said. "I can't imagine looking over there and not seeing him waiting on me."
Eric Neel is a senior writer for ESPN.com and ESPN The Magazine.
Join the conversation about "Phil At Work."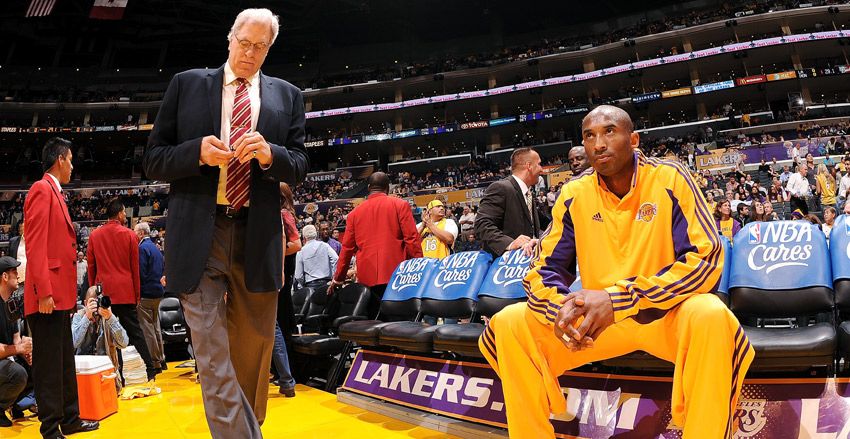 Andrew D. Bernstein/NBAE/Getty Images
Bryant says he can't imagine sitting next to another head coach at this point in his career.