OTL: Gaps In The Road

ANSAS CITY, Mo. -- The crack pipe looks like a toothpick in the ballplayer's mammoth hands. Who knows why Willie Mays Aikens started, but now he's hooked, sitting on the couch, gut jiggling out of his sweatpants, talking to God, the Holy Spirit and himself.
His old Kansas City Royals teammates don't come to the condo on Locust Street. No, this is a place for guys with giant gaps in their mouths, and in their lives. They're Aikens' only friends. Soon, they'll steal all of his baseball memorabilia.
He barely knows his two little girls; that Lucia is 6 years old, or that Gretchem Nicole is 5 and just starting school. Most days, his first conscious thoughts are of sex, booze and the pipe. But he tries to keep moving. He runs up and down the stairs, inhales junk food, and takes long steams in the bathtub, anything to regenerate for the next high. He has no idea how he looks, that the 'fro once squeezed inside his batter's helmet is receding, that he weighs 308 pounds. He's not even sure what day it is.
But when the crack rock is too big, and his heart pounds too fast, Aikens is suddenly afraid, and reaches for some kind of hope. "God, don't let this kill me," he says to himself. "Don't let anything bad happen to me."
It is 1994, the year he reached the lowest point of his life. This is when Willie Mays Aikens' voyage to discovery begins.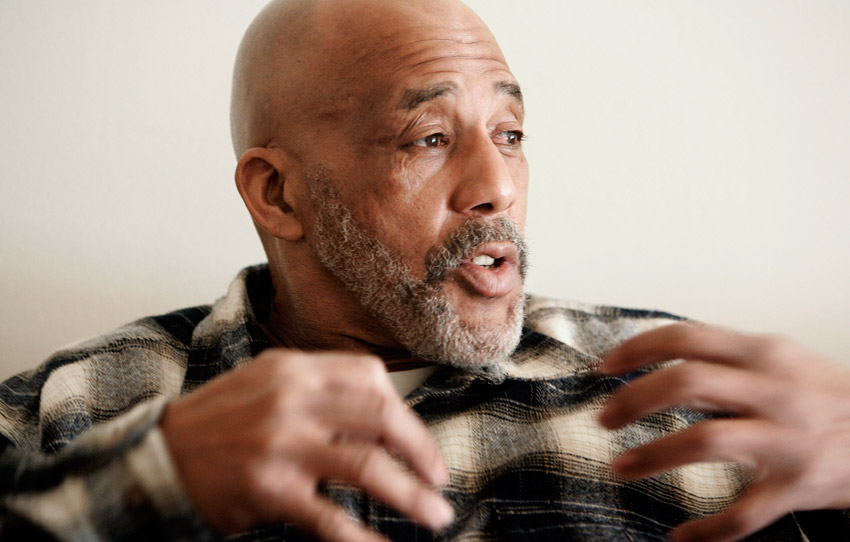 Mike Ransdell for ESPN.com
Willie Mays Aikens hit rock bottom in 1994, but he says his 14-year prison stint helped him kick his drug addiction.
Lost in the snow
When a man is lost, so thick in the soup that he can't see two inches in front of his face, there are no lighthouses. A handful of people from various parts of Aikens' life sat him down, looked him square in his young, glazed-over eyes and told him he had to stop. There was too much to lose.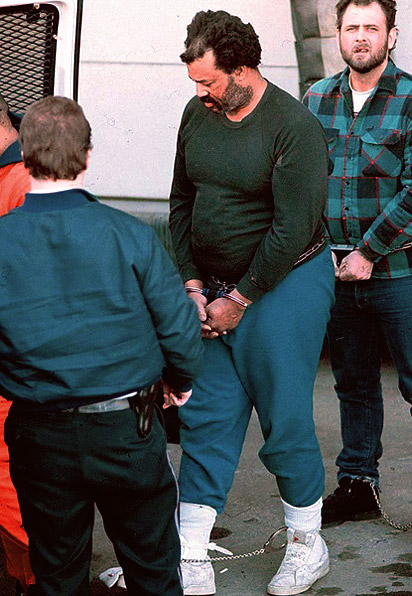 Kansas City Star
Weighing more than 300 pounds, Aikens was arrested on federal drug charges in March 1994.
He didn't hear a word.
He is the first -- and only -- player to hit two home runs in multiple games in the same World Series. Today, nearly 30 years after accomplishing that feat, he works on manhole covers in the shadow of Kauffman Stadium. If he had only listened to one of the people who tried to talk sense to him, maybe he wouldn't be here, 54 years old with mud caked on his jeans and three hours to go before his shift is over. Maybe his life wouldn't be starting over at the end of middle age.
No one will ever know the athlete Aikens could've been, what was already slipping away on that mid-October night in 1980 when, after he hit his fourth homer of the World Series against the Phillies in Game 4, he left the ballpark and celebrated by snorting a few lines of cocaine. Aikens wasn't the only one doing coke. It was, after all, the '80s. But he had had so many warnings. An FBI agent visited the Royals, cautioning them that they were being monitored for drug activity. Hal McRae, one of the most respected players in the Kansas City clubhouse, pulled Aikens aside at least twice.
"He was in total denial," says Aikens' former agent, Ron Shapiro, who eventually had him admitted to a drug treatment program. The program didn't take. "And I said to myself, 'Wow, he's on top of the world right now, but he's going to fall.'"
Shapiro was right. Aikens tumbled -- into jail on cocaine charges in 1983, and out of the major leagues two years later. But that didn't even bother him. More free time meant more time to do coke. He blew through two bank accounts and $300,000 to satisfy his craving. The thud didn't really come until Dec. 12, 1994, when he stood before U.S. District Judge Dean Whipple on federal drug and firearms charges. The judge admonished him for his wasted chances, then blindsided him.
Twenty years and eight months in prison.
That jolted Aikens out of his self-induced haze. A few months earlier, he'd been offered a plea bargain but refused to squeal on his crack buddies. The deal was five years.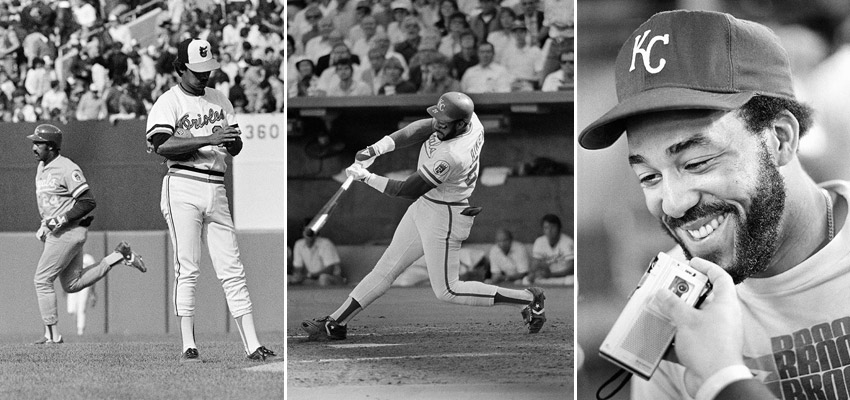 AP Photos
Kansas City acquired Aikens in a five-player trade before the 1980 season. In three playoff series with the Royals, Aikens hit .375 with four homers.
"He wasn't worldly"
Somehow, he thought, somebody would have to see it: that the sentence didn't fit the man, that Willie Mays Aikens rotting in prison until he was 60 wouldn't be good for society.
Would they listen to his story? Could they see that scared, embarrassed boy standing in front of the class in a fourth-grade spelling bee, hoping the kids would stop laughing, praying he could just sit down so it would stop? Of course he knew how to spell U-N-T-I-L. His speech impediment just wouldn't let him get it out.
Did they know that home was a two-bedroom shack with no indoor plumbing, and he shared it with his grandma and his mother, two cousins, a sister and an abusive, alcoholic stepfather? That Aikens never met his real father?
Would they care?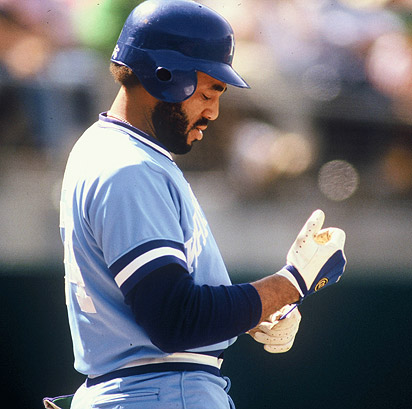 Rogers Photo Archive/Getty Images
Aikens' raw power drew the attention of scouts in the mid-1970s. He hit 110 homers in his eight major-league seasons.
Maybe the sympathy was muted because of the prodigious gifts he had squandered. Aikens was so much bigger than the other kids in the Bruce Hill neighborhood of Seneca, S.C., so much better, that it almost wasn't fair. He made the varsity baseball team in eighth grade, could hit the ball 450 feet by his senior year. Eventually, when Aikens walked to the plate, opposing coaches would tell him to head on down to first base, to take his intentional walk and be satisfied with it. "He hated to walk," says Jerome Harris, a childhood friend. "When they tried to walk him intentionally, he'd jump out of the box and hit the ball."
Surely, they'd love his good intentions. They'd like that when the Angels made him the second pick of the 1975 draft, he used his first signing bonus to buy a house for his mom.
"My first impressions of him were of his size and gentleness," Shapiro says. "He talked in a relatively low voice. The size of his body and the softness of his speech didn't really line up well. He wasn't worldly. Except for baseball, there wasn't much to shape him."
So was it that much of a surprise that the impressionable kid, who left mouths agape in minor league parks with his towering homers would finally break into the big leagues in 1979, see some guys doing coke and want to try it himself?
Of course, his drug habit didn't impair him on the field, Aikens would say. At least, not at first. He hit 21 home runs in his first full season for the Angels. He batted .400 for the Royals in the '80 World Series! But as Aikens started getting in deeper, teammates started noticing bad signs. He'd mutter about playing time and show up late for batting practice.
The 1983 bust, when he was arrested along with teammates Willie Wilson, Jerry Martin and Vida Blue, was supposed to be just a blip. Aikens didn't know it then, that he'd soon be gone from Kansas City, then fade through two seasons in Toronto. He thought -- even during his time in the Mexican League -- that he would be back.
He saw millions flashing before his eyes when the Japanese League sent a representative to Mexico to woo him. He didn't know his criminal record would stand in the way and prevent him from getting a visa.
With nowhere left to play, Aikens went back to Kansas City and settled onto the couch with his pipe. "I don't know if I can describe it," Aikens says. "There's a sensation that comes from it, when you're hitting that pipe and you inhale it and you blow it out. It's a tremendous feeling.
"Other things in your life are not as important. There isn't anything more important than smoking a pipe."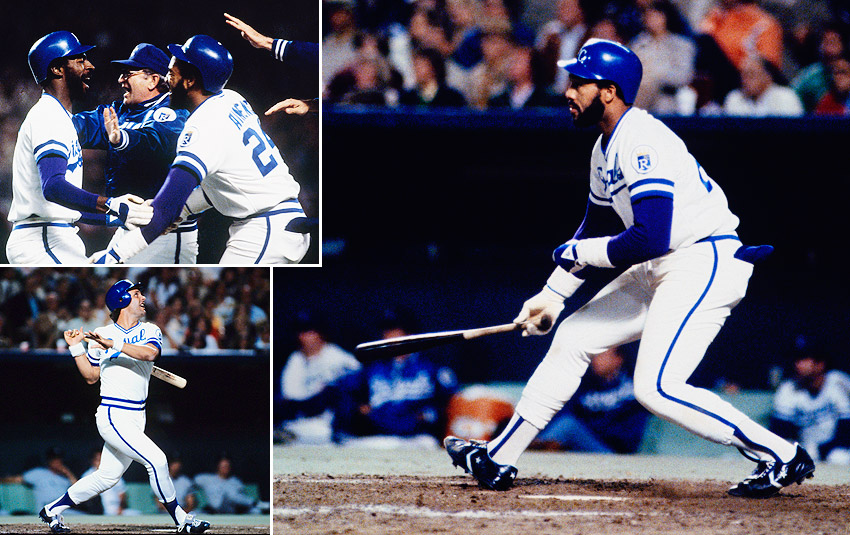 Getty Images
Aikens' homer spree thrilled teammate Willie Wilson and manager Jim Frey during the Royals' six-game loss to Philadelphia in the 1980 World Series. After his arrest, Aikens lost contact with many K.C. teammates, including star George Brett, lower left.
For nearly 14 years, he wondered: Did he still exist?
A fellow prisoner, who'd grown old staring at the walls of a prison for most of his life, once gave Aikens some advice. He said it's easier to do time if you put your mind where your body's at.
This was sage stuff, but Aikens couldn't really listen. He thanked God that he had been caught, that the shackles on his legs would ultimately free him from a drug that was controlling his life. But he never believed he deserved 20 years and, in the darkest recesses of his mind, couldn't contemplate the thought of it. He claims he was entrapped by Ginger Locke, the young undercover police officer who approached his condo in 1993 "looking for directions" and eventually, according to Aikens, asked him to cook powder cocaine into crack. That act, under stiff federal laws enacted after Len Bias' death in 1986, dramatically increased his jail time.
No, he couldn't put his mind there, in the Atlanta penitentiary, until at least 2012. He didn't think that made any sense. "I felt like I was going to come back to this outside world one day again," Aikens says. "I wanted to keep up with things."
So he watched the news, subscribed to USA Today and saw glimpses of his old life. Maybe it would be a picture of George Brett's tanned face surrendering to middle age, or Hal McRae in a dugout coaching. For them, time went on. For Aikens, it was frozen in 1994.
He'd write letters to his old Royals teammates, in part out of boredom, but mostly to reconnect with a time when he was special. He heard back only from McRae. Aikens wondered, in the quiet of his cell, whether he had ceased to exist out in the world after Dec. 12, 1994. He thought about his daughters, about how they'd be adults, complete strangers, when he was scheduled to be released.
False hope came in two-year increments through the appeals process. Each appeal was denied. He asked President Bill Clinton for a pardon in 1999, and Shapiro, McRae and Cal Ripken wrote to the White House on Aikens' behalf. He was denied by President George W. Bush in 2003 and 2006. "He's not a bad guy," McRae says. "And you can't say that about everyone. But this guy was a genuinely good guy who made some bad decisions, so I don't put him in the same category as maybe somebody else that was actually doing the same thing."
Aikens lost 80 pounds and found God. There is a difference between being religious and being spiritual, he says. For eight years in baseball, he carried a Bible around on road trips. In prison, he actually read it. "I took it for granted, my life back then, you know?" he says. "I didn't look at it as living a blessed lifestyle. Most of the time, we don't pay attention until something bad happens in our life or until we feel like we need God's help."
Then, at last, circumstances inched on in Aikens' favor. In late 2007, the U.S. Sentencing Commission decided to ease prison time for crack offenders. After 14 years, Aikens would be free.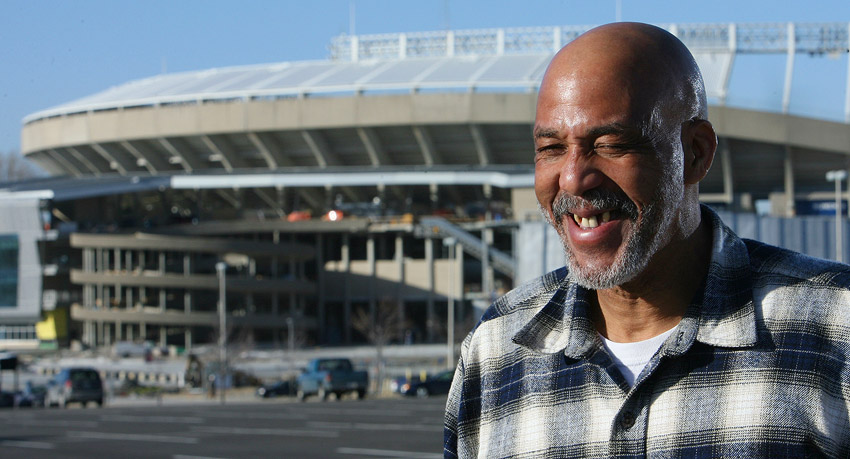 Mike Ransdell for ESPN.com
Not far from the stadium where he became a star, Aikens is trying to put his life back together.
Finally, from a cell to a cell phone
He orders an Egg McMuffin and a coffee and picks up a tiny contraption called a cell phone. It is June 4, 2008, and, in one of his first acts of freedom, Aikens places a call to South Carolina.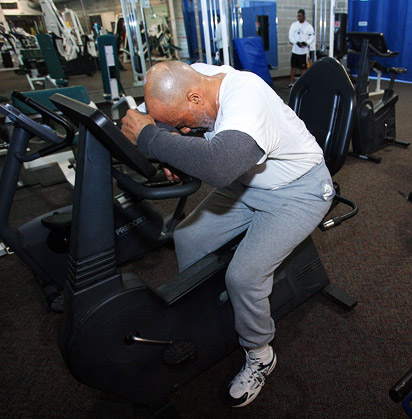 Mike Ransdell for ESPN.com
Working his way back into shape, Aikens has dropped 80 pounds.
"Mom, I'm out," he says. "I'm really out. I'm a free man again."
Actually, "free" is a relative term. He's headed to a halfway house back in Kansas City, where he'll get a hygiene pass once a month, to go to Kmart and buy toothpaste and towels, and a church pass on Sundays. And for five years, he'll be on probation, restricted to the confines of Missouri, logging in every loan and check stub. "Man," Aikens says, "that judge stuck it to me good."
He had $500,000 at the time of his arrest in 1994, but has spent it all on legal fees and child support. Still, he says he's not bitter. In awe, yes, of the cell phone that can take pictures and send text messages. Grateful, for sure, that McRae has set him up with a job in road construction, working in manholes.
First day of work, a man named Brent Wyatt picks him up. Wyatt is his foreman, 20 years younger than Aikens, and he's nervous. What will he say to Aikens? He watched him play from 15 rows up, along the left-field side, as a kid in the early 1980s. "I still see him as the guy in the blue jersey half the time," Wyatt says. "I'm still starstruck when I'm around him."
But Aikens, in his neon vest and old brown boots, is just another grunt. He crouches down in a hole in the street, shoveling out dirt and gravel, while cars zoom by, oblivious to history. He's 10 miles from Kauffman Stadium, but galaxies away from 1980.
Sometimes, Wyatt worries about Aikens, though he seems remarkably cheerful for a guy with an old man's aches and a young man's bank account. "It surprises me," Wyatt says. "I've worked out here for 12 years, and guys gripe about the littlest things. He just seems to be happy to be doing something and be in a different time and place than he was 14 years ago."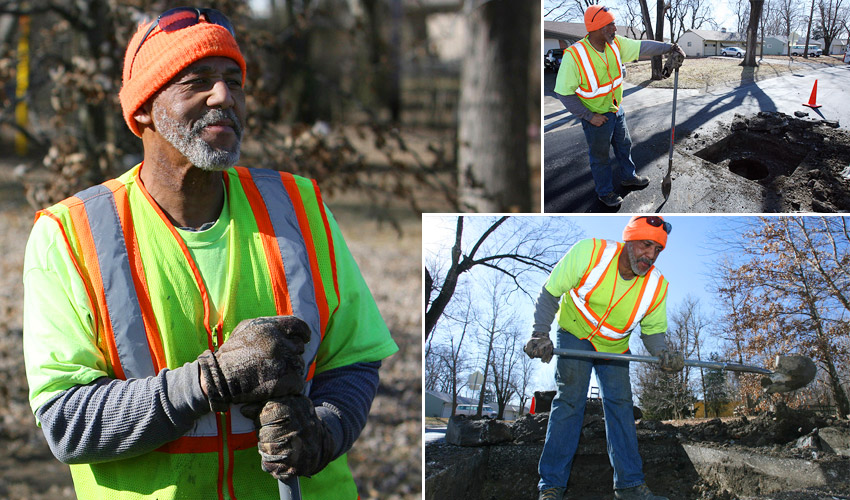 Mike Ransdell for ESPN.com
Working on a road construction crew, Aikens is happy to be a free man doing an honest day's work.
Fighting to reclaim lost love
It is seven months after his release, and Aikens is in a different place -- out of the halfway house and into a modest rented two-bedroom apartment, near the roar of Interstate 435, a couple of blocks from his old condo on Locust Street. The old place is the only tangible asset Aikens has left, but he can't live there. It's being rented by a med student.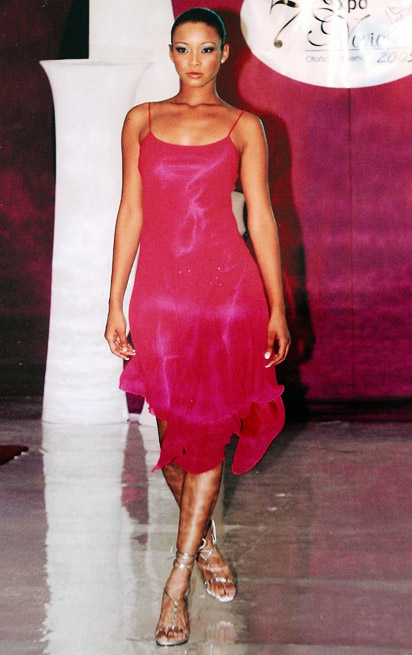 Courtesy Willie Aikens
Aikens' oldest daughter, Lucia, is studying to become an actress.
He answers the door, then quickly tidies up, clearing away the Tabasco bottle on the coffee table, plopping down on a couch near a lamp with a tilted lampshade. The wind is howling outside, and Aikens is lonely. He glances at an envelope full of DVDs from the '80 World Series. He hasn't watched most of them yet. "I know what I did," he says. "I've got time. Maybe I'm waiting for somebody to be able to sit down and watch it with me, you know?"
His oldest daughter, Lucia, is 20 now and was the queen of the Mazatlan carnival in 2007. She has a model's looks, is in acting school and is named after Aikens' mom, Lucille. Because Lucia grew up in Mazatlan, where her father is still a legend, she's intrigued by his baseball past. She came to visit him before Christmas. They hadn't seen each other in eight years. Their eyes met as she stood near the end of the airport gate, and she walked toward him, then stopped 10 feet short.
"I wanted to go, just hugging and kissing her and everything," Aikens says. "I asked her, 'Why'd you stop like that?' She said she was looking for the place for her luggage."
His younger daughter, Gretchem Nicole, should be more comfortable with her dad. Her mother is still long-distance dating Aikens. At least eight times, through varying stages of his incarceration, mother and daughter traveled to the States from Guadalajara to visit Aikens in the penitentiary.
But now Nicole is a 19-year-old college student who doesn't know what to make of the father she only knows as the man behind the glass. "She says she doesn't know me," Aikens says, "and she's afraid. She's embarrassed because I was in jail and doesn't think she wants other people to know she's my daughter because of that."
She will warm up to him, Aikens assures himself. In a few weeks, he is supposed to have hip-replacement surgery, and his girlfriend, Sara Reyes, has promised to come to Kansas City and take care of him. Through her mom, Nicole will learn more about him, and they'll be a family.
And they'll know how proud he is. He limps to another room and grabs photos of his daughters. When Lucia was here, he says, she spent most of her time on the computer. He bought it used, for $150, on Craigslist. Aikens goes online a lot now, often sending his friends sappy group messages. His latest is a story about a poor stock boy named Kurt who falls in love with a single mother named Brenda. At the bottom of the note about Kurt and Brenda Warner is a sentence in caps:
IF YOU, AS I DO, THINK THIS IS A BEAUTIFUL STORY, PASS.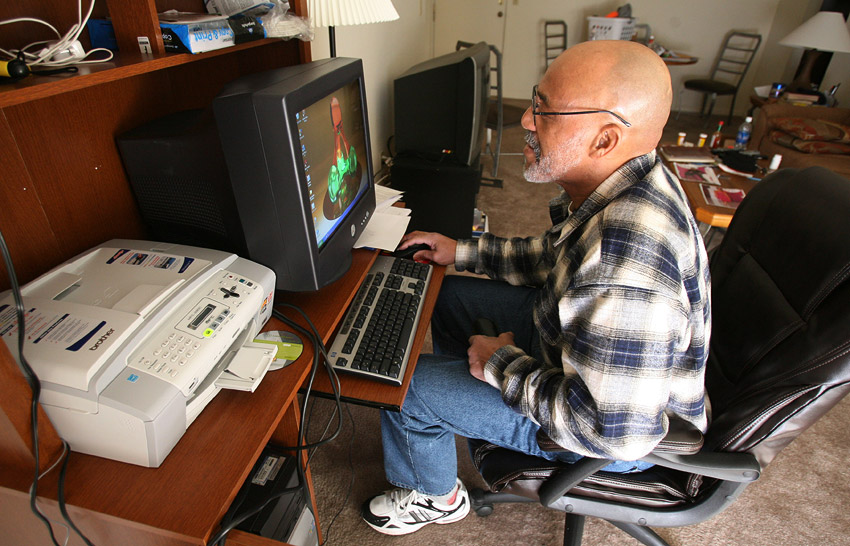 Mike Ransdell for ESPN.com
Technology changed a lot during the 14 years away for Aikens, who's learning to adapt to the wired world.
From drug abuser to drug crusader
The stutter is gone. It left him somewhere between Leavenworth and Atlanta, and no one is quite sure why. Maybe it's because Aikens is finally comfortable with who he is.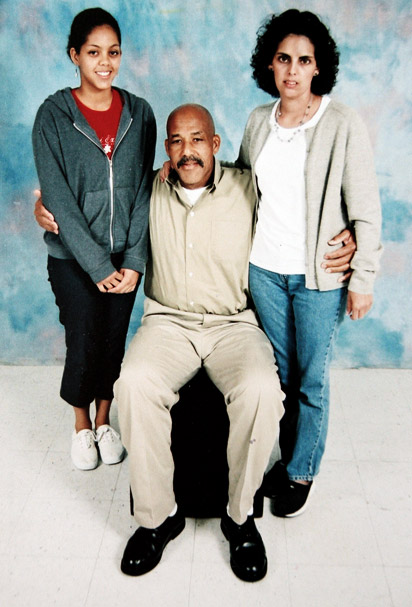 Courtesy Willie Aikens
Daughter Gretchem Nicole, left, has grown close to Aikens in the last year, as has her mother, Sara Reyes.
Maybe he just needed to slow down.
It is mid-May, 49 weeks into his freedom, and Aikens has been asked to speak before Congress. He is lobbying for changes in the federal sentencing laws that punish crack cocaine offenders 100 times harder than powder cocaine offenders, a distinction many believe is based on race.
"I didn't come to Washington for myself," Aikens says. "I came for all the people I left behind in prison."
He wears a sharp black suit. He does not stumble. He stands before the U.S. House Judiciary Committee and delivers a four-page speech he has written himself. He talks about growing up with an alcoholic stepfather, watching him die from his demons and believing he'd never follow that path. Then he tells of how, in his second season in Kansas City, he'd head over to his supplier's house five times a week to do drugs.
Aikens says he's sure of this: that prison saved his life, but that the length of the sentence nearly killed him.
"His testimony was very real," says Margaret Love, a former pardons attorney at the U.S. Department of Justice who represents Aikens. "I definitely think he was well-received. I was very proud of him."
He wants to make a difference, and believes baseball is the best way to get his message out. In this drug culture, who could tell a story about how fast a man can fall better than Aikens?
He goes to Royals games sometimes and sits in the blue-back seats of a newly renovated stadium. He'll gaze over to the right-field fence, near the fountains. That was his favorite spot to hit home runs.
But he's not George Brett when he walks into Kauffman Stadium, glad-handing, surrounded by autograph seekers, comfy in a luxury box. It's not home to Aikens; it's like an old hotel with fond and hazy memories.
"It's a part of me," Aikens says. "But it's something I used to do."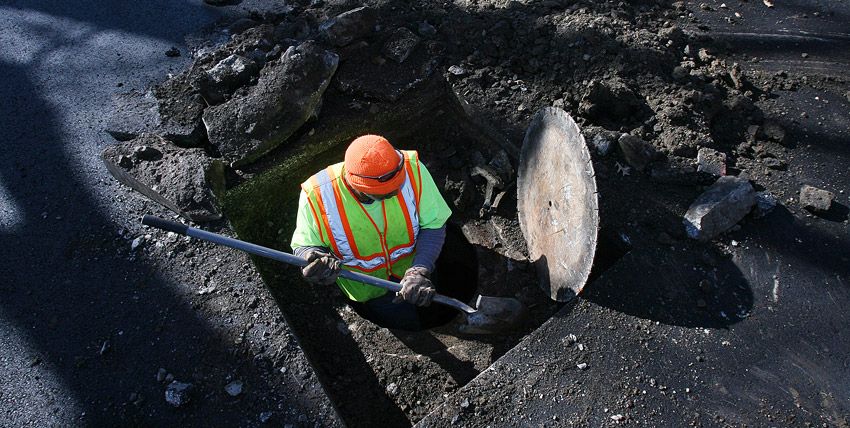 Mike Ransdell for ESPN.com
"I took it for granted, my life back then, you know?" Aikens says of his years in the major leagues.
Same old world, new man
The cell phone jingles, and Aikens is no longer techno-illiterate. He can text and peel messages off his voice mail. He tapes "American Idol" and another show on a newfangled DVR -- at the same time. The only thing that is different on the outside 14 years later, Aikens says, is the technology. The world is the same. People are the same.
He is sitting on his couch, next to Reyes. They've grown closer since his hip surgery, and his relationship with Nicole is much warmer. "She's coming around," he says. "All the things that I prayed about, all the things I wanted when I returned to society, everything is happening like I wanted it to happen." She came to Kansas City for spring break, and they watched an old baseball game together from his stack of DVDs. Aikens was much thicker then. Powerful. He batted cleanup, behind Brett. He knocked the ball out of the park and lumbered around the bases.
Aikens doesn't recognize the man in the powder-blue uniform now, so big, so lost. He hangs up the phone and, finally, settles in.
Elizabeth Merrill is a senior writer for ESPN.com. "Outside the Lines" producer Malinda Adams also contributed to this story.
Join the conversation about "Gaps In The Road."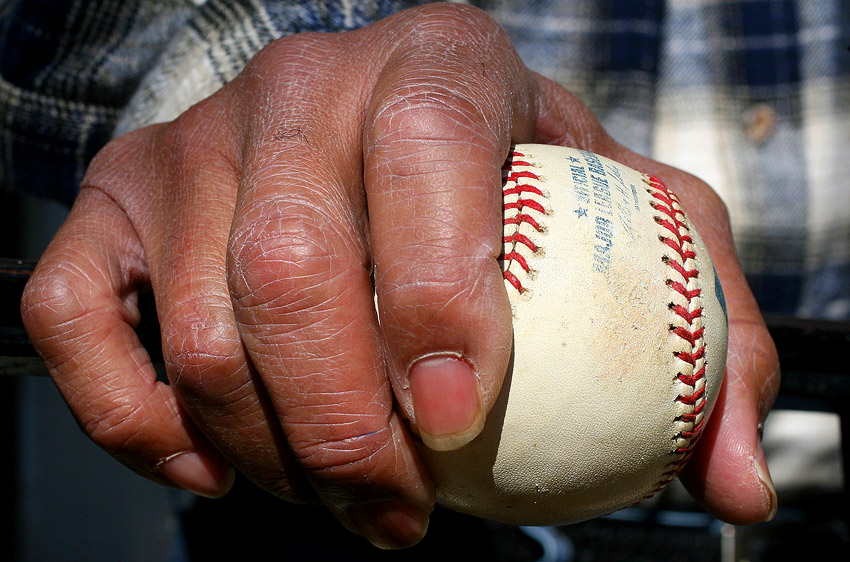 Mike Ransdell for ESPN.com

Aikens says he now has a grip on a life that was once out of control.