t was just a newspaper story, a rundown of how much the top NFL draft picks were paid in 2002. But to Charles Rogers, it was what he knew was possible ever since his first varsity football game, when he scored five touchdowns and instantly became one of the best football-playing 10th graders in the state of Michigan.
Rogers didn't hang the story in his locker at Michigan State just to be cocky. He did it because he could taste a new life. "I just knew I was going to get there," Rogers says.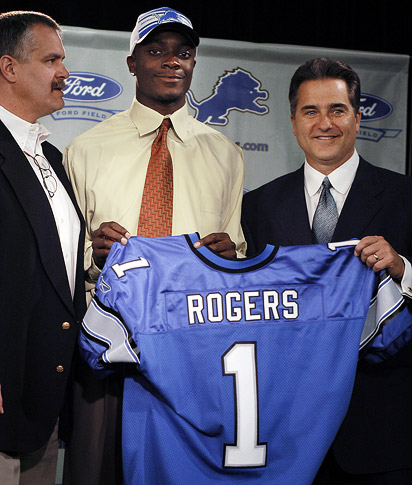 AP Photo/Paul Warner
The Detroit Lions picked Charles Rogers second overall in the 2003 NFL draft. Matt Millen, left, then the Lions' president and chief executive officer, says Rogers "could fly; the guy could run."
Rogers was right. He did get there. But he didn't stay there.
To understand why Charles Rogers' name is synonymous with epic NFL failure, you have to go back to the greatest day of Rogers' life: April 26, 2003. That's the day the Detroit Lions drafted Rogers with the No. 2 choice, behind only top pick Carson Palmer. That's the day his life changed.
Rogers was at Madison Square Garden with all the other top draft picks, surrounded by more than 50 people who had been bussed into New York from his hometown of Saginaw, Mich. Could there be a better scenario? Rogers would be playing professional football in the state where he grew up, where he starred in high school and college. "I thought by me coming to Detroit I could get fans what they were missing, a winning program, a winning team," Rogers says.
Somehow the red flags were ignored: the two positive tests for marijuana early on at Michigan State, and a test at the NFL combine that indicated excess water, which the league considers a possible masking agent, in Rogers' system. What the Lions saw in Rogers was an explosive offensive weapon that would nicely complement quarterback Joey Harrington, the Lions' No. 3 pick in 2002. They gave Rogers a six-year, $55 million contract, including a $14 million signing bonus.
He lasted just four NFL seasons.
Rogers' demise can be and has been blamed on a number of things, including injuries, drug abuse, a lack of discipline, immaturity. But it boils down to one thing: Charles Rogers didn't know how to cope with failure.
"He fell victim to a far stronger addiction, [the] toughest one to overcome ... and that is peer pressure," says Matt Millen, the former Lions general manager who drafted Rogers and is now an ESPN analyst.
It's not that Rogers never overcame any challenges in life. He dealt with a fractured family from the onset. Rogers' father, Charles Brown, and mother never married. When Charles Rogers was 6 years old, his mother, Cathy Rogers, went to prison for a year for welfare fraud, forcing Rogers to live with his grandfather, Benjamin Rogers, the family patriarch.
Here, finally, Charles Rogers caught a break. Benjamin was a proud man who loved taking his grandson hunting for rabbits and squirrels. When Rogers' mother started working nights while Rogers was in high school, she sent her son to live with Benjamin in Saginaw, where Benjamin made sure Rogers didn't want for anything. "My father was basically his father," Rogers' uncle, Ronnie Rogers, says.
Even when Rogers' girlfriend, Naija Washington, became pregnant at 15 with the first of their four children, his grandfather helped keep Rogers on course. "[Charles] just said, 'I'll take care of it,'" Washington said. "He was a big support system for us. They didn't lack for anything, but it would have been better if we were married and had degrees."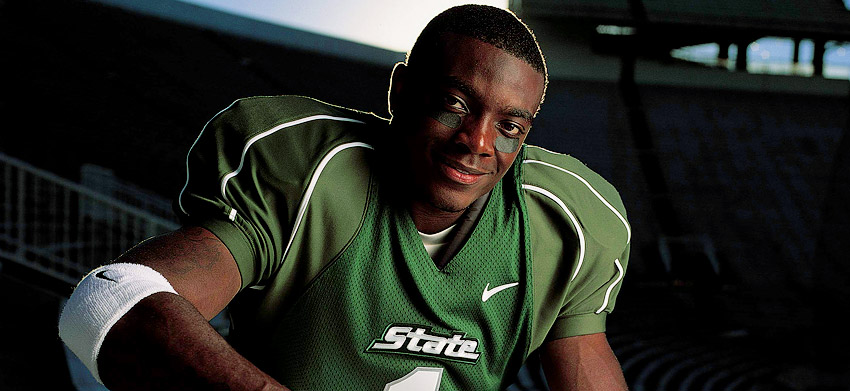 Albert Dickson/TSN/Icon SMI
Despite two positive tests for marijuana early on at Michigan State, Rogers was viewed as a star receiver coming out of college.
It wasn't the All-American ideal, but having two kids in high school actually gave Rogers a sense of purpose. He felt he had to succeed because his kids were depending on him. Although he was a gifted basketball player, Rogers focused primarily on football because it was the best way he could provide his children with a good life.
When Rogers arrived at Michigan State in 2000, many called him the next Randy Moss. He was 6-foot-4 with legitimate 4.4 speed and sure hands. He couldn't play his first season because he was an academic non-qualifier, but during the next two seasons Rogers established himself as one of the most dazzling players in college football.
But when Michigan State played Notre Dame the fourth game of his junior season, everything changed for Rogers -- personally and professionally. His "father," Benjamin, was hospitalized. Rogers received a call from his family: Come right away. By the time Rogers could get home, Benjamin was in the hospital's morgue. "I really haven't been the same since," Rogers says.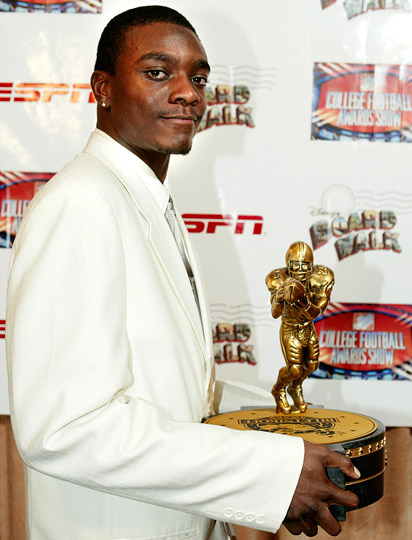 AP Photo/Scott Audette
Rogers received the Biletnikoff Award as the nation's top receiver in '02.
With the big nationally televised game against Notre Dame six days away, Rogers wasn't sure what to do. Then, as he had so many times, Benjamin once again came to his rescue. Certain principles were important to Benjamin and he tried to instill those in Rogers. Among them: Don't shame the family. Tough things out. Be a man.
So Rogers put aside his grief and played against Notre Dame. In that game Rogers cemented his reputation as the best receiver in college football. His final stats were outstanding -- seven catches, 175 yards and two touchdowns. But it was a single play late in the fourth quarter that vaulted Rogers to a bone-fide top-five NFL draft pick. On fourth-and-11, with less than two minutes remaining and the Spartans trailing 14-10, Rogers snatched a pass over two defenders in the back of the end zone, and somehow managed to keep his left foot in bounds. "I threw the ball and I was, like, there's no way he's going to get it," remembers quarterback Jeff Smoker.
Despite Rogers' efforts, Michigan State lost to Notre Dame, 21-17. The Spartans, who had been ranked in the Top 20 in most preseason polls, finished the 2002 season with a 4-8 record, going 2-6 after losing to Notre Dame. It was a season filled with turmoil. Smoker was suspended the last five games of the season because of substance abuse. MSU head coach Bobby Williams was fired with three games to go in the season.
But in a season to forget, Rogers was a player to remember. He won the Biletnikoff Award, given annually to the nation's best college receiver, and set an NCAA record of 13 straight games with a touchdown catch, breaking a mark previously held by Moss. In the final game of MSU's season, Penn State pounded the Spartans 61-7 in freezing weather. But as bad as things got, Rogers ran routes like the game mattered. That's the Rogers the NFL scouts fell in love with.
The failed drug tests at Michigan State? No big deal. "Honestly, he really wasn't [a partier]," Smoker says. "I'm not just saying that to have his back. He was relaxed. He didn't do the bar scene. He didn't want to be around a lot of people. If you knew Charles, he was a quiet guy."
Broken shoulder, broken dreams
Not that Lions management had its collective heads completely buried in the sand. Team officials were aware Rogers' playing that close to home could be a problem. Detroit hired Williams -- the fired Michigan State coach from the tumultuous 2002 season -- to be Rogers' position coach and, if non-football problems arose, a trusted advisor and father figure. "We had the right people around him," Millen says. "We had a great support staff in terms of the football side of it. He needed to get a little bigger and stronger. But he could fly; the guy could run."
For a while, Rogers made tremendous progress. He was the first rookie in Lions history to catch two touchdown passes in his first game. He averaged 11 yards per catch in his first five games. He was everything the Lions thought he would be.
But during Week 6, Rogers experienced something he never had before: a serious injury. He broke his collarbone in practice, ending his season, which really threw him. "I think initially he was a little scared," Millen says.
But Rogers quickly shook off the setback and started offseason workouts weeks before his teammates. He gained muscle, without losing his speed. He worked on running precise routes. He studied film. His goal was to make a big splash during his second season. "I mean Charles worked his rear end off," Millen says. "We wanted him to get bigger and stronger. We showed him exactly how he would be involved in the offense. He had had a taste. There was a very bright light shining in him."
Rogers was working hard, which was good. He was playing hard, too, which was not so good. A new and dangerous world was opening up to him off the field.
He and Washington, who had been together since junior high school, had ended their relationship after the draft. The two remained friends, and Washington moved to the Detroit area so Rogers could be close to his children. But Washington noticed Rogers was staying out all night on a regular basis. Jamel Dillard, Rogers' best friend since they were in eighth grade, says he and Rogers were pushing the limits and feeling invincible. "When you're young and you're his boy, you think just like him," says Dillard, who played football with Rogers in high school and later played at Grand Valley State University in Allendale, Mich. "We weren't doing anything crazy. We weren't doing cocaine. We were having drinks, and when you get more money, you can do a lot more of it."
Rogers offers a more succinct description: "You know, Lamborghini living."
Though some of his friends will claim, despite evidence to the contrary, that the money wasn't changing Rogers as a person, it was definitely changing how he behaved. The money, the fame, the women: It was an intoxicating combination. "There was a guy who once told me the three G's can get you into trouble -- girls, greed and glory," Rogers says. "I got a little greedy. The girls played a part in it. I f----- up. Point blank, simple."
From smoking fast to just smoking
It was the Lions' opener at Chicago and Rogers was pumped for his second season. Uncle Ronnie was watching in the stands. Millen was watching from his suite. On the third play of the game, Rogers stretched for a pass. He got up slowly and moved his shoulder slightly.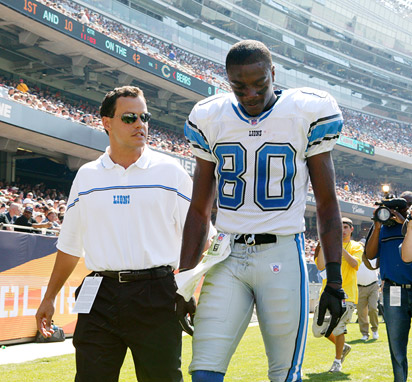 Todd Rosenberg/US Presswire
Rogers first broke his collarbone in practice in 2003. He broke it a second time, on Sept. 12, 2004, at Chicago. The injury devastated him.
That play, the one that unraveled him, looked like absolutely nothing. But when Ronnie saw his nephew head to the locker room with a trainer, he knew something bad had happened. A few minutes later, Rogers called him on his cell phone. He had broken the same collarbone again. His season was over almost before it started -- again. "I couldn't watch the game," Ronnie says. "I just went to my car."
This time Rogers did not shake off the bad news. This time he cried. Defensive end Robert Porcher, one of the Lions' veteran leaders, told him not to fret: He was just getting his injuries out of the way early in his career. Another teammate, defensive lineman Shaun Rogers, told him to stay strong.
Their words made sense, but didn't soak in. "It kind of like took the air out of me," Rogers says. "I was kind of like in a funk."
Instead of insulating Detroit's star receiver, Millen thought Rogers needed time alone to deal with the injury and its implications. Looking back on it, Millen says he believes the Lions made the wrong decision.
"We did a poor job as an organization, but we thought at the time that he needed some time by himself, which he probably did. But then what we should have done was still required him to be there and still sit through the meetings and go through everything."
Away from the team and feeling sorry for himself, Rogers began smoking marijuana daily.
"I was like in disarray," Rogers says. "My morals were in disarray. I just wasn't living right."
When Rogers returned to the Lions for his third season, it was clear the combination of escalated marijuana use and shattered self-confidence had changed him for the worse. The guy who only a year earlier could run a 4.4 effortlessly was now running 4.7s and 4.8s. The guy who just a year before had begun offseason workouts early and lived in the gym was doing just what was required, and nothing more. The Lions drafted Texas wide receiver Roy Williams with the fourth overall pick in 2004, and indications were that he -- not Rogers -- was their receiver of the future. The Lions also had a new coaching staff, and Rogers wasn't doing anything to win it over.
"When he came back after the second injury, he was average," Millen says. "Something clearly was wrong."
The NFL noticed. The league caught on to Rogers' extensive marijuana use, serving him with a four-game drug suspension in 2005 after he tested positive for the drug three times. Rogers was no longer trying for a triumphant comeback. He wasn't really trying at all. He was just hoping to hold on.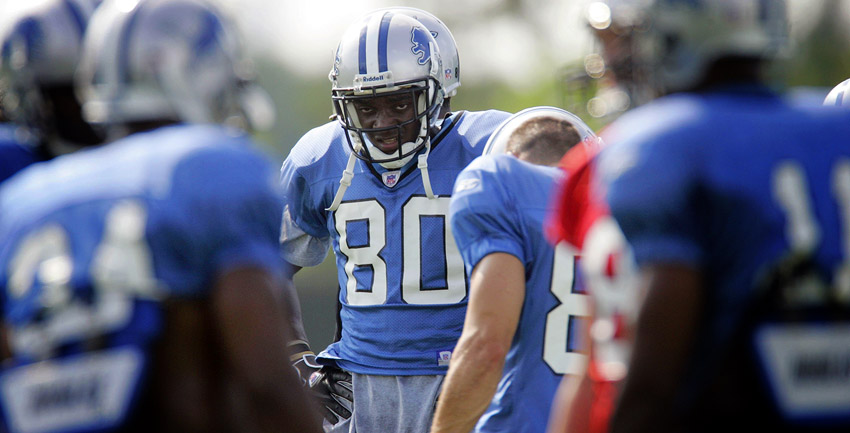 Gregory Shamus/Getty Images
Rogers went to training camp in 2006, but was later cut.
"You have to say he was a bust"
In September 2006, the Lions cut Rogers. The former No. 2 pick's contributions to the organization: 15 games in three seasons, 440 yards, four touchdowns, three failed drug tests, one drug suspension. "I just didn't fulfill my end of the bargain," Rogers says. "I choked. Straight up, I choked."
Although Rogers could blame only himself, he was psychologically raw from being dismissed by the Lions. Suddenly, those painkillers he had been taking to ease his shoulder pain became an outlet for his frustration and a panacea for his declining self-confidence.
After Detroit released Rogers, he worked out for several NFL teams, including New England, Kansas City and Miami. All passed on Rogers because he was running 40-yard dash times in the area of 4.8. "I really [just] rolled out of bed," Rogers said. "I ain't worked out six months prior."
Everyone -- even his longtime fans in Michigan -- was calling Rogers an enormous disappointment. "A guy like that you expect to rebound and be ready to go his third year, and he wasn't, and he wasn't the next year either," says Porcher, who retired from the Lions before the 2004 season. "He didn't get released by the Lions and go to another team and redeem himself. So, yeah, you have to say he was a bust."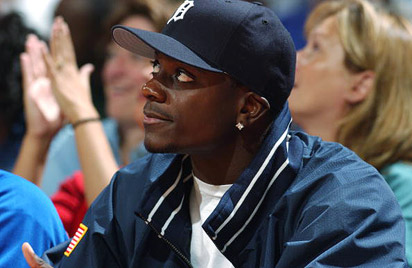 Jesse D. Garrabrant/WNBAE/Getty Images
For Rogers, time off the field involved smoking marijuana and leading a "Lamborghini" lifestyle.
Now out of football, possibly for good, Rogers became a study in irresponsibility. He was taking the highly addictive painkiller Vicodin and smoking marijuana daily.
"I woke up, it was 1, 2 o'clock," Rogers says. "I would blow, sit back, watch 'SportsCenter.' I was just doing me. I had no set schedule. I had no structure. It was like, whatever."
Asked how many Vicodin he took a day, Rogers says, "Two here, two there."
"Charles never did nothing crazy," says Dillard, his one-time partner in "Lamborghini living" who is now a substitute teacher. "He was just high."
The signs of addiction were there for all to see in Rogers' alcohol and marijuana abuse. Rogers distanced himself from former teammates, friends and family. He was losing weight. He was always irritable. He began slacking off as a father. But even those closest to him had no idea that he was regularly abusing painkillers. "It was a whole personality change," Washington says.
The turning point came in September 2008, when he and Washington got into an altercation about his drug use.
"It was me confronting him, me tired of him lying," she says.
According to the police report, Washington said when she confronted Rogers, he "struck her on her left side of her face, knocking the phone out of her hand on the floor." Rogers told police Washington threatened to cut him with a knife. She also threw a small dumbbell at him.
"He snatched the phone from me and it felt like he hit me," says Washington, who has been living with Rogers for the past five years. "I would never call Charles a woman beater. We never experienced anything like that. I can honestly say he didn't hit me. But God has a weird way of working things out. He was definitely at that point where you either get help or you can't stay here."
Although Rogers was the one who called police, he was the one arrested for domestic violence. He pleaded no contest to a lesser charge of trespass and was entered into a drug treatment facility as a condition of his probation.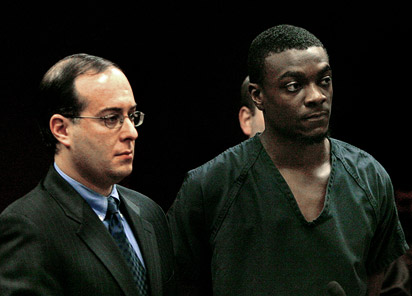 AP Photo/Carlos Osorio

Rogers, with attorney Joshua Ben, appears before 52nd District Court Judge Brian W. MacKenzie in December 2008.

"It gave me the opportunity to slow life down," Rogers says. "It gave me an opportunity to think. Gave me an opportunity to see what I want to do in life, to see if I really want to play this game seriously."

Still, Rogers had several slipups on the way to sobriety. In late November, while Rogers was in treatment, a judge granted him permission to attend the funeral of a close relative, but he not only returned late, he also tested positive for Vicodin. He told the judge he took the pills because he was experiencing shoulder pain. Rogers was jailed four days for the apparent probation violations and, in December, 52nd District Court Judge Brian W. MacKenzie told Rogers, "There's no question that you're an addict."

Rogers volunteered to enter Sobriety Court, an intensive drug counseling program in which participants are under strict supervision for almost two years. It meant Rogers would have to attend Alcoholics Anonymous several times a week and meet with a probation officer and alcohol counselor at least once a week. His home also could be searched at any time, and he had to submit to regular drug and alcohol testing.

While in the program, Rogers never tested positive for drugs, but he continued to break the rules. He falsified documents to make it look as though he had attended AA meetings. He tested positive for alcohol after drinking at a concert. During one search of Rogers' home, police found a used marijuana joint, and another time they discovered an empty beer bottle in Rogers' home theater.

Rogers insisted the joint was old, from prior to the pre-sobriety program, and Washington told Rogers' probation officer the beer bottle belonged to one of her friends. "Was I smoking? No," Rogers said. "[My probation officer] came over and [drug tested] me the same day, and I wasn't dirty. It was petty."

Ultimately, Rogers chose to leave the program and finish his 30-day jail sentence. He was given credit for time served and spent 15 days in jail. Although he didn't complete Sobriety Court, he credits it for sobering him up. "It was something I needed to do," Rogers says. "It just took over. With marijuana, pills, I don't really want to say depression, just being in a nasty funk. I was in that funk for a year, maybe two years. Mad at the world. I was just hurting myself."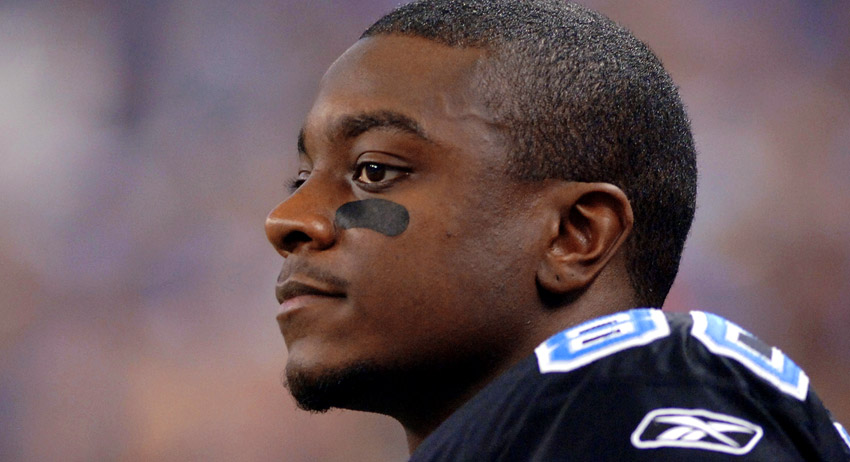 Al Messerschmidt/NFL/Getty Images
Rogers still hopes to resurrect his NFL career, but the 28-year-old faces an uphill battle to get back in the game.
Rogers, who has seven children, might have been "Lamborghini living" before, but he claims his life today is "like a Ford Focus."
No more nights out. No more partying. He spends the majority of his free time with his children -- five of whom live with Washington and him in suburban Detroit. She is now attending Eastern Michigan University in Ypsilanti, Mich., studying to be a teacher. His goal is to be the most boring 28-year-old alive.
Rogers says he hasn't touched drugs since testing positive for Vicodin last November, though he admits he had drinks recently with friends after he volunteered at a free football camp for kids conducted by Pittsburgh Steelers linebacker LaMarr Woodley, another Saginaw native. "Everybody got together, had a few beers," Rogers says. "Nothing really major."
"You have to be an addict to go to rehab," Rogers says. "You have to admit to your problems, your mistakes. I was an addict, yeah."
But there's still at least one big difference between Rogers then and now -- a lot less hiding. When he went to rehab he asked Porcher to drive him. Just that Rogers had asked let Porcher know something was changing inside. "We drove over there," Porcher says, "and the first 10 minutes I didn't really say anything. I was waiting for him. He said, 'I appreciate this. This is going to help me, man.' I was really congratulating him. He has to be the one who has to recognize that he has a problem. No matter how much his mom wants it for him. No matter how much his family wants it for him, his kids. It is up to him. This was the first step."
Rogers' second step was trying to be more honest, especially with himself. He talks openly about his struggles with drugs. He came clean to those closest to him, even his agent, Jason Fletcher, to whom Rogers always claimed everything was all right. He was even candid with his kids about his drug use, because he wanted them to be better at handling failure than he was. "He's definitely grown as a father," Washington says. "I can't see him messing up like that again."
For a long time, Rogers avoided football because he felt like such a failure. If it was just about the money, he would have gone to the CFL after those poor workouts with NFL teams, but he passed on those offers. He wouldn't watch football on television, and certainly not any clips of himself. Now he embraces football. He watches it, talks about old games, reminiscing about situations and plays. He wants to play in the NFL again.
"I deserve the opportunity," Rogers says. "Am I going to get it? I don't know. But I am willing to work myself to death to get it."
Since his release from jail in March, Rogers has been working out relentlessly. His trainer, Chip Werner, says he has regained a lot of his trademark speed. "He's running a 4.5," Werner says. "It's not only that he can run it once. He can run it back-to-back-to-back."
Rogers isn't considered the best anymore -- and that motivates him. He used to shrink when people called him a bust. Now, he's defiant about it. "I mean what is a bust? What is the definition of a bust? Person who get hurt or who didn't get the opportunity to play or just couldn't? I could play. It wasn't like I played five seasons and didn't do anything."
But a return to the NFL could be complicated. There is the issue of the $8.5 million he must repay the Lions because his drug suspension put him in default of his contract -- something Rogers declined to discuss, though he has yet to repay the team. And if the NFL decides to re-enter Rogers in its substance-abuse program, it means another positive test will bring a one-year suspension, a fact that could make him less attractive to NFL teams.
Fletcher says several UFL teams have expressed strong interest in Rogers. And a few NFL team executives have told the agent that if Rogers proves himself in the UFL, they would consider giving his client a serious tryout.
"If he still demonstrates the same big-play ability you better believe somebody is going to take a chance," Millen says.
Rogers surely will have doubters. Injuries are a fact of life in football, so what does it say about Rogers that he crumbled because of his? Lots of athletes smoke marijuana, but they don't collapse like Rogers did. "I've got to show my heart," Rogers says. "I've got to show my remorse and my dedication. Shut up and go line up, basically."
It would be understandable if Rogers were tormented by regret, but he swears he's not. He says he doesn't wonder whether things would have turned out differently had he gone No. 3 to the Houston Texans instead of starting out in his hometown. Because without a fall, he wouldn't have an opportunity to surprise.
"It isn't like I'm 35 years old," Rogers says. "I'm 28. There is still enough time for me to redeem myself."