OULDER, Colo. -- Every Sunday, after church, the 7-year-old boy would escape to Grandpa's basement. He'd never seen such a room -- trophies and game balls and jerseys and photos and videotapes, all at his disposal. He'd heard about a place called heaven, a magical place they raved about in Bible school, and he decided this had to be it. It had to be. Because his father was here.
One of those trophies … his daddy won. One of those game balls … his daddy earned. One of those jerseys … his daddy wore. One of those photos … his daddy's face. Stacks of those videos … his daddy coming to life. The 7-year-old would revel down there for hours, watching game film that made his eyes bulge, gripping a football that felt like love, deciding right then and there how he was going to spend the rest of his life:
Re-creating that basement.
The kind of recruit who can turn an entire program around
A dozen years earlier, in a coaching dungeon at the University of Colorado, Bill McCartney studied the same sort of game film -- not knowing it would change his family's life forever. It was 1985, and McCartney was coming off a 1-10 season, ready to throw his playbook in the gutter. He had decided to imitate Nebraska and switch full time to an option offense, but he'd need a rugged quarterback to orchestrate it, a quarterback who could run, pass and take a forearm shiver to the jaw.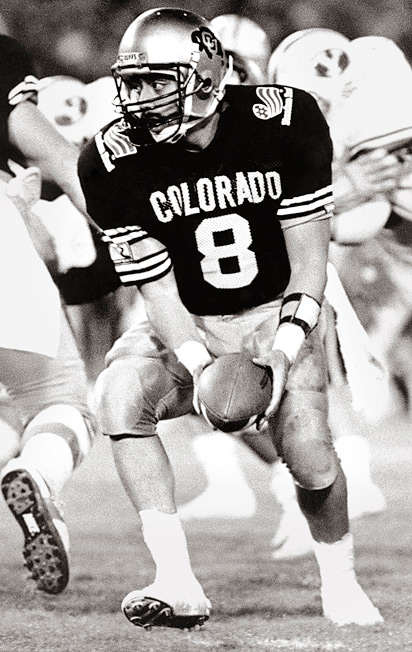 University of Colorado Sports Information
Sal Aunese was a perfect fit with the Colorado offense.
One look at Sal Aunese, a robust Samoan out of San Diego, and the coach's eyes lit up. McCartney had a preacher's way about him, and after watching Aunese bull his way to about 10 high school touchdowns, he called in his top recruiter for a chat, a recruiter by the name of Les Miles.
McCartney had coached Miles in the mid-1970s at Michigan, so they'd known each other for a decade and could say anything. And that's why McCartney had no problem putting his arm around the young assistant and telling him: You're going to California. Now.
Miles left, and didn't return for a month. He wasn't married and didn't have a dog to walk; his only obligation was to come home with the quarterback. Nebraska was on Aunese's heels, too, so it was all-out war. But there was something kind and genuine about Miles, something parental that struck Sal, his parents, and his six brothers and sisters.
"That Les Miles was truthful, straight up," remembers Sal's older brother Joe, who had played at Kansas State. "I remember him saying, 'Hey, Sal, we're going to run the ball.' He'd say, 'Sal, I'm an ex-offensive lineman, I'm the offensive line coach. I assure you the holes will be there.'"
When McCartney would call for updates, Miles wouldn't rave about Aunese's skills so much as about Aunese's aura. The entire Vista High School team flocked to the kid; he was a rock star. Sal played with a smirk, which every superb quarterback needs, but he somehow stayed humble, somehow wasn't a prima donna. Miles told McCartney: "He's agreed to come visit campus. We're lucky. We got a shot."
McCartney, his dapper quarterback coach, Gary Barnett, and the Rocky Mountains took over from there. As Sal stepped off the plane, he took one look at the landscape, breathed the crisp air and fell hard for Colorado. McCartney then used his charm. He told Sal the wishbone offense would make him a star, and Barnett drew up some plays on the spot that seconded the notion: bootlegs, quarterback draws, flea-flickers. Most of the offensive coaches had people skills (and head-coaching jobs in their futures) -- Miles, Barnett, offensive coordinator Gerry DiNardo. So, Sal didn't see the point of Nebraska anymore, and committed to the Buffaloes, causing an emotional earthquake in McCartney's office.
"It was a bonanza … getting Aunese was a recruiting bonanza," McCartney says. "You think we weren't slapping high fives?"
Then they saw his final high school transcript. Sal's parents still spoke Samoan in their household, and Sal had always played catch-up in school. Because of low SAT scores, he became a Prop 48 casualty, meaning he couldn't play his freshman year at CU. When he arrived in Boulder in the fall of '86, Barnett was assigned to watch over him, to make sure he kept his grades up, essentially to hold his hand. There were no guarantees the kid would survive the curriculum or ever play in a game, and, worse, he wasn't allowed to practice or sit in on meetings. He was frustrated, often left bored in his room, his football career going nowhere fast.
On the plus side, he got a chance to meet the girl down the hall.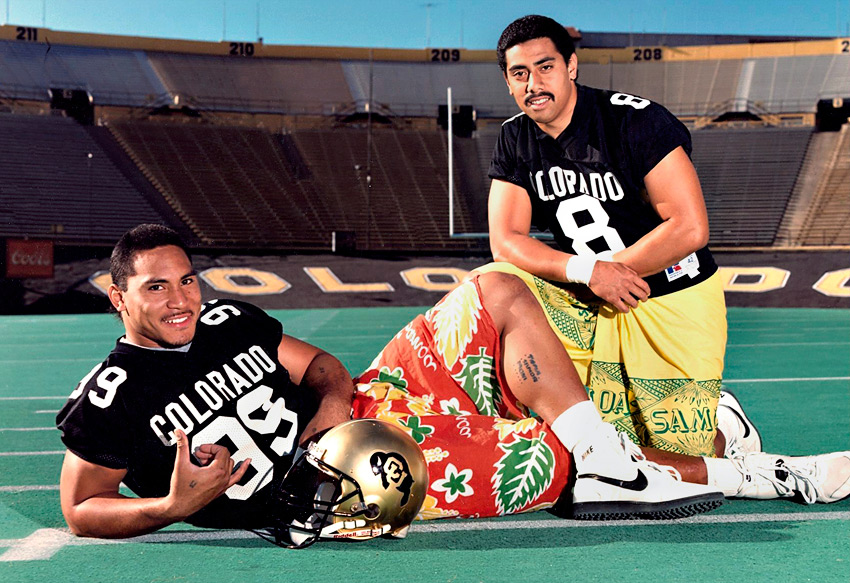 University of Colorado Sports Information
Sal Aunese with his friend and Colorado teammate Oakland Salavea.
Surprising success … and a shocking secret
Her name was Kristy McCartney -- yes, daughter of that McCartney -- and, whereas most football players were intimidated by her or afraid she'd rat on them to her dad if they were rude -- Sal found her intriguing. She was funny, warm and extroverted, everything he was, and he would proudly introduce her around as "my coach's daughter." They were purely friends, but because they lived on the same floor and ate in the same dining hall, they kept bumping into each other, kept rubbing elbows. She wouldn't dare tell her father this, but she kind of had a crush.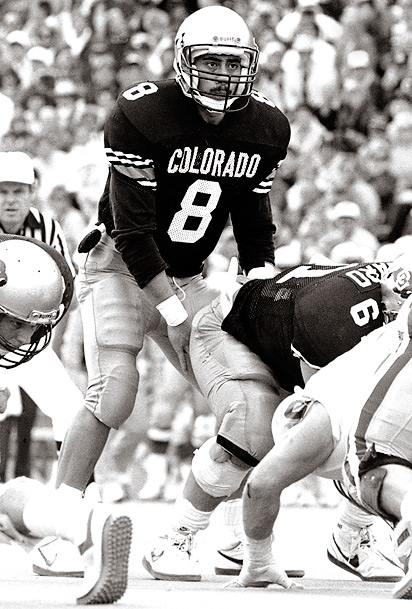 University of Colorado Sports Information
Aunese's teammates adored him for his toughness.
Before long, his teammates were just as enamored. He joined them for the 1987 season, and if the CU players were wondering what all the fuss was about, they had to wait only until Week 3 to find out. McCartney finally played him that day against Washington State, and all Sal did was take one of his first option-keepers 60 yards downfield. He hadn't played a real game in two years and was absolutely out of breath, but DiNardo's next play call was still another quarterback option. "I remember saying, 'Gerry, you're going to kill this kid,'" Barnett says. "But Sal went ahead and ran it, when he could've handed off. That's just the way he was."
By game's end, he had rushed for 185 yards in a 26-17 victory, and the Sal Aunese Admiration Society was officially in session. The team was on its way to a seven-win season, and Sal was at the epicenter of it all, the instant ringleader. In November, for instance, the weather had turned wicked cold one day, about 20 degrees, when all the Buffaloes players showed up for practice wearing sweatshirts, windbreakers, gloves, thermal underwear and knit caps. All except Sal.
"He was out there in just a short-sleeved practice shirt, his regular practice pants -- and just practicing," Barnett says. "And guys are, 'Gawd, is he tough.' He didn't do it to be cool, and he didn't do it to show off. He didn't go up to the rest of the guys and go, 'Hey, you guys are wusses.' That's just who Sal was. He had it, whatever 'it' is. He had this charm about him. He wasn't slick, he wasn't cool. And as a result, guys looked up to him."
He wasn't an aesthetically pleasing player -- 5-foot-10, squat, incapable of running by defenders; instead, he'd dodge them or run through them. By season's end, he was named the Big Eight's Newcomer of the Year, and the stark truth is that he celebrated a little too heartily in the offseason. During a loud night out on campus with some teammates, Sal and his buddies were told by another CU student -- through a dorm window -- to shut up. Sal's hasty reaction was to go shake down the kid in the dorm, push him around, and the end result, according to the police report, was a ransacked room courtesy of "a drunken football player."
Sal felt he'd been sticking up for his friends, which was definitely his M.O. He was the Samoan quarterback who brought the white and black players together, and McCartney and Barnett appreciated Sal's basic intentions. But they also knew he wasn't a saint, and the head coach had warned him before about "fighting at the drop of a hat.'' They read him the riot act, and when he pleaded guilty to third-degree assault, second-degree criminal trespass and misdemeanor menacing and received a two-week jail term, McCartney had no choice but to suspend him for spring football.
"You'd get him mad and he'd trade punches with you," the coach says. "Aunese was very, very competitive -- maybe like a fullback would be, wants to hit you in the mouth. But he was my quarterback, so we had to corral him. We had to slow him down. We had to get him to understand that if you're going to be the quarterback of a major college team, your deportment on and off the field has to be above par."
The two weeks behind bars steadied him, and one of his confidants, upon his release, was none other than Kristy McCartney. They had remained friends and, by now, had an undeniable chemistry. And as the 1988 season was beginning, they also had a secret affair.
Kristy was careful to keep this from her father, a deeply religious man who did not believe in premarital sex, and he was too focused on the coming season to monitor her day-to-day business. What he did notice was that Sal seemed more mature after his arrest. The quarterback had always been able to think the game, but now his knowledge of the offense was beyond reproach. This particularly amazed McCartney's newest quarterback recruit, Darian Hagan, a brazen kid from the Watts area of Los Angeles who thought he'd waltz in and take Sal's job. Hagan actually told people he'd end up the starter, that Sal wasn't a threat -- until Coach Barnett posted some formations on the bulletin board and asked someone to explain them. Sal swiftly rattled off everyone's assignment, and Hagan remembers realizing, "I don't have a chance."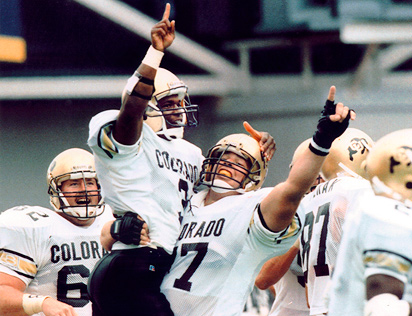 Mark Harrison/The Seattle Times
Darian Hagan, No. 3, recalls believing he would join the Buffs and take over as the starting quarterback. Aunese proved him wrong.
On the field, no one had command of a team like Sal. His cadences -- his down, set, huts! -- were fluid and loud, compared with Hagan's tentative barking. Sal was also secure enough to take the kid under his wing, and Hagan then began to hope Sal never faltered or got injured in a game because he didn't want to have to follow that act.
When the '88 season began, Sal raised the bar even more. The team's second game was at nationally ranked Iowa, on a 90-degree day laced with Midwest humidity. The temperature on the field reached triple figures, but Sal -- hot or cold -- always ignored the elements. His 17-yard touchdown run put the Buffaloes ahead 14-0, although, in typical fashion, CU gave the lead back in the fourth quarter. Under McCartney, the Buffs had had trouble closing out formidable teams on the road. Barnett felt their only signature win, against Nebraska in '86, had been "lucky," and now this Iowa game was looking like another meltdown.
With 5:36 left, the Buffs took over on their own 15-yard line, trailing 21-17. Eighty-five yards seemed like a million. They weren't built to throw the ball, weren't built to play from behind. But, according to wide receiver Jeff Campbell, Sal's first words in the huddle were "All right, let's do this. We've done this a million times in practice. Let's do this."
Campbell and Sal were roommates, and they were so comfortable with each other that on passing downs they would just nod to each other, and "Soupy" -- Sal's old reliable -- would know just what to do. On a critical third-and-9 play, the quarterback found Campbell for a 23-yard gain, the key play of the drive. Now Iowa had to start thinking pass, so the legs of Sal and tailback Eric Bieniemy became factors again. With 1:55 left, Sal plunged in for a 1-yard touchdown, and CU held on for a 24-21 victory.
McCartney was overcome, calling the win the turning point of his program. The Buffaloes had pushed a Big Ten bully around on the road, and much of the credit went to his dumpy, indefatigable quarterback. It had all been worth it to Coach Mac -- the switch to the wishbone, the year spent recruiting Sal, the precious time away from his wife, Lyndi, his three sons and Kristy. His previous claim to fame had been that he was the first high school coach hired by Michigan's Bo Schembechler. But now he had a blossoming football power of his own.
Sal followed up the Iowa game with a career-high 190 passing yards against Oregon State, 107 of which went to Soupy. Then, the next week against Colorado State, Sal led another cardiac game-winning drive, converting a crucial fourth-and-2 with a brutish run, then throwing the winning touchdown pass with 13 seconds left.
The drama of that game completely sapped McCartney, who came home just wanting to put his feet up. His team was 4-0 now, nationally ranked, and he and Lyndi sat together on the living room couch, watching a scoreboard show, cherishing the moment. Before long, Kristy walked in, and plopped herself between them. She looked flushed. She put her right arm around her dad and her left arm around her mom, then she just spilled it:
"Mom, Dad … I'm pregnant."
'Coach, I'm not going to marry her'
The coach began to pace, the same way he'd pace the sideline. Kristy had been terrified to tell him, and those initial moments were horribly tense for her. Lyndi -- always maternal -- had instantly grabbed and hugged her, and now Kristy was hoping her father would sit still and say something supportive.
He soon hugged Kristy, and, with no anger in his voice, the coach said, "We're with you." But then he was off pacing again, the way any dad would, asking the question any dad would ask: "Who's the father?"
Kristy then dropped her bomb:
"Dad, the father of the baby is the quarterback of your team, Sal Aunese."
The coach was blindsided, absolutely blindsided. "I was flabbergasted," he says. "I did not see that coming." Three hours before, Aunese had just won the coach a game, and now he was giving Bill McCartney a grandchild, as well. The coach could already envision the headlines in the morning paper … the awkward team meetings … the whispers nationally … the murmurs in church. But minutes later, he snapped out of it and saw only his trembling daughter. "Well, it doesn't matter who the father is," he said. "We're with you. God bless you."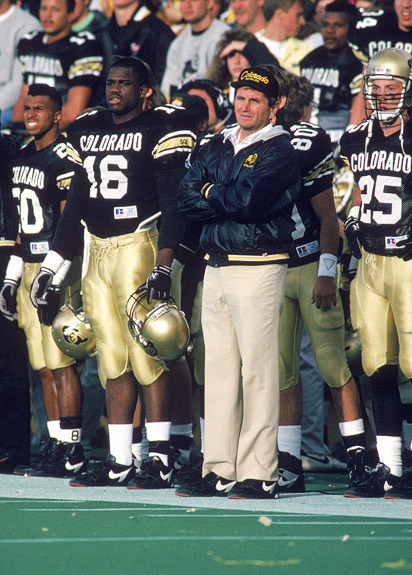 Bernstein Associates/Getty Images
McCartney says he was "flabbergasted" to learn that his daughter was pregnant and that Aunese was the father.
Right away, Kristy was glad she'd never gone through with the abortion. When she'd first heard she was pregnant, by none other than Sal, she panicked and booked an appointment to end the pregnancy. "I thought, what else can I do but have an abortion?" she says. But she couldn't go through with it and hoped her parents would embrace her. She needed them because, truth was, she was a self-admittedly immature 20-year-old who didn't even enjoy baby-sitting. She says she wasn't ready to be a parent, and, God knows, Sal wasn't, either.
Campbell came home from class one day and found Sal sitting by himself in a trance, visibly distraught. "What's up, man?" Campbell asked.
"I think Kristy's pregnant," Sal answered.
Campbell knew to keep it a secret because Sal wasn't even ready to tell his own family. In fact, it was Lyndi who broke the news to Sal's oldest sibling, his sister, Ruta. Ruta, in some ways, ran the Aunese household, and she quickly confronted Sal. He told her that, out of respect for her and her strong religious beliefs, he didn't know how to approach her. But he was relieved that she finally knew, and that she seemed supportive. His parents were another matter. They came from a strict Samoan culture, in which you marry the person you impregnate. They were rattled. A lot of their family dreams had been pinned on Sal, and they were afraid he'd have to drop out of school to take care of this child. Or maybe get kicked off the team.
"I found out from my sister, and I was kind of like, 'What?'" says Sal's brother, Joe. "And then the first thought in my mind was, 'McCartney's daughter? The head coach's daughter?' My thinking was, 'Wow, I know Coach McCartney ain't a happy camper.' I'm thinking, 'What's going to happen to Sal? Is this going to affect his scholarship?'"
Because Sal was living with four teammates, the locker room quickly got wind of the news. Hagan didn't believe it, but soon they all heard about a major meeting between Coach and Sal. "Everyone was like, 'Uh-oh, Coach Mac is going to rip this dude -- he got his daughter pregnant, and it's about to get ugly,'" Hagan says.
Sal didn't know what to expect. But when he first laid eyes on the coach, he sensed this wouldn't be fire and brimstone. "Sal," the coach said calmly, "Kristy tells me that you got her pregnant."
"Yes," Sal said, nodding.
"Look, this is not going to affect your position on the team, but I'd like you to establish right now whether you're going to be with her through this or whether you're not."
"Coach, I'm not going to marry her."
McCartney will never forget the ache he felt right then. He had hoped Sal and Kristy would be a couple, had hoped their baby would have a two-parent household. He believed in marriage, family and sexual purity, and it took everything in his power not to break down right then and there. But he says he just sent Sal on his way, says he didn't blame him. He realized "it took two," that it wasn't Sal's fault alone. In fact, the coach blamed himself for not including Kristy in his world enough, for letting football consume him while she was off making life-altering decisions. "I could have done a lot better job of being a father to my daughter," he says, and that's what ultimately had him breaking down. He used to bring his sons to the locker room or sideline, but Kristy was always the one left on the outskirts, vying for his attention. He says he regretted not "dating'' his daughter, not taking her special places, and felt that if he had spent more time in her world, "She would've been more secure with who she was and would not have given herself outside marriage." Who knew the answer? But, either way, the coach decided not to hold this against Sal. If the kid didn't love Kristy, or wasn't ready for marriage, so be it. The coach wasn't going to beg.
Of course, nothing was the same. Coincidence or not, the Buffs got pummeled at home the next week by Oklahoma State. And Kristy and Sal were already on the outs. They had gone their separate ways -- Kristy leaving school to live with her parents and Sal immersing himself in everything football. In the weeks that followed, Colorado ended up winning eight games for the first time in 12 years, earning a bid to the Freedom Bowl in Anaheim -- an absolute breakthrough season. Although Sal battled a rib injury from midseason on, he was All-Big Eight and a messiah on campus. News of the pregnancy hadn't leaked out publicly yet, and the assumption was that Sal and the Buffaloes were on the verge of greatness. All their key players would be back in '89; they would be in the national title conversation. They couldn't wait to play the Freedom Bowl and move on to the next, promising season.
Sal was particularly eager for the bowl game because Angels Stadium was only an hour from his home in Oceanside. Ruta, Joe and the rest of the family -- cousins, uncles, aunts, you name it -- were driving up in a caravan, hoping to see Sal light up BYU at the Big A. But something was amiss from the opening kickoff. Sal wasn't exploding through holes or setting his feet on play-action passes. He was so ineffective that CU coaches called 19 straight runs at the end of the first half rather than risk a disastrous pass. Ruta began telling Joe, "I wish they'd just take him out."
She remembered he'd been battling a flu bug, and Joe figured his poor play might be caused by rust from a 40-day layoff between games. Either way, they all agreed it was the worst game they'd ever seen Sal play. By the fourth quarter, McCartney had benched him for Hagan. But when the freshman threw an interception in the closing minutes, leading to BYU's go-ahead field goal, McCartney reinserted Sal. It was a last chance for Sal to re-create his Iowa and Colorado State magic, and, as usual, he told the huddle, "Let's do this." He nodded at Campbell to get open, but, this time, his arm had no zip. When his final pass sailed incomplete, the Buffs had lost 20-17, and Sal's stat line was a pitiable 4-for-13 for 41 yards and an interception.
Afterward, Joe met him at the hotel and said, "Dude, good game, but you looked a little sluggish out there, buddy." Sal answered, "Yeah, I know," coughing intermittently throughout their conversation. Joe didn't think anything of it.
That night, the temperatures dipped into the high 40s in Oceanside -- arctic for Southern California -- but Sal got up in the middle of the night to open the windows of his family's home. Ruta was soon freezing and asked him, "Why are you opening windows?"
"I can't breathe," Sal told her.
He would never play football again.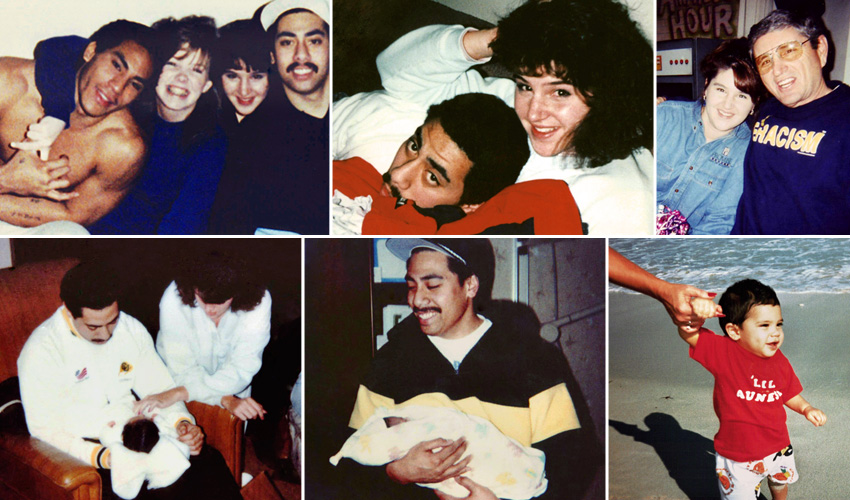 Courtesy of the McCartney family
When Sal's teammates learned he'd gotten coach Bill McCartney's daughter pregnant, they worried Sal's position on the team would be in jeopardy. Kristy was worried how her parents would react. They responded with love.
Life ends … and begins
At first, it wasn't an illness as much as a curiosity. Sal returned to campus in January 1989 for winter conditioning, but he began pulling himself out of drills, out of weightlifting sessions, out of roadwork.
"Sal was a guy who could run and push himself to the end," Hagan says. "But he was walking over to the trash can and kept throwing up … throwing up blood."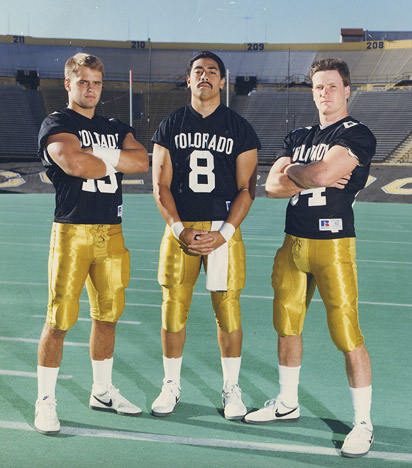 University of Colorado Sports Information
Teammates David Gibbs, left, and Jeff Campbell, right, would go together to visit Aunese in the hospital.
Another morning, he woke up at his apartment with the entire right side of his face -- from earlobe to lower neck -- filled with fluid. Campbell and his other roommates knew this wasn't normal, and when Sal couldn't keep his food down and began refusing even water, they nagged him to see a doctor.
But Sal was stubborn -- telling the guys, "I'm all right" -- and it wasn't until mid-February that he agreed to be examined. The initial diagnosis was sarcoidosis, similar to pneumonia, but when a lump was found on his neck in March, he was sent to the university hospital for a biopsy. The results were grave.
Tests showed he had inoperable stomach cancer, and only six months to live. One of the oncologist's first phone calls was to the home of Bill McCartney. The coach nearly doubled over when he heard the news, heartbroken for Sal and distraught that he'd have to tell Kristy that her baby, due in about a month, would grow up fatherless.
Kristy sobbed uncontrollably in the privacy of her room. Her world was completely upside-down, and all her pent-up emotions came flooding out. Not only was she estranged from Sal, but now Sal was dying. She was inconsolable. The rest of the team heard the news over spring break, and many of the players came rushing back to Boulder to see their friend. They expected to see their quarterback shriveled up, and, although he had lost a good amount of weight, Sal was still sprightly enough to tell them, "I'll be all right, I'll beat it." Ruta and Joe had moved to Boulder full time -- Ruta to care for him and Joe to drive him to his doctor appointments -- and he began to look and feel better. He underwent two promising rounds of chemotherapy, and, when he began showing up at spring football practices, Barnett had this strange sense that Sal might actually play again.
The team cherished having him around, and at the spring game the entire squad mobbed him, lifted him up on their shoulders. He watched from a special rocking chair, and, at the conclusion of the contest, he said firmly into a microphone: "See you next year."
Kristy, in the final weeks of her pregnancy, watched it all from a distance, and, when she went into labor, her parents contacted Sal. At the time, he had been dating someone else -- he was 20 and flawed, and the McCartneys knew it and forgave him for it. But, awkward situation or not, Sal was not going to miss this. He raced to the hospital, and couldn't have been more proud when Timothy Chase McCartney was born on April 24, 1989. He had a son. And as Sal held him -- a grin on the quarterback's face -- he nicknamed the kid T.C. It stuck.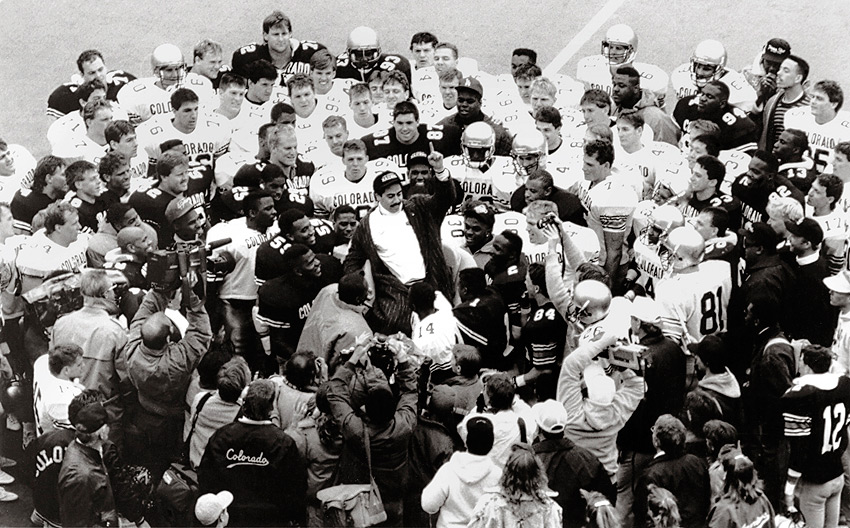 University of Colorado Sports Information
Aunese's teammates lifted him up at the 1989 Colorado spring game.
A long, painful goodbye
The McCartneys frequently reminded Sal he was part of the family, and as the spring wore on he would visit their home to dote on T.C. Sometimes, he'd bring teammates with him -- Soupy or Oakland Salavea -- or sometimes he'd just go by himself. Kristy would watch how he handled T.C., the way he'd gently cradle the baby, and it convinced her he'd be a caring, responsible father, if only he could live.
At the same time, these visits were bittersweet for Sal because he knew his health was deteriorating. By June, the cancer was beginning to ravage his body, and he was constantly in and out of the hospital -- mostly in. Hagan went to see him before summer practices began, along with Barnett and another quarterback, Charles Johnson, and he flat-out wept at the sight of him.
"He looked like a totally different person," Hagan says. "He had lost 50 pounds and had tubes in his nose, and he was frail. And, you know, Sal wasn't frail. Sal was like a titan, man. He was put together. And seeing him sitting there fragile, I cried. But I also told him we were going to do some good things for him, that I was going to be the guy at quarterback now, that I was going to grow up and wasn't going to disappoint him."
Once practices began in August, Sal would try to muster up enough strength to go -- and, whenever he'd arrive, which was infrequently, the whispers would begin. There'd just been no way to keep Kristy's pregnancy private, so the worst-kept secret at training camp was that Sal was T.C.'s father. By late August, an alternative weekly newspaper in Denver -- Westword -- published the story of Kristy and Sal, quoting unnamed sources. Some members of the CU athletic department went to every newsstand in town to confiscate copies of the paper, but the damage had been done. People were calling the pious McCartney a hypocrite and attacking Kristy, as well. The newspapers in Boulder and Denver avoided the story because the coach, Kristy and Sal wouldn't comment, but Kristy was nevertheless feeling victimized and too frightened to venture out in public.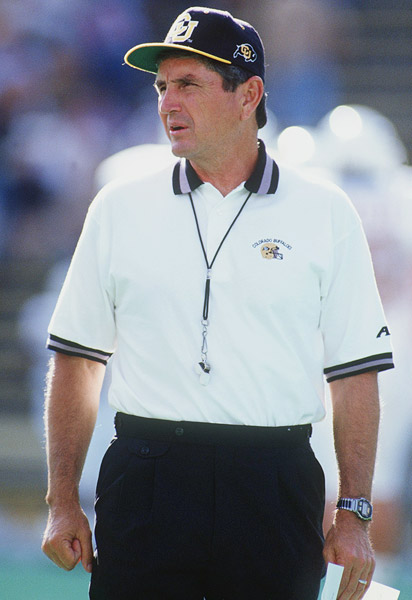 Tim Defrisco/Getty Images
As Aunese grew gravely ill, McCartney (shown here in 1993) helped Aunese invite Jesus into his heart.
Back at the hospital, Sal could barely climb out of bed, and as he worsened, Ruta found herself leaning on the McCartneys. She asked Kristy and T.C. to be regular visitors and, one day, she called Coach McCartney to say he'd been the answer to one of her prayers. Ruta had desperately wanted someone to lead Sal to Christ, and, one morning, she'd had a vision that the coach was that person. She asked him to visit the hospital, and the coach whose football program had been saved by Sal … tried saving Sal in return.
"Sal, have you ever invited Jesus into your heart?" McCartney asked.
"No," Sal said.
"We can do that right now. Do you want to do it?"
"Yes."
He began to read the Bible around the clock, and would look forward to after-practice visits from his teammates. He couldn't play the sport, so the team brought the sport to him. Campbell would sneak the playbook or the game plan to his hospital room, and, on the Friday night before the Sept. 2 season opener, Barnett invited him to the team hotel, for the quarterback meeting.
"His skin had turned dark," Barnett says, "He looked very thin. You just knew that it was over. So we just kept him as involved as we could possibly keep him."
The game Sal most wanted to see was Week 3 against Jeff George and Illinois, on Sept. 16. He'd have loved to be under center that day, showcasing himself against the country's elite passer. But, if nothing else, he needed to be in the stadium, even if he'd have to leave early.
He arrived in a wheelchair, on oxygen, and was given a seat in a private box. The players took the field waving to him. Then, early in the matchup, Hagan threw a deep post to Campbell -- Sal's receiver -- that gained 76 yards. Campbell didn't score on the play, but he spiked the ball and pointed up to Sal's box. Sal pointed back.
"I was there," Ruta says, "and Sal said, 'I see you, Soupy, I see you.'"
Sal didn't have the endurance to stay through the fourth quarter, and while he was watching the end of the broadcast on TV, the announcers named Sal player of the game. He slowly walked to the bathroom and locked the door. Then Ruta heard Sal weep.
That next 72 hours, he grew weaker, and Kristy was part of a group that would stay with him all day, every day. One evening, the entire group got up to leave, but someone told her that Sal wanted to speak with her. It was just the two of them, and he said he was sorry for how he handled the pregnancy, for running, for everything. He said that he was proud of T.C. and that he hoped they could take him to the park someday. Kristy knew she still loved him.
A few days later, with Sal's breathing even more labored, Kristy dropped T.C. off at the hospital. It was just Ruta, Sal and the baby, and Sal asked his sister to bring the baby close to him. He was too weak to hold T.C., but he touched fingers with his son -- "Like E.T.," Ruta says -- then squeezed his hand.
"My brother just looked into his eyes," Ruta says. "When I think about it, it was like he was just letting his son know how much he loved him and that no matter what happens to him, he won't be around, but may he always know that he loves him."
That Saturday, Sept. 23 -- a bye week for CU -- Sal began calling in his brothers and sisters and cousins individually. He told them not to worry, that he was cured and asked them to look after his parents. Campbell stopped by briefly and saw Kristy nearby, holding the baby. Sal was reading the Bible, and when he wasn't, they were all singing Sunday school songs. The lights were dimmed ... Sal's mother rubbed his feet. And then, at about 9 p.m., he sat up, took a deep breath, seemed to say something and died. T.C. was 10 feet away.
"He died because he didn't have a game," Barnett says. "Not because it was a good time to die. He died because it was our bye week, because he didn't have a game to keep him going. We were convinced of that. We just knew. We said, 'We got a bye week coming up; he won't make it. He won't make it.'"
Ruta went home to sleep in their Boulder apartment that night, but she awoke to a rustling noise. She asked her friend Rowena, who was staying with her, to check on Sal, but Rowena said, "Ruta, Sal's not here. Sal's gone." Ruta answered, "No, Sal's here." In tears now, she demanded a pen and paper. She claimed she could feel Sal's presence, could hear Sal's voice, and she began to write a letter.
"I'm trying to write, but I'm crying the whole time," Ruta says. "I'm trying to listen to him. I'm crying, writing. Yet, I understood what was happening, knowing that this is from him. This letter is from him. After it happened, I heard the door shut slowly. Rowena witnessed the whole thing take place. It was like he was coming just to say goodbye and let me know it was going to be OK."
That next week, she read Sal's letter at the memorial service, and grown men, grown football players, broke down:
My dearest teammates, coaches, friends and brothers, whom apart from my family I do hold so close. I come to you all with love and encouragement to continue to do what you, we all, have been doing since our season first started, only to excel and better ourselves mentally, physically and spiritually. Unity is our strength and love is our guide from here on in. Don't be saddened that you no longer see me in the flesh, because I assure you I will always be with you in spirit. Hold me dear to your hearts as you know I do all of you. Strive only for victory each time we play, and trust in the Lord for He truly is the way! I love you all, go get 'em, and bring home the Orange Bowl.
The coach stood up to speak, as well, and he peered over at Kristy, who was snuggling T.C. behind the casket, seemingly terrified. He praised her for her bravery, for not running away, for having the quarterback's baby. It was his first public admission that T.C. was Sal's son, and the coach ended the speech by saying, "You're going to raise that little guy, and all of us are going to have an opportunity to watch him grow."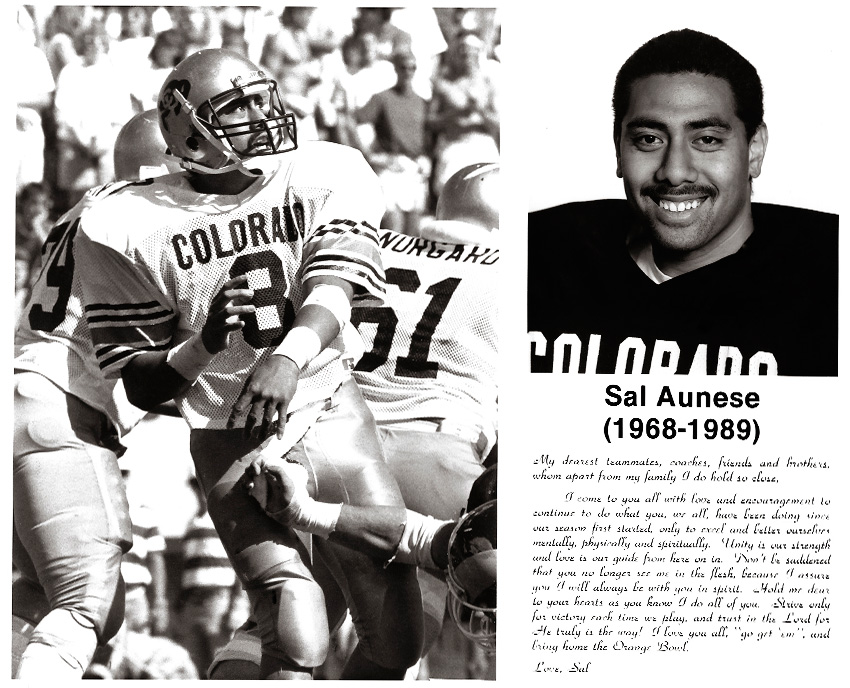 University of Colorado Sports Information
Sal Aunese died of stomach cancer on Sept. 23, 1989. At his funeral, his sister, Ruta, read a letter that she says came to her while she felt the presence of Sal. It read, in part, "Strive only for victory each time we play, and trust in the Lord for He truly is the way!"
Days later, the Buffaloes had to somehow play a football game, at the University of Washington, and, in warm-ups, they were melancholy and flat. But when they returned to the locker room before kickoff, Ruta's letter was hanging in every locker. They retook the field tingling, and when the Husky Stadium P.A. announcer asked for a moment of silence for Sal, all 60 of the Buffaloes kneeled down and pointed to the sky.
"That wasn't something we had planned," Campbell says. "There were a lot of guys in tears because we wished we never had to go through that, wished he had run through that tunnel. That knee was taken with a very heavy heart. That was a heavyhearted knee. I know that a lot of us said, 'We're going to do this thing for you, Sal. We are going to get to the national championship game, and we are going to win it.'"
Three months later, the Buffs were in fact the nation's only undefeated team, at 11-0, playing Notre Dame in the Orange Bowl. They wore Sal's No. 8 on their wristbands, on their towels and on their cleats. They pointed to the heavens. But they still wound up losing, 21-6. Hagan and the others were disconsolate. But then, 12 months later, after the 1990 season, they defeated the Irish in the next Orange Bowl, earning a share of the national title. Coach McCartney was finally a champion, and he brought home a specially made No. 8 Aunese Orange Bowl jersey.
Just for T.C.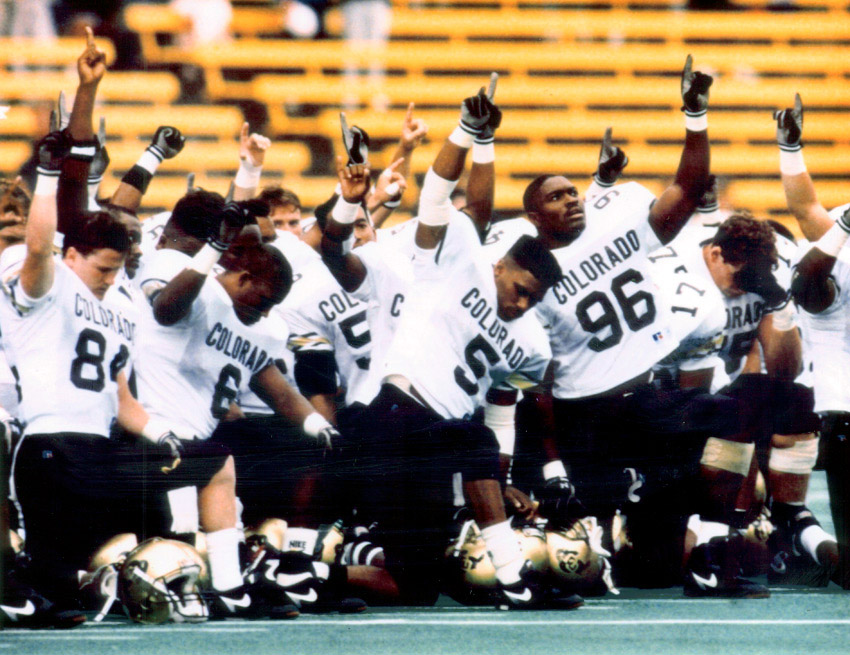 The Seattle Times
Colorado players pay tribute to Aunese. Campbell is at the far left, No. 84.
A chip off the old block
Before long, T.C. was a young boy, hearing the whispers, hearing how he had his father's face. His last name was McCartney, but he was pure Aunese, straight down to his love for football.
At 6, he was already begging to play Pop Warner, but Kristy kept telling him to wait, to wait for his bones to grow. She was living alone with T.C., working every day as an administrator in a Bible chapel school, leaving him in day care. She was a single mom, determined to raise him on her own, but she also talked daily, openly, warmly about his father.
Young T.C. didn't need to ask questions about Sal; Kristy and Lyndi and the coach volunteered all the information he'd ever need. They said that Sal was in heaven and that he'd been a tough hombre, the most adored man on the team. They celebrated Sal's birthday every May 8 with a cake and observed Sept. 23, the date of Sal's death. So it was inevitable that T.C., by the time he was 7, would want to see Sal in person -- on tape.
And that's when T.C. started spending his Sundays in Grandpa's magical football basement, his heaven on earth. He'd stare at the trophies, the photos, the game balls. He'd riffle through scrapbooks. He'd watch the 1988 season over and over. The Iowa drive. The Colorado State finish. All of it. He'd watch how Sal would handle the ball running the option, then T.C. would run an imaginary option in the basement, diving for a touchdown on the couch. Kristy knew then that she'd have to acquiesce and let him play football.
He was 8 when he joined his first team, and, naturally, he wanted to wear the No. 8 and play quarterback. His goal was to win a game ball himself someday -- start his own kind of basement -- and he began to turn his bedroom into a shrine. He hung up his dad's Orange Bowl jersey, the one Grandpa brought back from Miami, and had photos of Sal plastered all over his wall. He had a CU comforter on his bed and even wore a shirt that said, 'Lil Aunese."
He'd gotten it from his Aunt Ruta, and that was the other development: Kristy was flying T.C. to San Diego once a year to stay for a week. It was something that startled some cynical people in Boulder, who thought Kristy would keep T.C. in a bubble, isolated from Sal's family. But it was the opposite. She knew how much T.C. meant to the Auneses and could see how much Sal meant to T.C. She loved Sal. She'd said it over and over. And she loved the Auneses, too, the way they treated her at Sal's deathbed, how warm and accepting they were. She had no qualms about putting T.C. on a plane to see them, and whenever he arrived, they'd turn it into an event.
They'd let him settle in for a day, then they'd throw him a Samoan-style barbecue, inviting upward of 40 family members. T.C. would always feel them staring, and, inevitably, the cousins and aunts and uncles would ask him to throw a football, so they could see the Sal in him.
"Some of the people in our family say, 'Don't mess with the Golden Child because if you do, his daddy's going to get you,'" Ruta says, laughing. "But every time we see him, the family can't get over how much he looks like his dad. We just look at each other and we're like, 'Shhh, shhh.' People get quiet because they don't know what to say. Looking at him is like looking at Sal."
Before T.C.'s annual trip would end, the family would take him to Sal's grave. T.C. would always pose for pictures by the tombstone, always a smile on his face, because Ruta, Joe & Co. would tell stories about Sal as they stood there. And when he'd fly back to Boulder, T.C. would report back to his grandpa, to give him details and to toss the football.
The coach and Lyndi were central figures in T.C.'s life, particularly after McCartney retired after the 1994 season. Kristy would drop off T.C. at her parents', and it allowed her to have a little social life of her own. She had struck up a relationship with Shannon Clavelle, one of her father's players at CU, and, in '94, she gave birth to another son, Derek. By that time, the coach had founded Promise Keepers, a conservative Christian men's organization that believed in "spiritual, moral, ethical and sexual purity" and held mammoth rallies in football stadiums. Again, Kristy and the coach were roasted publicly -- which deeply hurt Kristy -- but her father was supportive of her, particularly once it was clear Clavelle would not play a major role in the child's life. The coach and Lyndi doted on Derek … and so did T.C. Now T.C. would have someone else to throw to.
Still, the older T.C. got, the more he leaned on his grandpa. McCartney was truly the family patriarch, and, in his early teens, T.C. told the coach he was adamant about walking in Sal's footsteps, about playing quarterback, and McCartney began seriously teaching him nuances of the game. He told him quarterbacking is not just about throwing but about blocking, leading, thinking the game. He told him, "If you're going to be an athlete, be one like your daddy. Go all out. Be wholehearted."
Tom McCartney, T.C.'s uncle and Bill McCartney's oldest son, happened to be the coach at Fairview High School in Boulder, and Kristy decided T.C. should enroll there for his freshman year. McCartney and Lyndi then bought Kristy the house next door to them in nearby Westminster, meaning T.C. and Derek were living 20 steps from their grandparents, 20 steps from Grandpa's basement.
"I wouldn't be who I am today if it wasn't for him," T.C. says of his grandpa. "He's taught me a lot of things because he had to fill in the gap. I didn't have a father figure, so he was always there."
T.C. playing varsity football was an eerie sight. Kristy and her father would settle into their seats early, and out would walk T.C., wearing No. 8 on his jersey, No. 8 on his wristbands and No. 8 on his towel. "I think it made him feel closer to his dad," Kristy says. "That number symbolizes his dad to him and how much he loves him. I just think he's always felt like he's No. 8."
He started at quarterback as a junior, in 2005, and it was clear he wasn't Sal's body double. He was 6-foot-3 -- 4 inches taller -- endowed with a better arm, but clearly not as agile or shifty. He had much to learn about leading, too, and after one bad Friday night loss, he decided he wouldn't show up for a Saturday morning team meeting. Tom, T.C.'s coach, gave him permission to skip it, but his grandfather told T.C., not so fast. He told him that Sal was always the last one doing interviews after a loss and always the first one out of the locker room after a win. He said, as an athlete, Sal was accountable, and T.C. needed to be, as well.
From then on, T.C. was more rugged, more Sal. Occasionally, the coaches would flank T.C. out as a receiver, and in a game against Lakewood High, the ball was snapped over the backup quarterback's head. The QB scooped the ball up 10 yards behind the line of scrimmage, when T.C. -- with a peel-back block -- decked the biggest lineman on the defense, knocking him out. "Sal would've loved that block," Tom McCartney says. Local recruiters began to take notice.
His dream was to play at CU, where Barnett was the head coach and was planning to bring T.C. in. But Barnett was let go after the '05 season, and T.C. spent much of his senior year of 2006 in limbo. CU's new coach, Dan Hawkins, had brought in his own son, Cody, to play quarterback, so T.C. needed to look somewhere else.
"That really bothered me," Barnett says. "If I would've stayed, then T.C. would've come to Colorado. That broke my heart as much as anything. He needed to go play where his dad played. And it couldn't happen."
It didn't help that Fairview had a rough 4-6 season in T.C.'s senior year, or that he threw for only six touchdowns. His goal, from those days in the basement, had always been to play quarterback for a big-time program like Sal had, a place where he could conceivably win a national title and learn how to be a head coach like his grandpa. His chances seemed bleak now, and his only options appeared to be smaller colleges, or a non-BCS school such as Idaho.
But then he got a phone call … from Les Miles.
Les Miles' fateful phone call
No one outside the family knew T.C.'s story better than Miles. He had lived the story. He'd recruited Sal, had practically worn out the Auneses' doorstep. He knew Ruta and Joe. He'd known McCartney since 1975. He brought Sal to him. When Sal died, Miles had gotten down on a knee himself. It had been personal to him, too.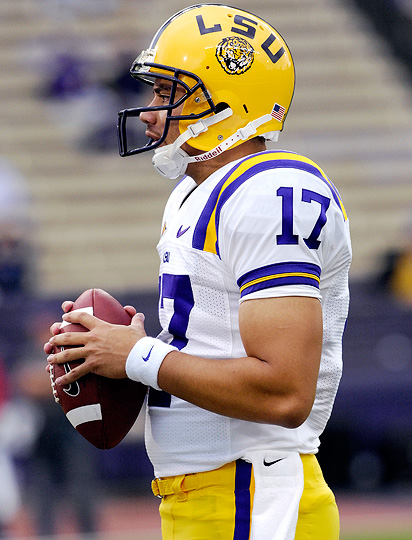 Steve Franz for ESPN.com
T.C. McCartney is now a backup quarterback for Les Miles at LSU.
He was married now and, after a stop as the coach at Oklahoma State, had turned LSU into a burgeoning national power. He had cachet now, but he also had a heart and a sense of history.
The year before, in 2005, Miles had invited Bill McCartney to speak to his team in Baton Rouge, before a game against Auburn, and T.C. had made the trip with his grandpa. For the first time, Miles was laying eyes on the kid, and he was floored by the resemblance to Sal. "Like seeing his ghost," Miles told friends. Miles had first met Sal at exactly the same time in his life -- as a high school junior -- and the meeting with McCartney and T.C. had Miles wistful, nostalgic.
T.C. enjoyed the moment himself, and he was particularly enthralled by the atmosphere at rustic Tiger Stadium. He felt this was the kind of place for him, a big-time team coached by the same man who recruited his daddy. But it was only a fleeting thought -- LSU had its pick of hundreds of quarterbacks.
Except, a year later, here was Miles on the phone, bringing the story full circle, asking T.C. whether he would consider coming to play for him. Miles told him he couldn't promise a scholarship, but he'd be willing to make T.C. a preferred walk-on, meaning he would be guaranteed to be one of the 105 players at preseason camp. It was a generous offer, and, although T.C. hated to leave Kristy -- whom he called his "hero" -- the entire family agreed he should accept.
"I thought it was a really cool move by Les to do that," Barnett says. "Just the fact that there's a million guys in the South that he could put on his team and take as a preferred walk-on. Those are tough spots, a lot of competition for those 20 spots that go into camp."
T.C. showed a forceful arm in practice, enough to merit a spot on the team. Miles decided to redshirt him, but T.C. still got to go along on LSU's 2007 BCS national championship ride. He was issued a ring like everyone else, and when he and his grandpa played in a golf tournament with Campbell, they all took turns admiring T.C.'s bling. "I didn't play, but I'd always wanted to win the championship my dad didn't," T.C. says. "I looked at everything as unfinished business."
And the next order of unfinished business was playing. Miles had never promised such a thing, and, as the 2008 camp began, T.C. was ostensibly the fourth quarterback on the roster, a fringe prospect who probably belonged at a smaller program. He had no sense that he could walk up to an equipment manager or a coach and ask for the No. 8. First of all, the number already belonged to tailback Trindon Holliday, and, secondly, he was just grateful to have a number at all -- 17 -- not to mention a locker, a bed and a chance to compete.
But a season can sometimes go diagonally, and heading into the final game of the 2008 regular season at Arkansas, backup QBs Jarrett Lee and Andrew Hatch were both hobbled with injuries. By attrition, T.C. had moved up to No. 2, and he was being groomed by Miles and offensive coordinator Gary Crowton to play against the Razorbacks, if needed. They were confident he could get by on his smarts, so he was one twisted ankle, one broken fingernail, one bloody nose from taking a college football snap, from carrying on his father's legacy. All week, he thought about Sal, studied the playbook, consulted his grandpa, envisioned getting under center on a national stage. He just had a gut feeling -- or maybe a wish -- that Sal, from the heavens, would make it happen.
"I actually believed that I was going to play," T.C. says. "I was thinking about everything I'd been through to get here, and why I came to LSU -- Coach Miles and the whole full-circle thing. He had recruited my dad, this is where I was supposed to be, and this was my chance to earn my stripes."
But he sat and sat and sat as starting quarterback Jordan Jefferson played all 60 minutes of the 31-30 loss to Arkansas. That was that -- because the other quarterbacks returned healthy for LSU's ensuing bowl game. He was back to fourth on the depth chart, and after the 2008 season, Crowton asked him whether he would consider switching to tight end.
The appeal was that he could get on the field -- he was 6-3, 220 and had soft hands -- and T.C. accepted the challenge. He went to spring practice to learn the position, but he had a brutal time trying to block linebackers and defensive ends. He'd never been taught the correct techniques, nor had he ever lifted weights to gain bulk. He was getting shoved around, and the coaches weren't giving him as many reps as he had hoped. He missed playing quarterback and, in an odd way, suddenly felt disconnected from Sal.
"Even though I know I could probably be pretty good at tight end, I always wanted to play quarterback, always played quarterback. All the quarterback movements are natural to me."
Crowton's no dummy, and he asked T.C. whether he wanted to return to quarterback this fall. Of course he did. The whole tight end experience had helped T.C. remember why he was in Baton Rouge, why he was still playing football -- to finish what Sal started, to get behind center at least one time in a college football game. "There's something in me that won't let me quit," T.C. says. "It's just in me to do this."
As the 2009 season started, the odds of his playing weren't strong, other than in a mop-up role. Jefferson was still entrenched as the starter, backed up by Lee. Miles also had recruited two freshman quarterbacks, Russell Shepard and Chris Garrett, and, although Garrett was being redshirted, there was a sense that Shepard and T.C. were quarterbacks 3 and 3a.
Not that T.C. was complaining. He still had this superb opportunity to learn from one of the nation's top coaches in Miles, and the staff trusted his preparation so much that he was asked to begin signaling in the plays this season. But, at the same time, he was hoping for one moment, any moment, that could bring Sal back into people's consciousness. He could sense the old CU players rooting for him, hoping he could reinvent Sal. He was now the same age as Sal was in 1988, and every time he'd bump into a Hagan or a Charles Johnson, he'd feel a "you can do it" in their handshakes, in their slaps on the back. "They're watching me," T.C. says. "They're watching Sal's son."
And then, this training camp, in a conversation with his grandpa, he found his moment. The old coach had been looking at LSU's schedule, and he noticed that the Tigers opened the season at, of all places, Washington. The same place where the Colorado Buffaloes, exactly 20 years ago, had played their first game without Sal. The same place where they got down on one knee and pointed to the heavens. The same field that T.C. would now get to see for himself.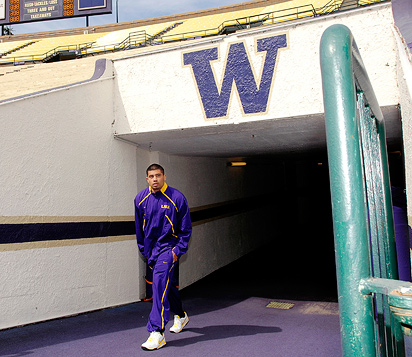 Steve Franz for ESPN.com
Twenty years later, T.C. walks out of the tunnel at Washington, where his father's teammates had paid tribute to Sal after his death in 1989.
"How ironic," Bill McCartney says. "What are the odds of LSU playing at Washington 20 years later? I'll need to watch that. I'll need to soak that in. I could get emotional over that. T.C.'s heart will be pointed [to the sky]. He will have to carry the weight of that in some way."
On the weekend of Sept. 5, T.C. arrived in Seattle with the team, stoic and pensive. None of his teammates knew the significance of the situation, only Les Miles. The team took the Husky Stadium field the day before the game, and T.C. stood alone on the 50-yard line looking up. Miles called him over, and they chatted on the sideline together alone for five minutes. No one on the LSU roster would've guessed what they were talking about, but the answer was: Sal.
On game night, four more people connected to Sal walked into the stadium to watch the game: Kristy, Jeff Campbell, Gary Barnett and Sal's brother Joe. Barnett was there to broadcast the game for a national radio network, and when he saw Campbell, he said, "What are you doing here, Soupy?"
"To see T.C. step on this field, 20 years later," Campbell said.
Campbell happens to live in nearby Portland, Ore., and Joe lives in nearby Vancouver, British Columbia. Odd how it all worked out. But it seemed appropriate that T.C. had brought all four of them together again, because all of them -- including T.C. -- had been in Sal's room on the day he died.
"All I can say is that it'll be very, very awesome for me to watch his son run out there when I didn't get a chance to see his dad run out there," Campbell was saying from the Husky Stadium bleachers. "I know of 108 guys that played on the 1989 team that are pulling for T.C. McCartney."
When T.C. finally did run out, he did not make a scene. He did not point to the sky, and he did not kneel down on one knee until the postgame prayer at midfield. He hadn't gotten a chance to play; the game, a 31-23 victory, had been too tight, too tense. But, from the beginning, he felt a pang, a skip of a heartbeat, a presence.
Was it Sal? Twenty years later, was it him? Who knows? But, right before kickoff, T.C. McCartney will never forget what he saw staring him in the face: a rainbow.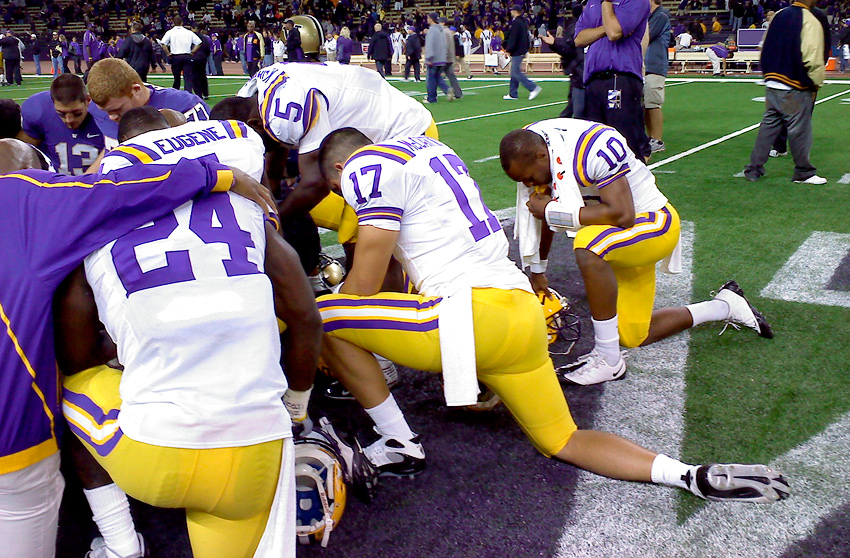 Tom Friend, ESPN.com
T.C. McCartney, No. 17, now carries on the family football legacy -- and the faith -- at LSU. Here, he kneels after this year's Washington game in nearly the exact spot where his father's teammates kneeled 20 years ago.
Join the conversation about "Full Circle."
Tom Friend is a senior writer for ESPN.com and ESPN The Magazine.