OTL: Friday Night Lite

ORTLAND, Ore. -- Somewhere between home and the football field, Christian Swain's driver's side window short-circuited. This had better not be an omen, he thought. He'd waited his whole life -- all 33 years -- to be a high school head football coach, and he didn't want his first season to be a clunker. He kept pressing the electric buttons inside his beat-up gold '99 Ford Taurus, but the window stayed stuck wide open. As he turned onto Interstate 5, the wind stung his face. Good thing it was summer.
He drove onto campus and parked next to a stadium with no stands. The school -- Roosevelt High in north Portland -- was a notorious bottom-feeder located in the poorest part of the city. It had no cheerleaders, no marching band, no press box and, as far as Swain could tell, no quarterbacks. But still three months away from opening night, the coach had reason to believe he could pull this off. He had grown up just east of campus, on the wrong side of the bridge himself, and he knew if these kids were anything like him -- hungry, a little nuts and searching for a better life -- he could win a game. Maybe even two.
When the school hired him last January as campus monitor -- i.e., to keep peace in the hallways -- Swain was curious to know why the team had just gone 0-9. At that time, he had just applied for the head-coaching job and was desperate to read the pulse of the school. From his career as an undersized middle linebacker at nearby Lincoln High in the mid-'90s, he remembered Roosevelt as having tough, reputable teams. Built in 1923, the school resembled an East Coast prep academy complete with a picturesque bell tower. He had always seen potential there. Little did he know the place was rotting from the inside out.
Maybe it was the infiltration of gangs or the school's abysmal test scores or the decaying facilities. Either way, parents in the area were hesitant to send their kids into the chaos, and because the city of Portland had open enrollment -- meaning you could attend any school in your district -- there had been a mass exodus.
The best students and athletes fled to Grant, Lincoln, Benson or Madison. Roosevelt was generally left with three kinds of students: kids too poor to leave, kids too naive to leave and kids too apathetic to leave. If every local student had been forced to attend, Roosevelt's enrollment would've been a bustling 1,300. But that number was fewer than 700 by the spring of '09 when Swain was finally named interim coach.
And from what he heard, only 18 of them played football.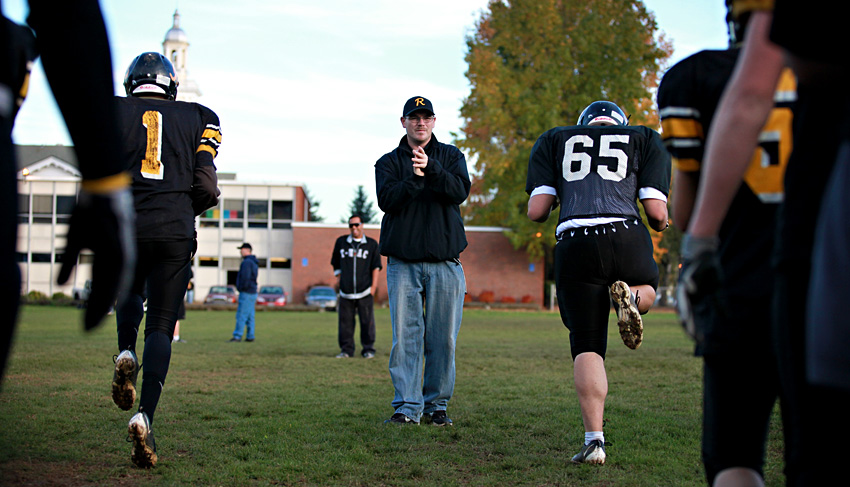 Tom Hauck for ESPN.com
Christian Swain, Roosevelt High's first-year football coach, conducts practice.
280 pounds of mixed message
One of those 18 squeezed into Swain's detention room that spring, barely fitting through the door. Junvonte Tillman was 6-foot-2 and 280 pounds of intrigue. On one hand, he'd been sent to detention for being late to a final exam. On the other hand, he carried in a poem he'd just written. Swain ordered the man-child to take a seat, and Tillman -- who knew Swain would be his coach -- asked him to read his poetry: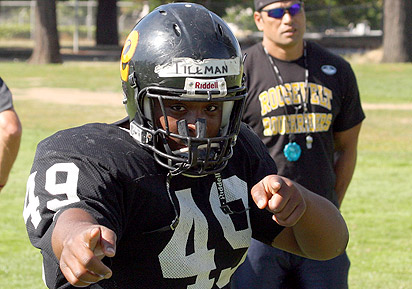 Sean Meagher/OregonLive.com
Junvonte Tillman knew in the early going that the Roughriders had their coach.
I am strong.
I pretend I don't care
I feel happy for what I have
I touch my family's hearts
I worry I will do something bad
I AM strong
While Swain was reading -- and thinking, "This kid really wants me to know him" -- Tillman started bantering with a girl seated nearby. Their teasing escalated until the girl took an ink pen and marked up Tillman's shirt. The next sound Swain heard was Tillman screaming, "F--- you!"
He had blown a gasket. It was his favorite Duke Blue Devils T-shirt, something he wore at least twice a week. He wasn't made of money; none of the students was. So he threw something at the girl and continued to swear. Swain tried calming him down, but Tillman groused at the coach for not suspending the girl on the spot. He then burst out of the room.
After the bell, Swain searched the school and found Tillman seated in his next class. He ordered him straight to his office and said calmly but pointedly: "We'll get you another T-shirt if we have to, but you can't freak out like that. Don't you ever disrespect me again or come in my room cussing out students. I'll always do anything I can to help you, but you can't flip out that way."
Tillman could not remember a teacher ever being this firm and caring at the same time, and he apologized profusely. That night, the T-shirt stain came out in the wash. And he put the word out to the other 17: We got ourselves a coach.
Thin, fair-skinned, but born to coach
One of the other 17 already had stopped him in the halls to ask, "Is that you, Coach Swain?"
"Nolan?" Swain responded, startled.
"Yeah, it's me, Nolan."
Nolan Stewart, now a 255-pound center, had played on one of Swain's first teams, back in Pop Warner, back when Swain was at a crossroads in his young adult life. Coming out of junior college, Swain drove a truck for Pepsi-Cola, but he had always had an itch to coach and mentor kids. Thin and fair-skinned, he didn't look the part, but, Lord, he talked it. Every time he saw a kid skateboarding on the street, he'd invite him to play catch or show him the football helmets in his garage. And before long, he was asked to coach for the Police Athletic League near Marshall High School in southeast Portland.
Stewart -- a cherubic motormouth -- was one of his early kids, and Swain adored him, as he did all his players. Swain decided coaching was his future, so he quit his job at Pepsi to go earn his degree at Western Oregon University in Monmouth. While he was enrolled, he volunteered to help coach at nearby McKay High School in Salem, and the McKay administrators ended up hiring him to work with emotionally disturbed kids in their special ed program. These were kids from foster homes, kids from broken homes and kids who blew gaskets. Kids not unlike Junvonte Tillman.
In other words, Swain was a perfect Roosevelt fit, and Tillman and Stewart -- two of the more popular kids in the school -- became the first football players to buy in. Swain took it from there. Because of his campus security job, he could roam the hallways all day, sizing up potential players, and he would ask almost anyone with a pulse to join the team. A couple of times, the response was: "Are you f---ing kidding me? Football?" He felt as if he had offended them. But Swain was only warming up.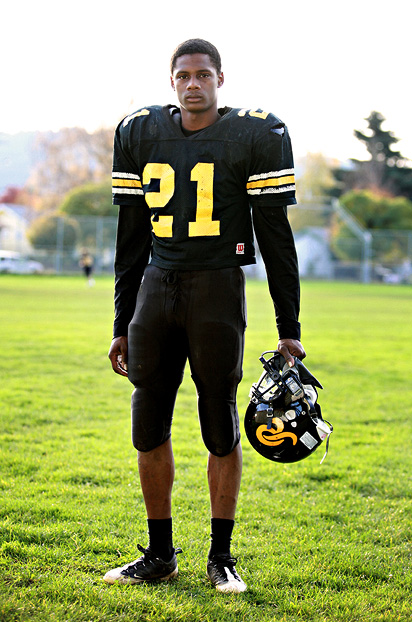 Tom Hauck for ESPN.com
Swain persuaded Javon Johnson, a 6-foot-1 forward on the basketball team, to rejoin the football team.
He knew the basketball team was a consistent winner (it helped that it needed only five guys), so he began to recruit its players. He told a 6-1 forward named Javon Johnson that if he played wide receiver, he could post up 5-7 cornerbacks for touchdowns, the same way he posted up smaller players in hoops. Johnson, who had quit the football team two years before, came aboard. By the time spring practice began, 35 kids were on the field ready for action.
That didn't mean they were any good. Swain ended up having to teach several kids how to throw, catch and get into a three-point stance. "It'd be like coaching third-graders who had never played before," he said. He met with local youth coaches who told him none of their Pop Warner kids had ever stayed in the area to play for Roosevelt. That floored Swain. When he coached Pop Warner in the Marshall area, he remembered a stud running back/linebacker named Nick Pietrzyk whose family was going to send him to Marshall High School no matter how awful the program was. Swain needed families like the Pietrzyks at Roosevelt, and he invited all the youth teams -- from third grade on up -- to hold their practices on Roosevelt's field. This way, he could get to know all the kids and their families.
The more questions Swain asked, the more dire the situation seemed. The previous year's coach, Cam McFarland, now the athletic director, told Swain he'd started with 40-plus players, but most kids would quit or become academically ineligible, which is why, by the 2008 season finale, only 18 suited up. Swain also had heard how the crumbling stadium bleachers had been condemned, torn down and never replaced. Curiously, the bleachers at nearby Lincoln had been condemned, too, and replaced right away. Since the city was looking to shut down some of the struggling schools in the area, some took that to mean district officials were thinking about closing Roosevelt altogether, unless somebody or something could save the place.
By June, the strong spring turnout (only 10 kids quit) persuaded Roosevelt's administration to remove Swain's interim tag. Better yet, he was allowed to borrow players from the three alternative high schools in the area -- Open Meadow, L.E.P. (Leadership and Entrepreneurial Public Charter School) and De La Salle -- and two of those kids happened to be dynamite. One of them, Ilyjah Spires, was a ripped 6-1, 205-pound tailback who also could play quarterback in a Wildcat formation. Another was rangy 6-4 receiver Aaron Casey, who could snatch anything thrown his way. Swain decided he would build around those two and Tillman. And he figured if he could find just one more explosive, experienced player, he might have a chance to shock the city.
Later that month, Swain's cell phone rang as he was heading home in his beat-up Taurus. Because of the jammed window, the wind made it difficult to hear. But he could tell it was the school's secretary, Connie Verbout.
"Christian, there's a guy down here with his mom who just moved from Seattle, and he looks like he might be a pretty good football player," she said. "Are you still around?"
One U-turn and 20 minutes later, Swain took his first look at a sleek 17-year-old named Javontae Perry.
"You play ball?" the coach asked.
"My whole life," Perry said.
"There is a God," Swain thought to himself.
The NFL QB from heaven
The phone calls and the heavens weren't finished. About the same time, Swain was told that Neil Lomax -- a former Pro Bowl quarterback for the St. Louis and Phoenix Cardinals and a local legend out of Portland State -- wanted to chat. Swain called him back, and the first words out of Lomax's mouth were, "God told me to help you."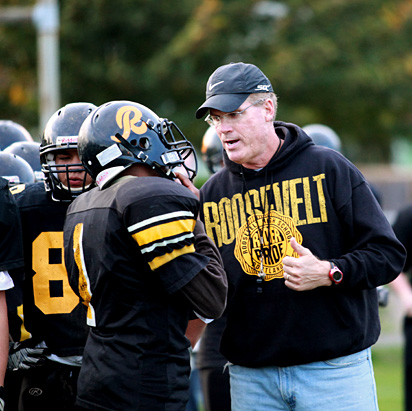 Tom Hauck for ESPN.com
Neil Lomax, a former NFL quarterback, dedicated himself to helping the Roosevelt players.
The former NFL star wasn't joking. A devout man who used to lead the Cardinals in prayer, Lomax was a member of the community-minded SouthLake Foursquare Church in nearby West Linn. A year earlier, in June 2008, SouthLake's worship leader, Wilson Smith -- one of Nike's early Air Jordan designers -- had been urged by Kevin Palau of the Luis Palau ministries to begin a "Season of Service." The idea was for churches to adopt a school and/or cause, and beleaguered Roosevelt became SouthLake's choice.
That same month, more than 1,000 church members descended on the campus to paint over graffiti, landscape the quad and generally sanitize the building. "There were literally weeds taller than me, and I'm 5-foot-9," said Kristine Sommer, one of the project leaders. But SouthLake wasn't a hi-and-bye operation. The church placed Sommer permanently at the school and, among other things, opened a "clothes closet" so at-risk students always would have new shoes and outfits. One homeless student who lived in a car just wanted soap for herself and her mother, and Sommer's staff took care of that, too. The church entrenched itself in the school, and when a columnist at The Oregonian newspaper, Steve Duin, wrote that Roosevelt's winless girls' basketball team averaged only six fans per game, SouthLake members packed its final home game, bringing the girls to tears.
In early June 2009, church members returned to campus to shine the locker rooms, scrub the gutters and organize cluttered classrooms. In an ensuing Sunday sermon, pastor Kip Jacobs showed a video of the Roosevelt project to the entire congregation. Neil Lomax watched it all and felt ashamed. He hadn't been out to Roosevelt once.
On the drive home that day with his wife, Laurie, Lomax said out loud, "Really, God? OK, I will." Laurie asked him what he was talking about, and Lomax told her he was going to call the Roosevelt football coach, that he was going to offer to join his staff.
When Swain heard about this, his jaw dropped. At Portland State, Lomax had once thrown seven touchdowns in a quarter. He'd held 90 NCAA records, and his coach, Mouse Davis, had basically been the father of the spread offense. And now Lomax was just going to show up at Roosevelt's door? Swain invited Lomax in for a face-to-face meeting and asked what he had in mind. Lomax told him he'd be thrilled to call plays and be the offensive coordinator, and Swain took him up on it. Now all they had to do was find a quarterback.
Right away, Swain warned Lomax he was in for a culture shock. Lomax's sons Nick and Jack had been star quarterbacks for local prep power Lake Oswego. They had earned scholarships to Boise State and Oregon State, respectively. They had lifted weights year-round, watched film and competed in seven-on-seven passing leagues. They ate and breathed football.
Roosevelt kids were just happy to have something to eat, period. Few of these kids knew football. They didn't play "Madden." When they went 0-9 the previous year, they slammed their helmets, pointed fingers, cursed the refs and griped at their coach. Most of them didn't have fathers at home to set them straight. Swain guaranteed Lomax that these kids would break his heart, that he would design some elaborate game plan and they would forget the plays. He told Lomax that he had better not be coming in to win nine games, that his goal should be to help these boys become men. One win, he told him, would be gravy.
At the first summer workout in July, eight players showed up. Lomax was upset, but Swain grinned and said, "This is good!" Recent Roosevelt teams had never even held summer workouts; to the head coach, this was progress. Lomax brought out the footballs, and his initiation came in the form of an early four-on-four drill (because they didn't have enough to go seven-on-seven). One of the Roosevelt wide receivers ran a hitch pattern, caught the pass and just stood there, obviously pleased with himself.
"Don't you think you ought to turn upfield?" Lomax asked.
"Oh, yeah," the player said.
When the official preseason practices began, the roster ballooned to about 40, including the junior varsity, and the staff actually had to explain how to put a uniform on. "Most of these kids had no football IQ," Swain said. "I've got kids asking me if thigh pads are knee pads or knee pads are thigh pads. They'd ask where the butt pad goes. I'd say, 'Uh, by the butt.'"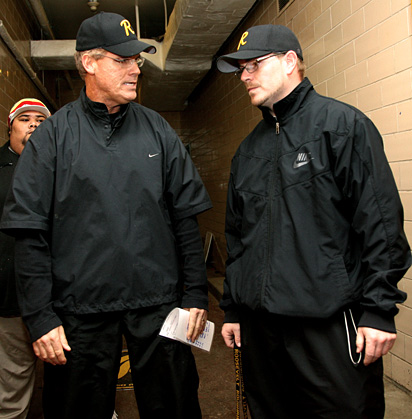 Tom Hauck for ESPN.com
Swain, right, had told Lomax to be prepared for a culture shock.
Lomax's comment to Swain: "The football players left here 15 years ago." But that didn't mean he wasn't staying positive. "My job is to coach 'em up and love 'em up," Lomax said, and as Roosevelt headed into its season opener against Benson Tech, the staff began to settle on a lineup.
The quarterback would be a two-headed monster: Spires running the Wildcat and junior Josh McCloud shot-putting an occasional pass. McCloud wasn't big on form or spirals, but the hope was that Spires would carry 20 times and shoulder most of the load. Casey and Perry would be the receivers along with the basketball player, Javon Johnson, and the behemoth Tillman would be both left tackle and noseguard. Elsewhere, Stewart was the center and co-captain, and a 4.0 student named Marlon Mejia was the other captain and tight end. The team even had a transfer from Dallas, Roman Thompson, although he hadn't had enough practices yet to be eligible. Thompson, a safety/receiver, told the team he'd been sent to live with his great-grandparents in Portland because he had a lethal temper. He didn't go into detail, but he said he would try to control himself.
When game day arrived Sept. 4, Swain was privately optimistic. He had warned Lomax not to expect victories, but now his competitiveness was surfacing. His staff had held structured practices and walk-throughs. The plays had been carefully scripted. They watched film and studied tendencies. They tried to conduct themselves like Lake Oswego. Swain believed they could conceivably win.
Then, three hours before kickoff, everything blew up. Sitting in his office, Swain was handed a pair of transcripts: Spires and Casey had flunked off the team. The bus was almost ready to leave, and now he had to tell his two best players to take off their pads. He felt ill. Both kids attended the alternative school L.E.P., which is why their grades from the previous semester had slipped through the cracks. Part of him wanted to play them anyway. They went to a different school; no one would've known. But he knew that would've been unconscionable, so he rushed the transcripts to his AD, McFarland. He then walked away alone and punched a locker.
All of a sudden, his offense belonged to McCloud and a 5-3½, 150-pound junior tailback, Jerome Smith. It didn't look promising, and Roosevelt trailed 23-0 by halftime. Benson had gone to a no-huddle offense, and because Swain had only 15 legitimate varsity players, his team was quickly gassed. The players couldn't keep up. In the press box, Lomax had been shouting, "We're not lined up right! What are we thinking?!" And it got worse. In the second half, the players quit trying. The holes were gaping. Benson would score, and Roosevelt's players would refuse to get into three-point stances for the extra point. The final score was 59-0, and all Swain could say afterward by way of encouragement was, "I love you unconditionally, and it doesn't matter if you win or lose." He wondered what he'd gotten himself into. And as he was walking toward the bus, he couldn't help noticing a tiny toddler scurrying up to Smith, his new 16-year-old starting tailback.
"Daddy!" the little girl said. "Good game, Daddy."
The kid tailback and his kid
The first day of school was the next Tuesday, and Jerome Smith brought his 22-month-old daughter and sidekick, Anajah, with him. He pushed her through the front door in a stroller, carrying his backpack full of pens, notebooks and diapers. He then walked her to the school's child care center, kissed her on the cheek and said he'd see her after football.
Somehow, 59-0 didn't feel as ghastly now, not after Swain witnessed that. Not only had Smith become a father at 14 but he was raising the baby and fighting for full custody. The first five months of her life, Anajah had lived with Smith's 15-year-old girlfriend and her parents. But when police were called to the girlfriend's home after an alleged domestic incident, they seized Anajah. According to Smith's grandmother, Roberta Robinson, the cops found the baby famished and unresponsive and recommended she go to foster care. Three days later, Robinson was granted temporary custody, and she and Smith went to retrieve her. The baby looked gaunt and was crying hysterically. But the minute she laid eyes on Smith, Anajah sighed and calmed down.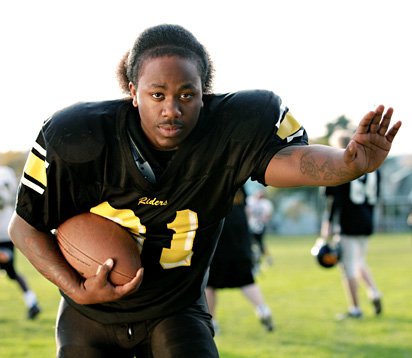 Tom Hauck for ESPN.com
Tailback Jerome Smith ran hard for Roosevelt.
Robinson had been down this road before. She'd been a mom at 15 herself, and her daughter had been a mom at 15, too. This could be done, she thought. She told Smith, "This is your baby. This is your job. You got her." She was putting her grandson in complete charge.
Smith took it seriously. His father had died of cancer when he was 12, so he had money from Social Security checks. And he poured almost every bit of that cash into Anajah. He bought her clothes, diapers and toys. He took her to doctor's appointments. He helped with the rent. He loved designer clothes, but now was not the time to spend money on himself. He applied for emancipated minor status, hoping a judge would grant him the rights of an 18-year-old. From there, he could go to court and ask for custody of Anajah. That was his dream.
At the first practice that week, Swain put his arm around his tailback. Smith had run hard in the 59-0 loss, and although there were still some sullen faces on the field, Swain noticed how joyful his tailback was.
"I feel like football's his chance to be a kid for a couple hours a day," Swain said. "And you can see it when he's out there. The weight's off his shoulders, and he can just be silly and laugh and joke. In the halls at school, he's always got this serious, stressed-out look on his face. But you really see him light up when he's at football practice."
For Swain and Lomax, it was a much-needed reality check. Game scores were obviously secondary. Lomax had a 15-year-old son himself: Mitch, a budding tight end/linebacker at Lake Oswego. Could he imagine Mitch, in high school, raising a baby daughter? Never. So the edge was definitely off 59-0.
Before the second game against Woodburn, Swain addressed the team's attitude. He knew last year's team had pointed fingers, and that was the lone positive from the 59-0 debacle: There hadn't been infighting. He told the players his only gripe was that they had quit in the second half, and he wouldn't put up with that. Losing was fine as long as they gave him 48 hard minutes. So that became their mantra going into Week 2: "Give Us 48."
Too bad the bus driver was about 48 minutes late. The team ended up hitting rush-hour traffic, arrived at Woodburn behind schedule and was out of sync from the opening kickoff. The Roughriders gained three first downs and were throttled 47-0. "They kicked our butt," Swain said. "I'm thinking, 'Oh boy, there won't be anyone at practice on Monday.' But then they showed up again."
Something was bringing the players back, most likely the unyielding support from the community. Back in the summer, Lomax had sent out a mass e-mail to the members of his church asking whether anyone had experience as an athletic trainer. He was flummoxed that Roosevelt had no ice machine, no one to wrap an ankle properly and only three water bottles. There wasn't a single medical kit at the school, no gauze or Ace bandages, and he was concerned for the kids' safety. The one church member who responded was Rachel Thomas, a former student athletic trainer at USC. She'd been on the sideline for the famous "Bush Push" at Notre Dame and, in her time at the school, had gotten to know Troy Polamalu and become the first female trainer for the baseball team. She was now a fourth-year medical student in Portland, and when she read Lomax's plea, she gladly volunteered.
Thomas began coming in twice a week, plus game nights, to treat injured players, and it was a good thing because most of the kids didn't have health insurance. Injuries were mounting, including several concussions, and she helped the players find free clinics. If they didn't have rides, she would make sure Swain or a staff member drove them, and if the players had lingering muscle injuries, she would ask a friend who was a physical therapist to print out treatment plans. Her husband, Justin, a Marine who had served in Iraq, became her assistant, and they began rounding up ice from a Roosevelt alumnus who owned a local restaurant. Rachel taught the players how to stretch their hamstrings, and they enjoyed having her around. She was their big sister.
Duin, the Oregonian columnist, wrote about much of this, and soon, retired 78-year-old orthopedist Thad Stanford, who had lettered at Michigan 1951-53, was volunteering to be team doctor. Good Samaritans were everywhere. A local videographer, John Percich, had showed up during the summer to do film work and help coach the offensive line. Mike Funderburg, a retired head coach from the area, joined the staff as defensive coordinator. A local Sports Authority store donated water bottles. A group of moms from Sunset High School in Beaverton cooked hot dinners for the team every Wednesday. "Trust me, no one ever missed practice Wednesdays," Lomax said, cackling.
Behind the scenes, Lomax was doing even more. He had gotten Nike -- which had dozens of employees at SouthLake -- to donate 70 pairs of cleats and several crates of gloves. Many of the other 5A high schools, such as Madison, Cleveland and Jefferson, had similar issues, so Lomax sent cleats to Madison and gloves to the other places. He told no one about it; he wasn't in it for publicity. He also spoke to Nike about Roosevelt's stadium aspirations. The school's development manager, Rich Recker, had drawn up a business plan to install FieldTurf, bleachers, a track and tennis courts -- a $2 million project. The school district likely would be willing to help finance it if Recker could raise enough private funds, and Lomax began using his connections.
So the least the Roosevelt players could do was stick out the season. But when they took the field for their home opener against Liberty High School, reality hit. Only about 50 people were watching. Most of them were fans of the other team, and Lomax couldn't believe the press box was three chairs and a table on top of a brick shed. He had to climb a shaky ladder to get up there and ended up witnessing a 34-0 loss. The team had now been outscored 140-0 in three games, although, on the plus side, there was still no dissension.
In fact, Jerome Smith seemed particularly upbeat as he left the field. A group of moms had handed him a bag of clothes for Anajah.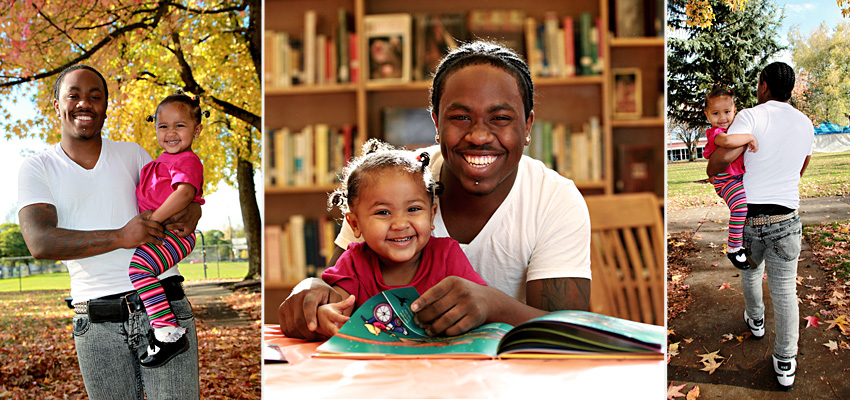 Tom Hauck for ESPN.com
Smith, with daughter Anajah, embraces fatherhood.
Keeping it simple
The following Sunday evening, Swain and his staff huddled in the film room. It actually was the shower room, but the players would never shower at school. So the coaches turned it into a theater.
The more they studied the losses, the more they shook their heads. Players were going the wrong way, blocking the wrong men, using the wrong techniques. Big Junvonte Tillman was particularly lost. On running plays, he would pass block, and on pass plays, he would run block.
Lomax and Swain came up with a plan. For their next game against Parkrose, they would give him a wristband with instructions on it. They would number the plays 1-20, and if play No. 13 was "near right, zip, fake blast, pass, Z clear," they would simply write the following on Tillman's wristband:
13. Pass block.
Right away, they sensed that it uncluttered his mind. And, on game day, they particularly noticed how bubbly Tillman was. Someone asked why he seemed so fired up, and Tillman said his dad, who didn't live with him and had never seen him play, was coming to the game. "If I could've done a backflip, I would've done one," Tillman said later.
From the opening kickoff, Tillman was throwing people around. Lomax ran the offense straight through him, and in the first quarter, McCloud swept 6 yards for Roosevelt's first touchdown of the season. Swain will never forget the look on Lomax's face because the ol' quarterback's eyes welled up. "I'm not gonna lie -- I was excited," Lomax said. "I said, 'Let's keep doing this.'"
On defense, Tillman was even more of a force, a Reggie White. Parkrose couldn't block him, and in the first quarter and two-thirds, he had five sacks, eight tackles for losses and one recovered fumble. He kept looking for his dad in the stands.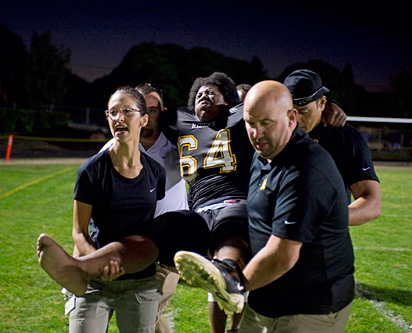 Beth Nakamura/The Oregonian
Junvonte Tillman is carried off the field after breaking his ankle.
Eventually, Parkrose managed to jump ahead 7-6, but Perry, the transfer from Seattle, ran the ensuing kickoff back for a touchdown. Roosevelt's lead was 12-7, and it was clear Parkrose was flustered by Tillman. Lomax said he could hear the opposing coach screaming to his left guard, "You've got to stop this guy. Hold him, cut him, do whatever you can." Finally, late in the first half, the Parkrose guard dove at Tillman's leg from an awkward angle. Tillman felt a horrible pop and was yelling "They broke my ankle" before Rachel could even get to him. She didn't have a splint, so she rolled paper bags and stray newspapers to stabilize his leg. He wept as they carried him off, and before leaving for the hospital, he rounded up his his teammates and said, "This is my last year. … They done broke my ankle. … I want you to do this for me. … Beat them, please."
It was an emotional halftime, and when the third quarter began, Roosevelt's defense forced a fourth-and-12. But Parkrose went for it, and a pop pass to their tight end turned into a long touchdown. Now Roosevelt trailed 13-12, and without Tillman, the offensive line was a wreck. "We stuck a kid in there who'd just gotten his pads last week," Lomax said. "We're getting killed. We can't run it; guys are dropping balls. It's chaos."
By the fourth quarter, it was 19-12 Parkrose. The three players Swain and Lomax had intended to build the team around -- Spires, Casey and Tillman -- were history, and basically all they had left was the kid from Seattle. Swain hoped Perry might break a long run, and if they could score, the coach planned to go for two and the win. But on their next drive, McCloud threw a ball 10 yards behind Perry. It was intercepted and returned for a touchdown. Lomax groaned and said, "How could he do that?" But he calmed himself and told McCloud, "Don't worry, I've done it, too."
ROOSEVELT SCORES, LOSES TILLMAN
Click here to watch a video from OregonLive.com, as the Roosevelt Roughriders play hard, but lose a top player to an injury.

The final was 26-12, and Swain's postgame chat focused mostly on Tillman. He told them that the kid had played the game of his life, that his lightbulb had finally come on. He then said every young man on the team had his own lightbulb to turn on and that it could happen in practice or in a game or in school. He said, "We're going to play this season for Junvonte Tillman. Because that lightbulb went off, didn't it? For a half, he lit this place up. And boy, I see some other guys whose lightbulbs are flickering, man. And when they all go off, we're going to light this place up."
Problem was, no one else's lightbulb weighed 280 pounds.
The 300-pound great-grandma's boy
On second thought, there was a 300-pounder on the roster, assuming they could get him to practice. His name was Ray Brown, and every afternoon, the coaches would peer at the side of road, wondering when he would make his grand entrance.
Usually, about 20 minutes into the team's drills, they'd see a car race up, driven by an elderly woman. And out would walk their biggest player, late once again. "You can always tell they've fought a battle to get him here," Swain said.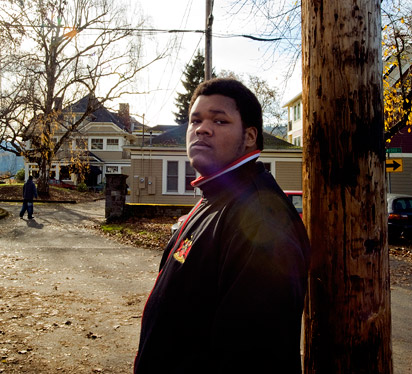 Beth Nakamura/The Oregonian
Ray Brown waits for his great-grandmother, June Terry, to pick him up after school.
During the summer, Brown's 84-year-old great-grandmother, June Terry, had asked the coach to mentor the kid because he had seven sisters, no brothers, no male role model and a tendency to follow the wrong crowd. Swain invited him to their offseason conditioning program, but because Brown attended one of the alternative schools, Open Meadow, Swain couldn't always keep track of him. Then, in July, he heard some troubling news: Brown had been shot.
He'd been hanging out on a corner near his house and was the victim of a drive-by. Wrong place, wrong time. Doctors told him that he'd been hit in his collarbone and that the shell was too deep to remove. In other words, he would have to play football with a bullet in his back.
Once the season began, it became Terry's mission to keep her grandson off the streets. Hell or high water, she was going to deliver him to Swain, anywhere from 20 minutes to 90 minutes late. Eventually, every afternoon, Brown would trudge onto the field and try to fill Tillman's shoes at nose tackle.
"If Grandma doesn't come to practice to check on him, he'll leave sometimes," Lomax said. "There's been several times where all of a sudden we're saying, 'Where's Ray Brown?' And Christian's going, 'Grandma will be pissed if she finds out.' Then all of a sudden, this car comes pulling up and we're all going, 'OK, Grandma must've found where Ray-Ray was.'"
The coaches could chuckle about it because they liked the kid. Brown, a sophomore, had an easy smile and quick wit and was a big fan of Swain. But at the same time, they were worried about the message this was sending. In almost any other football program, a chronically late player would not be tolerated. Anyplace else, Ray Brown would have been given the boot.
But it wasn't just Brown. At various times, eight or nine players were skipping practice. Johnson had a set of young twins in his family, and his mother often needed him to baby-sit during practice. Smith would miss time to attend parent meetings for Anajah or to take her to the doctor. Other players were in academic danger and had work to make up. Some of these were legitimate excuses, but it was all undermining the team. They'd practice sometimes with as few as 19 varsity players, and it had Lomax saying, "We should've cut half these guys and told the other half they shouldn't be playing." Lomax felt the players were treating football "like it's a club, like the glee club or choir." He doubted they watched games in their spare time -- "You mention [USC quarterback] Matt Barkley, and they'll go, 'You mean Charles Barkley, the basketball player?'" -- and it showed on the field. The mental errors every week were killing them.
Roosevelt had a bye week after the Parkrose game, and the coaches held a meeting to discuss the issue. One of them suggested they cancel the season, just shut the program down, to send a message that there are no shortcuts in life. The publicity would be huge; the headlines would scream: Coaches choose life lessons over football. But Swain considered that the easy way out. He couldn't live with himself if he sent Ray Brown back to the streets. Of if Jerome Smith didn't have his two-hour escape. No, he definitely wasn't going to shut the team down. Instead, his new rule was if you were going to miss practice, you had to at least call first. And if you missed three times without calling, you were off the team. But he couldn't in good conscience pull the plug completely. Football was survival to some of these kids. Maybe he didn't have a ton of players who loved the game, but he had a few.
And one of them happened to be crying himself to sleep.
Death of an inspiration
Javontae Perry played football for one person -- and that person lay dying in a Seattle hospital.
Since his arrival at Roosevelt, Perry had amazed Lomax and Swain with his work ethic and grit. He never missed practice. His ankle was sprained and swollen, but he never used it as an excuse. If anyone had reason to quit, it was this kid. His mom, Tanya, was jobless. His 4-year-old brother, Jakai, had a brain injury. Their apartment had no furniture, and he slept on a mattress on the floor. But he'd been taught not to complain, taught by the man who was dying.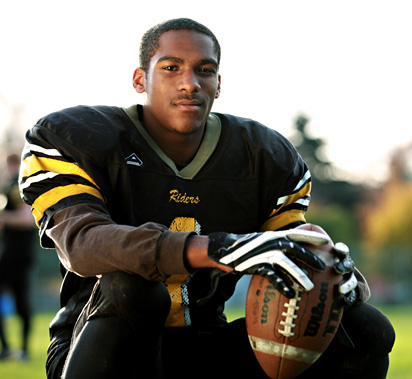 Tom Hauck for ESPN.com
Javontae Perry's grandfather taught him to never quit.
The man on the respirator was Wilson Perry Jr., Javontae's grandfather, and Wilson Perry was always full of advice. When Javontae was in fourth grade, he was the smallest kid on his football team and sensed the other players didn't respect him. One day, while the whole team was running wind sprints, another kid clotheslined Javontae for no reason. He decided to quit -- until Wilson gave him a talking-to.
His grandfather told Javontae that he loved football more than anything in the world, and that when he was young, his parents wouldn't let him play on a team. He said he would've given anything to play on a real field, with lines and referees and goalposts, and he didn't want Javontae to miss out. He told him Perrys weren't quitters, and from that day on, Javontae was a football player for life.
Throughout the years, the sport could be cruel to Javontae. His prep team at Tyee High School was a perennial loser, winning a high of two games his sophomore year. But his junior year was the worst. Late in the season against Renton, a Tyee defensive end decked the Renton quarterback, starting a brawl. The benches cleared, and 20 Tyee players received two-game suspensions. The problem was there were still two games left, and Tyee had only six eligible players, Javontae being one of them. He wanted to play six-on-11, but instead, the team was forced to forfeit the rest of its season. The kid had gotten to see life without football after all. And, as Wilson had suspected he would, Javontae despised it.
He and his family left Seattle that summer for Portland, and after the Parkrose game, Javontae heard that his grandfather was in a coma back home. It devastated him, but he never let Swain or his teammates know. Instead, as their best player, he tried carrying them to a win over Jefferson in their 5A league opener. But Jefferson was ranked seventh in the state and showed no mercy. Jefferson put up 41 points in the second quarter alone and led 54-0 at halftime. On one play, a pass bounced off Perry's hands and was intercepted and returned for a touchdown. Perry couldn't help it; his mind was in Seattle.
The next Thursday, a day before the Roughriders' Week 6 game against Madison, Tanya drove her son to see Wilson Perry one last time. The kid said his goodbyes that night as his hero was taken off the respirator. If he wanted to play the next evening, he needed to get back for a full day of school Friday -- a league rule -- so Tanya got up at 4 that morning to drive him to Roosevelt. She knew Wilson wouldn't want Javontae to miss a game, especially on his account.
That Friday night against Madison, Josh McCloud scored on a keeper to give Roosevelt an early 6-0 lead. Madison jumped back ahead 7-6, but Perry returned the ensuing kickoff for a touchdown and a 12-7 lead. (The team hadn't converted an extra point all year.) Madison then embarked on a 17-play drive, cruelly scoring with three seconds left in the half. Perry had been all over the field and barely missed a touchdown-saving tackle. But the 180-pounder and the rest of the team were absolutely fatigued now. Nine of the 11 starters played both ways, and players such as Ray Brown weren't fit enough to hold up. In the second half, the game turned into a 51-26 blowout. The week before, Roosevelt had been torched by 6-foot-7 Jefferson quarterback Elisnoa Aluesi, a former Roosevelt Pop Warner kid. And against Madison, a receiver named LJ Sly-Cain, another former Roosevelt Pop Warner kid, scored on a long punt return and slant pattern. "I have 50 studs at other schools right now," a wistful Swain said. "Put these guys with Javontae, and we'd be in the playoffs."
There was good news, though: 0-6 Cleveland High School was next on the schedule.
The bad news was that Swain's entire team was starting to cough.
An epic battle between 0-6 teams
The swine flu had arrived, and fast. The Monday before the Cleveland game, only 10 varsity players showed up for practice, and the worst news was that the quarterback, McCloud, was home in bed with body aches, nausea and a raging fever. Swain canceled the workout, held a short film session and called McCloud's father for an update. "I'm not sure he'll be back for the game," Swain was told.
The only backup was a scrawny 10th-grader, Juan Montoya, who could throw a tight spiral but had little ability to take a hit. It was all moot anyway, because by Wednesday morning, Montoya had a 101.8 fever himself and was sent home from school. Suddenly, the team had gone from two quarterbacks to none, and other bodies were going down left and right. On Tuesday, center Nolan Stewart's temperature reached 103, and receiver Javon Johnson was bedridden, too. And somebody else was about ready to join them: the coach.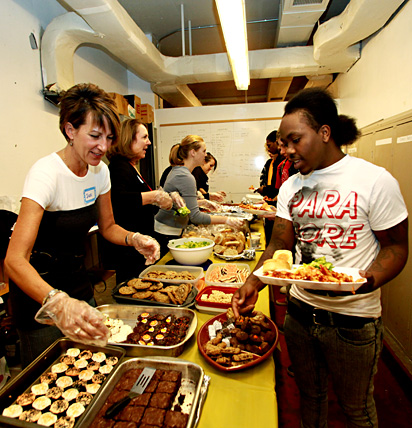 Tom Hauck for ESPN.com
A group of moms provided dinner for the team on Wednesdays.
Swain was already exhausted from a long season of 80-hour weeks. His job as a school monitor was draining enough, but even after school, he'd be summoned from football practice to mediate campus fights or drive home a kid who'd had a knife pulled on him. Throw in his football duties, and his day was endless. He did all the team's laundry himself, and, because the school's dryers had no heat, it could take an entire week for the uniforms to dry. He'd change sprinkler heads on the field, too. Even on Saturdays -- at the expense of his wife and three children -- he'd be at the school from 8 a.m. to 8 p.m., showing his face at all the Pop Warner games. His coaching stipend for this was $5,500, and his yearly salary was $30,000 altogether -- plus, he had a family to support. Some nights, he would drive players home all over town, in his windowless Taurus. And although the players adored him for it (and busted his chops for having a run-down car), it was all taking a toll.
By the week of the Cleveland game, Swain looked pale and emaciated, and left practice early Thursday to sleep. "Otherwise, I might not make it to Friday's game," he said.
In his absence, Lomax conducted the practice, and the ol' quarterback was at the top of his game. He decided Perry would play quarterback exclusively in a Wildcat offense. He drew up a series of eight plays to be run from varying formations, and the hope was that Perry could will them to a victory. "We're going to run this sucker down their throat with the guys we got," Lomax told the team late Thursday afternoon. "We got eight plays, and we're going to run the snot out of those eight plays. They're going to figure out right away we don't throw the ball, and we don't care."
By game day, Lomax's pep talk seemed to have resonated, because one of Roosevelt's players went into an Oregonian chat room predicting a 45-0 rout. Too bad the rest of the school didn't have the team's back. That Friday afternoon, just like every Friday, there was no buzz about the game, no signs in the hallways screaming, "Go Roughriders!" There wouldn't be any cheerleaders until basketball season, and to be fair, there weren't any fans for them to lead cheers for anyway. Home attendance was generally a few sets of parents, and the student body was mostly hostile to the team. Swain called many of these students "snipers," kids who would see football players in the hallways and say, "You suck."
Normally, 10 to 20 students would attend the home games -- hanging out on the track because there were no bleachers -- and don't even mention away games. The contest against Cleveland, for instance, was being played on the road, 25 minutes from campus, and by kickoff, exactly three Roosevelt students had showed up to watch: two girls and a guy. "Well, Javontae invited us to come," the girls said.
Perry had every reason to want an audience; he'd never played quarterback before. But to win, he was going to need help from his healthy teammates, Jerome Smith and Roman Thompson, the Texas kid with the temper. Thompson, a safety, was the Roughriders' hardest hitter on defense and actually had more size and speed than Perry. He simply needed to be more coachable and disciplined.
When Swain -- up to his ears in Advil -- called the team together before kickoff, he counted heads. Stewart, the starting center and kicker, was back, and so were the receiver Johnson and the backup quarterback Montoya. But McCloud was still in bed, and Swain told the group it would rally around Perry and "make lemonade out of lemons." He warned, "This other team isn't going to just roll over because they're 0-6. We're 0-6, too. The team that makes the most mistakes is going to lose."
Yes, Coach, the players shouted.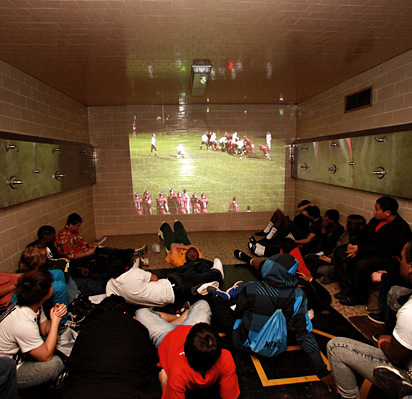 Tom Hauck for ESPN.com
The coaches turned the showers into their film room.
The opening kickoff set the tone. Stewart, a straight-toed kicker who strangely would approach the ball soccer-style, angled an onside pooch kick, and Roosevelt recovered. A couple of minutes later, Smith took an inside handoff 11 yards for a score, his first high school touchdown. Too bad Anajah hadn't made the trip.
Leading 6-0, Stewart pooch-kicked again, only this time Cleveland recovered. Then, on Cleveland's first play from scrimmage, there was a horrible sound: Perry screaming in pain. He had reinjured his ankle and needed to be carried off the field. As Montoya began to loosen up, Rachel retaped Perry's foot. His mother, Tanya -- who was already shouting "Let's go, defense!" on the sideline -- wasn't worried: "He doesn't quit, did I tell you that?"
When Perry returned six plays later, the defense had Cleveland in a fourth-and-13 hole at the 24. But the Warriors completed a high lob for a touchdown over 5-3 Smith. The two-point conversion made it 8-6.
The rest of the half was a slugfest. Ray Brown used his 300 pounds to stuff a fourth-and-1 Cleveland dive play -- with Great-Grandmother hovering near the bench --- but Perry couldn't move the chains, either. His O-line was having trouble with false starts; again, just a lack of practice time and discipline. Eventually, Cleveland broke through on a 40-yard pass to the 3-yard line. The receiver made a tumbling circus catch that in the NFL would've been the subject of a long review. But there was no replay booth at Cleveland High, and the subsequent touchdown made it 14-6 Cleveland at halftime.
In the locker room, Swain and Lomax were encouraged. They could actually win! Cleveland's scores had been the result of a fourth-down chuck and a questionable catch. Brown's big body was coming in handy. Swain told the team, "We're in a dogfight, and I wouldn't have it any other way. Nobody's ever handed us anything. Nobody's ever given us anything in life. To go out and get our first win, you're going to have to scrap for it. It's going to come down to who's tougher: you or them. Who wants it more?"
We do!
All season long, these kids had faded in the second half. And with nine of them going both ways and seven of them coming off the flu, it was reasonable to expect a flop. Right away, they recovered Cleveland's onside kick to start the half, and on a third-and-13, Smith got stuck at the line of scrimmage. But a Cleveland player taunted him, and the refs threw a flag for unsportsmanlike conduct. For once, it was somebody else coming unglued. During a timeout, Lomax pulled a fast one: He asked Perry to throw. It wasn't one of the eight plays on his wristband, but the call suckered the Cleveland defense, and Perry rolled right and hit Thompson for a 20-yard score. Down 14-12 with 4:29 left in the third, Swain decided to go for two. Perry hurtled in to tie the score at 14, but there was a flag on the ground: illegal motion. Another sloppy mistake. Lomax sent Montoya in to throw a fade pattern, but the kid got smothered. Roosevelt still trailed by two.
Cleveland took over and started running straight at Brown. At one point, Brown was called for a neutral zone infraction, and one of the coaches shouted, "Get Ray off the field." Swain had a calm chat with the kid, but before long, Cleveland had a second-and-goal at the 2. The Roosevelt bench began chanting, "Dee-fense," which is exactly what it got. On an inside handoff, the Cleveland fullback fumbled. Roosevelt recovered on its own 3 as the third quarter ended.
The Roughriders hadn't forced a game-changing turnover like that all season, and when the fourth quarter opened, Lomax got another idea: throw from the end zone. He called Pick-22, a play in which a receiver picks the linebacker, freeing up another receiver in the flat. It's predicated on the defense's applying man coverage, and when Perry sent a man in motion and saw a defender following him, he knew it was the perfect call. He got so excited, he took a premature peek into the flat. But when Stewart snapped the ball, Perry still wasn't looking. The football hit him in the face mask.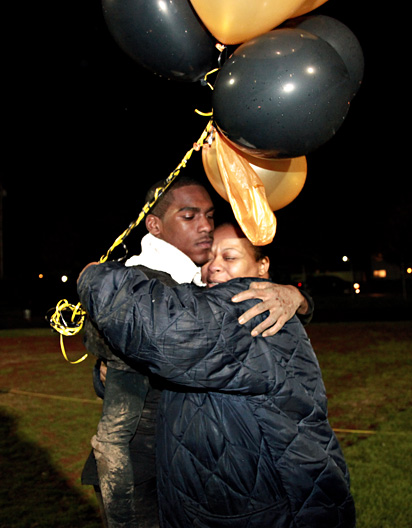 Tom Hauck for ESPN.com
No matter the outcome, parents encouraged their sons. Here, Javontae Perry's mother, Tanya, lends her support.
Perry recovered the loose ball in the end zone: a safety. Roosevelt was down 16-12 with 11:53 left, and it needed a stop. Cleveland tried running up the gut again, and this time, Thompson came in from his safety spot to make a sturdy tackle. He screamed, "Let's go!" In response, he says, he heard a Cleveland player say, "Shut up, n-----."
All Thompson felt in his head was rage. In Texas, he says, he would lose his temper "if someone looked at me wrong … I couldn't control my anger for nothing." Down there, he'd gotten into all-out brawls over words much tamer than that and had even been stabbed in the hand. His own mother had banished him to Portland because of all the fights, unconvinced he could ever change. And now here was some anonymous Cleveland kid calling him the N-word.
Thompson stomped his feet and stewed, but he didn't smack anyone or kick anyone or get himself a 15-yard penalty. "Normally, I would've grabbed his face mask and done who knows what," he said. Instead, the referee walked him over to Swain, who heard what happened and put his arm around him. One play later, Thompson was back on the field helping the defense get the ball back with 4:02 remaining.
Roosevelt needed a touchdown to win, and on first down, from his own 25, Perry broke free down the left sideline. Soon, he was across the 50 with only two defenders to beat. Swain was hightailing it down the sideline with him. But Perry's ankle was tender, and when he stutter-stepped and cut back, he stumbled. The run went for 55 yards to the Cleveland 20, but somehow, it felt like a missed opportunity. On the very next play, a lineman was penalized for a false start. Now, it was first-and-15 from the 25, and the bench seemed stressed. Smith gained 7 yards, but Perry got smothered twice in a row in the backfield. On fourth-and-10, Lomax sent Montoya in to throw a fade route to Johnson. It's the play Swain had sold Johnson on four months before: Post up a 5-7 defender and outrebound him for the touchdown. But both Johnson and Montoya still were weak from the flu, and the fluttering pass was intercepted. The final score was 16-12.
Afterward, Swain called the team together. "These hurt the worst, men. You battled. Heck, I almost beat Javontae Perry down the field on the last run. We made some mental errors that killed us. We had a false start on that last drive. That'll cost you in close games. But does it mean I don't love you?"
No, Coach!
"I love you unconditionally. And I got to tell you, Roman Thompson moved here from Texas because he got in trouble, couldn't control his temper. And, tonight, he had a kid call him the N-word, and he needed to come out for a play. He was pretty hot. But you know what? After the game, he shook the other team's hands and did it with class. That's a lightbulb going on. Another lightbulb. Roman, you're going to be a better man because you've learned to do that. I'm proud of you, son."
The ride home on the bus was somber. This had been a winnable game, and next week's contest against 6A power Lincoln definitely would not be. The best chance for a victory was going to be the Roughriders' season finale, their homecoming game against winless Marshall. That's the night Swain badly wanted to put on a show.
Especially when he heard there were going to be bleachers.

Tom Hauck for ESPN.com
Private fundraising helped with the construction of new bleachers.
A real stadium
Money had been pouring in. Between the church and the articles in The Oregonian and Roosevelt alumni such as local District Attorney Mike Schrunk, the stadium project had gained sufficient steam. People went door-to-door asking for donations. One family gave what it could afford -- $5.44 -- and a city philanthropist pitched in 20 large. All this private fundraising enabled the school to pay for new bleachers, and the week before homecoming, Roosevelt's decrepit football field finally moved into the 21st century. It had permanent seats.
The next step was to fill them, and that was a job for SouthLake. The same people who had packed the Roosevelt gym for the girls' basketball team were planning to rock the Roosevelt football stadium for the season finale against Marshall. They would organize a bonfire, have a free barbecue and give out 3,000 free double-quilted Roosevelt sweatshirts. They would fill every seat and invite the entire student body. The idea was to help save a high school and to make 25 battered football players feel relevant.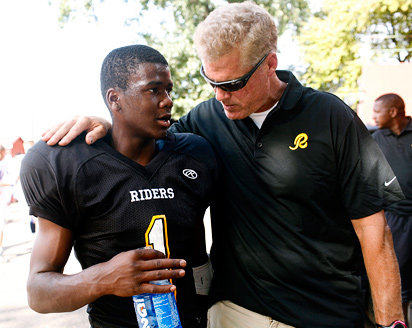 Motoya Nakamura/The Oregonian
Lomax shares some thoughts with McCloud.
After the Cleveland loss, Swain was concerned about some of his guys. Perry had to return to Seattle for his grandfather's funeral, and Thompson had a hamstring problem that had turned chronic. McCloud was still fighting the flu, and it seemed as if Brown was catching it, too. So the game at Lincoln became more about surviving than winning. Perry and his mom didn't return from Seattle until the morning of the contest, and, although the kid was an emotional wreck, he gained 118 yards on 11 carries in the 49-6 loss. When the team bus pulled into the Roosevelt parking lot afterward, Swain saw Perry's mother slumped over, exhausted. She asked the coach whether he would drive her son home, and Swain asked, "Do you want me to get him something to eat, too?" She answered, "That'd be great."
These were the moments, Swain thought, that made coaching worthwhile, and he stopped at a Taco Bell to buy dinner for the whole Perry family. His best player was also probably his best kid, and he badly wanted to rescue him. Perry's mom had been tirelessly searching for a nursing assistant's job, but nobody was hiring. So every weekend, Perry would rake leaves for money and give half to her. "She can't buy me nothing, so I don't ask her for nothing," Perry said.
Earlier in the season, Swain had arranged for Perry to be part of the local Shop with a Cop program, meaning he would go to a Fred Meyer superstore with $150 to spend. The kid bought towels and clothes for his mother, sister and brother -- nothing for himself. He wore borrowed shirts and year-old shoes. At school, he was barely getting by with a 2.1 grade-point average, but it wasn't from a lack of effort. He met with teachers in his free time and was studying an SAT prep book for an hour a day. Swain was convinced Perry could play cornerback in college and was trying to persuade Portland State or Pacific University to evaluate his film. And if he could also get one victory for the kid, in the season finale, that would be icing on the cake.
Swain didn't think the idea of a win was far-fetched. He told the staff that if the team could start the season over knowing what it knew now -- for instance, how to line up -- it might have two wins by now. But the key was getting the entire roster to practice, which was a pipe dream. Thompson's hamstring kept him out of Monday's session, and McCloud had missed so many days of school that he had to stay after the bell making up work. Three offensive linemen were also in academic jeopardy and missed the Tuesday workout. Smith needed to finish a U.S. history project and was out, too. JV kids had to fill in the gaps.
But by Thursday, the day before the game, a sound in the hallways piqued the players' interest. Students from a music class were marching through the school pounding snare drums, the first hint of a special 48 hours. The players were summoned to the gym, where they saw something they'd never seen before: a pep rally. There were cheerleaders high-kicking and students clapping in unison, and when the football team emerged, Nolan Stewart, the co-captain and arguably the most popular kid in the school, grabbed a microphone:
"Hey, come out and support us tomorrow night," he said. "It's our last game, and we plan on getting a big win against Marshall!"
The whole team then took center stage, rocking back and forth, chanting, "We ready. … We ready. … We ready." It was almost as if they had done this before.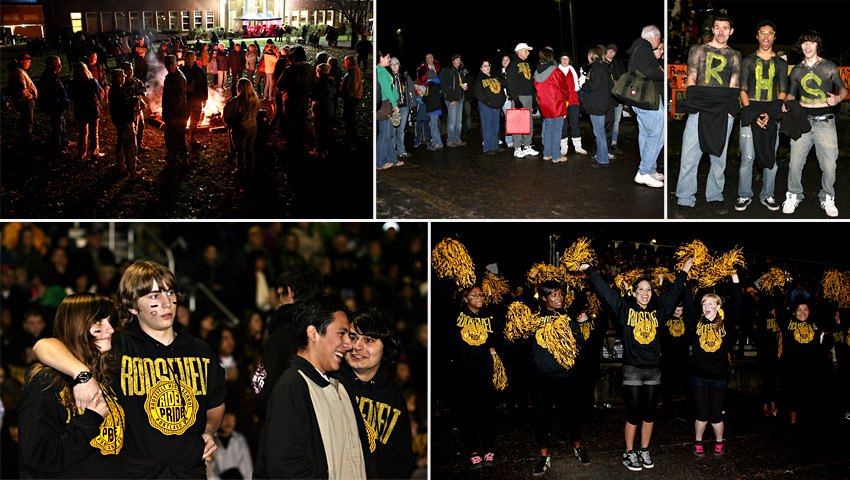 Tom Hauck for ESPN.com
By season's end, Roosevelt had a solid group of supporters.
Meanwhile, in the coaching office, Lomax was digging into his bag of tricks. All season, he had scaled back his playbook, tossing out about four or five plays a week. He had gone from about 40 plays to 11. But this week, he was adding plays. He called the Marshall game "our 'Hoosiers' moment … our playoff game," and he found himself diagramming throwback passes to Perry, sprint rollouts for Perry -- anything to get the ball into the kid's hands. "He's the best player we got, and he's going to have 35 carries," Lomax said.
He was planning to have Perry throw it, too. He drew up a pass play in which Perry would dash right, then throw a seam route across the field to tight end Mejia, who had been a decoy all season. Lomax figured that if all else failed, that one would be a sure touchdown -- assuming Mejia could catch it.
All week, Lomax couldn't wait to do a dress rehearsal, but even at Thursday's walk-through, players were missing. Johnson had to baby-sit, and Smith was still tied up with his history project. Lomax figured at the very least he would test the plays in the pregame walk-through. But when 4:30 Friday afternoon arrived, he and Swain were in a semipanic: Perry and Thompson were absent.
Swain went to find Stewart, who knew everything about everybody, and Stewart told the coach they were both getting their hair cut. It was homecoming. There'd be a dance after the game. They felt they needed haircuts. They were just late because of a long line at the barbershop.
Perry's mom finally dropped them off at 5, and it was almost pitch-dark when Perry took his place under center to practice the throwback pass. He couldn't see and kept dropping the snap. They would just have to wing it in the game.
As they headed off the field, two hours before kickoff, the campus was jumping. The bonfire was under way, a rock band was jamming on the quad and the barbecue smelled delicious. Normally, about about 10 students would come to their games. But now five buses from SouthLake were pulling up to the curb. And that was only the half of it. Late Thursday night, a squadron of Nike employees had secretly painted and decorated Roosevelt's locker room. There were slogans on the walls and decals in the corridor and a poster over the clubhouse door that said "Give Us 48." The stunned players walked in saying, "This looks tight." The gang graffiti was gone. All they had to do now was win.
"I hate to say it, but this is a big, big deal to win this game," Lomax said, standing in the quad 90 minutes before kickoff. "I really believe that. I just think it's important to kind of go, 'Hey, we made a statement. Things are going to change here.' This is our Hollywood ending. Most people say winning's not everything, but I'm going to do everything I can to win the game. It might be two or three fake punts. Or if I have to play quarterback myself."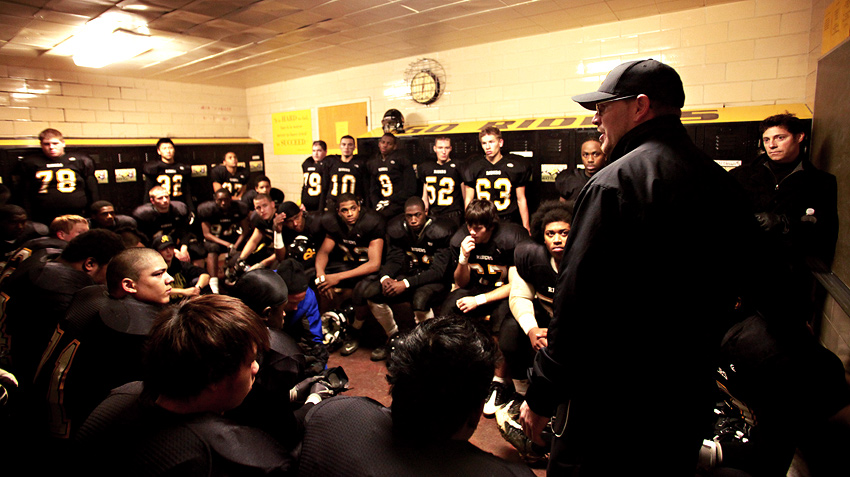 Tom Hauck for ESPN.com
Swain gives his pregame speech.
One last chance for a "W"
The line to get inside the stadium was 400 deep, and in his pregame speech, Swain alluded to the standing-room-only crowd and said, "They're here to let you know that other people do care and you are loved." As the team exited the locker room, the players all hand-slapped the Give Us 48 sign.
In all, 36 Roosevelt players, including JVs, took the field -- twice as many as the year before. The seniors were introduced to the crowd, and a Nike vice president, Craig Cheek, announced that his company was making a significant donation, purported to be $150,000, to help finance new turf for next season. Lomax addressed the crowd, too, exhorting all his SouthLake friends to shout "First doooooooown" every time Roosevelt gained 10 yards. And standing on the other sideline, looking like dead meat, were 19 players from Marshall.
That's the part everyone forgot. There was another team out there just as desperate, just as bare-bones and just as forgotten. Marshall High School also was located in a lower-income area, southeast Portland, and many of its better athletes also had transferred out. The school hadn't even had enough players to field a JV team that week. The only difference was that Marshall had mostly white kids. Other than that, the school was in the same predicament. Those kids' school was in danger of closing. They could've used SouthLake's help, too.
All of that wasn't lost on Swain as he peered over to the other sideline. He had started his coaching career in the Marshall area and knew those were good kids over there, from good homes. Remember the Pietrzyk family he admired so much? Remember how they were going to send their son Nick to Marshall, come hell or high water? Well, all these years later, Marshall's best player was Nick's younger brother, Casey. He'd already accounted for more than 1,500 yards of total offense and 15 touchdowns. Swain knew what no one else seemed to be aware of: Nineteen players or not, winless or not, Marshall wasn't going to cave in.
The opening kickoff proved that point. The Marshall kicker hit a line drive off the thigh of a Roosevelt player, and Marshall recovered. The Minutemen came out in a double-wing offense, a bunched-up formation full of misdirection handoffs and pitches. If a defense was weak against the run, it would find itself in trouble against a double wing. And without Junvonte Tillman, Roosevelt was in trouble.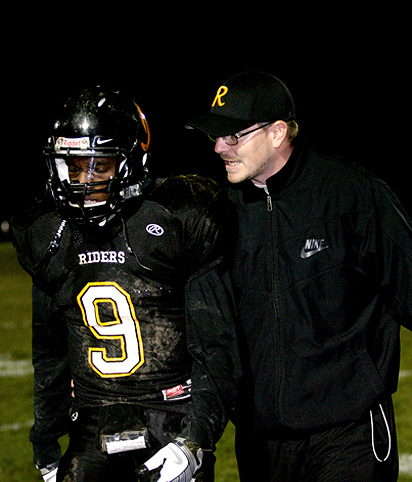 Tom Hauck for ESPN.com
Swain talks with Roman Thompson during the season finale.
On the third play of the game, Pietrzyk carried four Roosevelt players on his back for 9 yards. A minute later, Marshall wingback Chris Owens scored on an 11-yard reverse for a 6-0 lead. Lomax knew he needed to get Perry and Thompson, his two swiftest players, out in space, but a week of rain had turned the field into a sloppy mess. The ball was slick, and later in the first quarter, Perry fumbled away a snap. Marshall then went ahead 12-0 when 245-pound fullback Abraham Cabatic side-stepped Ray Brown for a 6-yard score.
Lomax decided to dial up one of his throwback passes. Perry rolled right and threw crossfield to a wide-open Johnson, but Johnson dropped a possible touchdown. On the same series, Lomax called another throwback from McCloud to Perry, but Marshall stayed at home this time and creamed Perry for a loss. Roosevelt punted, and Pietrzyk returned the kick 65 yards for a touchdown. It was 19-0; SouthLake, the cheerleaders and the band were silent.
Lomax gave up on the gadgets. He simply asked Thompson to run a go route, and Perry, morphing into an actual quarterback, hit him in stride for a 50-yard touchdown. Stewart pooched an onside kick, and Roosevelt recovered. Lomax smelled blood and called the same go route, and this time, the defender climbed Thompson's back for pass interference. A minute later, Perry scored on a 21-yard dash up the middle. While the band played, Roosevelt then converted its first extra points of the season on a rollout pass from Perry to Johnson. The score was suddenly 19-14 with 8:09 left in the half.
All the Roughriders needed was a stop, but Pietrzyk zigzagged 58 yards for a touchdown. It was a dagger. Finally, Lomax went to his sure thing, the throwback pass to Mejia. As he suspected, the tight end was 10 yards in the clear, but Mejia lost the ball in the lights. He looked at Lomax and shrugged. A few minutes later, Pietrzyk rumbled 67 yards for a touchdown to make the halftime score a devastating 33-14.
Half the crowd went to the bonfire to get warm, but it was hotter in the Roosevelt locker room. Swain was yelling for the D-line to stay low, but the problem was that he needed to teach the defenders how to stay low, which is why they should've come to practice. The coach then calmed down and laid it out for his team: "It doesn't matter how many people we bus out here tonight, how many people paint the field, how many people come in and redo your locker room. They still can't give you a win. I can't go over there to Marshall and say, 'Hey, just let us win today.' And I know you don't want that, anyway. You don't want that, do you?"
No, Coach!
"We've got to win the second half 21-0. Period. If they score, we've got to win 28-7. … We've got nothing to lose, guys. We're all we got. These people are out here tonight to make you feel special, and they're going to love you no matter what the scoreboard says. But this isn't about that. It's about us. I still think we can do something special tonight. Matter of fact, I know it. Because I'm just crazy like that. And you guys better get crazy like that in the second half. Go kick their ass!"
The team was stirred up, but even with eight men in the box, Roosevelt couldn't solve the double wing. Marshall kept pitching it to Pietrzyk, who dashed 15 yards for his fourth touchdown. Worse than that, Perry was on the ground -- and not getting up.
Eventually, four teammates had to carry him off the field, his ankle twisted again. But he asked Rachel to retape it and missed only three plays. Lomax kept calling the kid's number, and he ended up scoring on an 8-yard run to make it 39-20. As Perry limped off the field, Lomax yelled, "Stud, you're a stud!" right to his face.
That was the last pleasant moment. Smith fumbled, and Pietrzyk later rambled 79 yards for his fifth touchdown and 350th yard. Ray Brown sprained his knee and had to be carried off. Javon Johnson injured his shin and didn't return. Rachel and Doc Stanford were running here and there. The final was 53-20, officially ending an 0-9 season.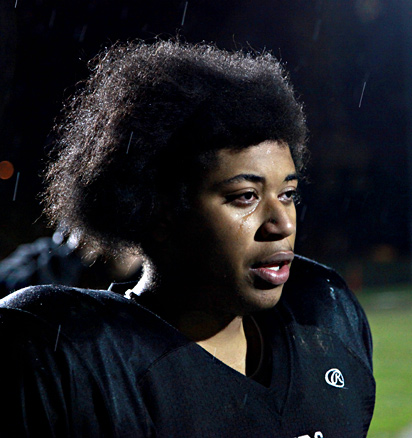 Tom Hauck for ESPN.com
Nolan Stewart shows his emotions after the loss.
Swain called the team over to one of the end zones. It started to rain. He praised the seniors. He told the underclassmen they needed to get in the weight room. Roman Thompson raised his hand and thanked everyone for treating him "like I've been here forever." Nolan Stewart started weeping. Swain then told everyone what Nike was planning. That next year, they'd probably be playing on FieldTurf instead of slop. "But remember," he said, "you guys were the ones that built this stadium. You're the ones that fought it out in the mud."
He told them they had lost nine battles but won a war. He looked around at his core players. For the most part, their lightbulbs had flickered on. Smith had begun making plans to get his own apartment for just him and Anajah. Javon Johnson's teachers told Swain he had made more progress in one year than any student they could remember. Junvonte Tillman and Nolan Stewart were hoping to play football at Swain's old school, Shasta College in Redding, Calif. Mejia was planning to study engineering at Oregon State. Thompson, now an A student, was going back to Texas to show his mom he had wised up. Ray Brown was giving church a try and playing pickup basketball to firm up his body. Perry was looking to take some night classes for extra credit.
Even the ol' NFL quarterback Neil Lomax was a new man. He said he had learned to "ignore the scoreboard" for the first time in his life, but more than that, Lomax had become one of them. The week before the Marshall game, Brown had contracted the flu and vomited all over the locker room floor after practice. And when Swain walked in later that evening, after all the players had left, he found Lomax, on his hands and knees, cleaning up the vomit with a towel. "Neil was talking about, 'Ah, man, poor Ray, he's feeling bad. … I told him to drink some water, we're all in this together,'" Swain remembers. "You tell me how many NFL quarterbacks would be there cleaning up puke in the locker room at 8 o'clock at night at Roosevelt High School. He's a special, special person."
All of this had made Swain thankful, and he didn't want to leave the locker room. While he was milling around, he bumped into a seventh-grader, Kimane Bomena, arguably the best middle school quarterback in the city. Bomena was another Roosevelt Pop Warner kid who lived about a mile from the school and had watched the game out of curiosity. Swain embraced him and said, "You're coming in two years, right? Help's on the way, right?" And Bomena answered, "Oh, yeah, I'm coming. I like the way you coach."
It wasn't until midnight that Swain exited the building, the last one to leave as usual. It was 41 degrees and pouring as he jumped into his gold '99 Taurus. The driver's side window was still stuck wide open, and when he pulled out of the parking lot, his face was immediately drenched. That was fine with him. Now nobody would be able to tell whether it was rain or tears.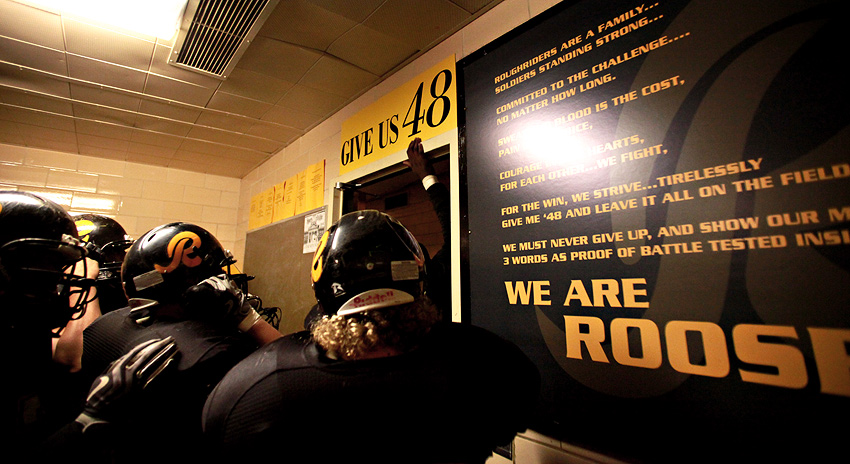 Tom Hauck for ESPN.com
Swain told his players that it didn't matter if they lost a game, as long as they gave 48 minutes of strong effort -- thus, "Give Us 48" became the team's mantra for most of the season.
Tom Friend is a senior writer for ESPN.com and ESPN The Magazine.
Join the conversation about "Friday Night Lite."