EW YORK -- While pedicurists soak, buff, trim and polish our toenails, Johnny Weir describes the costume he plans to wear in this weekend's U.S. Figure Skating Championships. During a news conference a couple of months earlier, he had mentioned the costume had a corset and something else, an, umm … just what was it again?
"A tassel!" Weir says. "That's for the short program. It's black and hot pink. And it's like an oily, black corset with pink cords and this big pink ruffle and then like a black porno leather epaulet that comes out to here and a big pink tassel that comes off of it. People like it."
But will they rush out to buy the replica jersey? I find myself wondering later.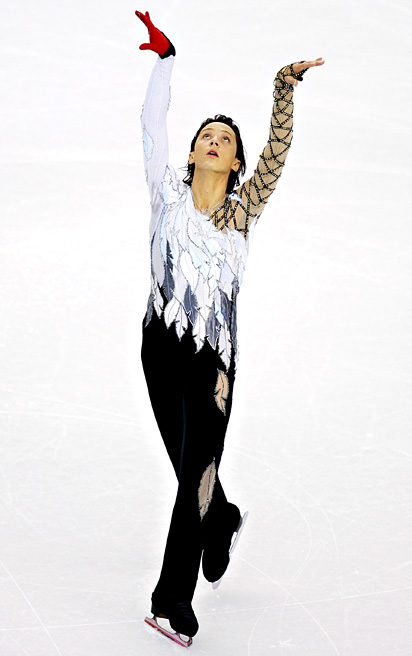 Robert Laberge/Getty Images
Johnny Weir in his swan costume at the Torino Games in 2006.
"For the long program, I'm actually changing the costume as we speak," Weir goes on. "I'm portraying the Fallen Angel, and before, it was this big, white wing coming across my body, and lots of rhinestones and sparkles and way too much. And I had these gorgeous, chalk-colored ribs. I really liked it, but when I saw some pictures and videos of it, it made me look wide because of the white, so I'm changing it. And now my inspiration is sort of -- you know when the seagulls get stuck in the oil spills on your side of the world, up in Alaska and whatnot? When those really pretty white feathers get in the oil just on the tips? That's kind of the inspiration, and we're building it now, but it's the very starting stages."
If you think all this sounds like a little much, even by figure skating standards, think again. Competing at the 2006 Olympics in Torino, Weir wore a swan-inspired costume with glittery, featherlike designs across the chest, crisscrossed strapping over one arm and a single red glove he named Camille. It was as if he had hired the costume designers for Cher and Judas Priest. And after you've stood in front of the entire world wearing something Elton John would consider over-the-top, does it really matter what people think anymore?
"I lost all my shame when I went out there in the Swan," Weir says. "So now I can pretty much go out in anything. I could go out there as a giant banana, and I would feel completely comfortable."
Weir rarely worries about putting himself on public display (in fact, he has a reality show debuting next week). During our afternoon manicure/pedicure, he discusses his costumes, the artistry of his sport, the commercial for his reality show (he hatches from a giant Fabergé egg), his belief that being a good American means also being a citizen of the world, the sacrifices his parents made for him, Vanya (his long-haired Chihuahua), his sex life, man fur, and … well, many topics that Brett Favre does not explore during interviews. My Vikings uniform is topped by this fierce purple helmet with twin white animal horn decals on the sides. No. If Favre did care whether the Vikings' white pants make him look fat (and I'm not saying they do, Brett), he certainly wouldn't admit it to a reporter.
For that matter, Favre probably would not invite a reporter to a swank Fifth Avenue salon for a pedicure and a manicure in the first place.
---
"I mean, really, what's so great about skating anyway? It's basically just gliding and trying not to fall with a couple jumps thrown in, right? And spandex and glitter and egos. Ice blows." -- Katie Van Waldenberg in "Blades of Glory"
---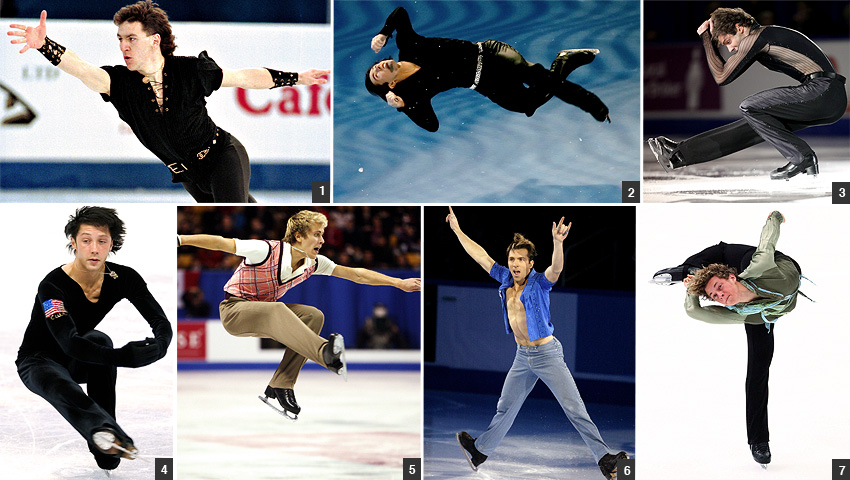 Top left (1-7): AP/Lynne Sladky; Elsa/Getty Images; Geoff Robins/AFP/Getty; Icon SMI; Tom Szczerbowski/US Presswire; Matthew Stockman/Getty; Junko Kimura/Getty.
Skaters in more "masculine" costumes (1-7): Elvis Stojko, Michael Weiss, Alban Preaubert, Weir, Michael Brezina, Weiss and Adam Rippon.
Once upon a time, sequins and feathers were not a required element in men's figure skating. "Up until the late '60s, they wore ties and suits," Elvis Stojko says. "That's the way it was. Then, in the 1970s, they started wearing spandex."
The response in a sports world that worships manliness was obvious and immediate by ice skating's macho men. Stojko, who would ultimately win two Olympic silver medals, injected so many martial arts moves set to pounding music into his skating routines that it looked as though where he really should have been competing was inside the octagon. Olympian Michael Weiss was the first American to land a quadruple toe loop in competition and, in exhibitions, performs a move called the Tornado in which he does a backflip with a full twist. Weiss advertised his masculinity so insistently that few would have been surprised to see him drop down for one-armed push-ups in a costume that included a T-shirt stained from an oil change, a box of Marlboros rolled up in a sleeve and a big skull tattooed across one biceps with the words "Mama Didn't Love Me."
Johnny Weir talks about the high cost of figure skating.

And then there are skaters like Weir.
Weir says skating appeals to him because "it involves everything. Music and emotion and theater, dance, costuming, theatrics. All these things go into one sport -- that's insane. If you're in high school, you can get your theater and your gym all done in one place."
Costumes are so crucial to Weir, he says, that if he were required to wear the same uniform as everyone else, he would switch sports. "Because being a figure skater is about being an individual and being a strong individual. With a very strong voice and personality. And if we were all made to look the same, it wouldn't be as much fun. Maybe I could be a luger." (This might shock you, but Weir says he would like to go into fashion design after his skating career.)
Weir started skating at the relatively advanced age of 12 after trying the usual sports: "I played soccer, and I was the kid who ran the wrong way, or I was pretending to be some sort of zebra and I would flail my arms and kick up my legs." By 16, Weir was the world junior champion. He won the first of three U.S. national championships in 2004 at age 19, and he reached the Olympics in 2006. After nearly quitting the sport in a rough 2009, he'll compete this weekend for a second shot to represent the U.S. at the Olympics.
"I adore him," says Priscilla Hill, who coached Weir from the start of his career until 2007. "There are two things I miss most about not coaching him. One is just watching his incredible talent every day. The second thing is he always knew how to make me laugh."
Two of Weir's best qualities are his openness and his sense of humor. The man is funny. Even after a poor performance in the free program at Torino that cost him a medal, Weir still maintained his sense of humor to reflect on a Web site declaring him a D-list celebrity, "Great, I'm Kathy Griffin." During our manicure, he frequently leaves me tongue-tied with some comment, such as one about the amount of hair on my body: "You are a hobbit! We've talked so much about furriness today. And not good fur. Man fur."
VANCOUVER 2010
The 2010 Olympics are a month away, and we count down with a new blog and in-depth fan guide that looks at the top athletes and past Winter moments. Olympics page
• Caple: Heated competition expected for men's U.S. Figure Skating Championships
• Assael: Johnny being Johnny


• Watch: Full interview and outtakes with Johnny Weir

Of course, sometimes some people haven't appreciated Weir's sense of humor or his strong opinions or his chosen topics. Weir's parents, John and Patti, raised their two sons (Brian, 21, is named after Brian Bosworth) to speak their minds, and Johnny does, almost compulsively so and with little regard for his own well-being. During a teleconference to promote the upcoming U.S. national championship in Spokane, a reporter asked what he thought about spreading the event over two weekends. Weir's immediate reply: "I think it's so stupid."
"That's what I think U.S. Figure Skating has had trouble getting its arms around -- he will honestly tell you what he believes, whether it's what you want to hear or not," Patti Weir says. "I don't see a problem with that. You know where he's coming from."
"The skating world wasn't as used to having somebody doing that," Weir's former coach Hill says. "He has fans all over the world who just adore him because he has such a great soul and is just a very cool person. He just occasionally says things that put him in a bad spot."
Weir says there was a time early in his career when he did listen and keep his mouth shut, but it ended when he felt abandoned by U.S. Figure Skating after a bad performance one year.
"It really helped me find power to say, 'You know what? I'm going to come back and do all of this to spite all of you,'" he says. "And I did. I became the national champion. And since then, I haven't looked back. I'm always 'out there,' as you say."
---
"Just because I like ballet doesn't mean I'm a poof." -- Billy Elliot in the movie and musical "Billy Elliot"
---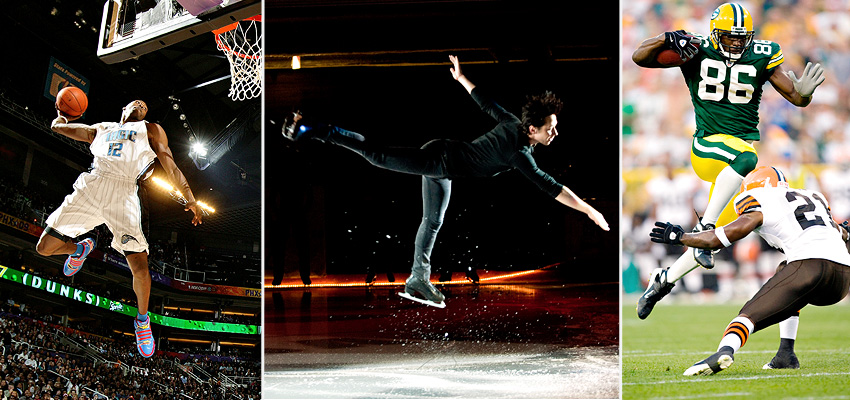 L-R: Nathaniel S. Butler/NBAE/Getty Images, Douglas Healey/Getty Images, Jeff Hanisch/US Presswire
Weir's athleticism is just as much on display as the Orlando Magic's Dwight Howard, left, or Green Bay's Donald Lee.
With our toenails cut and polished and our feet wrapped in bags of liquid wax so warm and pleasant that, Weir assures me, I will pee my pants (fortunately, this proves to be an exaggeration), we move to the other side of the salon for manicures. What, Weir asks, would be wrong with joining my wife for a pedicure or manicure? In truth, there are many reasons, the primary ones being that I'm a slob and that I'm cheap.
I respond, however, with the first thought that comes to mind: "Well, it's never seemed very manly."
Weir says he falls often in practice, and aches all the time.

"There is nothing not manly about taking care of your appearance," Weir insists as the manicurists begin work on his fingernails. "Taking care of your skin, shaving, smelling good. Making sure your nails are nice. You don't need to get them polished, but getting them cut, getting them filed, soaking them, getting them soft. Not like manly, gross, dry, callused hands."
All of which brings up an interesting question: Is figure skating manly? Weir's athleticism is more apparent when he's not in costume for an event. The veins on his forearms stand out like a wrestler's, and he is so fit and toned that he makes Ichiro look fat. All this is a product of disciplined training, diet (while trying to cut down from 132½ to 130½ pounds for nationals, he says, he merely "looks" at lunch) and years of painful falls on the ice.
"I never don't feel beat up," Weir says. "I wake up every day and my eyes have black circles and I'm hungry and I creak and ache and hurt, and it's a mess. When you land a triple or a double, it's something crazy like 400 times your body weight that you're hitting with impact. So even if you weigh 70 pounds, that's still a lot of force you're putting on your body. It's hard. That's why the ages are so young when people have to get out of the sport. That's why, at 25, I'm old for the sport."
Figure skating requires a level of strength, balance and agility that few other athletes can match. Imagine leaping high and powerfully enough to spin your entire body four revolutions, then landing flawlessly on a quarter-inch metal blade and continuing to skate. Imagine following that quad immediately with another leap in which you spin your body three times. Or imagine doing it while skating backward. Or imagine … hell, just imagine doing anything on ice without falling on your ass.
"People don't necessarily think it's a real sport because we make it look easy," Weir says. "We're not out there tackling or being tackled or checking or running hard. It looks effortless and graceful and all these things, yet I would challenge any football player or baseball player, especially baseball players. How you can weigh 300 pounds and play a sport and get paid millions of dollars to do it, I'll never know, and all you have to do is run around bases. [In skating,] everything is on us. We have no team out there; we've got no padding. It's hard, hard work."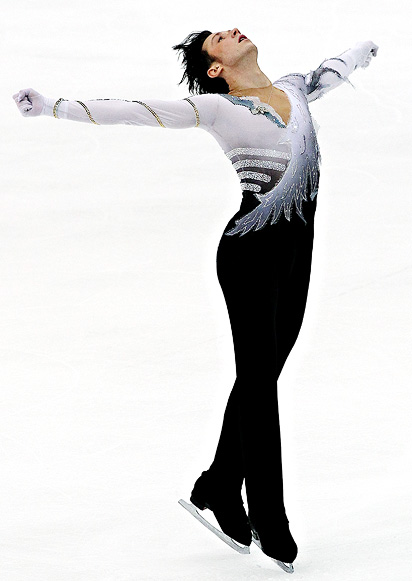 Junko Kimura/Getty Images
Weir at the ISU Grand Prix of Figure Skating in Nagano.
Of course, it would be a lot easier to argue that figure skating is as manly as, say, football, if it weren't for the costumes.
And the sequins.
And the glitter.
And the makeup.
And the judges.
And the kiss-and-cry zones where the skaters sit nervously and wait for their scores while holding stuffed animals and flowers tossed by fans.
But even all that is a matter of perspective.
After all, don't football players occasionally hold hands in the huddle and wear knee-length pants in golds, silvers and ruby reds so shocking that Carrie Bradshaw would think twice about wearing them in public? Don't baseball players wear equally brightly colored socks under pajama bottoms and slap one another on the rear end? Don't basketball players wear tank tops and shorts and link their arms on the bench in dramatic moments? Golfers wear sweater vests. Cyclists wear tight Lycra shorts and, well, ride bicycles.
But that's all macho, right? Not like those dainty figure skaters.
There was a great split-panel cartoon in The New Yorker a couple of years ago. The first panel showed two men from the back, one with his hand touching the other's rear end. The caption beneath read: "Gay." The second panel showed two men in the same hand-on-the-behind pose, only they wore baseball uniforms. The caption under this panel read: "Not gay."
Context is everything.
"For me, I'm lucky that I've traveled so much of the world and seen so many things and for me, masculinity is completely subjective," Weir says. "Here, a male ballet dancer would get beat up and left on the side of the road. But in Russia, he is No. 1, he is what a man is. That kind of passion and control. In Japan, masculinity is making sure your hair is completely gelled and coiffed and that you're dressed and decked to the nines. Masculinity is what you make it out to be. Here in the U.S., not everyone feels the same way."
Especially not when they see a man pose shirtless in a pair of skintight running pants and women's stiletto heels, as Weir once did.
Not surprisingly, Weir's pose was controversial. But Patti Weir asks why so many focus on Weir's photo shoot but don't bring up reigning world champion Evan Lysacek's modeling spread in which he was pictured in his underwear, plus one shot in which he pulled his pants so low the IOC could have conducted a gender test. Could it be that our viewpoints can be conveniently inconsistent at times?
Weir answers the question about what superpower he would like to possess.

"They had a fit over Weir in track pants, and here is Evan all but naked, jumping around and leaving nothing to the imagination," she says. "How come you're fine with this but go off on my son for wearing track pants? Granted, he was wearing heels."
Skating fans talk about how Lysacek, who dated ice dancer Tanith Belbin (the 2006 Page 2 Hottest Female Athlete), brings masculinity to the sport, and the skater has talked about bringing that aspect to his costumes, as well. When I bring up these thoughts on masculinity versus artistry, Weir smiles dismissively and points out that Lysacek wears a costume designed by Vera Wang.
As open as Weir is about so much, he declines to say whether he's gay or straight when I inevitably (and awkwardly) broach the topic.
Why, he asks, do people want to know?
Err, ummm, well …
"Are people titillated by it?" he says. "With that kind of thing, I don't see the importance of revealing anything about yourself. I'm looking at you, and you are just you. I don't care if you're married or gay. All these things make you you. So whether it's gay, Asian, lesbian, whatever, Jehovah's Witness, these things make people up. It's not the most important thing whether someone is gay or not.
"I want to be judged by who I am, not what I am. I mean, I am Johnny Weir. Judge me the way you see me, love me the way you see me, hate me the way you see me. All these things make me up, and sexuality and having sex is the least that people should worry about."
He says the issue is moot, anyway, because he doesn't have time for sex while he's training. "You know what?" Weir says, "the closest I get to sex is shopping."
This last sentence probably will not boost his street cred with football fans.
---
"When Brian Boitano traveled through time
To the year 3010
He fought the evil robot kings
And saved the human race again
And when Brian Boitano built the pyramids
He beat up Kublai Khan
'Cuz Brian Boitano doesn't take s--- from anybody."
-- "What Would Brian Boitano Do?" from the "South Park" movie
---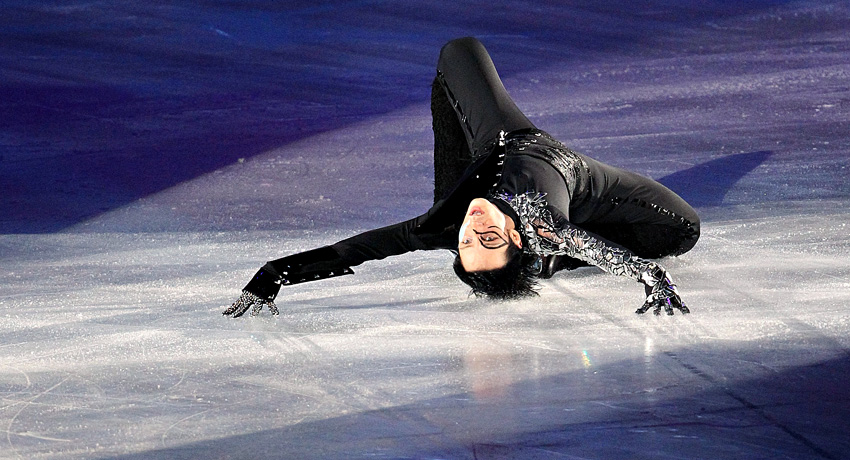 Junko Kimura/Getty Images
Weir displays his grace and athleticism at the ISU Grand Prix of Figure Skating final in Tokyo in December.
Full disclosure time. I like figure skating. And I'm not embarrassed to say so.
At its best, figure skating not only blends incredible athletic ability with sublime artistry but also comes with a good soundtrack. Nail all three of those elements and you have a transcendent moment, such as Philippe Candeloro's D'Artagnan routine at the 1998 Nagano Olympics, in which his blades slashed across the ice as though he were in a sword fight. One of my favorite moments from more than a quarter-century covering sports was Brian Boitano's gliding across the rink in sweeping curves (a move called a spread eagle) as Aaron Copland's "Appalachian Spring" swelled during the men's long program at the 1994 Lillehammer Olympics. I felt a lump in my throat and the hair rise on my arm … and mind you, Boitano finished sixth.
Weir explains what he can and can't control in his career.

"There always is that moment in my sport when, even if you're totally not a figure skating fan, it catches your breath and you're like 'Ulp!' watching it," Weir says. "Because something will catch you and it's so beautiful. And that's another thing that's fun. Any skater can create that moment for any fan watching. There can be a moment that catches you or touches you and is special to you in some way like Brian Boitano's spread eagle for you. And in football, I don't think they can do that."
The flip side, however, is that when a skater misses badly with just one of those elements, you wind up with a moment ripe for parody. You wind up with the Will Ferrell comedy "Blades of Glory," which, in an early scene, mocks Weir's Swan routine in the 2006 Olympics when Jon Heder flaps his arm and skates the Galloping Peacock. ("Jimmy may be renowned for his personal hygiene, Scott, but after that performance, he's starting to reek … of gold.")
In the end, though, sport isn't about being manly -- try lecturing Candace Parker, who returned to the basketball court six weeks after giving birth, about "manning up." It doesn't matter whether you're male or female, straight or gay, as outrageous as Johnny Weir or as traditional as Brian Urlacher. It doesn't matter whether you wear a feather boa and a pink, paisley jacket with sequined cuffs (as Jesse Ventura wore as a wrestler) or jeans and a T-shirt (as Ben Agosto wore in an ice-dancing routine several years ago). And it doesn't matter whether you're a bloodied heavyweight boxer or a 260-pound baseball player or a male golfer so lacking in muscle tone that you need a bra.
What matters is whether you have the physical and mental strength to repeatedly challenge yourself against others at the highest level. What matters is whether you're an athlete.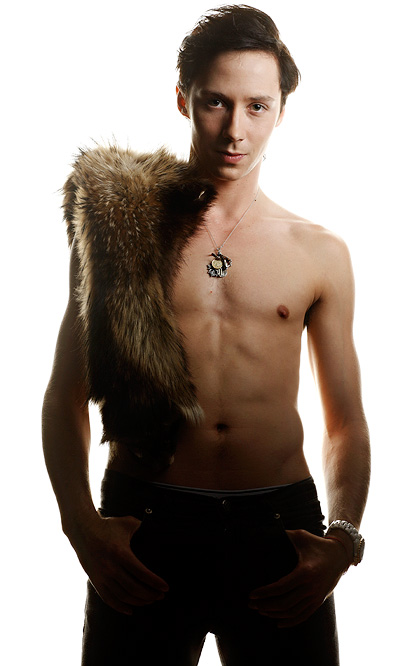 John Gress/Icon SMI

Oh yes, there will be fur.
And Weir is, sequins be damned. It isn't about what he wears on the ice, it's about what he does on the ice.
"Most people … would say masculinity is a football player or, you know, the hotheaded, strong-minded businessman. Something like that," Weir says. "That's masculine here, but around the world, it changes, depending as far as where you are or what the culture is. For me, I skate as masculine as I can. I'm not a big strong guy. I'm not interested in fighting or throwing punches or balling my hands in fists all day. I'm not interested in guns, I'm not interested in football or stereotypically masculine things, so I'm going to skate in a fashion that is manly for Johnny Weir.
"That's kind of a strange answer, but that's my opinion. Masculinity is exactly what you make it."
What will Weir do on the ice at nationals? He nearly quit figure skating this past spring after missing the world championships but eventually decided it would be stupid to quit so close to another Olympics after devoting so many years to the sport. Gaining strength as an underdog, he says he is determined to go out with a bang.
"My whole career, I've had an issue with always kind of being an underdog and making a big mistake when it counts and falling and having to climb back up," he says. "One moment everything will be peachy and everyone will be saying the nicest things about me and loving me, and the next minute I'm the worst, I'm evil, all these things. It's like a fallen angel. For me, I feel very much that I can portray that character. Because it's my career and my life."
The manicure finished, Weir pays his bill and leaves a generous tip. Then he slips into a long coat and pulls on a fur hat that would not be out of place on the head of Oksana Baiul. He steps into a just-developing blizzard that will drop a foot of snow on New York by morning. Weir needs to get back to his apartment in New Jersey, but first, he has a fitting with his costume designer.
The Fallen Angel costume, he promises, will have fur.
Jim Caple is a senior writer for ESPN.com.
Join the conversation about "Johnny Weir is a Real Man."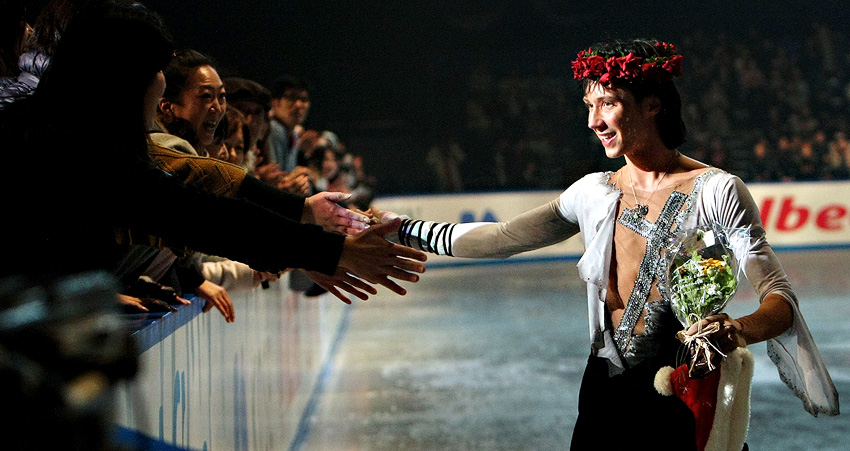 Junko Kimura/Getty Images
Fans greet Weir in Tokyo in November 2008.