OTL: Higher Calling
EW YORK -- It is Dec. 27, two days after Christmas, a holiday once religious but turned overwhelmingly commercial. Tony Dungy, himself a deeply religious man, navigates a world in which sport was once viewed as vital to building character but now is dominated by the dollar, with all other considerations rendered secondary.
He speaks deliberately and enthusiastically over hot tea and orange juice. Tony Dungy maintains an unhurried demeanor, but his mind nevertheless is split between the past and the future: The self-recriminations of opportunity lost are balanced against the regenerative power of what is possible. He speaks with his hands, the large, nimble hands of a former athlete. His back is to the expanse of the dining room of The London, a boutique midtown hotel, and thus he is oblivious to the star-struck patrons gawking at him, pointing surreptitiously in recognition of little more than the back of Dungy's head.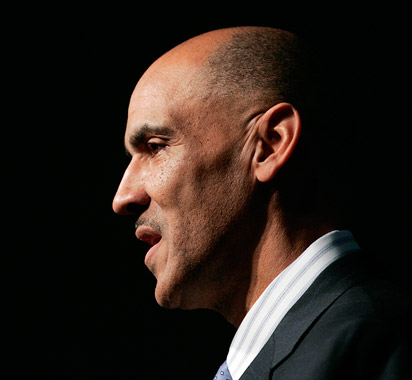 AP Photo/Michael Conroy
Former Indianapolis Colts coach Tony Dungy has emerged as one of the NFL's most powerful men.
It's not salaries or strategies, endorsement opportunities or even another championship run by the team he coached for seven years, the Indianapolis Colts, that are on his mind, but how, 4½ years later, he still regrets what he sees as a major failure: He believes he could have saved the life Michael Vick once had, the one he'll never have again.
Long after the fact, he is still massaging the details in his mind as though he were balancing a handful of marbles between his fingers. His eyes squint sharply, ruefully, the way eyes do when you missed a chance by a sliver.
"It was preseason. We were in Japan for a game against the Falcons, and we went around to different events to promote the game, Jim Mora, Peyton [Manning], Mike Vick, myself," Dungy says. "I got to know him a little bit. We talked about some things. Warrick Dunn told him I liked to fish. We agreed when we got back home we would get together and go fishing. It never happened.
"When the dogfighting stuff came out, I never stopped thinking about that. If we had eight hours on the boat, maybe I would've found out about it. Maybe everything would have turned out differently. Maybe it all would've been different."
At that time, according to court documents, Michael Vick was deeply involved in -- indeed bankrolling -- a criminal dogfighting operation, a fact Dungy acknowledges with a vigorous nod this December day. Yes, eight months earlier, Vick had signed a massive 10-year, $130 million contract, was the highest-profile superstar in a league full of them and, yes, had the most to lose by revealing his double life. Still, Dungy feels that if given the opportunity, if the proposed fishing trip had become a reality, he could have been the one to redirect Vick from his ultimately destructive path.
"Who knows?" Dungy says seriously. "One of the things I've been surprised by is what people will tell you in the right environment, what they'll say if something is really weighing on them."
What type of individual honestly believes that, given a single afternoon on the soft water casting a fishing line into the sea, he could have been the one to change the course of another person's history? He offers a brief smile at the suggestion that entertaining such thoughts is a supreme example of naivete, arrogance, confidence, all of the above. But Dungy, whom close friends have called a messenger of God, cuts a different figure from many of his peers, one born of faith, the loss of a child and commitment. He believes deeply in his powers to reach and rehabilitate by listening, by extending to others in ways that seem to expand his borders beyond the self while also feeding it. It seems as though his reclamation projects are not the only people Dungy is attempting to make whole again.
Bob Ley talks with Howard Bryant about Tony Dungy's influence in the NFL.

In his first year outside the NFL since the early 1980s, Dungy is a unique and powerful figure. He has developed an enormous broadcast profile while emerging as a confidant of NFL owners, coaches and the commissioner himself. He is a connected insider, yet strives to maintain a special rapport and credibility with the country's disadvantaged.
Unlike many of the league's ex-coaches, who use the broadcast booth as a paid hammock until another position on the sideline opens, Dungy has used the platform to establish himself as a substantive voice.
On a recent broadcast, Dungy offered a withering criticism of the dearth of African-American collegiate football coaches. On another, he was harsh in his assessment of former Kansas City Chiefs running back Larry Johnson, whose career in Kansas City reached a sudden, controversial end. At a time when deep and divisive labor issues are beginning to intensify, Dungy allowed himself to be positioned as a bridge between management and the players, appearing on air with Roger Goodell, jointly announcing -- and thus tacitly endorsing -- the commissioner's plan to hold "town halls" with players around the league.
Perhaps most important of all, in a sports culture whose influence has been reduced by gluttony -- basketball coaches caught having sex in restaurants, golfers said to be having sex everywhere, too much money, too many guns, too much temptation to earn more at the expense of accountability, decency, self-respect -- 54-year-old Dungy often is viewed as the moral compass of American sports. In this time of Tiger Woods, Rick Pitino, Mark McGwire and all the others who have turned out not to be what they seemed, moral clout is Dungy's capital.
"The words and the deeds never match up totally. You have to know that," Dungy said of himself. "I think people can look at my motives and say that they're pure. That's why I resonate with guys. I'm not in it for something. I might be wrong in the way I do something, but they know I'm not in it to betray someone's situation."
With that comes power. For owners unsure of the latest troubled athlete in need of a second chance, the Dungy imprimatur -- or lack of same -- can provide the Good Housekeeping seal or the killing third strike. He is uniquely positioned, the serious power broker, the voice upon which the powerful often depend to mediate the gap between themselves and their young, immensely wealthy employees.
He cannot, of course, provide redemption. Messengers do not have that power. Although it is a role he says he has never actively sought, it is also one Dungy does not discourage. He has accepted the mission, and the rare and subtle combination of nationwide respect and moral authority have transformed Dungy into one of sport's most powerful figures, and he is at once aware that he must gauge whether those seeking his help are only using him to launder their soiled images or truly desire redemption.
"The people I've tried to invest in, whether they are famous or unknown, it has always been with people who are going to try to do the right thing," Dungy said. "There may be some people I chose not to work with and they may have been willing to do the kind of work I didn't think they were capable of, and thus I was wrong about them. But there hasn't been that person yet who fooled me, who I was willing to put my time into and then found out they weren't willing to make any effort."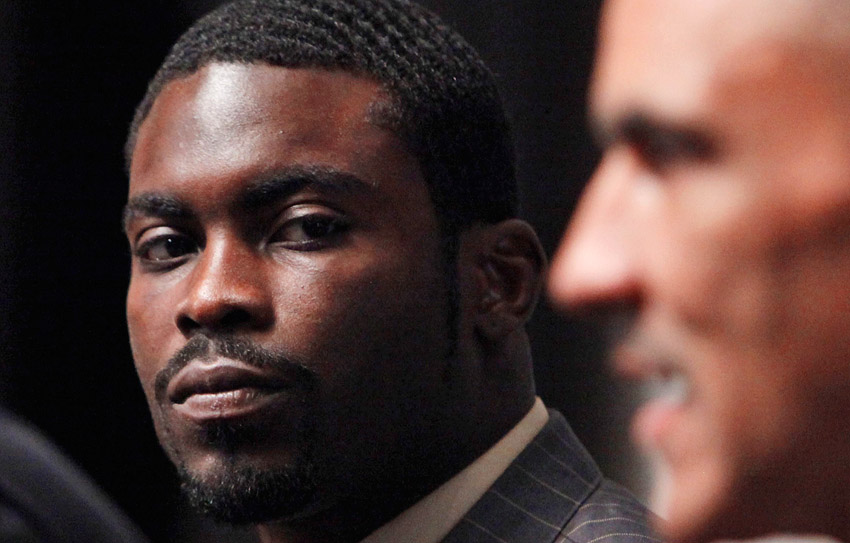 AP Photo/Matt Rourke
"If we had eight hours on the boat, maybe I would've found out about it," Tony Dungy says about quarterback Michael Vick's involvement with dogfighting. "Maybe everything would have turned out differently."
More to life than a Super Bowl ring
The culture creates stars, though perhaps it is more accurate to say it creates comets. At first glance, it would appear that Dungy -- the son of two teachers, a star athlete from his teenage years, then a Super Bowl winner as a player and a coach -- is merely the latest to light the night sky, but his quest seems to carry more depth than to be simply the job candidate du jour. All of it is so fickle: who becomes the star of the moment, how reputations can be altered seemingly from touchdown to touchdown, who gets to do the speaking for whom and when.
The perception of Dungy epitomizes the phenomenon. Three years ago, his Indianapolis Colts trailed the New England Patriots 21-3 at home in the AFC Championship Game. Dungy and his team were as talented as their rivals, he as respected as his counterpart on the opposite sideline, Bill Belichick. Yet the Patriots had handled the Colts in the postseason, had won three Super Bowls while the Colts had not advanced to the season's showcase since 1971, when the Baltimore Colts beat the Dallas Cowboys 16-13 in Super Bowl V. The words already were being tapped out on laptops across the country, repeated off the record on the inside by scouts, on the outside by the mainstream media and blogosphere alike, maybe even permeating the minds of results-oriented players. Tony Dungy, nice guy. Can't win the big one. Not tough enough.
BEHIND THE STORY
ESPN.com senior writer Howard Bryant discusses his "Outside the Lines" story about Tony Dungy's work away from the football field. Listen to the podcast

In a stunner, the Colts recovered in the second half and defeated the Patriots 38-34, then beat the Chicago Bears in the Super Bowl. In those two weeks, Dungy became transformed, the first African-American head coach to win the championship, repudiating the idea that his measured, dignified methodology could not work. Dungy coached two more seasons and, after the Colts lost to the San Diego Chargers in the playoffs, retired.
During the Super Bowl, Dick Ebersol, the top man at NBC Sports, approached Dungy about a major role on NBC. The show he had in mind, "Football Night in America," Ebersol told Dungy, would be different from the yuk-it-up format of the Sunday afternoon football shows. As part of the NBC Sunday night team, Dungy would have the national audience to himself, and not only would the network not stand in the way if he wanted to go in a more serious direction but Ebersol offered Dungy the freedom to expand on issues about which he felt passionate.
"When Joe Greene retired, he went into the broadcasting and didn't last," Dungy says. "He told me, 'They only want you to be controversial.' I never thought about it. It was Dick who left it up to me. I told him I wanted to give the viewers information. He told me to talk to the audience as though I were talking to my team."
The Dungy way has coalesced around big media. In 2007, Dungy wrote a book, "Quiet Strength," that became a runaway best-seller. Combined with his television presence, he now had a powerful forum. Dungy's television presence -- where he partners with Dan Patrick, Rodney Harrison, Bob Costas and Keith Olbermann -- is one that, because of the power of his words and the strength of his connections to the leaders of his sport, quickly emerged into a potential newsmaker each week.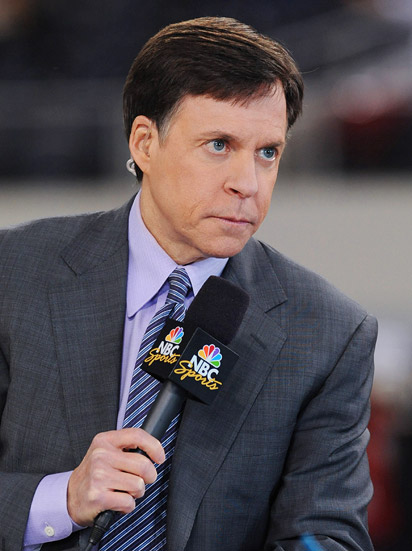 Al Messerschmidt/Getty Images
NBC's Bob Costas says Dungy makes strong statements without turning harshly personal.
"In truth, I'm pleasantly surprised. I thought he'd be pretty good, but I'm surprised he's this good," Costas says. "He's not grabbing you by the lapels and shaking you. He makes some declarative and bold statements, but never grandstands when doing it. He never makes things harshly personal. He can criticize without drawing blood, and that is actually what makes him effective over time. You can only slash and burn so many times before people say that's his shtick. He has no shtick."
Herm Edwards, the former defensive back and coach who has been a good friend of Dungy's for 30 years, says Dungy is merely reflecting the approach he has wanted to cultivate since playing under Chuck Noll with the Pittsburgh Steelers. Dungy saw that Noll could be respected by players without dotting every other sentence with an expletive. He had decided that if he ever received the top job, he was not going to be another sadistic football coach whose ego was soothed by berating players.
Nor, Dungy decided, would he make the game inaccessible, as so many coaches do, treating a football playbook as though it were a classified CIA document.
"Tony's always been a guy with great vision and great integrity, a man for whom the words and the life match up," says Edwards, who is an NFL analyst for ESPN. "As a coordinator or as position coach, this guy didn't fit the profile. He wasn't going to yell and scream for effect. Then you watch him and you're saying, 'Wow.' He has faith, family and occupation. People say they have faith, but faith is something you can't see.
"Too often, people equate discipline with cursing. When you go to Catholic school, the nuns don't curse a word, but you get discipline. Here's the thing about Tony, when he backs you, what he's saying is, 'I'm putting my name on the line for you.' It's like talking to your dad. Nobody wants to disappoint him."
According to Edwards, there was always a force -- or several forces -- pulling at Dungy. When people would ask Edwards about Dungy, he would use the same line: "He works as a football coach, but that's not who he is." It's a phrase Dungy confirmed when he walked away from a perennial Super Bowl contender.
He immersed himself even more deeply in the community, visiting Indiana prisons, offering the path of re-entry -- and, by extension, redemption -- to the state's inmates. Always, the backbone was the church.
"At the time, Indianapolis had its highest homicide rate and lowest graduation rate. I asked myself, how else can I use this platform?" Dungy says. "There are other things I can do. I had been coaching 28 years. There was more the Lord had for me to do."
Risk and rehabilitation
Had it been his first time to a prison, Dungy said, he would have been intimidated the day he flew to Leavenworth to meet Michael Vick in prison. What struck him instead was the bitter and pointless contrast of it all: Vick, the electric master of the open field somber and confined to a room that was 10 feet by 16 feet. And that was where they sat, in that little box, Vick, Dungy and Vick's attorney, celebrity lawyer Billy Martin. Vick was no longer wearing a $7,500 suit but rather a state-issued prison jumpsuit. After 15 minutes, Martin excused himself, leaving Vick and Dungy to talk for the next two hours.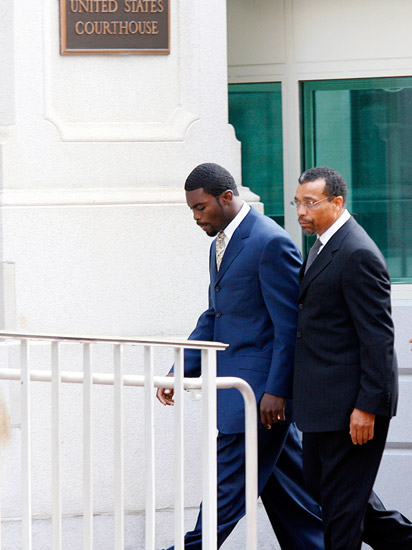 Geoff Burke/US Presswire
Vick (left) and lawyer Billy Martin enter the federal courts building in Richmond, Va., before Vick's plea hearing on federal dogfighting charges on Aug. 27, 2007.
The fishing trip that never was has stayed with Dungy, and it affected him even more acutely in that room. Vick's double life had completely unraveled. Vick was nearing completion of his 23-month prison sentence for his role in funding the dogfighting operation. Dungy's wife, Lauren, had grown up in Pittsburgh, the same hometown as Martin, and, at her suggestion, Dungy reached out to Martin to discuss ways Dungy might be able to assist Vick. Dungy met with Martin, and the two men flew to Kansas to visit Vick.
"We were in a little room, like a holding pen. We went to the visitor's quarters. The guards were watching," Dungy said. "You sort of ask yourself how does he end up here? Then you realize you have guys that hadn't Michael Vick ability, but they had talent, and they end up in that situation. And it's surreal how many times you see it. You ask, 'How do we break the cycle? How's he going to break his own cycle?' When I do a mass talk at a prison, it's incredible, but that's what you see. So many 19-, 20-, 21-year-old African-American men."
In their conversations, Dungy said he did not require Vick to embrace Christianity for them to work together. "I always ask about religion because it gives me a direction of where they need to go," he said. "If they say it's something I've considered, then we can talk about it, because maybe there is a lesson the Lord may be trying to teach. If someone says religion isn't really important in my life or they aren't of the Christian faith, that doesn't mean I'm going to stop dealing with them. It just means I have to go about it in a different way."
It was a risky move. Vick was radioactive, for the heinousness of his crimes and for his infamous meeting with Goodell two years earlier, when Vick told Goodell unequivocally that he was not involved with dogfighting. Privately, Dungy's friends were unsure why he would risk his name for Vick, whose level of contrition was, at best, unknown. Dungy flew to Kansas, to the federal prison in Leavenworth, to meet with Vick. Dungy recalls Vick asking him, "How can I prove I've changed?"
"I asked him what he wanted to do. I told him he was blessed with a lot of things and had wasted them all," Dungy says. "I remember asking him a lot of questions. 'Why are you in prison?' 'Why are you not playing?' After those four hours, I was convinced he wanted to make it right. For the first time, he wanted to make it right."
On the strength of the Dungy name, Dungy, Billy Martin and Dr. Harry Edwards, a sociologist and San Francisco 49ers consultant, began to canvass the league. First came negotiations with Goodell, followed by meetings with individual owners. There were no takers.
"Michael Vick is not a horrible human being," Harry Edwards says. "On the other hand, he looked Roger right in the eye and said, 'I have no involvement in dogfighting.' Whether or not Tony could have done something about it, well, you never know what could happen with two guys on the bank of the river with two beers and a fishing pole, but this was not Tony Dungy's responsibility. This was Michael Vick's responsibility. This was not the league's responsibility. This was Michael Vick's responsibility. Michael Vick was the one who got involved with the dogfighting. He's the one who is going to be disciplined, the one who is going to want the second chance.
"If he goes to the supermarket and busts open a bag of puppy chow, it's going to be headlines," Edwards says. "It will always be on him, but if he could demonstrate he deserves another chance, he should have one. The regimen should be authentic, and I give that credit to Tony."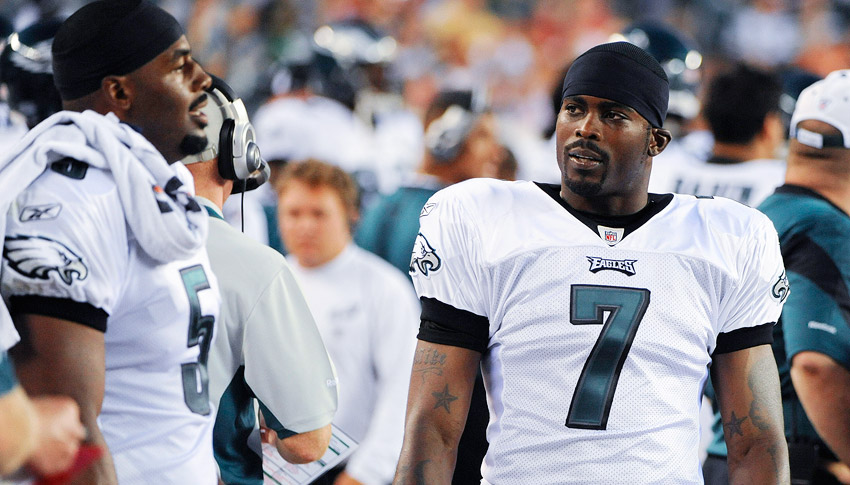 Howard Smith/US Presswire
Vick is responsible for his own mistakes, Dr. Harry Edwards says, and must be authentic in his efforts to show he deserves a second chance.
A great -- and selfless -- counselor
On Sept. 3, Boise State University defeated the University of Oregon 19-8. As the two teams left the field, Oregon running back LeGarrette Blount punched Boise State linebacker Byron Hout, knocking him to the ground. Chip Kelly, coaching in his first game as Oregon coach, found himself with a firestorm on his hands, and he suspended Blount for the entire season.
Kelly was not sure he had done the right thing, that he had not overreacted. He had never had to deal with a situation of similar magnitude, but he knew he would be perceived as indecisive -- or worse, weak -- if he reneged on his decision. The video of Blount punching Hout had gone viral, spreading across the Internet, dominating the national news cycle for a day or so.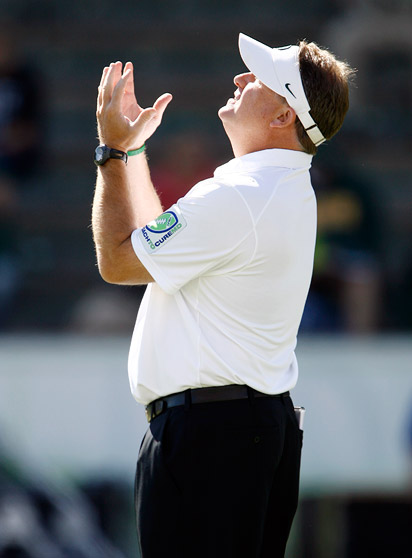 Joe Nicholson/US Presswire
Oregon football coach Chip Kelly had never spoken with Dungy, but thought the former coach could help LeGarrette Blount.
Although Kelly had never spoken to Tony Dungy in his life, he thought the former coach might be able to help him with his dilemma. Dungy was contacted in the same fashion that virtually all high-level connections take place -- through well-placed mutual acquaintances. Kelly's agent, David Dunn of Athletes First, represented many of Dungy's former players, such as John Lynch. Kelly approached Dunn and asked whether he would broker a connection with Dungy. Kelly had read Dungy's book and admired the way he handled himself.
Meanwhile, James Harris, who worked at Oregon, approached Kelly. Harris had been an intern with the San Francisco 49ers and suggested to Kelly that he contact Harry Edwards, best known for organizing the 1968 Summer Olympics boycott that led to the fusing of sport and society in a way unseen before or since. Edwards, whose path had crossed Dungy's frequently in the past quarter century, knew Dungy well. Both had worked with the at-risk black male population; Dungy visited prisons in Indianapolis, Edwards in San Francisco. Dungy agreed to get involved.
"When this thing came down, Chip gave me a call. I flew up to Oregon to sit down with him," Edwards recalls. "He said, 'You saw the incident, I believe it looked worse than it was, but images have a way of taking hold.' He asked me if there was anybody who I thought could talk to the young man. I told him Tony Dungy was a man of impeccable integrity, who understands young men."
Dungy called Kelly and told him he wanted to speak to Blount. When Dungy reached Blount, the two spoke by telephone for more than two hours. "Chip told me he needed advice," Dungy says. "He wasn't sure by suspending him for the whole season that he had done the right thing. He said he was going to be criticized if he brought him back. I told him to have the conviction of his decision. Granting the second chance is up to you. What he does with it is up to LeGarrette."
Says Kelly: "I can't thank him enough for everything he's done. It says what kind of heart he has. I know I've learned a lot from him. He didn't know Chip Kelly or LeGarrette Blount on Sept. 2, and the next the day he was willing to reach out to us? He's a great counselor."
The question of why is never too far away when people try to assess Tony Dungy. Why would he stick his neck out for Michael Vick or LeGarrette Blount or anyone? The gravitational pull Dungy feels toward rehabilitation is apparent, certainly at least some of its roots originating in pain, personal and impenetrable. And the righteous man must find a way to transfer pain into purpose.
Three days before Christmas 2005, Dungy's 18-year-old son, Jamie, took his own life. Dungy explains that his family -- his wife, especially -- cannot bear the constant reminders, and thus does not want to discuss what occurred or its effects on his family. His confidants, however, believe that his willingness to be vulnerable in public only increased the respect for him, which already was high.
"The man buried his own child," Herm Edwards says. "When you have kids, you never think of burying your own child. Tony has always been committed to people, committed to his faith, so I can't say that he has put himself deeper into people because he had personal tragedy. But I do think it has had an impact. How could it not?"
When he is at his worst, Dungy considers himself fortunate that he relies on a long-standing support group.
"I'm pretty fortunate," he said. "My wife has been a good sounding board. She knows me. Guys like Jim Caldwell and Clyde Christensen. I always bounce things off of them. The pastor that has been in my life since I was in Pittsburgh, Richard Farmer, has always been there. We've both moved on, but I have a lot of people who I feel I can talk to."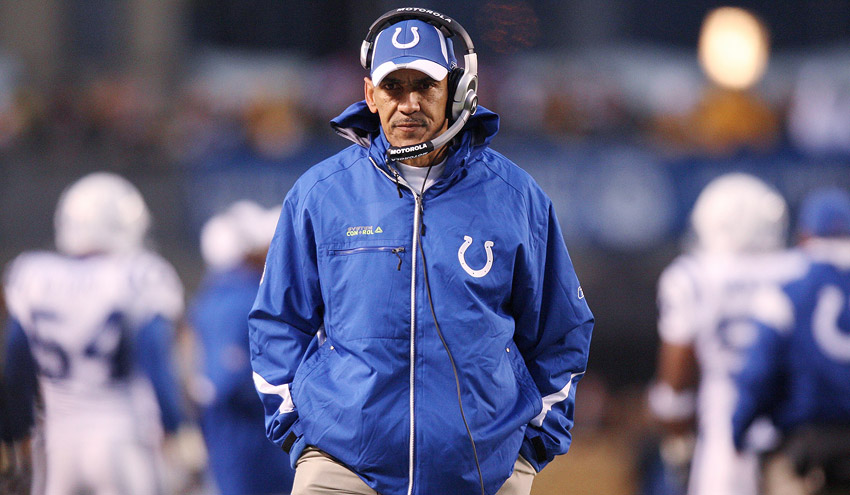 Jason Bridge/US Presswire
When Dungy walked away from the Colts, he walked away from a perennial Super Bowl contender and immersed himself in work off the field, including visiting inmates in Indiana prisons.
A long-awaited successor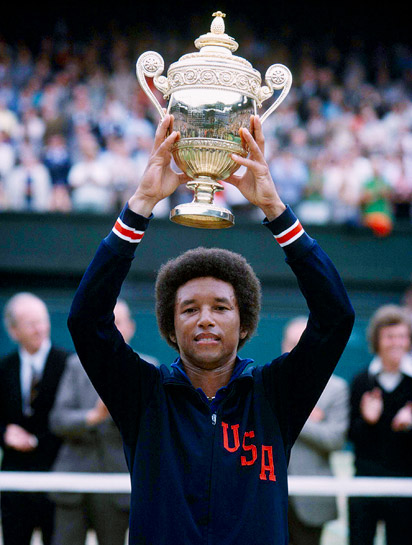 Gerry Cranham/Offside Sports/US Presswire
Arthur Ashe, after winning the Wimbledon title in 1975. "Finally," Harry Edwards says, "someone has come onto the national scene to serve that bridge function left vacant after Arthur died."
The worlds Dungy straddles could not be more different, which makes him invaluable. He connects to the young black men who are, overwhelmingly, the financial fuel of top-level collegiate and professional sports. Yet Dungy also has managed to cultivate the men in suits, the men who sign the checks, the ones who have little or no connection to African-Americans outside of athletics (indeed, some owners are removed from their own teams), the ones who might be too insulated from the black perspective.
"The first time I met Arthur Ashe, I was organizing, and here's this guy with a big Afro playing in these lily-white country clubs. So I approached him and asked him for his support," Harry Edwards says. "Now, I wanted him to say what Bill Russell had said, that it was about time, but he said, 'Harry, that's not my way.' And I walked away thinking that he was an Uncle Tom.
"And then I came to appreciate the imperativeness of his way. At some point everyone is going to have to sit at the table and come up with solutions to the problems we face in society. Without Arthur Ashe, without that lesson, I still would have been on the other side of the fence. And that's the role Tony plays. Finally, someone has come onto the national scene to serve that bridge function left vacant after Arthur died."
In the world of 21st-century sports, Dungy cuts a unique figure. He is as close to power as any individual in the game. He is being courted by the Seattle Seahawks for a key front-office position, and is on the short list of virtually every club with a major job opening. Goodell works with him in connecting to the players. Dungy is the man in the boardroom, a valuable place to be.
Yet he connects to what could be described as the antithesis of power -- young African-American men, many at-risk, many in professional sports. He is rooted in the church, and thus, so are his politics. Consistent with his Christianity, he has publicly supported marriage as being defined only as a bond between a man and a woman, but he has contributed to the Indiana Democratic Party. His success and standing have created immense financial opportunities. He is in position, connected and popular, to become both an insider and a brand. As of yet, Dungy has largely shunned the endorsement route of some of his peers, appearing only in a Motorola advertisement when he was coaching.
"No one had replaced Arthur since he died," Harry Edwards says. "Tony did that. What made Dr. [Martin Luther] King so effective wasn't the sincerity and authenticity of his positions but that there was a genuine counterperspective where people said, 'Hey, this guy makes more sense.'
"I played that role for a lot of years. When the applecart needed turning over, I turned it over. Tony sorts through the apples, tosses the bad ones, polishes the good ones. Someone has to play that role."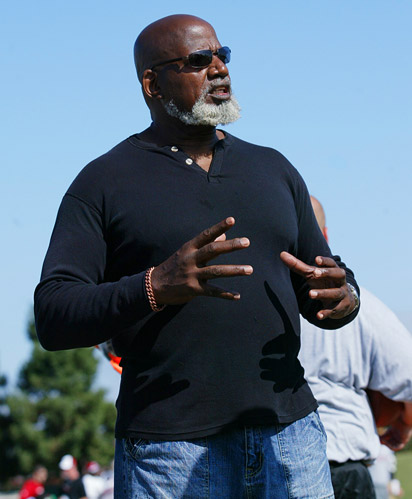 Michael Zagaris/Getty Images
Dr. Harry Edwards says Dungy is a "man of impeccable integrity, who understands young men."
Dungy is in demand and simultaneously at something of a crossroads. He is connected to his faith, and the only thing he says he misses about coaching is the "family atmosphere of being with 53 guys and 10 coaches." That does not mean he will not return. He says he worries about "overexposure," the law of diminishing returns that guarantees that the more visible he is, the more people for whom he vouches, the less impact he might have in the long run. "I'm always worried about being overexposed. I don't want to be that person that people say is all over the place, all the time," he says.
However, he also says he does not fear being used by athletes who need his moral imperative to scrub clean their images without actual reform. He says he understands that, in today's multimillion-dollar sports world, the idea of contrition can be as lucrative as actual change, but he points to situations when he did not vouch for a troubled athlete in a knee-jerk way. When a former superstar player of his, Marvin Harrison, dealt with being implicated in a shooting in Philadelphia, Dungy did not rush to his defense.
Dungy recalled Harrison as being a very intense, private man. They were not hostile but did not extend beyond the basic player-to-coach relationship.
"Once, we were in a meeting before a big game and I was joking a little with Marvin about how a corner on the other team had said something about wanting to cover him," Dungy recalled. "For the next couple of days, he didn't say anything to me. Finally, I asked him if he was all right, and he said to me, 'Coach, I don't joke about my business.'"
Dungy does worry about his own image. Should a player whom Dungy has helped betray that trust in the future, Dungy's conscience, he says, will be clear.
"After 10 years working with San Quentin inmates," Harry Edwards says, "I learned that everybody can save somebody but nobody can save everyone. Tony believes he can save everybody, and I understand that. He does believe he is doing God's work. I don't think I'm doing God's work. I believe I'm doing the work my generation is supposed to do. Every generation has to do its part and fight its own battles. I fight mine, so the next generation doesn't have to fight theirs and mine, so the previous generation doesn't have to fight mine, as well as theirs.
"If you asked me, 'Is there one person who you do not feel who would betray that trust?' it would be Tony Dungy," Edwards says. "And I'm a person who doesn't believe there are any angels or saints down here. All the saints are dead, all the angels in heaven. Post-Tiger, at some level, we manage to blow it one way or another, but if there is one person, it would be him, and I'm so grateful and happy that he's here."
At The London, the gawkers gawk, and Tony Dungy rises from his chair. He's wearing a crisp blue and white sweatsuit and walks through the restaurant. While he stops and talks to the host, a preteen is sitting at a table behind him, staring in awe of Dungy, mouth agape, his fork holding a square of French toast frozen in the air. The young man's father, whose job it is to remind his son not to stare, forgets this basic parenting responsibility. He has his reasons. He is doing the exact same thing.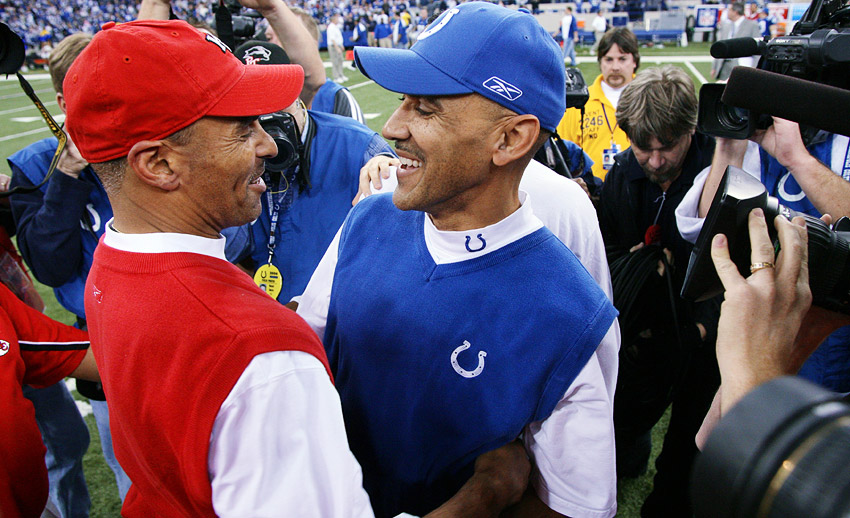 Tim Umphrey/Getty Images
"Tony's always been a guy with great vision and great integrity," says Herm Edwards, left. "A man for whom the words and the life match up."
Join the conversation about "Higher Calling."
Howard Bryant is a senior writer for ESPN.com. He is the author of "Shut Out: A Story of Race and Baseball in Boston," "Juicing the Game: Drugs, Power and the Fight for the Soul of Major League Baseball" and "The Last Hero: A Life of Henry Aaron," to be published in May. He can be reached at Howard.Bryant@espn3.com.