OTL: Old College Try
Editor's Note: This story was originally published on February 9, 2010.

CHNECKSVILLE, Pa. -- The rim and Darryl Dawkins used to have a relationship. They would meet at night, in crowded gyms across America, and each time, young, crass, muscle-bound Dawkins would beg the rim to go home with him. He'd taunt it, attack it and swing on it, but the rim always had the last laugh -- until the 1979 night in Kansas City when he tore a backboard to a thousand pieces.
The closest witness, Bill Robinzine (God rest his soul), had to have his head checked for glass. Dawkins' 76ers teammate Steve Mix rushed to the locker room, dug out a camera and snapped pictures. Their coach, Billy Cunningham, bitched and moaned about the 90-minute delay. Dawkins, thrilled to see the rim fractured on the floor, did what he does best: He gave his slam a formal name.
If You Ain't Groovin' Best Get Movin' -- Chocolate Thunder Flyin' -- Robinzine Cryin' -- Teeth Shakin' -- Glass Breakin' -- Rump Roastin' -- Bun Toastin' -- Glass Still Flyin' -- Wham Bam I Am Jam!
It was a night the earth moved, just a little, and the NBA was never the same. The league ushered in breakaway rims later that season, and hanging on to the basket became taboo and/or a technical foul. It was the Dawkins Rule -- he would live in infamy now -- and young Darryl celebrated the moment by crowning himself "The Master of Disaster."
But time moves on, ruthlessly, and 30-odd years later, 53-year-old Darryl Dawkins is standing in an obscure Pennsylvania gym, glaring at a basket, thinking the strangest, damnedest thing:
I'm not sure I can dunk.
The man from Lovetron
You evolve. Your body and mind change. A lot of players, coaches and writers made predictions about "Chocolate Thunder," about how his life would turn out -- and it's crazy how many were dead wrong.
They thought he'd never wipe that impish grin off his face. They thought he'd never get rid of his harem. They thought he'd never stop rhyming. They thought he'd make his name off Bill Robinzine forever. But the hell with them -- he's nothing like they remember. In fact, they'll never believe what's in Darryl Dawkins' pocket as he's staring up at that Pennsylvania rim: a whistle.
It must be difficult to be stereotyped from the age of 14, to be serially labeled a Baby Huey, a man-child, the next Wilt, a coach-killer, a cutup, a bust. You can laugh or cry about it, but for the longest time, Dawkins chose denial … and moved into an imaginary world. He called it Planet Lovetron, a place where critics, coaches and refs were not permitted. He invented this planet in high school, brought it with him to the pros, and Lovetron was how he got through the scrutiny and ridicule.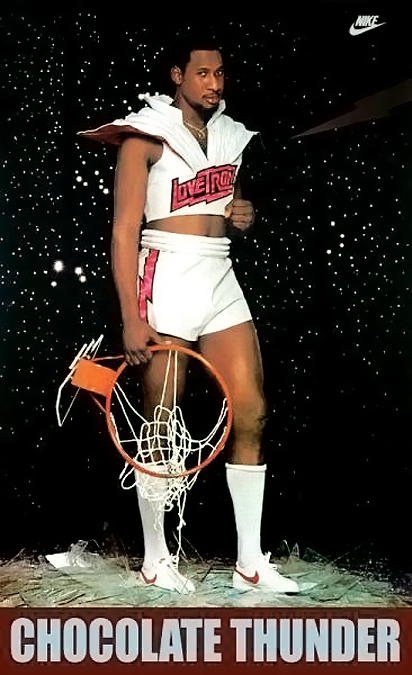 Nike
A Nike poster of Darryl Dawkins as "Chocolate Thunder."
In other words, it was all a show, an act. The Philadelphia 76ers took him fifth overall in 1975 -- the first high school player to be drafted and go directly to the NBA, a year after Moses Malone made the same jump to the ABA -- and he signed his contract wearing a cream suit, a top hat and a bow tie. By training camp, his hair was greased back, a la James Brown, and his dress suits were fire-engine red and Chiquita-banana yellow and even fuchsia. The veterans considered him a nut job -- better that than have them think he was scared -- but the team's second-round pick, Lloyd B. Free out of Brooklyn, was dying to know more.
"I said, 'Darryl, what's all that stuff in your hair?'" Free remembers. "And he said, 'No, I'm cool, I'm cool, I'm from Lovetron.' So I wondered where that place was. I said, 'Darryl, we're going to a party; you want to go?' He said, 'Yeah, bro, let's go, let's do this thing.' I said, 'Yo, I'm going to come get you in three hours,' and he had on a lime green outfit. Looked like a big leprechaun. I'm like, 'Wait a minute, Darryl, I'm not going to the club with you looking like that,' and Darryl said, 'No, I'm cool.' And he had on green shoes! I couldn't believe it. If you turned the lights out, you'd still see Darryl walking around."
Dawkins was 18 at the time, and this was back when 18 was really 18 -- no YouTube or Internet or 256 TV channels. He was 6-foot-11, 255 pounds and naive, and when he saw veterans such as George McGinnis smoking cigarettes at halftime, he figured it was OK to walk over and grab a beer. They wagged a finger at him, so he just wagged one back. He always carried a gigantic boom box on his shoulder -- on the bus, to the team hotels -- and woke up one morning with a sore rotator cuff. He thought he had tweaked it in practice, so he went to see a doctor.
"Doc, my shoulder hurts."
"Is that your radio, Darryl?"
"Yes."
"How much does it weigh?"
"Seventy pounds."
"There's your problem."
He barely played as a rookie because his coach, Gene Shue, didn't trust him. How could he? Dawkins was eating chocolate bars on the bench.
If his coaches thought he was a fool or uncouth, it was because they knew nothing about him. They didn't know that, growing up in Orlando, Fla., he hadn't had indoor plumbing until he was in middle school. They didn't know he turned pro to buy homes for his mother and grandmother. They didn't know he was planning to send all seven of his brothers and sisters to college. They didn't know that after a Sixers home game, he saw a disheveled kid standing in the rain and drove the kid home to the slums. They didn't know that after the next game the same kid showed up and invited him back to the slums for dinner. They didn't know Darryl Dawkins had heart -- and, problem was, Dawkins didn't either.
Disenchanted, undereducated and self-destructive
The players and coaches would talk among themselves: If only he'd gone to college …
The kid, at 19, already was maybe the strongest player in the league, and they'd dream of the possibilities. They would see him hold the ball like a grapefruit, drain a 15-footer and run the floor in four steps, and they'd expect him to abuse Wes Unseld, Bob Lanier and Kareem Abdul-Jabbar. But he couldn't -- he wasn't technically sound -- and they all wondered what he would have looked like if he had gone to Kentucky like he was supposed to.
Dawkins heard the whispers, and they pissed him off. By his second season, he was the Sixers' backup center, averaging five points a game, and he was sick of being bashed. His peers around the league knew he was a beast, and in one particular game in Denver, he dunked the ball with such force that the net whipped, knotted and sent the ball spinning back out of the basket. While the refs were deciding whether the bucket should count -- which it did -- Nuggets forward Bobby Jones smelled smoke.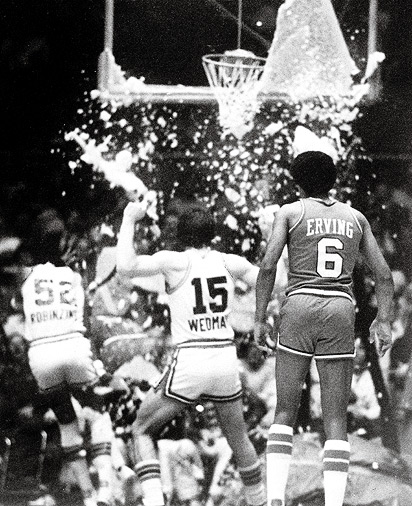 AP Photo
Dawkins shattered his first backboard on Nov. 13, 1979, in a game against the Kansas City Kings, as players including Bill Robinzine, Scott Wedman and Julius Erving watched or were showered with glass.
"This is the truth -- I'm smelling smoke," Jones says. "I'm smelling something burning. The nets weren't on fire or anything, but as I looked up there, because of the friction his dunk had caused, I could see these tiny little silk strands sort of drifting through the air. I thought, 'Boy, I'd like to have a guy like that watching my back.'"
That same season, 1977, the Sixers reached the NBA Finals against Portland and were cruising to a second straight victory in Game 2 when Dawkins and forward Bobby Gross exchanged words. There was some clenching, and Dawkins sucker-punched Gross, starting a melee. Portland enforcer Maurice Lucas went charging at Dawkins from behind, and when Sixers rookie guard Mike Dunleavy rose to help his teammate, guard Henry Bibby said, "Where you going, rook?"
"They're about to fight," Dunleavy said.
"We don't go anywhere until he gets involved," Bibby said, pointing to the team's uber-star, Julius Erving, who was standing like a statue at midcourt.
As a result, Dawkins was blindsided by Lucas, and when he was tossed from the game and banished to the locker room, he tore a toilet out of the wall. He felt none of his teammates had had his back, so he dislodged a 7-foot wood-paneled locker stall and barricaded the door. "We couldn't get in," Dunleavy says. "We had to ask him to open up." The Sixers lost the next four games, and everyone under the sun said the brawl changed the series. Dawkins got much of the blame -- along with Shue, who couldn't solve the Blazers' backdoor cuts -- and it cemented a leaguewide perception that the kid was too infantile to count on.
Shue was replaced a full season later by Cunningham, and Dawkins entered camp fat and disinterested. Screw everyone, he thought. Billy C's rule was that every player had to run a six-minute mile before the first practice, and that first day, Dawkins ended up clomping in with a time of 15 minutes. Cunningham ordered him to keep running the mile every day until he could trim his time to six flat, and on the second morning, assistant coach Jack McMahon took Dawkins back out to the track. "They came back in a few minutes later, and Jack said he made it," former teammate Mix says. "But we all knew he didn't."
Cunningham kept hounding Dawkins, kept making him run suicides, and during a practice, he blew his top at him for loafing. He told him he needed to be serious, and Dawkins said, "Yep, coach." He told him he needed to hustle, and he said, "Yep, coach." And as Billy C walked away, Dawkins tripped him.
"And he's laughing his tail off," Cunningham says. "I just looked at him and said, 'I give up.' And you had to laugh yourself. I mean, here's this big kid laughing. It was hard to be mad at Darryl Dawkins. I mean, he would drive you crazy, but then he was a little boy inside. A little boy."
His first three years under Cunningham, Dawkins averaged 11 points and 8 rebounds, 13 and 8, and 15 and 9. He played major minutes off the bench. One game, he went off for 30 and 15, but when owner Harold Katz said, "Good game," Dawkins said, "I hope you don't expect me to do it every night."
He felt Katz was disingenuous with players, which was part of it, but the other part was he didn't want to be Chamberlain. "He could've been the next colossus of pros," former 76er Fred Carter says, "and there's only been one colossus of pros, and that's Wilt. But Darryl did not want that pressure to dominate every night. See, he had no expectations of himself. He was having fun. Because again, it's not his fault -- he did not go to college.
"He missed those years of college -- those teaching years, those dreaming years. Dreaming about being something special. Coming out of high school, you can't quite dream it. College helps you … because you learn to grow. You learn to govern yourself, the dos and don'ts. You learn to put yourself to bed at a certain time. You learn what to say and what not to say. Don't get me wrong, Darryl was a lot sharper than what people realized. But, unfortunately for Darryl, he had to learn on the fly."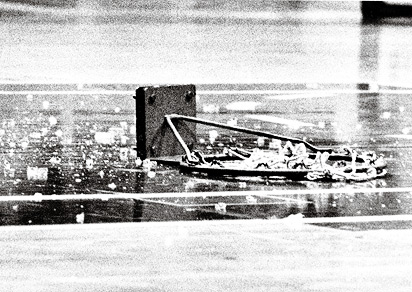 AP Photo
Remnants of one of Dawkins' broken glass backboards.
Instead of working on his deficiencies, he just kept dunking harder and harder, kept joking more and more. He kept retreating to Lovetron, and the idea was to distract everyone. He drove a Corvette that was painted so many colors Dunleavy said it looked like a meteorite. "Either that, or it looked like someone puked all over it," Free says. Dawkins also wrote a rap saying he was "bad as I want to be" -- 20 years before Dennis Rodman -- and, in '79, he became a household name when he shattered that Kansas City backboard.
Now, it was official: He was a sideshow. He didn't need to play inspired, fundamental basketball to be famous. Three weeks later, against the Spurs in Philadelphia, he demolished another backboard, just to see whether he could do it again. And, as the public waited with bated breath, he named this dunk:
The Chocolate Thunder Ain't Playin -- Get Out Of The Wayin' -- Backboard Swayin' -- Game Delayin' -- Super Spike!
All Billy C knew was that the Sixers lost both backboard games, and -- even though the team had become the biggest draw in the NBA -- he and the league office gave Dawkins a scolding. "I was uncoachable," Dawkins confesses now. "I should have been sent to Cleveland because that is where all the uncoachables went at the time."
As the '70s morphed into the '80s, the Sixers continued to tolerate him, largely because they were on the brink of a title and he had a way of kneeing Lakers star Abdul-Jabbar in the kidneys. In fact, Philly faced off against Abdul-Jabbar and a rookie named Magic Johnson in the 1980 Finals, and as usual, Chocolate Thunder created mischief. Cunningham says he took a call, midseries, from a sneaker executive who said Dawkins was wearing a Nike shoe on one foot and a Pony shoe on the other. He had signed deals with both -- because there weren't any noncompete clauses back then -- and Cunningham told the exec there was nothing he could do.
The series eventually was locked at 2-2 when Abdul-Jabbar severely twisted his ankle in the Lakers' Game 5 victory. Even though the Sixers now were down a game, L.A. would have no one to deal with Dawkins for the rest of the series, giving Philly a clear edge. Abdul-Jabbar didn't even make the trip east for Game 6, and when Magic ambled out to jump center, the Philly fans expected a runaway. But Magic went for 42 points, 15 rebounds and 7 assists in L.A.'s title-clinching win, and the common perception was that he had embarrassed Dawkins. Of course, Dawkins had barely guarded him; Johnson had done most of his damage in transition or outside. But, again, the fingers were pointed Dawkins' way. If only he'd gone to college …
At least the Sixers' players had his back now. They knew Dawkins, deep down, was smarter and more team-oriented than the rest of the basketball world realized. In fact, they thought he was brilliant, always so quick-witted. Bobby Jones, by then a teammate, remembers an early morning wake-up call, when the team was walking trancelike to the bus at 5 a.m. Trainer Al Domenico was wearing a checkered jacket no one had seen before, and Dawkins piped up, "Rook 3 to Pawn 4 … checkmate." He was too good.
Something was in him, something generous, something hopeful. When his buddy Lloyd B. Free -- an eccentric himself who later would change his name to World B. Free -- needed a place to stay as a rookie, Dawkins rented a cot and planted Free in his living room. When Free suffered a collapsed lung during the '77 playoffs, Dawkins scooped him up and carried him off the court like a 6-month-old. When Bill Robinzine, of shattered backboard fame, committed suicide, Dawkins felt guilty for dunking on him. In one of Dawkins' final years in Philly, Cunningham mailed Mother's Day cards to all the players' moms, and a week later, the coach received a warm, appreciative reply from Harriette Dawkins -- "the most beautiful note I got back."
He couldn't coach him, but Billy C liked Dawkins. He saved the note. He thought to himself, "Darryl has good genes. He's got a chance. A chance."

Getty Images/AP Photo/AP Photo
Dawkins during his early years with the 76ers.
Loved kids, hated refs
Cunningham hit the nail on the head: Harriette and Darryl's grandmother, Amanda Jones, must have done something right.
When Darryl was a teenager in Orlando, he had a job picking oranges, earning $20 a week, and he siphoned the money to two places. Half of it went to his mother to help pay the phone bill, and of his remaining 10 bucks, $4 went to kids in the neighborhood so they could buy ice cream.
Darryl soon was the king of that neighborhood and a bevy of others. Later, because of the broken backboards and his raps, he'd be mobbed everywhere by kids who would beg him to rhyme. And as an NBA player, he ended up working as many as 85 basketball camps a summer.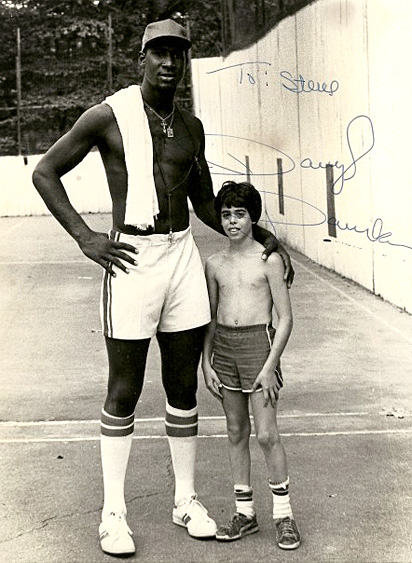 Rob Glazer
Kids loved Dawkins, often asking him to rhyme for them.
He and his brother Chico would drive to the Poconos and Connecticut to work with the children -- he trusted them more than adults -- and when the 76ers traded him to the New Jersey Nets in August 1982 for a first-round pick (used on Leo Rautins), he started the Darryl Dawkins Basketball Camp.
Almost every little kid had the same request: Pick me up so I can dunk. And Free swears that's why Dawkins always looked so ripped -- from picking up 100 kids, one by one by one.
"Sometimes you don't want people to know that side of you," Dawkins says. "You want people to know you for the guy you are on TV. They see you knocking a couple guys around on the court, and they say, 'Oh, he's mean, look at his face; look how he's sweating on the foul line.' I wanted them to think of me as that guy."
In other words, he was a faux bad boy -- intent on being insufferably macho -- and his battles with referees only reinforced his image as a screwup. As soon as his minutes went up in New Jersey, so did the foul calls, and Dawkins purposely never censored himself. He felt he was too manly to take a charge -- preferring to stay on his feet and let players bounce off him -- and after almost every whistle, he'd say, "Yo mama," which pretty much disintegrated his relationship with the refs.
By the 1983-84 season, he could sneeze on a guy and the officials would call a foul on him. "I'm not kidding," Free says. "Darryl was so big, he could go up to block your shot, and the actual wind from him swinging down would knock a guy over. They'd see a guy come out of the lane like he'd been shot out of cannon, and the refs would just figure, 'Darryl.'"
By season's end, he had set the NBA record for fouls (386, or 4.7 a game), a record that still stands. Carter and Dunleavy say if he'd gone to college -- and learned how to respect authority, or how to flop or scream out on contact and get to the free throw line -- he would have been an All-Star. As it was, he averaged a career-high 16.8 points per game that season, so imagine his numbers if he hadn't been forced to wither away on the bench in foul trouble.
After he averaged 15.3 points in '85-86, his back went bad and he needed two disk surgeries, which was the beginning of the end. He lost much of his explosiveness and played a total of only 12 games over the next three seasons, as he was peddled from New Jersey to Utah to Detroit. He probably had more NBA games left in him, but he was so high maintenance that general managers didn't want him if he was going to be only a 10th or 11th man. He was out of the league by 1989, his legacy a confounding one. He never became Wilt, but he was as popular as any All-Star, and he finished his 14 seasons with a .572 shooting percentage, fifth-best all time. He showed NBA execs it was feasible for a high school kid to go pro, setting the stage for Kevin Garnett, Kobe and LeBron. According to Dunleavy, he was a mini Shaq. But all of that didn't alter the perception of him -- fair or unfair -- as an underachiever, and he was forced to conclude his career overseas, out of the spotlight.
He spent five seasons in Italy, then a year with the Globetrotters, which appealed to him because of the yuks and the kids. He'd be introduced with "From the Planet Lovetron … Darryl Dawkins!" He conducted children's clinics all over the world. But, eventually, he returned to the States in the late '90s, lonely and thinking of trying something new: coaching.
When he heard the news, Billy C fell down laughing.
Three marriages before he finally got it right
His mantra, as soon as he found his first coaching job, was: Do like I say, not what I did.
He had played for every kind of coach -- Shue stressed offense, Cunningham stressed defense, Larry Brown just stressed -- and knew what to use and what to throw away. He knew, from personal experience, how to yell at the refs. He'd played with one of greatest offensive players of all time (Dr. J) and one of the greatest defensive players of all time (Bobby Jones). He had a remarkable résumé. Of course, despite this, nobody in the States would hire him. So he coached in Canada.
In April 1999, he led the Winnipeg Cyclone of the International Basketball Association to a 22-12 record and a playoff berth, and he was on his way. He was mentoring 22-year-old wannabes and 29-year-old has-beens, and although the work was rewarding, he was still lonely, still missing something. He'd been married three times, but none of the relationships had stuck. He had fathered a daughter, Dara, with his first wife, Penny, but this was early in his NBA career when monogamy was not in his vocabulary, and they eventually had the marriage annulled. His second marriage, to Kelly Barnes, lasted longer, but while they were estranged in 1987, Barnes overdosed on prescription medication and died.
Her death left him inconsolable -- he says he lay around for nine months getting fat, living off deferred payments from the Nets -- before he ended up leaping into another marriage, in 1988, with a former Nets cheerleader, Robbin Thornton. That relationship ended in divorce 10 years later while he was in Winnipeg, and it was good ol' basketball that came to his mini rescue. He landed a new coaching job at the tail end of 1999 with the Pennsylvania ValleyDawgs of the United States Basketball League, who played their games in Allentown during the summer. No one from the 76ers could have ever imagined Chocolate Thunder bunkered down in small-town America, but something about the place appealed to him -- especially after he met a woman named Janice Hoderman at a trade show in April 2000.
She was bubbly, warm and the single parent of a 4-year-old child with Down syndrome. At the time, little Tabitha was barely 2 feet tall, and Janice was raising her with the help of her parents after giving birth to her in high school. Dawkins invited them to his ValleyDawgs games that summer, and although he and Tabitha had not been formally introduced, he'd wink at Tabitha in the stands, make goofy faces, the same corkscrew faces he used to make at Cunningham.
He asked Janice whether he could say hello to her daughter, but Tabitha was her entire world, and she was not going to let Dawkins meet her until she trusted he was in the relationship for the long haul. She knew he was fabulous with kids, but she still made him wait six months. "I wasn't going to introduce him and then have it not work out between us," Janice says. "It wouldn't have been fair to her."
When he and Tabitha finally formally met, they were instant buddies. After Dawkins and Janice married in 2001 -- "My final wife, finally got it right," he says -- little Tabitha would sneak into their bed at night to snuggle with him. Janice wanted to cry. Dawkins was comfortable with this; he had coached special-needs kids with the Nets, and his daughter Dara had a significant hearing impairment. And it wasn't long until Tabitha had him wrapped around her finger.
She likes ketchup on all her food, so she'd ask him to get the bottle and pour the ketchup for her. He'd rush to do it, of course. She'd then say she needed him to put the portable straw in her juice box. He'd rush to do that, as well. Janice walked in on them one day and told him, "Please stop waiting on her hand and foot. She can do all these things. She's conning you."
He smirked a little smirk and wagged his finger at Tabitha. And from then on, he let her pour her own ketchup.
Darryl Dawkins was getting coachable.
The world's biggest househusband
Nine years later, Darryl Dawkins was a family man, an absolute homebody. Nine years later, he and Janice were the parents of a 7-year-old son, Nicholas, and a 6-year-old daughter, Alexis -- not to mention a flourishing 14-year-old Tabitha.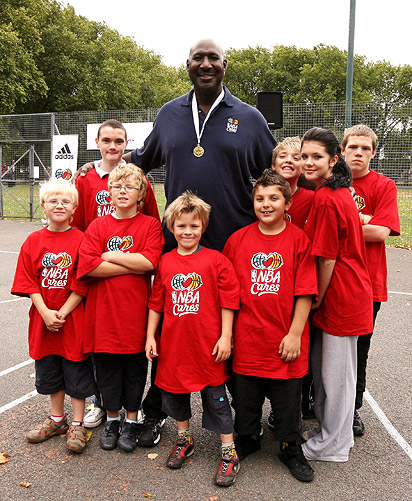 Nathaniel S. Butler/NBAE/Getty Images
Dawkins with a group of children at a Special Olympics Clinic during the 2009 NBA Europe Live on Oct. 3, 2009, in London.
He'd coached the ValleyDawgs to two USBL titles, in 2001 and 2004, and when the team folded in 2005, he was recruited to do nonprofit work for the NBA. With the Nets, he had always signed autographs until his wrist fell off, so the league asked him to be an "ambassador," doing what he does best: shaking hands, hamming it up, saying, "Yo mama." He couldn't have been more domesticated. Every morning, it was his job to get Tabitha out the door for school. Janice could never rouse her, but he knew all the tricks. He'd say, "I'm goooooing to geeeet youuuu," and Tabitha would swing into motion.
After that, their routine was priceless. Tabitha had a habit of secretly taking Janice's necklaces and earrings to school, or bringing in family photos or a radio. "If Tabitha could pack up her whole bedroom and take it to school, she'd do it," Janice says. So it was Darryl's assignment, each morning, to check her pockets. He'd turn this into a game. He'd pat her down, then she'd pat him down. She'd say, "Stick 'em up." Then he'd take Tabitha to the bus stop.
He also was heavily involved in her Special Olympics events, in which she was something of a prodigy -- 120 medals in soccer and swimming. When Dawkins would show up at her events, she'd come running up to him shouting, "Daddy!"
"You should see people's faces," Janice says. "I mean, who's going to believe a little white Down syndrome kid who says Darryl Dawkins is her daddy."
He still would talk periodically with World B. Free and Bobby Jones, and they both were overwhelmed by how this little girl had changed their old friend's life. "Tabitha does not need anyone to have pity on her," Dawkins says. "If you show her love and you be who you are, she can accept that. And through that, it's helped me to mature and grow also."
By 2009, he seemed to have everything -- except basketball. He'd help a local AAU team and conduct an occasional clinic, but he didn't have a daily hoops fix. And then, this past summer, while Janice was scanning a careers Web site, she saw a want ad for a basketball coach.
At a college.
And introducing the head coach of L-Tri-C … Mr. Chocolate Thunder
The phone rang at Lehigh Carbon Community College, in the Allentown suburb of Schnecksville, Pa., and athletic director Jocelyn Beck picked up.
"Hi, this is Darryl Dawkins. I'm interested in being your basketball coach."
"Who is this?"
"Darryl Dawkins."
"OK, just send me your résumé."
"What do you mean?"
"I need to have a résumé. Thank you."
Beck honestly thought it was a crank phone call, a joke, which was why she rushed him off the line in 14 seconds. Beck, the former women's coach at Lehigh University, was a longtime Sixers fan who remembered Dawkins busting those backboards. To her, he was a legend. Why would he want to coach at L-Tri-C? How did he even know about L-Tri-C?
POSTERIZED
Who had the best posterized dunk? Sixteen of the best NBA poster dunks go head-to-head. Cast your vote all week and watch "SportsNation" on Thursday (ESPN2, 4 p.m. ET) when we crown the champion. Vote now


She told her boss she might have just spoken to Chocolate Thunder, but her boss didn't believe her. "Nobody on campus believed me," she says. Two days later, the résumé arrived. Janice had typed the thing up, and Dawkins' references weren't Billy C or Dr. J; they were local Allentown business leaders. Beck phoned one of the men, who said: "Darryl has only one fault that I can tell you about."
Beck felt a panic attack coming on. In her mind, she had already hired him.
"What's the problem?" she asked.
"His wardrobe. It's like Skittles. He has a lime green suit."
"I can deal with that," she said.
Beck formed a committee and invited Dawkins in for an interview. He barely fit through her door, and his first words were, "Hi, I'm Darryl Dawkins."
"I know."
"So ask me anything."
"OK. First of all, why? Why do you want this job?"
"Why not?"
"You're hired."
They both burst out laughing, but then the questions grew serious. She asked him what his goals were, and he told her he would stress school first, basketball second. He told her education meant the world to him. His daughter Dara already had earned a degree from Temple University. He'd sent five of his brothers and sisters to college. He told Beck's committee that he valued staying in school -- even though he'd never spent a day in college -- and that he wanted his players doing good deeds in the community. He said at least he'd been to the college of hard knocks -- and that qualified him for the job.
She had to hire him; it was a no-brainer. The school offered him a salary similar to a high school coach's -- "By the time he recruits and all that, he's probably making 5 cents an hour," Beck says -- and Dawkins jumped at it. He then took a stroll around campus.
"So this is what college looks like," he thought.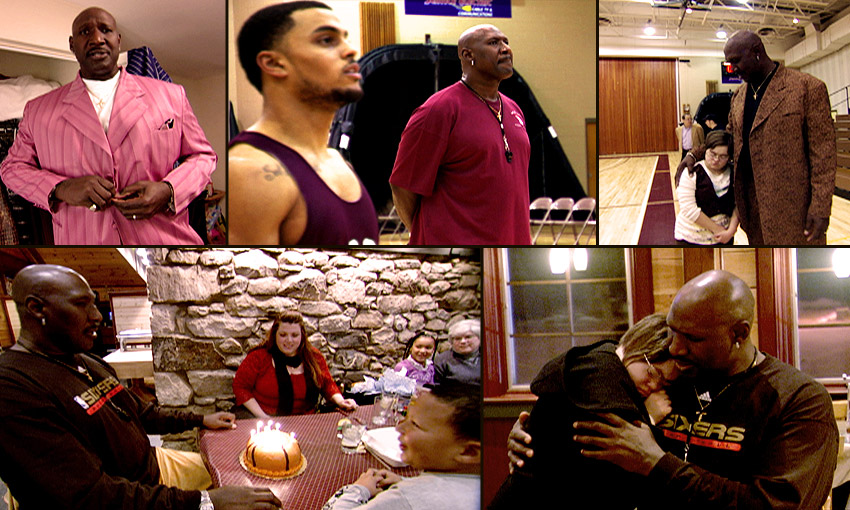 ESPN
Dawkins today, coaching and having dinner with his family.
Never try to con a con man
He scheduled a team tryout for the fall, and some of the kids who showed up didn't even go to L-Tri-C.
They had come to see Chocolate Thunder, and when he walked in, characteristically late, all 35 players stopped dribbling and just stared. There wasn't a sound.
After Beck chased out the impostors, Dawkins began to run the kids into the ground. Billy C would've been proud; Dawkins, who used to eat 3 Musketeers bars on the bench, whose mile runs used to be timed on a sundial, had finally seen the light.
When the roster was posted a few days later, some of the players who had failed to make the team wept in the parking lot. These were kids who didn't want to lose their dreaming years, and that was the reason Dawkins liked the job so much. He couldn't bear to see them cry. So he told some of the kids who got cut that he probably would hold another tryout midseason.
Most of these players were born in the early 1990s; they were 18 and 19, the same age the coach had been in 1975. But, curiously, they knew his whole story. They'd YouTubed him. They'd watched his old Wheaties commercials; they'd seen the Robinzine dunk. And if they weren't certain how legendary he was, imagine their faces when President Barack Obama visited L-Tri-C for a town meeting in December and bum-rushed their coach.
"Chocolate Thunder!" Obama exclaimed.
"Yessir, Mr. President," Dawkins responded.
At first, his players assumed they'd get to hear some of Dawkins' raps, but they found out fairly early that wasn't happening. The team's leading scorer from the previous season, Jake Waylen, finally mustered the courage to ask, "What's up with Planet Lovetron?" But Dawkins' reply was, "Maybe when you're out of school, I'll tell you."
He wasn't playing around. He wanted the team to push the ball 100 miles an hour, and he figured now wasn't the time to tell them tales of his boom box. He'd run them so hard, he'd put trash receptacles all over the gym in case they lost their lunches. He was a taskmaster. Thirty-five years later, here he was in college, even threatening to take a class or two. Lovetron was unnecessary now. In the old days, Lovetron was his escape from reality; now, he preferred reality.
"Lovetron is temporarily shut down for repairs," he says. "It may be shut down for the duration. I'm on the coaching planet right now."
From the minute the season began in December, Beck kept waiting for a lime green suit that never arrived. Dawkins harangued the refs, ran a tight ship and realized, when he looked at his starting center, that he had come full circle.
The kid's name was Carlos Pujols, and he was a cutup, just like Dawkins used to be. He hated to run, just like Dawkins, and he had some con in him, just like Dawkins.
"You got to box out," the coach said one day.
"What?"
"You got to box out, man."
"What?"
"You can't hear me?"
"What?"
Dawkins had made a career tuning out his coaches, so he knew what Pujols was doing. "You can't pull anything over on me," he said. "I've seen it all."
They began to talk, daily. Dawkins found out Pujols worked with at-risk kids after school, kids who'd been arrested for drugs, stealing cars or fighting. It was like looking in the mirror. Dawkins would stop practice and scold the guards for not rewarding Pujols with the ball when he ran the floor. This was big man sticking up for big man, goofball sticking up for goofball. Tabitha, who watches every practice, loved it.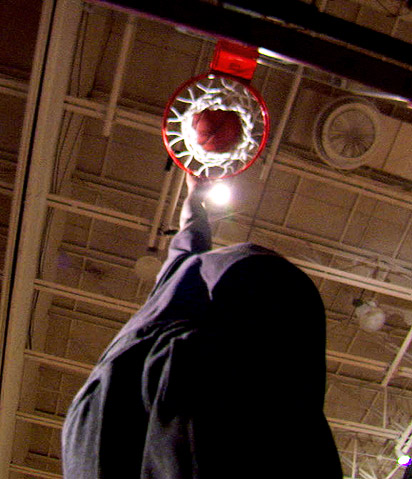 ESPN
The view from below of Dawkins, dunking at age 53.
The more questions Dawkins asked, the more engrossed he became in his players, and he found out most of them worked part time. Pujols was manager of a company that sold kitchen cutlery. Waylen was a part-time counselor at the YMCA. Another was a construction worker, and another mowed grass. Another waited tables at Ruby Tuesday, and another was a movie usher. Another got to try out again in early January, as Dawkins had promised, and quit his job at Ross Dress For Less when he made the squad.
By late January, the team's record was hovering around .500, and Dawkins invited the guys out to a local diner, to finally give them a glimpse of 1975. He rapped the Robinzine dunk and told them about a phrase he used to use: "Yo mama." The act is still in there. He still calls himself "Charming Chocolate" on his voice mail; he still has his fire-engine red and fuchsia suits in his closet. He still says his birthday is Jan. 11, 12 and 13 -- because he's so big he needs three days to celebrate.
"He's still Chocolate Thunder at home and with the refs," Janice says. "But he's grown up. We all grow up. He just took a little bit longer. Age, children, stability, it all changes out. It makes you a better person if you allow it, and he embraced it."
Says Fred Carter: "No one would've thought, including myself, that Darryl Dawkins would be a college coach. Darryl was never serious … that's the picture I had of Darryl in my mind. But all this time, Darryl was absorbing knowledge. He's telling these kids, 'Meet your expectations -- because I didn't.' Never saw it coming."
At various times this season, Beck, the players and the media have asked Dawkins to dunk a ball for them for old time's sake. And that's why, two days after his 53rd birthday, he is standing under an L-Tri-C basket, trying to reopen his relationship with the rim. It's not something he is enthused about. He has that bad back of his and needs to see a chiropractor at least once a week. He hasn't been stretching or working out. So as he eyeballs the basket, he isn't convinced he can rise up there. Is this payback? Is this the rim getting even for Robinzine?
The only people in the gym are Beck, the women's basketball team and a camera crew. "Anyone know mouth-to-mouth?" he says, laughing. After measuring and strategizing for 10 minutes, Darryl Dawkins finally grunts, jumps -- and slams it. The breakaway rim snaps back into place as he walks away.
He doesn't name the dunk. He doesn't need to.
Tom Friend is a senior writer for ESPN.com and ESPN The Magazine.
Join the conversation about "Old College Try."