OTL: Waiting for Tiger
UGUSTA, Ga. -- Three dudes with earpieces stand at the bottom of the stairs. They're dressed golf casual, but their square jaws give them away. It's early Monday morning. The sun just rose. The whole area smells like bacon, what with white-jacketed waiters scurrying back and forth with silver trays of crispy pork fat.
These three -- ex-military types -- are Tiger Woods' bodyguards, one wearing a white shirt, one wearing baby blue, one wearing red. They're in a triangle formation, with clear fields of vision, on the side of the clubhouse, where Woods is upstairs changing into golf spikes.
They're waiting.
"I don't know how long I can stand here smelling that breakfast," Blue Shirt says.
A guard drives up in a golf cart. The flash of movement causes White Shirt to react; the guard in the cart waves. The place is swarming. Cops nearby are packing heat. Masters security guys talk into their cuffs.
The Masters on ESPN

Watch the first two rounds of the 2010 Masters live Thursday and Friday (4-7:30 p.m. ET and 8-11) on ESPN, ESPN3.com and ESPN Deportes. Round 3 on Saturday airs 3:30-7 p.m. ET on CBS. Round 4 on Sunday airs 2-7 p.m. ET on CBS
More Coverage:
"About 10 minutes," Red Shirt says.
He bends down and touches his toes, stretching. The bodyguards check their watches, getting ready for the strangest and most important week of their protectee's life. They are the last line of defense between a man who has answers and a public who has questions, and yet, like everyone watching in person and on television, they are on the periphery of this grand experiment in life rebuilding. It's like watching a child being born.
A member of the club, wearing a green jacket, stops by to chat. "You going again?"
"Yes, sir," Blue Shirt says. "Another day. We start in the parking lot."
"Is Tiger here?"
"He's in the locker room."
They all stand at the bottom of the stairs, waiting.
Why are we here?
There was a moment this week when I found myself standing near the 10th tee, looking at a photographer whose camera was trained on Tiger's agent, Mark Steinberg, who was following his client around. I took notes carefully, until I realized: I was watching someone who was watching someone who was watching someone practice golf.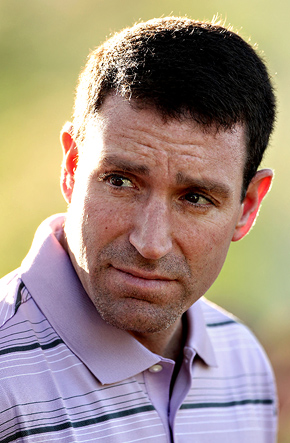 Andrew Redington/Getty Images
Woods' agent, Mark Steinberg, watched a practice round Monday.
Welcome to Meta National Golf Club.
Some people will be playing in a tournament Thursday. Everyone else will be on a ridiculous search for answers to equally ridiculous questions. When nothing is as it seems, then either everything has hidden meaning, or nothing does. Either way, Tiger Woods is getting scrutinized this week. People want him to explain what happened. For the past five months, there've been endless questions about Tiger, but no answers. We start factual; we end up existential.
What really happened that night? Did Elin bean him with a 9-iron?
Why did he send texts? Want to choke someone? Really? The Perkins waitress? The Perkins waitress!?
Will Tiger play golf again? Should he play again? What will his legacy be?
Can he ever escape the jokes?
We've never really known Tiger, and all we know now is that he arrived in Augusta this week after five months in exile, in public for the first time since his life unraveled. He gave his first real news conference Monday afternoon, in which he talked of reconnecting to his Buddhist faith.
In the belly-button-lint-examining spirit of the week, I e-mailed the transcript to two professors of Buddhism. Here was the question: Are there any traces of Buddhism found in his words, subtle references that ordinary people might miss?
The professor from San Francisco State said no.
The professor from UCLA said yes.
Of course.
Can eavesdropping reveal someone's soul?
Words seem gauzy. But actions, they seem somehow concrete, something missing throughout this whole circus. Everyone who cares even a little about golf, and even many who don't, wants to see him, in person, to examine his play and demeanor for signs of something significant. Surely we can divine what makes him tick -- and what his future holds -- if we just stare hard enough.
On Monday morning, Tiger stands on the putting green, a whisper of striped shirt and gray slacks to the folks at the bottom of the hill. The crowd is waiting down by the big white scoreboard until 8 a.m., when the course will open. Tiger usually practices early, and he wants to go off first, to put a little space between him and all those eyes, but another competitor beats him to the tee. First come, first served. The crowd is growing every moment, and Woods' practice partner, Fred Couples, looks down at the masses and then back at Tiger.
"Hey," he says, "you had your chance."
"He got here first," Tiger says. "He put his bag down first."
That has to mean something revealing, something significant, doesn't it? But what?
Does he not want to be seen by people?
Is he embarrassed?
Does he fear everyone will be judging him?
Does he wonder whether one of his mistresses might be in the crowd?
Is the crowd some kind of emotional trigger, reminding him of childhood issues he discovered in rehab?
Or maybe, just possibly, is he simply making an offhanded comment to a friend?
Has he already lost everything?
Of the many questions to be asked this week, this one is probably the most meaningful and the hardest to answer: Can Tiger Woods still become what everyone imagined he would become?
There was a moment Wednesday when Jack Nicklaus rode through the crowd in a golf cart, with people waving affectionately as he went past. He had just returned from a meeting with the crown prince of Morocco, and his grandkids were coming up to stay with him for a day at the Masters, and he could bask in the glow all the adoration had bought him. Until a few months ago, Tiger seemed to be headed for that, too, slowly slipping on Jack's life as he chased his record. It was easy to imagine a 70-year-old Tiger Woods coming back to the Masters, beloved, a global ambassador to the game, grandkids in tow, mellowed a bit, round around the middle, happy.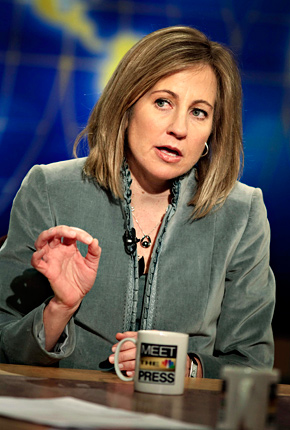 Brendan Smialowski/Getty Images for Meet The Press
Dee Dee Myers, former press secretary to President Bill Clinton, says it will be interesting to see how Woods handles the portrayal of his own legacy.
Is that scenario gone forever? Is the legacy he seemed to want impossible now?
There's no real comparison in American life. Maybe Bill Clinton. Clinton's approval ratings remain high -- they never dipped that far even during the lowest points of his sex scandal -- but he can't escape the punch lines. He does not want to be remembered as a good president who had sexual relations with that woman, so since the impeachment trial, he has struggled to control his own legacy, to push the words "Monica" and "Lewinsky" as far down in his New York Times obituary as possible.
"He'll never stop trying," Dee Dee Myers, who served as Clinton's press secretary, says Tuesday. "And he'll probably never stop getting in his own way. So I suppose it's the same flaws that got him into trouble that keep him from really getting past it. [It] will be interesting to see if Tiger does better. Clinton never went through rehab, or really acknowledged that he had a 'problem.' He said he made mistakes, yes. But we never saw the kind of humility from Clinton that we saw from Tiger yesterday -- even if it was a bit rehearsed."
Where will the tomcatting go in Tiger's obituary? In the first sentence? Lower?
Nobody knows, of course. After all, sex wasn't mentioned in Wilt Chamberlain's 1,952-word obituary until word 1,745. But Marilyn Johnson, the author of a hilarious and fascinating book called "The Dead Beat" about obituaries and obituary writers, can offer an educated guess.
"If he lives a really long life and if he resumes golf without having dropped a step, and earns his way back into the public trust and has some more positive things happen to him socially, then it will be a little lower," she says. "Maybe second paragraph. A lot is gonna depend on when he dies."
When is a bad shot just a bad shot?
Tiger steps onto the first tee Monday and the crowd gasps. It's as if people expect him to have grown an extra arm, the result of some extraterrestrial STD.
"There he is!" someone says.
He shakes hands with the Augusta members. Caddie Stevie Williams hands Tiger a glove. Tiger reaches into his pocket for a ball.
"I've been coming here a long time. I've already watched him hit more bad shots in two holes than I've seen him hit in the last five years."
-- FAN JIM CLARK
"Go when you're ready," the Green Jacket says.
"OK," Tiger says.
This is it. The moment everyone's been waiting for.
Tiger smashes the ball, way left. Way, way left.
There is light applause. Mostly, though, the entire situation feels awkward.
Why?
A fan following Tiger thinks it means the scandal has left his game damaged. "I saw a little chink in Tiger I've never seen before," says Jim Clark, from Shelbyville, Tenn. "Did you see where it landed? In the middle of the 9 fairway. That's 75 yards. You usually don't see the nerves. I've been coming here a long time. I've already watched him hit more bad shots in two holes than I've seen him hit in the last five years."
Clark looks up at a chopper flying overhead. He says he won't boo Tiger. It's not what nice people do. Besides, he'd be afraid to boo here. "They've got attack helicopters standing by," he jokes. "I'm worried this helicopter could be a SWAT team. Come down and just snatch me."
Clark thinks the reception has been a bit chilly. "I'd be amazed if you saw any women cheering," he says. "Our wives usually come. They didn't come because they're protesting."
Can a crowd be read like tea leaves?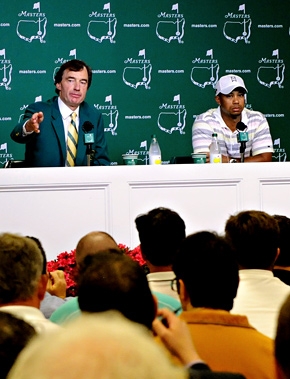 Rusty Jarrett/Getty Images
Craig Heatley, chairman of the Masters Media Committee, sits beside Woods as he addresses members of the media in a news conference Monday at Augusta.
Basically, Tiger's practice rounds are an exercise in parsing applause. Most people on the course think the crowd reaction was polite Monday and more energetic Tuesday. Other players say it was very positive. Tiger himself says he felt loved, and he was surprised by the warm welcome.
Jim Furyk, who played the Monday practice round with Tiger, won't bite. "I don't get into analyzing all that stuff," he says.
(The reason Furyk got stuck by the 18th green answering questions is because he came off first. When Couples walked by, unmolested, Furyk smiled. "That's the veteran move," he said. "He outwaited me on the green.")
For most people, analyzing Tiger's body language, his swing, his every public utterance, is a sort of parlor game. For the people who manage Team Tiger, it's like the first political poll after a scandal: How would the people who once liked Tiger react to him now?
There's a man standing a little back from the main body of the crowd, wearing a striped shirt and khaki pants, anonymous. It's Glenn Greenspan, Tiger's public relations guy. Tiger addresses the ball on the second tee as Greenspan, from 10 or 15 feet away, watches the crowd watching Tiger.
For the rest of the front nine, Greenspan follows the crowd. Steinberg joins him. They think the response is great, a normal Masters practice round, and this is very good news. It seems they've always imagined Tiger held a reservoir of public good will and respect, and this is a subtle confirmation. The two men walk up a slight hill that opens to the ninth green, ringed in an amphitheater of people. "That's a pretty good crowd," Steinberg says.
With Tiger, everyone sees the things they want to see.
Do words matter?
The news conference, from inside the room, vibes real. Woods seems hurt by the mess he has made of his life. He answers some questions and ignores others. When he finishes, the real work begins, as people try to decide what he was trying to do with those 34 minutes. A sampling of headlines:
"But we never saw that kind of humility from Clinton that we saw from Tiger yesterday -- even if it was a bit rehearsed."
-DEE DEE MYERS
• A revealing and guarded Tiger
• Tiger's tale proves only that we still don't know him
• Big Lie Continues: Tiger hasn't changed
• Woods strikes right tone: appreciative
Was he telling the truth? Was he lying?
That, it seems, depends entirely on what you thought before he spoke.
What's going on beneath the surface?
By now, I've totally lost control. I'm e-mailing former Clinton staffers from the Augusta National press room, finding Buddhist experts, asking golfers questions that include multisyllabic words. Finally, I hit rock bottom, the inevitable refuge of the modern media scoundrel. I call Patti Wood, a body language expert who has watched Tiger speak a lot. I'm actually going to "interview" a woman who'll use her television to probe the cracks in Tiger's psyche.
"There were actually times here when I thought for the very first time he was present in his own body," she says. "There were some beautiful, sincere moments."
When Tiger sat down, he wiped his forehead a few times and took his hat off. He stuck his elbows out, wiped from the forehead to the back of his head, then put the hat back on.
"When he talked about not following the morals his mom and dad set for him, that was really hard for him to admit to himself. That was one of the moments I felt was a moment of true self-revelation."
-- BODY LANGUAGE EXPERT PATTI WOOD
"A cluster of clues," Wood says. "It told me he is really scared and is ready to attack if he needs to."
He pulled the cap low and tight. All together, she noticed aggressive attacks, wiping away of negative feelings and self-comforting.
"Like mom comforted you by touching you," she says.
Sometimes, he wiped his teeth with his tongue while he talked. Tongue cleaning, she calls it. It's a subconscious desire to cleanse himself after certain statements. A mental shower.
"A lot of the things he was saying were very difficult for him to say," Wood says. "When he talked about not following the morals his mom and dad set for him, that was really hard for him to admit to himself. That was one of the moments I felt was a moment of true self-revelation. I've seen hundreds of apologies by sports guys and politicians. That was real."
She got strong signals about the state of his playing career, too. When he talked about the tournament, he sucked in his lips the first time and bit his bottom lip the second time. The whites around his eyes got big. Strong signals.
"He's worried about his game," Wood says. "He's worried about failing. He's worried about not being up to snuff. He is petrified. He is really afraid of not being as good."
So, either he's vulnerable, afraid and devastated, or else he's just sweaty and needs a drink of water.
Now we're getting somewhere.
Is success at golf a reflection of someone's life?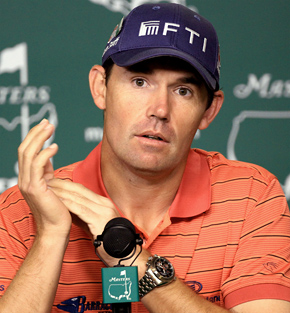 David Cannon/Getty Images
Padraig Harrington, speaking to reporters at Augusta on Tuesday, says it won't be easy to tell what's on Woods' mind this week.
Things are deteriorating. Now I'm asking golfers, possibly the most self-consumed subset of people in American sports, what they can tell about the mental state of another golfer by watching him chip and putt. To their credit, some of them try to be helpful and answer this question: What can I reasonably expect to understand about Tiger's private life or mental state by watching him swing a golf club?
"Not much," Furyk says. "You can pick up little things if you know someone really well. You hear it more in their voice."
Padraig Harrington, who can talk about golf mechanics for hours, says stress is readable in a swing, but only if you are very familiar with the person.
"I have no idea what's going on in his head this week, if his mind is on the golf or not," he says. "You can never quite tell. You know, no matter what, how he looks or what he comes up and says, you don't know fully how this is affecting him inside and how it's affecting his golf. People react differently."
Paul Casey is just annoyed.
"I'm not looking for anything," he says.
Can someone be selfless and successful?
Everyone wants to know what this experience will do to his game.
Sure, rehab might save his family, but it also seems like a hell of a risk for an elite athlete to start messing with the wiring of his brain. If Tiger truly is willing to follow the five precepts of Buddhism and eliminate selfishness and lack of balance from his life, will he also be losing some ineffable part of greatness?
David Duval should know all about this. He chased success with myopia and narcissism. He wanted a major. Obsessed over a major. Even though he was the No. 1 player in the world, time and time again he came up short in the big ones. Then, in 2001, he won the British Open. The next morning, he woke to find out that his life was not inhabited by rainbows and unicorns. Nothing changed. He questioned his values.
That's the last golf tournament he has won.
So I ask him: What are the dangers of introspection to an elite athlete?
His face actually twitches. He looks like a kid sucking on a sourball. "I don't know how to answer that question," he says finally.
There is, of course, another possibility. Without 241 mistresses to text and spank and fly around the country after, Tiger might be even better.
"You wonder how he competed at such a high level with all of this stuff going on," Steve Stricker says. "It's actually scary to think if he gets his mind a little bit freer and uncluttered that it could be better, is what I'm thinking. I mean, the guy is so talented and so mentally strong that if he can maybe get rid of all the outside factors, that he actually could perform at a higher level. That's what's going to be interesting to watch, as a fan and as a player, just to see how he plays from here on out."
What will we do for the next four days?
This is the scene on the ground as the 2010 Masters begins: We're waiting for Tiger.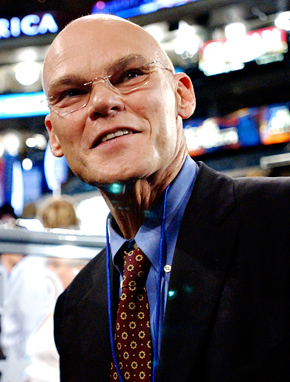 AP Photo/Victoria Arocho
James Carville, a Democratic strategist and political analyst for CNN, says the Woods narrative could change dramatically if he wins the Masters this weekend.
We're probing, parsing, trying to figure out what his words and actions mean for his future. Everyone knows this is an important week. Nicklaus said if Tiger doesn't win any majors this year, when he has won at three of the four courses, Woods might have trouble breaking the record.
So, he'll play, and we'll watch, and we'll extrapolate and apply preconceived narratives to Tiger's actions. Before leaving the course Tuesday, I call James Carville from the press room. Few people better understand how the media and the public interact with the rise and fall of public figures.
"This entire thing, if he wins this golf tournament, ceases to exist Sunday afternoon," he says. "You couldn't write a better script. But, boy, if he doesn't make the cut or he just plays terribly, the psychobabble will go on and on. They'll say the pressure got to him. We already know the outcome. We can write the story. It doesn't matter."
How's his game? Where's his mind? Can he focus? Will he break Jack's record? Will he leave a positive legacy? Will the first two sentences of his obituary say "Tiger Woods, the golf prodigy who grew up to be the game's greatest major champion but was shadowed by marital infidelities, died on Tuesday. He was 78."? Or will this be something that fades away until this week of obsession seems even sillier in hindsight than it does smack in the middle of it?
Is there anything that's certain?
On Monday morning, before any of the circus begins, White Shirt, Blue Shirt and Red Shirt look up the stairs and see Tiger coming down. I carefully record each movement in my notebook. The Augusta National staff gawks, and Woods' three personal bodyguards and a gaggle of Masters guards escort him to a convoy of four golf carts to take him to the practice range. His spikes click on the pavement. He turns and looks over his shoulder. I write that down. We make eye contact for just a moment. I have a clear thought, so I write it down, too: He knows we're watching, and that's all we know for sure.
Wright Thompson is a senior writer for ESPN.com and ESPN The Magazine. He can be reached at wrightespn@gmail.com.
Join the conversation about "Waiting for Tiger."