OTL: Paradise Lost

OUMA, La. -- The greatest tarpon fisherman who ever lived sits in a house on the side of a forgotten bayou, stuck in a blue recliner, watching his world die on live television. Oil gushes out of the well, every lost barrel another line in his obituary.
Though he's only 55, Lance "Coon" Schouest is about to become obsolete. Everything's being taken from him, in living color with a network logo and theme music. His way of life, his job, the marshes he grew up in and possibly even an entire breed of fish that has survived since dinosaurs walked the earth. The tarpon has taken every disaster man and nature could throw at it.
Watch "Outside the Lines"
There are places along the Gulf Coast where the oil coats birds and beaches, and there are places where the marshes remain untouched. Wright Thompson shares the story of one town in the middle. Watch this story.
Until now.
The oil pours into the water, and in the next frame, washes up on the shores, over and over, a looped montage of destruction. Coon just stares.
"Look, y'all," he says to his family, his voice raw. "Jesus. Look at that."
Above his head hangs a long, silver tarpon, almost 200 pounds and taller than a man, with giant scales. Every now and then, Schouest turns away from his TV and looks up at the fish, remembering the day he caught it -- Oct. 3, 1976 -- and wondering if he'll ever catch one again.
These days, he finds himself, hour after hour, obsessing over the map of oil on his television, a growing, black stain on the waters of his childhood. That map is his family history and his memory.
He's full of a lifetime of knowledge that might soon be useless. He knows the Gulf of Mexico like other people know the streets of their hometown. He knows where tarpon eat, how they move, when they arrive. He senses them. Sometimes, he can close his eyes and see the big school, acres across and sparkling like diamonds, migrating from Veracruz and the Florida Keys toward the mouth of the river. Tarpon, he's learned, love water that is 74 degrees. They chase it, a need hardwired into their prehistoric DNA. The water off Louisiana is just hitting 74 degrees.
The tarpon are coming, headed for the spreading shroud of oil.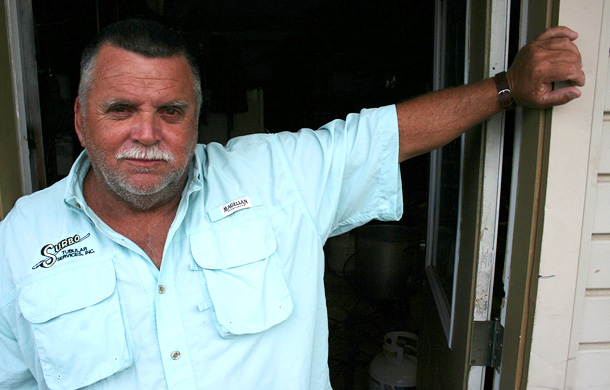 Joe York for ESPN.com
Lance "Coon" Schouest waits and watches as oil continues to foul the Gulf.
The man, the myth, the legend
Stand on any marina south of New Orleans and say the name Lance "Coon" Schouest (pronounced Shwest). Veteran guides will speak of him with reverence. Other tarpon anglers will admit that their strategy is to follow him out of the marina. He invented the lure that most everyone who chases the magnificent silver fish uses or copies: the Coon Pop. That's how you get to be the best tarpon fisherman in the world.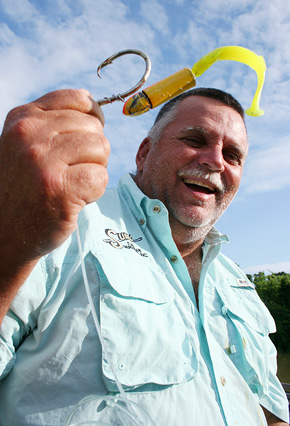 Joe York for ESPN.com
Schouest shows the Coon Pop lure he invented.
"I can't tell you what time it is on this watch," he says. "Everything is blurry when I got to read something. But I promise you, we could be running 30 miles an hour on that boat and a tarpon puts his fin out there, I'm gonna see that son of a bitch. Everybody's got a reason to be on this earth. I believe God made me a tarpon fisherman."
Used to be, catching them was a man's thing, using heavy spoons and tight drags, muscling the fish into the boat. The weight of the bait gave the tarpon leverage, and they often got away. As the bait got smaller, it took too long to make it down to the fish. In the mid-'80s, Coon got to thinking. He sat down at his kitchen table, and the design evolved: a bait tied to a hook with wire light enough to break when the fish hit. The Coon Pop solved both problems. It was heavy enough to get to the fish quickly, but after the strike, the heavy part fell away and left the fish on a Japanese tuna hook with no leverage. The bait changed tarpon fishing; for the first time, women and children could catch them. The bait also changed the Schouest family, brought them even closer. The lines between work and play blurred and disappeared. They could all enjoy Coon's love. They could fall in love, too.
For decades, he's taken clients fishing and hammered out Coon Pops on the kitchen table. His wife, Gloria, long ago stopped complaining about the damage to her furniture. Coon's brothers run charter boats. So do his sons. When they started chasing tarpon, the state record was 192 pounds. Coon has caught more than a dozen fish bigger than 200 pounds. People jockey for space on his boat; a man mows his yard every week in exchange for a trip. The biggest weekend of the year is the Grand Isle Tarpon Rodeo -- the oldest fishing tournament in the United States, when 60,000 people bring their credit cards and livers to the tip of Louisiana and leave with both wrecked. Anglers pay big bucks to hire Coon, because they stand a good chance of winning. The tarpon rodeo is where his legend really began and where it grows, year after year, his boat pulling up to the Sand Dollar Marina at weigh-in with enormous, silver fish. In dark Louisiana barrooms where rodeo contestants gather, the talk turns to Coon. They call him a tarpon whisperer. Men drink their beers and wonder how a person can know so much about a fish.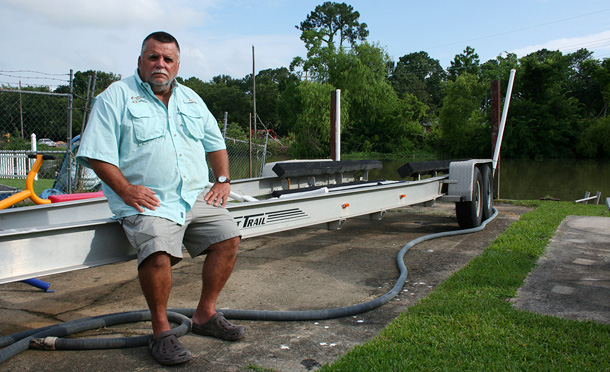 Joe York for ESPN.com
Schouest's legend was built on catching the biggest tarpon in the Grand Isle Tarpon Rodeo.
Schouest Family Album, Vol. I
Papa Joe and little Coon ran down the bayou. They pushed the 19-foot boat out past Cocodrie, 12 miles to Wine Island Pass, looking for redfish and speckled trout. That's what working men caught. Fish to eat. Papa Joe worked on a tugboat, did construction, never stopping -- except to fish. Coon was almost a teenager, and he'd been working since he was about 6, sweeping the floor of job sites. He loved to fish, too. Loved to watch his daddy, see how he did things and try to do them just as good. He learned a lot out there on the water. That day, Coon saw them first, three of 'em, in a big mess of mullet. A new fish, something he'd never seen before, a mirror flash in the Louisiana sun. They rolled, then rolled again, shiny and beautiful amid the brown of the bayou. The scales looked like sand dollars and the eyes like softballs.
"What's that?" Coon asked.
"Oh," Papa Joe said, "that's them tarpon."
They pulled up anchor and left Wine Island Pass, but Coon couldn't shake image of the silver fish rolling. He thought to himself, right there in that 19-foot Seabreeze, the wind hitting his face: "That's the fish I want to catch."
A life built on tarpon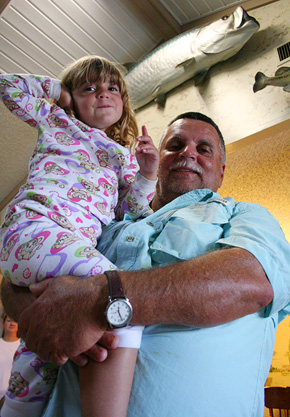 Joe York for ESPN.com
The plan has always been for Schouest to pass along his love for tarpon fishing to his children and grandchildren, including Kimberly.
Coon never lost his obsession. He and his dad caught their first ones together in 1973. By the time Coon had kids of his own, he'd invented the Coon Pop. The first person ever to throw one was Lance Jr. He was 7 years old then, nearly three decades ago. The bait hit the water, and bam, a tarpon took it. Lance Jr. reeled the fish into the boat.
The Coon Pop not only made him well-known, it allowed Coon to share his love with the people he loved most. All the Schouests went tarpon fishing. When people saw Coon's boat doing random circles in the ocean, they knew one of the grandkids was driving. His family's world revolved around the fish. They always seemed to provide, like the universe had put them there just for Coon. The family drew strength and faith from the tarpon. When his son Lee got married, Coon promised to pay for the wedding. Lee and Crystal didn't have much money, and her family didn't, either. She'd had a rough childhood, and Coon wanted them to have the best Cajun wedding money could buy.
With summer descending on south Louisiana, he tried to rent a recreation center for the October wedding. But Coon didn't have much money, either. The recreation center folks wanted deposits and all that. He needed about $6,000, and he didn't know where he'd get it. Still short, the Schouests entered a tarpon tournament. The water was rough. They saw fish everywhere, but the fish wouldn't bite. Not for them, anyway. Coon tried to ease up on a big school. He killed the engine and let the current take him close. The tarpon went low, and he didn't see them anymore, so he started to crank up the engine and turn.
"Mr. Lance," Crystal said, "look at 'em."
A metallic tide of tarpon swam right for the boat. Lee wound up and threw. A big fish swallowed the hook, and Lee fought him into the boat. They won the tournament and paid for the wedding with a few hundred bucks to spare.
The two boys and their sister started families of their own, and Coon took the grandkids out to fish, just as he'd taken their parents. For Coon, tarpon marked the passage of time, a ring in the family tree.
Schouest Family Album, Vol. II
The cancer caught Papa Joe a year ago. They found it on his kidney. The doctors wanted to cut him open. He didn't know what they'd find in there, didn't know if he'd walk in that hospital and never walk out again, so he asked two of his sons, Coon and Crawdad, to take him out to catch one more tarpon. The boys loaded the boat and made the run out of Grand Isle, eight or nine miles, toward the West Delta, maybe saying goodbye to their daddy. A friend went with them, and he hooked the first fish. He tried to hand the rod off.
"Here ya go, Papa Joe," he said.
"You hooked him, you fight him," Papa Joe said.
"No, no. We came out here for you to catch a tarpon."
The boys wanted him to take the fish, too. They wondered if this would be his last one. Papa Joe stepped up and, just as he started to fight, his own line went off a few feet away, rod bent, reel screaming. Papa Joe's eyes got big. He handed the first rod back, went down and fought his fish. A big one, 170 pounds or more. The boys watched their old man, 82 years old and ate up with cancer, fight for 20 minutes, no chair, no harness, just his hands and that jumping fish, sunlight reflecting off the silver scales. He pulled the fish up to the boat, then let it go.
Papa Joe wouldn't kill a tarpon today.
A life undone
Coon's life obeyed a rhythm, much like the fish he'd based that life on. He chased trout in May and June, then turned to tarpon the first week of July. He took charters out into the Gulf. His brothers went with him on days off. His dad went with him, too; Papa Joe survived the cancer scare, and when he got released, he asked to go get another tarpon.
Then the oil well exploded.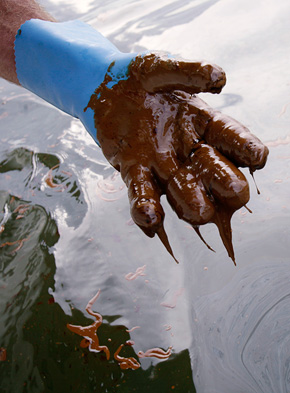 AP Photo/Charlie Neibergall
Oil from the Deepwater Horizon spill is seen in Barataria Bay near Grand Isle, La.
Two weeks into the leak, Coon wasn't that worried yet. They'd cap it, he figured, and he'd fish all summer. The charter booking were as full as they'd been since Katrina. One day, he was on the phone with a longtime customer, a wealthy oilman named Sonny, when conversation turned to the first effort to stop the flow. Coon poured a cup of coffee.
"What you think?" Coon asked.
"It ain't gonna work. Too deep. Too much pressure. I don't think they're gonna be able to stop it."
Coon took a gulp of his coffee. He'd remember this moment as long as he lived.
"We may never see Louisiana again," Sonny said.
Coon panicked. He might not have a fat savings account or health insurance, but he's better at one thing than anyone else in the world. What if he's just another guy on the bayou with a stack of bills he can't pay and a story about who he used to be? "It gives me goosebumps right now thinking about it," he says. "It scares me. It really does. It's a way of life for our family."
For weeks on end, he sat at home, staring at the television, seeing live reports from Grand Isle that had nothing to do with the tarpon rodeo -- the little village he's known his entire life was where the oil hit first and hardest. The timing couldn't have been worse. Summer is when fishing guides make enough to live the rest of the year, and even during good years, Coon did construction in the winter to make the numbers add up. Longtime clients sadly canceled their charters. He's known these people for decades, seen their boys grow up into men. They send him coolers of steaks for Christmas, check on him after hurricanes. One called and, instead of asking for the $1,000 deposit back, asked if Coon needed to be paid for the other days of fishing they'd never do.
Coon went stir-crazy in his blue chair, watching oil pour out of the well. Nothing keeps Coon away from work. He nearly lost his leg to a staph infection last year and was back on the water four days after leaving the hospital. He and his son actually had the conversation: What if we have to move?
Finally, he got a little work, two days every eight, running Coast Guard crews. At least he wouldn't lose his house or his truck. He settled the first time he pulled the boat out of the marina, feeling the wind on his face like when he was a boy. He was calm. The engines ran, and he picked up speed, a cool breeze running through his crew cut, white on the sides now. He saw the green marsh and brown water, a beautiful sight. He pointed the boat south, toward Grand Isle, looking into the distance, wondering: What's out there?
The oil is a big black monster, he decided, coming to swallow them all.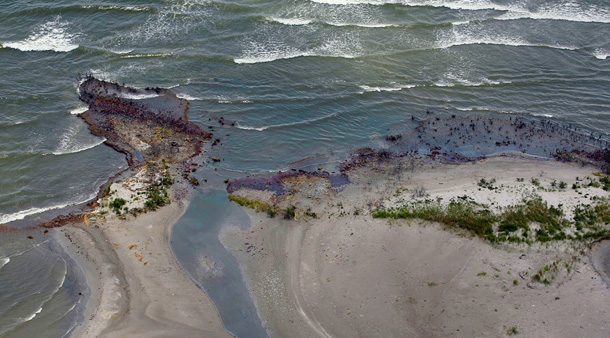 AP Photo/Gerald Herbert
The Deepwater Horizon drilling rig exploded April 20, 2010, killing 11 workers and creating an underwater oil gusher that has sent millions of gallons of oil into the Gulf of Mexico. This photo, taken in May, shows oil washing up along the coast of Louisiana between Cocodrie and Grand Isle.
A window into the future
So what is really out there?
The answer waits at the Sand Dollar Marina in Grand Isle. Instead of anglers unloading fish, there's a man standing on the dock who knows for sure all the things Coon just fears. His name is Steve Mars, and he's with the U.S. Fish and Wildlife Service. His crews are out with local captains, picking up oil-slicked birds and bringing them in to be cleaned in the gray trailer behind the boat launch. Even though it's 90 degrees, the birds, with oil matting their downy feathers, are in danger of freezing to death.
"We have terns," Mars says. "We have egrets. We have pelicans. We have juvenile chicks running around. They've got oil on them. It's the worst of the worst. This oil is killing the whole food chain. We're losing plankton. There's dead dolphins on the beach. I saw a dead dolphin yesterday."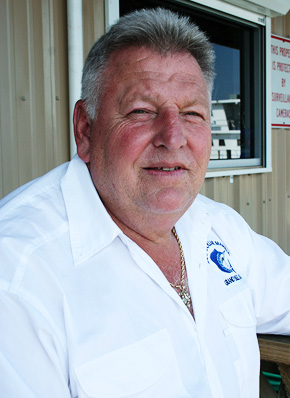 Joe York for ESPN.com
Marina owner Butch Gaspard faces the possible loss of his business because of the spill.
Marina owner Butch Gaspard sits by his cash register. He looks at an old photo of the marina in good times, the slips full of boats, customers lining up at sunrise for gas, bait and sausage on flaky biscuits topped with a fried egg. Then he looks out the window and sees an empty dock. The only boats running are those chartered by the government and BP. BP has his motel rented, but when BP leaves, he'll have to shut it down. He's down from 25 to 15 employees. In a few days, he'll have to cut five more. The store is full of supplies he bought two weeks before the well ruptured. That's how they do it down here: empty the checking account to get ready for the onslaught. Butch has big loans at the bank. After Katrina, he borrowed more than $1 million to get the marina and motel open. His note's due in five days. Yesterday at his little pier-side bar, the woman from the bank said they'd work with him. "Let's say it doesn't come back," he says. "How long are they gonna work with us? We work hard for what we have. We'd like to keep it. Right now, we're robbing from Peter to pay Paul, but finally, Peter is gonna want his money."
All Butch can do is stare out at the water. It's not a pretty sight.
In one direction, Queen Bess Island is covered in pelicans that are covered in oil. One stands next to a red plastic gas can that drifted ashore. The thick crude is killing them, and it's killing the grass and oyster beds that keep the island together. "The first storm we get, that island disappears," Mars says. "Instead of having a productive little island, with little fishes and oysters and crabs and baby tarpon, it's gone. It's open water."
In the other direction, toward the West Delta and the tarpon-fishing grounds, shiny red patches float on the water. Oil, thick enough to give you a headache. This is where Coon caught the rodeo-winning fish a year ago, and it's ruined. Out into the swells, Grand Isle getting small in the distance, coated brown pelicans fly overhead. They struggle toward an oil rig, looking for a place to land, dozens of them, black like crows.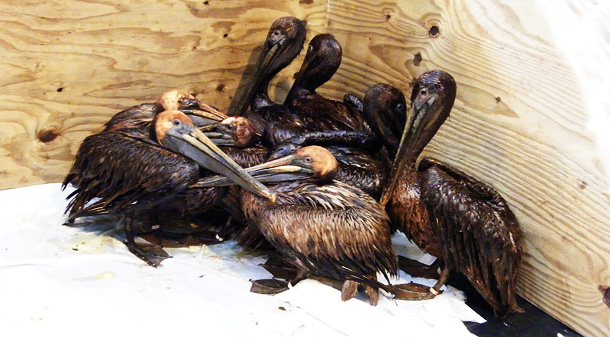 AP Photo/Janet McConnaughey
Oiled pelicans rescued from Grand Terre Island and other barrier islands near Grand Isle huddle in a pen in early June in a rescue center next to Fort Jackson in Louisiana.
Praying for the fish
Coon's brought home two 35-pound bags of spillway crawfish for the family, and they're gonna boil 'em with sausage, potatoes and corn. It's a celebration. More than a month after the spill began, he's got a full-time job, running crews for BP. The family will survive, at least for now. He feels a thousand pounds lighter, the tightness in his chest and aching in his head gone. As he cuts up potatoes on the stainless T dividing the two halves of the sink, he can even joke about how close he came to putting his Drew Brees autographed football on eBay.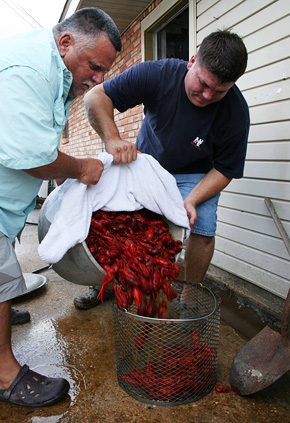 Joe York for ESPN.com
Their livelihood has been affected -- and residents along the coast say the whole food chain has been, too.
There's always a cloud, though. A few days earlier, he got the news: The Grand Isle Tarpon Rodeo was canceled. He keeps losing things, pieces of who he used to be. It makes him cling tighter to those he's got left, like a family meal together. They've cooked crawfish a thousand times, but under the threat of extinction, small, everyday acts seem to mean more.
His son-in-law, Clint Buquet, turns on the burner in the garage and gets the water going, pouring in tons of crab boil, the spice burning every nostril in the house. The men talk about the migrating tarpon. Even if they survive the oil, they might starve to death. They come to Louisiana to eat, and all the things they eat are covered in oil, too. This is the time of year when life begins anew in the marsh. Trout are laying eggs. So are white and Brazil shrimp. Crabs are hatching. If the oil finds them, or the dispersant used to break up the oil does, it's over. "They're gonna die," Buquet says. "Nothing's gonna live."
The crawfish turn bright red in the pot. Coon and Clint dump the water by the side of the house. They bring the silver pot inside and set it by the blue recliner. The television stays on in the background, the same video montage of oil pouring into the ocean, then oil rushing onto the shore. They can't escape it. They can't stop thinking about those tarpon swimming to their death.
"When you say, 'When dinosaurs walked the earth,' that's a long time before me and you got here," Coon says. "And something like this to come kill them? What killed the dinosaurs? Is dispersant gonna kill the tarpon? That's the question. We weren't here when the dinosaurs left, but will we be here when all the fish in the Gulf are gone?"
For a while, a small hope kept them going. Maybe the tarpon would somehow sense the danger. They've survived for millions of years. Maybe they'd turn. That hope died the other day when Lee Schouest was running a crew looking for oil. They found it, in fingers miles long, with patches of clean water in between. He saw a school of porpoises surface, five of them, right in the middle of the oil. Six more joined them, 11 in all, sucking in the thick black tar, their blowholes making the sickest, saddest noise he ever heard. He watched them struggle to breathe.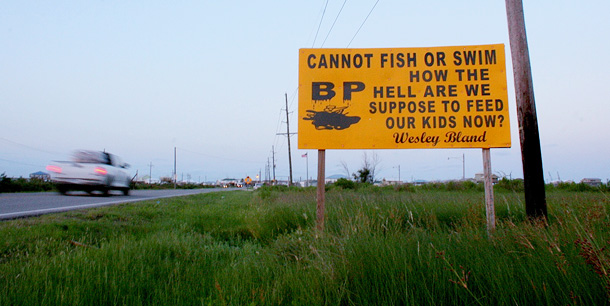 Joe York for ESPN.com
A sign poses one resident's ultimate question.
Schouest Family Album, Vol. III
Coon's granddaughter Kimberly runs into his living room. He's sitting in the blue recliner and she is grinning, laughing, talking a mile a minute. She's 3½. He knows what tomorrow will bring. She does not.
"You went swimming today?" he asks.
"It was too cold," she says. "Maybe another day."
"The sun is gonna come out one of these days," he says.
The End
So these are the final days of a way of life. Recently, the Schouests gathered at the small house on the bayou, under the giant tarpon. The grandchildren scooped out trays full of crawdads, the metal bowl clinking on the hard shells.
"I'ma peel a few for the kids," Coon said.
Watch Wright Thompson's story on the Gulf oil crisis and fishing on "Outside the Lines."

"Claws!" 5-year-old Hunter called. "I want claws!"
The adults laughed, digging into the mudbugs, bending the tail at the second joint and pulling out the little nugget of meat. Coon sucked the heads for the spicy juice. They tossed the claws to Hunter, who, the sign in the front yard says, was the student of the month in March at Bourg Elementary.
"Uh," he said, "why aren't they peeled?"
"Ask Clint Jr. to peel them," Coon said. "He's a claw professional."
When he'd had his fill, Hunter stood up and theatrically fell to the floor.
Coon dies a little inside when he looks at Hunter. Since the little boy was born, Coon has wondered when he'd fall in love, too. Schouests don't enter the world knowing how to catch tarpon. They learn it, as children, watching the grown-ups. It's a treasure, handed down. Coon saw it playing out with Hunter as it did with his own boys, Lee at 4, Lance at 5, little kids in shorts and no shirt, putting down their Coca-Colas and finally reeling in a big fish. That might be the thing about the oil that hurts him the most. This season was going to be Hunter's time. Is this where the tradition ends?
"My 5-year-old grandson," he says, "we said this year he was gonna catch his first tarpon."
Coon hasn't yet told the boy that he can't go. He holds onto hope. Maybe the tarpon will turn, or survive, maybe the oil will go south and leave their marshes alone. Maybe everything will be OK. He'll take Hunter out to clear, clean water, and they'll see the sun shine off a silver fin, the big school sparkling like diamonds at the mouth of the river.
Wright Thompson is a senior writer for ESPN.com and ESPN The Magazine. He can be reached at wrightespn@gmail.com.
Join the conversation about "Paradise Lost."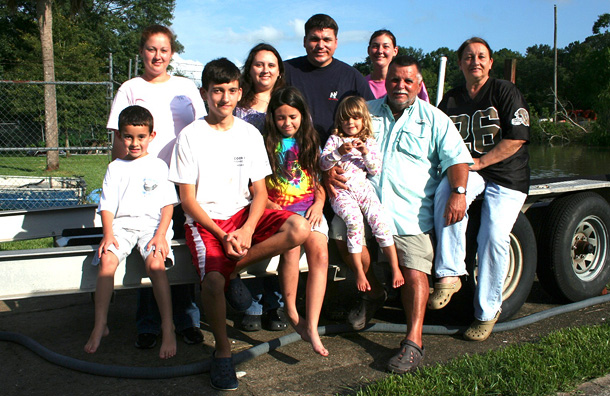 Joe York for ESPN.com
Schouest and his family will wait and watch what happens with the oil, the tarpon and their livelihood.