OTL: Natalie's World

SHBURN, Va. -- "This is so crazy. All because I'm a girl."
It's a swampy, hot morning in early August, about a week into Washington Redskins training camp. Natalie Randolph, invited here by team officials, is making her way from the practice fields to a main building. She passes through a group of players, a flash flood of testosterone and shoulder pads; for a moment, the 30-year-old science teacher's 5-foot-5 frame disappears.
"Outside the Lines" reporter Mark Schwarz takes us inside the classroom and the locker room to meet Natalie Randolph.

"Football is not the most egalitarian place," says a man holding a digital recorder, one of a dozen reporters milling around, the first to realize who Randolph is. "How do you overcome that?"
Randolph smiles and nods, her short, gold-streaked dreadlocks pulled back, snug against a visor. She gets questions like this all the time, ever since March, when she was named the head football coach of Calvin Coolidge Senior High School in Washington, D.C., making her what is believed to be the only female varsity football head coach in the nation.
"It doesn't matter what people think," Randolph says, on autopilot.
Natalie Randolph Breaks Football's Glass Ceiling.

Female Coach Blazing a Trail.
These are the headlines, the things people think.
"Your first practice tomorrow," says a woman with a microphone. "Making history. What is your story? Have you experienced any adversity, people thinking they know more than you?"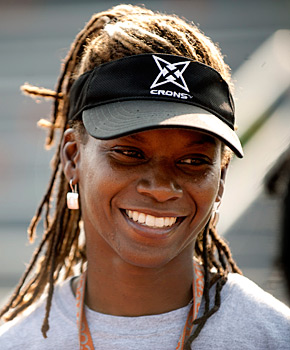 Rob Tringali for ESPN.com
Natalie Randolph is concerned with more than just winning football games for Calvin Coolidge High School. She's out to develop students and well-rounded young men.
Randolph smiles and nods. Her mind is elsewhere. Last night, she found out her starting quarterback is transferring to a rival school, never mind that Randolph spent all summer grooming him, even soliciting alumni donations to send him to an expensive passing camp.
"How do the boys respond to you?" Redskins linebacker Chris Wilson asks. "Have you ever told anyone they hit like a girl?"
Randolph smiles and nods. "Yes," she says, still preoccupied. Many of her players still need physicals, but they don't have doctors or can't get a ride or don't have the right form or can't afford an exam. One of Randolph's assistant coaches is married to a nurse. She works at a clinic and can get the kids in for free. Problem is, she's off today. Some players showed up anyway. They've been calling Randolph all morning, asking for help.
"What advice would you give to a girl who wants to grow up and be you?" someone else asks.
Smile. Nod. Randolph yawns. She doesn't sleep much. Hasn't since her father died. "Daddy Nat," her everything, the man she knows would be so proud. Her back hurts because even though she once was the fastest receiver on her semipro women's tackle football team, she doesn't have time to exercise anymore. Yesterday, she led her players through a core workout, sweating under the summer sun, pretending the whole time not to be tired.
Randolph puts her hands on her hips and gingerly rotates her torso in slow semicircles. Here, among the hulking Redskins, she's still pretending.
The woman with the microphone doesn't notice. "I'm so proud of you," she tells Randolph, abruptly shifting her subject from gender equity to armchair sociology. "So many temptations in the inner city. Kids don't have good surroundings."
Randolph checks her watch. She has a coaches meeting later today, a parents meeting tonight. Redskins players come and go, eyes wide, jolted from their post-practice doldrums as if suddenly confronted by a polar bear. The attention stresses Randolph out. When she was little, she took a dance class. Hated being on stage. Would get up there and go through the motions.
Lately, Randolph tells me, she feels lost …
"Hey," the woman with the microphone says to Randolph. "Can you tell me your name again?"
Outside, we walk to Randolph's car. She grew up a football fan. I ask whether the visit was fun. Randolph nods. No smile. Scrolling through her e-mail, she doesn't look up from her phone.
"I'm just reverting back to 'Oh s---, I have a lot to do' mode," she says.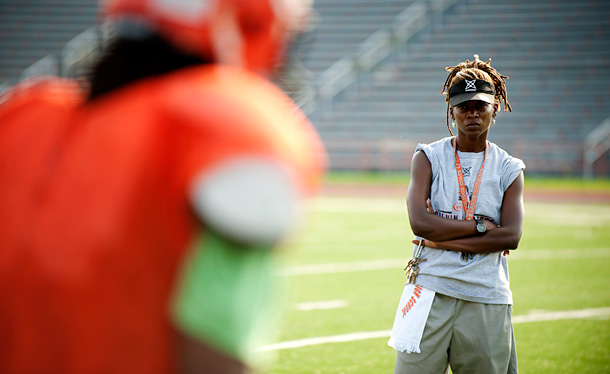 Rob Tringali for ESPN.com
Don't be mistaken by her 5-foot-5 frame. Randolph's watchful glare makes an imposing impact on the Colts.
Natalie Randolph's to-do list
Lead her players through early-morning conditioning drills. Show them the proper form for a straight-leg dead lift. Make sure they show up for their summer on-campus jobs. Discipline the kids who don't. Feed them breakfast. Usher them upstairs toward their SAT class and away from the basketball court next to the Coolidge cafeteria. Make sure they have an SAT class. Yell at them when they don't pay attention. Really yell at them when they break out in spontaneous wrestling matches or throw stuff at each other, which happens all the time. Fill out forms. Answer reporters' e-mails. Give her players rides. Raise funds for an overnight team camping trip, a three-man blocking sled and paint for the walls of the team's study hall. Teach her players how to tape and paint a room; giggle a little when their subsequent efforts show more heart than skill. Fill out more forms. Report to her bosses at Coolidge, the outside management group running the school and the central bureaucracy downtown. Wonder who's in charge. Wonder whether that will change, like it always does, with the upcoming District of Columbia mayoral election. Wonder why the tunnel to the Coolidge field leaks water, the laundry room has a giant hole in the ceiling and the previous coach carpeted the locker room with artificial turf, which is both a fire hazard and just plain weird. Wonder when downtown will renovate the locker room, as promised, or at least clean the hard, black carpet glue off the floor. Step on the occasional cockroach. Figure out what classes her players need to take to be NCAA-eligible. Help them go to college. Help one of them get into Yale. Help another learn how to spell "Harvard." Answer more e-mails. Deflect the unhappiness of her bosses when she acts as her own public relations firm. Be there when her players and their parents need a sympathetic ear. Watch coaching DVDs. Prepare her environmental science lesson plans. Give motivational speeches. Say yes, again and again. Learn how to say no. Mourn her father's death. Remember to eat. Remember to sleep. Remember to keep her BlackBerry -- a device she never needed before all this and still can't get the hang of using -- charged. Keep doing stuff now; ask for forgiveness later.
Also, win football games.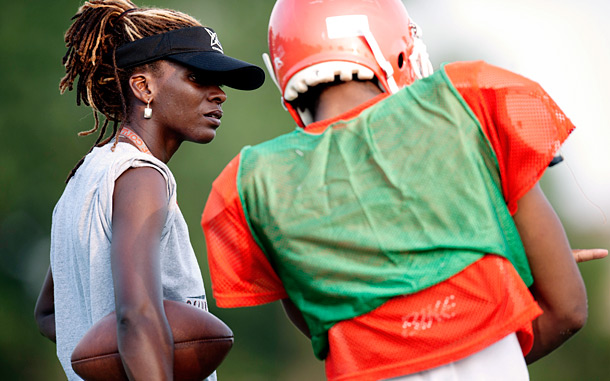 Rob Tringali for ESPN.com
Randolph is the ultimate multi-tasker for Coolidge.
She never wanted to make history
"Science teacher?" Bob Headen stands behind a podium, pausing for effect. "I said 'Are you crazy?!?!'"
Everyone laughs. At 70, Headen is a district legend, a prep coaching veteran of nearly three decades, winner of multiple city titles in girls' basketball and football. At H.D. Woodson High, he sent 14 players to the NFL, including quarterback Byron Leftwich; as the school's athletic director, he was in charge when Randolph joined the football staff as a receivers coach. Headen has come out of retirement to coach on Randolph's staff. On this early summer evening, he's introducing her at the D.C. Women's Sports Association's student-athlete awards banquet.
"When you look at this young lady," Headen says, "you're looking at history."
Randolph never wanted to make history nor be a head coach. She was happy teaching science. The first time Coolidge administrators asked her to apply for their vacant football job, she said no. The second time they asked, she said "No way."
The third time? A group of consultants from Friends of Bedford -- the Brooklyn, N.Y.-based education company tasked with running and improving Coolidge -- summoned Randolph to a conference room via school intercom.
"We need you," they pleaded.
The Colts' previous coach, Jason Lane, already had resigned. School administrators were unhappy with the team's academic performance. A search committee interviewed former pro football players, a retired brigadier general, Pop Warner coaches, even a school custodian. All of the candidates talked about themselves, their accomplishments, how they would win. They hardly mentioned classrooms.
Still, Randolph was dubious. "You realize I'm not a man, right?"
They did. They also knew she had played football from 2003-07, and that she was a confident, charismatic teacher. Students hung out after school in her classroom, the one she had painted herself, doing homework and napping on tables.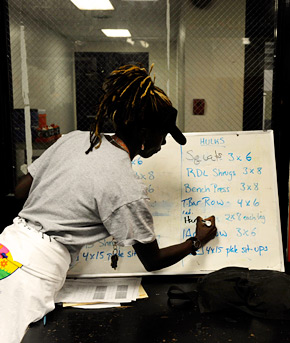 Rob Tringali for ESPN.com
Randolph's organizational skills help keep the Colts on schedule.
Randolph didn't think she had enough football experience. She called Shedrick Young, a friend and former position coach with her semipro team, the D.C. Divas. She figured he would talk her down. He offered to be her defensive coordinator.
She met with two of her former teammates, Monica Livingston and Dameka Reese. They told Randolph she was organized, dedicated, whip-smart, a great listener, a natural leader. "Do it," they said.
"Natalie is a really nice girl who smiles a lot and has a high voice," Reese says. "But we know the monster that is Natalie Randolph. When it's time to get down and play, she's ready."
When Randolph finally agreed to meet with the search committee, she didn't pack just a résumé. A self-professed control freak, she brought a 10-page program plan, laid out in color-coded boxes, showing exactly how Coolidge would win games and scholarships, covering everything from academic tutoring to printing game-day programs.
First question: "What would you do differently?"
Randolph went through the program plan, point by point. "Our kids will be model student-athletes. They will stay out of trouble. Every last one will graduate." She oozed competence, quiet confidence. Finishing, she asked, "What's your next question?"
"We don't have any," came the response. "You answered them all."
"She blew us away," says Derrick Mickles, director of school programs for Friends of Bedford and a member of the search committee. "It was like divine intervention. You could feel her sincerity. She cared. When she left, I almost had tears in my eyes."
Word spread quickly around Coolidge. Ms. Randolph is our new coach? For real? The Washington Post picked up the story. CNN and other TV networks followed. The night before a news conference announcing Randolph's hiring, she stayed up until 2 a.m. writing and practicing a speech. Her old college roommate bought her a suit. Coolidge principal Thelma Jarrett lent her some jewelry. That afternoon, Randolph spent two hours giving a series of five-minute interviews.
Q: What offense do you plan to run?
A: I'm not going to tell you that on national TV!
"Actually, I didn't have a clue at the time," Randolph recalls. "I hadn't even seen my kids play yet."
District Mayor Adrian Fenty crashed the event, declaring it Natalie Randolph Day. That was cool, but also funny, because he gave Randolph an official certificate -- the same one framed on her mantel -- congratulating the "Coolidge Warriors." Stranger were the really nice people from NFL Films, who wanted to do something on Randolph, but they couldn't find a pro football connection, so they ended up asking whether maybe she knew someone with breast cancer?
The Natalie Randolph Story began to take shape. The Post quoted an anonymous male rival: "All I know is, I don't want to be the first to lose to her." Another district coach asked Mickels, "Why would you put a female in that position?" Reporters began questioning Randolph about Wanda Oates, who in 1985 was named football coach at D.C.'s Ballou High School but had her appointment revoked, as if Randolph were some kind of expert on gender politics in sports. (Oates subsequently sued for sex discrimination and lost.) Randolph appeared on "Good Morning America." She flew to San Francisco to speak to a foundation that works with inner-city girls.
Meanwhile, an anonymous poster left this comment on the Post's website:
… I don't want to hear any PC crap about women should be allowed to coach football just like men. This is a brutal physical sport that rips the testosterone from guys and puts it on display. There is no place here for an estrogen injection …
"I've heard all kinds of disrespectful things," Mickels says. "'This is a joke.' 'You're going to make a mockery of Coolidge.' From people in general, parents that I've never met before. They don't believe that a female coach can do this."
At the awards banquet, Randolph implores the room to work hard, show up. "You put your mind to something," she says, "you can shut people up." Bessie Stockard, one of the first black women to play on the Virginia Slims tennis tour, the inaugural professional women's tennis circuit, looks on. She has no idea Randolph is winging her speech, that she just came from a late-afternoon practice, "which sucked," because the players feed off her energy and she's bone tired. Parched, too, because the water fountain next to her classroom is broken and she doesn't have time to walk down the hall. An hour earlier, Randolph proclaimed, "It's time to turn into a woman again," then ducked into her classroom closet to change from a tank top and basketball shorts into a dress shirt and a skirt, still wearing her turf shoes. She keeps her dress shoes in the trunk of her car.
"Two a.m., I go to sleep. Six a.m., I wake up," Randolph tells the room. "I haven't had a break since March."
Wanda Oliver-McKenzie, a longtime local high school track coach, is honored as public school coach of the year. She mentions her recent 40th high school reunion, talks about being a prep cheerleader yet wanting more. Times have changed. Athletic opportunities for women have grown. She smiles and points at Randolph. "I'm going to be watching you," she says.
Randolph smiles back, trying very hard not to yawn.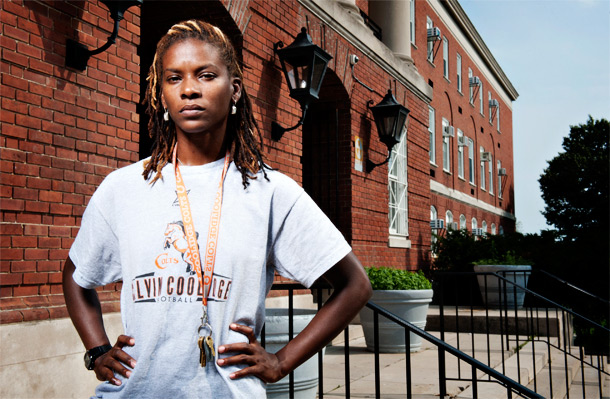 Rob Tringali for ESPN.com
Randolph's days are long and the nights are short. She sleeps from 2 a.m. to 6 a.m., then is up for the next day's work.
She knows things the guys don't
Torrance Dawkins is Coolidge's offensive coordinator, a former running back for Headen at H.D. Woodson. He has a 4-year-old son and a 3-month-old daughter. He wants to join the Colts' quarterbacks and receivers for a four-day passing camp in New Jersey.
His wife is giving him a hard time about leaving town. "She didn't say no," Dawkins insists. "She just told me, 'You know, I don't like to be notified about stuff like that at the last minute.'"
Randolph shakes her head. "She said no. Trust me. I'm a woman. She said no."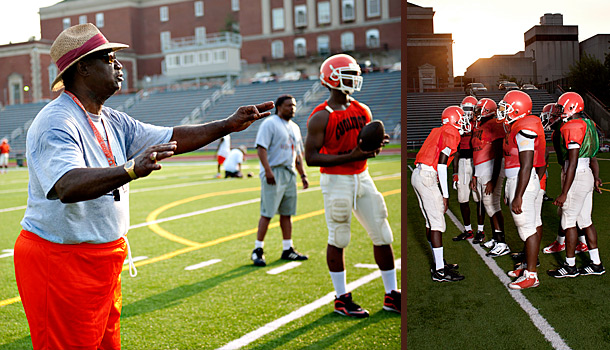 Rob Tringali for ESPN.com
Coaching legend Bob Headen, left, was so confident in Randolph's abilities that he came out of retirement to join her staff.
Girls just want to have collisions, too
Hugs. High-fives. A sort of homecoming. The D.C. Divas are taking on the Atlanta Xplosion in the playoffs of the Independent Women's Football League, a decade-old organization with 55 teams in cities across the country. Randolph stands on the sideline at the Prince George's Sports & Learning Complex in Landover, Md., just down the road from FedEx Field. A half-dozen Coolidge players are here as well. Randolph bought them tickets and packed them into a friend's SUV, brought them to see her former squad. Most of the boys have never been to any pro football game; none has attended a women's contest. But they dig it. They dig the hitting, the popping crackle of pad on pad, and they really dig the trash talk streaming from a trio of Randolph's one-time teammates, Reese among them.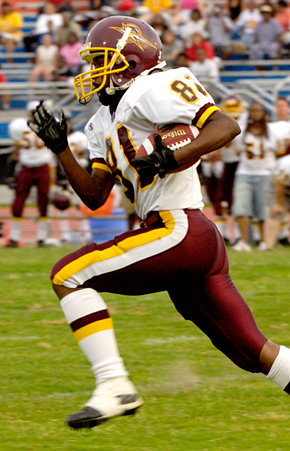 Dan Rosenstein/Courtesy of the D.C. Divas
Randolph was a special-teams MVP for the semipro D.C. Divas.
"They ain't seen this motherf---ing D yet!"
"Right up the f---ing seam! All day long!"
"Hit that little b----!"
Why do women play tackle football? For the same reasons men do: camaraderie; cussing; the sheer giddy joy of, well, kicking butt. Blessed with sprinter's quads but an otherwise slight build, Randolph looks like someone's little sister. Yet before she became one of the Divas' most reliable receivers, she was the squad's special-teams MVP -- a punt gunner, search and destroy, a role Randolph assumed after guest coach and then-Redskins player Brian Mitchell took one look at her on film and said, "Put her on kick returns."
"Natalie was mean, too," Reese says. "She got there so fast, then polished girls off. All you would see is a pile of dust."
Randolph ran track and played basketball at Sidwell Friends School, the elite district private school also attended by Chelsea Clinton and President Barack Obama's daughters. She wanted to play JV football, too, had it had the consent of the team's coaches. Her father, Nathaniel, a physical therapist and former Boston University track athlete, had other ideas. "What if you get hurt and can't run?" he asked. Randolph walked on to the University of Virginia track team; as a fifth-year senior, she earned a Master's degree in Foundations of Education and finished second in the ACC in the 400-meter hurdles. "Somebody told me it was hard," Randolph says. "I'm a glutton for punishment." She remained a football fan, too, sometimes closing her door on her four female roommates to watch college and pro games undisturbed.
In 2003, Nathaniel started treating a Divas player, Carrie Pecover. Natalie was just out of college, busing tables, looking for a full-time job. Dad summoned her to his office. "There's someone you should meet," he said. Pecover gave father and daughter a pair of tickets; at the game, then-Divas coach Ezra Cooper invited Randolph to a tryout.
During her first official Divas practice, Randolph went up against fullback Claudia Hogan in a blocking drill. No pads. No matter. Hogan clobbered her.
Randolph was hooked.
"Boys do it all the time growing up, but as a girl, you don't really put your whole weight into someone," she says. "That first hit, I was like, 'Wow.'"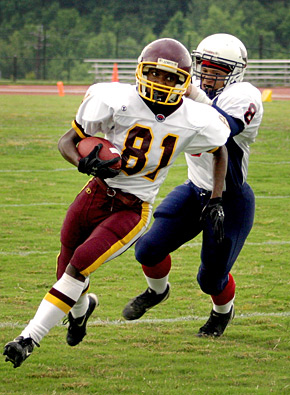 Dan Rosenstein/Courtesy of the D.C. Divas
Despite her slight stature, Randolph loved contact on the gridiron.
Randolph was small but swift, probably the fastest player on the team. And … that was it. She didn't know the first thing about playing football. An undiagnosed muscular weakness in her left eye scrambled her depth perception.
But she worked at the sport. She learned to catch. She learned to catch and run without immediately falling to the ground. She learned pass patterns and coverage schemes. The Divas didn't make any money -- players paid participation fees out of their own pockets to help cover costs -- and they practiced after work, four days a week, sometimes until 11 p.m. So what? Randolph loved the family feel, the trust between teammates. Her father became the squad's trainer, watched every game from the sideline.
"The first game I saw, there was a big, tall opposing player that actually fell on her," says Randolph's mother, Marilys, a physical therapy professor at Florida International University. "I thought, 'Oh my God, she's going to be totally broken here.' But Natalie loved it. She's a risk taker. She doesn't let herself be frightened by things."
By 2006, Randolph was teaching science at H.D. Woodson. One of the school's assistant football coaches, Thomas Byrd, heard she played for the Divas. He told head coach Greg Fuller. Fuller asked Randolph for help. She agreed, thinking her duties would involve office work. On the first day of practice, Fuller brought Randolph into a classroom full of players.
"Gentlemen, this is your new receivers coach," he said.
Randolph was stunned. Some of the boys had been playing football longer than she had. Nervous, she called her Divas coaches for advice. She looked up drills online, devoured every book about pass catching and receivers she could find. "If Natalie does something," says Byrd, now her fiancé, "she wants to be the best at it." On the first day of practice, the Woodson receivers were skeptical … until Randolph led them through drills they had never done before, got in their faces when they ran lazy routes and jammed them with two-handed shoves while playing the role of defensive back. By the start of the season, she was just another coach, an accepted member of the team -- with one notable exception.
"After games, opposing coaches wouldn't shake my hand," Randolph recalls. "They didn't know I was a coach. They thought I was a trainer."
Sometimes, you just have to laugh
A few weeks before the start of the football season, Randolph gathers her players. She's serious, stone-faced. She wants to talk about dealing with the media.
"I've been diagnosed with a medical condition that is not common among coaches," she says.
Concerned looks.
"I have abnormally high levels of estrogen in my system."
The room is silent. Young and Dawkins smile, followed by a few of the quicker-witted boys. It takes a minute before everyone gets the joke, the room dissolving in laughter.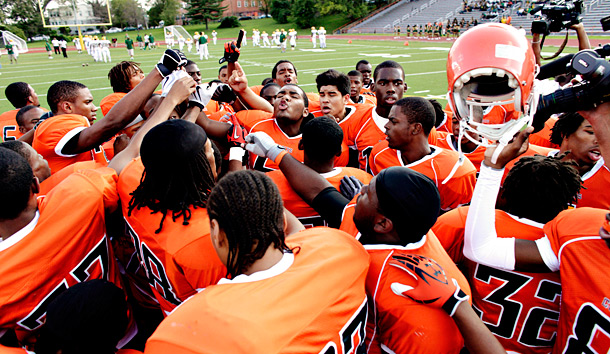 Rob Tringali for ESPN.com
Senior Daniel West, center of huddle, fires up his Coolidge teammates before their first game.
She's gonna run them 'til they throw up
Mike Smith sighs. He didn't come here to yell. He came to be a part of something special. The Colts are in a classroom for an SAT prep session. Smith has been a D.C. public schools teacher for 20 years; he's offering this daily course for free. But the kids aren't focused. They're talking, texting, shadowboxing with each other, ignoring the math problem on the white board.
What is the value of "C" if 24c = 96
Solve equation
Show work
"They didn't do it," Smith says. "Not one of them. I told these kids I would get them all applications for college. One of them came in to [list] the colleges [he wants to attend]. He spelled Harvard and Penn State wrong. Some kids just think they're going to play football.
"But they'll get it. Coach Randolph is gonna run them until they throw up."
Right on cue, Randolph enters, slamming a door behind her. "You are obviously not in work mode today," she says. "What's wrong?"
Silence. The players hunch over, hang their heads and stare at the floor. No one dares look Randolph in the eye.
"It's all on you," she says. "If something goes wrong, look in the mirror. 'What have I done to alleviate the problem?' Y'all have it so easy it's ridiculous. Pay attention for a few hours a day. Then you can go home and act ass."
Randolph grew up wanting to be a veterinarian. She later considered graphic design. (She enjoys painting, another activity she no longer has time for.) Teaching was an accident. After college, she worked at an environmental outreach job for the D.C. government, taking public school students on canoeing trips along the Anacostia River, instructing them about wildlife and pollution. About a month after quitting that job, she got a call from Nancy Gordon, an H.D. Woodson science teacher: "Natalie, I'm leaving my job. You were good in the classroom. Why don't you take my place?"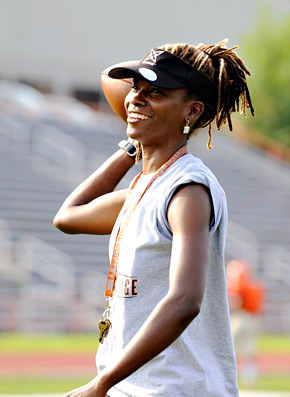 Rob Tringali for ESPN.com
"Without football, I couldn't have been a teacher. I wouldn't have had the swag for it," Randolph says.
Randolph got her substitute teaching license on a Friday. The next Monday, she was in front of Gordon's class. Had no idea what to do. The kids were unruly. They didn't know her. Didn't trust her.
"It was trial by fire," she says. "Those kids are tough. Honest. They'll say anything. Without football, I couldn't have been a teacher. I wouldn't have had the swag for it."
Randolph discovered an unexpected passion. Teaching moved her. She wanted to make a difference. Oh, and kids were easier to work with than adults because you could close the door and tell them what to do. Talk to her now about inner-city education, and she sounds like Bill Cosby: "These kids watch people shaking their asses on TV and waving money around and think that falls out of the sky. That doesn't happen. Come sit in a classroom. You'll see. They're not dumb. They just haven't been prepared. They don't have study skills. I can't stand running into people that don't know anything in the real world. It's a pain in the ass."
"People say, 'Natalie, you can't save the world,'" she says. "Well, why not?"
Coolidge High sits five miles from Sidwell Friends. By any reasonable socio-economic measure, however, it might as well be on Mars. In 2010 citywide academic assessment tests, 57 percent of Coolidge students met reading standards and 48 percent met math standards -- an improvement over 2007, when the scores were 24 percent and 23 percent, respectively. "My first three months here, I was shocked," a teacher says. "Some of the kids were reading at a preschool level."
The Coolidge business office -- where cash and computers are kept -- sports a thick metal wall and Plexiglas windows, architectural nuances common to bank teller stations and fast food joints in rough neighborhoods.
"One of the things we dealt with last year was the roof caving in," another teacher says. "All of the classrooms on the top floor, the ceilings look like they have scabs. Everything here is a challenge."
Including sports. In 2009, the total athletic budget for more than 140 district schools was $3.64 million -- more than $1 million less than the $4.83 million 2009 budget for athletics and extracurricular activities in a nearby Maryland county, the bulk of which went to just 12 high schools.
An area high school football coach says college recruiters are leery of district public school players for two reasons: bad attitudes and no grades. The Post reported in June that D.C. high schools inadequately prepare athletes for college. According to the NCAA national letter of intent office, 25 of 60 district seniors who signed with Division I football, men's basketball or women's basketball programs from 2004 to 2009 failed to meet NCAA requirements upon graduation, including a former Coolidge football player who signed with New Mexico but ended up at a Pennsylvania junior college.
On a macro scale, all of the above is why district schools chancellor Michelle Rhee handed control of Coolidge over to Friends of Bedford, part of a larger, controversial package of public school reform that landed Rhee on the cover of Time magazine and has become a key issue in the city's upcoming Democratic mayoral primary between Fenty and city council member Vincent Gray. On the micro level, it's why Randolph recruited a Coolidge English teacher to serve as her academic coordinator; why she lugs around a big plastic box containing her players' transcripts; why she requires daily study hall in a room she wants her players to paint (to feel "a sense of ownership," she says); why she plans to hand out helmet stickers for grades, not tackles and touchdowns; and why she quietly fumes when college football recruiters drop by unannounced in the middle of the school day. "How," she asks, "can they want good academics and SAT scores and then take me and the kids out of class?"
Coolidge senior Daniel West is a starting defensive lineman. He's also a National Merit Scholar, the school's second since the 1990s. That ought to make him Randolph's poster child; instead, she needles him to improve: "That's good enough for Coolidge. But you're average everywhere else." Randolph remembers how academically competitive Sidwell Friends was, how back when the top SAT score was 1600, she scored a 1270 and felt like "the dumb black kid" because her classmates were distraught over scoring in the 1300s.
West garnered recruiting interest from Pitt. Randolph sent his highlight tapes to Ivy League schools. She took him to Georgetown's spring game. When West had to work late on a Saturday night and couldn't get a ride to a recruiting showcase football camp at Penn State, Randolph picked him up at 2 a.m. and drove him to the campus herself.
"I feel like she could care less about winning games," West says. "She cares about me doing something with my life."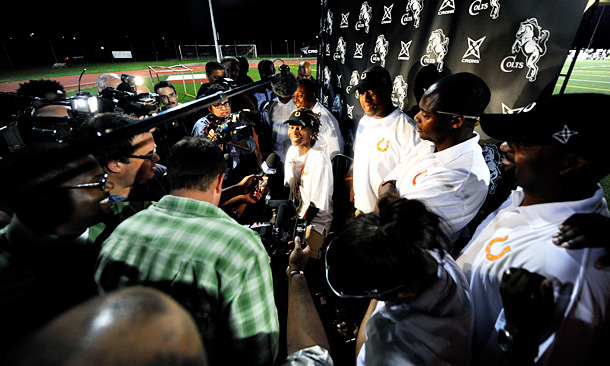 Rob Tringali for ESPN.com
Randolph's first game as head coach drew an expected crowd of reporters.
Kicking butt and straight-up loving it
"We beat the s--- out of them!"
Randolph is giddy.
Coolidge has just won a summer passing league game against a team from Friendship Collegiate Academy. Randolph is at a bar with two of her assistants, celebrating.
"I know this is just the passing league, but every time we got the ball, we scored," she says. "My coaches adjusted. Theirs didn't. We beat the s--- out of them!"
The backstory? After Friendship beat Coolidge by a single point a few days earlier, Friendship's coach made his players run sprints and do pushups on the field, right in front of Randolph and her players, because his squad didn't win by a bigger margin.
That rankled.
"They were so mad after the game," Randolph continues. "You could see it in their eyes. They couldn't believe they lost to this little b----."
So, did you shake hands afterward?
"Oh yeah," she says. "I acted as girlie as I could, just to rub it in. I said, 'Thanks.' And then I started twirling my hair."
A pause.
"We beat the s--- out of them!"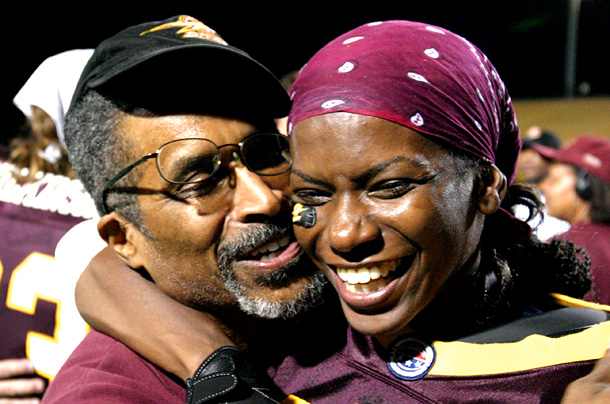 Dan Rosenstein/Courtesy of the D.C. Divas
Randolph and her father, Nathaniel, were very close -- sharing the bond of football.
Irreplaceable dad
She knew something was up. Something bad. In the summer of 2007, Randolph's father, Nathaniel, dropped off a small locked safe at her house.
"Don't open this," he told his daughter, "unless something happens to me."
Father and daughter were close. Randolph's parents divorced when she was 4. The split was amicable. Randolph lived with her mother but spent plenty of time on her father's Potomac River houseboat. Mom, who came from Haiti to study in the United States when she was 18 and later earned a Ph.D., was the cautious parent. Dad was more adventurous. He and Randolph went everywhere together: track meets, Washington Bullets basketball games, the slam-bang action and gore-spattered horror movies Mom couldn't bear to watch. Dad was always in the stands at Randolph's races, basketball games and piano recitals, cheering and telling his daughter to work hard. "There was nothing he wouldn't do for her," says Byrd, Randolph's fiancé. "That was his baby girl."
Nathaniel wasn't feeling well. He said he had the flu. He said this for three months. Before a Woodson game in November, Randolph told her father: "Stay home tonight. Get some rest." After the game, he called her: "Don't worry about me, but I'm in the hospital." Natalie rushed to his side. Nathaniel's red blood cell count was dangerously low. Doctors were dumbfounded that he was still able to walk.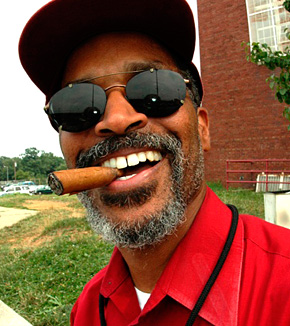 Dan Rosenstein/Courtesy of the D.C. Divas
Nathaniel Randolph ran his own physical therapy business.
Randolph was dumbfounded, too, because she always thought of her father as Superman. And not just for her. For everyone. Nathaniel was an Army Reserve captain for 13 years. He founded the first black-owned physical therapy in the district. He was a people's doctor, treating many patients for free, working all hours and mostly sleeping in his office chair. To the Divas, he was "Daddy Nat" -- a man who became the team's trainer and unofficial father figure, on hand for every practice and game.
"Hey, I'd love to be in the stands having a hot dog and drinking a beer," he would tell the players. "But I'm taking care of my girl."
"Their relationship was awesome," says Reese, Randolph's friend and former teammate. "But make no mistake, he was our dad, too. He was warm. He always had us laughing. Sometimes we would have issues with our medical insurance or needing to pay for something. He would say, 'Don't worry about it. Come see me. I'll take care of you.'"
Nathaniel needed a blood transfusion. He spent five days in the hospital, five long days for a man who made a point of never seeing a doctor himself, preferring to call his brother, Michael, a Baltimore physician. He was diagnosed with a kidney disorder and prescribed rest and a strict diet.
Thing was, Nathaniel didn't know how to rest and didn't much like the diet; he would ask Randolph funny questions, like "How do you bake a potato?" Still, he started getting better and in mid-January 2008 called his daughter. "The day before was his birthday," Randolph says. "I had been stressed at work and forgot to call him." She cried. She took Dad to get pancakes, saw him shortly thereafter at her grandfather's birthday party. And then …
"We saw on the morning news that someone was killed in an accident on the highway," Byrd recalls. "We didn't pay any attention. We were getting dressed to go to work. It wasn't until we got to school that we found out."
From The Washington Post, Feb. 11, 2008: Nate Randolph, 56, died when the car he was driving slammed into a parked tractor-trailer on Interstate 295. Family members surmise that he fell asleep in the pre-dawn hours and drifted out of his lane.
Randolph was in shock. Word quickly spread to her Divas teammates. Many were in Florida for a flag football tournament. They hurried back to Washington. For two weeks, they wouldn't let Randolph be alone. They congregated at Nathaniel's office, helped Randolph sort through her father's papers and medical records, laughed and wept and drank, told stories about Daddy Nat. One teammate went to collect Nathaniel's personal effects so Randolph wouldn't have to see her father's smashed-up car. "They made a rotation, the whole team coming to help," recalls Marilys, Randolph's mother. "They supported both of us, really. They were unbelievable. I could see they were a family."
At Nathaniel's funeral, Randolph delivered the eulogy. Her teammates wept. She never lost her composure. "We were there trying to be strong for Natalie," recalls Hogan, the Divas fullback. "But really, she was stronger for us."
How does a young woman grieve? Byrd encouraged Randolph to play football again. Her teammates did the same. She tried, appearing in a single game. Her mind wasn't there. She was hurting. Randolph would look toward the sideline and see her father's medical bag and signature orange toolbox still there, a makeshift memorial. Once during practice, she jumped to catch a pass; distracted, she landed wrong and rolled her ankle. Badly. So badly she couldn't even drive herself home. No matter. She shooed away the trainers, didn't want anyone to touch it. Randolph cut corners in rehab, started running too soon and then tripped while shopping, making the injury worse. Two cortisone shots and one surgery later, her ankle still aches. "Any time she needed treatment, she would go to her dad," Byrd says. "She couldn't do that anymore. So she tried to do it on her own."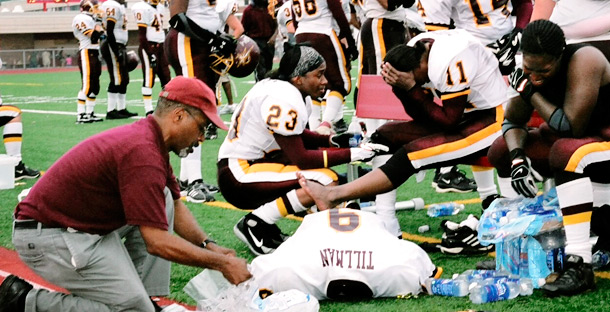 Dan Rosenstein/Courtesy of the D.C. Divas
The Divas developed a lasting bond with the man they called Daddy Nat.
People will talk
Reese: "At gatherings, Natalie used to come in jeans and nice heels and look cute. Now she comes in sweats and has a whistle around her neck. She looks like a head coach, like she's tired, has plays roaming around in her head as you talk to her. It's almost like a different Natalie."
Bob Headen, Coolidge assistant coach: "She has a lot of pressure on her. She's worried about winning. About her job teaching. All this publicity. She's not showing it. We don't know what is happening when she goes home at night."
Randolph: "I only watch the news on vacation. It stresses me out otherwise. In my car, I can't listen to the radio. I drive in silence."
Shedrick Young, Coolidge assistant coach: "I don't think she's dealt with her father's death yet. Just sat down and really gone through all of it."
Marilys Graham Randolph: "I think coaching is helping her. Anchoring her. It's making her pay attention to what she really loves. And what her father loved. I keep thinking to myself, he would have been so happy for her. So proud."
Randolph: "People ask all the time, 'When are you having kids?' I say, 'I already have 130.'"
Text messages between Randolph and Coolidge defensive back Reynard Ware:
Ware: Coach, thank u
Randolph: For what?
Ware: Just for everything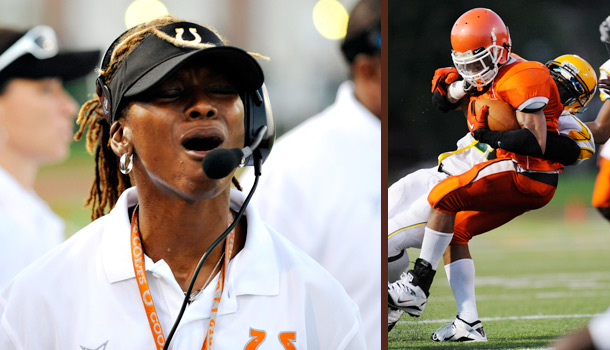 Rob Tringali for ESPN.com

Randolph didn't hide her emotions as the Colts learned some tough lessons in the season opener.
No place to go but up
The local TV newswoman doesn't know. Not her fault, really. She's sitting in the Coolidge bleachers, her sleek little camera resting on a tripod, pointed at members of Randolph's family. She doesn't know that Michael, Randolph's uncle, used to come home from medical school and play backyard football with his niece. She doesn't know that Jackie Randolph, Randolph's aunt, is a Buddhist nun living in France, a former national team sprinter. She doesn't know that Mary Randolph, another aunt, asked whether a photographer could possibly share a few snapshots of Randolph.
"I take her photos to my brother's grave," she explains. "If my brother was here, he would be on that field."
The local TV newswoman only knows this is Randolph's first game, a late August season opener against Archbishop John Carroll High School, and every other local station is here, too, plus Forbes magazine, because Randolph is a female football coach and was featured on the cover of Parade magazine, and that all of that makes all of this … a story.
"What do you think of all the Internet," she asks Randolph's family, "of all the national news?"
"What has Natalie always been like? Was she feisty?"
"Do you worry about her being in a man's world?"
"It's been strange," Randolph's mother says. "I received e-mails from people at work, people I don't even know, professional colleagues that aren't close friends. People say they're going to follow Natalie's career, that I must be very proud. But there's a reality to this. She's my child. That person on the cover, that coach, the publicity? That's a little bit alien."
Coolidge games typically draw about 700 spectators. Tonight's crowd is closer to 3,500. There are alumni tailgating next to the basketball gym, a dozen-plus reporters and camera people prowling the sidelines, two broadcast vans stationed in the parking lot. Randolph's mom flew in for the game. A large group of the Divas are here. Toni Morgan, the first woman to referee the city's high school football championship game, is on the field. At halftime, Mayor Fenty waves from the press box, to tepid applause and a smattering of boos.
Outside, four older woman -- one with graying hair and a cane -- walk toward the ticket gate. A taxi pulls up beside them.
"I wanna go see Coach!" the male driver yells. "Is she gonna do good?"
"Oh yeah," one woman says. "She's gonna do good!"
One woman pantomimes a dropkick. "We gonna kick some butt!" she says.
Alas, life is not the movie "Wildcats." Randolph's team has speed but lacks size and experience. The Colts' offense is electric in the first quarter, twice reaching the red zone, but comes away with only a blocked field goal and a turnover on downs. The players are too excited, caught up in the hype. Their adrenaline fades. They start cramping, missing assignments. Carroll's bigger, stronger linemen dominate; a punishing blindside sack of backup Coolidge quarterback Jayme Hutchens leads to a Carroll touchdown and a 21-0 third-quarter deficit.
"Coo-lidge! Coo-lidge!" comes a chant from the crowd. And then: "D-C Di-vas! D-C Di-vas!"
Headen barks directions at Coolidge's defensive linemen. Dawkins tutors the wide receivers on when to run a go route instead of a slant. Quarterbacks coach Lisa Horton -- believed to be the only female to throw a touchdown pass in a men's semipro game -- pats Hutchens on the back. A Coolidge player screams at his teammates, "I'm hurt, and I'm fighting! We need to fight!"
Nothing helps. After the first quarter, Coolidge's passing game goes AWOL. The clock winds down. Paramedics load Colts junior tight end Chuck Gaines, shivering from severe dehydration, into the back of an ambulance. Randolph stands alone, right hand squeezing her lower back, left hand rubbing her right shoulder. Stone-faced, she chews gum. I wonder whether she's still pretending not to be sore. A fuzzy boom mike hovers overhead, like a halo.
Sophomore center Brandon Hernandez -- nice kid, eager to please, still finding his way -- has spent the game getting beat up, punched, kicked and stepped on. His face as red as his watery eyes, he argues with a pissed-off teammate. "He hit me first," Hernandez screams, more or less at the world.
Randolph takes Hernandez's hand. Firmly, but not without love. She walks him to the other end of the bench. Sits him down. Doesn't say a word.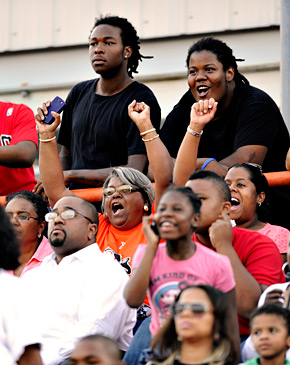 Rob Tringali for ESPN.com
Despite the Colts' 28-0 loss, Marilys Randolph, center, raised her arms in support of her daughter's team.
The game ends, a 28-0 Coolidge defeat. Randolph leads her squad in a handshake line. No one on Carroll's team mistakes her for a trainer. The Colts walk back to their locker room, deflated and spent. Reporters and cameras mass behind a goalpost for a makeshift news conference. Someone fits Randolph with a body microphone.
"We got all the kinks out," she says.
"We know what we have to do," she says.
"This is not normal," she admits.
"Keep it in perspective," she says. "It's just a football game."
The scrum disperses, everyone off to file stories, edit film, make deadline, keep things in perspective. I follow Randolph back to the tunnel. A group of Divas serenades her: "We still love you, Coach Randolph!"
She gives one of her limping players a hug and ducks into the coaches' locker room.
"Natalie, I love you like a daughter, but you can't use the f-word," Headen says. "They're going to pick it up on television, and I'm trying to recruit young men for the school."
"Let it be on national TV," she replies. "I don't care about the damn cameras."
Randolph grabs some fruit and heads out into the cool night air. A student on the training staff approaches. He thinks he left his wallet in the main school building. Carroll's players are still on the field; their team bus apparently hit two cars in the parking lot, one of them belonging to the school's assistant principal. Principal Jarrett stares at her walkie-talkie, incredulous. A teacher working the concession stand hands Randolph a plastic baggie stuffed with small bills. "Check the count," he says, noting a mix-up in T-shirt sales.
Randolph scans the empty stands. "Where's my mama?" she asks. "Already left with friends," she realizes, finally remembering to check her BlackBerry.
An exasperated sigh. She still has to track down mom's travel bag, which is nowhere in sight.
Tomorrow morning, Randolph will scout an upcoming opponent, meet with her staff and break down film. She teaches science class on Monday. She pops the trunk of her car, tosses her dress shoes inside. She is heading to the hospital to check on Gaines, the dehydrated player, the newest item on her to-do list, one more thing that has nothing to do with her being a girl. There is the Natalie Randolph Story, and then there is Natalie Randolph.
Patrick Hruby is a regular contributor to ESPN.com.
Join the conversation about "Natalie's World."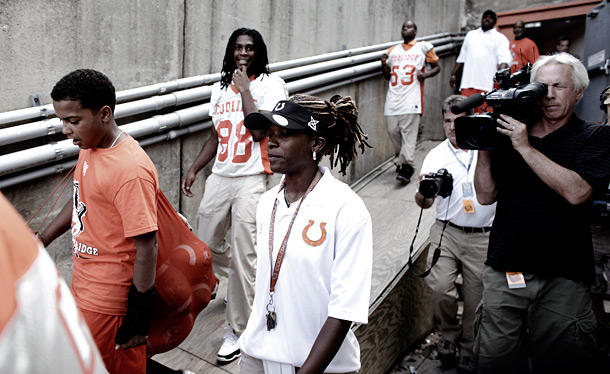 Rob Tringali for ESPN.com
Randolph and the Colts are sure to be followed the rest of the season.