An exchange of fate
Sutton surprised Nate again about a week later when he invited him to appear on his weekly TV show. The bright lights had Little Nate a bit jittery. He explained to the audience that he wasn't as talented as some of the other guards and that he got by on pure heart. Sutton grinned.
Before signing off, Sutton gave a sincere thank-you to the university donors who supplied the team with the "Cowboy Fleet" -- a group of private airplanes the players and staff took to road games. For years, going back to his days at Arkansas, Sutton's teams had always traveled in groups of three or four smaller planes. The idea was to get in and out of town quickly, so the players wouldn't miss class. Because the planes were donated, it also saved the program millions of dollars.
Nate generally didn't care what he flew. All he'd ever wanted to do was travel and play -- and now that dream was coming to fruition. The next tough road game was at Colorado on Saturday, Jan. 27, and on the way out to Boulder, the team rode in three separate aircraft. Nate got to fly out on a relatively new corporate jet; Sutton flew on another new corporate jet; Kyle took one of the team's longtime standbys, a 1976 Super King Air Turboprop.
Gottlieb adored that King Air. The pilot, Denver Mills, would invite him to observe the cockpit, and Mills' wife would always leave homemade cookies for the passengers. There'd also be goody bags left on each seat by a group of female students called, "The Spurs," which made the trips home, especially after a loss, more tolerable. They would poll players on what they liked to read, and one trip, Gottlieb found a Tom Clancy book waiting on his King Air seat.
The other planes were filled with goody bags, too, but just didn't seem as intimate. The only downside with the King Air was that it was about a half-hour to 45 minutes slower to its destinations. But on the trip to Boulder, Kyle didn't mind. He was, as usual, chumming around with the team's director of basketball operations, Pat Noyes; having a laugh with media relations coordinator Will Hancock and student manager Jared Weiberg; and picking the brain of trainer Brian Luinstra; giving updates to play-by-play broadcaster Bill Teegins and radio staffers Tom Dirato and Kendall Durfey. Mills and his co-pilot Bjorn Fahlstrom delivered a safe flight, and the group was ready to play the Buffaloes.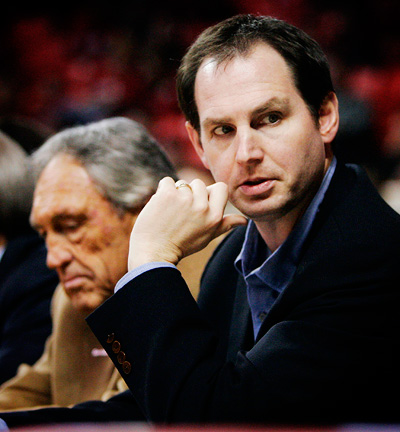 AP Photo/Sue Ogrocki
The game developed poorly. The team was a step slow, behind by double digits almost from the beginning. Nate didn't play, didn't get his ticket. Late in the contest, the Cowboys hit a 3-pointer to pull within 10. Sean Sutton, Eddie's son and his top assistant, turned to Kyle and said, "I guess the score won't look as bad on the highlights back home."
No surprise -- Eddie Sutton was perturbed. The team had quick turnaround games at Texas Tech and home against Missouri, and he wanted Kyle to break down the Colorado film right away and start scouting the Red Raiders and Tigers. The head coach told Kyle to switch planes with Nate, that Kyle needed to get back to Stillwater as swiftly as possible. So he went to find his cousin.
Nate was somber about the defeat. "We played bad, didn't we?" Nate said. "Sorry we lost." Nate was like a coach in that way; he hadn't turned the page yet. Kyle told him, "Hey, you and I are switching planes." Nate didn't bat an eye.
Because it was the slowest plane, the King Air was scheduled to leave Jefferson County Airport first. The same passengers climbed aboard, except Nate had replaced Kyle and his teammate Daniel Lawson had replaced Dirato, who had a bad back and was moved to one of the plush jets. Kyle remembers walking out to the hangar to check on the 10 of them and can still recall seeing their faces through the airplane windows. It was 5:18 p.m., dusk, when the King Air took off. A light snow was falling.
Sutton's plane left minutes later, and Kyle's corporate jet should've been right behind them. But before they took off, the pilot stopped the engines and offered food to all the passengers. That normally wasn't the protocol, and Kyle remembers thinking the pilot seemed out of sorts. Kyle needed to get back to grade the film; he started getting antsy.
When Kyle's jet arrived in Stillwater, Eddie Sutton was still at the airport. Kyle asked Sean, "Why is your dad still here?"
"He probably wants to make sure everybody gets back," Sean answered.
Kyle looked around, noticed the King Air hadn't arrived. He approached Eddie and asked where the plane was.
"Oh, they had mechanical problems, and they had to land in Garden City," Sutton said. Then the coach started rehashing the lousy game.
The pilot of the corporate jet then walked up, and Kyle asked him, "Hey, where's that other plane?"
Sutton said, "Kyle, I told you -- they had mechanical problems.''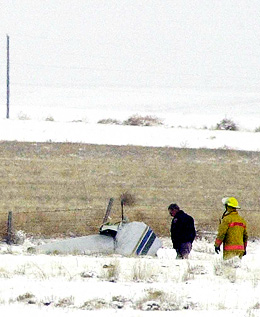 Mark Leffingwell/AFP/Getty Images
The pilot said nothing and left, so Kyle followed him into the restroom. He asked him again about the King Air, and the pilot ignored him, didn't respond. Kyle's radar went up. He grabbed his cell phone and called Nate. Straight to voice mail. He called Noyes. Nothing. He called Weiberg. Nothing. He called Luinstra. Voice mail. He called Nate again. No answer.
He hopped in his car to go home; he had to start grading that film. He phoned his father, Ed, and while they talked, his call-waiting flashed. The number belonged to a woman he was dating, who happened to work at a local TV station. He didn't have time to chat and ignored it. She rang him again and again, and his dad told him to just take the call. When Kyle picked up, she was sobbing.
"You're alive!''
"Why wouldn't I be alive?''
"We got a report out of KUSA in Denver that your plane went down and there's no survivors.''
"Huh?''
He kept his bearings, went into coach mode. He told her the plane just had mechanical problems and hung up. He called Sutton and said, "Hey, Coach, I just talked to someone at the TV station and that third plane you said had mechanical problems crashed outside of Denver. Zero survivors."
Sutton didn't answer right away. His voice was unsteady. He said, "Oh my gosh, that explains the message from the NTSB [National Transportation Safety Board] on my answering machine."
They all met at the basketball offices, the staff and players. Eddie Sutton says he slipped out of the room to weep for a few minutes, then returned knowing he had to call the families of the victims. He says he thought of Nate and Daniel, the players who switched. He switched people at the last minute all the time, and he says he wasn't going to blame himself because if he hadn't switched them, two of his other dear friends would have died.
Back in Edmond, Zane and Ann were watching a movie and had not heard the news yet. Eventually, their phone rang. It was a casual friend of theirs, asking whether Nate had taken the trip to Colorado. Ann told her yes. The woman grew upset. She told Ann there'd been reports of a plane crash. Ann dropped the phone, and, when Zane heard the news, he dropped to his knees, praying it was a mistake.
The next phone call was from Ed Keller, Kyle's dad and Zane's brother-in-law. Zane picked up, and Ed told him, "Zane, I'm sorry to tell you, but the plane did crash, and Nate was on the plane. They're all gone."
Zane curled up into the fetal position and wailed.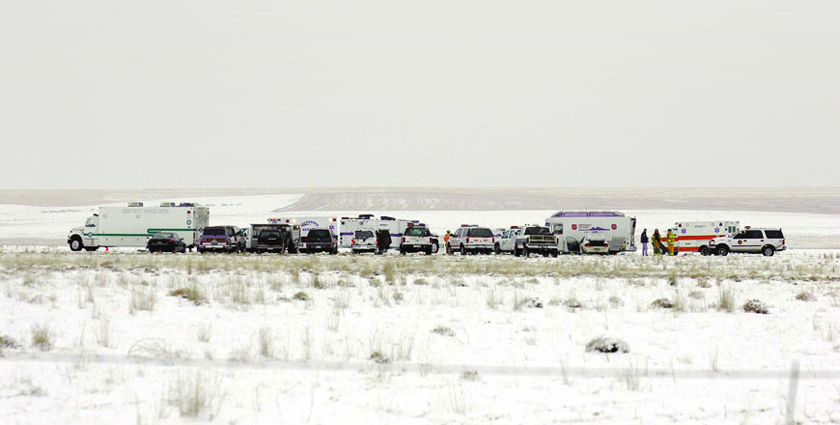 Mark Leffingwell/AFP/Getty Images