OTL: Why You Should Care About Cricket
DHAKA, Bangladesh -- The guy walking across the parking lot is famous. That's easy to tell from the reactions. Crowds part for him. Security guards mirror his every step. Other cricketers who made this same trip to the locker room tiptoed around the puddles. He strides over them, head up, confident. I am following an Indian cricket superstar, but I don't know who he is. That's the kind of trip this is going to be -- one of constant confusion and mystery.
He's not a big man, but he's got a big aura. Fans climb the stadium wall, cheek to cheek, pressed against openings to catch a glimpse. The player looks up at the apartment buildings crowding the other side of the street, like a zoo animal in reverse, all the residents leaning over to get a peek. He waves his bat at the kids on the wall. The kids scream with joy. I grab a photographer and point.
Who is that?
He looks at me like I've got three heads.
Sachin Tendulkar.
Oh.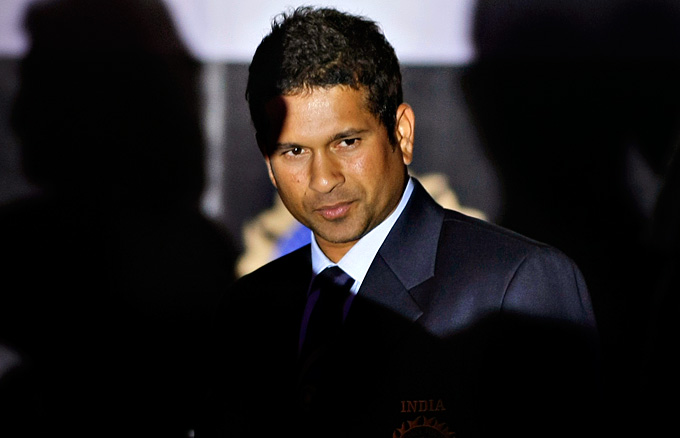 AP Photo/Gautam Singh
A sportsman and a pitchman and an icon -- Sachin Tendulkar might be the most famous Indian alive. He blends athletics and celebrity, transcending both.
CHAPTER ONE: Dhaka
Sachin is both the riddle and the answer. That's what I'm told. You must understand India to understand Sachin, but you must understand Sachin to understand India. They created each other. They are the same.
This, obviously, makes no sense to me.
How could it? Just a few hours ago, on a mid-February morning, I landed in Dhaka. I came with a copy of "Cricket for Dummies." The 2011 Cricket World Cup starts tomorrow, India at Bangladesh, and I know nothing about the sport, not even about the tremendous pressure on the Indian National Cricket team to win its second World Cup after a three-decade drought. How tremendous? The Hindustan Times' logo for their cup coverage says, every day, in enormous letters: A Billion Dreams … 28 years of yearning.
I don't understand that the sport itself is at a crossroads, in crisis even.
I don't realize that Sachin Tendulkar is likely playing in his final World Cup, still searching for his first title. Tendulkar is probably the most famous man in India. He's so famous that people who worked for him are famous: a well-known Bollywood movie character is based on his first agent, Mark Mascarenhas, who died in a car wreck. Billboards with Sachin's photo blanket India's cities; every other commercial on television features his face. He's wildly rich. He is the greatest cricketer in the world. One of the greatest ever.
Cricket World Cup
The India-Pakistan semifinal match is Wednesday at 5 a.m. ET. The winner of that match advances to the final to face Sri Lanka, which defeated New Zealand.
Go to ESPNcricinfo's World Cup page for full coverage.
I know none of that.
At the moment, I'm too busy trying to figure out the definition of a wicket.
Is it the manicured area in the center of the field?
Is it the stumps on either end of that manicured area?
Is it when a player gets out?
(Turns out, according to my book, it's all three.)
Cricket, like India, had long intrigued me from afar. It seemed so mysterious: a game with strange rules, and stranger vocabulary, one that can last for days, captivating billions but meriting only an inch or two in the papers at home. Only madness made it to my radar. Fan hangs himself after India loss. … Pakistan's coach allegedly murdered after upset defeat. There seemed something pure and savage that was missing from the glossy sports I follow at home.
My first day in Bangladesh, I'm sitting in the press box considering the journey ahead. Sambit Bal, the editor of ESPNcricinfo, sits next to me. If you are looking for someone with the opposite of my cricket knowledge, he's it. Back home, an Alabama fan had killed the trees at Toomer's Corner, and I was trying to explain the significance to him. This was big news to me. I'm a Southern boy, and I tend to believe that SEC football is the most important thing in the world. Only, Sambit has never heard of Auburn, or Alabama, doesn't know that they play college football, or that they are rivals. I fumble around. This is perhaps America's most intense rivalry. A fan just poisoned two 130-year-old oak trees. It's serious. I need an analogy.
My first thought: It's like India-Pakistan in cricket.
Except, you know, for the four wars since 1947 and the constant threat of nuclear holocaust. Other than that, Auburn-Alabama is just like India-Pakistan.
This is my first day in the world of cricket.
I have a lot to learn.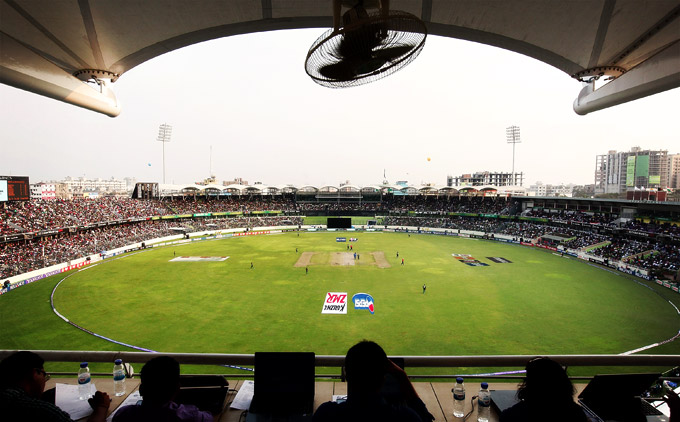 Graham Crouch/Getty Images
The press box in Dhaka, Bangladesh, was where this long, strange trip begins. The fans do their best to keep away the aggressive mosquitoes.
No magic moment today
Game day outside the stadium is wild. People fill the streets for blocks. A drum beats somewhere in the distance. Vuvuzelas are the horn section. The roar of the mob gets louder and louder until it's just white noise. Chaos is the new normal. Loud is the new quiet. Dhaka has ceased to function.
The stadium fills up. India is the favorite to win the tournament. The team's lineup is stocked with sluggers. The first two swagger to the center of the field: Virender Sehwag and Sachin Tendulkar. They are really here, waddling in pads, giving fist bumps. The crowd is bubbling now after months of anticipation, after years of hunger for their country to be seen as more than its disasters.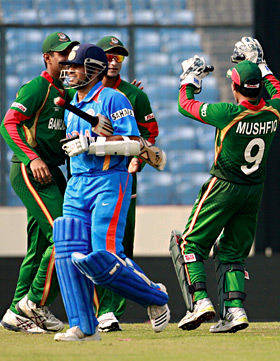 AP Photo/ Pavel Rahman
Almost as soon as it begins, Sachin's at-bat in Bangladesh ends. He scores only 28, leaving Indian fans disappointed and our writer confused.
The first ball brings a crescendo.
I'm trying to follow the game. I know Tendulkar is a star, so I focus on him. I cannot tell what makes him special. Then, before I know it, he's out, finished for the day. I don't really understand why. The fans rise to their feet as he walks off. He's scored 28 runs. It all happened so fast. I feel cheated.
Sehwag stays in. He crushes ball after ball. It's like watching Mark McGwire take batting practice. The dude has Popeye arms, and he's pounding the thing all over the yard. Fans call Sehwag the "Butcher of Najafgarh." He puts on a show. The cricket-mad Bangladeshi crowd oohs and ahs, just happy to be seeing the game in person.
Sehwag finally gets out with 175, an incredible total. After that, the game slows. India wins, and it's a little boring, frankly. Maybe it's because I don't know the rules, or because the scene in the street was exponentially more dramatic than the one in the stands, but the game itself seems anticlimactic. I've flown halfway around the planet, and I'm after more than an intellectual understanding of why cricket matters. There's a mystic place beyond the assignment. When the books are closed and the conversations about culture and history are over, I want to sit in a stadium and have the game explain itself to me.
That didn't happen tonight.
Innocence lost?
One thing did happen -- a pressbox conversation during the game that will eat at me for the next week. I'm sitting with Sambit, and a guy comes up to chat. He's a former Indian cricket player turned broadcaster, Sanjay Manjrekar, and he's been captivated by Bangladesh's reaction to this World Cup opening in its capital. This pure love for cricket transports him to his past.
"There is a certain amount of innocence here," he tells us, "which I think India has lost."
The entire exchange lasts a minute or two. His lament, and the place from which it comes, are beyond me.
I don't yet know enough to recognize a eulogy when I hear one.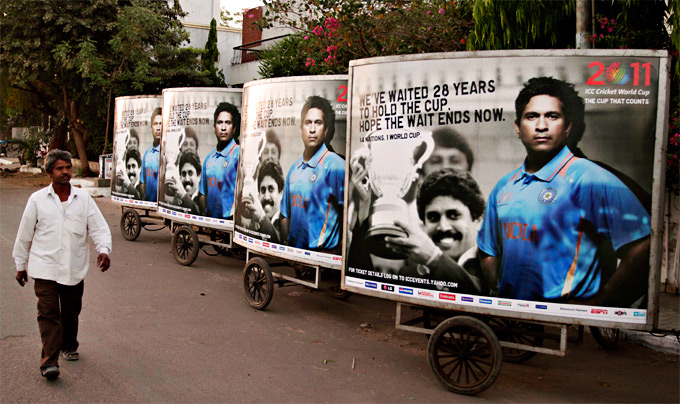 AP Photo/Ajit Solanki
In case anyone forgets the stakes of this World Cup or the pressure heaped on Sachin's shoulders, he only has to take a few steps and see another iteration of this billboard.
CHAPTER TWO: Ahmedabad, India
I'm taking a retired physics professor named Kumar Bhatt and his brother Bankim to the next game. Kumar taught at Ole Miss, Kentucky and Texas. Most of that time was spent in Oxford, Miss., where I live. Before he moved back to India, his house was a few blocks from mine. If anybody would understand where I am coming from, it's a former neighbor.
We find our seats, and the game begins: a slow affair, plodding, with the powerful Australians still finding their legs and the overmatched Zimbabweans playing defensively, taking no chances.
The stadium is mostly empty. It will remain that way. I think of Manjrekar's pressbox lament.
Kumar tells me about the history of the game. When he was growing up, championship cricket meant a Test match. White uniforms. Breaks for high tea. Unlimited overs. (An over is a set of six balls, sort of like an at-bat.) Games lasted for days. Sometimes nobody won. Cricket was designed to be played, not watched. "After five days," Kumar says, "it was frustrating for the spectators."
Modern attention spans began shrinking cricket. First came the World Cup format, which could be completed in a day, and is now 50 overs. More recently, the 20-over game has become popular with paying customers, an event stripped of nuance, played in the same amount of time as a baseball game.
We sit in the lower bleachers, the entire circle of green in front of us. An Australian player muscles a ball toward the boundary. A ball that hits or bounces over the boundary at the edge of the field is four runs; a ball that crosses it on the fly is six. Some Aussie hits are seen as gauche. Kumar clucks disapprovingly. I ask why. Old-school cricket fans don't like it when players cross the bat, which for baseball fans would be like if a right-handed hitter got an outside fastball and, instead of going the opposite way, turned and pulled it. It's vulgar. The ball should be hit in the direction from which it's pitched.
"You are to play gracefully," Kumar says, "and give respect to the ball."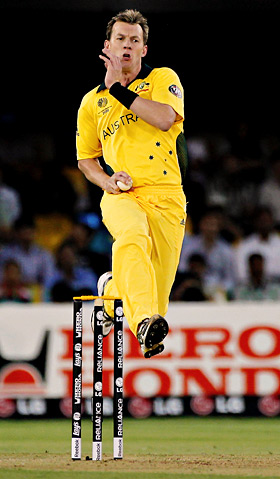 Daniel Berehulak/Getty Images
In Ahmedabad, Australia's power proved too much for the Zimbabweans, whose comeback never got off the ground.
Have you ever heard that something "isn't cricket?" That's where the phrase comes from. To cross the bat isn't cricket. Sehwag crosses the bat. Constantly. He wants bombs. Fours and sixes. Sehwag revels in his vulgarity. Tendulkar, although a big hitter, plays with an old school respect. Kumar loves Sachin.
"Grace has a place," Kumar says.
"The players have gotten soft," Bankim grumbles.
"Australia relies mostly on fast bowlers to win," Kumar says. "We don't consider it fair."
The sparse crowd gets behind Zimbabwe, which steals a couple of wickets. Fans whistle at the departing Australians, waving goodbye. Australia completes 50 overs with 262 runs.
"Not a good score," Bankim says.
Zimbabwe comes to bat. It's already been a long day. Kumar is 78 years old. "Would you like to leave?" he asks.
Bankim ignores him for a bit but gets the message. We pack our stuff. I check the scoreboard and work out some numbers. Zimbabwe is scoring 5.25 runs an over. It needs 5.26. It has a chance at the upset. I head up to the press box. I need to keep watching cricket, in person and on television, if I want a revelation. There will be a moment when it all becomes clear.
Maybe that will happen tonight.
That is one of many miscalculations I will be guilty of today. The Zimbabwe team slows down, needing 26 overs to reach 100 runs, but in the well-lit press box I hold out hope, doing the math on my phone, figuring out the run rate. At least I'm taking steps, learning the nuances of the game. I divide the runs by the overs. Repeat. Then the wire-service reporters stop watching the game and begin typing. Hope is gone. There are many ways to know when a game is over, but the most reliable is to find the correspondent from The Associated Press. The AP guy is sitting next to me. He taps furiously.
There will be no magic.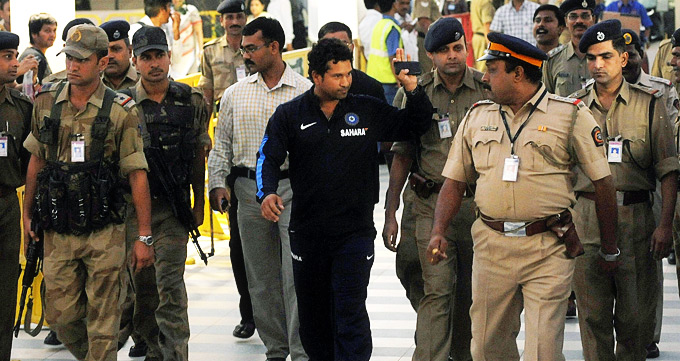 AP Photo/Channi Anand
Sachin is a national treasure. Everywhere he goes he is cheered, watched -- and protected.
CHAPTER THREE: New Delhi
My New Delhi cab driver's name is Deepchand Yadav. He loves cricket. Once, the captain of India's 1983 World Cup champion team, Kapil Dev, rode in his car. Can you imagine?! Kapil Dev, in my cab! He hopes India will win this year's tournament. Everyone is very nervous. A billion dreams. Twenty-eight years of yearning. The team must win, for the billion, for its star.
"I'm fans with Sachin," he says. "Sachin is mentally cool."
Deepchand moved to Delhi from his village 18 years ago. Yadav is a caste name. His caste members are traditionally cow herders, and as India has changed, they've spread through the nation, taking any job they can get, sending money back to the villages. He is part of postcaste India. Anything is possible through hard work. He grinds, trying to hang on to the first rung of a lower-middle-class life. He's a smart guy, with a big smile and a luxurious mustache.
Six years ago, worried about the lives of his wife and three children, he brought them to Delhi with him. "My family actually likes village," he says, "but I like Delhi because business purposes is good." Six years ago, he played cricket -- captain of his village team. But since his family came to the city, there's no time. He's never played cricket with his son.
His son is 10 years old. The boy plays cricket with friends in the street, wherever they can find a little space, five or six sharing a bat. The wheels turn. I ask Deepchand if I could play with them tomorrow. I've watched cricket, but I've never held a bat or struck a ball. Books take you only so far. The best way to know a sport is to play it with children.
"What's your son's name?" I ask.
"Sachin," he says.
'If Cricket Is a Religion, Sachin Is God'
Deepchand chose this name carefully. A name is very important in Hindu culture. The right one, it is believed, can lead a child to immortality. A name is a compass. It points a person in a specific direction.
Of his three children, Deepchand got to name two of them. The girl he called Sonia, after Sonia Gandhi, a politician, "an honest and powerful woman." He wants his girl to be like her. He wants his son to be like Sachin: strong, sincere, poised. Sachin represents so many things for Indians who aspire to a better future while not losing their past in the exchange. The name literally means "pure."
"He never behaves badly," says Rahul Bhattacharya, once a popular young writer on cricket, now a novelist, "which Indians find very appealing. He's not had scandals with women or drugs. He's the idol for our children."
Before Sachin, typical Indian cricketers took few risks. For the first hour, shots were deflected, frustrating the bowler, tiring him out, forcing him into mistakes, a perfect sporting ethos in a country known for vein-popping passive-aggressiveness. Sachin changed that. His style was new. He swung a thick bat, heavier than Indians had used before.
He wasn't passive-aggressive.
He was simply aggressive.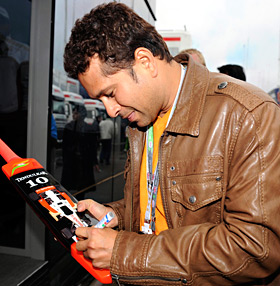 Icon SMI
Sachin Tendulkar signature bats are to an Indian child what a Mickey Mantle glove was to a boy growing up in the Bronx in the 1960s. Here, Sachin signs for a fan.
He played with respect, but he also played with power. A recent book, "If Cricket Is a Religion, Sachin Is God," finds an important corollary to India's history in this. Before, because of a stagnant economy, nutrition was a problem. India couldn't outslug rivals. It needed spin bowlers and crafty batsmen. An inferiority complex developed. Despite his greatness, somewhere deep inside, Indian legend Sunil Gavaskar, who retired two years before Sachin debuted, seemed terribly insecure. After he became famous, he turned down a membership to London's exclusive Marylebone Cricket Club -- the Royal and Ancient Golf Club of cricket -- because, once, a guard there didn't recognize him. The slights burned until they became a part of him, his pilot light, defining both him and the nation he represented.
Sachin isn't from that India.
His international debut came a year before India opened up its economy. His rise mirrored India's early-90s rise, when foreign corporations arrived in India for the first time, accounts swelling with advertising dollars, looking around for a face. They found Sachin.
He was India's first modern sports star, a combination of Babe Ruth, Muhammad Ali and Michael Jordan, because his rise mirrored a nation's economic rise, and he forever changed sports celebrity and marketing in India. Once, when an American company executive contacted his agent and wanted to understand what place Sachin held in Indian culture, the agent didn't quote the number of Test wins, or international centuries. He said, simply, that Sachin endorsed Audemars Piguet watches, and that the company made a model just for him. The executive was sold.
Sachin has been a star since he was a boy. Cops had to stand guard outside his 12th-grade exams. Despite the attention, he's remained dignified. There are no porn stars. He grants few audiences. He is the man Indians count on when things are at their worst.
Two weeks after the Mumbai terrorist attacks, India's 9/11, with the country reeling, India played a Test match against England. Sachin anchored the match, his performance rising to meet the stakes of the day, scoring more than 100 runs without getting out, which would be like dropping 50 in the NBA Finals. A century, it's called. His success, which he dedicated to those suffering in his hometown, added to his legend. Over coffee one evening, his current agent asked me, essentially, if Derek Jeter had a Secret Service detail. He was completely serious. I laughed out loud. No, I told him. He seemed surprised. Everywhere Sachin goes, the government of India protects him.
He's a national treasure.
Now his career is nearing its end, and fans are left with beautiful memories, to be sure, but also questions.
What does Sachin's retirement mean for cricket?
What does it mean for India?
Elephant in the slow lane
The highway runs past ancient ruins, and the lights of the cricket ground. Tomorrow, I'll see South Africa-West Indies. Today, I'm going to play cricket with little Sachin and his friends. I've brought a surprise for him. It's a Sachin Tendulkar signature series cricket bat made from pure English willow. It'll be his first proper bat, and when Deepchand told him about it last night, Sachin had trouble going to sleep. We ride out toward the suburban slums. I'm twisting around to see the wrecked castle when Deepchand shouts, "You see elephant?"
What? I turn around. There's an elephant in the slow lane. Cars whip past and the elephant just lumbers, oblivious, carrying people patiently to their destination. There's a freaking elephant in the slow lane.
"What happens if a car hits the elephant?" I ask.
"The car is damaged," Deepchand says. "The elephant is OK."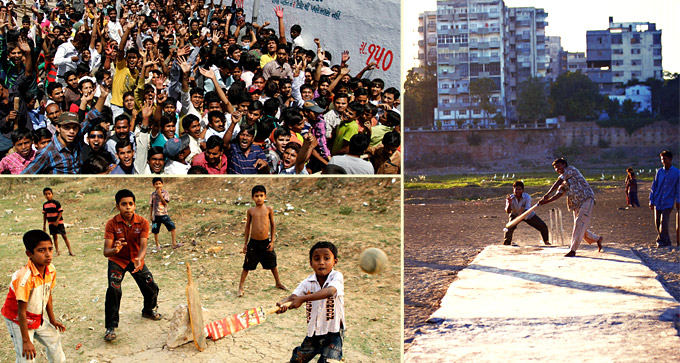 (Clockwise from Top Left) AP Photo, Icon SMI, AP Photo
Cricket is part of Indian culture -- played almost anywhere, by anyone.
Like America in the '50s
There are elephants on the highway. There are elephant-sized metaphors shuffling alongside. This is a nation with a foot in both the past and present. India is at an end and a beginning. Over drinks in Delhi with my friends Candace and Lydia, we talk about this. Lydia is a correspondent for The New York Times and one of the world's experts on developing nations. Talking journalism with her is like talking cricket with Sachin. She cautions me to avoid trying to figure out what India is, or what it isn't, or to draw conclusions. "It leads you down all of these blind alleys," she tells me. "It defies all efforts to simplify."
She's right. I'm not sure what any of this means, or how cricket or Sachin fits into it, or even if he'll actually retire, but this is a critical time for the nation, just as it's a critical time for cricket. Their ambitions and threats are the same. Anyone who's here for even a few days can tell that.
India today seems a lot like America in the mid-50s.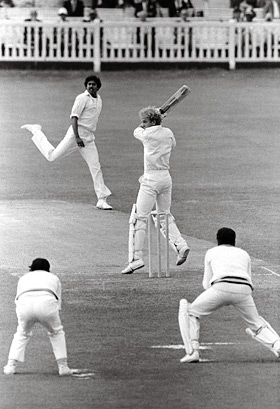 Getty Images
White uniforms, long matches, breaks for high tea. Test Cricket is the original and most formal version of the game. True fans like it best. This photo is from a match during the 1970s featuring India and England in storied Lord's Cricket Ground.
This is largely a pre-ironic society. Yes, there is a rich history of satire, and modern exceptions -- the '50s also produced Jack Kerouac -- but the earnestness with which people love Sachin is reflected in many aspects of the culture. There's no place, yet, for an Indian "Daily Show." Elephants aren't for statues representing a bygone era, like the blue mustang outside Denver's airport. They are for the slow lane.
Movies are expected to end a certain way. Heroes in those movies are expected to behave a certain way. In his definitive book on Mumbai, "Maximum City," author Suketu Mehta describes an Indian audience's reaction when the hero of a film turned out to be a terrorist. They ransacked the theater. It does not seem strange to an Indian filmgoer that the songs in the movies have nothing to do with the plot. Mehta writes:
"The suspension of disbelief in India is prompt and generous, beginning before the audience enters the theater itself. Disbelief is easy to suspend in a land where belief is so rampant and vigorous. And not just in India; audiences in the Middle East, Russia and Central Asia are also pre-cynical. They still believe in motherhood, patriotism, and true love; Hollywood and the West have moved on."
Commercialism is a new mistress in sports. The Indian Premier League, which plays 20-over cricket, started three years ago. The creation of the IPL is India's Dodgers-leave-Brooklyn moment. Money is changing the sport. The change is seen by most as good. Any achievement by an Indian is good, something to be admired in the light. For many Indians, especially those who speak English and are trying to navigate the brave new world of economic revolution, the issue of identity is an important one. Excellence is tied up in that search. Indian writers are judged by the size of the advance, not the magic of their words. Indian artists are judged by the price fetched at auction, not the feelings they create in someone who stands before their canvas. Open the paper any random day to find an example. When famous Bollywood actress Aishwarya Rai met Dustin Hoffman at a Lakers game, the tabloids report, she talked to him about "new market-tapping agendas and global trends." Not acting. Not his construction of Benjamin Braddock or Ted Kramer. They didn't talk craft. They talked money.
Over drinks, Lydia tells me one I hadn't seen. Indians are obsessed with the Guinness World Records book. Obsessed.
India still believes in the simple beauty of success.
Irony and cynicism come next.
"Irony requires a certain amount of self-confidence," Lydia says. "You have to have built enough of an identity to turn around and reject it, or to laugh at it. I think that's something that takes time."
The kids are all right
The kids see Deepchand and me walking down the street and furiously make preparations. One of them yells, "Wickets!" and they spring to action, setting up a stack of bricks. Our field is the only greenish space in the neighborhood, dirt, really, strewn with bits of trash. The kids introduce themselves. There's Sachin. He's quiet, with a wide smile and a laugh that comes out a chortle, rushed, almost as if it's surprised him. Another one, the most confident, tells me his name is Sunny. That's Sunil Gavaskar's nickname. He's 13. The brashest kid, the cockiest, is named Deepak.
I pull out the bat.
A neighborhood kid winds up and bowls to me. The first few, I deflect. Then I get into one, a full baseball-style turn, and wallop it over the crumbling brick fence at the end of the field. Six!
"Good knock!" one of the kids tells me.
When I pop out, Sachin bats next. He crushes a high-arcing drive that lands in the trash-strewn woods. The kids hunt in the mud for the ball. The day fills with laughter. The old women sitting in the shade of a tree watch the game. Deepchand and Sachin are playing cricket for the first time together in Delhi. They are happy, tossing the ball, dad bowling and son batting. The cab driver seems suddenly lighter.
"You're a kid again!" I yell at him across the field.
He throws back his head and laughs.
The boys fight over who'll bat next. They race back to the wicket. Sachin wins. They want me to bowl. The first time, instead of windmilling with my arm locked, I throw it like a baseball. That's a no-no. It's called chucking. I'm a chucker. Sunny explains.
"Full-arm action," he says. "Can I show you?"
He places my fingers along the seams. I wind up and clean bowl Deepchand. I've gotten him out. The kids give me high-fives. "Pretty good," Sunny says.
The game is no longer tedious. It's alive, inside me, in these children, even in the women grinning at us from beneath the tree. I look down at the end of the field and catch Sachin staring at his new Sachin signature bat, showing it off to his friends.
The kids decide we should play a game -- five overs, two teams of four. Sachin and I go first. One player stands at each edge of the makeshift wicket. To score a run, each runner has to make it safely to the other end. The farther the hit, the more times we can complete the circuit.
I put my notebook down. The sky is blue. The sun pans across my face, warming the afternoon. The boys are happy. Deepchand is happy. I am happy, too, playing with the neighborhood kids, although when I am bowled, when I'm out, I feel like I've let a 10-year-old down. Cricket, like most team sports, is a personal game but also one of intense connection. It is both individual and communal. I'm left to watch. Sachin crushes it, six after six. Sunny kills it, too, spraying the ball around the makeshift field, over the fence. We finish with 49 runs. That's the target.
The next team scores fast, too. Deepak is a beast. He's barrel-chested. He hits a booming six, and when the ball is finally found, he hits another. He hits a third one, high into the air, which will come down in the trees and in the trash, a ball that will never be found, ending our match in a draw. He watches it sail into the Delhi sky, and he poses.
"I am Sehwag!" he says.
Where pure aggression comes from
I am Sehwag.
As Sachin grew up watching Sunil, Sehwag grew up watching Sachin. He saw Sachin's aggressive stance. He took what he saw, internalized it and spat out something new, something dangerous, even. There's a reason some old-school fans find him vulgar, and Deepak screams his name.
Where does something like that come from?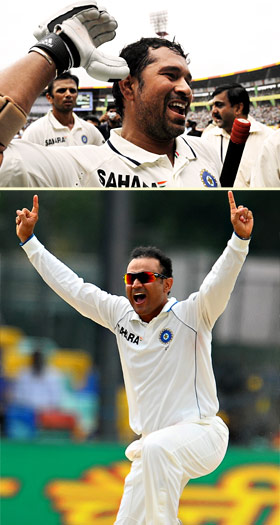 Getty Images
Sachin, top, and Sehwag provide a lethal one-two punch at the top of India's lineup. Sehwag grew up idolizing Sachin, although their games aren't the same.
We leave Deepchand's house and drive toward the airport, past the endless storefronts featuring posters of bodybuilders. Strength is in. Out on the edges of Delhi, huge apartment buildings stretch to the horizon. Ugly concrete boxes, row after row of them. If Bruce Springsteen were from India, he'd sing about these streets. There are things being built here. There are things being torn down. A shepherd drives a flock of sheep down the road, turning them into a weedy lot, the proposed site of a cultural center. He wears a red turban, carries a staff.
Sehwag grew up in these badlands. He saw Sachin through the prism of the gritty world around him, looking past the grace to the power. Before Sehwag, Indian opening batsmen were supposed to take the shine off the ball. That's the cricket phrase. Take the shine off. Break it in. Wear down the bowler. Sehwag would take the shine off by going for fours and sixes. He got a reputation for dogging it on singles. And if Sachin gave birth to Sehwag, then a whole group of younger sluggers have taken it a step further. At least Sehwag still plays Test cricket. Some newer stars don't.
The Indian team is a blunt object, 15 men created not in the image of Tendulkar, exactly, but in the image of the new India that he both inspired and represented. Sachin carried the team alone in the '90s, but in the past decade a generation of hyperaggressive Indian stars came of age. Former captain Sourav Ganguly ripped off his shirt and twirled it above his head on the balcony of the uptight Lord's Cricket Ground in London. They are celebrities now. They frighten opposing bowlers. They themselves are not afraid. Two years ago, the team changed its jerseys from powder blue to a deeper color. It seemed less meek.
I am Sehwag.
"The aggression, the brashness," says Bhattacharya, the cricket writer turned novelist. "It's now something which Indians see that this is what we have to do to assert our place in the world. We've been f---ed over for thousands of years. Everyone has conquered us. Now we're finding our voice. We're the fastest-growing economy in the world. We are going to buy your companies. Our cricket team is like going to f---ing abuse you back, and we're going to win and we're going to shout in your face after we win. People love that."
We turn on Najafgarh Road. Shop workers give us directions. Everyone knows The Butcher. In the midst of this urban blight, there is a single planted field. This all used to be farmland. Now there are big piles of sand, the dust of something old waiting to become something new. White smoke rises from burning trash. Mechanics fixing motorcycles on the sidewalk tell us to take a right at the feeble old tree past the shrine to the monkey god.
This is Sehwag's street.
When his father died, the neighbors tell us, he moved his mother to a nice place in central Delhi. Other family members live in the house now. There, they point. That's his aunt. The home is down an alley, where Sehwag used to pound cricket balls. "He was always a long hitter," a man says.
The house has a big black gate and a bamboo fence to offer privacy for the patio. There's an orange lantern and a rooftop terrace. It's the middle-class home that Deepchand dreams of for his family. This is the home of a grain merchant who moved to the city from a village, wanting to build a new life.
Sachin is the son of a poet.
Sehwag is the son of man who sold wheat and rice.
The last of a dying breed?
"In the golden age of cricket," Bhattacharya says, "you'd never be without rotis."
Halfway around the world, I feel at home here, a group of sports writers at dinner. We're crowded around an upstairs table somewhere deep inside the alleyed maze of Old Delhi. It could be Augusta, Ga. They've brought our food but not our bread. No rotis? Bhattacharya hits the running joke. Gallows humor. In the golden age of cricket, the dal wouldn't be bland. In the golden age of cricket, there wouldn't be so much grease in the mutton. It's never far away. Any conversation about cricket quickly arrives here: Are the changes designed to help cricket exist in a modern world actually killing the game?
They tell a story of Sunil Gavaskar crushing a six in a long-ago Test match and stepping back to curse himself. He knew he needed to calm down, to play for the long haul, not just one six-and-out. Adrenaline and aggression are enemies of Test success. Now some of the artistry has been bred out. The new formats have given birth to dramatic changes in strategy and in the skill set required. For football fans, imagine if a television network asked the NFL to shorten a few games a year to 15 minutes. Then imagine if, because of the success, it seemed inevitable that soon all football games would last 15 minutes. Now imagine if everyone who played football lost the ability to play the longer game.
"That's one of those existential cricket dilemmas," Bhattacharya says. "We don't know. We all live in fear of Test cricket perishing at the hands of Twenty20. It's something we all worry about. We don't actually know."
So, when Tendulkar retires, will he take an era of cricket with him?
"Sachin's symbolic value is very strong," Bhattacharya says. "He might be the last one."
Sachin is a bridge in a sport that my friends fear is burning its bridges.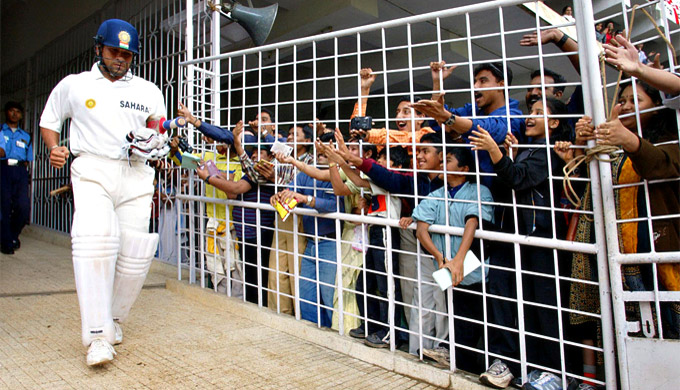 Laurence Griffiths/Getty Images
The little boys who scream his name, who reach out for a touch, see their own hopes and dreams manifest in his play.
A delicate sort of question
The next afternoon, we are all at the game. Bhattacharya sits next to me. His first book, a cricket travelogue called "Pundits from Pakistan," has been my faithful companion on this journey. He has a big day tomorrow. People magazine just called. It needs to take his picture at 8 a.m. His novel "The Sly Company of People Who Care," is hot here in India. He has a face made for a photographer, in that writerly way, delicate, almost pretty, except for the crooked nose that hints at a stormy past. He's arrogant as hell, but in the same way I am, so we get along great.
I'm learning the rules. I feel more at home every day. The stadium is like any American stadium: (too-)loud music and ham-fisted promotion. The fans sit quietly until a JumboTron camera finds them, then they go nuts. Look! Everyone's a celebrity!
But there's something missing.
The stands are half-empty. These are two great teams, elite sides, evenly matched, on a beautiful Delhi day, in a city of 14 million people, and most seats are empty. They'll stay that way. It's not just Delhi. When India's not playing, the stadiums are pretty dead. That game has explained itself, all right: Indians aren't as cricket-mad as I thought. There is a surprising lack of street-level buzz. Sure, the televisions are going mad, and the newspapers and radio programs and billboards. The hype machine is kicking at max RPMs. But it seems just that. Hype. A mile wide and an inch deep. The former Indian player's pressbox eulogy makes sense. India has gained an impossible amount in the past 20 years. Has it lost something, too?
I turn to Rahul. "Do Indians still love the actual game of cricket?"
There's a pause.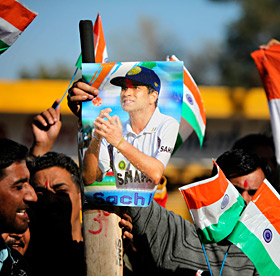 AP Photo/Channi Anand
Fans hold up the nation's flag or a photo of the nation's favorite son. Both mean the same thing, represent the same dreams and passions.
"It's a delicate sort of question," he says.
Another pause.
"The thing about Indians' love for cricket is a lot of it is having something to support India at," he says. "A lot of it is celebrity. People in love with [team captain M.S.] Dhoni instead of the actual sport. It happens all the time. In the past five years, you find that matches not featuring India don't draw crowds. It does seem on some level the love is not for the sport itself but for some of the things it stands for."
Cricket is everywhere. It's on 24/7. It's on red carpets with Bollywood bombshells and in corporate boardrooms. But the more it is, the less it is.
"We've been so neutered by cricket now," Rahul says. "There's so much of it. It's reached a point where you can be oblivious to it. Indian fans now just watch India."
The afternoon unspools. Friends come and go. Many jokes, and a few serious conversations. Rahul is quiet. An hour or two passes. He turns to me. "The question you asked me … "
He's been thinking. India leads you down blind alleys. It is a place with many different regions and religions and cultures. The Indian national cricket squad binds them. You must understand that to understand the mania surrounding the team.
The team's rabid popularity, he says, is a reflection of rising national ambition, of pride in national achievement. The Guinness World Records book, squared. In a republic with a short history and a thin national narrative, cricket and Bollywood are India's baseball and apple pie. Rahul makes air quotes and says, "Indian culture."
"People think if I'm Indian," he says, "I have to access this part of our culture. It's in our blood."
More time passes. The game continues to drag. I think about tomorrow's flight and my trip to Bangalore. In a few days, I'll finally see India play in India. That's ground zero. I'm ready to see the obsession up close, see if I'll find passion or more hype. Next to me, Rahul is in thought, too. Something's bothering him.
"I wonder," he says, "if I've been too cynical about India and its passion for cricket."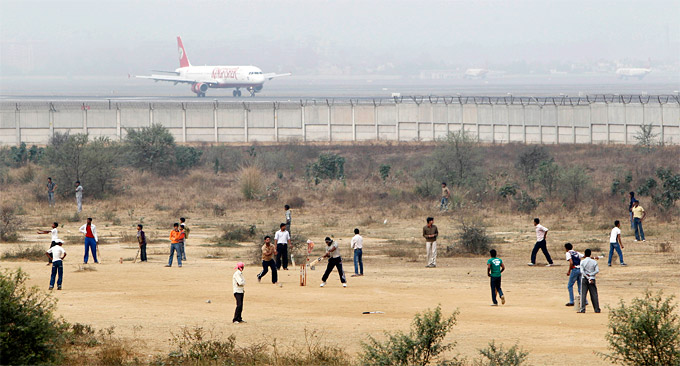 AP Photo/Gurinder Osan
Cricket isn't played just in well-lit stadiums. Kids play cricket wherever they can find even a small open space. They play in the shadow of slums and in the roar of jet engines. Little Sachin and his friends play in a field much like the one pictured here, and sometimes they just play in the street.
CHAPTER FOUR: Bangalore hype
Morning dawns ghost-white. We drive into a wall of smog. Pollution is the price of progress. One of the prices, anyway. Some drivers pull over. Jets scream overhead. We cannot see them. The New Delhi airport is nearby. We cannot see it, either. Soon we can't even see the car directly in front of us. Two disembodied red lights float in the chemical haze. The driver slows. He finds the turn at the last minute and screeches to the terminal. I'm dreading the usual chaos of an Indian airport.
But once inside, I am transported. Is this the future? The place is new and serene. The floors are shiny. A fancy coffee kiosk teems with under-caffeinated commuters. The food court has a Subway, a Baskin-Robbins, a McDonald's, a Yo!China. There's a bookstore. A bronze elephant towers in the lobby.
That's when I see it.
There's a restaurant named Dilli Streat. It's a take on Delhi's famous street-food scene. It has slightly dressed-up versions of blue-collar classics. The concept is an ironic mixture of old and new, with a winking nod to a past seen as quaint yet valuable. Cynicism and irony, on back-to-back days.
India is changing at lightning speed.
The new camera-smashing Indian heroes
Players walk through the lobby of the Royal Gardenia hotel. Wide-eyed young fans and gossip-hunting reporters slowly circle, the light and dark of fame. I'm sitting on a couch. A woman approaches. She's from the local tabloid. She wants me to take a paparazzi picture of an English cricket player, a wealthy Indian liquor tycoon and the tycoon's son. They're together in the bar. She wants me to be her Trojan horse.
"We have a lot of pressure from our editor-in-chief to get the story," she says. "You know that pressure? OK. So I need a picture. I'm local. They've seen me. They know my face. And, um, so we would like to take their pictures to publish. To print. So … we wondered if you could help us."
"I can't do it."
"I just want you to take a picture. That's it."
"No."
"No? It's just a picture."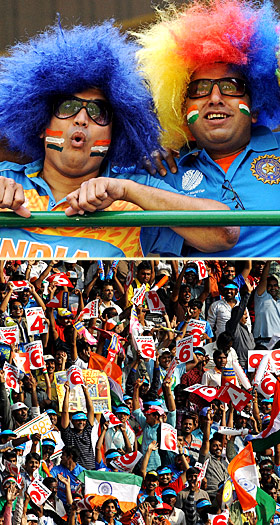 Getty Images
The clown wigs are going nuts, as are the rest of the fans in the stadium in Bangalore.
"Then you go take it."
I tell her that I'm a reporter, too, a professional, not a tourist, and I cannot be talked into anything, much less this.
"I could go take the picture myself," she says. "I just don't want my camera smashed. That's the issue."
"They won't smash your camera," I say.
"Of course they will," she says. "He's done it before. The kid."
Her editors don't want cricket info. They want to know about the players' lives. This is a fairly recent development. Everything is changing. Lines must be crossed, ethics blurred. The newspaper industry is still rising here. Competitive celebrity gossip is corrosive, and it leads, almost inevitably, to the taking down of heroes -- the end of heroes, even, for deep earnestness cannot survive a daily diet of snark. I think of Jane Leavy's magnificent book about Mickey Mantle, and her documenting the moment when Americans began viewing our idols differently. India, it seems, is approaching that day. Another question about Tendulkar arises: Is he the final star athlete created by that deeply earnest society, the one with its suspension of disbelief fully intact?
Is he the last hero?
Cricket is Bollywood by a different name. The match-fixing scandal of the late-90s was the end of an innocence about the game, and Sachin's role in steadying the ship afterward is part of people's great love for him. But the lid is off. The readers demand information. The pressure is great. Where do they eat dinner? Whom are they dating? What movies do they like? What's their favorite food? What's to come? Are they on drugs? Are they taking steroids? What are their failures and weaknesses and scandals?
"Are they the same as us?" the tabloid reporter asks.
They will be soon.
Kids in the lobby
The thirst of a tabloid reporter and the love of a starstruck child are fruit from the same tree. Maybe the difference is intent, and maybe it's innocence, which sounds like the pitter-patter of tiny feet on marble floors. Kids chase their favorite cricketers around the hotel. Their joy restores faith, washes away cynicism. Maybe the soul of cricket can survive this landslide of change. Maybe there's more than hype.
To the cute little stalkers, there are many heroes besides Sachin. Parents hover nearby, briefly children again. Virat Kohli is eating in the coffee shop against the back wall covered with ivy. He's got a woman with him. Kids hang by the door. Ten minutes is an eternity to a child who's a few feet from his hero.
Vineet Sethi sits with his daughters, 15-year-old Radhika and 9-year-old Nandini. The girls started plotting the moment this game was announced for Bangalore. High-level strategy. When Vineet got home from work, the girls were ready to go. It's D-Day. Who will they meet?
Finally, mercifully, Kohli stands to leave. The girls rise to meet him at the door. Kohli has a faux-hawk and a tight black T-shirt. He signs. His date carries a designer handbag. Radhika is checking out the signature when Nandini's eyes widen. OMG!
It's Sehwag.
Up close, he's stocky and balding. He stops to sign. Then Gautam Gambhir comes down the hall. The girls are losing their minds now. Dad asks if he'll pose for a photo. Gautam smiles for the camera.
"I'm gonna faint," Radhika says.
The girls can't stop looking at the autograph book, then leaning into each other, then giggling, then looking, then giggling. "I cannot believe you told Virat Kohli that I'm in love with him!" Radhika says.
Vineet laughs.
"I only like Gautam," Radhika says. "I don't like Virat Kohli anymore. I used to like him a lot, but he was with a girl. A nice one."
Dad is still laughing but has that worried-dad look on his face.
"Why not Sehwag?" I ask.
"He's married," Radhika says. "And has two kids."
Vineet looks a bit pale. "I'm not listening," he says.
The girls cover their faces with their hands, tapping their feet, tingling with nervous energy. I feel it. The passion I looked for at the other cricket matches doesn't exist around the sport, but it does in the Royal Gardenia lobby. Indians might not be obsessed with the sport of cricket per se, but they are with the Indian cricket team. They are unhealthy, myopic and without measure or self-control, and that's just when they see their idols in the flesh.
I cannot imagine what it's like when they're actually watching them play.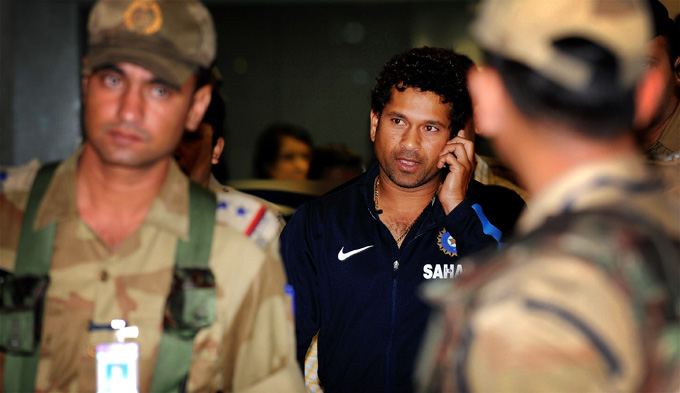 Sajjad Hussain/AFP/Getty Images
Sachin never goes anywhere without people watching and protecting him.
CHAPTER FIVE: Game day
The morning of the India-England match, I wake up anxious. No newspaper, no television. No more hype. The more someone tells me something matters, the more suspicious I become. The game stands on its own today. It could bring my moment of rapture -- or deep disappointment. What if the thing I'm hungry for is too rare to just happen upon? What if it no longer exists?
The driver picks me up outside the hotel. The traffic is terrible as we make our way past all the military bases toward the stadium. I can see the light stanchions in the distance. I wonder what they'll shine on today. Somehow, on a lark to be introduced to a new sport, I've stumbled into a rapidly changing world. Things are being gained, and things are being lost. What if I've come to cricket too late? Other cricket reporters sense this fear; one asks me if I'll be writing a positive or negative story. I'm not sure. It seems that the sporting future in India is the present in America. I can see their tomorrow.
The driver drops me at the main gate. I walk around for several hours. The air smells like fried food. Vendors sell Indian snacks and sugarcane juice. Cops, wary of another cricket riot, whack sticks against trees whenever someone stops. There is no still today.
"Sachin!" a man yells. "Sachin's last World Cup!"
"He will not retire after the World Cup," another insists.
A group of fans are being interviewed by a television reporter. They're young and funny. They're intentionally extreme, with knowing smirks.
"After 300 years of them ruling us," one says, "it's time we gave it back."
"We're gonna trash the English," another says.
"They play like little boys," says the third.
They seem so confident, not people who need any outside validation. Maybe Sachin isn't needed any longer. Maybe Sehwag is more representative. That hasn't occurred to me until now. Later I'll talk to an Indian journalist, Vaibhav Vats, who is writing about cricket as a window into national self-esteem. He thinks Sachin isn't as important as he used to be.
"It's about wealth," Vats says. "So you don't look for external things to shore up your own sense of identity. There isn't the identity crisis there was then."
Fans wave Indian flags. For 10 rupees, about 22 cents, dozens of entrepreneurs paint Indian flags on people's faces. Other kids take blue paint and, emulating a famous billboard around the country, tag themselves "Bleed Blue." Sports marketing creating fan behavior creating more sports marketing: a snake eating its tail.
A man chases me down. He's wearing a long robe with the Indian flag painted on it, along with the cricket alpha and omega: "Sachin" and "Sehwag." There's a young boy with him. The boy opens up a binder. It's full of stories about the man wearing the robe. They point to one. He's offered to trade his kidney for a ticket to this game. He says he wants to watch cricket. I think he wants to be a star.
Finally, I slip through a gate.
It's almost time.
Finally, the game is at hand
We hear the cheers as the Indian bus gets closer. The soldier on the tower with the rifle stands up from his red chair. Radios squawk. The bus pulls to a stop. Submachine-gun-toting troops in tight T-shirts and khaki fatigues form a wall of flesh and metal.
Sachin Tendulkar is third off the bus. I recognize him now. He's wearing headphones, yesterday's smile replaced by determination. We enter the stadium behind the team. The place simmers with anticipation. I trade my pressbox seat for one in the bleachers. Today, I'm a fan. Andy Zaltzman, a cricket-mad British stand-up comedian, sits next to me. The speakers play music so loud we cannot talk when it's on. "Don't need it," Andy says every time there's some marketing flourish. The broadcast people interview some fans. "Dhoni's hot," a young woman says.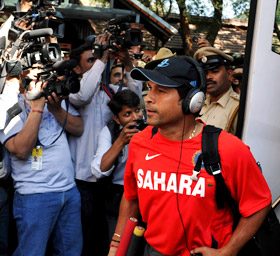 Dibyangshu Sarkar/AFP/Getty Images
Sachin comes to work focused, headphones on, ready to represent the billion people who expect so many things from him.
The broadcast people interview Dhoni. "How are you coping with the hype and the pressure?" the man asks.
"We're looking forward to the national anthem," Dhoni says.
The music begins, and the crowd comes to its feet. Here we go. Andy saw a game in this stadium on television once, India versus Pakistan, and the cacophony when an Indian player bowled his opponent seemed to come out of his television and transport his London home across two oceans and several lesser seas. That noise is something he cannot forget. He's chasing that ghost, left a wife and two kids at home for six weeks to chase it halfway around the world. I'm chasing something, too. The appointed hour has arrived. I've heard it all week, from fans and writers, and now I hear it once more.
"Wait 'til Sachin comes to bat," Andy says.
In case you were wondering: here, now, the rules
This time, I'm ready for whatever is about to happen.
After 10 days, I know the basic calculus of cricket. Each team has 50 overs and 10 wickets. For baseball fans, think of it as 50 at-bats and 10 outs. All overs last six balls, whether any of them are hit or not. A player is out if just one of his hits is caught, or if he misses the ball and it strikes the wicket behind him, or if a fielder throws the ball into the wicket before he completes a run.
When either the overs or wickets are gone, the innings is over; an innings is a set of 50 overs, and each team, in one-day cricket, has one. Wickets and overs are the two resources a team has when setting a target, or, if it bats second, chasing it. Figuring out when and how to risk them is the chess match. A wicket can be gone with one moment of carelessness.
Sachin's agent once brought a business partner to a game only to have Sachin get out on the first ball. The ball doesn't care that there are executives in a luxury suite. There are 11 opponents constantly shifting around the green field, looking to trick, to trap, to slide into a spot where a ball is coming.
The cricket pitch is a dangerous ocean. The batsman is a tiny boat.
Constructing magic
Sachin's name is lost in the cheers. The crowd roars even in anticipation of it. Once again, Sachin walks onto the field. Sehwag is with him. They are leading off, alternating at-bats, an entire modern history of a country between them. Sunil begat Sachin begat Sehwag. From insecurity to confidence to aggression. Which will be best today?
Sachin looks up at the crowd. He rubs his hands together. Spits on them. Sehwag takes one practice cut. It's time. Sehwag hits an immediate four, one that's almost caught. The Indian fans jump, then laugh. Sehwag pops up, and it is again almost caught. He's swinging for the fences.
Sachin plays slower, taking his runs where he can get them, defending the other pitches away. Shades of Gavaskar? "Sachin has this aura of calmness around him," Andy says. "Federer has it. Brady seems to have it."
Then, a victim of his own aggression, Sehwag is out. He slams the bat down. Gambhir, the hotel girl's idol, comes in. As he gets comfortable batting, Sachin slows down more, protecting himself. When he sees a pitch to drive, he steps into it. His first four of the day. The speakers play Bon Jovi's "It's My Life." Sachin hits another one, then gets conservative, taking no risks. He's trying to bat 35 or 40 overs, to anchor his team, to give openings to the other batsmen by consuming the attention of the bowlers. The crowd senses something special and chants, "Sachin! Sachin! Sachin!"
A feeling arises, a rare one, that you are part of a group watching something special. The power of sport is that, on occasion, it redeems the messes we create around it. Cricket can be stronger than the forces changing it. Victories are fleeting, but the poems are what matters. I don't know if cricket is about to be ruined, or if Sachin is no longer needed, if he's retiring or if he'll defy expectations and play 10 more years. These are things we can guess about but never know.
I do know this: I am a fan. I am sunburned but do not care. I lose track of time. That's not a narrative flourish. Hours seem like moments. Rapture comes to the people here. I see Sachin constructing a score, and I understand the planning, and the years of experience, that lead a man to this field on this day, and to the artistry he now holds as part of himself, like a chamber of his heart. We are congregants in a church. We are watching the son of a poet. The stand-up comedian is serious. This is a perfect at-bat, Andy tells me. This is art, and I am lucky to see it. Soon, Sachin will be gone. This feeling will be gone. Right now, it is alive. It has the power of a name, immortal and pure.
"You don't have to know anything about it," my friend Gokul says.
"It's almost a religious experience," Andy says, "seeing Tendulkar play so well in front of his home crowd. It's a communal worship."
England sends in Graeme Swann, the best spin bowler in the world. It is targeting Sachin. One mistake and he's gone. The crowd grows tense. Swann winds up. The roar of the crowd rises, like the start of a football game. The ball arrives. The crack echoes through the stadium.
Sachin has hit it off the scoreboard.
It's an uppercut. A knockout blow. A roaring Up yours! A six. Flags wave and shake. Three fans wearing clown wigs blow their whistles over and over.
Swann winds up again.
Sachin crushes it, another uppercut, over the fence. Two pitches, two sixes. The air is sucked out of the stadium, and Bon Jovi is played again. But now, incredibly, the crowd noise is louder than the sound system. The real finally trumps the fake. Swann looks broken.
Sachin is building toward a century. The crowd wants it for him, for themselves. The noise doesn't ebb between bowls. He's got 72, then a four gives him 76. The clown wigs go batty. Sachin goes up high to get 78. The crowd needs this. A wave passes five full revolutions around the grandstand. Eighty-two. Eighty-six. The people behind me are barking now. The noise is constant. I am inside the soul of cricket. I get it. I will be back again, like Andy, chasing this ghost. Across town, Sachin's agent's BlackBerry buzzes. "Wonderful moment," one reads. An English friend writes, "Sachin is killing us. Awesome." One executive wants to put his company logo on Sachin's bat. The sister of Sachin's first agent, the man who died in the car wreck, writes, "Hope this one was for Mark."
Sachin gets to 98.
The sound system plays, "We Will Rock You!" The crowd pronounces the last two words as one. Rockyou! Rockyou! Rockyou! Everyone in the stadium is standing, again, and typing this 25 hours later, I get chill bumps. Again.
Sachin hits a four.
He's done it. A century. I've never been in a stadium that feels like this one. Hindus and Muslims, Sikhs and Christians, people from different castes and classes, speakers of a dozen languages, all citizens in the Republic of Sachin. The stern cops give wide smiles and thumbs-ups. The chant goes from "Sachin! Sachin!" to "Hoo … ha … IN-DI-A!" They are interchangeable.
Finally, at 120, Sachin pops out. He walks off, and the crowd rises once again. The people lean over the railings, trying for one more moment with their hero.
He waves his bat and disappears.
Sachin's gone.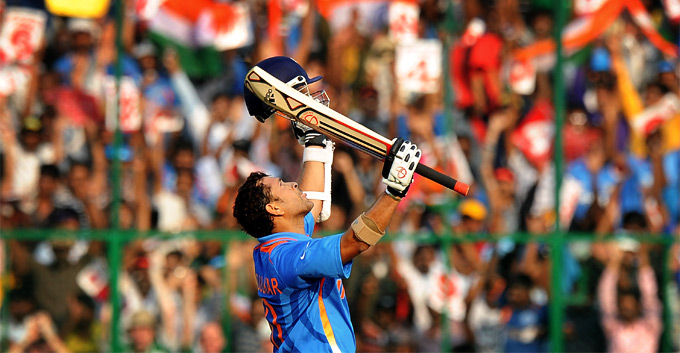 Dibyangshu Sarkar/AFP/Getty Images
Euphoria! Sachin reaches his century against England, and a stadium turns into a revival.
Falling apart
The Indian players collapse without him.
They leave too many runs on the table, lost without their anchor. Their score is 338. They cannot play defense or bowl, and England steadily mounts a comeback, putting up run after run. The worrying begins. The fans sense something, a fatal flaw built into this team of sluggers. They can all hit the ball a mile, but they can't get anybody out. Power has its limits. They are wasting Sachin's brilliance. The noise dies down. The stadium is still. People look into themselves. The team is a proxy for the nation, so what does an Indian collapse tell them about India? About India without Sachin?
England scores, off big hits, off bad pitches, off lazy defense. The India outfielders don't run down balls that go for fours. Next to me, Andy finds hope. With 15 overs left, England needs 75 runs on 86 balls. "It's bizarrely easy," Andy says.
An Indian writer shakes his head. "We've lost this game," he says.
The fans agree. People file, en masse, to the exits. The wire-service reporters type their stories. I'm spinning from the reversal in fortunes. A fourth of the seats are empty. Now a third. England needs 61 runs from 54 balls. Now 59 from 48.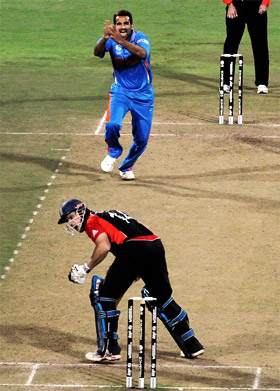 Indranil Mukherjee/AFP/Getty Images
India nails a wicket, slowing England's momentum, trying to claw back into a game it seemingly had won, then thrown away. The mood swings in Bangalore's M. Chinnaswamy Stadium were dramatic.
Then India gets a wicket.
Then a second in a row.
The crowd comes alive. What does this revival tell them about their nation? About themselves? Andy shifts uncomfortably. The place shakes. The whistles are back out from the clown wigs. The barking returns. People howl. England needs 57 runs from 39 balls. An Indian player makes a huge diving catch. Hustle has returned. India has returned.
"I didn't see this coming," Andy says.
There is dancing in the aisles. The Indian team is getting more wickets, which eliminates the strongest English batsmen and puts pressure on the bottom of the lineup. England needs 50 from 28. Now 32 from 16. Twenty-three from 10. It seems finished. The local in front of me tweets: "It's amazing to watch India in India."
Suddenly, England counters. Two big-bang sixes, and it's 14 runs from six balls. One more over. I can barely breathe. Nobody can. The noise is deafening now, rising in crescendo before each bowl. Imagine a football kickoff every 30 seconds.
The Indians are going to win. England needs 12 from five, then 11 from four. The "India" chant returns.
Then England hits a six, crushed, into the stands.
"Unbelievable," the Indian writer says.
The target is now five runs from three balls. England singles. It's four runs from two. The English get a double. We are down to the last ball. Two runs from one. That's it now. All the hype, and the planning, and all these hours, down to a moment. The infield comes in. The crowd rises.
The stadium quiets.
A man folds his hands in prayer. The clown wigs are silent. One sits down. The local reporter puts up his notebook. The Indian bowler winds up, the English batsman swings, makes contact, crack, it's happening so fast, the fielder rushes over, gets the ball in. England scores only one. India did it!
In the moments after the end, there's confusion. I'm confused. The crowd noise is strange. I look around. The scoreboard is hard to read. We've spent eight hours and two minutes in these seats. Has India won? Has England? What happened? I'm looking to Andy, trying to understand. That's when I realize: I did the math wrong. Two to win, which means, after all that drama, my God …
It's a tie.
Carrying the hopes of a billion countrymen
One last stop remains before the airport. "We've got 30 seconds," his agent says.
A special key card grants access to the 18th floor. Three plainclothes bodyguards look us over. A sign hangs on the door. "Shhh," it reads, "I'm sleeping like a baby." The agent knocks.
Sachin Tendulkar opens the door. "Come, come," he says.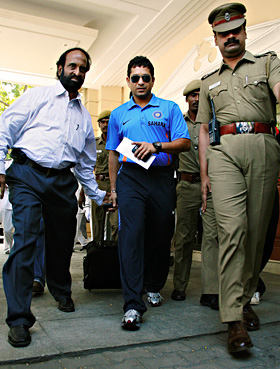 AP Photo/Vijayan.P
Sachin brings hotel lobbies to a standstill every time he walks through one.
A tangle of wires covers the bedside table closest to his pillow. There's a Diet Coke and a bottle of water. A Hindu shrine is on the other side. There's a book across the room, "The Last Nizam," about the end of one era and the beginning of another, about a king who lost his throne in a time of great change.
His agent explains my journey to Sachin. "He didn't know anything about cricket before he came," he says.
Sachin looks at me. He seems confused. "Hmmmmm," he says.
His phone rings. The ringtone is U2. We chat, and he loosens. He doesn't overtalk. It's strange. There actually is an aura of calm around him. It must be how he's survived. At the center of this mania is a reservoir of peace, focus and determination. I ask if he spends a lot of time in America.
"Not really," he says. "I have a lot of friends there, but it's too far for me to travel."
"I'm about to get on a 15-hour flight," I say.
He laughs and grimaces with me. A trip to the states, he says, needs several weeks to be worth the flight. "I don't have 15 to 20 days," he says.
He's carried the burden of a billion people for more than 20 years. Just outside the hotel is a billboard with his stern face looking down on the city. Its tagline is direct: "We've waited 28 years to hold the Cup. Hope that wait ends now." Heroes don't punch clocks.
Sachin Tendulkar says goodbye and closes his door, while, in every direction, a vast nation sees its hopes and dreams in him, for at least a little while longer. I step into the elevator, then a car, then three flights, then my car, then my house. I return from blind alleys and brightly lit fields, having found my moment of rapture and, at the end, the man who created it. I've found both the riddle and the answer, and I wonder what it must cost someone to be both of those things. One part of my conversation with Tendulkar will return to me every time India plays in this World Cup.
His agent told me he's aware of what he means to people, of the symbolic importance of being both the beginning and end of something. He is a bridge, and it is vital to the psyche of a nation that he remains intact. He gets it. That's why he never loses focus. Nothing, it turns out, is effortless. In his room, he seems tired, worn out mentally and physically. He needs a break. I ask when was the last time he had 20 days off in a row with nothing to do. No balls to hit or billions to represent.
"I'm waiting for that time to come," he says.
Wright Thompson is a senior writer for ESPN.com. He can be reached at wrightespn@gmail.com. You can find his story archive here.
Follow ESPN_Reader on Twitter: @ESPN_Reader.
Join the conversation about "What You Should Know About Cricket."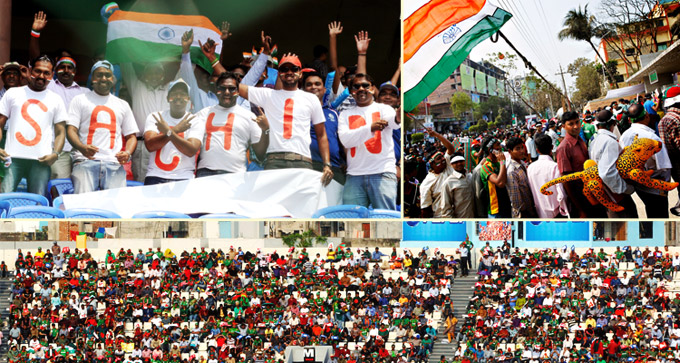 (Clockwise from top left) Getty, Getty, AP
Cheering for the Indian national team and cheering for Sachin are often one and the same. When he steps onto the pitch, the atmosphere in the stadium changes.