OTL: Turning for Home

INSTON-SALEM, N.C. -- The rednecks and the gearheads huddle at the cinderblock shack at the entrance to pit row, on top of a scraggly hill, looking scraggly themselves, with thin beards and cigarettes rolled up in T-shirt sleeves. "Is Junior's boy runnin'?" one asks. His buddy nods. The air is charged at the old racetrack. The man himself is coming.
They blink when Junior Johnson appears at the pit gate, back straight, a full head of white hair, the same blue eyes, wearing khaki pants and alligator shoes. Son of a bitch. It's really him.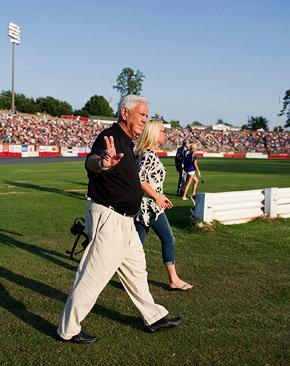 Phil Ellsworth for ESPN.com
Junior and wife Lisa arrive at the track.
He seems so unknowable. Mysterious. That's what Dale Earnhardt Jr. calls him. "Whenever I see him," Earnhardt says, "my jaw hits the ground." It's not that Junior's in hiding, really, it's just that he shouldn't be alive. His leathery arms, burned brown by the sun, are covered in scars and scabs, some still fresh, a detailed record of a big American life: moonshine cars outrunning revenue men, 11 months in federal prison, races won, fiery wrecks, two airplane crashes, one in a little plane he bought because they took away his driver's license. He's 80 years old, a man who was born running, even if the people who idolize him have never understood from what or to where.
Only Junior himself knows. His face gives nothing away. He's used to being watched. He walks through the swarm of cars and tires and toolboxes, arms swinging, never acknowledging the contrails of awe. It started when he arrived here on this early June day at Bowman Gray Stadium, and it will continue until his son races tomorrow night in NASCAR's K&N Pro Series East. This is Robert Johnson's first try at this level, and racing people wonder what to make of it. Why is he doing this? Why start now? Can he drive like his old man? Of course, all that fades into the background when Junior walks across the pits.
The reaction is always the same. Someone will notice Junior, and this someone, often a small-track dreamer who thinks NASCAR and America have gone to the dogs, will do an actual double take, sometimes cartoonishly so, then poke a buddy or a crew member or a jean-shorted foot soldier in the jail bait army that circles the race cars like buzzards. The guy will then point at the old man and say something, his voice lost in the growling motors and whooshing air compressors and humming generators. You can't hear his words, but you can always read his lips:
"There's Junior Johnson!"
The miracle (and curse) of a second chance
Junior Johnson's new life began 18 years ago in Winston-Salem as he stared at the screen of an ultrasound machine. For the 61 years that led him to this room, he'd struggled to maintain the illusion that life could be driven like a race car. Damn if he hadn't succeeded. He'd made himself into the rarest of men, one who seemed to live without fear. As he gazed at the screen, suddenly, there it was. There he was. A son. In that moment, Junior was reborn. This boy was a reward, proof that the Johnsons who came after Junior would be different from the ones who came before. Junior rushed out and bought a Valentine's Day card, writing a message to his unborn child that would someday hang in the boy's room: "To my son, Robert, I will love you forever."
May 25, 2011: Pieces of a puzzle
Here's Junior, unwatched now, looking out on all he's built since then. His family is relaxing in the pool, and he hears them splashing around, calling him to join. He slips into the comforting blue water, the totems of his contentment surrounding him -- the Eclectic meets Beaux Arts mansion, with Ionic columns in front and, out back, terraces flowing down to the wide, shimmering pool. Junior glides slowly. His wife, Lisa, sees him swimming along the edge. That's what it seems like at first. She looks again. Why is he leaning in close, peering under the concrete rim, running his hand along the wall? She can only shake her head. He's not relaxing or allowing himself to accept all this happiness at face value. He's searching for cracks.
The Brushy Mountain foothills ring his home, a grandstand of thick woods laced with tiny dirt roads he used to know. The county paved and straightened those bootlegger's trails; they twist and wind only in Junior's memory now. The days blend together, in the pool, at the shop, standing early one morning in front of that big house built on a hill above the Yadkin-Wilkes county line. All the things he spent his life outrunning are down there. They cannot touch him here, or at least that's how it seems when the predawn fog burns off, revealing the long roll of manicured pasture, the soothing monotony of endless black fence. There's a sign hanging nearby: "Slow down, please, my children are at play."
He spends his new life watching the sun rise and set from a farm overlooking the highway they named after him. Nineteen years ago, he started over. He and his first wife, Flossie, had drifted apart, and their marriage ended in the scandal of a public divorce. Several months later, he married Lisa. She's a savvy blonde, 45, with trendy bangs and an ever-present iPhone, and she looks at him with a strange mix of bemusement and adoration. They have two children, his first two. Robert will be 18 soon. Meredith, whom he calls Sissy, is 16. He just bought Sissy a white Benz convertible for her birthday. She's moved his car out of the garage and taken his spot. This is Junior Johnson now: indulgent father, husband, farmer, rancher, owner of a successful country ham and whiskey business. Once a year, he jumps into the swimming pool in his overalls. The kids love it. Maybe he'll do it today. "Junior Johnson is intimidating," Robert says. "Dad cuts up."
Lisa and the kids lovingly tolerate and privately snicker at his idiosyncrasies. His need to do something the moment it comes up is a running joke in the house. Things undone gnaw at him. It's … weird. If something is broken, his day is often derailed until it is made whole again. If, say, Sissy's Barbie lost a leg, he'd have spent hours until it was fixed. He obsesses over constant maintenance, and they roll their eyes when he pretends to swim while looking for cracks.
The pool is a symbol of this new life. Doves nest in the eaves of the poolhouse. The lounging concrete deer by the edge is a waterfall, and Junior loves to flip the switch for visitors. On this morning, with the upcoming race in Winston-Salem weighing on him, Junior walks down the terraces and past the perfect blue water. On the pool house wall are two small handprints in concrete squares -- his children's when they were young. Junior walks over to the one that says Robert III, and with rough hands he gently traces the outline of his boy's tiny fingers.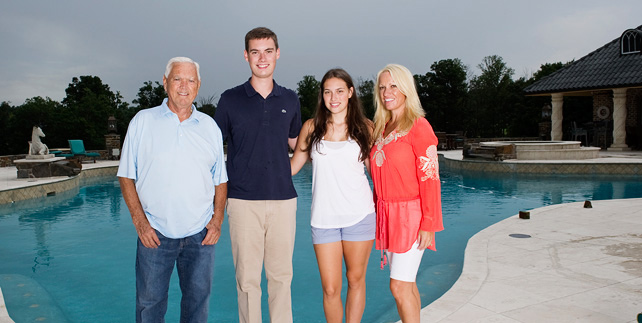 Phil Ellsworth for ESPN.com
Junior, Robert, Meredith and Lisa.
June 3, 2011: Pulled forward into the past
Those hands are grown now. They're huge. He's almost a man, 6-foot-5, soon to be a high school senior. Robert is at the track giving an interview to the Winston-Salem paper, and nearby Junior sits quietly in the shade, lounging outside their hauler in a folding chair. He doesn't hover. The mechanics work on Robert's car. Junior doesn't interfere.
This is also part of his new life, watching instead of doing. He's always strived to keep his future in his own hands. In 1966, when he was the most famous driver in America, he walked away. Said it was boring running in circles after hauling liquor down winding roads with blue lights on his tail. Then he owned cars, won six Winston Cup championships, had Cale Yarborough and Bobby Allison and Bill Elliott driving for him. Nobody messed with Junior Johnson. Once, after Dale Earnhardt Sr. wrecked one of Junior's drivers, a middle-aged Junior got in Earnhardt's face and growled, "You sonofabitch, you better be glad it wasn't me driving that car. You'd be walking around with your nuts stuffed up in your neck right now." Junior intimidated "The Intimidator." Junior lived just as he pleased.
Then he walked away from that, too. Moved up on the hill, comfortable from smart investments. A life, and the baggage of it, was left behind. Not long after he retired, his buddy Frog came to see him. Frog bends from the weight of a double-wide belly, perpetually in billowing overalls, a ball cap covering his balding head. His daddy served time with Junior. Frog asked when Junior would come back to racing. Junior laughed and said nobody would ever catch him on pit row wearing a radio again. Two years ago, minutes before Robert's first race, Junior grabbed a radio and headset. Frog reminded him what he'd said.
"F--- you," Junior said.
Everybody cackled. It's hilarious to them that Junior is back, that he's got two teenagers. He's a rookie owner. Again. Today, eight hours from qualifying, Junior smiles with them, in the shade, eating a Krispy Kreme doughnut.
A NASCAR official approaches. She's holding a piece of paper. "This is a minor's release form you gotta sign," she says.
The boys titter.
"Signature there," she says.
Junior looks up at her, and his face is hard to read. "Where do you want me to put the tears?"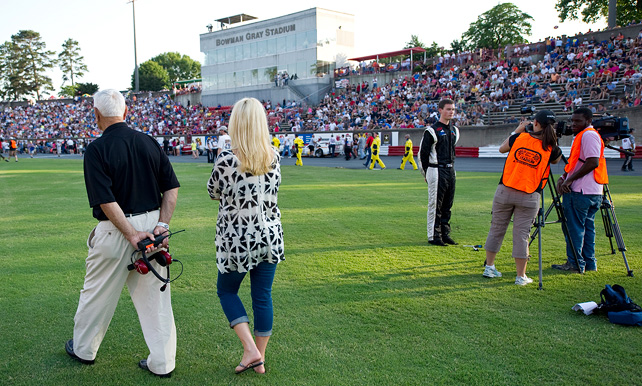 Phil Ellsworth for ESPN.com
At Bowman Gray Stadium.
TURN TWO
May 25, 2011: The Tao of Junior
Junior Johnson's legend is both a balloon and an anchor, giving him this new life but also tethering him to his old one, to his boyhood home just up the road in Ingle Hollow. In the 1960s, Tom Wolfe wrote an Esquire story that called him "The Last American Hero." In the '90s, Sports Illustrated called him the greatest stock car driver of all time. Jeff Bridges played him in a movie. Bruce Springsteen sang about him in a song. He understands that the world he left behind is a world other people romanticize. There's no way to ignore the legend, so he doesn't.
As the house comes alive for the day, Robert and Sissy getting ready for final exams at their fancy private school in Winston-Salem, Junior ambles down to his shop. He can smell the bacon frying before he opens the door. He enjoys these mornings, five days a week, eating with a rotating cast of friends and out-of-town visitors. Pig sizzles in a skillet. Biscuits brown in the oven. Old car hoods hang on the wall. Photographs hang around them. Young Junior looks scary, with a thick neck and cold eyes. Old Junior walks in wearing a golf shirt from a five-star English castle turned resort.
"How's your boy doing?" a friend from Connecticut asks.
"He's in school most of time," Junior says. "We run Bowman Gray Stadium next Saturday night."
"It's the oldest track NASCAR's got," says his friend Red, a pale stick of dynamite with splotching freckles. "Since '48."
They talk about how Junior won a race there once in a Corvette he'd never seen before. Afterward, the car fell apart. Another night, Junior kept lapping Richard Petty, who'd slide farther and farther down into his seat each time. He ran there five times. Won four. There are nods of approval and then silence while the men chew. Bowman Gray talk turns to the old moonshine days. The conversation always returns to the 'shine, how Junior learned to race running from the law, how he got arrested at his daddy's still the night he came home from winning a race, how he was a folk hero up in the hills and the hollows. The guys want to hear about whistling superchargers and big-block V-8s, bored out, stroked, cammed. They want to hear about the revenue men harassing Junior over a fine for making whiskey.
"S---, they'd come at all times of the night, just to aggravate you," he tells the table. "He come up, rang the doorbell. Kept ringing the doorbell. Kept ringing the doorbell. I went and peeked through that hole, and it was a f---in' marshal standing there. I opened the door. He said, 'I come to collect that $5,000 you owe the government.' I said, 'I'm gonna tell you right now. You get your goddamn ass away from here or you will collect a bunch of damn shot in your ass.' I said, 'You motherf---er, you come back and wake me up again, I'm not gonna talk to you, I'm gonna shoot your ass.'"
The whole table is laughing now. That's the Junior Johnson they came to see, even if that Junior doesn't really exist any longer.
"They never did f--- with me at home no more," Junior says.
"In 1935," Red says, "his daddy got caught with the largest stash of liquor that's ever been caught in the United States -- 7,200 gallons in the house."
"Naw," Junior says, "it was 7,200 cases."
"Yeah, 7,200 cases," Red says, correcting himself.
"Fred was about 7," Junior says. "I was about 5. My daddy had the whole upstairs full of liquor. They took them 6-gallon cases and put a board on the steps so they could slide 'em out. Me and Fred was jumpin' on them damn cases and ridin' down. One of them damn f---ers said, 'You gotta get your ass out of here.' Fred said, 'You get your ass out. This is our home.'"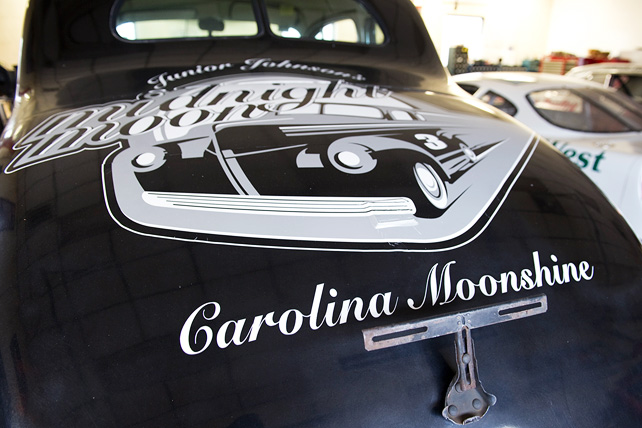 Phil Ellsworth for ESPN.com
Junior's legend runs deep in the Carolinas.
A crack appears
Junior hasn't seen that home in years.
His shop is four miles from the house where he grew up, and he never even drives by. He doesn't need to visit to remember. He lived it. He lived the entire community of Ingle Hollow needing 35 cents for corn seed during the Depression and, among all the families, not being able to raise the cash. He lived dropping out of school in the eighth grade. He lived the government hauling his daddy away, again and again, making a good man a felon. He lived his own struggle to be somebody.
Today, with his son's racing future on his mind, Junior finally makes the four-mile trip. He drives down Somers Road, both hands on the wheel of his black Chevy truck, 10 and 2. His old life confronts him now. Over there is his ex-wife Flossie's home, the long chicken houses past the Deliverance Baptist Church. He seems melancholy. The little convenience store he owned at Ingle Hollow Road is abandoned. The race shops sit useless. Just up the highway, weeds grow in the North Wilkesboro Speedway, where he achieved his greatest glory and adoration. Commerce moved on. The people of Wilkes County remain. Outside the speedway, a family flies an upside-down American flag in the yard.
Lots of Johnsons still live here. Some of them subsist off the land, raising chickens and gardens, doing what it takes to get by. It's the same life he knew as a child, no real chance to rise up. Why do you think he drove like a madman? You think somebody does that for fame? To him, racing isn't glory and trophies. Racing is a voice in his head telling him to go faster.
The ghost of that voice lives up this hill.
The memory highway
Junior watched his father.
Robert Glenn Johnson Sr. was a complex man, hard and rigid in some ways, tender in others. In an old photograph of him, his eyes are cold and intimidating, but there's the faintest hint of a smile on his lips, like he was in on some cosmic joke. He had a proud Roman nose. He demanded perfection. His land was a reflection of himself. They didn't have much, but what they had, they kept manicured. A stray weed popped up, and one of the boys would be outside with a hoe, Junior, Fred or L.P, in the sun, humping.
There wasn't a ton of money, but the Johnsons did better than most. They canned vegetables from the garden for winter. The boys lived in that garden, hands raw. Family members gathered at their house, and the Johnsons shared what was theirs. If something broke, they fixed it. If they needed something, they made it. The hogs kept them fed, and Junior still craves his mama's biscuits cooked with rendered fat. Moonshine paid the bills. They all did their part, working the mash, cooking it down, driving the liquor. When Junior got arrested, it was because his daddy had asked him to go fire the still. Junior would do it again tomorrow. Disappointing his father would have been worse than prison.
He thinks of his dad as an Appalachian Robin Hood. The man would give you his last penny. Junior's success flowed from those lessons, as did the way he'd live his life. Junior doesn't know how to big-time. When a random person hands him a business card, like at a track not long ago, he doesn't just stuff it in his pocket. He studies it, taking this person as seriously as he'd take the head of a corporation. Smart or wealthy doesn't mean better, just like the rich folks who drank whiskey weren't any better than the country boys who made it. Junior's success is many things to him, but one of them is the redemption it's brought to his father's name.
"I had a great daddy," he says.
Junior's dad wanted his land spotless, and as long as Robert Senior lived, Junior made sure to keep it that way. When his father died, Junior stopped coming up this road as much. He wanted to remember his home, and his daddy, the way he left them. In his mind, Ingle Hollow isn't just a place he escaped, going in a generation to the life he has now. It was also a place he cherished, where he found many of the important parts of himself, how to work hard and be proud.
It's where he learned to be a man.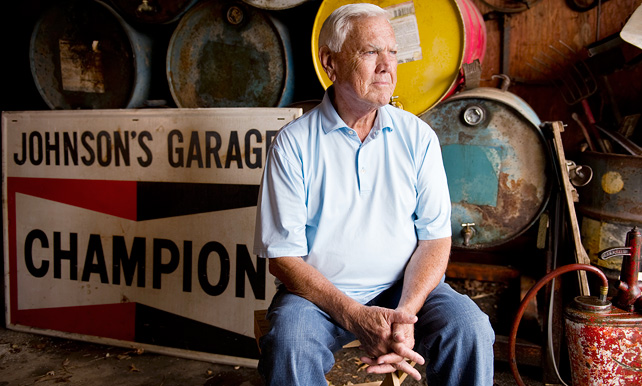 Phil Ellsworth for ESPN.com
Junior has been called the greatest stock car driver of all time.
A hollow place in his gut
He turns on the old road and his heart sinks. His relatives still live in some of these houses, but the fences are falling down, a mix of new silver wire and old, rusted strands. Weeds grow tall. Backyards of trash, a car body, worn-out tires, a bucket.
An old neighbor rolls up in his truck, and both men lean out their windows. "It sure don't reflect Junior Johnson no more, does it?" Junior says.
"L.P. would turn over in his grave if he could see this place," the man says, "wouldn't he?"
"I can't imagine," Junior says. "I just … this is the first time I've been here in five, six years. Maybe 10."
There's horror on his face. It's not just the way the home place has fallen apart. It's how an entire world has fallen apart with it, a whole system of values overgrown like the pasture. There's no contact with his family anymore. All the Johnsons who live here stay away from Junior, some because of the divorce, and he stays away from them. They've never met his children. The cops still find their way up to Ingle Hollow, and the rap sheets of some of his relatives are filled with a minor but steady stream of white-trash misdemeanors: assault, communicating threats, assault with a firearm, a drug charge, willful destruction of property, all manner of alcohol and poaching offenses. Whatever pleasure Junior takes in how far he's carried his family seems tempered by the pain of seeing the decaying world he left behind. He's faced with evidence of what happens to something he loves when he's no longer around to nurture it.
The curtain rises
Junior wanted a son, and in the car after seeing the ultrasound for the first time, he said, "Robert Glenn Johnson III." This boy's life would be different from his. What a miracle. Junior was 61, and he'd accepted that he and Flossie couldn't have kids. Made his peace. All the good and the bad of his past would die with him. When Robert was born, that fell away. Junior held the newborn in his arms and cried. They combed the baby's hair over to the side, just like his, and he cradled him in the waiting room. New feelings bloomed inside Junior, love, to be sure, but other things, too, farther down in his gut.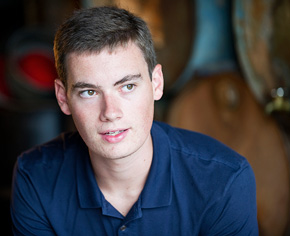 Phil Ellsworth for ESPN.com
Robert is forging his own racing career now.
The revelations came fast. After six decades of a successful and famous life, he realized he hadn't even started living yet. Junior found more than a son that day. He found himself. "When he gets at home," Robert says, "he relaxes a whole lot. He's more come to be defined by who people think he is on the outside. He's that person when he's with people. He's a different person at home. He's a lot more fun when he's out of his persona."
Unimaginable things entered Junior's life. Like Legos. Lisa peered in one day, when Robert was 3 or 4, and saw them on the floor, surrounded by an explosion of plastic. They were building the space shuttle. "We need to finish this," he was telling his son.
Legos led to school science projects. Robert had to make a device to safely drop an egg 30 feet using only straws and duct tape. Hell, Junior Johnson could go to the moon with duct tape. He and Robert built a cradle and a little parachute.
One day in seventh grade, Robert came home with a new assignment: Build a soap-box derby car.
Junior's eyes lit up. "You can about imagine what happened to our car," Robert says.
Junior disappeared into the shop. He found the world coasting champion, got him on the phone in Germany. The dude sent Junior the wheels off his record-setting car. When Robert came home from school every day, he'd find Dad out in the shop, neglecting the farm and the cattle, crouched over his design, welding sheet metal, hiding lead in the floorboard. They tested the car by letting it roll down the hill, tweaking something, then seeing if it rolled farther. That little soap-box derby car would fly. "S---," Junior says, "we had that thing where it would roll all day long."
He fixated on correcting the past. Junior wishes his name weren't Junior. So when kids at school started calling Robert "Trey," Junior told him that he could either stop it now or be stuck for the rest of his life. Robert went back to school and announced that his name was not Trey. Nobody called him that again.
Junior preached education. His father quit school after second grade. Junior quit after the eighth grade. This ate at Junior. If you talk to him, you can see where nature ends and nurture begins. Junior discovered the physics of drafting, created the first race hauler, found machines that custom-made pistons, helped pioneer the use of titanium. "I always thought he was a genius," says Darrell Waltrip, who drove for Junior. "He had a sixth sense about the cars and engines and what it took to make them run. He really is a mechanical genius."
But he isn't educated. It's not just the bad grammar, double negatives and misplaced modifiers. You can watch him struggle to express himself. It's as if he's got thoughts inside of him that he can't get out. Robert would never have to deal with that. Wouldn't have to work twice as hard. He'd be the first Johnson to go to college.
Junior wasn't leaving this to chance. He found a well-worn private school in Winston-Salem with dreams of being great. The headmaster made his pitch at lunch, and a few hours later, Junior called back. He gave them a million dollars, calling racing friends and business people until they'd raised more than $20 million more. Forsyth Country Day was reborn. Junior wanted his name on an academic center that catered to kids who'd fallen behind. This would be a place where they could go and catch up quickly. He knew the pain of a student being left behind.
He never got Robert a go-kart or a four-wheeler. He bought him and Sissy books. He took the kids all over the world, showed them as much as he could, the blue waters of Capri, the green hills of Scotland. His fears for Robert manifest themselves as fatherly advice. Don't spend your life in Wilkes County. Don't shape your future as a caretaker of my legacy.
There was one other thing. A mantra. "Listen to your dad until he dies," Junior said. "Then be your own man."
History repeats, and reverses, itself
As Junior watched his father, Robert III watched Junior.
Robert saw the hours working the cows, the way Junior treated a random fan the same as Richard Petty. He saw his father as just Dad, really. That changed when he was 9. They went to a race in Bristol, Tenn. Robert coveted Jeff Gordon's autograph. So Junior took him to Jeff's motor home, and he knocked on the door. Robert realized that the way he looked at Gordon was reflected in the way Gordon looked at his dad.
He began watching more closely. He noticed something. There was this thing inside his dad that made him different, and it wasn't clear where it came from. Did he learn it? Was it from the way he grew up? Was it genetic? Did he have it, too? "It's a different way of looking at your life," he says. "That's what I've got from growing up with this huge shadow. It changes you."
As Robert was turning 13, leaving childhood behind, a realization hit hard. His summers were that of a boy, long days filled with amusement. Men worked. They did things. He put away his toys and went out with the farm crew every day. He learned how to fly airplanes. That wasn't enough. His life was a fairy tale: great school, big house, European vacations, a loving family who nurtured his dreams. But something was missing. "Any person that has that legacy that they've got to live up to," he says, "you have to live up to it somehow."
He wanted to race.
Junior fell into a depression. He'd stare, sit quietly. "This is not what I want him to do," he told Lisa.
The best-laid plans
The ruin of the home place still turning over in his head, Junior drives back to his farm. His truck bounces down one of the few remaining dirt roads over which he hauled liquor, under a canopy of trees, past mountain cutoffs that once led to stills. Ten days until Bowman Gray. This is the inevitable result of Robert's request all those years ago.
At first, he'd hoped it was a phase. Junior got him in a dirt car on an empty track. "Maybe this will put an end to it," he told Lisa.
Robert loved it. Of course he did. They kept practicing, moved from dirt to asphalt, and, finally, two years ago, entered a local race at Caraway Speedway. Junior wanted him to do well enough not to be embarrassed but not well enough to want to do it again.
Robert won.
Junior cried.
He was worried about all that might come next, but he was also proud. "Here comes this little fart, 16 years old, and outruns the s--- out of 'em," Junior says. "Dominated the racetrack."
The wins kept coming, five in the 11 races he entered. Junior felt like Robert was a natural, but he knew success would lead to more racing, which it did. This wasn't the plan.
Robert had always talked about going to Duke. When the family went on a tour of the school, Robert and Lisa watched Junior walk the Gothic Revival campus in wonder. Basketball coach Mike Krzyzewski heard Junior Johnson was on a tour and came to find them. When he saw Junior, and the look on his face, he thought of his own parents and how hard they'd worked to give him a better life. He thought about how hard Junior had worked to do the same. "I saw pride in him," Krzyzewski says, "and an accomplishment that he placed his family in a position where this might be an alternative."
From a second-grade education to this, in two generations. Imagine. Junior and Lisa filled out some forms for a college counselor they'd hired, and one place asked for each parent's education level. Junior had to write "8th grade." The counselor told him the statistics: The less education a parent has, the less likely a child is to graduate from college. Junior wants the cycle to end.
"He's too smart to be a race driver," Junior says. "I wasn't smart enough to do something else."
Now racing and school are competing. The K&N Series is a launching pad, the first step toward the life. The most recent Daytona 500 winner, Trevor Bayne, ran this series two years ago. Junior went all-in, put together a team. The race is in week and a half, and Junior wants his son to win. But another part of him isn't sure. His words carry an edge.
"I told him all along, 'You got the whole world out there in front of you. Take advantage of it.' What he needs to do is use his mind and live a life of …
Junior searches for the right word.
"… importance."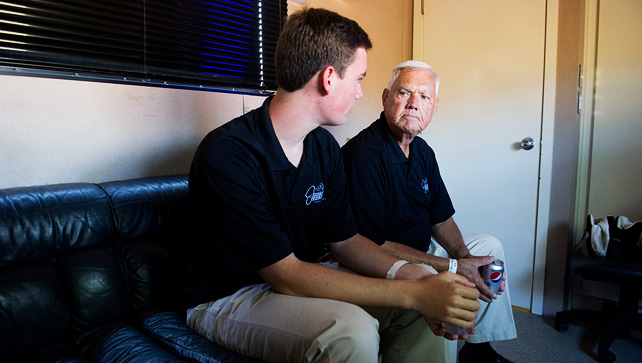 Phil Ellsworth for ESPN.com
"He's too smart to be a race driver," Junior says of Robert.
TURN THREE
June 3, 2011: Walking into a new life
Robert Johnson climbs aboard the hauler. This is a man's world. A long, narrow passage is lined with toolboxes, a spare motor, everything you need to make a sick car well. In the middle, on the left-hand side, is the kitchen area, where the guys make slick meat sandwiches, with Duke's mayo and French's yellow mustard. Robert likes how this place makes him feel.
The lounge in the back is his sanctuary. Needs some TLC, he decides, but the air conditioner is a beast. He searches for the right sequence of switches to make the lights come on. The television doesn't work, so he's reaching into the jumble of wires, trying to find out which runs to the satellite. An inspector comes in, and Robert opens and closes the white closets and cabinets looking for his firesuit. Finally, he goes for help.
This is all new.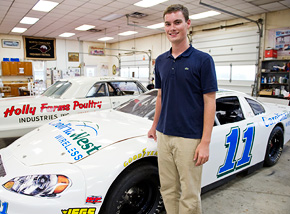 Phil Ellsworth for ESPN.com
Robert is trying to balance school and cars.
The K&N season is four races in, but he's just starting. He had to wait until he finished his high school exams to hit the road. This juggling of school and racing has hurt both. A few months ago, he took the SAT and raced on the same day; he finished poorly in his race, and the SAT score wasn't what he needed. A month or so later, he took the test again and did much better. Good enough, he hopes, for Duke.
There's no secret about how Junior feels. After winning an early race, Robert skipped school the next day. Junior got hot. "He chewed his ass out," Frog says. "School comes first. That damn race car will be parked."
Making his father angry is terrible. Disappointing him is worse. That's Robert's greatest fear. So, in the battle between books and cars, he's still leaning toward books. He prepped for the SAT on the weekends while other guys were out racing, and while they were running at Richmond, he was taking AP exams. Application time is around the corner; he's planning to go to college and fit racing around class. One entrance essay is on his mind a lot: Why Duke?
He plans to write about moving back and forth between a private school and grease-covered shops. It's an essay about two worlds, about the past and future of his family, really. He's the present, trying to figure out how to deal with both. His father told him to be his own man. To do that, he has to deal with the shadow. Some guys in this series want to win to make a new life, to win fame or fortune, to take home one of the little numbers strutting around. Why is Robert Johnson III here?
Outside the hauler, engines crank and there's a constant vibration under the leather couches. A hum. It's midafternoon. The track is open for practice. In just a few minutes, he'll put on that firesuit, which the crew chief found and pulled out of its plastic wrapper, and climb into a race car, watch the gauges, take a low line around the track. His father raced to escape the traps of poverty. Robert is racing, at least in part, to escape the traps of wealth.
"I think everything has a basic truth to it," Robert says. "There's this quote by Ernest Hemingway. It's about racing. The only sports are bullfighting, mountain climbing and racing. All the others are just games. So when you think about it like that, there's a basic almost like primordial thing that you want to go out and fight with those guys. You want to be the alpha male. I don't know …"
His face looks scrubbed. There's a single pimple on his forehead. In opposite ways, he and his dad are both fighting the gravitational pull of their birth. Except the moon in his sky isn't a liquor-filled white house in a mountain hollow. It's a myth.
"If you go to Forsyth Country Day School," he says, "they fight with ideas more than they fight with actual grit. Really, if you boil it down to the essence of it, the grit that Dad has, even if I don't succeed at racing, I want to know I have that grit."
On the track
The No. 11 car rumbles out of the gap in the outer wall, into the stadium bowl. Something is changing in Junior. He grimaces. He talks into the headset. Frog sits next to him and works the stopwatch, showing lap splits. Robert's on the throttle, remembering his dad's advice about diving into the corners.
Junior follows his son's car, but he sees more than just a metal body. It's like he can see inside the engine, into the pistons and the carburetor, up the block to the track bar. He just knows. How many laps has he watched? A hundred thousand? Well, a car circling a track has never meant more to him that this car on this track. He grits his teeth and makes a slashing gesture. The cars roll past in the reflection of Frog's mirrored sunglasses. Robert's car pulls off the track toward the hauler.
"I'm going back," Junior says abruptly. "He's too loose."
His mind has read the problem, and while he doesn't want to interfere, this is a fast car, he realizes. A really fast car. They've got a shot to win. "I don't want them to misread it," he says.
The walk through the pit is the usual collage of points, stares and "There's Junior!" He doesn't notice, arms swinging past the Goodyear truck, down the fence line to his hauler.
"He's up there," the crew chief, Wes, says.
Robert is sitting on the cooler, his firesuit stripped back to the waist, taping his finger. They talk about the car's handling.
"That son of a gun will get down a straightaway," Junior says.
"I go in there," Robert says, "and I'll run in it harder than they will and I'll let it roll up the hill and that's what gets the run down the straightaway."
Junior grins and starts chanting: "Beat their ass. Beat their ass."
Into it
Whatever doubts Junior might have had this morning are shouted down. If you want to know why the revenue men couldn't catch him, why The Intimidator was scared of him, just check out this old man slapping this black leather couch in the lounge, the years falling away. His hands are on an imaginary steering wheel.
"Drive in thar deep!" he yells. "Get on that steerin' wheel."
These are the good times. A father and son, with unimaginably different childhoods, finally share a language. Robert seems happiest in the hours between practice and qualifying.
Grabbing a plate of ham, cheese and crackers, he asks, "You got a knife?"
"You gonna cut somebody?" Wes says.
"Cut some cheese," Robert says.
Junior reaches into his pocket. "I don't ever leave home without a knife," he says.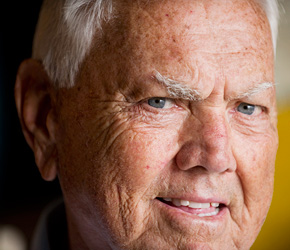 Phil Ellsworth for ESPN.com
Junior is a rookie owner now.
They're talking about the latest Wilkes County drama, comparing cellphones -- "Yours is old" … "Well, hell, I'm old" -- and laughing about Lisa and Sissy shopping. Robert plows through the racetrack meal. Junior grins, then points toward his pocket knife in Robert's hand. "I just cut the balls out of a pig," he says, everyone cracking up, "and I forgot to wash the damn blade."
The guys are loose, but the mood is still intense. Robert pumps his leg. Junior finds a piece of paper on the floor and folds and refolds it a dozen times, making sure the crease in the middle is perfect. Then Robert says, almost offhandedly, that the cars are weighed in this series without the drivers in them. The cars don't weigh the same once they're on the track.
Junior's voice changes. A cloud comes over his face. Look at his eyes. The young Junior Johnson, from black-and-white mug shots and winner's circle photographs, is still in there.
"You're kidding me?" he says. "No wonder that s--- ass is … that's not fair."
"I got 50 pounds on most of these guys," Robert says.
There's a tense silence.
"I'll give them damn Frances an earful," Junior says. "I'll just tell 'em to hell with it. You don't weigh the cars with the driver in it … we got a 50 pound disadvantage. … Go run your own damn race. We'll go run something else. That's unfair."
"Fifty pounds is a heck of a lot of weight," Robert says.
"Fifty pounds is a half-second," Junior says. "Bulls---."
Now he's hot. Unfairness sets him off. Robert's watching his dad simmer, bubbling over with an occasional curse. He sort of thinks it's funny.
"What about the time you cussed out the middle school director over the derby car thing?" Robert says. "You remember that?"
Oh, yes, there is more to the soap-box derby story than just the cute father-son bonding. Their car was so fast that one of the handymen at the school, the guy in charge of the green flag, cheated them. Maybe he carried some grudge against Junior. In the finals, he held Robert's car until the opponent was halfway down the track. Robert's car lost.
"Oh, hell, I was gonna kill the son of a bitch," Junior says. "Then we come back the next year with Meredith's. I think we painted it pink."
"We perfected the design," Robert says. "The second one was really fast."
"And they penalized it 3 seconds," Junior says.
"And we still won," Robert says. "The guy that screwed us out of the first one, he didn't last very long."
"I got him fired," Junior says, "and he went over and tried to get a job with Richard Childress, and I called Richard up and said, 'If you give that son of a bitch a job, I'm gonna shoot you.'"
That's a rule in his world, and breaking it brings a repercussion as sure as gravity: Nobody messes with Junior Johnson's kids. "Remember the time that boy wrecked you and you wrecked him back," Junior says. "Frog was standing there and I said, 'Come on Frog, we may have to whup 'em.'"
The hours pass in a blur. The director of the series visits for a moment, and Junior keeps quiet, waiting until Monday to raise a stink. When he leaves, Robert says, "I guess we don't want to make him mad."
"I believe I'd rather him be mad than me," Junior says.
Now it begins … for real
The men walk to their cars, the sky pink and purple, the shadows of trees laying across the corner of the pits. Finally, qualifying. The driver of the No. 33 car leans against the hood, slouched for maximum cool, his fire suit unzipped halfway down a hairy chest. He takes a long drag off a cigarette, then flicks it off the asphalt, the butt cartwheeling up into sparks. He crushes the embers with the toe of his shoe. Robert Johnson walks past him toward the 11 car, getting lost in the shadows, turning back toward his dad and their hauler. He suddenly looks very young.
Junior goes back to the balcony overlooking Turns 3 and 4, sliding in among other fans, leaning on the white fence by the rail. The track is a carnival, with rainbow lights flashing around the funnel cake sign, and pink neon shouting out concessions. Teenagers strut around the outside of the bowl, a small-town promenade, guys wearing flat-brimmed hats cocked just so, then re-cocked and re-cocked again, girls swinging in jean shorts and cowboy boots, bare midriffs and fake-diamond belly button rings. The race fans sit in the concrete grandstand, waiting for another car to come out and run two qualifying laps. Junior waits, too.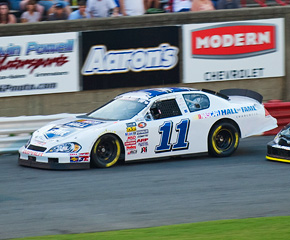 Phil Ellsworth for ESPN.com
Robert on the track.
The 11 car bucks out on the track, the scoreboard behind Junior showing a pixilated photo of his son. Junior looks up for the time. First lap, 15.275. That's not good enough. The speakers above him announce, "Final lap for Robert Johnson III."
Robert goes low through Turn 1, wiggles a little bit in Turn 2, headed down the straightaway, really hauling ass. He flashes across the finish line, and Junior turns around to see the time: 14.85. He steps off the balcony and calls Lisa.
"Our boy did good," he says. "He's up toward the front. Most of them run in the 15s. He got in the 14s."
He hangs up. "She's crying," he says.
Now they wait.
"He's third so far," Frog says when Junior gets back to the hauler.
"Top five," Wes says. "Maybe."
"I'd say he'd be in the top five," Junior says, sounding hopeful.
Across the pits, a computer monitor shows real-time results. The glow of the screen pulls Junior over. Someone sees him coming. He doesn't even have to ask.
"Third," they tell him.
"Is it over with?" he asks.
"Yup."
Junior pulls out his phone and calls Lisa back. "We're third," he says, laughing. "Yeah … I haven't seen him … Getting dressed."
Robert comes out of the hauler, looking tall, with broad shoulders and sinewy muscles. He sees his dad beaming. Third! Junior half-punches, half-hugs Robert, which is how he says, "I love you," as word spreads through the crew. They're jacked, backslapping, congratulating, a real race team. Tonight, they went fast. Real fast.
Junior nods at the celebrating crew. "Tell 'em bye, and let's go," he says.
Robert doesn't want this feeling to end. "I wanna hang out with 'em for a little while," he says.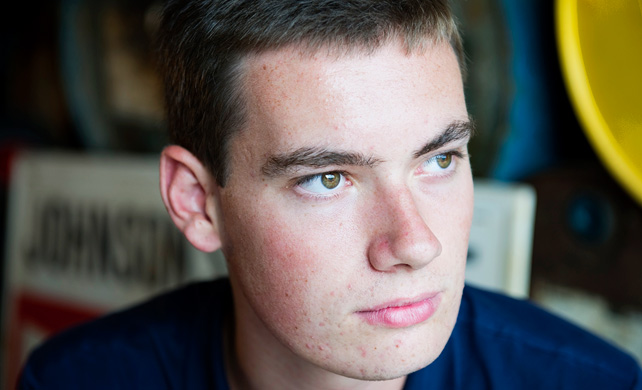 Phil Ellsworth for ESPN.com

Robert's greatest fear is disappointing his father.
TURN FOUR
June 4, 2011: Race day
Lisa Johnson wakes up to Junior holding her morning coffee, still stewing about the weight thing. She can tell he's focused. They're not supposed to leave until 4. Junior is dressed before noon, pacing. Robert's relaxing; last night, in the glow of success, he told his mom he wanted to run a full K&N season next year.
Finally, they drive to Bowman Gray. Nobody says much. Junior and Robert disappear into the back lounge of the hauler when they arrive. "If you see the outside open," Junior says, "you gotta take it."
He's a spectator now.
The drivers head out for an autograph session. Junior and Lisa follow, stepping out onto the track, the grandstand packed before them. Lisa puts her hand on Junior's shoulder. Before Robert walks to his car, Junior gives him the punch/tickle/hug thing. I love you. Lisa is trying to make sure Robert has these cards his sponsor, the NASCAR Hall of Fame, had made for him to sign.
"I got it under control," Robert says.
"I'm making it worse," Lisa says.
"You ready to go?" Junior says.
Robert gets in his car. Junior and Lisa climb the bleachers toward the press box. People double take, stare and point. Upstairs, Junior sits in the front row. There's a round hole in the table in front of him designed for wires to run up from the outlets to reporters' laptops. Junior rubs his finger around the edge of it, over and over. He leans in for the start. The drivers come around Turn 4, roaring toward the flag, pushing 500 horsepower now, crankshafts slamming pistons into heads. The whole place shakes. Robert Johnson III stands on the throttle.
The fear rises
Junior is almost 80 years old, and at this moment he's face-to-face with an immutable law he's long struggled against. In the end, he has no control.
He's afraid.
Afraid of a cycle continuing, of his children inheriting his mistakes. He's afraid of his racing past derailing his son's potential. He's afraid of not seeing their dreams come true. Sometimes Lisa looks at him and her heart breaks. Will he sit in the family section on a warm May afternoon at Duke? Will he walk Sissy down the aisle? Will he ever hold Robert Glenn Johnson IV? "It's the elephant in the room," she says, "and I would never disrespect him by mentioning it."
Junior's Career
Junior Johnson's Hall of Fame highlights. Watch

Junior lives his life now to make sure he doesn't miss a thing. Age is never an excuse to not do something, not be somewhere. When the kids were born, he lost 60 pounds. He's trying to lose 10 more. After heart surgery in the early '90s, he started living better. He keeps the details of his businesses tidy. It's not so much the things he'll miss that push him, though he'd like to see every one. His job is to protect them. Who will protect them when he's gone?
So he swims around the pool, feeling along the wall for cracks. He fixes things, repairs toys and appliances. He insists on college. He keeps them away from his old life, doesn't take them to Ingle Hollow. But all that doesn't stop the churning deep inside. He's papering over some deeper fear, something new, something embodied in the 11 car turning laps down on the track at Bowman Gray. What's relit the fire of a man who thought he'd earned the right to go cold? "I absolutely know," Lisa says. "I can answer that easily. Robert and his future and racing. He wants to help Robert get to where he wants to be in racing."
He wants to protect Robert. Talk him out of racing, or, if this is truly his dream, pass along eight decades of hard-won knowledge. He wants to open doors. He wants to chew someone out if Robert's getting cheated out of 50 pounds. He wants his son to look out at the waiting world and make it his own, and there's nothing he can do now but teach him how to be a man, show him love and then let him walk into that world alone. He's been here before, even if not many people know it. He and Flossie never had kids of their own, but they did take in an 8-year-old boy named Brent Kauthen, treating him as a son, preparing him to take over the race team when Junior retired. Seventeen years later, on a dark stretch of North Carolina road, Brent was killed in a car wreck. Three years after that, Robert was born, and Junior had both the miracle of a first child and the horrible knowledge of how fast that child could be lost.
Junior sits in this suite, wearing a headset. He peers down at the cars, and just above his head, in the slanted glass window, is his own reflection, looking down on him looking down on his son.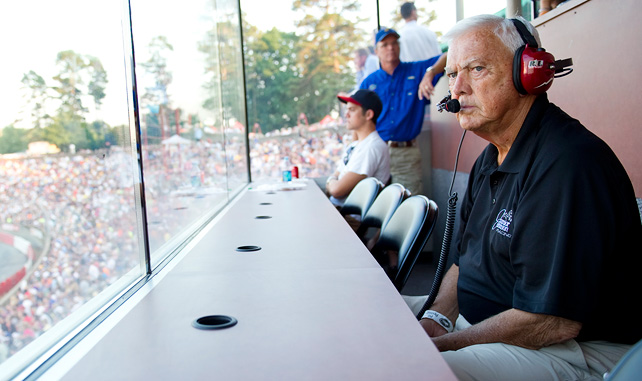 Phil Ellsworth for ESPN.com
Junior watches Robert from his suite.
Coming back
Robert slips back, to fifth, to 11th. Every 15 seconds, the cars make another lap, with the short track bringing lots of caution flags. When Robert restarts on the outside, he's having trouble fitting his car back in along the apron. Junior can do that in his sleep, but he cannot do it for his son. Every now and then, Robert's voice crackles in his ear. With the headset on, he can't hear anything else, not the television in the corner, not the talking around the suite. It's just him and Robert.
Robert keeps digging, worrying now about the engine temperature. The needle keeps moving to the right until it's pegged. The cockpit heats with the engine. Junior's boy is in trouble, in a blistering car in a violent race, with fear in his voice, and there's not a damn thing Junior can do but listen.
"It's an inferno," Robert says. "I've honestly never been this hot in my life."
My God. The things that live inside Junior's head, the memories jumbled together, Robert climbing into this car, and asking him to race, rushing from now to then, Legos, cars rusting in a field of weeds, getting the news that Brent had died, yelling at Bill Elliott, at Cale Yarborough, fights in the infield, rolling fast into banked turns in cotton gin towns and smokestack cities. There's the track coming apart beneath his tires in Asheville, Fireball Roberts burning up in Charlotte, the steering wheel that tore up his chin in Daytona. All those years when he seemed to either win or wreck, the rednecks and gearheads loving how he always drove right on the edge of control, never understanding he was racing a lot more than cars. U.S. marshals at the peephole. His mama's piano covered with his trophies. There's the rumbling of big-block V-8s, the whistle of a supercharger, sideways through thin dirt curves, running revenuer roadblocks, all the way back, a Saturday morning in the summer of 1949.
The beginning.
The end arrives
Robert is making up spots when, because of a spotter's mistake, he suddenly wrecks, spinning out, sending a cloud of smoke rushing from the overheated engine. He pits to fix the damage, but the car is falling apart. He can't steer it any longer. The race is over. In the suite, Junior takes off his headset. Fathers aren't totally helpless. They can be there when something goes wrong.
There are 39 laps left when Junior and Lisa leave the tower. Instead of walking down the steps to the pits, Junior eases into the dark street outside the track. Lisa asks if they should turn around. This isn't the way back to the hauler. Is he lost? Confused?
"You all right with your back?" she asks.
"Yeah," he says.
Junior keeps walking, swallowed by the darkness. He moves with purpose. The trees grow over the road. Engine screams turn to drones. Junior and Lisa head down the hill, then back up another one, toward the cinder-block shack at the entrance to pit row. They walk in silence. Up ahead, a tall silhouette emerges from the shadows. He's standing on the street. He's alone, but not for long.
"There's Robert," Junior says.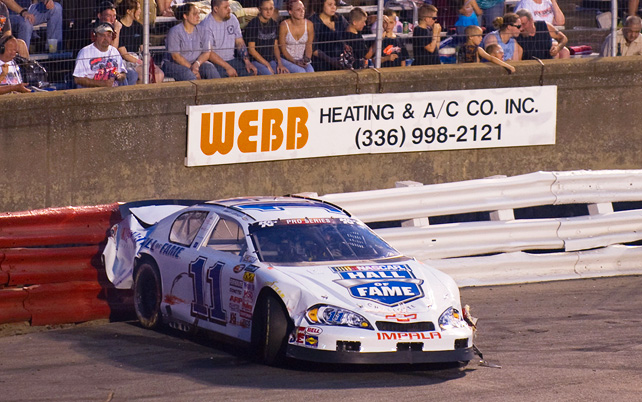 Phil Ellsworth for ESPN.com
Robert is finished for the day.
Back to the future?
There's Junior, 17, barefoot, driving a plow through a corn field. He's talking to the mule. This is how he'll spend the rest of his life. The row takes him back toward the road and he sees his oldest brother, L.P., the racecar driver in the family. The owners of the new speedway up in North Wilkesboro want the liquor runners to race before the main event. L.P. asks Junior to drive his car. A 1940 Standard Ford. Junior puts up the mule, grabs his shoes and goes with his brother. He climbs inside the car, sliding around the dirt track, finishing second in his first race, the voice in his head just beginning: Go Faster. All these years later, he's at a racetrack again. His son is the one who's 17, a cycle starting anew, and the voice is still there. Junior Johnson is still running. He's racing time.
Wright Thompson is a senior writer for ESPN.com. He can be reached at wrightespn@gmail.com.
Follow ESPN_Reader on Twitter: @ESPN_Reader.
Join the conversation about "Turning for Home."