OTL: Carrying On

here to begin? How do you open a story that's all and nothing about sports, that spans years and hemispheres, that features a remarkable family you don't know and a household name you thought you knew? What's the best place to start a tale that refuses to be a tragedy?
How about a two-on-two basketball game a few Saturdays ago, on a backyard court off a quiet street in Brooklyn's Kensington neighborhood? "Watch the plants!" Georgette Conroy cheerfully warns her four children -- Matt, Jamie, Christine and Jill -- as she prepares dinner in the kitchen with Mickey, the family dog, at her feet.
The kids are just horsing around, but every once in a while, sibling rivalry reveals itself. Matty forces Jamie toward the greenery, then swats away one of her shots and says, "I'm sorry, I thought you played Division I basketball." To which Jamie replies, "I do, but we don't have any trees growing on the court."
Then again, maybe it's the late-night broadcast of "Baseball Tonight" on May 26, 2010. Karl Ravech opens the show with, "Hi, Bobby V. What do you got here?"
And Bobby Valentine says, "Well, we had a big day of baseball, a lot of games. We had the Northeastern club team winning the national championship. You gotta like that. Good job, Matty and the boys …. Heh-heh, I got it in."
"Yes, you did," says Ravech.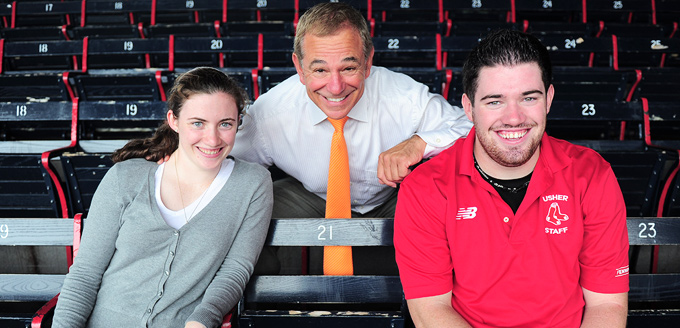 Michael Ivins for ESPN The Magazine
Bobby Valentine with Jamie and Matt Conroy before the start of game at Fenway Park in Boston. Valentine has played a key role in the lives of the Conroys after they lost their father, Kevin Conroy, in the attacks on the World Trade Center on Sept. 11.
Perhaps you have to go all the way back to Sept. 21, 1985, Pittsburgh Pirates against the New York Mets at Shea Stadium. Doc Gooden wins his 22nd game and hits a home run in a 12-1 victory, while up in the stands, an accountant, Kevin Conroy, and a nurse, Georgette Newman, are enjoying their first date.
"He was best friends with my first cousin, but he had sort of a wild reputation," says Georgette, more familiarly known as Jet. "So I was a little afraid. But we had a great time, and the next thing you know, we've got four kids."
Or you begin with an anniversary party at the Westchester Country Club in Harrison, N.Y., in mid-October 2001. Friends and relatives have gathered to celebrate Ralph and Ann Branca upon their 50th year of marriage.
Remembering 9/11
ESPN the Magazine commemorates the 10-year anniversary of Sept. 11 in its "America Plays On" issue about what we remember, and how we've changed. Read
Follow coverage on ESPN New York.
Their daughter Mary and her husband, Bobby Valentine, are cutting a rug on the dance floor. The way Joe Salerno, a friend of the family, remembers it, "Bobby finishes the cha-cha -- he's a great dancer, you know -- and he comes over to me and says, 'Joe, if there's anything, anything I can do to help you, don't hesitate to call.'"
Come to think of it, there is a certain resonance to that scene. The heartwarming golden anniversary was coming 50 years and two weeks after Branca surrendered The Shot Heard 'Round The World to Bobby Thomson of the New York Giants, costing the Brooklyn Dodgers the 1951 National League pennant. In the years since, Branca has carried himself with a grace nothing short of amazing. Something wonderful was forged by something terrible.
But let's back up a bit. Both Salerno and Valentine, who knew each other from their volunteer work with Branca on the Baseball Assistance Team, were in need of distraction that night. They were still reeling from the attacks of Sept. 11, just five weeks before. Salerno was the chief financial officer of Marsh & McLennan, the insurance brokerage that had lost 295 employees that day, most of them after American Airlines Flight 11 crashed into the firm's offices in the North Tower of the World Trade Center at 8:46 a.m. "One hundred of the victims reported to me," says Salerno. "They were on a conference call to London when it happened. Funeral after funeral after funeral. I had no words left. It meant a lot to me that Bobby reached out."
For his part, Valentine had thrown himself into the relief efforts, helping out at the staging area for supplies set up in a Shea Stadium parking lot, traveling through the ash and debris at ground zero to bolster the spirits of the relief workers, visiting with the families of the victims -- all while shepherding a ballclub. "He wouldn't come home for nights at a time, but that was OK," says Mary, who would take her therapy collies down to the Family Assistance Center at Pier 94 to visit the victims' loved ones. "That's Bobby."
Shortly after the anniversary party, Valentine called Salerno. The manager had tickets for Game 3 of the American League Championship Series, Mariners versus Yankees on Saturday night at the Stadium, and could Joe think of anyone who might want them? Salerno thought of some of the victims' children, one of whom was the 12-year-old son of Kevin F. Conroy, his vice president for corporate accounting. He gave Valentine the number of the Conroy home in Brooklyn.
As Matty now remembers, "My mom hands me the phone, and the voice at the end of the line says, 'Hi, I'm Bobby Valentine.' And I say, 'Yeah, and I'm Santa Claus.'" Since the Conroys were -- and will always be -- Mets fans, it didn't take Valentine long to convince Matty that he was who he said he was.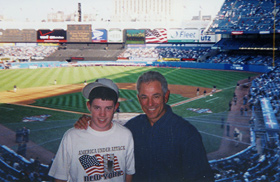 Courtesy of the Conroy Family
Matty and Bobby V at Yankee Stadium.
A car was sent to pick up Matty and two other boys. "Mom told me they had lost somebody and to say sorry to them," Matty recalls. The trio sat next to Bobby for most of the game, getting some face time on Fox, even meeting George Steinbrenner. But because the game was going so late -- a 14-3 blowout victory for Seattle -- Valentine got permission from Jet to take Matty home with him to Stamford, Conn., which is much easier to get to after a Yankees playoff game than the Conroys' Brooklyn home.
Matty's take on the sleepover was, "Cool, I get to sleep in tomorrow morning." But at 8:30, Mary Valentine knocked on his door to tell him to come downstairs for breakfast -- they were going to Mass. Says Matty, "It was a bit of shock because we usually went to church on Saturday evenings. The French toast was very good, though." After church, Bobby took him to a baseball clinic, and then back home to Kensington.
The next week, Valentine offered to fly Matty out to Arizona for Game 1 of the World Series. Jet's reaction? "There I was, thinking I had the situation under control, and now I'm letting a stranger take my son across the country. If Kevin was there, he would've killed me. But I knew Bobby was sincere in wanting to help, and Matty really liked him."
A few weeks later, Valentine took Matty and Jamie, a 9-year-old who wore her baseball cap backward, and one of their cousins to the Preseason NIT at Madison Square Garden. As they drove back to Brooklyn in Bobby's car, Jamie was riding shotgun, while Matty and the cousin were in the back, with Matty trying to give directions to the Brooklyn Battery Tunnel. But the streets downtown were a tangle of detours. As Valentine recalls, "Jamie, who had been chattering away, suddenly starts crying. I looked to my right, and there was ground zero, with the lights shining on the ruins of the Twin Towers. I thought, 'My God, what did I just do?'"
The only sound as they crossed the East River into Brooklyn was Jamie sobbing. When they got home, she ran into Jet's arms, and Bobby tried to apologize. But Jet insisted they all hug, and Valentine found himself crying, surrounded by the Conroys. "I had been worried because Jamie had been holding in her grief for weeks," says Jet, "so it really was a good thing."
But Valentine wasn't so sure. As he told T.J. Quinn in a 2002 story in the Daily News, "I thought, 'Maybe you don't know what you're doing. Maybe you just ought to leave these people alone.'"
A decade later, however, Valentine has no regrets. "I can honestly say that they have done more for me than I've done for them. They're my angels."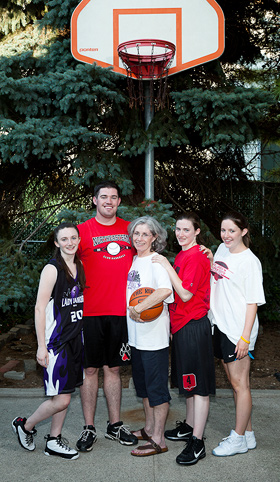 Andrew Hetherington for ESPN The Magazine
The Conroys on their home court.
Valentine played 10 years in the big leagues, but made a name for himself during his managerial stints with the Texas Rangers, Mets and Chiba Lotte Marines. His outgoing personality led to a gig as an analyst for ESPN, where he is one of the voices of "Sunday Night Baseball." He is also a restaurateur, the owner of a sports academy and Stamford's director of public safety. Yet there's more to him than that. He collects World Series programs and the "Wizard of Oz" books. He juggles commitments to a half-dozen different charities. (Just this summer, Matty came down from Boston to help him at a benefit for the tsunami victims in Japan.)
The last adjective you would associate with Bobby V is sheepish, but he is in fact reluctant to talk about his relationship with the Conroys for fear people will think he's trying to glorify himself. "They're the story, not me," he says.
While Valentine has never met a challenge he didn't like, the dual burdens of leading the Mets and helping the Sept. 11 families were more than even he could handle. "I'm not the kind of guy to sit on a psychiatrist's couch," he says, "but for the first time in my life, I felt inadequate. No matter how many hours, no matter how many days, I couldn't do enough. That's where the Conroys came in. I felt like I could make a difference with them, and they made a difference in me. Everything about them was so life-affirming."
Needless to say, Bobby did not leave them alone after he took that wrong turn near ground zero. He went to career day at the kids' Immaculate Heart of Mary School. He went to the dedication of the Kevin F. Conroy Ballfield at Greenwood Playground -- there's a team picture of Jet's coed softball team, the Mighty Mets, with the real Mets manager in the foreground. He would make time to go to the girls' CYO basketball games and lend his unmistakable baritone to the cheering. The Conroys went to the Valentines' house, and vice versa.
Michael Conroy, Kevin's older brother, remembers one of Bobby's visits to the neighborhood: "There was a guy across the street, huge Mets fan. Well, he pulls Bobby into his house and shows him all his Mets stuff, his posters and balls and memorabilia. We're all rolling our eyes, but Bobby could not have been nicer to him."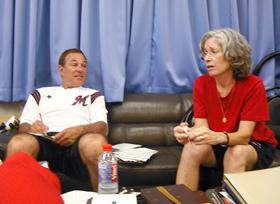 Courtesy of the Conroy Family
Jet says Kevin would have "gotten a kick" out of knowing that Bobby V stepped in and helped the Conroy children.
Valentine had reached out to other families, but understandably, they pulled back, not wanting to be reminded of Sept. 11 by his celebrity. Jet saw his interest differently, not as a gift of star power but as a genuine attempt to brighten her kids' lives. "Once we got over the fact that Bobby was famous, he just became a friend of the family," she says.
And they did have a love of sports in common. Matty, in particular, knew his baseball, and Valentine helped that along by asking him to be a bat boy during a road trip in the summer of 2002. When Bobby went off to Japan to manage Chiba Lotte in 2004, he arranged for Matty to come over for a week -- a trip that became an annual pilgrimage and an education unto itself. "I learned how to travel on my own in a foreign country," says Matty. "I learned a little Japanese and a lot of baseball."
Mary Valentine says, "Bobby loved having Matty come over to Japan. It's such a special relationship. We have gotten so much joy out of watching the Conroys grow."
Matty ended up going to Xavier High School in Manhattan, where he played on both the hockey and baseball teams. "I caught, pitched, played third, whatever they needed me to do," he says. "I just loved the game. The only hard part was the trips to the field every day. That's because in order to get from school to the field in Red Hook in Brooklyn, we had to drive down the West Side Highway past ground zero."
After Matty graduated from Xavier, he went to Northeastern University in Boston and tried to walk on to the varsity baseball team, only to be one of the last cuts. But he did find the newly formed club baseball team to his liking, and in 2010 he helped pitch the Huskies to the National Club Baseball Association Division II World Series in Johnstown, Pa., where they beat Penn State in the final.
"I was texting Bobby the whole time," says Matty. "We were just hoping he could get the score on 'Baseball Tonight.'"
So when most of America scratched its head at the mention of a club baseball game, the members of the Huskies went delirious. Did Valentine catch any flak for sneaking the result in? "Sometimes it's better to beg for forgiveness than to ask for permission," he says. "Listen, it was worth it. I'd do anything for Matty. I really believe that someday he's going to be somebody who does something special."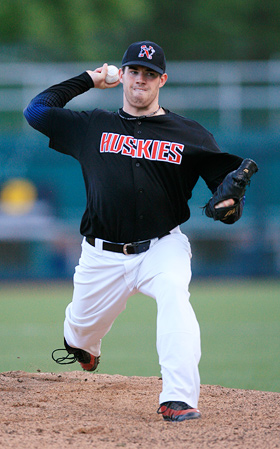 Courtesy of the Conroy Family
Matty pitched for a college club team that won a national title.
Cut to the Conroy kitchen a few weeks ago. Over one door is a sign that reads, "Live Laugh Love," and over another is one that says, "Yesterday Was The Deadline For All Complaints." Next to one doorjamb is a whitewashed strip that measures all the various heights of the family members over the years.
And they have grown. Matty, now 6-foot-3, has just graduated from Northeastern with a B.A. in economics and is working as a security system sales trainee while moonlighting as a Fenway Park usher. Jamie, 5-foot-7, is going to be one of the senior captains and the starting point guard for the Northeastern women's basketball team while majoring in criminal justice. Christine, or "T," is a rising junior at Siena College, majoring in finance, and Jill is going to be a junior and the starting point guard at Bishop Ford High School, where Jet is also the school nurse.
Jet, who grew up in Breezy Point in Brooklyn, had gone to St. Francis De Sales High and then to Mount Saint Vincent College -- "Catholic girl all the way" -- before going to Kings County Nursing School. Kevin went to Nazareth High School in Brooklyn and then on to Baruch College. They met through Jet's first cousin, Jackie Newman, who grew up with Kevin.
"I can see Kevin in all of the kids," Jet says. "Matty has his outgoing personality. Jamie has his competitive nature -- she hates to lose the same way he hated to lose at gin rummy. Christine has his quick wit. And Jilly has that quiet sense of humor he had."
They're all here for a family barbecue, and roaming from lap to lap while they wait for Matty to finish the grilling is Mickey, the mostly black Lab. He got his name after the Conroys wrote down their suggestions on a piece of paper and placed them in a hat. They pulled out Kevin's choice.
As it happens, Jet was walking Mickey, then a puppy, when she saw the smoke rising over lower Manhattan. At first she thought the smoke was coming from New Jersey, but then came the news, and the uncertainty, and the horrible truth, and the visitors, and the grief.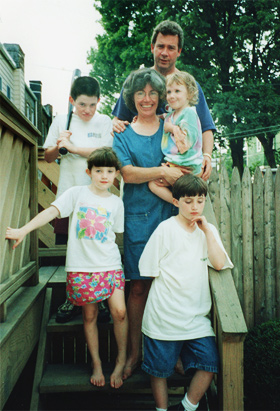 Courtesy of the Conroy Family
The Conroy family -- parents Georgette and Kevin, with kids Matt, Jamie, Christine and Jill.
The memorial service for Kevin was held on Sept. 29, 2001, but the sadness lingered. "Jamie wanted to quit basketball," says Jet. "If Kevin wasn't going to be on the sidelines, coaching her or cheering her on, she didn't want to play anymore."
The thought of Jamie not playing hoops makes her later succession of coaches blanch. "I used to coach her on my boys' team, she was that good," says Nick Crimeni, a neighbor and friend who eventually helped talk her out of quitting. "When I asked her if it was true she didn't want to play anymore, she said it was. But then she said she'd play if I were her coach."
Denis Nolan, now the Bishop Ford boys' coach, had both Jamie and Christine on his girls' team at Ford and has coached Jill at the Empire State Games. "Jamie is one of the hardest workers I've ever seen in 25 years of coaching," he says. "Christine is a great shooter. And Jill has both their qualities. Some of my fondest memories will be of watching the Conroy girls play."
The Conroys still talk about the time Valentine showed up for one of Christine and Jamie's games at Bishop Ford in the fourth quarter. "He got lost in the streets of Brooklyn," says Jamie. "But it was still great that he showed up. After the game, he helped us put away the chairs." For Bobby, it's a pleasure just watching Jamie play. "She's a fierce competitor," he says. "Never smiles, but those blue eyes are on fire. She leaves it all on the floor."
As close as Matty and Jamie are, she says she did not go to Northeastern because he was there. "All right, maybe Matty had a little to do with it," she says. "But basically, Northeastern was the only Division I school to offer me a scholarship." The Northeastern coach, Daynia La-Force Mann, knew of Jamie from her own Brooklyn roots: "My coach at Bishop Kearney, Cathy Crockett, told me I should be recruiting her, that Jamie would be a great point guard for us. And she has been -- that's why she led the [Colonial Athletic Association] in minutes."
If you look really closely at the tapes of the home games, you'll see Matty sitting up in the half-empty stands, same spot every time. "If I can't be there, here's what I love to do," says Jet. "I'll watch the home games live on the Northeastern website, place a call to Matty's cell and watch him answer the phone."
Jamie feels another family pull when she plays. "I know this sounds corny," she says. "But I really feel like my dad is watching."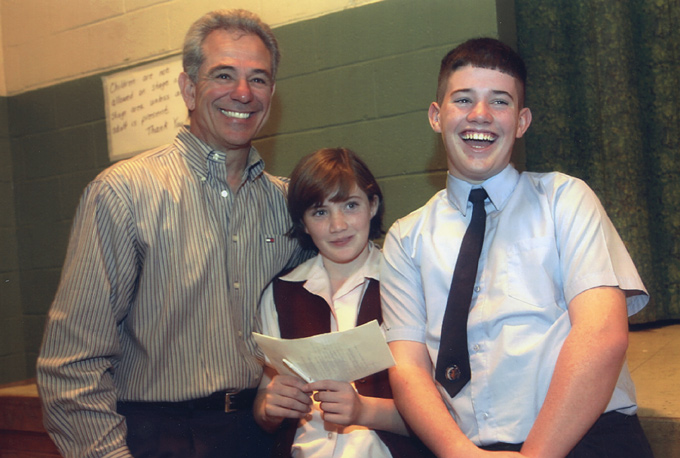 Courtesy of the Conroy Family
Bobby V has followed the Conroy kids' progress in school and in sports.
Finding a place to start isn't the problem with this story. It's actually the beauty of it, as it would be for a baseball or a basketball, a planet or an electron, or any other sphere. There is no beginning. You just roll it over in your hand or head and admire how perfectly natural it seems.
Bobby V is having lunch in Boston with Matty and Jamie. He's in between production meetings for the "Sunday Night Baseball" telecast of the Yankees-Red Sox game, having just flown in from Lake Geneva, Wis., where he was honored at the National Italian Invitational Golf Tournament for Charities. As they catch up on the news -- Matty just got back from a week of sales training in Denver, Jamie is working out at Northeastern and taking a psychology course -- you're struck by both the familiarity and the affection in the conversation. Theirs is less a paternal relationship than one with a favorite uncle, or an old friend.
They get to talking about the highlights of the weeklong trip the whole Conroy family took to Japan to visit Valentine in 2009 -- the time Jill broke a couple of wooden bats in batting practice, the restaurants they ate in, the art exhibit made from live fish.
"How about the night at karaoke?" asks Jamie.
"Yeah, Bobby and Mom sang 'My Girl,'" says Matty.
Bobby asks Matty who he thinks is the Red Sox MVP, Adrian Gonzalez or Jacoby Ellsbury. "Ellsbury has unbelievable numbers," says Matty, "but you have to go with Gonzalez. He's going to win the batting title with 125 RBIs. He's hit all year."
"Yeah, I agree," says Valentine.
Bobby is having trouble with his smartphone, so he hands it to Matty, who turns off some of the running apps and then hands it back to Bobby. The Conroys look at each other and smile. One of the standing jokes in both the Conroy and Valentine households is Bobby's trouble with directions. "Oh, he'll sometimes call from the road, asking me how to get somewhere," says Matty. "He's always getting lost."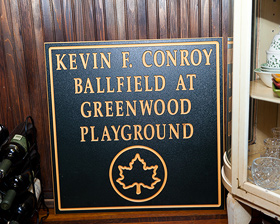 Andrew Hetherington for ESPN The Magazine
A field at the Greenwood Playground is now named in memory of Kevin F. Conroy.
Funny. Ten years ago, Valentine made a wrong turn that came out all right. A relationship began that did two families a world of good. Something wonderful was forged by something terrible.
"I was not going to have a tragedy define my family," says Jet. "Kevin would not have wanted that. They're great kids, and I am so proud of them. I'm sorry he wasn't here to see them grow, but he would be pleased.
"The fact that Bobby Valentine had a hand in that, well, Kevin would've gotten a kick out of that."
One more thing about the story. It doesn't have an ending, either.
Steve Wulf is a senior writer for ESPN The Magazine.
Follow ESPN_Reader on Twitter: @ESPN_Reader. Follow ESPN the Magazine on Twitter: @ESPNmag.
Join the conversation about "Carrying On."