Allyson Felix

OS ANGELES -- The 200-meter dash has the most elegant geometry of any race, starting with a sweeping bend that opens onto a straightaway. When Allyson Felix runs it the way she wants to, it feels as if the force she generates on the curve flings her down the track like a pebble from a mighty slingshot. It feels as if the power comes from outside of her.
She believes it does. She believes she was born with a gift that is both a blessing and a responsibility. Felix, the daughter and granddaughter of African-American preachers, relates to the words of a Scottish missionary born almost 110 years ago -- the man whose life and choices were lionized in the movie "Chariots of Fire."
"Eric Liddell said that when he ran, he felt the joy of the Lord through him," she said. "I just always think, 'It's not, it cannot just be you.' I know a bunch of people who put in the work. That's not all there is."
Felix is not one to point to the sky or verbalize her devout Christianity after her races, but she runs on faith. Faith in her ability, faith in her work ethic, faith that she can win clean in a scandal-plagued sport, faith in her older brother Wes, now her manager, and her parents, who are still her closest advisers. That core serenity has helped Felix succeed in a world where she has been out of the ordinary ever since she flew down a dirt track in basketball shoes at her first high school tryout, leaving a coach staring at his stopwatch slack-jawed.
She is one of the most talented sprinters of her or any generation, and one of the most uncommon. So slender she can appear almost waif-like alongside more ripped rivals, an anti-diva amid a sea of flamboyant, high-strung personalities, Felix is indifferent to the spoils of victory and doesn't have a single trophy or medal displayed in her home, handing them off to her parents instead. "I just think the race itself is the accomplishment," Felix said. Her idea of a hot night out might involve bowling, she uses a hula hoop to leaven her gym work and she's just as happy in a Hello Kitty T-shirt as she is in a designer dress.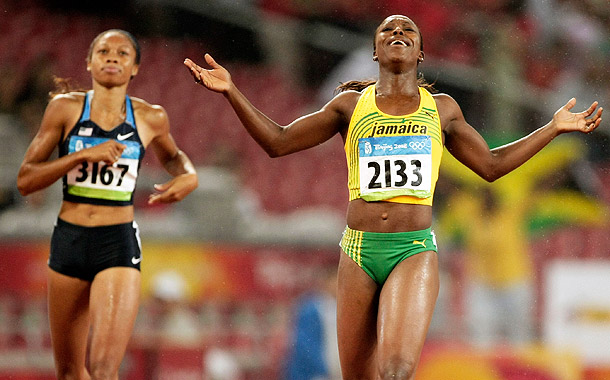 Harry How/Getty Images
Allyson Felix finished second in the 200 to Veronica Campbell-Brown in back-to-back Olympics (2004, 2008).
Yet that outer composure is wrapped around a relentless perfectionism, a drive to be first that is somewhat at odds with her natural humility. She feels compelled to maximize the windfall of her talent. "Anything besides winning is utter failure to her," said Wes Felix.
By that harsh standard, Felix won't consider herself a success until she captures the individual Olympic gold medal that has eluded her. She has finished second twice in the 200 to the same woman, Jamaica's Veronica Campbell-Brown. As an 18-year-old in Athens in 2004, Felix was the only one in the stadium who expected herself to win; she kept her emotions in check until she stepped underneath the stands, buried her head in her father's arms and cried. Heartsick in Beijing four years later, she saw her family waiting for her at the railing and was unable to hold back tears. It's all the more frustrating for Felix because she has won the 200 -- besting Campbell-Brown and the rest of the field -- in all three world championships held since 2005.
A year from now in the London Olympics, Felix will be the face of a U.S. Olympic track team looking to re-establish its pre-eminence after a mixed bag of results four years ago. That would be demanding enough, but there is something else that could complicate her vision of exploding out of the curve in the 200, ahead to stay.
Somewhat to her own surprise, the 5-foot-6, 125-pound Felix has evolved into one of the best 400-meter runners in the world in recent seasons. Next month, she'll test her versatility and her limits by racing the 200/400 double at the world championships in Daegu, South Korea -- a literal dry run for a possible attempt at winning the same two events at the Olympics, something only three other athletes have done.
Felix will have to weigh the lure of history against the risk that she might blunt her edge for the event she calls "my baby." If she goes for it, it will hardly be the first time this rare athlete has chosen an unconventional path.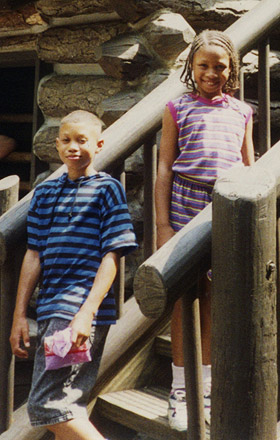 Courtesy of the Felix family
Wes was taught from a young age to protect his baby sister, Allyson. Today, the siblings still have a strong bond and Wes serves as Allyson's manager.
Wes always was there for Allyson, right out of the blocks.
"Their relationship growing up was amazing," said their mother, Marlean Felix, her voice slightly hoarse as it usually is in June after a full school year of teaching third graders. "Wes was always the ideal big brother, always looked out for her, always been very compassionate with her."
Her husband Paul picks up in the sonorous voice that gives away his longtime vocation as a pastor: "They have a unique relationship, and I don't know how to describe it," he said.
Wes was two when Allyson arrived in November 1985. It was Marlean's idea to give her daughter the unusual spelling. She liked the look of the "y" curling down in the middle with the symmetry of three letters balanced on each side.
The little girl tackled life with verve. When she was three, she saw her grandmother fussing over a broken chair and went to work trying to fix it. On another occasion, Allyson watched her brother and a friend search in vain for an inner tube to use on a water park slide. She disappeared for a few minutes and returned with a tube on each arm.
Paul sternly instructed Wes never to hurt his baby sister, and Wes took that to heart -- so much so that when Allyson misbehaved, he begged his parents not to spank or discipline her. "She would be better next time, please forgive her, please excuse her … he always wanted to make sure she was comfortable and safe," Marlean said.
Wes simply assumed that was his job. "When she was little and she'd cry, I thought it was my responsibility to make her laugh and calm her down," he said. Allyson accepted that protective embrace, and followed Wes everywhere. He played basketball, so she did too. He ran, so she began buzzing around in tennis shoes. To this day, she addresses him as "Brother," a term both formal and intimate.
The family relocated to Denver for three years when Allyson was in middle school. She became a little more shy as she tried to find her way in a new place, and Wes became more watchful.
When the Felixes returned to Southern California, Paul and Marlean told the children they had their eye on a small private high school, Los Angeles Baptist, tucked into a corner lot in the San Fernando Valley community of North Hills. But they could only afford to send one or the other. Wes said Allyson should be the one to go. He had friends at the nearby public school and he sensed his sister needed more of a cocoon.
A life can turn on generous gestures like that.
It's fairly unusual for a talent of Felix's incandescence to remain undiscovered at 14, but Allyson was different that way, too.
Jonathan Patton, an assistant track coach at Los Angeles Baptist High School in the spring of 2000, took no notice of the skinny freshman with the huge eyes and legs up to here. Allyson had a way of disappearing into a crowd back then, and Patton was busy winnowing 80 kids down to 20 with two weeks of tough practice sessions. The school, with an enrollment of about 600 from grades 9-12, had a low athletics budget and a dirt track.
Allyson was having a rough transition after changing schools again, struggling to fit in and find friends. She made the varsity basketball team as an assertive but not terribly adept forward. When her father and brother suggested she go out for track, she laced up the same high-tops she had worn during hoops season.
Patton had gone to Baptist himself and had the old track memorized. The day he began evaluating individual runners, he took note of "landmarks" -- a sprinkler head, a crack in the concrete, a post in a chain-link fence -- that corresponded in his head to certain distances, and laid out a 60-meter course.
One new girl blew between the orange cones in a time that didn't make sense to Patton. He looked at his stopwatch and then back at her. "What went though my head is that I must have missed a landmark, I must have been five meters short," he said. As the kids filed by him for a second go, he asked her name.
Less than two months later, Felix qualified for the state championships in California and finished seventh in the 200.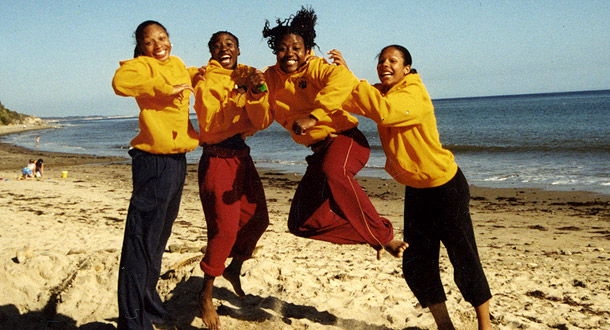 Courtesy of the Felix family
Despite being recruited by larger high schools, Allyson flourished at the smaller Los Angeles Baptist High. There, she quickly formed a bond with her relay teammates, lovingly nicknamed "BEAT" after their first names.
Watching Allyson run that first year was "an all-of-a-sudden moment," said her teammate Brittany Ricketts Dixon, who was in the class ahead of her: "She had such a gracefulness on the track -- it was like she was floating. She had it all together, even as a freshman."
Word of Allyson's ability spread quickly, and provided an entrée to bigger meets. Patton arranged for workouts on a track with a Tartan surface at nearby Cal State-Northridge. He opened his own wallet to pay for team dinners, rental vans, gear and entry fees.
She repaid him with loyalty.
"Now that the statute of limitations has run out, I can say there was quite an effort to recruit her to transfer," Patton said. "I'm convinced her success was amplified by going to a smaller school."
What was important to Allyson was trust in her coach and teammates. "I think of some of the other powerhouses, how intense their programs are, and I think that would have been a lot for me to handle, not being in the sport for a very long amount of time," she said.
Felix bonded with the other three girls who ran the 4x100 relay. Their first names -- Brittany, Erica, Allyson and Tammy -- spelled out BEAT, so they designed a logo and had it printed up on garish school-bus-yellow sweatshirts. When Allyson was a junior, the relay team finished sixth in the state finals, the smallest school ever to medal in the event. A photo from the awards ceremony shows the five big-school teams holding their medals, looking "rather blasé," Patton said, while his girls' faces are alight with happiness.
Her senior year, Allyson's high school teammates elected her Homecoming Queen, Most Likely to Succeed and Most Likely to Be Famous. It didn't take long for the last of those to materialize. That season was a validation of her talent and then some. With Patton's help, she tested herself against college and professional athletes. In May 2003, before 50,000 spectators in the Estadio Olimpico in Mexico City, she ran the 200 in 22.11. The time broke a 23-year-old junior (under 20) record. Even adjusted to 22.16 for altitude and wind, it was the fastest time in the world to date that year.
Felix became an overnight It Girl. Major newspapers churned out profiles. She was named Gatorade's Female High School Athlete of the Year (LeBron James was her male counterpart) in a luminous group that included basketball's Candace Parker, still a good friend, and soccer's Heather O'Reilly. Felix finally began to believe she had a special talent. She had already signed a letter of intent to follow Wes to the University of Southern California, but caucused with her family and decided that turning professional was the right choice, if an unprecedented one for a high school sprinter.
"She decided she wanted to be an Olympic champion, and it was not 'Maybe I can.' It was 'I can do it, this is the time, there's no waiting until 2008 or I'll do it in 2012,'" Wes said. "That's been driving her around the track ever since. She felt if she ran a whole NCAA season, she wouldn't be fresh for the Olympics."
The 17-year-old signed a six-year deal with adidas that August. Terms were not disclosed, except for one -- the company was to cover her USC tuition.
At the time, big brother and little sister appeared to be on parallel, ascending paths. Wes was the two-time Pac-10 champion in the 200 at USC and a world junior championship bronze medalist in the event. But his track career skidded to a stop when a liver virus of unknown origin, exacerbated by exertion, got its hooks into him and wouldn't let go.
Wes admits that it was tough to have to stop racing, but he understood from the time Allyson began to run that his talent didn't approach hers. Does she run harder because he can't? "I don't get that sense," Wes said. "Her dreams are her own."
Still, Allyson admits to some wistfulness on the subject. "He didn't even scratch the surface of what he could have done," she said.
Allyson happened to fall in love with track the year of the 2000 Sydney Olympics, at the same time the world was falling for Marion Jones.
"She was everywhere," Felix said. "She was the person to admire, the premiere female athlete across the board. She had come to the Mount SAC relays, which we run every year, and getting to see her up close just sealed the deal even more."
Jones was African-American, well-spoken, attractive and a Californian, just like Felix; she'd left her high school records out there to chase. Felix collected Jones' autograph, went after the times and nursed the hope that she could live up to the image. As Felix weighed going pro, Trevor Graham, Jones' Raleigh-based coach, indicated his interest in working with her. But Paul Felix wasn't crazy about the idea of his teenaged daughter moving across the country alone and vetoed it, going with his instinct.
When the first clouds of controversy began to gather over Jones, Allyson reacted like any loyal fan.
"I think I was really naive going into 2003 when the whole BALCO thing broke," she said. "And then she was so adamant. You just want to believe, so I tried. When you look up to someone at a young age, it's intensified even more. So just to kind of see it all fall apart, it was sad."
Felix was an established world-class competitor by the time Graham had been discredited and Jones had confessed. The events were eye-opening.
"The way that we were raised, for me it would never be a question of, would I ever [cheat]," Felix said. "I just looked at what [Jones] went for in Sydney and I was thinking, you may not reach the highest of highs. She had to do that to have it. I'm not going to go there.
"I think it was just a commitment that 'Even if you give it your all, you're not going to win five medals. Is it still good enough for you?' For me, it definitely is because I have a passion for it."
In the run-up to the 2008 Olympics, Felix volunteered for a U.S. Anti-Doping Agency supplemental testing program with the high-minded name of "Project Believe" that involved submitting to extra blood and urine tests once or twice a week. The program has since been folded into a longitudinal study similar to the biological passport used in several sports.
Felix knows it's impossible to eradicate doubt about doping, and she's well aware of the cynicism Jones left in her wake. She believed the USADA program was one small way she could counter that.
"It was cool, because it was saying you were going to go a step beyond what was required of you," Allyson said. "I just loved that message of all that, especially being in track and field where we've had so many problems."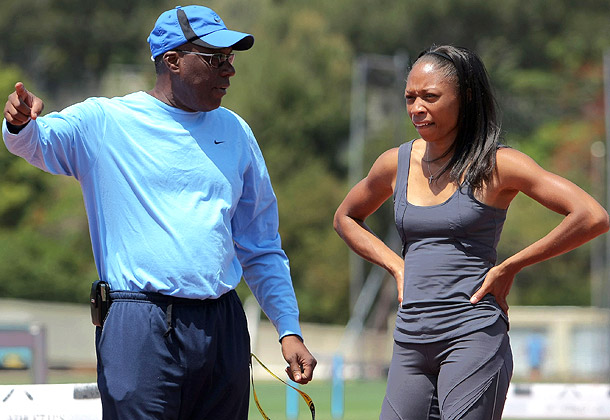 Harry How/Getty Images
Veteran track coach Bobby Kersee has been working with Allyson Felix since 2005, a year after her first Olympic disappointment in Athens.
Felix trained alone her first year as a pro under legendary coach and outspoken anti-doping advocate Pat Connolly for a productive season that included her 2004 Olympic silver medal, but felt isolated. That was remedied the following year when she joined Bobby Kersee's training group, a talented ensemble knit together by a mixture of fondness, respect and exasperation toward their coach.
She and her training partners sprawled under a shade tent at a recent practice at UCLA, chatting and laughing. Felix was the youngster of the group when she arrived and it took her a while to open up, but she's a full participant in the boisterous give and take now.
"Allyson has the world fooled because she's not quiet," said 2008 Olympic 100-meter hurdles champion Dawn Harper, who can do a pitch-perfect impersonation of Felix's demure responses to standard interview questions. "I hear so many people say, 'She's so quiet, so humble.' Yes, she is very humble. But quiet? Absolutely not. We deal with her on a daily basis at track practice and our group is hilarious and Allyson joins right in with all the comedy, the sarcasm."
They need all the humor they can muster on some days. Kersee may burn more calories during the course of a training session than his athletes do. Blink, and he's on one side of UCLA's Drake Stadium, pulling out hurdles. Blink again, and he vanishes like a wizard with a magic cloaking device. Blink once more, and he's in the infield, gesticulating. He is often animated, occasionally very loud, and always unpredictable.
"We always try to figure out what the workout is," Felix said, rolling her eyes. "It's so crazy. We never know. No matter what we have, we know that we're gonna go down together."
If that sounds like war, it is -- or at least a daily boot camp intended to prepare them for anything on any given day. Felix applied the lesson in mid-June at a Diamond League meet in New York as she lined up for the 200 in unseasonably ugly conditions. Cold, mist-laden wind gusts blew her ponytail sideways. This is ridiculous, she thought. And then she refocused, as she has to daily with Kersee, and won.
She dislikes distance work, so fall training is especially vexing for her. Kersee might start the group running along San Vicente Boulevard. Then, maybe, they'll do a track workout. They might run up Sunset Boulevard until the incline tops out. They might be done then, or they might go back to the stadium for a grass workout.
"These could be separate workouts, and we're doing them all in one day," Felix said. "If he had told us at the beginning, you would have just lost people. You don't think you can do it. But it's something about the way he presents it, that demanding demeanor that he'll get it out of you."
It seems like a strange match -- the self-contained Felix and her mercurial coach. But it works because she knows she can rely on him to get the best out of her and he knows how badly she wants to win.
Kersee has trained a dozen Olympic medalists in the past 32 years, including his wife, Jackie Joyner-Kersee, and his assistant coach Valerie Brisco-Hooks, who in 1984 became the first athlete to win the 200/400 double. He is not exactly a sentimentalist, but an unmistakable fondness creeps into his tone when he talks about Felix.
"Absolutely blessed to coach her," he said. "She has a drive to be one of the best, but at the same time, she's not arrogant about it; she's very gregarious and loving and respectful of her competitors.
"Going into our second year, she started understanding my workouts a little better, some of my crazy workouts, and she understood that I was trying to pace her through not only the 100 but the 400, as well … at the same time, trying not to take away from her 200. Then I had the likes of my wife Jackie, and Valerie, some of the past athletes that I coached who can talk her through my madness.
"I kind of know when she starts walking around me and looking at me that she has something on her mind and eventually I also help her pull it out. She's confident, she knows what she wants."
Felix announced her intention to do the double at worlds via Twitter this past Monday, writing, "Will be very difficult, but first step to accomplishing greatness is trying." She has also told Jon Drummond, the former sprinter-turned-U.S. relay coach, that she also will make herself available for the rounds of the finals of both relays if he needs her.
Only three athletes in Olympic history -- Brisco-Hooks and Michael Johnson of the U.S. and Marie-Jose Perec of France -- have swept the double, and there's a reason for that. The 400 comes first on the program at championship meets. Heats for the 200 sometimes overlap, or at best butt up against, the 400 final. The final 2012 schedule hasn't been released. Kersee and Felix are a long way from deciding whether she'll try to double up at the Olympics.
"We're going to make the decision day by day and week by week because she's still learning the sport," he said. "Once she gets mentally prepared, I believe I can get her physically prepared."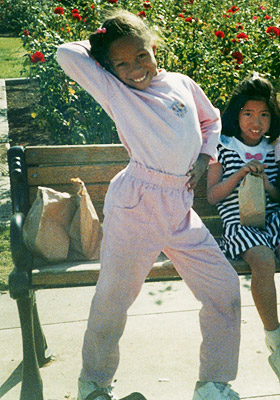 Courtesy of the Felix family
Allyson was driven as a child, but became more shy and reserved after her family moved to Denver when she was in middle school.
Life, unlike the 200, features more than one bend in the road, and early success can make it hard to navigate. Yet Felix has hardly put a foot wrong in eight years as a professional athlete -- probably because she has never looked down on the world from the heights she's reached.
That has a lot to do with her parents, who remain her ground wires in an environment that can be full of dangerous power surges.
Marlean Felix feels Allyson's competitive desire so deeply that there are times she can hardly stand to watch her race. When she sees Allyson run, she sees a gazelle in full, glorious extension, but she also sees the child who was impossibly hard on herself, resolutely lining up alongside bigger, older athletes, believing she would win if only she did her best.
"This ability was given to her by God, and I'm grateful she's willing to put the time in, because many people have talent but don't put the time in and go nowhere," Marlean said. "She knows it's here today and gone tomorrow. She wants to make the most of it."
Paul, now a seminary professor and president of a local bible school, is still Allyson's go-to person for financial advice and choosing charities. He is indisputably proud, but he still lays down the law.
"She knows if she gets to the point of puffing herself up, her Mom and Dad will probably say something a little bit later," he said. "For me, it's far more important how she lives her life, because it's easy in athletics to say, 'So and so and all that, give honor to God' … We want her to live the life and not just talk about it."
Felix tends to pick at what she could do better as opposed to what she does right, both off and on the track. She competes on Sundays because she believes it's part of her job (although she did once bow out of a race on Easter), but downloads sermons to take on the road so she can start her day with a message and some contemplation. On the secular side, her recent reading includes "The Help" and "The Other Wes Moore," and she is a fan of "24," "Grey's Anatomy," and what she terms "guilty pleasure reality stuff."
She knows she can't live a flawless life any more than she can run a flawless 22 seconds, but she isn't about to stop trying.
"It's always a struggle, and I've never arrived," Allyson said. "Making sure the things I do on a regular daily basis are in line with my beliefs -- that's the biggest thing, knowing that people are watching. It's one thing being a role model, but being a role model and professing a faith is a whole different thing. It's good accountability, remembering that."
Allyson and Wes plan to go to London as a team, one that pre-existed her stardom and thus gives her an inviolable comfort zone. She asked him to become her manager last year after she jumped from adidas to Nike.
"He had traveled some places and picked up on a lot of things," Allyson said. "The previous year, he was already doing a lot of stuff, and I said, 'Let's just make it official.'
"I had a great relationship with Renaldo [Nehemiah, a former manager], but it's different when it's your family. I don't let people in easily. Even going back to the Marion thing -- the people you have around you, you have to trust them, because if they don't have your best interests in mind, you can have a situation like that."
Wes no longer cooks for Allyson regularly, as he did when they shared a house in Valencia for almost eight years; she and her Yorkshire Terrier, Chloe, recently moved to a condo in Marina del Rey. But in every other way, Allyson's big brother is continuing in his familiar role of running interference. "She's quieter and she's not always going to get what she deserves unless someone speaks up for her," Wes said.
The one thing he can't do is get her to let up on herself. "I don't think to this day she's ever come back happy from a race," he said.
That was never more true than in the 2008 Olympics, when Felix, the two-time reigning world champion in the 200, lost to Campbell-Brown again. It was the biggest disappointment of her career, and she has tried to learn from it. In the months before those Games in Beijing, Felix wore herself out juggling personal and professional commitments.
"We got on a plane a couple of times too many, and when we got [to China], we didn't have that final snap at the end," Kersee said. "I thought she ran a very decent race, but those who know why can beat those who know how, and I know why we got beat, and we're not making those mistakes again."
Felix will be a young veteran at 26 next summer in London, trying to maintain an even keel and keep her eyes on both prizes -- the gold medal she so covets and the greater values she treasures in life.
Walking the walk is just as important to her as winning the race, and she spend a lot of time thinking about how she can give back -- in limited ways now, and bigger ones after she retires.
"She's the most well-rounded person I've ever met," said former training partner and Olympic hurdles champion Joanna Hayes, who marvels at Felix's ambition to be a teacher when she leaves the track. Friends tell story after story about Allyson's generosity. Felix dropped everything to visit her old relay teammate Dixon the day her father died, a story Dixon can't tell without crying. When Harper was foundering and depressed after knee surgery, Felix offered her a key to her house and come-and-go privileges, no questions asked.
Allyson has a horror of being perceived as egotistical. As Wes puts it, his sister wants to be a regular girl, even though in many ways, she isn't.
The pressure will be intense next year no matter how many events Felix enters, but Harper said she's well-equipped to handle it: "She takes in the information she needs and throws away the rest." Felix watches broadcasts of her races on mute and said Kersee's voice is the only one she needs to hear on the track.
"I feel like I'm at a really good point heading into London," Felix said. "I appreciate my whole journey and all my ups and downs, I've learned a lot from them. I feel like through this whole process, I'm not letting track define me. There are so many more aspects to me, so many more interests. I'm definitely going to give it my all, put everything into it, but if it's not in the cards for me, I'm still going to walk away OK."
In the meantime, she's intent on taking care of business.
The start next year will look just like the past two Olympics, and Felix will go through her familiar ritual in the blocks. She'll fold forward, touching her fingertips to the track. She'll kick each leg back one at a time, settle her feet, briefly sink to her knees. She'll plant her hands. She'll look up and train her gaze forward at that all-important left-hand curve ahead of her. She'll lift her hips.
And then she'll bow her head.
Bonnie D. Ford covers Olympic sports for ESPN.com. She can be reached at bonniedford@aol.com. You can also follow her on Twitter: @Bonnie_D_Ford