The Patriots look so good right now, so much better than everyone else, that it's hard to imagine them losing. Their perfect season feels inevitable.
That's the way it always looks, just before it doesn't ...
ZEN AND THE ART OF PERFECTION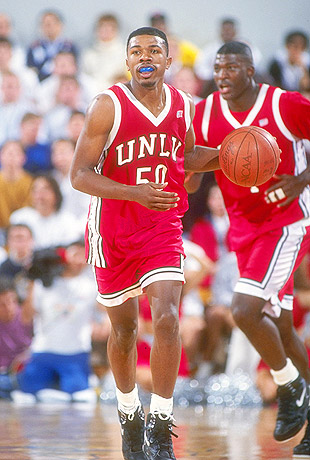 Ken Levine/Getty Images
If point guard Greg Anthony had not fouled out, UNLV might've gone down as the best team ever.
On Saturday, March 30, 1991, the 34-0 UNLV Runnin' Rebels lost 79-77 to the Duke Blue Devils in the semifinals of the NCAA men's basketball tournament. UNLV had beaten Duke by 30 points to win the 1990 national championship, had not lost in 45 games and had defeated its previous 30 opponents in the 1990-91 season by an average of 27 points.
Greg Anthony had never fouled out before. Not in college, not in high school, not anytime that he could remember. Yet there he was on the bench, with five fouls and 3:51 still to play. His team was up three at the time. The Rebels would finish down two, and there wasn't anything he could do about it. Eyes glazed, he could only sit there next to UNLV coach Jerry Tarkanian. He could only be in the moment, brutal as it was.
Maybe the difference between being good and being great wasn't skill or toughness or will, he thought. Maybe it was time. Can you stay in the now? Tark would say the mental is to the physical in this game as four is to one. This was what he meant: To be great, to do something perfectly, is to never think about perfection.
The wins had begun to add up. The margins were huge. Writers and folks with TV cameras had come around, more and more of them all the time. Everyone wanted to talk about history. "Undefeated" wasn't a description, it was an expectation. The streak started to take on a weight of its own. "You're not talking about it as a team. We never discussed it," Anthony says. "But at some point, it's in your head. You're carrying it around with you, and you don't even know when you picked it up."
Some imperceptible part of you started to look ahead, he thought. Just a peek out of the corner of the eye, but it was enough to jam your rhythm, make you vulnerable.
Years later, he would take comfort knowing the Rebels had won it all in 1990. But that night on the bench, the Zen of it all bore down on him like a train. "It was surreal," he says. "That you were where you were, that it was what it was. The one thing we had all talked about was staying in the present, but you knew then that you had let yourself go on ahead a little bit to 'what if.'"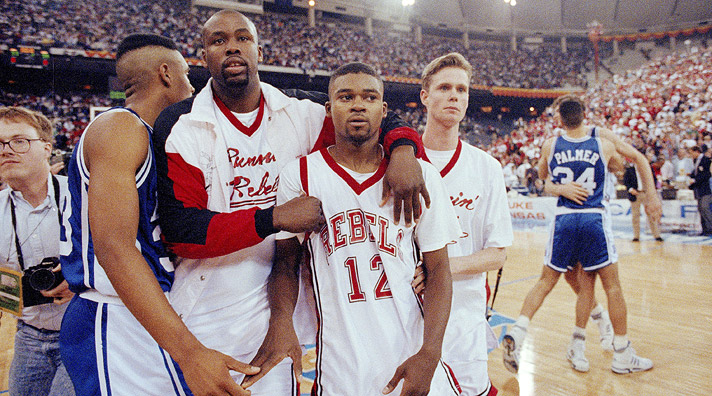 AP Photo/Al Behrman
No one could keep up with the Runnin' Rebels ... until Duke pulled off one of college basketball's all-time upsets in the '91 Final Four.
WHEN A NATIONAL CHAMPIONSHIP IS NOT ENOUGH
On Monday, Jan. 2, 1984, the undefeated Nebraska Cornhuskers lost the Orange Bowl and lost the national title when the Miami Hurricanes beat them 31-30. Nebraska's powerhouse offense featured Heisman Trophy winner Mike Rozier at running back, future first-round draft pick Irving Fryar at wide receiver and All-American Turner Gill at quarterback. During the 1983 season, the Huskers averaged 52 points and had scored at least 63 points in five games.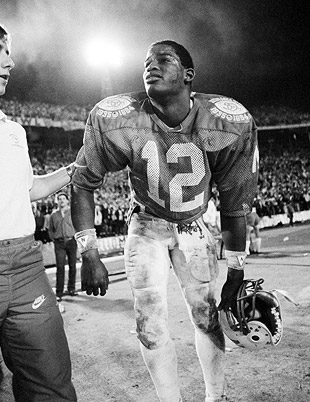 AP Photo/Kathy Willens
Even 24 years later, Turner Gill is still driven by the pain of losing the national title.
Gill was shattered. His pass to running back Jeff Smith on a two-point conversion attempt would have given Nebraska a 32-31 victory, but was tipped away by Miami safety Ken Calhoun at the last moment.
The pain welled up in him as he walked off the field. "It hurt from the inside," Gill says. "Like it was coming on me from somewhere deep."
Days later, at a college all-star game, he felt numb as he walked the sidelines behind the bench, replaying that last pass in his head: "I could see him catch it. I could erase the throw and start over, throw it just a little further out, beyond that other guy's fingertips."
Now, as a head coach himself, it's not the pass Gill replays but the moment just before it, when Huskers coach Tom Osborne decided to go for two points. A point-after kick would have tied the game and secured the national championship, but Osborne wanted something more. The guys on the team had whispered it, "13-0," all season. It was a mantra. It was the difference between running and not running one more set of sprints at practice. It was the difference between kicking it and going for two. Every time they said it, they were making a promise. It was who they were, all they wanted.
As time passes and memory softens, you find yourself still holding on to the desire, he says. Turner Gill was once the guy in Huskers red and white, rolling right and floating that ball toward Smith, reaching for No. 13.
Coach Gill, bright blue ball cap on, now the head man at the University at Buffalo, is the guy who knows perfection isn't a number at all: "The chase is the thing, the drive, something inside you that wants to be truly great and won't settle and won't ever be satisfied. That's perfect. That's as close as you can get."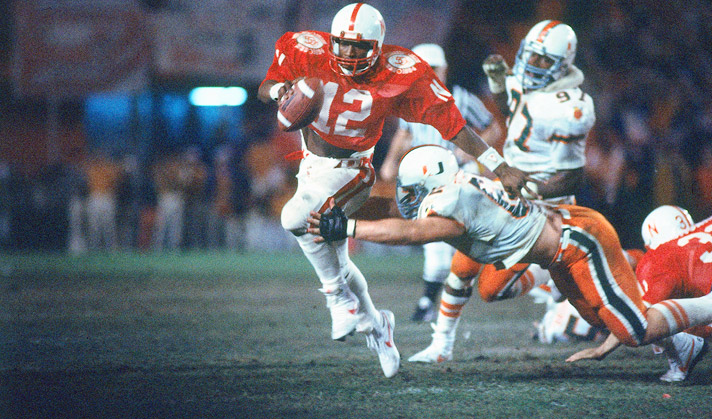 Ronald C. Modra/Sports Imagery/Getty Images
With Gill leading the way, the 1983 Nebraska Cornhuskers were a scoring machine.
IT'S GOTTA BE THE SHOES
On Sunday, Dec. 9, 1934, at the Polo Grounds in New York, the undefeated Chicago Bears, two-time defending champions, were beaten by the underdog New York Giants, 30-13, in the NFL title game.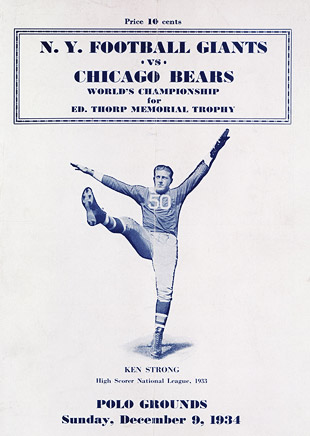 Pro Football Hall Of Fame/Getty Images
George Halas never quite came to grips with the results of the 1934 NFL title game.
Even decades later, George Halas called it the "g--damn rubber shoes game."
His boys were invincible, a running machine ready to roll you without mercy, good for 219 rushing yards and an average winning margin of 15 points. If they weren't perfect, they'd do until it came along. "If they win the 1934 NFL championship game, they're forever regarded as one of the greatest teams that ever played," said Jeff Davis, author of "Papa Bear: The Life and Legacy of George Halas."
But it rained for a week in New York that December. The field was a swamp. A nor'easter blew in the night before, too, driving temperatures down into the single digits. The muddy grass iced over. You could hardly run on it. You could fall on your butt like a drunk, but running, the way the Bears liked to run, wasn't happening.
Ray Flaherty, an end for the Giants, had played a game on an icy field when he was at Gonzaga. Before the NFL title game, he told Giants coach Steve Owen that the Gonzaga players had used basketball shoes for traction. Owen sent equipment manager Abe Cohen up to Manhattan College, 85 blocks on the subway, with an empty gunnysack. The Giants' trainer was also the trainer at Manhattan, so he called ahead and Cohen made it back with nine pairs of shoes for the start of the fourth quarter. The Bears were up 13-3 at the time, and the temperature had dropped to near zero. The Giants called a timeout, and their skill players swapped cleats for sneakers.
"Halas was furious," Davis says. "He screamed at his players to step on the Giants' feet, to spike them through the canvas uppers." But they couldn't get close enough. He complained to the officials, too, but the sneaker switch was within the rules. The Giants, suddenly sure-footed, put up 27 points in the final 10 minutes.
When it was over, like he would ever again be caught between a nor'eastern devil and a Gonzagan deep blue sea, Halas vowed the Bears would bring sneakers to every game he coached from then on.
And forever after, as if saying so would turn back the clock, as if it would empty Cohen's sack or stop the rain and cold from blowing in over the Atlantic, as if it would mean his 1934 team would be legendary for what it won and not for what and how it lost, Halas would swear, The bastards stole those shoes. Busted a window. Broke in and took the g--damn rubber shoes.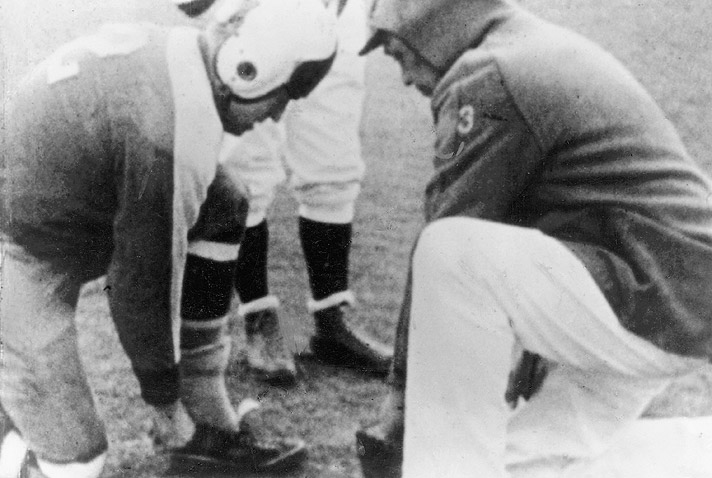 Pro Football Hall Of Fame/Getty Images
The 1934 Chicago Bears were one of the best teams ever ... but they were no match for superior footwear.
THE LOSS THAT MADE THE MAN
On Saturday, March 28, 1970, Dan Gable of Iowa State lost to Larry Owings of the University of Washington in the 142-pound weight class at the 1970 NCAA Wrestling Championships in Evanston, Ill. Gable, a senior, entered the match with a perfect career record of 181-0-0 through high school and college.
In chemistry class, he wrote scouting reports in his notebook: height, weight and record of his next opponent; lists of the guy's tendencies; stick-figure sketches of moves and counters. He marked time between one match and the next the way they do at Cape Canaveral. The countdown began when the referee held up his arm after a win. Every second, every day, every gesture and ritual from that moment on ticked him closer to zero hour: The next time the whistle blew. No variation. No distractions.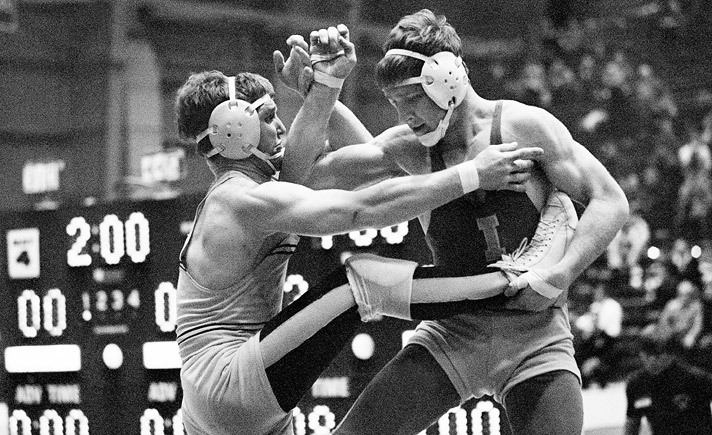 AP Photo
Dan Gable, right, had a leg up on every wrestler he faced ... until the final match of his collegiate career.
Gable's older sister, Diane, had been murdered when he was a high school sophomore. He knew who had done it even before the police told him. He'd had a bad feeling about the guy. Maybe if he'd said something earlier, he could have saved her. He couldn't bring her back. He could only wrestle. "I was wrestling to recover, to lift my family up somehow," he says. "I thought every match could make things a little better." No variation. No distractions.
And then, with one match to go, he wavered. Three days before the final, he read a headline: Owings said he had come to the tournament to beat him. Gable never read headlines. Why now? Two nights before the match, he attended a banquet in which he was honored as wrestling's man of the year. He never went to banquets. He didn't care about awards. Why now? In his early matches in the tournament, he found himself glancing up, eyeballing Owings on another mat. He never looked anywhere but straight through the heart of his opponent. Why now?
Thirty minutes before the final, when he should have been going through his routine, 10-9-8 ..., he was taping a television interview, stumbling through takes in which he looked into the camera and tempted the fates: "Hi, I'm Dan Gable. Come watch me finish my career 182-0." Why now? And on the mat with Owings, even when he had a lead midway through the third period, he heard conversations going on in the crowd, noticed people moving in the stands. He was elsewhere. Why now?
"I don't know. I got caught up. I got distracted," he says. "I wasn't doing anything the way I normally would, and I'm really not sure why." Maybe he got a little full of himself. Maybe he hadn't made Owings a goal, a target, the way Owings had focused on him. Maybe the pressure to win every single time out (he had gone undefeated in winning three consecutive Iowa state titles at West Waterloo High School, too: 64-0) finally broke something inside him. Maybe the weight of Diane's memory was something he had to finally put down. It could have been all these things, he thought.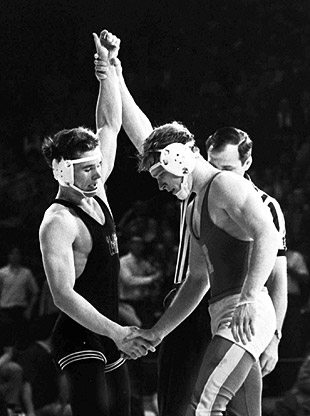 AP Photo
Washington's Larry Owings, left, was the only wrestler who ever felt what it was like to have his hand raised against Gable.
He stood there on the mat, watching Owings' hand go up. Can't even remember if he said anything to him. Didn't know what to do. There was no way to mark time now. No next match. No countdown. He was lost. The guilt hit him in waves, first for letting his family down by losing, and then, all over again, for letting harm come to his sister. "I didn't know until then how connected they were in my mind," he says.
The drive back to campus was quiet. He couldn't speak. Had no idea what to say. He walked into Beyer Hall, the recreation center at Iowa State, went up to the wrestling room and found someone who would get down on the mat with him. No variation. No distractions. "I was still good," he says. "That kind of shocked me. It made me know I could go on."
He went on to win at the World Freestyle Championships in 1971. In 1972, he won an Olympic gold medal in Munich. And beginning in 1976, he became the most successful coach in the history of collegiate sports, leading the University of Iowa to 15 NCAA titles and 21 consecutive Big Ten crowns.
The losses, first Diane and then the match to Owings, made him. He didn't just go on, he got better. That was the hardest part, he says. The focus came at such a high price, with so much hurt underneath.
You ask him: What is perfection? What has it meant to chase it for so long?
He's still in pursuit, he says: "If I could figure out how I could have gone back and saved Diane, and how I could have gone back and not had that loss in that tournament, and still gone on to be the same person I am today, that would be perfect."
Eric Neel is a senior writer for ESPN.com and ESPN The Magazine.
Join the conversation about "Almost Immortal."