e stood on second base and, at long last, he had them. Even the bitter holdouts, the ones who accepted his statistical phenomena without exactly believing in the size of his heart, stood and stomped in wild exaltation, chanting, all of them powering a type of human electricity that surges only here in New York, where the best rise and the weak shrink.
During the cascade, Sweeny Murti, a reporter for the sports radio station WFAN -- the populist voice of the New York sports diehard -- quickly compiled his personal Yankee Stadium decibel-shattering greatest hits: the operatic, consecutive-nights humiliation of D-backs reliever Byung Hyun Kim by Tino Martinez and Scott Brosius in Games 4 and 5 of the epic 2001 World Series; Jorge Posada's two-run double off Pedro Martinez in the surreal eighth inning of Game 7 of the 2003 American League Championship Series, and, of course, later in the same game, Aaron Boone's 11th-inning home run off Tim Wakefield that shook the earth and broke the Red Sox.
A-ROD ON "OTL"
On Wednesday at 3 p.m. ET on ESPN, "Outside the Lines" will examine the pressure facing Alex Rodriguez in the 2007 playoffs.
Alex Rodriguez hadn't been there for any of those past monuments, but now he stood on second base while they shook the place anew and, yes, he had won them over. The tough-love crew at Stan's Sports World across the street from the Stadium on River Avenue, the yuppie frontrunners at the Mercury Bar in Hell's Kitchen and the impatient, previously unconvinced white-collar grunts in their Financial District Habitrails -- like that group of Goldman-Sachs accounting managers who spent last year e-mailing back and forth during earnings season that Rodriguez needed to be traded
immediately
-- all had to admit it: After four uneasy years, New York was now exploding for A-Rod.
It was just a go-ahead double in a crazy game against Toronto on Sept. 22 with a Yankees team already surging toward the playoffs and Rodriguez already having compiled a bushel full of signature moments, and yet that Saturday afternoon still seemed to symbolize infinitely more: that the Red Sox were wilting like a dehydrated marathoner while, with each step toward the finish line, the Yankees' stride grew stronger, more confident, more familiar; that fall was finally here, the only season that matters in the Bronx.
But most importantly, the sounds seemed to acknowledge another, less comfortable but undeniable truth: that just when New York appears open to permanent embrace, it is Rodriguez who must decide if he wants a hug after all. In a twist, it is he and not Yankees management who is in control of his New York future. At season's end, he can opt out of his contract and become a free agent, setting another record as the highest-paid player in the history of the sport while leaving New York's impossible standards to its fickle self.
Thus, they did not chant his name, but instead a season-sustained mandate -- "MVP! MVP! MVP!" -- with an eye on the immediate future (the playoffs) and the very real possibility Rodriguez might soon decide New York needs him far more than he needs it. And yet there he stood, awash in the afterglow.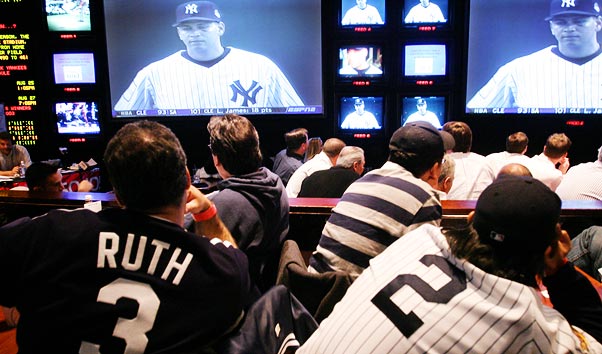 Jeff Zelevansky/Icon SMI
The relationship between Yankees fans and Alex Rodriguez has been a love-hate affair for four seasons.
Later that day, as Rodriguez rounded first base, having delivered again, this time a seventh-inning single to give the Yankees another lead, Steve Martucci, the 44-year-old owner of Stan's Sports World, allowed himself a small, inner smile. As the New York noise gushed from each pore of the creaking Stadium across River Avenue, the crescendo cemented his thinking:
No way. No way is he leaving. No way will Alex Rodriguez leave the Yankees.
When it ended, and the Yankees kept the heat on the Red Sox with a scintillating and raucous 12-11 victory, Rodriguez had gone 4-for-5, scored two runs and drove in three, a continuation of a trend of smoldering excellence that began in April, when Rodriguez hit 14 home runs and began a season-long mission of turning the tables on anyone who believed him to be a punching bag.
And yet, for all his wonder, he is not omnipotent. Lurking in the hearts of even the hardiest Yankees fan is the pestering belief that Rodriguez has not yet completely delivered, that his business as a Yankee remains as yet unfinished. Each of his signature achievements this season -- the 27 of his 53 home runs that tied games or gave his team a lead; the .313 average with two out and runners on; the consecutive, victorious showdowns against dreaded Boston and the suddenly beatable Jonathan Papelbon -- is tempered by a truth too obvious both to him and his public: Rodriguez has not yet carried a team to the World Series.
In his season of odd vindication -- odd that it had to come to this, because in his four-year Yankees career, Rodriguez has averaged .302 with 43 homers, 127 RBIs and 122 runs scored, has collected one American League Most Valuable Player Award and will surely win another this year -- the increased affection toward him, many Yankees watchers say, suggests a genuine recognition of his perseverance and toughness, qualities New Yorkers historically respect and many did not believe Rodriguez possessed. The cheering is perhaps a make-up call for all they have done to him, the endless cycle of blame and absolution that seemed to very nearly break him. The current cacophony of praise appears to be something of a mad dash to the polls, a final plea asking him -- if he has already decided to leave -- to change his mind.
"I think you've definitely seen a change this year," says Yankees outfielder Johnny Damon, who has known Rodriguez nearly 20 years, since they were teammates on an all-star team in Euclid, Ohio. "He's a once-in-a-lifetime player and, if he leaves, I think people are now starting to realize just how badly they're going to miss him."
And yet, should Rodriguez falter during the playoffs -- which begin Thursday night in Cleveland -- there is a strong current among many fans that all of those transcendent moments will be forgotten, the group hug rescinded. So here lies the great divide regarding the true heart of New Yorkers toward Rodriguez: While some say this wondrous season has bought Rodriguez a lifetime membership to the club, that A-Rod has, as one fan says, "earned his Yankee pinstripes," others believe the opposite, that his true test begins now, and those same fans who have finally converted will flip on him again, that they will want to drive him from town, intolerant of another postseason failure.
"I'm not saying it's right, because it's not," says George King, the Yankees beat reporter for the New York Post. "They aren't even in the playoffs without him, there's no question about that. But that doesn't matter now. They don't have to win, but he has to perform. They can't get bounced in the first round, and he can't go 1-for-18 with nine punchouts. This town would never forgive him for that. If that happens, he won't be all the way back to square one, but it'll be square one and a half."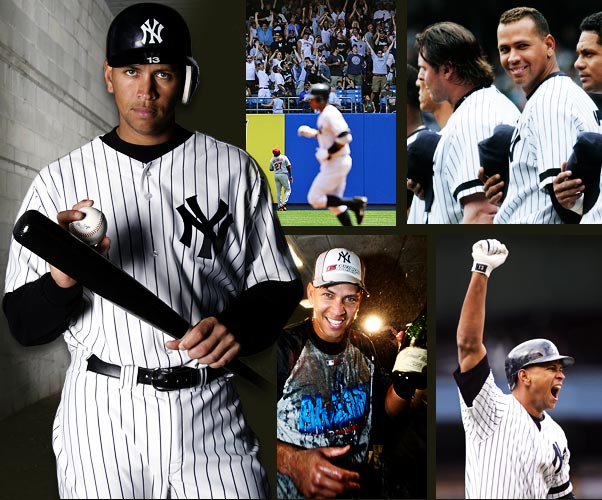 Clockwise from left: Tom DiPace, Kathy Willens/AP, Andrew Mills/US Presswire, Anthony J. Causi/Icon SMI (2)
Since landing in New York, Rodriguez has eclipsed the 500-homer plateau, reached the playoffs in all four seasons, hit more HRs in a season (54) than any right-hander in Yankees history ... and will undoubtedly collect his third AL MVP after his stellar '07 campaign.
THE REGGIE STANDARD
The question of how the Yankees always get their man, how virtually all the world's great supermodels, chefs, actors, designers eventually gravitate toward New York, can be answered in one phrase: star power. New York compared to anywhere else is like Broadway compared to Shakespeare in the park. By walking away from New York, Rodriguez would choose a path no Hall of Fame-caliber superstar in the history of baseball has ever dared take: He would leave the Yankees at the very peak of his power, in his marketing and professional prime, by his own free will. It would be, by all measures, a remarkable and unprecedented step. Reggie never did it. Neither did Dave Winfield. Neither did Ruth. In effect, George Steinbrenner exiled Jackson to California, telling him he was no longer wanted.
None ever soared as high off-Broadway as on. Mantle and DiMaggio retired as Yankees, but both played in the reserve-clause era and were prohibited from testing the open market, anyway. Derek Jeter, the face of the Joe Torre dynasty, has never even been a free agent.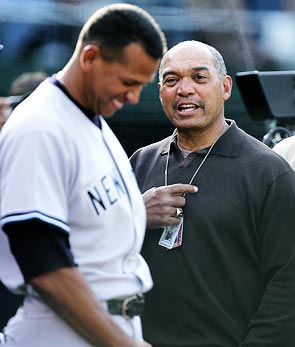 Ben Margot/AP Photo
By convincing A-Rod to be more distant and aloof, Reggie Jackson helped the superstar deal with New York.
That is the strength of the New York narcotic. Many have signed big, failed big and left, but nobody has ever been seduced by New York, conquered it and then just walked away. Rodriguez craved the intoxicant when he orchestrated a trade from Texas following the 2003 season. He got his money from the Rangers -- a record-shattering $252 million for 10 years -- but he was relatively invisible. Big, yes, but A-Rod wanted to be New York big.
For his 11-year career, Rodriguez has averaged .306, 128 runs scored, 44 home runs, 128 RBIs and 23 stolen bases. But New York big means reaching the Reggie Standard. "Reggie," of course, is Reggie Jackson, who 26 years removed from his final at-bat with the Yankees, remains the player to which all superstar New York free agents and trade acquisitions are compared. Winfield was one of the most complete players in Yankees history, but he took the Yankees to the postseason but once, and when he did, he performed so poorly that he was famously called out by Steinbrenner.
Rodriguez is far and away the superior baseball player to Jackson, but Reggie produced magic on the game's largest stage. He did not wilt under the impossible dictum that "only championship seasons are successful seasons." Jackson satisfied the craving for big-stage greatness that lives deep in the city's veins, no matter how much fans claim to believe in building the farm system.
Reggie might have been psychologically battered by the ring-or-bust syndrome that Steinbrenner has, over three decades, turned into an overheated business model, but he nevertheless gave the city the goods. And that is something Rodriguez has yet to do. And so, even today, Jackson's No. 44 jersey still outsells the jerseys of many active players.
When Rodriguez first came to the Yankees, it was Jackson who mentored him, first in Tampa during spring training, with dinners at Roy's and Fleming's, all the top spots in town. Rodriguez was born in New York, but Jackson was born for New York. He told Rodriguez about the New York mentality: They would try to tear him apart. He was always going to be a target, but there was one way Rodriguez could seal the monument, and he already knew the answer: Be a star. Win and win big. Do everything big, home runs and strikeouts, and they'll never forget it.
Jackson's virtuoso performance in the 1977 World Series -- he hit three home runs in the Game 6 clincher with the Dodgers, after finishing Game 5 with a homer, giving him four homers on four consecutive pitches -- is the stuff of legend. So is his career .357 World Series average. No Yankees free agent has yet been able to duplicate his Broadway-style incandescence, nor the fact that, as the first big-money offensive superstar free agent, his play ignited the Steinbrenner era.
"There's an element that wants to get him," Jackson said recently. "It was the same element that wanted to get me. But he can beat them, just as I did."
And yet, even Jackson, who has perfected the art of playful cruelty, has found moments to test Rodriguez's toughness, New York-style. Once, following a blowout game against the Red Sox during Rodriguez's first year in New York, Jackson walked into the Yankees' clubhouse, heading toward Rodriguez's locker. As reporters milled, Jackson teased Rodriguez. "Why do you always hit those pile-on homers?" Jackson said with a laugh, as Rodriguez gave an uneasy smile. "When are you going to hit a home run when it matters?"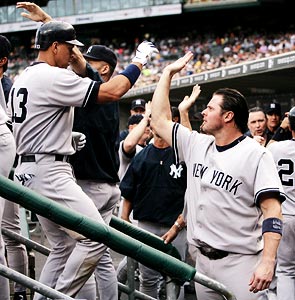 Tom Szczerbowski/US Presswire
Mired in last place and 8½ games out of the wild card, the Yankees followed A-Rod's lead to the playoffs.
The Reggie specter is no illusion. To Yankees diehards, Reggie looms like a Halloween ghost this time of year, and right now it is looming over the playoff-beleaguered Rodriguez. "I'm not saying the guy has to go 10-for-20 with five home runs," Martucci says at Stan's Sports World. "He could hit .250, but be the guy to win one game. He has to win one game. Do it when it counts. Yankee fans know he's a great player. They know what he can do during the regular season. No argument there. Winfield was a great player, but when Steinbrenner called him 'Mr. May,' he never sold as well again. I love A-Rod. Love him. But if he wants to be like Reggie, looked at like Reggie, then do it like Reggie did it. Do it when it counts."
Do it when it counts! For 30 years, Steinbrenner has been trying to replace Jackson. Winfield couldn't do it, and neither in deed nor appreciation could Roger Clemens, Randy Johnson or Jason Giambi. In Rodriguez, maybe Steinbrenner has finally found his Reggie. Last season, in the seventh inning or later of close games, Rodriguez hit .237 with two homers, 14 RBIs and 22 strikeouts in 78 at-bats. This season, in comparable situations, he's hitting .357 with six homers, 22 RBIs and only 14 strikeouts in 70 at-bats. In the ninth inning alone this season, he's hitting .452 with eight homers and 21 RBIs in 42 at-bats.
No one seems quite sure whether he will ever be what writer Roger Kahn likes to call an "October Man." But against Minnesota in the Division Series in 2004, Rodriguez started to scale Olympus. The magic was there. After losing the first game at home, the Yankees trailed 3-1 in the bottom of the third in Game 2. It wasn't City of Boston nervous, when fans seem to chomp Tums instead of peanuts as the fall weight grows too heavy, but Yankees fans knew precisely what losing meant. It meant going to Minnesota down 0-2, knowing the Twins would need just one victory to eliminate the Yankees, with Johan Santana -- the great Twins ace who had muffled the Yanks in Game 1 -- waiting to finish them off.
Rodriguez singled to lead off the inning. Gary Sheffield homered to tie the score. In his next at-bat, Rodriguez banged a long homer to break a 3-3 tie. His next time up, in the seventh, he rapped an RBI single to give the Yankees a 5-3 lead. But the pitching did not hold, the Twins rallied and the game went into extra innings. The Twins even took a 6-5 lead in the 12th, when Torii Hunter homered off Paul Quantrill. The Yankees were dead. But, after fanning John Olerud, Joe Nathan walked Miguel Cairo and Jeter. Up came Rodriguez, who doubled to tie the game, and two batters later, while the stadium shook, the Yankees won, 7-6.
Almost single-handedly, Rodriguez destroyed the Twins, batting .421. He had two hits and two stolen bases in the third game and, in the fourth, Rodriguez doubled in the 11th, stole third and scored on a wild pitch to break a 5-5 tie and clinch the series.
But he collapsed (2-for-17) when the Yankees collapsed against Boston and neither he nor the franchise has ever recovered. The line of demarcation was Game 3 of the 2004 ALCS, a 19-8 Yankees win. To that point, Rodriguez hit .429 with seven runs scored, including a home run. Since then, Rodriguez has hit 5-for-46 (.109) in his last 13 postseason games.
Even the Yankees, to some degree, bought into the he-can't-do-it-in-the-clutch hype. In New York's final game of the 2006 season, an 8-3 loss to the Tigers, Torre batted Rodriguez eighth and Bernie Williams, clearly faded but with a mantle of playoff success, seventh.
"At one point, he was everything that was right with baseball, and after he signed that big contract, the perception is that he's everything that's wrong with it," Yankees general manager Brian Cashman says. "He has been tremendous for us. But the king wears the heaviest crown."

Julie Jacobson/AP Photo
The Yankees' unforgettable collapse in the 2004 ALCS has not been easy for Rodriguez to just swat away.
THE PHOTOS
Rodriguez started spring training working on his abs and his fortress. He would follow Jeter, with a bit of DiMaggio in his back pocket, in dealing with the tight spots. Like Jeter, he would be polite but direct, answering questions out of professional obligation, but offering no invitations into his living space. That part of his life, once up for discussion, would now be fortified by an invisible fence. Even the top reporters around the Yankees, the most connected, do not have a home or cell phone number for Jeter, and what was good enough for the captain would now be good enough for A-Rod.
Yankees officials say Rodriguez spent parts of the offseason practicing his new all-business approach: less small-talk with the writers, fewer tacit pleas for acceptance. They say he worked with his agent, Scott Boras, on being less personable. Rodriguez always had been world-curious, once engaged with writers on subjects beyond what pitch he hit in the sixth. Now, he would control his universe.
He had tried it the other way, gloss and polish and refinement, and they -- the press, the public and many of his peers around the league -- ridiculed him for it. Reggie told him this would happen, that he would always be set apart and the biggest mistake he could make was to think he could bridge the gap. For example, the admission of visiting a therapist might have given him a humanity that should have been universally respected, but all Rodriguez really did was hand his enemies ammunition, all prettily gift-wrapped. Use that distance of your greatness and make it your ally, Reggie told him, because New York is a shark tank.
He was hitting .235 for May when, on the penultimate day of the month, came his New York moment. The night of May 30, he left his Toronto hotel with a woman not his wife. Page Six pounced, and A-Rod was truly indoctrinated. The photos in the New York Post were embarrassing, as were the screaming tab headlines: "STRAY-ROD: Alex Hits Strip Club with Mystery Blonde."
This, thought Yankees intimates, was it. The team was in last place. His exclamation-point statement -- he hit .355 in April -- had dulled to a period, and an old-fashioned New York sex scandal would beat him down once again.
Rodriguez, however, adopted the DiMaggio approach, essentially cutting off the Post entirely. It was against his nature to be inaccessible, but New York can do things to a man. Steve Bort, who recruited Rodriguez as a 15-year-old to play on a traveling all-star team that included Todd Helton and Johnny Damon, remembers that Rodriguez even then was sensitive, in need of constant reassurance.
"He was a tall, weak, skinny kid," Bort recalls. "He was a nice kid, respectful, one of the kids who said, 'Yes, sir' and 'No, sir.' He batted ninth for me one year and asked me if I would invite him back the next year because he wasn't happy with how he swung the bat."
Bort and Rodriguez are still close. Rodriguez and his wife Cynthia took Bort to Spark's steakhouse for Bort's 50th birthday last year.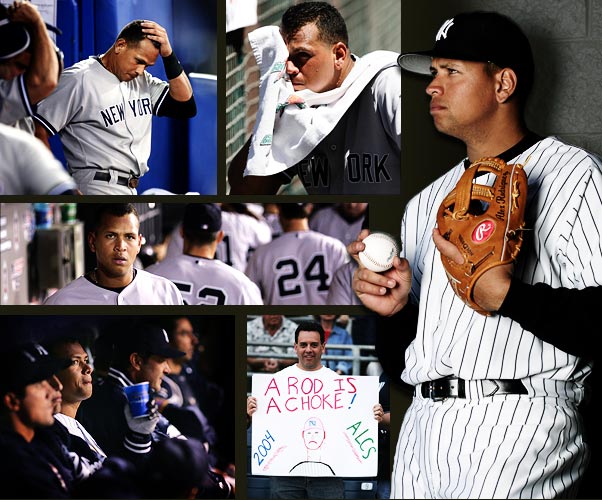 Clockwise from left: Ron Scheffler/US Presswire, Larry Goren/Icon SMI, Tom DiPace, Al Bello/Getty Images, Anthony J. Causi/Icon SMI, Jeff Zelevansky/Icon SMI
Sensitive to a fault, Rodriguez has often been the target of Bronx jeers, especially during his three failed postseasons.
Reggie told Rodriguez that he might not yet know it, but he was the biggest shark in town and all he had to do was bite back once in awhile, even if he wasn't quite comfortable doing so.
This time, the shark bit back. Traditionally, New York stars know the game, and separate the baseball beat guys from the tabloid sections of the paper. Not A-Rod. Once considered close, Rodriguez has not spoken to the Post's King since the story ran.
"I actually think all that stuff kind of helped in a weird way," Damon says. "He was already focused, and now he really focused. It was like, 'Write what you want. I don't care.' I really think his attitude was 'screw it.' I think it was kind of liberating to him, to know that they could only touch him if he let them."
After the photos appeared in the Post, Rodriguez hit .402 over the next 27 games, with nine home runs and 39 hits. He built the wall just a little higher. The interviews got shorter. As Damon said, the focus tightened.
"When is he just going to say, 'I'm the baddest [dude] out there?' " Orioles first baseman Kevin Millar says. " 'I hit .320 with 40 and 130 RBIs, every [stupid] year, and what about it?' What is anyone going to say to that? Nobody can challenge him in this game because nobody else is that good. He spent a lot of time trying to be liked. I just want him to say, 'Don't [mess] with me, because none of you [guys] can do what I do.' That's all he has to do, 'cause he's a straight-up gangster."
THE KING OF NEW YORK
That there is a question about the future between Rodriguez and the Yankees speaks to the unique New York dynamic, which is not exactly a compliment. A Hall of Fame player producing Hall of Fame statistics is not usually cause for friction, but only the people in this town can even attempt to explain what it means to be the king of New York. Outside of the 212, the 718 and the 917, the Rodriguez standard is barely comprehensible.
Bob Ramsaran, the 36-year-old accounting manager for Kimco Realty in New York, spent much of the 2006 season e-mailing his Yankees fan cohorts that Rodriguez, who had just driven in 121 runs and hit 36 homers, had to go. He had even created a can't-miss scenario: Cashman needed to call Terry Ryan, the Minnesota GM, and trade Rodriguez for Santana, the brilliant lefty.
Ramsaran grew up in Washington Heights, near Yankee Stadium, and now lives on Long Island. He is "one of them," fan at age 5, awash in the shadow of Reggie. Minutes before kickoff of the 2006 Seattle-Pittsburgh Super Bowl, an agitated Ramsaran called a friend, concerned about the Yankees' roster. A-Rod had to go. The friend, fellow accountant Christopher Sauceda, responded, "Why are you calling me right now? It's the Super Bowl! I don't think Brian Cashman is thinking about his lineup right now. I think he's watching the game."
"That was last year, because of what we saw," Ramsaran says of wanting A-Rod gone. "Obviously, we're not in the clubhouse, but it didn't seem like he could handle the New York pressure, and it didn't look like he was that jolly in the clubhouse. Who really knows outside? But I'll admit it: I was one of the ones that said pull the trigger on an A-Rod deal and get Santana. I was wrong."
Sauceda is a 35-year-old accounting consultant whose baseball sensibilities were shaped in a different culture, on the East Bay side of the Bay Area. Sauceda moved to New York in 2000, and finds himself routinely confounded by the New York thirst for perfection and, falling short of that, blood. "None of this happens without [Rodriguez]," he says. "I just don't understand this. Where are they without his production? Why doesn't that matter?"
When Sauceda becomes agitated, as he does when his New York co-workers trade e-mails about how Rodriguez might have done everything for his team and yet has accomplished nothing, his voice rises to a squeak, accompanied by a quick, flustered stutter: "These people, these-these people ... they just don't deserve him."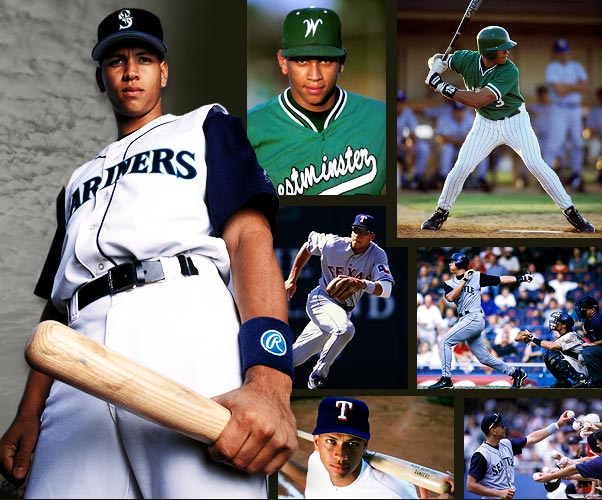 All photos: Tom DiPace
A wunderkind talent at Westminster Christian High School in Miami, Rodriguez was a dominant force in Seattle and Texas, but he craved the bigger stage of New York.
THE HOMELESS LEGEND
If there is an element to the Rodriguez saga that seems most vexing, it is the idea Rodriguez could decide to leave New York just when he seems so close to accomplishing all he claims to crave. Despite the persistent idea that he must play big this playoff month to retain his growing congregation, Rodriguez appears to have converted many of the most stubborn critics.
During this season of game-winners and grand slams, Rodriguez has even done something no Yankees hired gun had ever dreamed of: if he did not overshadow the great Jeter, he finally created his own formidable space, beyond the comparisons, the rivalry and the hype. When Jason Giambi arrived, he received the fanfare; he was supposed to be the new Joe Namath, Steinbrenner's Reggie. By the second month of the season, when Giambi sank beneath the weight of the city's expectations, Jeter was still there, comfortable in the torrent, rapping out clutch hits, winking at the kids while in the on-deck circle.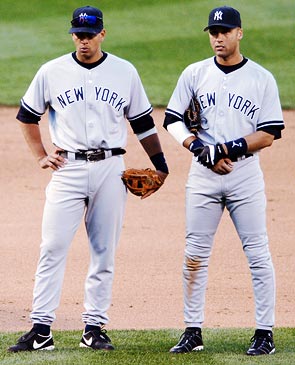 Mark Goldman/Icon SMI
Rodriguez's biggest achievement during his stellar 2007 season might have been finally escaping the sizable shadow of Derek Jeter.
For the first three years of the Rodriguez tenure, despite an MVP award, Rodriguez could not match Jeter's ability to rise in the New York way. But this season was different. In terms of raw power and production, Jeter had never been in A-Rod's class, for they are completely different players. But the Rodriguez sphere of influence has grown, and so has his comfort level. If he still remains in the shadow of Reggie -- and it is true that Jackson is the only one of the Steinbrenner Fort Knox purchases to stand at the center of a championship celebration -- Rodriguez nevertheless no long plays in the immense shadow of Jeter.
Across 161st Street, the new $1.3 billion Yankee Stadium -- the first newly constructed, not-merely-renovated Yankees ballpark since 1923 -- is under construction, expected to be ready for Opening Day 2009, with Rodriguez and Jeter expected to be the linchpins of a new era.
And perhaps most importantly, Rodriguez is no longer just the biggest name on a team full of them, but has morphed into something unexpected: a mentor to two of the keys to the Yankees' future, center fielder Melky Cabrera and second baseman Robinson Cano. Both follow Rodriguez constantly.
Cabrera is nicknamed "Leche," which means "milk" in Spanish. First baseman Doug Mientkiewicz recalls one day when Cabrera joined Rodriguez for a workout and his batting average soared. "Once Leche went with Alex, it clicked for him," he says. "And I think it helped Alex, too, because he could focus on things other than himself. That relaxed him, I think."
Cano and Cabrera follow Rodriguez to such a degree that Yankees broadcaster Michael Kay calls him "the Pied Piper," and their relationship is not insignificant, for when Cano and Cabrera succeed, it is the one moment when the public is allowed to see over the wall Rodriguez has constructed for himself. Rodriguez will sit in the dugout looking the part of the proud uncle, allowing their precociousness to release the pressure valve, to allow him to smile.
"He is there for me," Cano says. "He makes being a major leaguer easier. There is nothing you can't talk to him about. He will come up and volunteer things, tell you what he knows from being in the game. He's special. I don't think people see that part of him."
All of which would suggest a Rodriguez decision to start anew to be nothing less than incongruous. He has conquered virtually all demons, and now at 32 is an elder statesman to two important players. He appears to be perfectly positioned.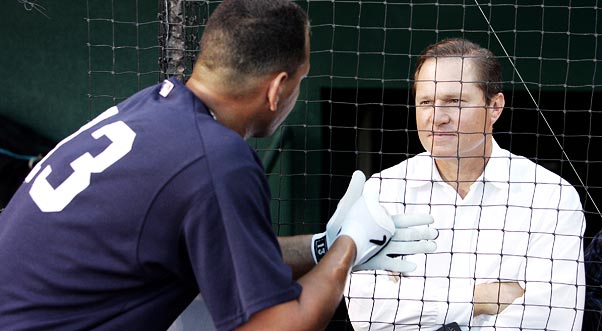 Jeff Zelevansky/Icon SMI
Agent Scott Boras and Rodriguez likely will be holding all the chips come this offseason.
In the upper decks and the bleachers where the real city lives, the battleship A-Rod has lurched and turned toward the sun. Perhaps the fans can see the end, just as the playoffs are beginning. That Saturday afternoon against the Blue Jays, just as during the stretch when he hit seven home runs in five games, he had won. The idea of whether there is another, better place for him only enhances the drama of each at-bat of the postseason.
"That love-hate relationship, I think that's gone," Ramsaran says. "We love him and we don't want him to leave. He has earned his pinstripes. He'd earned it before, and to me, he is a Yankee. Even if he leaves, he is still a Yankee. They were in last place, 14½ back, 8½ back in the wild-card [race]. He led the charge and got the Yankees into the playoffs. That's a leader. That's someone who took charge. He got them exactly where they were supposed to go."
Should he leave New York, Rodriguez would risk becoming that most dreaded of personalities, the homeless Hall of Famer. Winfield played for seven teams, was at his best with the Yankees, works for the San Diego Padres and won his championship with Toronto. Rickey Henderson is the greatest leadoff hitter ever, yet played for Oakland three different times, both New York teams, also won a title in Toronto and appeared in the playoffs for five clubs. Paul Molitor played in the World Series for two teams, spent most of his career with Milwaukee but isn't an easily connectable legend to any team.
MORE A-ROD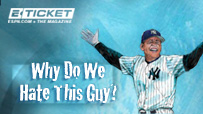 Why do fans demand so much of Alex Rodriguez? In August 2006,
E-ticket pondered why the Yanks' superstar
just can't win.
"Alex has an unbelievable sense of baseball history," says Kay, who believes fans see Rodriguez as sympathetic for toughing out the New York storm. "That sense of belonging, I think, matters to him. If he opts out and leaves, he'll come back on Old-Timer's Day and the applause will be pleasant, polite. But he won't be beloved. He won't be beloved anywhere. He won't be part of the pantheon. If he stays, he's got it all, right now. He'll have a plaque in Monument Park. He'll be immortalized. The city will belong to him, immediately."
Over the next month, Alex Rodriguez will attempt to write a melody that, to this point, has always become a torch song. Following that, when it is time to do business with the Yankees, he'll look New York in the eye and decide if he'll take that hug, once and for all. But in the end, his status will remain unchanged, for he will stand in the same position he has been in since he was a teenager: at the center of his universe, with all the planets in orbit around him, locked into his gravity.
Join the conversation about "King of Gotham?"
Howard Bryant is a senior writer for ESPN.com. He can be reached via e-mail at howard.bryant@espn3.com.
Header photo by Tom DiPace.