Back Into The Water
OLANA BEACH, Calif. -- Other than the helicopters and the lifeguards and the coroner, he had eight miles of beach to himself that morning. The posted signs said, "Get Back!" and "Enter At Your Own Risk!" and "Shark Warning!" but he rushed past all of them to his father's reef.
As he knelt in the sand, the ocean spoke to him. He could hear his father's low, soothing voice, which made him break down and weep, and he spoke back: I'm coming in. I'm coming in the water to see you. The shark's not going to win.
So that's how it happened. That's how a man decided to surf and swim at a reef that was off-limits, at a reef where his father, only 24 hours earlier, had lost his legs and his life.
They still talk about it in the quaint San Diego suburb of Solana Beach. They talk about how a grieving 41-year-old man inspired an entire town to get back in the water. But what they don't know, to this day, is what it all meant to the woman who was swimming next to the man's father. The woman who saw the shark. The woman who, in the aftermath, could not stop crying and shaking and heaving.
The Woman With No Name.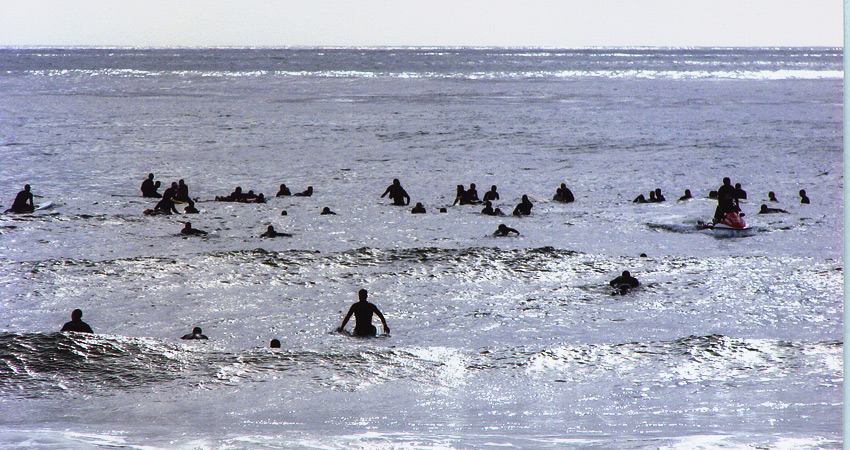 Courtesy of the Martin family
A son's courage inspired the people of San Diego to return to the water en masse.
She slipped through the cracks. The local papers never found her, and the coroner never interviewed her. She was a throwaway line in the news accounts -- referred to only as "another female swimmer" -- but dig deeper and she and the dead man's son are intertwined in a most curious way.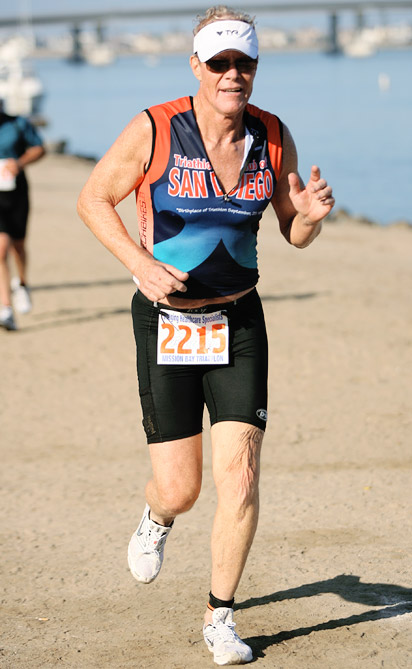 Opix/Vicky Eydelberg
Dave Martin fell in love with running triathlons and fared very well in his age group.
She has sat in counseling sessions, asking, "Why did the shark turn left and not right? Why did the shark see his shadow and not mine?" She has been consumed by guilt and fear and crying spells, but something compels her to keep swimming. She has entered triathlons as far west as Big Sur and as far east as New York City, races that begin with her diving head-first into a murky body of water. Birds will often swoop toward her in the ocean, and it'll remind her of that morning in April, when seagulls circled her as she held a bleeding man in the sea. Why does she put herself through that? Why does she still compete? Why does she risk her sanity?
It's mind-boggling, but there's an answer.
If you fall in love with the ocean, it's usually at first sight, which is what happened to Dave Martin 40-plus years ago.
He'd been raised on an alfalfa farm in Riverside, Calif., and had become so fond of animals that he became a veterinarian. In the late-1960s, he flew to Solana Beach for a job interview, and his prospective boss never showed him the office -- he showed him a view.
They walked to the top of a steep set of stairs, overlooking a beach called Tide Park and a reef called Tabletops. The view, the clarity of the water, the blue horizon that went on interminably -- it took Dave's breath away. He accepted the job on the spot, bought a bungalow, raised a family.
His first-born, Jeff, took his first steps in the sand. Dave carved Jeff's first surfboard with his own hands, and showed him how to "hang 10" 100 yards off the coast, by Tabletops. They'd go to Hawaii, on family trips, and he'd tutor Jeff on the surf culture. One time in Oahu, he'd instructed Jeff to be aware of the locals, not to swipe their waves. But Big Dave, all 6-foot-2, 200 pounds of him, ended up intercepting a wave himself, and some locals chided him harshly. Jeff thought maybe his dad would end up in a brawl, but Dave was tame and non-confrontational, the type who never even honked his car horn in anger at another driver. When one of other surfers told Jeff, "Go for the next wave, brotha" -- mistaking Jeff for a local -- Dave simply paddled in to the beach and watched, grinning.
Life moved on, and five kids and two collapsed marriages tested Dave's easy-going manner. He was in his 60s now, needing an outlet for his stress, and instead of choosing golf -- like most men his age -- he chose triathlons.
The ocean was the lure, and as Dave began to improve his biking and his diet, his race results soared. He almost always won or finished second in his age group, but the camaraderie was his real reward. Not only did he have a new girlfriend, Jan, who had taken over his veterinary practice, but he also had a bevy of new triathlete friends, scattered all over the city. They all belonged to the Triathlon Club of San Diego, and, one of them, Solana Beach local Ken Flagg, would send out e-mails promoting a weekly Friday morning swim at Fletcher Cove, a compact beach just a couple of side-streets away from Dave's bungalow.
The group's Friday routine was to swim three-quarters of a mile north to Tabletops, Dave's neighborhood reef. Then, as soon as they'd get even with the stairs, they'd turn around and swim back to Fletcher Cove. In other words, Dave would be swimming to and from his home beach, where he knew all the lifeguards by name, and all the lifeguards knew him.
So, he became a Friday regular. They'd do the swim, rinse off and then eat together at a local breakfast joint, the Naked Café. Dave found the company, the conversation and the food rejuvenating. He'd often tell his son Jeff -- who lived across the street from him -- to join in, if only for the workout and the Fuzzy Monkey pancakes made of grain and banana. But Jeff was now a commercial pilot with Alaska Airlines and a father of three boys, and he never could fit in the Friday swim. Dave told him: "Your loss."
Dave, 66 by then, was so hooked on his Friday ritual --and his triathlete friends -- that when he developed skin cancer on his cheekbone in early 2008 and couldn't wear goggles, he still attended the breakfasts. He talked about getting back in the water by spring and racing in Half Ironmans by summer. To whip himself back into shape, he planned to take Jeff and Jeff's three sons to Mexico in mid-April.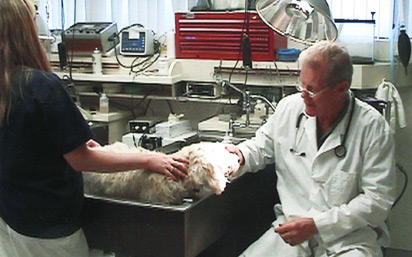 Courtesy of the Martin family
Dave's love of animals led him to a career as a veterinarian.
The Mexico trip went spectacularly. Dave swam, fished, water-skied and clammed every day with 10-year-old Tanner, 6-year-old Gunnar and 5-year-old Connor, reciting the proper name of every fish they caught. Each night, he and Jeff would sneak off to some rustic Baja restaurant, and on one of their last evenings, Dave's favorite song unexpectedly blared over the sound system. "It was dark, and the boys had been put to sleep, and he goes, 'Wow, listen to this song,'" Jeff recalls. "It's sort of a medley. It starts out with 'Over the Rainbow' and shifts into 'What a Wonderful World.' ... It said a lot about my dad, I think. He was finally at a place where he was starting to travel and life was good. It really was a wonderful life. It summed a lot of things up."
The trip had ended on a high, and when they returned to Solana Beach, Dave was ecstatic to be rejoining the Friday swim. He drove his truck to the cove extra early the morning of April 25, pacing the parking lot while he waited, wondering if he'd be rusty.
At 6:25 a.m., it was just he and one other swimmer, a college student named Ryan Matze. "Where is everybody?" Dave asked, chuckling, wondering if perhaps the others were pulling a practical joke on him.
But soon enough people arrived. Most of them he knew fairly well. But one he'd never seen before in his life.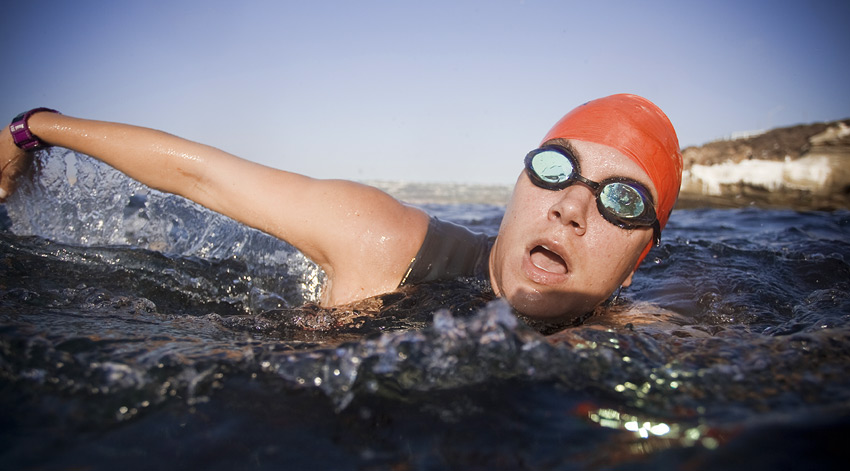 Christopher Park for ESPN.com
The Woman With No Name showed up that Friday morning seeking a release.
She wandered into their parking lot, a complete mystery. By 6:30 a.m., there were nine silhouettes changing into wetsuits at misty Fletcher Cove, and only one introduction that needed to be made.
She had shoulder-length brown hair and the widest eyes -- a striking 30-year-old woman -- but, once she put on her swim cap, she could've been anybody. She got some looks and some nods, and although it was her personality to shout out her name, she stayed quiet and anonymous. What could she tell them, anyway? Hello, I've been through hell? Hello, I need this swim to help me cope? Both were absolutely true, but this was not the time to get into all that. She had gotten this far by putting on a brave, stoic face, and, frankly, that in itself was remarkable.
"Outside the Lines" tells the story of the fatal shark attack in San Diego County.


At the age of 17, she had lost her mother to a cruel, sudden illness. Her mom, Catherine, had been thrown from a horse near their home in Tallahassee, Fla., and, on the way down, her finger had been caught in the reins. The finger swelled up, and her mom -- who was anemic -- took some medicine she'd taken previously for tennis elbow. But the drug triggered a rare disease, hemolytic anemia, causing her organs to shut down. Catherine, taken to the hospital that night with flu-like symptoms, died the next day.
It was horrifying, and she naturally leaned on her father Charlie, a football player at Florida State in the early 1950s. Maybe it was the old offensive lineman in him, but he told her to be resilient, told her "a positive attitude" was the secret to life. And she always trusted her dad. Before moving the family to Tallahassee, he had raised her on the water near Winter Park, Fla., even building a crib on his boat so she could tag along, as a baby, on his fishing trips. As she got older, she'd jump off that boat and paddle nearby, absolutely fearless of the water. Even after her mother's death, she and her father would go for spins on his boat -- until he started feeling poorly. He had developed prostate cancer, and a year after she graduated from Florida State, he was gone, too.
Only 22, she had no parents and no stability. She took a job in New York City and joined a charity called Team In Training, whose members raced to raise money for blood cancer research. Her plan was to run a half-marathon, until she bumped into an eccentric triathlon coach who asked if she enjoyed the water. Of course she did, but she told him she'd never fine-tuned her stroke and didn't own a bike. He blurted: "I promise you'll make it across the finish line," and that was that. She began taking a train to Harlem for swim lessons and found herself hooked, so hooked that when she heard that San Diego was the triathlon capital of the country, she moved there with her dog.
She arrived on June 1, 2007, and her first Friday in town, she joined members of the Triathlon Club of San Diego for an early evening swim at La Jolla Cove. It was her first taste of the Pacific Ocean, and every time she bumped into some kelp, she thought maybe she'd collided with a fish or -- worse -- a shark. She was told not to worry, that there were only harmless leopard sharks in the area. She began swimming with the group every week, and she came to depend on that swim to keep her sane, to keep her mind off the loss of her mom and dad.
Which brings us to Friday, April 25, 2008. Normally, she'd have swum that night with her regular partners at La Jolla Cove. But she had a work commitment that evening and thought maybe she'd find a morning swim instead. She'd heard about the 6:30 a.m. swim at Fletcher Cove, so she decided to show up there unannounced. Decided to just show up, take a quick dip, cleanse her mind and get on with her day.
So that's how she wound up in that misty parking lot, with eight absolute strangers. Six of them were men and two were women, and right before they were about to leap into the surf, she told herself: "Wait a minute, it feels a little strange not introducing myself."
So, The Woman With No Name got it over with: "Hi, I'm Laurene Booth, nice to meet you guys. Have a good swim."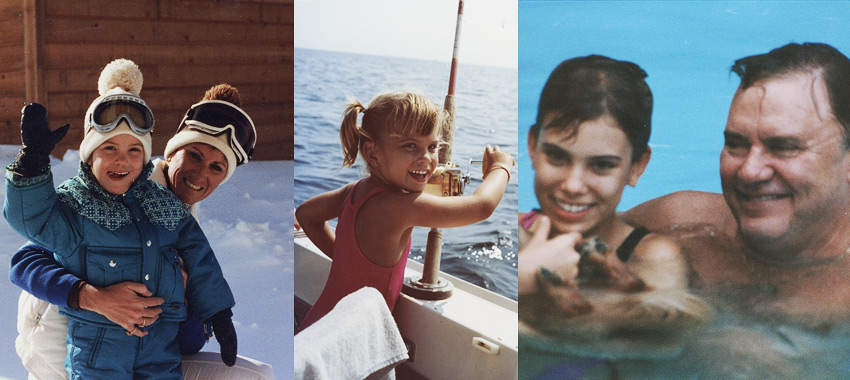 Courtesy of Laurene Booth
Laurene's parents, Catherine, left, and Charlie, instilled in her a love of sports and the water.
The nine of them burst through the surf line, in sync, but, after that, it was every man and woman for themselves. The fastest swimmer was Flagg, followed by his wife, Anita, who kept up because she was wearing flippers. Another strong swimmer, Alan Silverman, was on their heels, and those were the three clear leaders.
Meanwhile, 30 yards back, came the 66-year-old man and the stranger.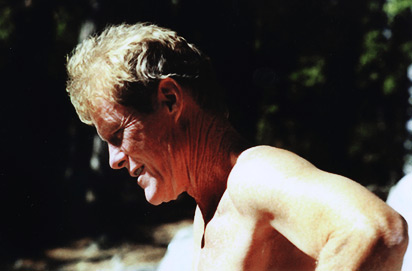 Courtesy of the Martin family
Dave fell in love with Solana Beach the minute he saw the view.
Laurene Booth and Big Dave Martin had not spoken to each other that morning. Yet, only five minutes into the swim, they were in unison, side by side. They were about 150 yards off the coast, heading due north, and with the sun beaming now, visibility was a non-issue. For that reason, Laurene noticed every nuance of Dave's swim stroke. She was just 7 to 10 feet to his right, closer to the shore than he was, and because she was practicing taking breaths on her left side, she'd see his strapping body every time she turned her head out of the water.
She liked having him close by; it made her feel less alone in the ocean. But soon, she was also feeling fatigue, probably because of an earache she'd been battling. The swim was taking longer than she had thought it would, and part of her wanted to stop and swim for land. But the sight of Dave's smooth, elongated stroke helped her relax, helped her find a groove.
Finally, 20 minutes in to the swim, she picked her head out of the water to look for Ken, Anita and Alan. They had reached the turnaround point, still about 30 or so yards ahead, and were treading water, waiting for the others. And just as Laurene was about to continue their way, she heard a startling word: Shark!
"It took my brain a second to register," she says. "I was, 'Did I really hear that?' Because sometimes you're in the water and things get distorted. But then he was looking right at me, and he said, 'Help,' and he was saying, 'Shark,' and he was really upset and agitated. And I swam to him and didn't really believe what I was hearing until I got there."
As she approached Dave, she saw a fin directly between the two of them -- and an unsettling flow of blood. Dave was floating on his back, the bottom of his wetsuit shredded. She did all she could to hold him up. But she sensed the shark beneath her, sensed that it was confused, and she thought she might need to kick it to prevent being attacked next. She screamed ahead to Ken, Anita and Alan, and then turned and shouted, "Shark!" to the four other swimmers behind her.
"And then it was just Dave and I," she says, "for what seemed like an eternity."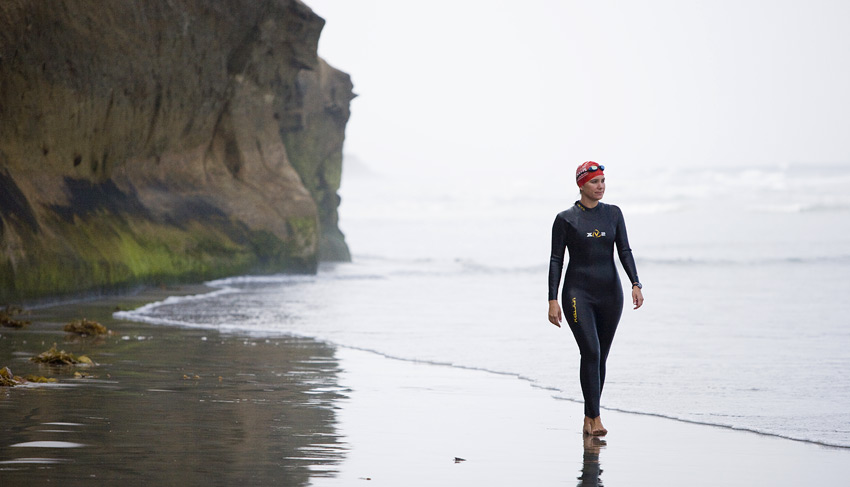 Christopher Park for ESPN.com
A newcomer to the Fletcher Cove group swim, Laurene Booth's life changed April 25.
Her parents kept the shark off her, she's sure of it. She's not saying they were angels just for her -- and not for Dave -- but, in those taut moments, she felt their protection, which explains her sudden return to clarity. She noticed the birds flying toward Dave in the water, perhaps because of the scent of the blood, and she remembers somehow speaking cogently to him: "I don't know what to do" and "Hang on." But the harsh reality was, she was speaking only to herself, because Dave was no longer conscious.
Within a minute, another swimmer, an elite Ironman triathlete named Diana Noble, joined Laurene from behind. Diana took Dave from Laurene, and, before long, Ken, Anita and Alan had swooped in, too, to help prop Dave's head out of the water. Ken and Anita, in fact, were the only ones, other than Laurene, who'd had a view of the attack, although they never saw the shark. While treading water, Ken had seen Dave being lifted out of the ocean and "shaken back and forth." And even though Anita was telling him, "I think he had a heart attack," Ken was convinced it was far worse. Immediately, he took charge. He directed the men to tow Dave to shore, and he sent Anita ahead of them to call 911. Laurene volunteered to go back with Anita, and the two women swam the 150 yards for all they were worth.
Dozens of thoughts raced through Laurene's mind, one being, "I guess I wasn't supposed to die today." She was grateful the seven swimmers -- the seven strangers -- had come to her and Dave's aid. She was convinced their frantic arrival had scared the shark away, although, at the time, she had no idea how big a shark it was or what kind.
Once they hit land, not long after 7 a.m., Anita started hollering for the lifeguard on duty, Mark Forster. Inside his truck, near the stairs, Forster had just made a call about a beached sea lion nearby. But soon, a stomping, waving Anita had Forster's full attention. Somewhat skeptical, he made a call to the lifeguard exchange, calmly saying: "Can you dispatch medics to Solana Beach on the sand, approximately half a mile north of headquarters or 200 yards south of Tabletops? We have a medical emergency in the water ... ah ... apparently, we have a man who is bleeding who apparently has been bitten by an animal in the water."
Forster purposely didn't say "shark" in his dispatch call because that particular word can create a firestorm -- and he wasn't sure he believed it. He sprinted out to the surf line to help Ken and the others pull the victim in, and that's when Forster found two legs that were virtually sliced at mid-thigh. He quickly pulled off the victim's goggles and swim cap. And his first thought was, "I know this guy. It's Dr. Martin."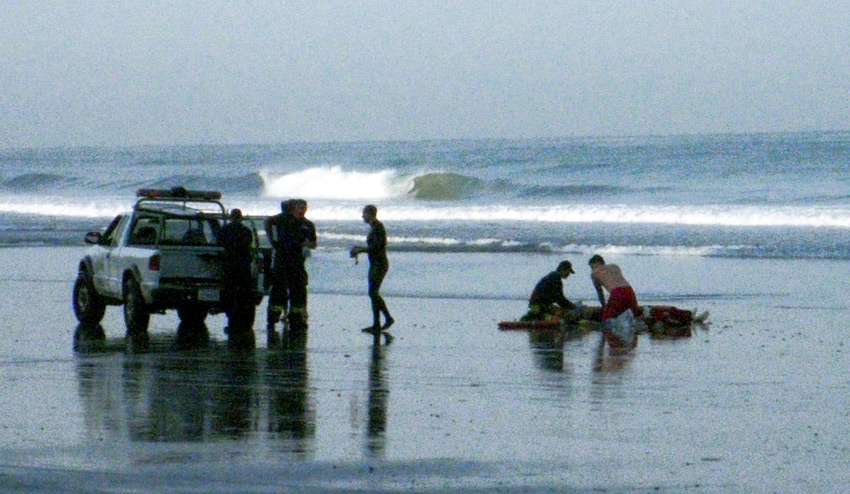 Harry Romero
Lifeguard Mark Forster recognized Dave immediately when his body was brought ashore.
Forster had been a part-time lifeguard at Tabletops for several years, long enough to know Dave, Jeff and Jeff's three boys. That was the sad, ironic twist of it all -- Dave was dying at the very same reef he'd fallen in love with so many years ago, the same reef where he'd raised Jeff and bonded with the lifeguards. Forster tried CPR, but it was of little consequence. Most of Dave's blood was in the water, because of severed arteries in both legs, and he was pronounced dead at 7:49 a.m., the first fatal shark attack in San Diego County since 1959.
But where was Laurene? As soon as Anita began hollering for the lifeguard, Laurene wandered to some bushes and started vomiting. She was reliving her parents' deaths, and it was paralyzing. She called her boyfriend of six months, Matt Miller, but, when he answered, she was hysterical and indecipherable. He thought she'd been in a bike wreck and was at a Burger King -- that's how off base her ability to communicate was. He called her back, and this time, another athlete answered for her and told Matt to hurry to Fletcher Cove. When Matt arrived, Laurene was even more incoherent. She was sobbing and confused, asking him, "What happened? What's going on?" -- as if he would know. "She couldn't compose herself, couldn't put a sentence together," Matt says. "She'd just seen somebody die, right in front of her eyes."
Rescue workers ushered all eight survivors to a lifeguard headquarters at Fletcher Cove. Laurene was clearly the most traumatized. Reporters were swarming the beach, but Matt, a former college defensive end and linebacker at Westminster College of Pennsylvania, ran interference for her. He was determined to make her The Woman With No Name and keep her out of news reports, but, before Matt could get her to his car, Laurene yanked on Forster's sleeve. She wanted to know whether she was partly to blame for Dave's death, whether she could've brought him to shore right away or swum faster with Anita for help.
Forster told her emphatically that a helicopter could've been hovering over Dave, at the moment of the attack, and he still wouldn't have lived. He told her that, based on the wounds, Dave likely had encountered a great white shark, approximately 3,500 pounds and 16 feet long -- "the size of two car lengths" -- in water that was merely 12 feet deep. She nearly fainted right there.
Soon, Dave's family began to arrive, including his youngest child, 18-year-old Hannah. Laurene took one look at Hannah's mortified face, and decided maybe that's why she was meant to be in the water that day -- to be a sounding board for the young girl. Laurene had lost her own parents at about that same age, and so she reached out to Hannah, and they embraced. The whole Martin family just seemed so special.
Except one son was missing.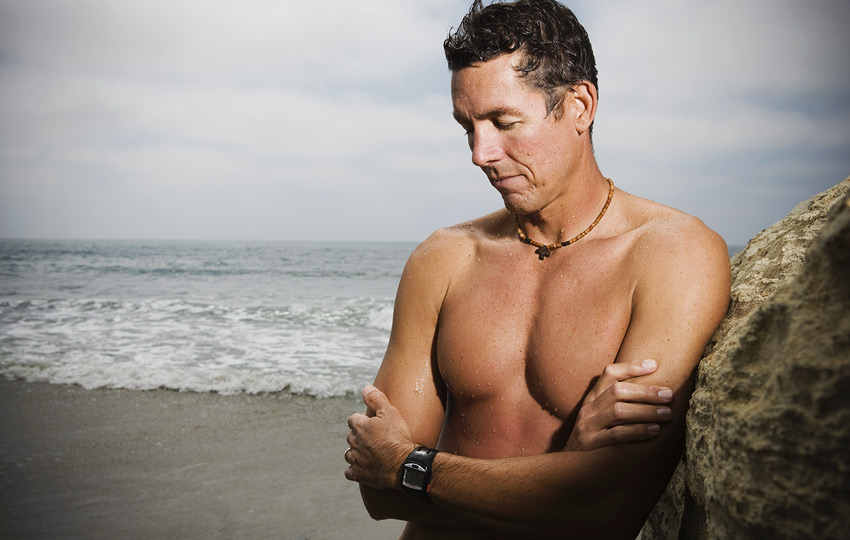 Christopher Park for ESPN.com
The day after his father's death, Jeff Martin returned to the scene to confront the tragedy head-on.
It's one thing to hear the word "shark" in the ocean. It's quite another to hear it over the phone, while you're out of town, on a treadmill. Jeff Martin had piloted a flight to Phoenix the previous day, and when he heard the tragic news from his wife in a hotel exercise room, there was the predictable denial. "I remember hanging up the phone and thinking, 'No way he was bit by a shark,'" Jeff says.
He rushed home to San Diego on the next flight, and when he saw all the TV news trucks at Fletcher Cove, it finally sunk in. He spoke to some family members who had identified the body, and it was all true: Dave had been mauled by a great white.
Jeff was the only sibling who hadn't seen Dave's body yet, the only sibling who hadn't said his goodbyes, the only sibling who had three sons weeping at home. The five of them had just been to Mexico together, 10 days prior, and the last photo of Dave alive had been with Tanner, Gunnar and Connor. Jeff could barely sleep that Friday night. So, at 6 a.m., he got out of bed, walked to the beach stairsteps, walked past the "Shark Warning!" signs, knelt in the sand and had his private talk with his father.
"I tried to go where I could be as close physically to him as possible," Jeff says. "I looked at my watch, thinking, 'OK, it's 7:15 to 7:18. Twenty-four hours ago, right here, is where that was all going on.' I told him I wished I had been in the water that day. I wished I'd been swimming next to him. I wanted to be the one holding him when he went out. I never got a chance to say goodbye."
And that's when Jeff decided to dive in.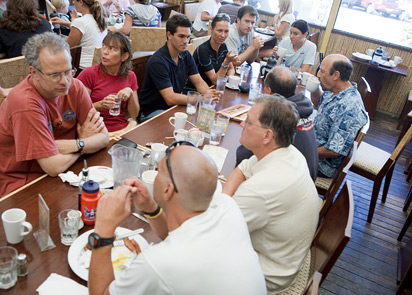 Christopher Park for ESPN.com
The best part of the Friday morning routine might be the Fuzzy Monkey pancakes at the Naked Café.
He waited one day, and then he asked his three boys if any of them wanted to come to the reef with him. Gunnar said yes. And then Jeff, without fear or regret, went surfing right where his father died. "It was either really smart or really stupid, one of the two," he says. "But I needed to get back in the water, and, truthfully, I think my dad would've done that, too. I think he would've looked at the odds -- he was a cerebral-type person -- and he would've thought, 'What are the chances of that happening again?' The lifeguards had searched the area, they had helicopters out looking. I just felt, 'The shark's not going to win.' I'm a little headstrong that way, and this is my place, you know? This is where I'm from. This is my reef in a way, I guess."
Word traveled swiftly, and the North County locals -- from Del Mar to Carlsbad -- followed Jeff's lead in the ensuing days and stepped back into the ocean. He was the talk of the town, and he also wasn't through. He and Tanner went spearfishing days later at Tabletops, and Jeff began exploring other ways to honor Dave. And that's why, the very next week, Jeff showed up at the Friday morning swim.
He'd never done the swim before -- even though his father used to beg him -- but now Jeff was going to live his life ... and Dave's. He wanted to swim the exact route of April 25, and Ken Flagg, the only survivor to show up that next Friday and still too squeamish to go beyond the surf line, told Jeff to go right ahead. Afterward, they all went to breakfast; Jeff had the Fuzzy Monkey pancakes.
But Jeff still wanted more information about April 25. He spoke to Ken, Anita and Diana Noble about the whole scenario -- the weather, the pace of the swim, the attack, everything. He talked to Forster about the CPR. And at the beach-side memorial service, he'd even spoken briefly to a woman he'd never heard of. A woman who told him that she'd been swimming next to Dave that day. A woman who'd seen the shark, who'd held Dave's head up, who'd heard Dave's last words.
Jeff just couldn't get Laurene out of his mind, and he phoned her, a few days later, asking for even more detail. She did her best to be tasteful, telling him Dave had died peacefully among friends in the reef he adored. Jeff appreciated it, and thanked her for trying to save his dad.
Little did he know, he was about to save her.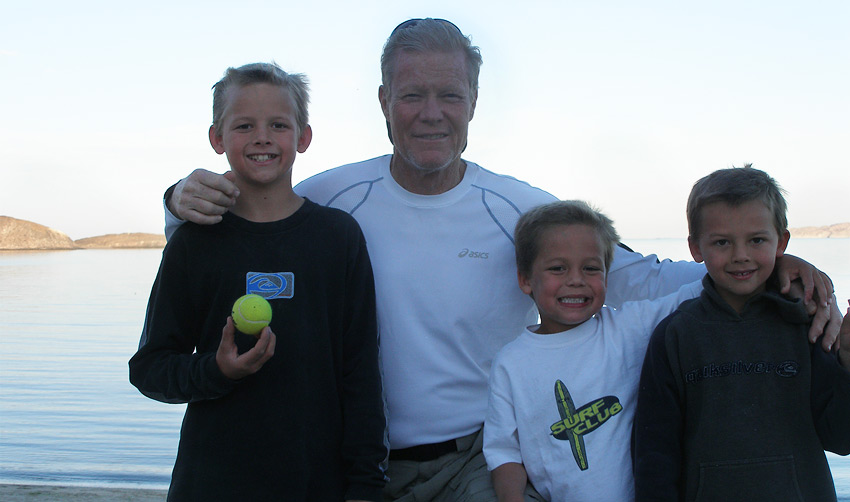 Jeff Martin
This is the last photo taken of Dave Martin, during a Mexico vacation with grandkids Tanner, left, Connor and Gunnar.
Laurene was in therapy. How could she not be? Her parents were gone, Dave's death had brought back long-lost emotions, and she couldn't stop hyperventilating. She kept thinking that, to the shark, she and Dave were two shadows, and the shark made a random choice to spare her and brutalize him. Her guilt was suffocating.
"The only post-traumatic stress probably comparable to this is losing a friend next to you in Iraq or someone who maybe experienced 9/11 first-hand and saw people die," her boyfriend says. "It's just so rare. And for it to happen to this girl who'd never been on this swim before, this girl who was new to San Diego ...
"One of her big questions was always, 'Did I do everything I could do to help him?' I told her straight: 'You were closer to the shore than he was, with a very large animal below the two of you, with blood in the water and you swam to him to hold him up while everyone else came for help. That's the most nightmarish situation a person can be in. What else could you have done?'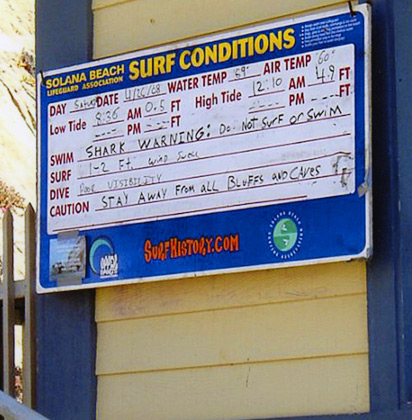 Sofia Shafquat
Jeff ignored the signs of warning at Big Dave's reef.
"I mean, it's the bravest thing I've ever heard of. ... We would sit at dinner and she would just start crying because she was worried about his family, and why is it fair I'm sitting here with you having dinner and Dave's family and girlfriend can't have dinner with him?"
Swimming wasn't even an option now for Laurene. She'd been scheduled to do a triathlon in Big Sur, just nine days after the attack, but that would've meant putting on a wetsuit again and seeing fish and ghosts. It didn't seem to make sense. But then again, the news she was about to hear didn't make sense, either. She'd been told by friends that, incredibly, improbably, Jeff Martin had surfed at Tabletops, right after Dave's death. She heard that he'd effectively flipped off the shark. It was numbing to her, and, at the same time, it was celebratory. Here she was a spigot, crying whenever the wind blew, and here was Jeff saying, Screw you, Shark, I'm going to kick your butt.
"That was huge," she says. "I still can't believe it. I think Jeff is one of the coolest cats I've ever come in contact with. He was right in the water the next day right where it happened. It's inspiring. I mean, it totally helped me."
She began to rethink everything. She remembered how her father, Charlie, the old lineman, used to talk about positive thinking, and how her mom, Catherine, the avid rider, used to tell her to "get back on that horse." Jeff had evoked the right emotions, and Laurene and Matt set out for Big Sur.
Not that she wasn't a nervous wreck. The day before the race, she was convinced she needed a trial swim, so she slipped on her wetsuit and walked timidly toward the water. And the minute she got in, she wanted out. "She was pretty scared," Matt says. "She was saying, 'Am I even going to be able to do this race? Did we drive all this way for nothing? What if I have a flashback in the water, or what if I freak out or panic?'"
Turns out, she stayed poised throughout the actual race, although it helped that the swim portion was held in an enclosed lake, not an ocean. Still, she wasn't sure she'd have the guts to race again ... until she heard something new about Jeff.
Apparently, Jeff, the surfer dude, was now taking up triathlons. He had only raced a couple of times prior, with his father, in 2007, but now he was going dedicate himself to it, full-bore, along with 10-year-old Tanner. Laurene's jaw dropped. She loved that Tanner was racing in memory of his grandpa, and she was thrilled to hear one of his first races was going to be the Encinitas Triathlon, in mid-May, wearing Dave's previously assigned bib number, 451. Laurene decided, the heck with it, she was going to race it, too.
Of course, that meant getting back in the ocean, which again put her in a mini-panic. She went to Ken Flagg and asked him whether he'd be her "swim buddy" for the race, meaning he'd by her side 100 percent of the time in the water. Ken agreed, except there was one problem: He was having trepidation, too.
They decided to take a trial ocean swim the day before the race -- to see how their nerves would hold up -- and they lasted all of five minutes. So it wasn't just Laurene who was on edge. Even though Ken had continued with the Friday swim, he still wouldn't swim North toward Tabletops -- only South -- which showed Laurene her fear was natural and real.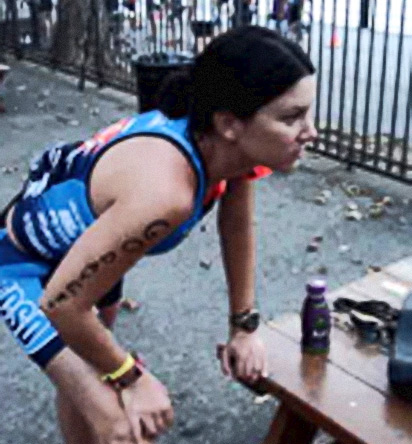 Courtesy of Laurene Booth
Laurene offered a written tribute to Dave on her arm as she competed in the New York City Triathlon.
But just when she was on the verge of backing out, she saw two determined faces on race day -- those of Jeff and Tanner. They had "Go Dave" scribbled on their arms and their swim caps, and it gave her an adrenaline rush. She wanted "Go Dave" printed on her arm, too, and she and Ken went ahead and finished the swim, uneventfully. After the race, she couldn't help but eye Jeff in amazement, wondering how he was carrying on.
The truth was, Jeff was looking for closure. Laurene didn't realize Jeff was mourning at the time, searching for answers and hidden meanings. The family had just seen Dave's autopsy report, and the forensic pathologist discovered Dave's heart was high-risk, that he'd had severe hardening of his coronary arteries. Even if he hadn't swum April 25, he still might've had a heart attack within months. That made Jeff feel slightly better; he preferred Dave dying in his beloved ocean rather than somewhere else, clutching his chest.
The autopsy also showed Dave had been bitten at least five times by the shark. Experts were speculating the shark was a female, who had been birthing that morning in the reef and considered Dave a threat to her offspring. Some experts also believe the sight of a sea lion clinging to shore was a red flag that a shark was nearby because sharks largely feed off blubbery sea life. But it was all Monday morning quarterbacking; Jeff still couldn't come to grips with it all.
Then, in late June, he decided to swim a race in San Francisco that he and Dave had long before signed up to do, a race called, of all things, "The Alcatraz Sharkfest." Once again, Laurene heard the news -- from one of her triathlete friends -- and it baffled her that Jeff would enter any race called Sharkfest. But Jeff carried on with it, and, as all the swimmers were taking the ferry over to Alcatraz, a familiar song came booming over the loudspeakers: Dave's "Over the Rainbow" medley from the Mexico trip.
Jeff was near tears, next to a hundred strangers, and the song stayed with him the entire swim. He felt his father with him in the water, and that was his closure. He'd finally had his goodbye.
Now Laurene needed hers.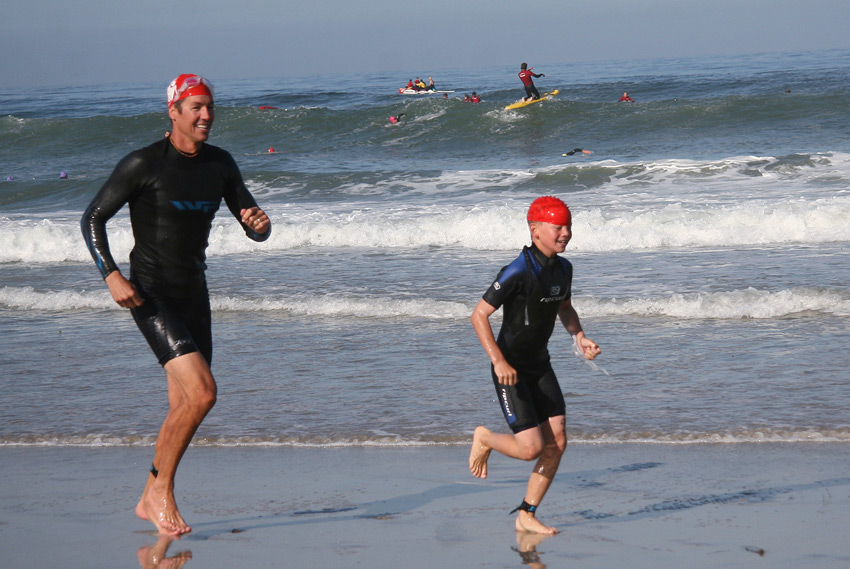 Patrice Malloy
When Jeff and Tanner decided they'd run the Encinitas Triathlon, Laurene had all the motivation she needed.
She had become more brazen by now, seeking out triathlons all over the country. In a lot of ways, racing had become a fabulous escape because there's no time to think about a near-death experience when you've got five minutes to transition from a bike to a run. The other benefit of racing was it put her back in her happy place. Before the attack, Laurene usually displayed a brilliant smile and a showboat personality; she'd always stood out in a room. And the camaraderie of triathlons -- the postrace get-togethers, etc. -- gave her plenty of rooms to enter. She had a new circle of friends, via the triathlon club, and her training regimen was now keeping her too busy to feel sorry for herself.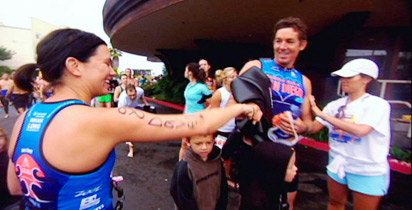 ESPN
Laurene and Jeff exchanged a fist bump of encouragement before the July triathlon at Solana Beach.
Matt continued to be amazed by her. She'd gone back to her job in sales; she was professional, accountable. And then, after work, she'd run 800-yard dashes on a track, with the tri-club. Matt tried running 800s with her one day, and told Laurene: "You're trying to break me, aren't you?"
As the summer of '08 moved on, she couldn't wait to enter the New York City Triathlon, which would take her back to her roots. Her first triathlon had been in NYC, and, in mid-July, she and Matt returned for the race in 90-degree heat -- with "Go Dave" etched on her arm.
But, with Laurene, small barriers still existed. The Hudson River, where the New York swim was staged, was filled with oversized jellyfish, which didn't help her state of mind. There was also a fatality in the water on race day, when a 32-year-old man collapsed from a heart attack. Emotional landmines were everywhere for her. Reality set in: She needed to face Fletcher Cove.
She'd been back there only twice since the attack -- once for Dave's beach memorial service and once for a Friday morning swim in mid-July. But she still hadn't swum North, the direction they all swam April 25, and she'd decided she never would again. But then again, maybe it was time. Maybe it was time to really get back into the water. Maybe then she'd find her closure.
She knew the annual Solana Beach Triathlon was coming up in late July, and she knew the swim would be a quarter-mile long, to the North, in the direction of Tabletops. It was obviously going to be torture. But she thought of three reasons to sign up: Dave, Jeff and Tanner.
"You know," Laurene says, "there's a good part of what happened, a human side, people coming together. That's the only reason I decided to do the tri at Fletcher Cove. For a while, I wasn't going to do it. I'd shied away from it because I didn't want to be back in that spot. I try not to think of it as a bad place, but it's tough. Going out there and looking to my right, looking north -- I remember everything. But I heard Jeff was doing do it, and I'm sure Dave would've done it. And I thought this is one of those things where you've got put yourself aside and go do it, do it in the spirit of Dave and kick butt, you know?"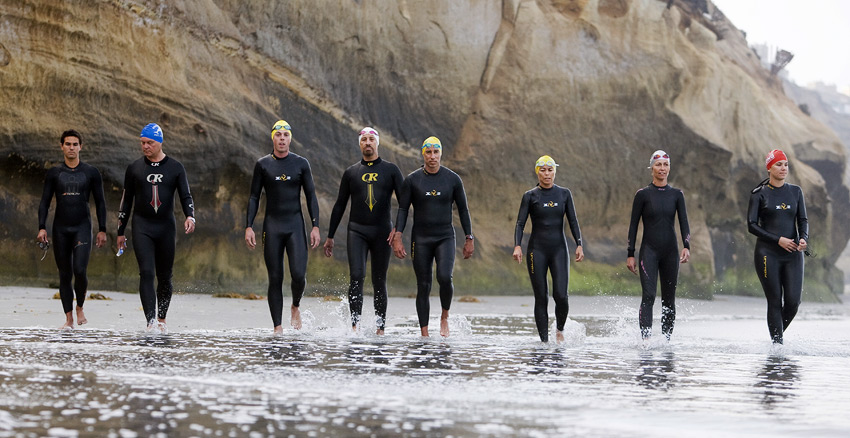 Christopher Park for ESPN.com
The eight surviving swimmers all carried memories of the tragic events of April 25.
It was a courageous move -- and the seven other survivors knew it. Think about it. Ken Flagg still wouldn't swim north, because he imagined the shark was still there. And whenever Anita Flagg swam anywhere, she never wanted to be fourth in the water, because Dave had been fourth that day. Alan Silverman's girlfriend didn't want him swimming before 8 a.m., because she'd been told sharks feed in the early morning -- and it went on and on this way. Every one of the survivors had a tale to tell, but here was Laurene, the one with the worst story of all, headed back to Fletcher Cove, to swim north.
The morning of the race, Ken showed up to be her swim buddy, and Anita showed up to compete. Laurene appreciated both of them. But, most of all, Laurene was heartened by the sight of Jeff and Tanner.
"Hey, T-money," she called out to the 10-year-old. By now, she felt comfortable enough to give Tanner a hug and and Jeff a fist bump. They felt like family, and the fear seeped out of Laurene.
She dove into the ocean, swam in the direction of Tabletops and finished the swim effortlessly. The bike and run portions weren't a problem, either. By the time she reached the finish line there was a certain glow to her. She'd finally said her goodbye -- or was it hello? -- to Fletcher Cove.
Not that she's entirely over the ordeal. A murky ocean will still have her imagining bad things, and a clear ocean will do the same, because she can see every little fish. But she gets a little stronger every day. There isn't a forlorn look on her face anymore; she has blended in. It's as if she's the Woman With No Name again -- just another triathlete in a swim cap -- except look closer, real close, at the ID bracelet she wears every day on her wrist. It says, "Carpe diem."
And then it says: "Racing for Mom, Dad ... and Dave."
Tom Friend is a senior writer for ESPN.com and ESPN The Magazine.
Join the conversation about "Back Into The Water."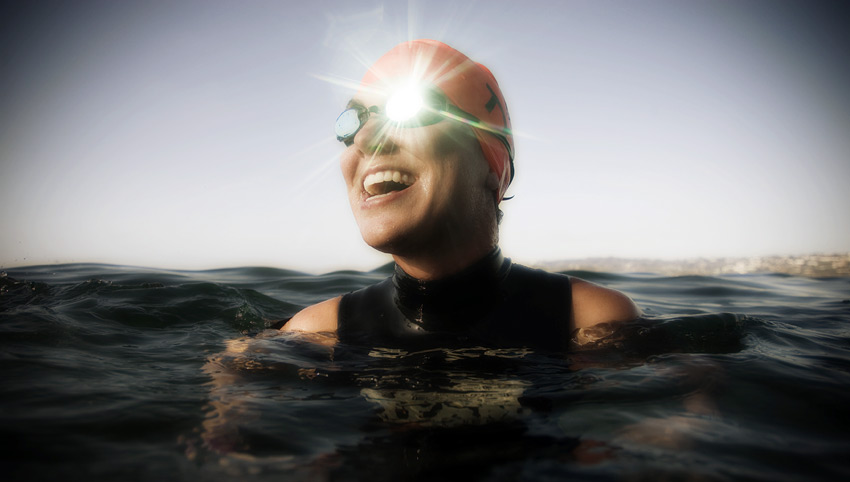 Christopher Park for ESPN.com
"You know, there's a good part of what happened, a human side, people coming together," Laurene says.