Fifth and Jackson
The murder of Lyman Bostock shocked the baseball world in 1978. For more, watch "Outside the Lines" at 9 a.m. ET on Sunday on ESPN.


And then -- on the verge of reliving the death of Lyman Bostock, her beloved husband -- she will do nothing.
It is hard to blame her. Time, after all, is impatient. In the 30 years since Bostock was shot and killed in Gary, Ind., Whistler has earned bachelor's and master's degrees. She has remarried, raised an 18-year-old daughter, gotten a divorce, become a program manager for a community-based nonprofit. She has traveled the country, experienced love and loss, joy and pain. The 20-something baseball wife who used to hide fruit in her purse and sneak it into Anaheim Stadium is now a 58-year-old woman, confident and mature and light-years removed from that life.
So, no, she doesn't want to open the box, doesn't want to read the yellowed newspaper clippings from Bostock's four-year major league career, doesn't want to look at the Polaroids, doesn't want to run her hand along the smooth barrel of Bostock's game-used Louisville Slugger. It's the same reason Whistler rarely mentioned her late husband's name through years of therapy, the same reason she stopped visiting Lot 342, Grave D at the Inglewood Park Cemetery near her home outside Los Angeles, where Bostock rests beneath an easy-to-miss stone reading simply:
LYMAN WESLEY BOSTOCK, JR.
BELOVED HUSBAND-SON
NOV. 22, 1950-SEPT. 24, 1978
"I used to go and kneel at his grave and cry," she says. "And one day I went and I said -- it was like a voice was speaking to me -- I said, 'You know what? He's not here. Why are you doing this to yourself?' I've never gone back. Not once. I needed to move on with my life."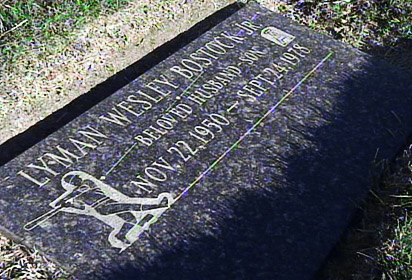 OTL
Youvene Whistler visited her husband's grave regularly until realizing she "needed to move on with [her] life."
And yet, here she is, sitting at a table in the lobby of the Hyatt Regency in Washington, picking at a dish of cantaloupe cubes and -- for one of the few times since the immediate aftermath of Sept. 23, 1978 -- bringing the dead back to life. It is not easy, but it is, Whistler has decided, necessary. Those who remember Lyman Bostock recall an Ichiro-esque bat technician, a .311 lifetime hitter who, former Orioles manager Earl Weaver once predicted, "will win five or six batting titles before his career is over." They recall an uncommonly giving man who relished teaching youngsters the art of the swing and who, after struggling as a high-priced free-agent signee with the Angels in 1978, begged owner Gene Autry to take back his salary. They recall a man nicknamed "Abdul Jibber-Jabber" for his jovial nonstop banter, a man whose favorite song was Chuck Mangione's 12-minute version of "Land of Make Believe;" a man who dreamed of one day owning a motor home; a man who, former Angels center fielder Rick Miller recalls, "was one of the best people you'd ever be blessed to know."
The reason it is necessary to reopen the wound now, Whistler feels, is that three decades after his last breath, far too few people remember Bostock at all. When he was murdered that chilly fall night in Gary, the news went worldwide. Reporters from Brazil and Australia, England and Japan telephoned Tom Harbrecht, the Gary Police Department's public information officer, desperate for details. "I probably worked 20 straight hours fielding all the requests for information," Harbrecht says. "It was a huge story." And yet, as suddenly as the word of Bostock's death exploded, it just as quickly seemed to disappear. Oh, the ongoing murder trial kept his name in small, bottom-of-the-page AP updates here and there. But five days after Bostock was killed, Pope John Paul died of a heart attack following a mere 33 days as pontiff, news that seemed to wipe Bostock's name from print. By the time, less than a year later, New York Yankees catcher Thurman Munson died in a plane crash, Bostock was an afterthought, reduced to little more than a notch in Gary's ever-mounting homicide rate.
"People sort of moved on," says Vic Harris, a former major league outfielder and Bostock's longtime friend. "But Lyman -- he was different, special. He deserves to be remembered."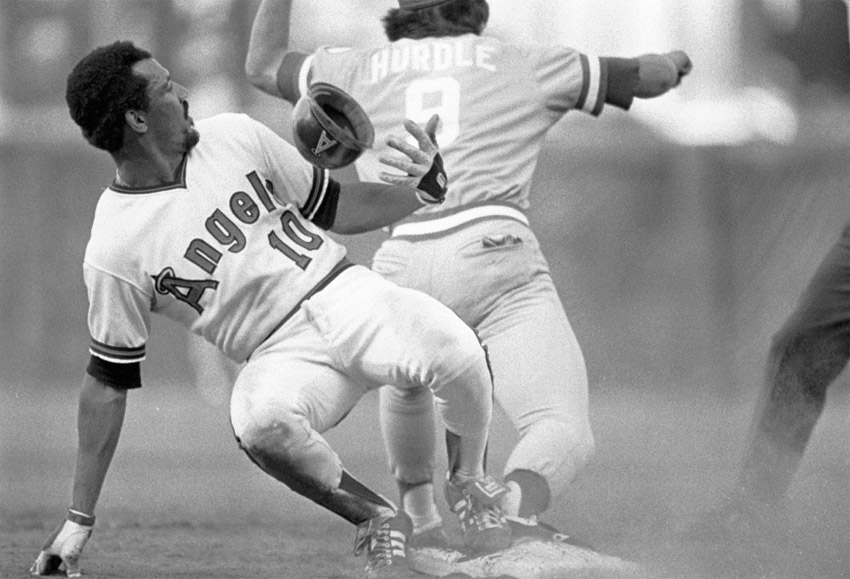 AP Photo/Lennox McLendon
At the time of his death, Lyman Bostock, 27, had established himself as one of baseball's up-and-coming stars.
A tragic series of "What ifs"
Most stories start at the beginning. But not this one. Let's start this one at the end:
Lyman Bostock should not have been there.
Not in Gary, the city where he was raised until moving to Los Angeles at age 8.
Not in the back seat of his uncle's gray Buick Electra 225.
Not sitting next to Barbara Smith.
Not at the intersection of Fifth and Jackson.
Not ... there.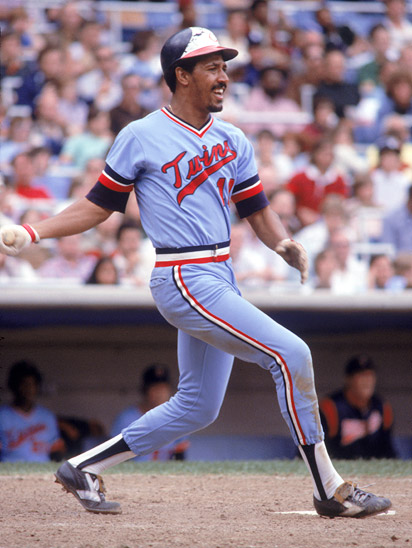 Rich Pilling/MLB Photos/Getty Images
Known for his impeccable bat control, Bostock had the potential to win multiple batting titles.
This is the fact that haunts them all -- the widow, the relatives, the friends, the former teammates. Maybe even the killer. The idea that, if only they could turn back time and make the slightest of alterations, perhaps Lyman Wesley Bostock would be alive today, working as a coach or manager, maybe the father of a child or two; maybe even a grandfather.
What if Youvene had flown into Chicago the day before? "I was going to surprise Lyman, and at the last minute I didn't," she says. "I beat myself up over that for a long time."
What if Ron Jackson, the Angels first baseman, had accepted Lyman's invitation to accompany him that night to Gary? "I was tired, and I didn't really feel like going out," says Jackson, now a coach with the Round Rock Express, the Houston Astros' Triple-A affiliate in Texas. "Had I gone, I imagine I would have been in the car with him. Who knows what happens?"
What if Buzzie Bavasi, the Angels' general manager, had denied Bostock's request to leave Chicago and spend the night with his family in nearby Gary, a city known for its mean streets, plummeting economy and staggeringly high murder rate? What if someone had informed Bavasi that, just within the recent months in Gary, a 26-year-old nursery-school teacher named Bernice Ross was raped and murdered in a playground; a 19-year-old gas-station attendant, Willie Buckhalter, was shot to death during a $4.35 holdup; and a 69-year-old security guard, Edwin McGuire, was stabbed 19 times in his bedroom by an intruder? What if Bavasi had forced Bostock to stay at the Water Tower Hyatt, the hotel the Angels used on trips to the Windy City?
What if Tom Turner, Bostock's uncle, had refused his nephew's request to visit Joan Hawkins, the local girl Lyman had read to during his early teenage years in Gary? What if Joan and her sister Barbara Smith hadn't asked for a ride across town? "Maybe he's still alive," Turner says. "Hard to say."
What if Leonard Smith, Barbara's estranged husband, hadn't erroneously believed Bostock was having an affair with his wife? What if he could take back the shot that left the barrel of his .410 bore shotgun and entered Bostock's right temple?
What if?
"I was mad at Lyman's family for a long time," Youvene says. "I felt that if they'd just let him go to Chicago and play ball and not bother him, he wouldn't have been with them. People were always pulling on him, and he was never able to say no. He should have never been put in that position in the first place."
A local hero
The California Angels arrived in Chicago on the night of Sept. 21, 1978, a second-place team with an 81-72 record desperately trying to stay in the race in the American League West. Trailing Kansas City by 5½ games with nine remaining, manager Jim Fregosi's club needed absolutely everything to go right (and everything for the Royals to go wrong) to earn a playoff berth. In the series opener against the White Sox the following evening at Comiskey Park, Bostock went 0-for-3 with a walk in the Angels' 3-2 triumph. He spent the night at the Hyatt, most likely (using Bostock's history as a gauge) obsessing over his last two at-bats, a pair of lazy popouts to center and right off of White Sox pitcher Rich Hinton. "The failures stuck with him," Youvene says.
When the two teams met again the ensuing afternoon, they were greeted by a clear blue sky, a slight breeze and temperatures in the low 70s. With a dozen or so family members among the 7,953 fans in attendance, Bostock went 2-for-4 with a double and a run scored, raising his average to .296, ninth best in the American League. However, Bostock grounded out for the final out in the Angels' 5-4 loss, which all but suffocated their postseason hopes.
Shortly after the game, Bostock was chauffeured back to Gary in Turner's Buick, the return of a local kid who had made good. "He was just supposed to stay for the night," Turner says. "Have a little dinner and talk about old times."
Turner pauses. "That's all he was supposed to do."
And yet, that's not who Lyman Bostock was. Maybe some heroes return home and, quite literally, have a little dinner and talk about old times. But Bostock carried himself far differently than merely some hero. He was good ol' "Wesley," as most everyone in the family called him, the mischievous little boy with the quick feet and the goofy laugh and the fierce loyalty toward kin. He would make an effort to see anybody, everybody. "Just the way Wesley behaved," says Lillie Pearl Turner, his aunt. "Never thought he was better than anyone else."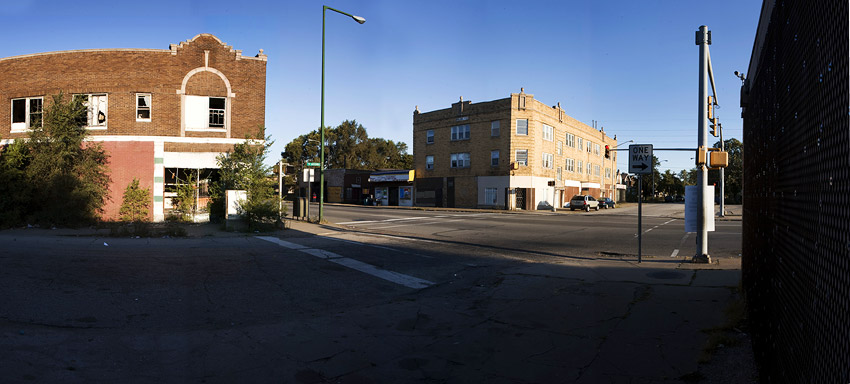 Ross Dettman for ESPN.com
Only through a series of unfortunate events did Bostock end up at the intersection of Fifth and Jackson in Gary, Ind.
Hardly your average greedy ballplayer
Though born in Birmingham, Ala., and educated in California, Bostock viewed Gary as his second home. It was the city Annie Pearl Bostock relocated to with her son in 1954, following her bitter separation from Lyman Sr., a former Negro League first baseman who spent 2½ seasons in the early 1940s with the Birmingham Black Barons. While Lyman Jr., would often be compared athletically to his father, he had little use for a man who walked out on his family when the boy was 2 and failed to reappear -- physically, financially, emotionally -- until his son was playing in the majors. Instead, Lyman idolized his mother, a quiet, loving woman with an unrivaled work ethic. As Lyman spent much of his youth playing football and baseball at the park on the corner of 21st and Harrison, Annie Pearl worked long hours in the supply room at Gary's Methodist Hospital. Through one eternally dreadful minimum-wage shift after another, the only thing that kept her going was her son. Lyman Bostock Jr. would be special; she was certain of it. "Everything she did, she did for that boy," says Tom Turner, one of the 12 siblings of Annie Pearl, who died in 2005. "He was the light of her life."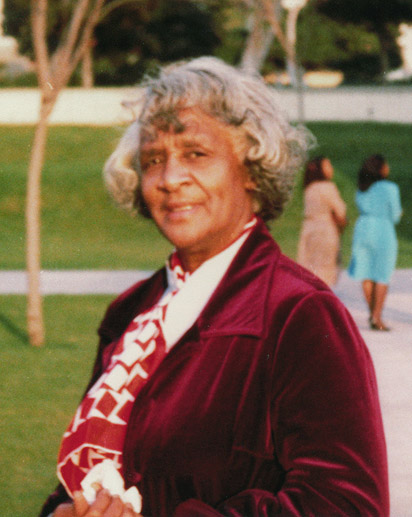 Courtesy Lyman Bostock family
Annie Pearl Bostock vowed that her son Lyman Jr. would have opportunities to excel.
In 1958, Lyman and Annie Pearl, with $7 to her name, boarded a Greyhound bus and relocated to Los Angeles, land of sunshine and opportunity, where they moved in with Plaze Crawford, another of her brothers. Annie Pearl found another blue-collar job at a hospital, and Lyman eventually excelled on the diamond at Manual Arts High School, where he hit third, played center field and was named first-team All-Southern League as a senior. "He wasn't eye-popping at that point, but he was extremely determined," Vic Harris says. "Nobody wanted to be a baseball player more than Lyman Bostock."
Upon graduating high school in 1968, Bostock enrolled at San Fernando Valley State College (now California State University-Northridge). It was during freshman orientation, while walking across the lobby of Zelzah Hall, that he initially locked eyes with Youvene Brooks, a breathtaking first-year student from nearby Compton. "He was standing a few feet away, holding court, yakking, yakking, yakking away," says Whistler, who was always called "Brooks" by her husband. "He followed me across the room, and we were together beginning that day."
Though Bostock aspired to the majors, he was an 18-year-old kid facing a bevy of peer pressures from other African-American students. Baseball was a white game. Baseball was an establishment game. Baseball was The Man's game. He stayed away from the sport for his first two years, instead immersing himself in a movement to have the school introduce an ethnic-studies program. He let his Afro grow, skipped classes in protest of various causes, was arrested during a sit-in. "There was this cause, and he was really into it," Whistler says. "Yet people were wrong to pressure him not to play baseball. If you're meant to do something -- and Lyman was factually meant to play baseball -- you shouldn't deny yourself. But we were young."
Finally, at the urging of coach Bob Hiegert, Bostock joined the team as a junior and led the Matadors to back-to-back NCAA small-college division national championships. Following a senior season in which he batted .396, Bostock was selected by the Minnesota Twins in the 26th round of the 1972 amateur draft (he left school 15 credits short of a bachelor's degree and never returned to finish). He spent the ensuing 3½ years toiling in the minors before making his major league debut with the Twins on April 8, 1975. Over the course of the next three seasons, Bostock emerged as one of baseball's elite hitters. Comfortably obscured by the shadows of teammates Tony Oliva (who would win three batting titles in his 15-year career) and Rod Carew (who would win seven batting titles in 19 seasons), Bostock hit .323 in 1976, then a career-best .336 the following year. Standing uncommonly far back in the batter's box, leaning heavily on his right foot, the left-handed Bostock evoked stylistic comparisons to Stan Musial. "Boy, Lyman was one heck of a hitter," says Ron Schueler, a former big league pitcher who played with Bostock in Minnesota. "Everything about his skill and approach made it perfectly clear he'd win a batting title one day. He was that good."
After the 1977 season, Bostock became eligible for baseball's second annual re-entry draft, an odd, short-lived system that allowed tenured players to negotiate free-agent contracts with up to 13 teams.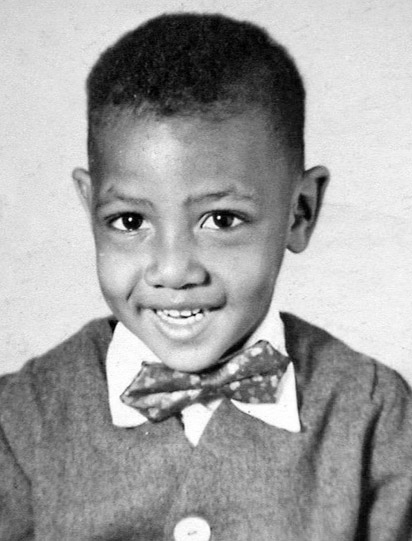 Courtesy Lyman Bostock family
Young Lyman was often compared athletically to his father, who played in the Negro Leagues.
One of many ballplayers eager to bolt the Twins and their notoriously cheap owner, Calvin Griffith, Bostock -- who made $20,000 annually with Minnesota -- was thrilled by the opportunity. Yet he was hardly your average fat-contract-seeking nomad. Though Bostock certainly craved the financial security that came with a high-priced deal, he knew what it was to live poor, knew he could be equally happy with peanut butter and jelly sandwiches as he was with filet mignon. As Twins teammates overspent on fancy homes and luxury boats and snazzy automobiles, Lyman and Youvene lived in a simple one-bedroom apartment. They owned a pair of $11,000 Saabs -- their one semi-indulgence. "I don't fly airplanes, and I don't own a yacht," he told People magazine. "Materialistic values, some people have a need for that in life. Some people have always dreamed of owning a boat. I enjoy riding a boat. Some people want fancy cars. The way I look at it, a car can do two things: It can take you and bring you."
When Abdul-Jalil al-Hakim, Bostock's agent, told The Sporting News that "we just plan to sit back, rub our hands and wait for the money to fall into them," the ballplayer surely cringed. He wasn't after the most lucrative contract -- just the happiest lifestyle. "Lyman's a different kind of guy," says al-Hakim, who often refuses to speak of Bostock in the past tense. "Back then he wanted to be comfortable. I remember one conversation we had early on. I sat him down and said 'This is the money you're making now. So what would you do if you made $400,000. How about $500,000? How about $750,000?' The more money I mentioned, the less comfortable he became. At the end of the conversation, I laughed and said, 'Lyman, shut up, sit down and let me handle things. Because you'd sign for $1 just to play.'"
Indeed, Carlos Jones, one of the ballplayer's closest friends, still vividly recalls the day shortly after the '77 season when he and Lyman were mowing the lawn outside Bostock's apartment complex. Up pulled a limousine, and out stepped a man in sunglasses and a dark suit. "I'm with the New York Yankees," he said, "and I'm going to hand you this check for $200,000. It doesn't matter whether you sign with us or not -- it's just in good faith." When the man asked whether Bostock had an agent, the ballplayer pointed toward Jones, who worked as a data systems supervisor with Los Angeles County. That night, the Yankees sent a limo to Jones' house and treated him and his wife to a fancy dinner. "Of course, Lyman didn't cash the check," Jones says. "He never would do something to compromise who he was."
In the end, Bostock reportedly spurned more lucrative offers from the Yankees and Mets to accept a five-year, $2.25 million deal with the hometown Angels. It was one of the richest contracts in sports history. "I was very close to signing with the Yankees," he said at the time. "But with all that controversy, I thought I might wind up being a vegetable. I'm not a flashy guy; I'm not a Joe Namath or Clyde Frazier.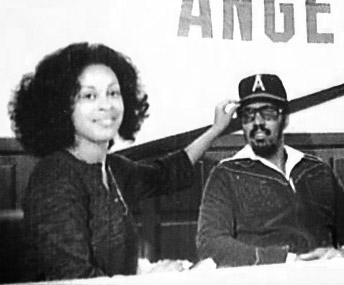 Courtesy Lyman Bostock family
Youvene helped Lyman celebrate his contract with the Angels before the 1978 season.
"People ask me all the time how I could get the money when Willie Mays and Babe Ruth and all the other guys didn't get this kind of money. I tell them, 'Don't ask me if I'm a better base stealer than Maury Wills. I have to say no. Don't ask me if I'm a better base stealer than Lou Brock. I have to say no. Am I a better outfielder than Roberto Clemente, Willie Mays or Mickey Mantle? Again, I have to say no. But if you ask me if I was in the right place at the right time, I have to say yes.'"
As soon as the '78 season began, Bostock felt the weight of excessive dollar signs. He collected just two hits in his first 10 games and on April 18 asked then-Angels manager Dave Garcia to bench him for the second game of a three-game series at Seattle. So humiliated was Bostock that on road trips he began to ask that meals be sent up to his hotel room. On April 30, following an 0-for-4 effort against Toronto that dropped his average to .147, Bostock told the media that, having been rebuffed by Autry in his attempt to refuse that month's paycheck, he would give his April salary to charity. "I just can't make that kind of money and not produce," he said. "I don't feel that I've done enough for this month."
To some, Bostock's refusal to accept his salary reeked of a cheesy PR stunt -- overpaid ballplayer seeks to win over fans. But it wasn't. Bostock was genuinely humiliated by his performance. Here was a man who loved to hit, who spent most of his waking hours contemplating the intricacies of the game, hitting below the Mendoza Line. Forget $2.25 million, Bostock didn't believe he warranted a dime. "He felt the burden of expectations," al-Hakim says. "I was like, 'Lyman, you have to take the money! You have to!'" Bostock refused, instead donating $36,000 to a handful of causes, including his church, Vermont Square Methodist in South Central Los Angeles, which ran recovery programs for drug and alcohol addicts.
At a time when the egomaniacal ways of Reggie "The Straw That Stirs the Drink" Jackson made daily headlines in New York, Bostock's gesture won over legions of fans. Wrote The New York Times: "Lyman Bostock is hitting 1.000 in integrity. His batting average, though, is .147."
"Lyman," Whistler says, "believed in doing the right thing. No matter the consequences, he truly wanted to do right."
That's why, even as his salary increased and his Q-rating soared and, through the summer months of '78, the hits started falling -- two, three, four at a time -- Lyman Bostock could not turn his back on Gary, on his people.
That's why, after arriving in town on the evening of Sept. 23 and eating dinner with a handful of relatives at Tom Turner's home, the ballplayer turned to his uncle and said, "Tom, whatever happened to Joan Hawkins, that girl I used to read to? I'd sure like to see how she's doing." Turner nodded. It had been nine years since Bostock last encountered Hawkins. "She lives right across town. I'll take you to see her now."
That's why, within 15 minutes, Lyman was in Hawkins' living room, laughing, sharing old stories.
That's why, when Joan asked whether she and her sister, Barbara, could catch a ride to a nearby relative's house, Lyman Bostock went outside to check with his uncle and quickly returned. "Of course," he said. "No problem."
That's why ...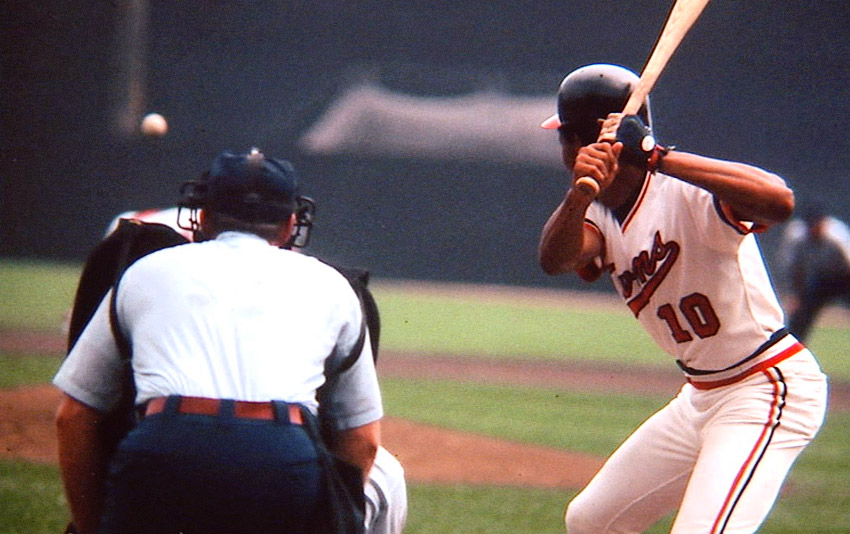 Courtesy Lyman Bostock family
When he hit the open market after the 1977 season, Bostock was a highly coveted talent throughout the majors.
A victim of someone else's bad marriage
As he sat outside of Hawkins' home, the motor of his Ford purring, the shotgun nestled in his lap, one can only imagine what Leonard Smith was thinking.
A 31-year-old unemployed steelworker, Smith was a Gary native who lived in the top-floor apartment of a three-story building owned by his mother, Mildred Scurlock. Guarded, moody and somewhat erratic, Smith, who wore a hat most everywhere he went, possessed arched eyebrows, a thin goatee and penetrating brown eyes that flared when he became angry. He also had an extensive police record, according to the Gary Post-Tribune, having been arrested at least seven times, including once for second-degree burglary, though never convicted.
Hall of Famer Rod Carew says Bostock had the potential to become a member of the 3,000-hit club.


The product of a broken home (he later made reference to the embarrassment of having had three stepfathers), Smith blamed his parents' divorce for causing one of his sisters to commit suicide and another to be committed to a mental institution. He initially met Barbara in 1968, when she was a 21-year-old motorcycle gang member who had been thrown out by her parents for having a child out of wedlock, and within three months the two were living together. Court records show he and Barbara had two daughters in the early 1970s, then wed in 1974.
Before long, however, their marriage was marred by jealousy, infidelity and violence. They separated 10-15 times during their four years together. According to Barbara Smith, her husband beat her repeatedly; according to Leonard Smith, his wife cheated on him with his probation officer. "She always made it possible for me to see," he's quoted as saying in court documents. "She flaunted it in my face."
"It wasn't a healthy marriage, to say the least," recalls Nick Thiros, Leonard Smith's attorney at the time. "They had a lot of problems."
One month before Bostock's death, Barbara says Leonard smacked her after accusing her of coming home too late. She immediately grabbed her children, packed a bag and moved across town to live with Hawkins, her sister. Shortly thereafter, Barbara filed for divorce.
On the morning of Sept. 23, 1978, Leonard and Barbara spoke one final time -- a futile attempt, he claimed, to win her back. Later that night, at approximately 10:30, Leonard pulled up to Hawkins' house, hoping to take his wife out on a spur-of-the-moment date. That's when, while sitting in his car, he spotted Barbara climbing into the back seat of Turner's Buick with Bostock -- a man Leonard didn't recognize, but one he was quite certain was having an affair with his spouse. "It looked as though he was whispering in her ear or kissing her on the cheek," he later said. "I could see nothing else, just him and her."
When Turner pulled away from the house -- Hawkins in the passenger seat, Bostock in the back behind her and Barbara Smith next to him, on the driver's side -- Leonard followed closely behind. Despite later reports that there was some sort of NASCAR-esque car chase through the streets of Gary, Turner says nothing could be further from the truth. "We were just riding down Fifth Avenue, normally, talking, no big deal," he says. "I stopped at the red light on Fifth and Jackson, where a BI-LO retail store used to be."
At 10:44, Leonard Smith pulled his vehicle next to the passenger side of Turner's Buick, rolled down his window, leaned out and fired a shot in the direction of his wife. "I saw Leonard look at our car," Barbara later testified, "then he looked into the back seat and smirked."
BANG!
"I thought our tire had blown out," Turner says.
When he turned around, however, Turner saw Bostock's head slumped onto Barbara's shoulder. As Barbara screamed -- "Tom, I seen him! Go get him! That's my stupid old husband!" -- Turner watched Leonard's car speed off into the distance. Turner dashed into a grocery store, begging for someone to call 911. Within minutes an ambulance arrived to take Bostock to nearby St. Mary's Mercy Hospital.
"The whole time, Wesley never said a word," Turner says. "Not one word."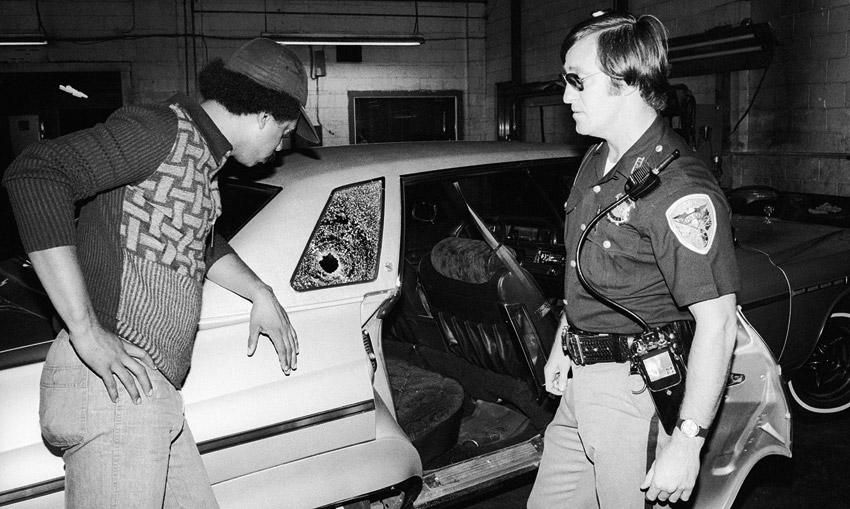 Corbis
Police inspect the back window of Tom Turner's gray Buick Electra 225.
Technically alive
On Aug. 23, 1978, exactly one month to the day before Lyman Bostock was shot, a man from nearby Portage, Ind., was crushed between two railroad cars. Granted, as a switchman for U.S. Steel, Paul Hutchins knew the risks that came with the job. Co-workers lost fingers, lost toes, found themselves face-to-face with speeding engines. "It wasn't easy work," Hutchins says. "You never knew what could happen."
Just 23, Hutchins thought himself relatively impenetrable, until he found his body wedged between two railroad cars. For the next month, he was a patient at Mercy Hospital, suffering from, among other ailments, a crushed pelvis, a torn bladder and a bleeding ulcer. "I also ended up with pretty severe nerve damage," he says. "I've had drop foot ever since."
On the night of Sept. 23, Hutchins was resting in the intensive care unit when he heard a commotion from down the hall. The noise grew louder and louder, until Hutchins saw an African-American man with a goatee being wheeled in on a stretcher, his listless body surrounded by policemen, doctors and paramedics. His face was bloated, and his forehead bloodied and covered by bandages.
"Paul," whispered a nurse, "that's Lyman Bostock."
"Who?" Hutchins asked.
"Lyman Bostock," the nurse said. "One of the best ballplayers in the American League."
At the time, Mercy's intensive care unit was one wide-open space -- no walls or dividers, just beds bedside beds beside beds, all surrounding the nurse's station. Bostock and Hutchins were literally side by side, the millionaire ballplayer and the railroad worker.
"He's alive, right?" Hutchins asked.
"Well," replied the nurse, "technically."
For the next two hours, Hutchins listened to the slow BEEP ... BEEP ... BEEP of Bostock's heart monitor. Then, suddenly, the noise ceased. Hutchins looked over and saw that the man's chest had stopped rising.
Lyman Bostock, age 27, was dead.
"To watch a man die ... well, it's jarring," Hutchins says. "An hour or so later they came in, covered him up, closed the curtain. I'll never forget the nurse walking out with all these bloody sheets and rags, holding them in her arms."
"He didn't make it"
The telephone rang, and Youvene Bostock picked it up.
"Your husband," one of Lyman's uncles said, "has been shot."
Come again?
"Wesley was shot," he said. "In Gary."
What does one think at a time like this? Oh my God, what happened? Oh my God, is he OK? Oh my God, how will I get there? Oh my God ...
"I was supposed to host Bible study for the players' wives at my house that night," she says. "I had to tell someone it wasn't going to happen."
In hindsight, it is clear Youvene was in a state of shock. How, after all, could Lyman Bostock have been shot? He was a good guy. A great guy. A beloved guy. Why would anyone shoot the man?
Along with Annie Pearl, Youvene rushed to Los Angeles International Airport to catch the first flight to Chicago. Though both were distraught, they were hoping for the best. Lyman was a tough guy. Maybe it was just a flesh wound. He would be fine. Upon arriving at LAX, however, Youvene was paged for a phone call. It was one of Bostock's uncles.
"Lyman's dead," he said. "He didn't make it."
As soon as Annie Pearl learned her only son was gone, she passed out and collapsed to the floor. The two women soon boarded a United flight and were isolated in first class. Annie Pearl clutched her heart throughout the four-hour trip, repeatedly uttering, "My baby ... my baby."
"I was just trying to be strong for her," Youvene says. "But inside I was thinking, 'What am I going to do?' To this day, I don't understand why they told us he died right before we boarded the plane. It could have waited."
Officer Dan DeLeon describes the arrest of Leonard Smith.


The women were taken by police escort to the hospital and led to Bostock's bedside. Though still bloated, his head was cleaned up. No wounds were visible. "I saw him there, lifeless," Youvene says. "You don't forget that."
One day earlier, in the third inning of the loss to the White Sox, Bostock had found himself on third base after doubling and advancing on a wild pitch, standing alongside Chicago's Eric Soderholm. "Lyman told me, 'I got my life straightened out off the field,'" recalls Soderholm, a former teammate with the Twins, "'and that turned it around on the field.'"
Bostock was referring to his marriage, which, after much work, was soaring, along with his batting average. Now, less than 35 miles away from Mercy Hospital, in the lobby of Chicago's Water Tower Hyatt, Angels players and coaches -- having initially learned from TV news what had happened -- sat silently in disbelief. Ron Jackson, Bostock's closest friend on the team, was filled with rage. "Let's go get the guy who did this!" he bellowed. "Let's find him!" Then Jackson broke down and cried.
The next morning, before California and Chicago were scheduled to meet in the third and final game of the series, every member of the Angels filed into a small room beneath Comiskey Park to attend team chapel. It was there, in the concrete bowels of a baseball stadium, that a Chicago-based lay minister named Mal Schaus tried to explain life's unexplainable. "One of the last things any of us wants to do is go out and play baseball," Schaus said. "But one of the things we know is that we must go on when we live on this earth. There is a reason for going on. I can't tell you what it is. Nobody can. We're talking about a question of faith. I pray for understanding. I ask you to do the same."
Somehow, following a lengthy moment of silence, the Angels -- with Kenny Landreaux starting in right -- went on to beat the White Sox 7-3. Before he left the dugout that evening, Rick Miller, the center fielder who had played 128 games alongside Bostock, reached into his former teammate's equipment bag and grabbed a mahogany-stained bat with LYMAN BOSTOCK branded along the barrel. "I took it so I could keep it," says Miller, now the manager of the independent Nashua Pride in New Hampshire. "Somebody might think I should sell it on eBay -- well, there's no chance in hell. That bat is still with me, and it's gonna stay with me until I pass. Then my son will have the honor of getting it -- the honor of owning something that belonged to Lyman Bostock."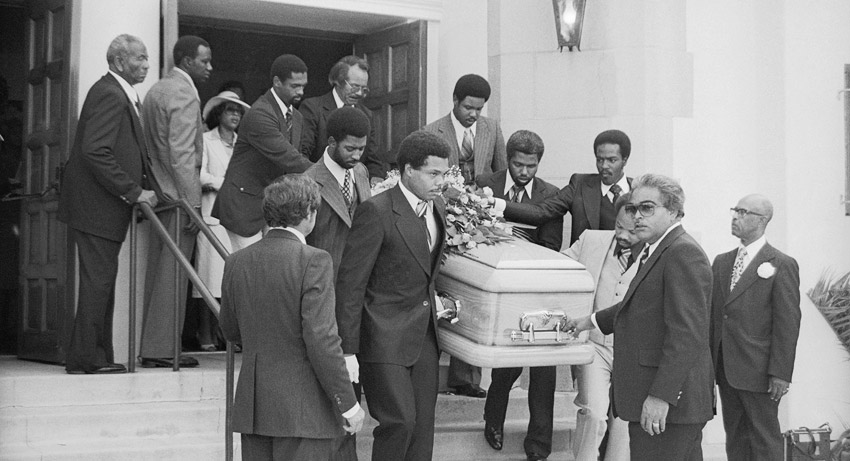 Corbis
Youvene Whistler, standing in the doorway, says she can't recall many details about her husband's funeral.
"They just kept coming"
Five days after Bostock's death, more than 800 people squeezed into the Vermont Square Methodist Church in Los Angeles to bid farewell to a 27-year-old man who would have cringed at all the attention. Hundreds lined the nearby streets, a somber collection of men and women, adults and children, lawyers and plumbers, doctors and construction workers. Some stood to see what all the fuss was about. But most were, simply, stunned. Whereas other athletes from the tough streets of L.A. often made their money and left for the Hills, Bostock knew whereof he came. He worked with local kids, contributed thousands of dollars to a new low-income housing complex, invested in a local chain of photo kiosks and an apartment complex. He was one of them, and it showed. "They came on bicycles. They came walking," wrote Brad Pye Jr. in The Los Angeles Sentinel, the city's African-American weekly newspaper. "They came talking. They came on crutches. They came in Cadillacs and other cars. They came dressed up, and they came in rollers and curlers to watch from a distance. They came in record numbers. And they just kept coming."
With Bostock inside a closed casket, Youvene, wearing a white dress, and Annie Pearl, clad in purple, were escorted to the front of the church. "Onward Christian Soldiers" played from the organ. Too distraught to offer a eulogy, Fregosi asked pitcher Ken Brett, California's player representative, to speak on the team's behalf. "When he found the road to success, his first thoughts were to help the people who had helped him," Brett said. "We are all better people for having known Lyman and having him touch our lives."
Youvene's face was a blank canvas. She neither cried nor wailed in agony. She just ... sat. Thirty years later, the widow remembers very little about the day. Shown a yellowed Washington Post clip headlined "Bostock eulogized as 'winner' by teammate Brett at funeral," she is shocked not only to learn that her husband's four half-brothers attended the funeral, but that he actually had four brothers. "Until now, I had no idea," she says. "They were Lyman's father's kids. They weren't in his life.
"But it was nice for them to be there."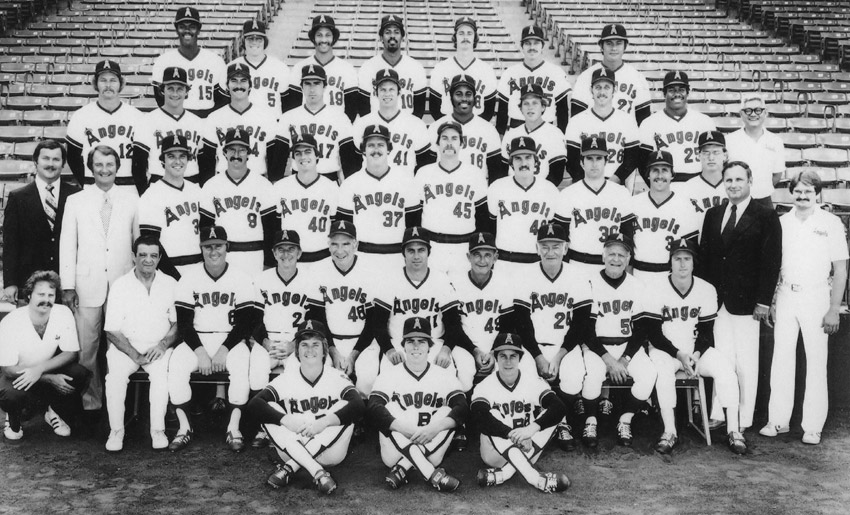 Courtesy Los Angeles Angels of Anaheim
In his first season with the Angels, Bostock, No. 10 in top row, quickly gained the respect of his teammates.
A cruel twist
The story is supposed to end here.
Ballplayer dies.
Loved ones mourn.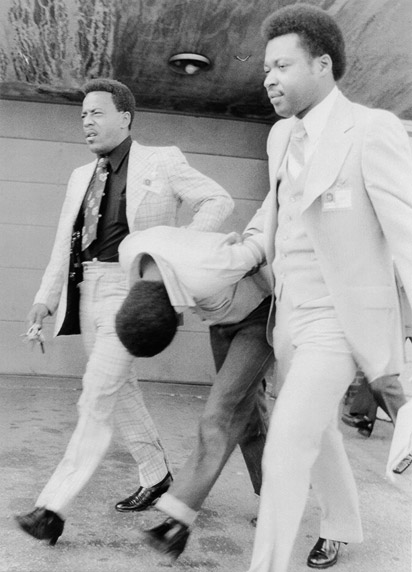 Corbis
Leonard Smith, shown being transferred by two officers to Lake County jail, was quickly apprehended as the shooter.
Killer is jailed.
Life goes on.
But it does not end here. For the family of Lyman Bostock, it will never end, not as long as Leonard Smith roams free.
Within an hour of the shooting, three Gary police officers interviewed Barbara Smith, who told them the killer was, without question, her husband. Upon arriving at Leonard Smith's mother's house, the officers saw his car parked out front. When the apartment door opened, there he stood, outfitted in the same clothes described by his wife -- a white T-shirt and blue pants. "She also mentioned that he was wearing a hat," recalls Dan DeLeon, one of the officers on the scene. "Well, when we arrested him, Leonard said, 'I'll come, but can I just grab my hat?' He put on the exact hat described. It was clear we had our guy."
Smith was brought to the police station, finger-printed and placed in a holding cell nicknamed "The Bullpen." When Kenneth Shannon, a homicide detective, attempted to interview Smith, he uttered a couple of sentences, then demanded to speak with an attorney. "That was fine, because there was absolutely no doubt about his guilt," Shannon says. "You had the murderer, you had the motive, you had the witnesses. It seemed to be a pretty case-closed deal."
Over the next two years, however, Bostock's family and friends watched in horror as Smith deftly worked the system. Thanks to his mother's financial assistance, Smith was able to hire Thiros, a quick-minded, smooth-talking Gary-based defense attorney who was regarded as one of the Midwest's top legal minds. "He was a tiger," says David Nicholls, the chief deputy prosecutor at the time of Smith's arrest. "Nick was a real tough cookie who was dynamic and bombastic in a courtroom." In short, if you wanted to beat a murder charge, Nick Thiros was your man.
"It's not a defense of who-done-it, that we know," Thiros recently told ESPN's "Outside the Lines." "Everybody knew that Leonard did it. The question was how would I defend him."
Smith was indicted by a Lake County Grand Jury on Oct. 26, 1978, and faced 30-60 years in prison if convicted. Then, six days later, the first bombshell was dropped. Thiros entered a plea of not guilty by reason of insanity on behalf of Smith. As explained in the Nov. 2, 1978 edition of the local Post-Tribune: "If Smith is judged insane, psychologists would be asked to determine if Smith is mentally incompetent or a danger to himself or others. [Senior Lake Superior Court Judge Andrew] Giorgi then would have to decide whether to begin Smith's commitment to a state mental hospital or free the Gary man because he has recovered from his insanity."
Wait ... free him?
"It made no sense whatsoever," says Lillie Pearl Turner, Bostock's aunt. "You can murder someone in cold blood, then come up with a reason that you were crazy and get off? What kind of justice standard was that?"
Answer: the justice standard enforced by the state of Indiana, where defense attorneys knew the best shot for a guilty defendant to gain freedom was to plead not guilty by reason of insanity.
When the trial finally began on July 10, 1979, Thiros zeroed in on a single goal: proving Barbara Smith had caused his client to lose his mind. "Barbara Smith played with Leonard Smith like a yo-yo," he told the nine-man, three-woman jury in Lake Superior Court. "Barbara Smith is responsible for this entire incident."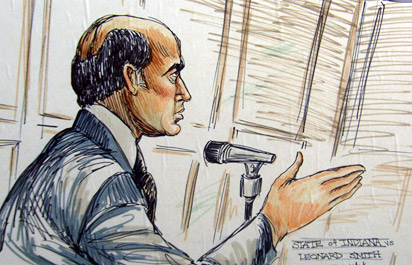 NBC News
Defense attorney Nick Thiros successfully argued Smith's insanity defense.
Two days later, a mistrial was declared when the jury failed to agree on a decision. On Nov. 12, 1979, a second trial began. When two court-appointed psychiatrists testified Smith was sane when he shot Bostock, most surely believed the jury would find the defendant guilty. But Thiros had one last trick up his sleeve. As the final witness of the entire case, he called Dr. Frank Brogno, a charismatic man who had been Thiros' psychology professor as an undergraduate at Indiana University. As opposed to the two stiff psychiatrists called by prosecutor Jack Crawford, Brogno was a humorous, easy-going man who could speak to the jury members in layman's terms. "Rather than using big medical terms, he talked to them in everyday language," Thiros says. "He was able to convince them that Leonard was temporarily insane."
With dozens of Bostock's family members looking on, Lake Superior Court Judge James Kimbrough ordered Smith confined to Logansport State Hospital. When, in June 1980, psychiatrists declared Smith no longer mentally ill, he was released and allowed to return home less than a year after first going on trial.
On the bright side, the outpouring of anger over Smith's freedom convinced Indiana legislators to change state law. Beginning in the early 1980s, not guilty by reason of insanity could no longer be used as a get-out-of-confinement-free card. "Now if you're in a mental institution and they decide you're sane, they put you in prison," Thiros says. "I understand the change, but I'm not in favor of it."
On the other side, Leonard Smith walked away, free to live his life. Lyman Bostock enjoyed no such luxury.
Letting go
I am parked outside his building, waiting ... thinking ... wondering if I am a righteous, hard-nosed journalist, or whether -- as my wife insists -- I have taken this Lyman Bostock thing entirely too far. Farther even than Youvene Whistler.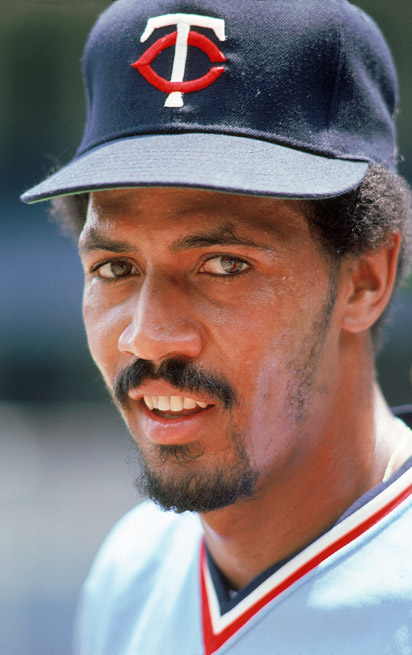 Rich Pilling/MLB Photos/Getty Images
"We are all better people for having known Lyman and having him touch our lives," Angels teammate Ken Brett said.
Here, on Jackson Street in Gary, the buildings are either boarded or burnt-out. The street is littered with plastic bags and yellowed newspapers, the alley grass as long as a Michener novel. At the neighboring Jackson Street Bond Curry Community Center, a rusted sign reading "Faith Center" has fallen and rests, appropriately, in a pool of muck.
It is here, on this one-way street to nowhere, in front of the same three-story brick building that Leonard Smith called home 30 years ago, where I am faced with one of the most difficult decisions of my life: knock on the door of a killer ... or drive away to safety.
He is inside. I know this is true because the light is on and, these days, at age 61, Smith seems to largely confine himself to the solitude of his small apartment. "You don't hear much from Leonard anymore," says a local. "He's quiet." Back in the day, Jackson Street was considered one of Gary's nicer locations. Now, it's a soulless slum.
One month earlier, I had called Smith to request an interview. Perhaps, with the passage of time, Smith had mellowed. Perhaps, with the passage of time, he had a story to tell. Perhaps ...
Me: "My name is Jeff Pearlman. I'm a writer for ESPN.com, and I wanted to see if I could talk to you."
Smith: "About what?"
Me: "Well, about the death of Lyman Bostock."
Smith: "I'm not interested. Have a nice night."
And that was that. I followed up with a FedEx letter, explaining my intentions to "try and tell your side of the story," but never received a reply. Another phone call went unreturned.
So now, here I sit, anxious to fill in the blank to the final question of this story: How has Smith, nearly 30 years removed from the murder of Bostock, lived with himself?
Little is known of his life the past three decades. Once, a dozen or so years back, he supposedly owned a used-car lot in downtown Gary. Five or six years ago, Shannon, working security on Purdue University's Calumet campus, spotted Smith strolling from one building to another, presumably taking classes. "I escorted you to jail," Shannon told him. "For Lyman Bostock."
"Oh," Smith said. "That was a long time ago." Then he walked away.
I want to knock on Smith's door, want to show my face and ask him about his existence, about his family, about that night on Fifth and Jackson, when lives were permanently altered. I want to tell him what he put Youvene Whistler through, about what she thinks about every month, when Lyman's baseball pension check arrives in the mail. I want to know what it's like to carry around that type of guilt, whether he even feels that type of guilt.
But as I'm working up the nerve, I hear Tom Turner's voice in my head. The words are from a conversation we had a day earlier, when he insisted that, after so much pain, he had finally forgiven Leonard Smith for any wrongs. "You can carry around a very heavy weight in your heart," Turner said, "or you can focus on all the good there is out there; all the good Wesley brought us.
"I haven't forgotten what Leonard Smith did, but I've moved on. And that's the only way to handle something like this -- the only way everyone should handle something like this.
"Rise above, move on and remember the beauty of Lyman Bostock."
So, I drive away.
Jeff Pearlman is a writer for ESPN.com and author of "Boys Will Be Boys: The Glory Days and Party Nights of the Dallas Cowboys Dynasty," which was released earlier this week.
Join the conversation about "Fifth and Jackson."