Friday night, Graziano's Casa Mia, Canastota, N.Y. THE LIONS' DEN
There's Emile Griffith at 29, all sinew and sweat and wide-open eyes, trading punches with mop-haired Nino Benvenuti, who's taking the middleweight title away from him. Griffith, now 69, signs the glossy 8-by-10, black-and-white image of his youth. His face has not changed much, unscarred, unlined. From a distance, he seems pretty hale. A few pounds over his fighting weight, sure, but he still fits in a freshly pressed blue blazer of uncertain vintage -- the only nod to passing time is the AAU patch on the chest pocket that is hanging by a thread. And it's clear he still glories in the fight game. From a 14-karat chain around his neck hangs a pair of gloves the size of overfed goldfish.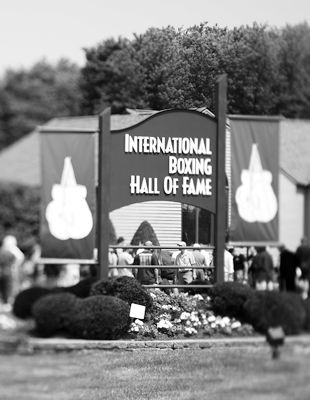 Al Bello/Getty Images for ESPN.com
Every year in June, the International Boxing Hall of Fame holds a reunion of the sport's most colorful personalities.
Yet the skills that made him a great boxer are gone -- the speed, the hard body, the instincts and the reflexes. Utterly gone. Maybe all that's left is courage. In his prime, it was the courage to stand across the ring from another man trained and poised to do him bodily harm. Now it's the courage to sit on the other side of a velvet rope and be measured against his former self in the eyes of strangers.
"Sign it to Doug," says a paunchy guy in an Everlast T-shirt that has never seen an honest sweat. He's barely 40, not old enough to have seen the Benvenuti fight, not old enough to have seen Griffith at the height of his game. No, what he knows of Griffith he gleaned from the documentary "Ring of Fire." Knows that Griffith's sexual orientation is unclear, though he denies he's gay. That Benny Kid Paret taunted him as a maricon before a bout in 1962. And that, in turn, Griffith, usually a technician more than a brawler, killed Paret in the ring. The fan hands Griffith a felt pen.
Griffith has been sitting here for an hour, and the line has barely budged. Every letter is a labor, as if he were cutting "Doug" into stone with a hammer and chisel. When a fan asks him to pose for a picture, Griffith needs a hand getting up out of his chair, not because of the toll of his 90 fights, but because he was mugged, robbed and left for dead 10 years ago. Other champions here won't autograph photos from losing fights. The fan seems worried when Griffith pauses, the words refusing to come.
Finally, he asks: "How do you spell 'Doug'?"
WALKING THE HALL
Take a visual tour of the International Boxing Hall of Fame and meet some of the men who roam the Lions' Den.
LAUNCH THE PHOTO GALLERY
All around Griffith, other famous former boxing champions are moving into the private dining area reserved for them in the back room of Graziano's Casa Mia. The Italian family restaurant is party central on the International Boxing Hall of Fame's induction weekend. The sign over the entrance to the private room: The Lions' Den. For 51 weeks a year, it's where the Lions' Club of Canastota meets. For a weekend every June, here 25 miles east of Syracuse, it's where former lions gather.
In that back room, old-timers slap each others' cheeks, smile and fall into clinches. They once tried to do each other harm but now are throwing their arms around each other. Boxers, even former boxers, would seem to be the athletes most likely to be immune to wet-eyed sentimentality, but it turns out they're pure suckers for it. Years back, the old featherweight champ Willie Pep joked about the cruelty of the game: "The first thing to go are your legs. Then it's your reflexes. And then it's your friends."
This weekend, a thousand moments poke holes in Pep's theory. Here's one:
Marlon Starling ducks his head out of the Lions' Den. He watches Griffith for a minute and then leans over his shoulder to whisper in his ear: "I'm gonna get you in the ring next, champ." That might sound like a threat anywhere else, but here it's an expression of respect and -- yes, love.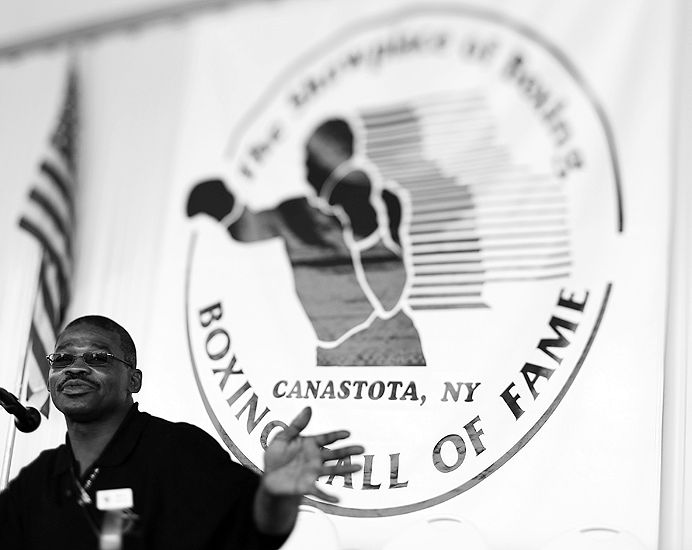 Al Bello/Getty Images for ESPN.com
"I loved boxing more than making love to a woman," says Marlon Starling. "It's a tough thing to love. It physically hurts."
A likely object, an unlikely source. Griffith, a gentleman and an honest workman, was always beloved by boxing's demimonde. Starling was only grudgingly respected. He grew up in Hartford, Conn., like Willie Pep, but even as welterweight champion was barred from the gym where he had trained as an amateur. He could only half-fill the Hartford Civic Center for one of his title defenses. Those he couldn't fire, he pushed away. As champion, he once announced himself as the trainer, manager, spokesman and chief asset of Marlon Starling Enterprises. His love of himself was matched only by his contempt for everyone else, like when he would point to the biggest home in Hartford as the symbol of all he was, all he had achieved.
Starling claims he was always misunderstood. "I loved boxing," he says. "I loved boxing more than making love to a woman. It's a tough thing to love. It physically hurts. It's punishing. Tougher than that is the psychological part. It's doing without a lot of things. It's lonely. You're not part of a team like you are in other sports; there's a team behind you, a trainer, a manager, but not a team with you. It's not like you get to know people who do what you do. You have to push them away."
But now Starling is standing behind Griffith. A protector. A caretaker. Seeing him in this role, it's easy to believe he has been chastened by life after he left the ring for good at age 31. With no friends to lose, the first thing to go was his title, then the house on the hill overlooking Hartford, then what was left of his millions.
These days, there's an apartment, not an estate. He has worked in a variety of jobs: maintenance, security, whatever. In his other life, you couldn't buy his time; now Starling gives it away for free, going to the gym and working with young fighters. And he swears things have changed, but he hasn't. "I didn't hate other boxers. I understood them, because I knew what they had to go through. That's what brings together fighters as friends, old-timers like Emile who I've met over the years or fighters I'll meet for the first time. I never met Buster Douglas before tonight, and I feel like I've known him all my life, like he's my friend for life now."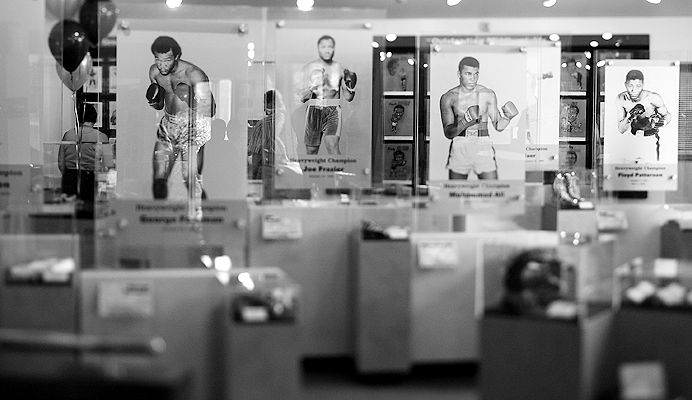 Al Bello/Getty Images for ESPN.com
In their Hall displays, George Foreman, Joe Frazier and Muhammad Ali get along quite peacefully.
Saturday morning, Canastota Country Club TRASH TALK BETWEEN DANGEROUS FRIENDS
A few famous names are out on the course, running up scores like punch counts in the Hall's golf tournament. Marvelous Marvin Hagler is long and wild; you might be as safe in the ring with him as in the neighboring fairway on his hook side. Great athletes in their days, yeah, but not wired for golf. The game is probably better left to those who can go gently into the twilight.
Meanwhile, those former champions who've decided to stay in the shade are standing in line to have their photographs taken in a makeshift studio set up in the clubhouse. The photographer adjusts his lights and positions their heads -- chins that once felt the brunt of right crosses are now raised by the photographer's index finger. Those in line mill around, waiting to get called like they did when waiting to leave their dressing rooms to enter the ring. Vito Antuofermo, the middleweight champ from the '80s, gives it the Italian steal sign -- no expression, look right, look left, like Clemenza in "The Godfather." He jumps in front of Iran Barkley when the Bronx Blade's head is turned.
"I was ahead of you," Barkley yells.
Antuofermo drops an f-bomb through gritted teeth, a smile creasing the scar tissue around his eyes.
"I'm gonna come down to Howard Beach and f--- you up," Barkley yells, then laughs.
"Don't make me laugh," Antuofermo says. "We wouldn't let you into Howard Beach. Maybe Bonecrusher Smith, but not you."
Antuofermo looks like he could still fight, or at least he's still hitting the gym. His arms and chest are thicker than in his fighting days, more bodybuilding bulk than boxing power. While Barkley gets his photo taken, Antuofermo continues trash-talking. But it's no threat to boil over, Antuofermo explains. "We can say these things now. It's another stage of life, but if we had said those things when we were current fighters, it would only be one or two things and then we wouldn't bother with words, we'd be fighting. It's different now. We're friends."
As for friends being the last thing to go, Antuofermo tuned out friendly advice not to go on. "My manager wanted to retire me after the second Hagler fight," he says. "I was getting hit by the same punch twice, getting hit by punches that I didn't get hit by before. When I tried to get licensed the last time, a spot showed up and that was it."
A spot. The way he talks about it now, the spot on his brain that showed up on a CAT scan might be a spot of marinara sauce on an old T-shirt.
Moments later, Antuofermo picks up a photo of Emile Griffith. "This is why I come," he says. "When I was a boy in Italy, we didn't have a TV. We had to go to a Juventus sports club at 3 a.m. to watch Nino Benvenuti fight Emile for the title. We came to New York after that. Four years after he fought Benvenuti, I was fighting in Golden Gloves at 16. First bout of the tournament, Emile comes to the dressing room before the fight, signing autographs for us, shaking our hands. Next day, I show up at the construction site and everybody asks me how it went and I say, 'I got Emile Griffith's autograph.' I don't even bother to tell them I won my fight."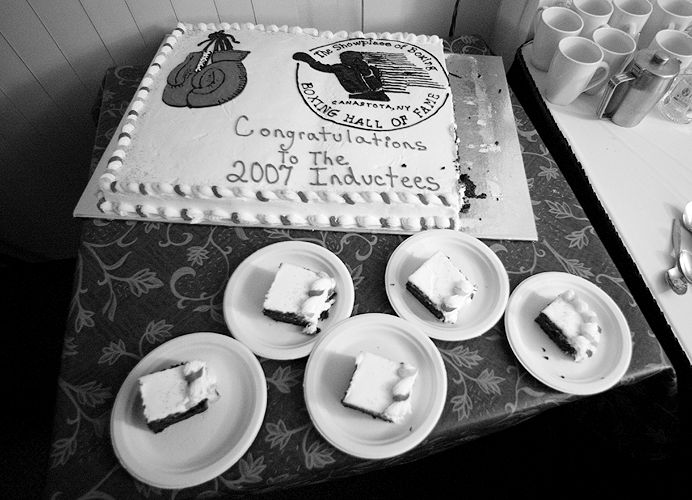 Al Bello/Getty Images for ESPN.com
If you're a boxing fan, the weekend provides the ultimate chance to have your cake ... and eat it, too.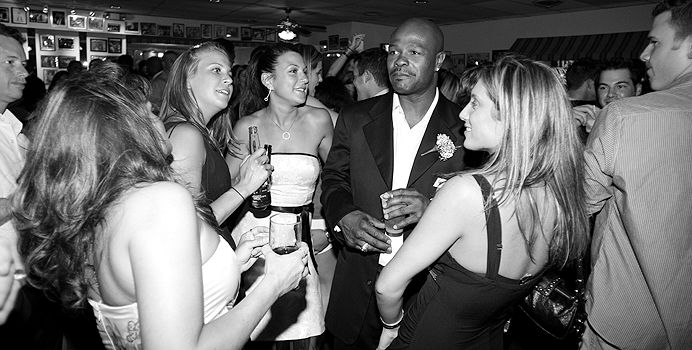 Al Bello/Getty Images for ESPN.com
Former champs, such as Terry Norris, are the center of attention during festivities at Graziano's Casa Mia.
"I WAS SUGAR BEETS, AND HE WAS ONIONS"
Befitting their status as boxing royalty, a couple of middleweight champions from the '50s have their entourages. Gene Fullmer is flanked by his younger brothers, Don and Jay. Carmen Basilio is with his family from around Canastota. The strain is starting to show on the two oldest boxing legends to make it out for the weekend. They get around all right -- every once in a while, a fan extends a hand for shaking, and Basilio gives him a fist in the solar plexus and a gentle slap before the fan can react. Sometimes, though, it seems like only the muscles have memories. They need a break. Don and Jay Fullmer help their 76-year-old brother up the stairs to a private room in the clubhouse. A few minutes later, Basilio's nieces show the way for the 80-year-old family patriarch.
The fighters' families sit them together at a table and fetch some fried chicken. A private moment during a very public weekend seems to stir memories. "I remember when we fought and at the end of the fight my mother jumped into the ring to hug me and hugged you instead," Fullmer says.
It would have seemed hard to mistake one for the other, Fullmer with a crew cut and surprising brawn, Basilio with dark eyes and a character actor's tough-guy countenance. They knew each other a bit out of the ring back in their primes, enough to know they came from a distance apart but there was common ground. They grew up on farms, Fullmer in Utah, Basilio just outside Canastota. "I was sugar beets, and he was onions," Fullmer says. "That's all you need to know about us."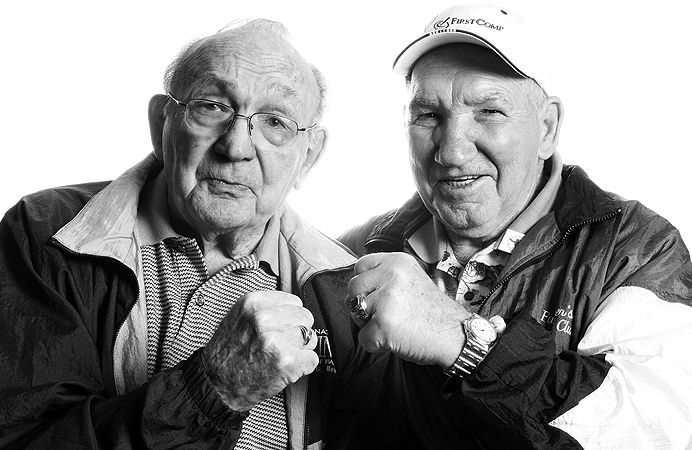 Al Bello/Getty Images for ESPN.com
Once rivals, Carmen Basilio, left, and Gene Fullmer now exchange pleasantries instead of punches.
They might not have had an occasion to meet all these years after the height of their fame if it hadn't been for a story in the paper in Oneida back in 1982, a celebration of the 25th anniversary of Basilio's 15-round victory over Sugar Ray Robinson. The story spurred townspeople in Canastota to set up a modest showcase to pay tribute to Basilio and the other homegrown champion, Billy Backus, Basilio's nephew, who won the welterweight title back in the '70s. Over the years, the showcase for Basilio and Backus, just another roadside attraction off the New York State Thruway, evolved into a small boxing museum and by the early '90s, into the International Boxing Hall of Fame. That's when Fullmer first made it out to Canastota and got to know Basilio. "They musta liked him," Fullmer says. "They put up a big statue for him."
If you're a reporter looking to fill a notebook with stories of the golden age of boxing, you're likely to get more out of the statue than out of Basilio. Ask him about the old days and he'll ask, "Who wants to know?" Or offer a couple of profanities in Italian. Or flip you the bird. Whether he can't go back or won't, it's hard to say.
Fullmer will reflect, but it's so hard you feel guilty asking him to try. His right hand, the one that rained down on Sugar Ray Robinson in their four fights, trembles. Every word is a struggle out of a clinch, and his voice is barely louder than a whisper. The mind is there, though, and at the right moment he winks knowingly, just like he's giving a sign to his corner that he's all right.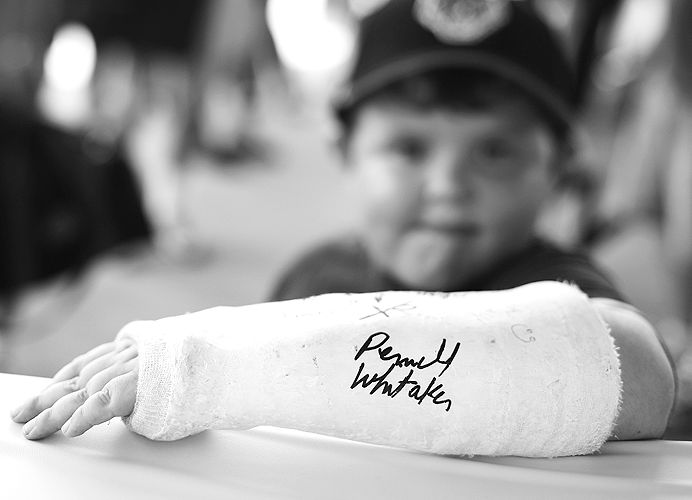 Al Bello/Getty Images for ESPN.com
Aidan Williams of Toronto went home with a souvenir, courtesy of former welterweight champ Pernell "Sweet Pea" Whitaker.
STRANGE BUT CONGENIAL BEDFELLOWS
At a table across the room, James "Buster" Douglas sits down across from Don Fullmer with fried chicken stacked high. You could see how Carmen Basilio's and Gene Fullmer's paths would cross -- men of a certain age, hard rocks whose careers entwined. Harder to put Fullmer and Douglas side by side. Different times: Fullmer's best days stretched dozens of fights back in the mid-to-late 1960s, and Douglas' prime was 10 torrid rounds in 1990. Different styles: Fullmer in his well-worn jeans, baseball cap and work boots looking like he just climbed down off a combine harvester, Douglas in a silk shirt louder than the roars that went up in the wee hours of the morning in Tokyo all those years ago.
"Where ya from, Buster?" Fullmer asks.
"Columbus, Ohio," Douglas says.
"Ohio," Fullmer says. "I fought a couple of times in Cleveland, and I fought in Columbus near the end -- Billy Douglas."
"My father," Douglas says.
"Billy Douglas was your father?" Fullmer says. "He was a good fighter, tall, tough to fight."
Buster Douglas had just turned 10 when his father fought the man sitting across from him. It was Billy's 19th pro fight, his first step up in class. The outcome of the fight goes unmentioned. It's not clear whether Don Fullmer or Buster Douglas remember the details -- in the ring, they raised Billy Douglas' hand but later on the Ohio commission reversed the decision and declared it a draw.
"My father was in the top 10 for a long time, but he never got a title shot," Douglas says.
"Is he still with us, Buster?" Fullmer asks.
"Died a few years back," Douglas says. "Cancer."
"Sorry to hear that," Fullmer says. "He was a tough guy."
Douglas looks out the window, sees fans gathered around Hagler out on the grounds of the golf course and gets lost in thought. Without looking at Fullmer or anyone else, he goes back to his father's last fight. "My father was real sick near the end, couldn't even get out of bed without help," Douglas says. "A guy broke into the house, and my father tried to go after him ..."
"A pistol," Fullmer says of his former foe.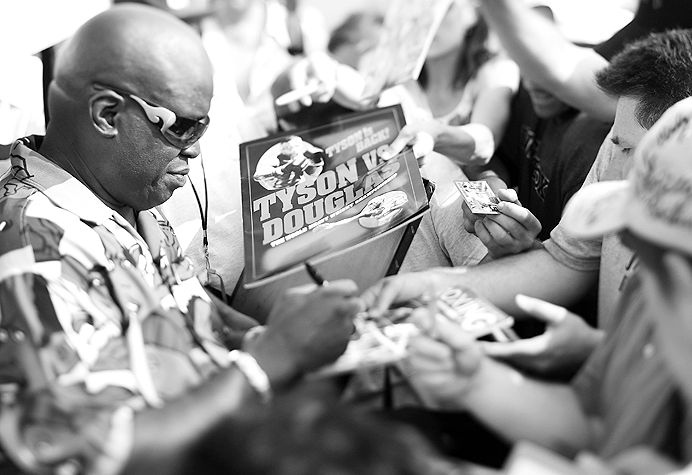 Al Bello/Getty Images for ESPN.com
Every June, Buster Douglas gets to fondly relive that 1990 night in Tokyo when he shocked the invincible Mike Tyson.
Saturday night, Oncenter, Syracuse NO HEART OF STONE
The Hall's officials can't stage their banquet in Canastota. Syracuse is the nearest place with a room that will fit more than 100 tables, each seating 10 guests and ticket holders, a room that will fit a head table that stretches half the length of a football field, lined by 40 former champions and other famous names. One by one, they wait to hear their name and for the spotlight to hit them, like they would in the ring.
This year, though, it's Roberto Duran's show, just as it always was. When he sent Ray Lampkin to the hospital after a vicious 13th-round knockout in a lightweight title defense, he seemed incapable of sympathy or remorse, vowing that next time he was sending Lampkin to the morgue. Duran was 135 pounds of distilled machismo back then. Maybe the machismo was diluted with every pound added and every passing year, but it was still potent enough to take him to championship belts right up to middleweight, 17 years after beating Ken Buchanan for his first title. He never seemed to do it for the fans. He drew his strength from something darker, deeper.
The introductions begin. Basilio is first and then others follow, applause never quite dying down, those in attendance standing throughout. Midway through, it's Duran's turn. He's 100 pounds over his fighting weight from when he first turned pro, but it's not his mid-section that's softened as much as his face. The fire in his eyes has gone cold. He smiles. Pipino Cuevas, a welterweight champ from Mexico taken out viciously by Duran, hugs him. Others line up to do the same.
A thousand plates are laid out around the room and along the head table, and none is left cleaner than Duran's. Soon, it's time for speeches. Duran stands up. His voice was once high-pitched, and anger was its default setting. Now it's hoarse, yet soft. "Opponents are now family," he says.
Seventeen years after his win over Buchanan, Duran climbed into the ring with Iran Barkley. The promoters billed it as a grudge match, Barkley looking to exact revenge for his friend Davey Moore's loss to Duran five years before, a loss that sent Moore into an emotional tailspin. Moore, who fought for several more years after Duran schooled him, was killed when the brakes on his Dodge Raider failed, and the SUV rolled over him in his driveway. "It never was about Davey," Barkley says at the banquet. "Duran didn't kill him. It was just a horrible accident." Duran beat Barkley to capture the middleweight title in a vicious brawl named Fight of the Year, yet Barkley makes it sound like a fond memory. "I respected Duran, and I made him respect me that night, no matter what the decision was," Barkley says. "It was a night for warriors, for sure."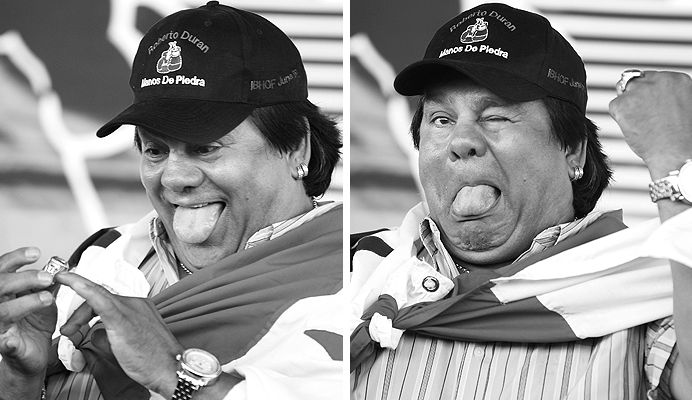 Al Bello/Getty Images for ESPN.com
No longer a stone-faced puncher, Roberto Duran let his emotions ring true during his 2007 induction.
Saturday night, Graziano's Casa Mia OUTSIDE LOOKING IN
They've made their way back to Canastota after the dinner and, near midnight, the party rocks. "Love Train" is playing and Livingston Bramble, still dreadlocked, still at his fighting weight, is at the front of a dance line that snakes through Graziano's, like the boa constrictor he sometimes used to carry into the ring.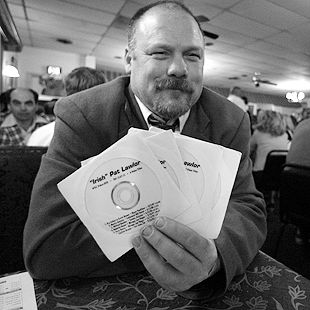 Al Bello/Getty Images for ESPN.com
He needs a ticket to get in, but Irish Pat Lawlor is still the consummate showman.
Irish Pat Lawlor watches Bramble. "I hate to dance," says Lawlor, who looks like a bulldog walking on its back legs. Lawlor is happy to hang out at Graziano's, just to soak in the scene and soak up a few beers. He has come all the way from San Francisco for the banquet but had to buy a ticket. He's not in the Hall and it's a safe bet he won't go in, except to look at the exhibits. Unlike other ticket-buying boxing fans, however, Lawlor fought Hall of Famers, and fans line up to shake the hand of a fighter who beat Duran, albeit near the end, who beat Wilfred Benitez, albeit near the end.
Lawlor should have been at the head table. He was an honest workman inside the ropes, a natural comic and poet out of the ring. He entertains the fans at Graziano's with one-liners that have been honed with speed-bag timing. "I fought Roberto Duran in Roberto Duran Arena on Roberto Duran's birthday," he says. "It was like fighting Jesus Christ on Christmas Day in Bethlehem."
Ali had "Float like a butterfly ..." but Irish Pat Lawlor has written an epic poem, his career as a dirge. It's a through-the-looking-glass "Casey at the Bat." It begins:
Sometimes I think it's a lowdown shame
The way I try to hang in this rough, crazy game
My body is aching
My hands and feet are sore
I'm getting really tired of pulling myself off the floor
It has been a couple of years since his last fight in 2006, but Lawlor is still a cult hero in the Bay Area -- well, a cult figure anyway. His story is throwback stuff, "Fat City." Lawlor grew up on the streets of the Sunset District, where the sun only occasionally broke through the clouds and rarely shone on him. The gym was the nearest thing to a home for the half-Irish, half-Italian kid. By sheer force of personality, he used to fill the Civic Auditorium, and it seemed like half the crowd knew him personally, and a good number of them had had a beer with him a couple of nights before.
He wasn't in the same league as the greats on the stage at the banquet. In a weak moment, he'll admit regrets or at least wonder what might have been. "I could have retired after losing to Hector Camacho and finished 20-5," he says. "Then I'd be remembered as a very good fighter."
At that point, hope gave way to necessity. He had no trade to fall back on, so he traveled the world and collected stamps on his passport and losses in other guys' hometowns. Promoters bought the use of his name on their up-and-comers' records, the price dropping every year. Lawlor ended up getting $5,000 to fight Duran in a rematch in Panama. Near the end, he said: "I feel like a whore being put out by a pimp."
It should have been enough to make Lawlor hate the fight game. And yet he has made this pilgrimage to Canastota. He's not sure whether he'd do it all again. "Doing it again differently" is how he qualifies. But he leaves no doubt. "If I still could fight, I would," he says. That his love of the game wasn't always reciprocated, well, it makes for good poems anyway.
Sunday afternoon, International Boxing Hall of Fame grounds, Canastota AMONG LEGENDS AND FRIENDS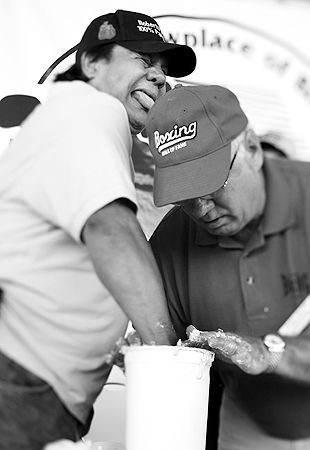 Al Bello/Getty Images for ESPN.com
Duran's famed "Hands of Stone" are cast for future generations to see.
They pay tribute to Willie Pep the way they do for all past champions who can't make it back: a 10-count, tolled on a ring bell. A respectful, solemn silence accompanies it.
On the count of 10, Roberto Duran raises his head and looks out at the people assembled under the canopy in reserved seats and those sitting and standing on the grass farther from the podium. He seems playful now. In his induction speech, as Amilcar Brusa, an 85-year-old trainer from Argentina, stands on the podium and describes how street urchins would walk into his gym to become champions, Duran waves to get the crowd's attention and says, "That's me."
Softened, and not just by abundant suet. In his prime he was Hands of Stone, Manos de Piedra, but this week he had his fists cast in plaster for display in the Hall. When it's his turn to get up to speak, there's no sign of the Duran of old, just a modesty of middle age and mortality.
Roberto Duran Jr., in his early 30s, is standing off to the side of the stage, a guest, not a member of the fraternity, not even a Pat Lawlor. Roberto Jr. had a brief pro career, seven fights, five wins, one no contest and a split-decision four-round loss in his last bout a couple of years ago. He lacked his father's talent and fire. He's as soft-spoken as his father was brash.
A few years back, he and his father were in a car crash in Argentina. His father's injuries ended his career and at least briefly threatened his life. Roberto Jr. insists neither the crash nor retirement changed his father.
"My father always respected the other fighters. What he said was a show. What the fans wanted. What he wanted other fighters to hear. He was always a good man, a good father. He sent Ray Lampkin to the hospital and said bad things -- and visited him in hospital. He fought Esteban DeJesus and then visited him when he was dying."
"This is good for my father," he says. "Now that boxing is over for my father, he can have peace."
They'll gather in the Lions' Den and on the stage again this June. They'll laugh about the times they tried to kill each other and, yeah, they might even cry about losses that don't show up on their fight records. In Canastota, it's the bittersweet science.
Gare Joyce is a regular contributor to ESPN The Magazine and ESPN.com. He is the author of several hockey books, including "Future Greats and Heartbreaks: A Year Undercover in the Secret World of NHL Scouts."
Join the conversation about "Fight Club."