ssst. Do us a favor. Put down the dog-eared RPI printout. Minimize that bracket PDF. You have until
high noon Thursday
to make your final NCAA Tournament picks, plenty of time to break down Notre Dame vs. Winthrop and figure out where Belmont is on a map. (Nashville. You're welcome.) In the meantime, relax. Indulge us. We have a story for you.
Actually, it's a story about you.
For four days in March — four glorious days in March — all of us are exactly alike: unproductive, fanatical, irrational and, if you ask the human resources department, downright criminal. So don't ask the HR department, or the lawyers, or your boss, since all three basically exist to stamp out fun wherever they find it.
That is, unless they're busy filling out their own brackets.
Between Selection Sunday and Thursday's opening tip, that's when we truly stand united, bound by our annual obsession. One nation under a bracket. E madness unum. So let this be a warning, too: Those who would attempt to murder the office pool — like the grumpy British taxing our Colonial tea — do so at their peril. Take the Memphis Grizzlies. When they traded Shane Battier, they lost more than a glue guy. They lost the team's bracket guy, a former tournament standout who never forgot his collegiate roots. Result? The Griz lack a locker room pool. And they suck.
Tread lightly, killjoys. Tread lightly.
Besides, everyone does it. All the cool cats. Politicians and waiters and hard-core gamblers and kids. Oh my. Some people use, as you'll read, something called the Markov Chain, which in our imagination is slung low across Anna Kournikova's abs. Others pick winners Discovery Channel-style, by the principle of Mascot Fight Club (Bluejays are no match for a Wolf Pack). Some of us sit in our cubicles. Others sit in big-league clubhouses. A few of us are even cooking ribs. Thanks to the Internet, you don't even need an office to have an office pool.
We test our mathematical formulas, touch base with long-lost friends, pretend there's no money actually involved in any brackets, since gambling is technically illegal in many states. Much like jaywalking and spitting on the sidewalk. Cough.
On Monday, ESPN.com dispatched four writers to watch people fill out brackets and engage in pools. Our goal? Catch some theory, learn some history, maybe show you a little bit of yourself. These are their stories. (Please make that "Law & Order" noise in your head.)
Even Future Hall of Famers Do It
Spring training complex for the Seattle Mariners and San Diego Padres, Peoria, Ariz.
By Jim Caple
Major leaguers haven't shared dorm rooms in spring training since Bob Sheppard's voice changed. They often tune out the rest of the clubhouse by listening to their MP3 players, calling their agents on a Bluetooth or text-messaging friends on their BlackBerrys. After the games, they drive to gated golf course communities in $70,000 luxury SUVs with windows tinted so no one can see inside. But one annual rite of spring still draws players together as tight as the stitching on a baseball.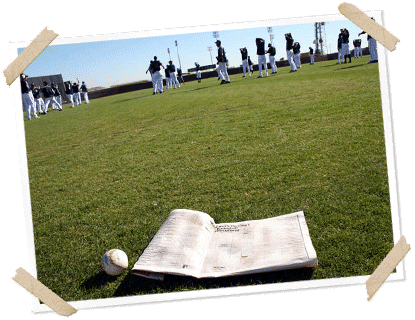 At spring training, MLB players have standard bracket pools, a big blind-draw pool and "spread" pools.
And so, over the next few days, players will congregate around lunch tables and in clubhouse back rooms to discuss the most important topic of the entire baseball season outside of what makes a good wedding present (candlesticks) or how to take a curse off a glove (sacrifice a live rooster).
"Washington State is playing in Sacramento," one player says Monday while filling out his NCAA ballot over lunch. "That should help them, right? Being a West Coast school? They'll probably have a lot of fans drive down to Sacramento, right? But if they win there, then they have to play in New Jersey and that's on the East Coast."
Baseball teams fill all the prerequisites for a good NCAA office pool. A bunch of young guys obsessed with sports and with a lot of time to kill. There are the standard bracket pools, with players filling out as many entries as they wish. And there is the big blind-draw pool, in which players buy the right to draw one team from a hat. And there are "spread pools," in which your team must cover the spread to advance.
"Like, say Wisconsin against Georgia Tech. Well, Wisconsin is a bad example because they're going to win it all this year," Mariners pitcher and Wisconsin-native Jarrod Washburn says while scanning a bracket. "But say you draw Eastern Kentucky. You're not screwed because if North Carolina wins but doesn't cover, then you pick up North Carolina in the next round. I always like that one."
And when most everyone is effectively eliminated from those pools, Padres pitcher and 22-year veteran Greg Maddux says, "Someone will start a Sweet 16 pool."
Naturally, no money ever changes hands in these tournaments, though if people were to "invest" in a pool — and remember, this is a complete hypothetical along the lines of Superman fighting the Fantastic Four — entries might possibly cost, say, $20 for a bracket and $100 for a team in the single-draw pool. But again, that's only theoretical, given that no money is ever "invested."
"There will usually be one guy in charge of each type of pool," Washburn says. "There has never been any controversy, but I know we won't let Richie Sexson run it because he's a shady commissioner for the fantasy football league."
The man in charge is usually a veteran. Tony Gwynn often could be found doing one of two things each spring: either painstakingly studying video of his at-bats, frame by frame, or scoring the many dozens of brackets in his NCAA pool. Kirby Puckett would run two pools in the Twins' clubhouse. The interesting thing was that Puckett always would draw a team like Winthrop but, by the end of the tournament, he would own North Carolina, Kansas, Duke and UCLA.
"There's always one guy who tries to buy five or six teams and hedge everything," Maddux says. "There's always someone who has a little less respect for his betting."
"It makes the last weeks of spring training go fast, with all the trash-talking about who picked whom and who has the worst sheet," Washburn says. "Plus, you have the games to watch. It's a fun time of the year.
"It takes a lot of time, but doing stupid things like that help spring training go faster. It helps."
So remember this in October if your favorite team is playing for the World Series — that winning chemistry and clubhouse camaraderie likely started during March Madness. As Seattle reliever Arthur Rhodes says: "It's good. You get everyone in there together, and you take the young players' money."
The Classic Office Pool
Rendezvous Ribs, Memphis, Tenn.
By Wright Thompson
On this empty Memphis street, the most wondrous aroma is floating from a nondescript building, proving that if you smoke it, they will come. It smells like, no, it couldn't be, but, maybe …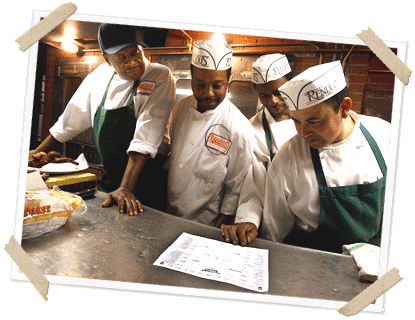 Rendezvous Ribs cooks Reginald Walton, Elliot Brooks, Henry Morris and Luis Mireles check out the bracket.
Photo by Mike Brown
"You found us," a voice calls. "You know the secret."
Standing in the door is Pat Donohue. This is the Rendezvous Ribs shipping kitchen. For those who don't know, the Rendezvous rib joint is where Southerners go when we die. Most think there's just one: underground in a downtown alley, where rib lovers are greeted by a signed portrait of Bear Bryant at the top of the stairs. They're wrong.
About two decades ago, they started shipping these slabs of porcine goodness around the world. Hence the test kitchen and the random, intoxicating smell.
But today, a warm Monday afternoon, there's something else in the air. Donohue has a stack of white NCAA Tournament brackets on his desk and, for a few weeks, ribs aren't the only things being dished here.
"I was so excited about this morning," Misty calls out, coming into Pat's office. "I ran in all ready. We were sitting on the couch yesterday, watching all the seeds, which I don't understand. My husband was explaining it to me. And I don't want to understand. I'm OK not knowing. So I'm sitting there, going, 'I always pick them. I always go Gonzaga, Villanova, Marquette, Xavier.'"
"I know nothing," another worker chimes in, "but I'll fill one out. I won't win it."
Like offices all over America, the Rendezvous has been running a pool for years. People at the original restaurant enter brackets. So does the staff at the shipping kitchen, which features an exact replica of the main shop's cooker. Vendors and friends and family can sign up, too.
People fill out paper brackets, which are scored by hand (one of the owners, Nick Vergos, is on a cruise with his family; they'll be entering by e-mail). But mostly, it's by hand. Of course, it is. This is a rib joint, where they still serve pitchers of Michelob before noon and patrons think the South Beach Diet has to do with Horseshoe Lake, a wet T-shirt contest and a sausage-and-cheese plate.
"Caveman stuff here," Pat says, laughing.
He first visited the place with fraternity brothers, went back the next day to get a job slinging beer and has worked there ever since. The restaurant gets ahold of you. Misty was a vegetarian when she started. That lasted about six months. If God had wanted vegetarians, He wouldn't have given us the pig and fire.
Pat won the pool a time or two. Last year, in a heartbreaker for the staff, an "outsider," Jeff the Barbecue Sauce Vender, won. And the year before? Pat thinks for a minute. Oh, how could he forget? The boss' son, Nicholas Vergos, won. He wasn't even a teenager yet!
"That's good when he wins," Pat cracks.
Misty smiles.
"Whatever," she cracks back. "Who needs it more — someone who's trying to buy baby shoes or the owner's son?"
As in every other office in the country, Monday is devoted to strategy. They're not filling out brackets until they absolutely have to. Hanging out near Pat's desk, in between shipping orders of ribs, they're going over the game plan.
"We've got to study," Pat says. " I've got to figure out what Creighton is all about."
Misty breaks in. She's not shy, let's put it that way.
"I'm gonna tell you what we've got to study," she says. "And Pat, I don't think you knew this is what we had to study. Jeff just told me this. He told me no team that has lost the first game in their individual conference has gone on to win this tournament. So now I have to go home and Google."
The plotting continues. Folks from coast to coast have theories on the office pool. Some go with colors. Others go with the graduation rate (the lower, the more likely to win; i.e., pick Kansas). Some try to pick which mascot would win in a fight.
"I know someone who knows mascots," Misty says. "I don't like mascots because some of them, I don't know what they are. What is a Terp?"
Most folks go with the locals.
"A lot of homers around here," Pat says. "They always pick Memphis all through. And then Arkansas and Tennessee."
Of course, when you ship ribs all over the world, the definition of home team can change. For instance, there are a lot of Tar Heels fans around here. Two years ago, when North Carolina won the national championship, a rather large order was called in.
"Roy Williams is a big Rendezvous fan," Pat says. "We FedEx'd him ribs after he won it."
The jabbering doesn't stop, here and in buildings across the country, the day filled with talk of upsets and seeds and scoring and past champions and the woman in human resources who has never heard of Dean Smith but won nonetheless.
"We're like every place in the country," Pat says. "These office pools is the funnest time for us. Come Monday, it'll be like, 'Who's winning?' "
The Smartest Touts In The Land
Georgia Institute of Technology, Atlanta
By John Helyar
When Georgia Institute of Technology was shunned by the NCAA tourney and relegated to the NIT in 2003, after a 14-14 season, Joel Sokol was doubly irked — both as a hoops fan and as a numbers nerd. Like many Yellow Jacket partisans, this engineering professor figured the team might have been only one victory shy of an NCAA bid.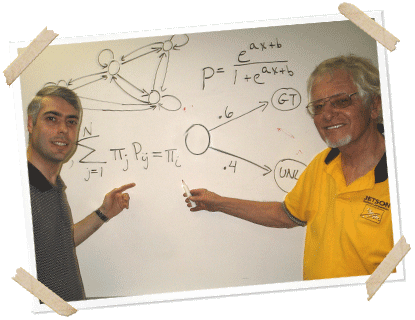 Joel Sokol (left), shown with George Nemhauser, predicts wins with regression analysis and a probability exercise.
Photo by John Helyar
It wasn't just the team's last-second, early-season loss to Tennessee, on a half-court heave, that made this tough to swallow. It was a sense the tournament selection process was another form of March Madness.
"It seemed silly to say that if this completely random event hadn't happened, Georgia Tech would all of a sudden be considered a much better team," says Sokol, who holds a Ph.D. in operations research. "That was really the beginning of thinking about, 'Is there a better way to do this — to figure out how good each team is relative to others?' "
Sokol enlisted colleague Paul Kvam, a statistician, and they did what the pocket-protector set does when provoked: They crunched numbers, specifically from every Division I men's basketball game going back to the 1999-2000 season. Through regression analysis and a probability exercise called the Markov Chain (named after a Russian mathematician, not a Lithuanian forward), they divined who belonged in the Big Dance … and who'd win.
The factor they found most meaningful — and which means nothing in RPI rankings — was victory margin. Strength of schedule and road wins count for something in their "Logistic Regression/Markov Chain Model" (acronym: LRMC). But like Las Vegas bookies, these Atlanta techies are primarily into point spreads. "In really close games, it's almost a coin flip as to who's going to win," Sokol says. "Anything that doesn't take point differential into account ignores the element of luck. If I beat you by 20, it probably wasn't just by chance."
The model quickly proved out. In the 2004 tournament, four of the five top-ranked LRMC teams made the Final Four. One was Georgia Tech, which had been seeded only third in its region. Sweet vindication! And often repeated! In the past seven years — going back to the statistical beginning of the model in 1999-2000, 22 of the 28 teams in the Final Four have been ranked first or second in their region by the LRMC.
That outperforms all other ranking systems, assert the profs, who naturally have the stats to back that up. Go back through the past seven tourneys and all the head-to-head matchups of teams seeded differently by RPI and LRMC, and two-thirds of the time the latter got it right, correctly predicting the winner.
Word gets around campus. Come the Ides of March, the developers of LRMC are now the oracles of hoops. These distinguished professors of bracketology are swarmed by students and faculty looking for the edge in their respective pools. In response, Sokol now posts LRMC rankings on his personal Web site. He won't enter pools, however, wishing to use his powers not for personal profit but for science and for good.
George Nemhauser, a third faculty member on the LRMC team, has declined pool invitations for a different reason. He was Tech's faculty representative to the NCAA for years and thus pledged to abstain. He isn't a rep any longer, but he's also less interested in reaping profit than getting the tournament selection committee to use the profs' model. He got an audience with the NCAA last fall but failed to sell it on LRMC.
"Their policy is to not supply the committee with any information that's based on points," says Nemhauser, an engineering professor. The committee told him a ranking system that factors in point spreads could encourage both gambling and running up scores. So Nemhauser presented a modified LRMC that capped win differential at 15 points. No dice. Then a third version, taking out win margins altogether.
The NCAA did make that available to the selection committee, and the Tech profs know their LRMC Web site got some hits from members, but Nemhauser remains frustrated. "They seem stuck on the RPI," he says. The NCAA press office didn't return calls seeking comment.
This year, as usual, the LRMC's projected tournament seeds diverge markedly in some cases from the NCAA's actual ones. The selection committee made Georgia Tech a 10-seed in its region, for instance, while the profs would have made the Jackets a No. 4. (But they swear: not homers! Look at that second toughest road schedule in the country!) The NCAA made USC a 5-seed; the LRMC wouldn't have even invited the Trojans to the Dance.
And this year, also as usual, the profs are holding their breaths. They believe in their numbers, but they also acknowledge the existence of Cinderellas and reversals of regular-season form. Their brackets, too, can get busted. That's one thing that gives them pause about turning the LRMC into a commercial endeavor. "I'm only concerned about the calls I'll get from people after the tournament has started," Nemhauser says. "'Based on your system, I bet everything I had on Georgia Tech and now I'm homeless!"
State Of Denial
The hallowed halls of our government, Washington
By Patrick Hruby
On the record, nobody knows nothin'. Officially speaking, the fine men and women working in our nation's capital — all of them humble public servants, faithful stewards of the republic, diligently attending to the people's business — would never dream of participating in something as illicit and frivolous as an NCAA Tournament office pool.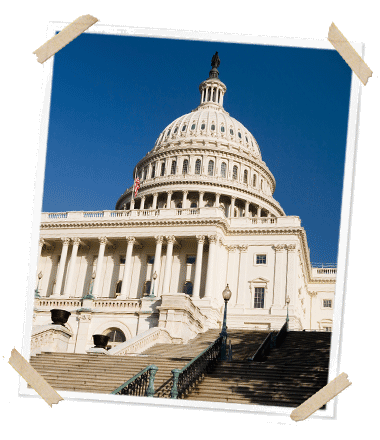 There is no gambling "allowed" on government property. But it would be simply un-American not to have a pool.
Photo by Michael McCloskey
Not the commanders at the Pentagon. Not the legislators on the Hill. Certainly not at the White House, since gambling on sports is technically, well, illegal. Never mind that the illegality in question typically involves a $5 entry fee that will: (A) likely end up buying pizza and beer, unless you're Rick Neuheisel; (B) never be seen by its original owner again, not unless Belmont and Holy Cross advance to the Final Four.
"I wish we had a pool," says Tony Fratto, who works for White House spokesman Tony Snow.
Fratto, it should be noted, is a basketball nut. Coached high school kids while attending grad school. Has attended 12 Final Fours. Counts himself as a good friend of Christine Olson, the wife of Arizona coach and NCAA fixture Lute Olson.
So again: Is Fratto absolutely, positively sure the White House doesn't have a pool? Not even a just-for-fun pick 'em?
"Alas, but no," he says. "Although, I wouldn't be able to participate if we did — my personal rule is never to do a pool when my team, Pitt, is a single-digit seed. So it has been a while since I've done one."
Personal rules aside, Fratto's assertion is fishy. Appropriately PR smooth, but fishy. After all, the World Bank had a World Cup pool. The Supreme Court is strongly rumored to have a regular poker game. My old employer, the Washington Times, runs points spreads in the sports page. Off the record, Washington is a better-than-average sports town, just as mad for March as the rest of the country. With one key difference.
Nobody wants to admit it. At least not publicly.
Sweating those 5-12 games? Keep it to yourself. Obsessed with Winthrop's outside shooting? Don't ask, don't tell, and definitely don't use Justice Department internal e-mail to solicit brackets (true story!), lest you end up debating Purdue's tourney credentials with a government ethics lawyer.
"It's one of those fine line things where you're not allowed to gamble on government property," says "Deep Brackets," a high-ranking lawyer for a federal agency. "While this is a mild form of gambling — I suspect that half the White House does it — they don't want this getting picked up and running in the Washington Post.
"If you did an anonymous poll at the Justice Department, I'd guess you'd get 60-70 percent participation. But if you asked on the record, you'd probably get, 'What pool?' "
An avid fantasy sports player, Deep Brackets (not his real name, though you probably figured that out already) has a point: Last week, I contacted nearly a dozen federal agencies, offices and officials, searching for an NCAA pool; at every turn, I met with Nixonian stonewalling. Deny, deny, deny. And then deny some more. Among the lowlights …
The NSA: Cryptographers. Bracketology. A match made in math genius heaven. At best, I hoped to sit in on the world's smartest office pool; at worst, I figured someone would let me use a code-breaking supercomputer to pick the 8-9 games. No dice. On one hand, an agency spokeswoman promptly responded to my e-mail query — the NSA reads everyone's e-mail anyway, right? — and said it sounded like a great story; on the other, she subsequently quoted Department of Defense Joint Ethics Regulation No. 5500.7-R, which states: "A DoD employee shall not participate while on Federally owned or leased property or while on duty for the Federal Government in any gambling activity prohibited by 5 C.F.R 735.201."
Oh, of course: 5 C.F.R. 735.201. What was I thinking?
Clerk of the House: No better place to ask about a House of Representatives office pool — unless you actually need information about a House of Representatives office pool. The first person I talked to had no idea what the NCAA Tournament was; the second asked me if office pools were a federally funded program. Eventually, I was transferred to the U.S. Capitol Building Visitor Information Line, which informed me that stun guns and martial arts devices are strictly prohibited on federal property. Now you know.
NASA: A fantasy sports-loving agency astronomer initially agreed to share his bracket the day after Selection Sunday. One catch: He first had to check with his boss. Two hours later, my phone rang. Mission aborted. Apparently, the people who once put a man on the moon would rather not appear to be wasting taxpayers' time and money. In unrelated news, the International Space Station remains in orbit.
Sen. John McCain's office: Surprisingly, a staffer all but confirmed the existence of a McCain office pool. Does the senator fill out a bracket? We'll check. That evening, McCain announced his '08 presidential bid on Letterman. Radio silence ever since … but not web silence, which no serious candidate for president can afford these days. (McCain picked North Carolina over Kansas with a total final score of 157.)
(Coincidentally, Congress banned sports betting in most states in 1992; more recently, McCain introduced a bill that would have banned college sports wagering completely. Guess the Senator's brackets are strictly for recreational purposes.)
The White House Press Corps: Not a federal agency, but close enough. Unfortunately, the reporters I contacted were unaware of a press bracket, let alone a White House pool. According to Washington Post reporter Peter Baker, this isn't unusual: When a reporter recently asked what kind of television President Bush planned to watch the Super Bowl on, a spokesman refused to comment.
The Washington Redskins: Not a federal agency, but as much a Washington institution as Beltway gridlock and Old Ebbitt Grill. From previous experience hanging around Redskins Park, I know that brackets aren't exactly hard to find. Upon asking the club for an official statement, however, a team spokesman related the following: "On the record, we don't participate in pools. We support intercollegiate athletics, but not in that way." He then let out an official giggle. Well, that's what it sounded like.
The American Gaming Association: Disappointingly, the nation's preeminent gambling lobby doesn't have a pool — but only because its 11-person office is, according to a spokeswoman, "too small to produce a big enough pot."
Hillary Clinton, Barack Obama, Congressional Budget Office, the Justice Department: Did not return calls and messages — which, come to think of it, is probably easier than having to lie about the topic, potentially triggering the appointment of a special prosecutor and/or federal grand jury probe.
"The whole thing is a stupid situation," says a lobbyist who formerly worked for the executive branch. "But that's what they get you on in this town. The stupid things. Look at what happened to Scooter Libby."
Speaking of Libby, Washington's reflexive tight-lippedness only goes so far. Leaks are as common as bewildering traffic circles. Looking for the truth? Talk to someone with nothing to lose.
According to one former congressional staffer, D.C.-area March Madness peaks on the Hill. Offices brim with recent college graduates, all of them proud of their schools and regions. "In my office, UConn games were golden, absolutely sacred," the former staffer says. "We had paraphernalia all over the reception area. During the tournament, that was the only time you would see something other than the trifecta of Capitol Hill television: CNN, Fox News and C-SPAN. People were definitely watching the games."
As for picking the games? That happens, too. So says legislative legend Lee Hamilton, the former Indiana congressman and 1982 inductee into the Indiana Basketball Hall of Fame.
"Oh sure, on Capitol Hill there were quite a few pools," says Hamilton, director of the Woodrow Wilson Center for International Scholars and former co-chair of the Iraq Study Group. "I don't know if any money was involved, but people were predicting it.
"There's intense interest in athletics among members of Congress, a lot of rivalries. It was an important aspect of governing — you work in a confrontational environment, so common interests away from politics are important."
That interest extends to the top. All the way to the top. Former White House chef Walter Scheib, who served from 1994 to 2005, recalls staff football and basketball pools. In '94, President Clinton watched his beloved Arkansas Razorbacks roll to the national title on the White House theater's 200-inch projection screen — sometimes with his buddies, once with members of the residence staff.
"It was an early-round game, and he forgot to invite anybody over," says Scheib, author of "White House Chef: Eleven Years, Two Presidents, One Kitchen." "So he had one of the butlers round people up to watch. Here he is, eating his lunch, hooting and hollering. And we're all, 'OK, Mr. President, yes, yes, very excellent.'
"I felt a bit awkward, so after 10 minutes I excused myself. I told the president I had something cooking on the range."
A Maryland fan, Scheib never had much luck in the White House pool. ("The year the Terrapins won, I didn't pick them," he says with a laugh. "Otherwise, they would have lost.") He doesn't know if Clinton fared any better.
"James Carville is a huge LSU fan — when they did well, he did well," Scheib says. "But if Clinton ever filled out a bracket, it wasn't widely known. You can't have the president doing something illegal, of course. But his temperament and enthusiasm were such that I wouldn't be surprised."
A mystery for future presidential scholars to unravel. In the meantime, Washington remains in a state of NCAA denial, one that extends to just about everyone. Including me. On the record, I can neither confirm nor deny that the Washington Times had a tourney pool, that I participated, or that money exchanged hands. After all, that would be unethical.
(Off the record, I once finished in second place, putting my winnings toward a nice steak dinner. But you didn't hear that from me.)