"For a guy to come in and only be around one year and develop those kinds of relationships and that kind of leadership ability, I think that speaks volumes about Cam Newton."
-- Ted Roof, Auburn defensive coordinator
By Ivan Maisel/ESPN.com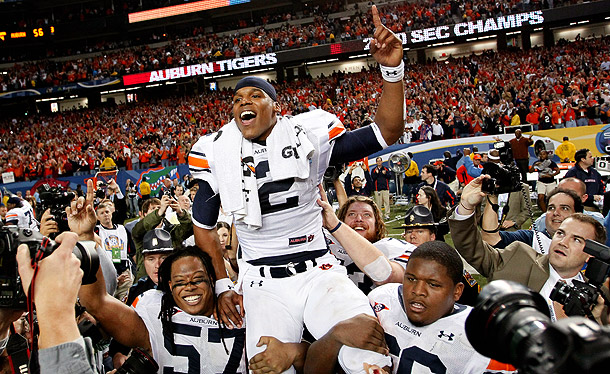 Kevin C. Cox/Getty Images
In his only season at Auburn, Newton got a ride from his offensive linemen after routing South Carolina in the SEC title game. He led the Tigers to a national title in January.
Cam Newton might be the ultimate Rorschach test for NFL general managers and their fantasy imitators. But for Auburn defensive coordinator Ted Roof, Newton is no inkblot. Roof watched Newton arrive on campus as a transfer from Blinn JC and, through personality and example, convince a veteran team that it should follow him.
Roof believes that the columns and whispers that decry Newton's leadership and his maturity are camouflage put out there to hide the intent of teams interested in drafting Newton. Five NFL coaches have called Roof to pick his brain on Newton. He has given all of them three examples of why he thinks Newton will excel at the next level the way he did at this one.
There aren't many college kids who, shortly after they arrive on campus, awaken at 7 on a cold Saturday morning in January to get in a throwing session in the Tigers' indoor facility.
"That jumped out at me," Roof said.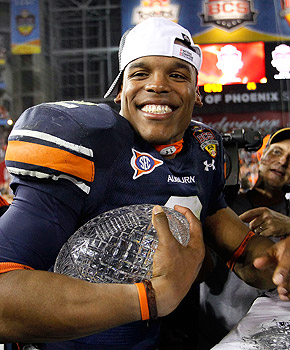 Kevin C. Cox/Getty Images
Newton put up huge numbers at Auburn: 2,854 yards passing and 1,473 yards rushing.
Roof also said Newton isn't afraid to take control and cites this example. He couldn't remember which game it was this past season, but he remembered the Tigers struggled in the first half. He remembered Newton didn't wait for offensive coordinator Gus Malzahn or coach Gene Chizik to say something.
"We had a situation where a player wasn't doing what he was supposed to do," Roof said. "Cam addressed it and got it straight real quick. He told that guy that everybody's got a job to do and he had to do his job and the rest of the team was counting on him, so let's get it done. That's what happened in the second half."
Roof mimicked being grabbed by the shoulder pads.
"It was just a very forceful one-on-one," he said. "'This is what we need you to do.' And very demonstrative."
Roof, standing in the locker room watching the tongue-lashing, stole a look at the other players in the locker room.
"It was powerful for the rest of the team to see it," Roof said, "and they were totally on board. The whole team got it, yeah."
Newton persevered through being the new guy in the locker room. He maintained his focus through the controversy over his recruitment. When the SEC championship game ended, and Newton had led Auburn to a 56-17 rout of South Carolina and into the BCS Championship Game, the offensive linemen showed how they felt about their quarterback. They hoisted Newton -- 6-foot-5, 250 pounds -- onto their shoulders and carried him away.
"For a guy to come in and only be around one year," Roof said, "and develop those kinds of relationships and that kind of leadership ability, I think that speaks volumes about Cam Newton. Maybe the most veteran offensive line in the country. They showed how much they respected him. You can't manufacture that. That's real. That's real."
Imitation is the sincerest form of flattery. After all, Newton had carried Auburn for an entire season.