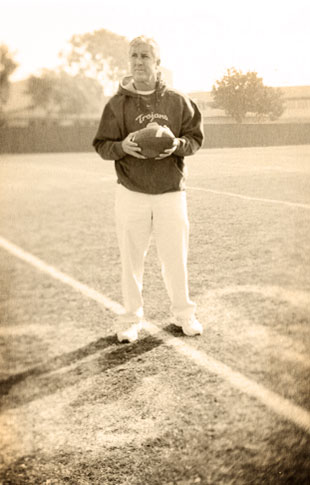 "Yeah, he's laid-back -- laid-back like a ninja ready to strike" -- Lou Tice, Carroll's partner on the
philanthropic project, "A Better L.A."
OS ANGELES -- Football coaches are hard-ass barkers with scowls on their faces and poly-blend shorts pulled up high. Great football coaches run boot camps. They break your will and slowly, if they deem you worthy, piece you back together in their image. They put the fear of God in you, humiliate you, lord over you from a distance, just waiting for you to screw things up so they can bring the hammer down. They're edgy. Paranoid. Surly on principle.
But this isn't that coach.
The season was all laid out before it began. A Heisman-candidate senior quarterback, an embarrassment of riches at running back, and the fastest, hardest-hitting linebacking corps in the country. Wins were there for the taking. Dominance was a given. The season was can't-miss, a mere prelude to a title game.
But this isn't that season.
You think of Pete Carroll as the golden boy, the guy with the surfboard under his arm and the party at Will Ferrell's on his docket. He's laid-back. He's short on discipline and long on confidence. He's the man USC boosters love to love and the man LSU boosters love to hate.
But this isn't that Pete Carroll.
PETER PAN ON THE PRACTICE FIELD
It's 6:15 a.m. on a fall Friday. The sky is more black than blue, and you can see your breath in the air. Players in pads are sleepwalking through the door to the practice field, pawing the top of the door frame as they come in. Special teams coach David Watson, cap pulled down over his ruddy cheeks, comes in guns-a-blazing. "Top of the f---ing morning, boys!" Pete Carroll is right behind him, in a white long-sleeve Under Armour T, pulling a whistle lanyard over his head, then tossing it over his shoulder so the whistle rests in the middle of his back. He takes a quick little hop-step and hits the field, at a sprint.
He's looking for a football straight off. Grabs one out of a big duffel at the foot of the goalpost, spins it in his hands a few times, scans the field and lets fly in the direction of a student manager 30 yards away. Tight spiral, on target. He was a defensive back in college, and coaches defense most of the time now, but we're looking here at a textbook shoulder turn. Classic plant, weight on the back foot. And the release is -- boom -- from toes to fingertips. Gritted teeth on the inhale, grunt on the exhale. If he were a quarterback, Joe Frazier would throw a ball like this.
The SC women's water polo team holds morning workouts in the pool just beyond the north fence of the practice field, and the women are all gathered on a ledge above the fence line now, crouched in hoodies and deck sandals, calling out to Carroll. "We love you, Pete!" "You rock, Pete!" He can't help but smile. He flips a quick wave between throws, maybe puts a little something extra on the next ball, and the women, encouraged, burst into the school's fight song. "Fight on, for ol' SC! Our men fight on, to victory!" He laughs, catches another throw from the manager and runs their way, waving his arms, conducting.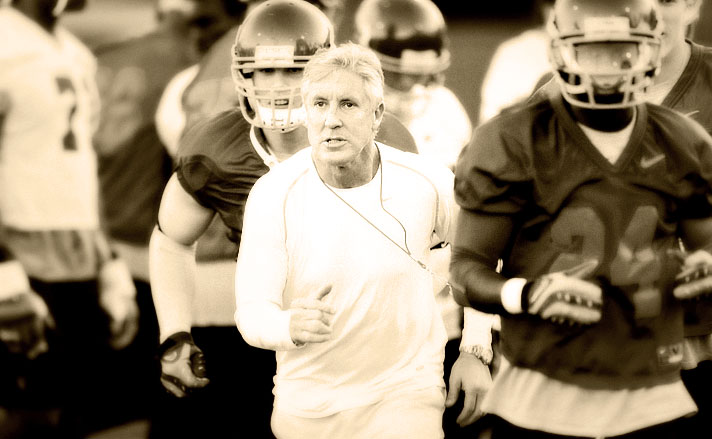 "Practice is everything to us. We work our tails off. We're like brothers wrestling in the backyard out here, and he's right there with us." -- Ray Maualuga, USC junior linebacker
Equipment coordinator Tino Dominguez, a man whose barrel chest and black mustache say he is not easily impressed, waits for Carroll at midfield. He has four packs of bubble gum in his hands. Coach's vice -- chewed pink pieces litter the edges of the field. As Carroll gets close, Dominguez bobs at the knees and throws all four packs in the air. Doing a dance somewhere between a juggling busker and Mr. Miyagi catching a fly between his chopsticks, Carroll goes for them all. He gets two in the right hand and one in the left. The fourth falls to the grass. Next time. Practice starts the same way every day.
After stretches and such, players break off into groups, offense at the north end of the main field, defense on a smaller field to the south. Ken Norton Jr., linebackers coach and former San Francisco 49er, has his guys working on speed drills; quick drop back, plant, then come hard, charging through the tackle pylon. Carroll's with the punt team in the middle of the main field, on the line, standing just off the left shoulder of center Matt Spanos, not quite touching the right leg of the guard. At the snap, he's gone, down the field with the rest of them, shoulder to shoulder with guys in pads and helmets, bearing down on return man Desmond Reed. The whistle bounces on his back. His hair flies. He's fast for 56. The light's coming up in the east, casting first shadows, and as Carroll and his boys go hell-bent-for-leather, Norton's behind them, barking: "Finish! Faster! You step on this field, dammit, you be a football player!"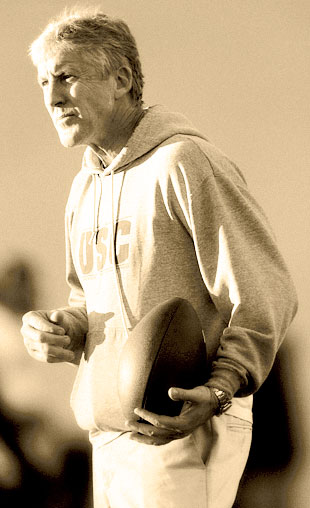 "I want them to feel me. I don't really care what I say. I want them to feel the energetic exchange, to feel what the mood and the attitude is all about."-- Pete Carroll
MAD SCIENTIST IN THE FILM ROOM
The defensive coaches are looking at film -- clips of the day's practice edited into pass-defense and run-defense groupings and so on. Carroll's at the head of the table, eating chicken catchawhatsit and a green salad out of a plastic container from the cafeteria, and there's music, an iTunes mix on a computer in the corner. The Smiths' "How Soon is Now" is playing, with those bendy Johnny Marr licks, and Carroll's humming along with them, "Beeeeeyooowwwwwwww," drumming a fork on the arm of his chair in time with the backbeat. All the while, his eyes are fixed on the screen. "Run that back. Run that back."
Carroll pops up to scheme a new set on the dry-erase board, his hands flying with a green marker, the way they would in some sped-up Chaplin film clip, little hashes, X marks, circles and letters taking their place like toy soldiers on an imaginary battlefield. He's firing questions to the room. "What do we do with the 'Sam' on this?" "Who fills the B gap?" "What do we call this thing?" Then the first little Hammond chords of "Rich Girl," the old Hall and Oates tune, break a momentary silence, and Carroll and administrative assistant Sam Anno take it up, harmonizing boldly, if slightly off-key, with Anno, a big man, taking on the falsetto. "You can rely on the old man's money/You can rely on the old man's money/It's a bitch, girl, but it's gone too far ..."
Secondary coach Rocky Seto and defensive coordinator Nick Holt smirk, but it's all somehow working. The syncopated groove, the fearless karaoke, the Q&A, and the erase-board hieroglyphics are coming together, feeding off each other, forming some unpredictable crucible. Carroll erases the board and begins again, seeing the new alignment whole for the first time. He draws it out, position by position, finishes it off with arrows designating each player's responsibility, and circles the drawing twice with his pen. "Let's call it 'Smoker'," Holt says, as if suddenly feeling the room. "Perfect," Carroll replies. He sits down, still tapping a toe.
BENEVOLENT KING OF HIS WORLD
A few days later, Carroll is at a high school football game in the San Fernando Valley with his wife, Glena. "Date night," she says with a wry grin. You have to share the king when he's out among the people. The school band plays an impromptu version of "Fight On," and the crowd cheers his arrival. Everyone wants a camera-phone shot and a handshake, the youngest and oldest want hugs and kisses. He accommodates them all, including a little, pigtailed devotee, maybe 4 years old, who runs and jumps into his arms, shouting, "Hi, Coach! How you doing?!"
But this isn't a goodwill tour. There's a football game going on. He walks around the edge of the field constantly. He's behind the home end zone one minute, looking, it seems, straight into the eyes of the young visiting quarterback as he prepares to take the snap. He's embedded on the bench of the home team a minute later, behind the head coach. Soon he's in the back corner of the visiting end zone, crouching for a field-level view.
Glena has given up tailing him. She waits on one sideline for him to come back around. There's an eager lean to his walk, a restless look in his eyes. "This is football. I feel like I want to eat the game up on a night like this," he says. "Like I could swallow it whole."
NO COUNTRY FOR OLD MEN
Another Thursday night practice is in the books. Fans with commemorative helmets and posters wait on autographs from the players. Beat writers wait on Carroll to give them the daily rundown of bumps and bruises. But he's still working it, giving the receivers a ball-catching clinic down along the east fence of the field. He holds his hands over his head, thumb to thumb, pointer to pointer, in a diamond. The wideouts and tight ends, semi-circled around him like summer campers around the fire pit, mirror him with their own mitts.
He calls sophomore Vidal Hazelton up to the front of the class and throws him a ball. The kid catches it and Carroll tells him to freeze. He walks his way and lays his hands over Hazelton's, points out the difference between their diamonds, between his diamond and Hazelton's no-can-do trapezoid, and moves Hazelton's fingers, one-by-one, to the desired position. Later, I ask offensive coordinator Steve Sarkisian about the attention to detail, the one-on-one teaching. "That comes from Pete. You're trying get guys to experience things, to get your message across to them one at a time," he says. "This is how we catch the football. This is who we are. This is the way we live. This is the way we talk. We're turning souls. We're converting them."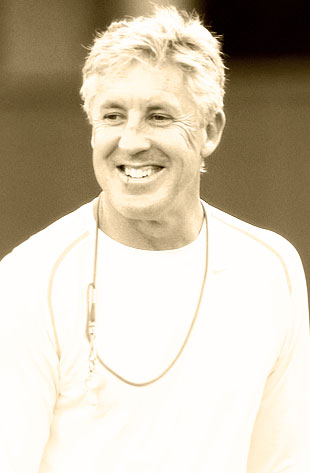 "What you see in Coach is the real deal. He never changes. He's always up. You can't help but try to match him. Every day. Everyone wants to be like him. Most of us have to fake it sometimes, but I don't think he does."-- John David Booty, USC senior quarterback
There are seven Heismans and a BCS championship trophy under glass in the lobby of Heritage Hall, the building that houses the USC football offices. Outside Carroll's office a display case holds the 2003 AP national championship trophy and the Orange Bowl trophy from 2002. The Trojans have won 11 national titles; the place is dripping with history, loaded with glory. In his office one September night, after practice and before the evening meetings, Carroll is trained on an early draft of a play-calling script that Sarkisian and his staff have put together. Tonight's homework, film of the week's opponent, is frozen on the computer screen behind his desk. "I love trophies, but f--- 'em. They're for old men, for guys living in memory," he says. "I'm talking about: Are we competing today, every minute, in everything we do in practice. Are we letting loose and daring to be great here and now? And can we sustain that? And repeat it. Trophies are great, but we're trying to win forever."
"IT'S WAR TIME"
We're eating ice cream in an ad hoc dining room on the second floor of the downtown Los Angeles Marriott, where the team stays on the day before home games. We're talking about what Carroll didn't know when he was with the Patriots in 1997-99, what he has learned since, about finding and refining a philosophy. I'm still eating, but he's done and he pushes back from his bowl, puts his hands behind his head, fingers laced, and looks at me. "At some point -- maybe after your parents have died and you're not trying to please them anymore -- at some point you have to decide what truly matters to you and what you believe in. And then you have to have the balls to commit to it."
There's something testimonial about the way he says it, plainly, over a bowl of chocolate ice cream, straight-up, as if it were something already said. I don't know whether we're talking about him or me.
"Meeting's at 3 tomorrow. See you there," Carroll says. He walks away, maybe six or seven steps down the hall, and turns back. "You know what 3 is, right?" I look at him quizzically. "It's 2:45," he says.
A few hours before game time, players, gargantuan young men even without pads, file into a small conference room at the Marriott as team managers and assistant coaches move the chairs in the room to the walls and stack them. Running backs coach Todd McNair is at the front of the room, standing on the one chair not put away, waiting for the entire group to make it through the door. I'm leaning on the wall in the back corner, near the light switch. Graduate assistant quarterbacks coach Yogi Roth points past my face. "Gonna need that switch, bud." Linebacker Ray Maualuga, a tatted-up badass who last fall knocked scrambling UCLA quarterback Patrick Cowan damn near back into the womb, leans a hand on my shoulder for balance as he takes off his shoes. Look around and a bunch of the guys are in stocking feet. Carroll comes in clapping, doing a little Pryor in "Stir Crazy" walk, gives me a quick nod, glad to see I'm on time.
The lights go down and McNair calls out, "Can you feel it? Do you feel it? Are you feeling me? We're coming together. Feel your connection. Right now. We're the Trojans. Right now. It's motherf---in' game day. We're the motherf---in' Trojans."
The room offers up whoops and hell-yeahs. Guys are sumo stomping and clapping in rhythm. "What time is it?" McNair asks. The answer comes in unison, the voice of the many speaking as one. "It's war time, let's take it outside! It's war time, let's take it outside!" It becomes a chant and a dance; every player and coach bouncing, bees in a hive, punks in the mosh pit. The pitch rises. Watson and Carroll and Anno and Seto are shoulder- and chest-bumping with the kids. I feel the floor sag and spring in time with the dance. I hear my shirt sleeve zip-zip against the paneling on the back wall. Truth be told, I fear for my safety just a little bit. McNair stretches his arms out, palms down, and they all bring it down to a whisper, a hum. "It looks like chaos," Carroll says later. "But it's ritual. We know exactly what we're doing when."
The room is waiting on McNair now, waiting on the next signal. "Let me ask you this," he says. "Let me ask you ... are we ready?" Somewhere deep in the center of the circle the answer begins. "We ready. We ready. We ready." It's a blood oath uttered beneath the breath at first, but it's rising, each chorus louder than the one before, until again the team is jumping and again the room is bouncing. "We ready! WE READY!" It stays that way, alive, on fire, for more than a minute until McNair steps down off his chair. Another signal. The room winds down. Last thumps and pushes. Last hosannas. Roth flips the lights back on. Carroll leads the way out the door, flushed and smiling. "That's how we do it."
Just a few moments later, he's sitting quietly alone in a chair in the hotel hallway, reading glasses on his nose, legs crossed, notebook in his lap and pen in his hand. Across the hall, players quietly move through a buffet line and take seats at round dinner tables. Their lips and foreheads bead with sweat from the "meeting." Carroll gathers his thoughts and walks toward the door to the dinner room. On the way in, someone hands him a football.
He speaks softly now, holds the ball up in his right hand, the way a preacher holds a leather-bound Bible, as he walks between the tables, silently underscoring one of the program's mantras -- It's all about the ball -- and drawing the players' eyes toward him. "Things are different here, on the inside, with us, in our place, on our night, in our time together, we know that," he says, as the players bow their heads. "Tonight is when we celebrate that. This game is a celebration."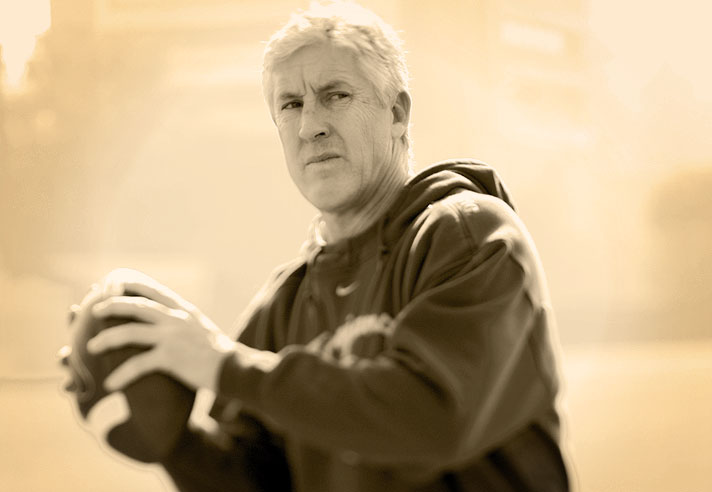 "More than anyone who has ever coached here, Carroll understands the whole job. He understands the history, he understands the importance of the community. He understands the recruiting. He understands the X's and O's. He works the entire job." -- Steve Bisheff, longtime Los Angeles-area columnist
A DYNASTY TEETERS
Stanford free safety Bo McNally skips up the tunnel at the Coliseum at the end of a very surprising October Saturday. His interception has just sealed the first win by a visiting team in six years. "Feels so good," he says. "I can't even describe it." Feels so good he's chatting up SC cheerleaders on his way to the locker room, apparently feeling now as though there's nothing he can't accomplish.
As he ducks into the Cardinal locker room, which at this point is looking like Bourbon Street on Mardi Gras, all half-naked revelry and sloppy hugs, the Coliseum, where the hometown fans booed tonight, is silent. You can hear the Stanford celebration through the cement wall at the back of the SC interview room. At the front of the room, Carroll sits before a microphone at a table covered with a red cloth, trying to summon the energy to speak above the din. He rubs his hands over the cloth, a mason smoothing out some unsightly streak or bubble in the mortar. "The color red here. It looks different to me tonight. Things have always been the same way. I look at it the same way, but it feels different."
Lose to a 41-point underdog on your home turf, lose to a 41-point underdog on your home turf after it converts a fourth-and-20 to stay alive and a fourth-and-10 to score the go-ahead touchdown, and you're going to get turned around a bit. "I don't know where to put it," Carroll says.
Around the corner from the interview room, Glena's tossing a miniature football to a little girl, the daughter of one of the assistants. Carroll comes out of the interview room. They hug. He heads back to the locker room. She watches him go. She was a volleyball player when they met at University of Pacific (he was a defensive back there). She stands straight, centered over her arches, grounded. She was with him in New England and New York. She was in Little Rock and Ames. "This hurts. He'll feel this for a long time," she says. "But the truth is, he's at his best in moments like this. Right here, even more than when things are going great, is why you hang with him."
The sharks are circling. Outside the Coliseum two longtime season-ticket holders, perched on a sidestreet curb in deck chairs and nursing the tail end of the evening's last scotch-and-water, say it's clear Carroll has lost the touch. "He's not communicating with the kids in the same way he used to," says Jim, an area real estate agent. "They're not listening to him. I think he's got one foot out the door and they know it."
His buddy Tom, unmoved by 35 consecutive home victories, a couple national championships and five straight Pac-10 titles, lays some historical wood: "Somewhere John McKay is turning over in his grave."
Three days later, the Varsity Lounge at Heritage Hall, where Carroll meets the media every Tuesday, is full up, and local columnists start in at the jump, asking when Carroll realized the Trojans weren't as good as everyone thought they were, giving him grief about whether they're looking forward to the Alamo Bowl (now that grander visions seem out of reach). Everyone wants to know what has gone wrong. Everyone wants to talk about a quarterback change, about problems with the play calling, about the death of a dynasty, about the end of an era.
THE SC WAY
Most of Southern California is on fire. The red sun hangs low in a smoky sky. It's Competition Tuesday before the Oregon game, every man on the squad fighting to win or keep a job. (Every day of the work week has a theme -- Tell-the-Truth Monday, No-Mistakes Thursday, etc.) The first-string offense and defense go seven-on-seven. Freshman running back Joe McKnight, a prized recruit who, when he frees his mind, seems to run and cut like a swallow flying just above the ground, takes a pitch out of the backfield, shimmy-shakes a backer and glides straight through the secondary to the end zone. McKnight struggled to hold on to the ball early in the season and seemed to drop deep into his head at times.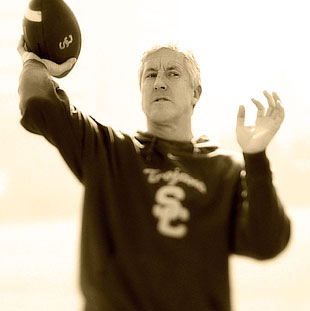 "We compete at everything. It has always been that way. It was that way playing Nerf football in the front yard when we were growing up and it's that way now."-- Brennan Carroll, Tight ends coach
and Pete's oldest son
Carroll had been saying they just needed McKnight to play ball, just needed him to feel it the way he did when he was playing on Friday nights back in Louisiana. He'd had two breakthrough runs in a victory over Arizona a week ago, and now here's a glimmer, a burst that says maybe this is who he is now. Here's the crucial marriage of joy and fearlessness. Here's the SC way. McKnight runs back to the huddle. Carroll walks by and slaps him on the backside.
Twenty minutes later, his eyes on the last of the eerie blood light in the West, Carroll leans against the edge of a concrete planter outside Heritage. "There are always setbacks, unforeseen circumstances that arise. They come in different guises, different forms, and you just have to deal with it," he says. "I didn't think for a second we were going to lose. I was allowing myself to lose focus a little bit, maybe. But we don't fix that by making changes. We fix that by staying on course. We get back to football, to Competition Tuesday, to what we do and how we do it, with more emphasis and focus than ever. It's a belief, it's not letting anything into your mind-set that will keep you from that belief."
It's the Tuesday after the Trojans were handed their second loss, on the road at Oregon. Neil Young's "Down by the River" is playing in Carroll's office when he walks in. He has seven minutes between scheduled interviews. At a news conference an hour earlier, L.A. Times columnist T.J. Simers was riding him about his new focus on the final four games on the schedule. How far the mighty have fallen. What happened to winning them all?
As we stand in the office I'm looking at a custom California license plate sitting on his desk that reads, "I'M IN," and I ask whether the chatter ever wears him out. Carroll shakes his head and picks up a baseball bat leaning against the corner of the desk, waggles it, drinks it in from knob to barrel. He sets his feet shoulder-width apart, a hitter digging in in the box and takes a cut. And another. "I'm not going to give in to it," he says, swinging again, this time with a little more pop. "I'm not going to live my life that way."
THE KID STAYS IN THE PICTURE
Carroll is wet. Soaked to the bone. He walks the sideline at Memorial Stadium in Berkeley, where it has been raining steadily for hours. His mouth hangs open, and his eyes, fixed on the players on the field, squint closed. Drops fall from the tip of his nose. His slicker sticks to his skin, and his silver hair lies in matted gray strips and limp rings on his head. The Trojans have the ball, third-and-2 on their own 39 with 1:36 to play. They're up 24-17. A first down means they kneel down for the win. Come up short and Cal gets the ball back with a chance to win or tie. A first down means they're 8-2 and still in the hunt for the Rose Bowl. Come up short and they have three losses and more explaining to do.
Carroll calls timeout and convenes with the offensive coaches down at the north end of the sideline. He told me once there are only a handful of moments in a game when you really have a decision to make. "And what you do is you gather yourself and your experience and you let something bubble up. You trust what you know. You rely on your intuition."
The call is a handoff to sophomore Stafon Johnson, up the gut. Early in the season Johnson looked like a world-beater, biting off eight-plus yards per carry, flashing quick to the hole, seemingly always getting into space, but he'd been thrown off track by a foot sprain in late September against Washington and hadn't really figured in the plans since. He's not the logical choice. Backfield mate Chauncey Washington has run for 220 yards on this Nov. 10 night and they're coming off a timeout so he's ready to roll. As Carroll had said earlier, "You take a breath, take a beat, you feel what you want to do and why."
Johnson takes the handoff and meets an advancing wall of Cal linemen. He's meat. But he's not. He plants hard on the right foot and pushes back and to his left, toward the east sideline. It's an unnatural move, more a product of desperation than design. He finds some breathing room. Exactly 2 yards worth, it turns out. First down, by a hair's breadth, by force of will. Carroll lifts his arms over his head. Soaks it up.
The Trojans dance their way off the field. Literally. Offensive line coach Pat Ruel, a man who doesn't strike you, straight off, as a fan of the dance, is doing some wild-and-crazy-guy jig in the corner of the south end zone. Seto and Holt are locked in an embrace, spinning like teacups. Carroll high-fives fans who've made the trip up and old friends from Marin who line up on the rail overlooking the entrance to the visitors' tunnel.
Memorial is a stadium from another time, modeled after the Colosseum in Rome, built in 1923, and little has changed since. Cracking cement walls, exposed wood and steel beams, tight spaces. Carroll and Washington meet the media after the game under a leaking tarp. The team celebrates in a locker room little bigger than a dorm room, players and coaches literally stepping on one another to high-five and backslap. Carroll does a postgame radio spot hunched over on an equipment box blocking the doorway.
I strain to listen, excusing myself for accidentally sitting on defensive lineman Sedrick Ellis' shoulders in the process. Linebacker Brian Cushing, taking a congratulatory call on his cell, steps onto a muddy landing at the top of a staircase under the stadium seats. Quarterback John David Booty talks about escaping the rush on a crucial third-down completion on the last drive while standing not in front of but inside his locker. Carroll walks by me, heading to the showers, where there's at least some chance the water, for the first time tonight, will be warm. "Isn't this cool?" he says.
THE COACH NEVER LOSES FAITH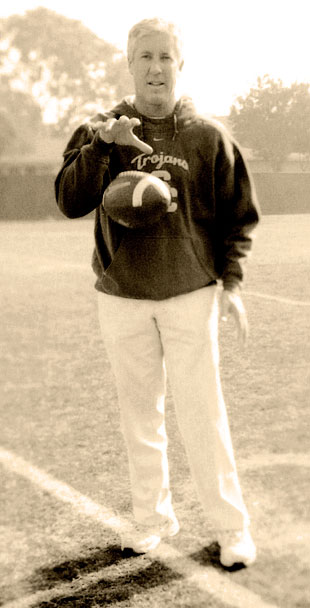 "When it falls apart, or goes out of whack, personally, I just get really competitive. I want to grind it out. I feel like fighting."-- Pete Carroll
"You're still following SC?" a local columnist asks me incredulously at the Dodgers' big-splash introduction of new manager Joe Torre in early November. "I'm done with 'em. They're no kind of story anymore."
The season began with a No. 1 ranking and Stanford coach Jim Harbaugh calling SC the greatest team in college football history. The season began with us all thinking, knowing, the Trojans would be playing for the big prize in New Orleans on Jan. 7. Then came the loss to Harbaugh's club -- the crisis story. Then came a drive-killing last-second interception at Oregon -- the door-slammed-shut story. Now USC barely registers on the hometown radar.
The Monday after the Oregon game, Carroll tells me nothing has changed. "People don't get it. It doesn't matter whether we've won 10 in a row or whether we haven't."
He is talking about discipline and routine, about honestly assessing what the Trojans did wrong in the last game and concentrating on what needs to happen to win the next one. He is talking about being in the moment, repeating what they do, blocking out "the story."
Later that afternoon, he stands near the far end of the north practice field, balancing on the balls of his feet, waiting on a kick from punter Greg Woidneck. The kid is 40-plus yards away, the ball high in the blue. It hangs up there three or four seconds, maybe more. Carroll skitters under it, his head craned back, his right hand extended, arm bent at the elbow, and he catches it. One-handed. Reaches out to it and then, at the last second, softens and drops his hand, absorbing the impact, as if he were in a water balloon toss at a family reunion. Must be luck. But here comes another kick, spiraling, diving. This one is caught in a breeze, coming in toward him tight. No chance. He brings his hand up, face-high, his elbow in at the waist, does a little float-like-a-butterfly thing with his feet and catches it. Tight on his chest. One-handed. Two more kicks. Two more catches.
"You watching this?" I ask a fan who has come out to practice, a regular.
"He does that all the time," the guy says.
Now, that's what I'm talking about.
Eric Neel is a senior writer for ESPN.com and ESPN The Magazine.
Join the conversation about "Trojan Force."