EW YORK -- This is how Mike D'Antoni tells me the story the morning after Kobe Bryant came into the Garden and dropped a merciless 61 on his Knicks in early February, with a catalog of spin moves and fadeaways that had the sold-out crowd cheering the visiting Lakers:

D'Antoni passed Bryant near center court, walking onto the floor minutes before the house lights were dimmed for pregame introductions, and said, "Hey, Kobe, what's going on?"

This is a phrase D'Antoni uses the way your mom greets company at the door, asking folks to come in, sit down and talk a spell. It's a West Virginia welcome between friends.

D'Antoni was one of Bryant's idols when the kid was growing up in Italy and D'Antoni was starring in the Italian Professional League. Kobe wore D'Antoni's No. 8 as a young Laker. The two became brothers in arms while spending three years as part of Team USA, too. They won gold together.

"And he won't even look at me," D'Antoni says, raising both eyebrows.

No "Whassup, Mike?" no quick head bob, no raise of the eyebrows, nothing. Pursed lips. Boxer's shoulder wiggle. Steely, faraway stare.

D'Antoni laughs. Shakes his head a little. As if to say, I tell you what, that Kobe Bryant, he's pretty damn good.

"I knew right then we were f---ed."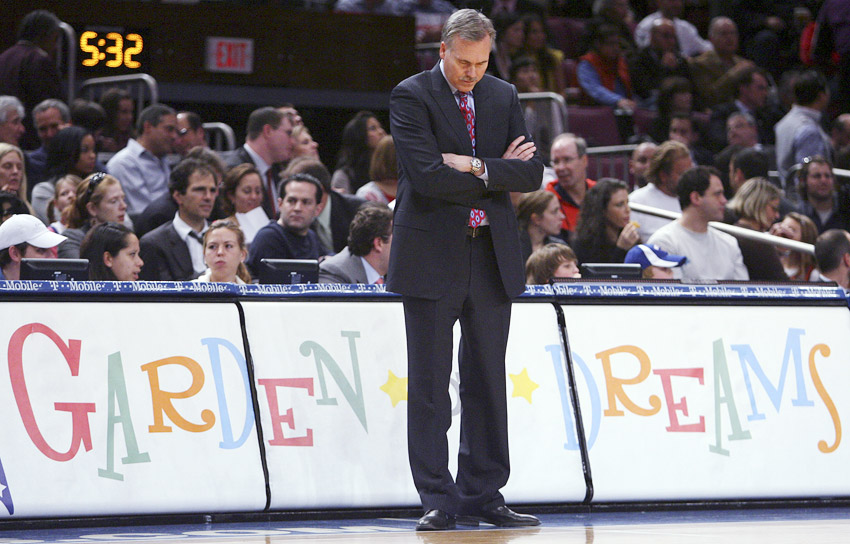 AP Photo/Mary Altaffer
Mike D'Antoni has brought an upbeat attitude to New York, but not every night has been a Garden dream for the young Knicks.
Honesty is the best policy, whether you're the thumper or the thumpee
I knew right then D'Antoni was the kind of guy I'd want to have a beer with, and thought he just might be the last honest coach, just might be the perfect man to bring the Knicks back from the brink.
Sinatra's "king of the hill" line makes it seem as though a man can take New York by storm. But the truth is closer to the old cartoon: A tourist approaches a New York cop on the street corner and says, "Excuse me, sir. Can you tell me how to get to the Statue of Liberty or should I just go f--- myself?"
You'd better not take yourself too seriously if you want to stick and someday shine in the Big Apple. The city demands a touch of vulgarity and a healthy dose of self-consciousness. The locals like regular folk with a bit of wisdom, or -- as they like to think of it -- some street smarts.
And here comes D'Antoni: no bluster, no fronting, no Nick Saban-style self-satisfaction. He's willing to laugh at himself. He lets you see the wheels turning, never pretends he has it all figured out. When he gets thumped, he says so. When things are clicking, he claims that, too.
We cast our coaches as geniuses, and he could go that route -- he has written two books, he speaks two languages and he sees combinations in a five-man running game the way Duke Ellington heard the daring possibilities in his band -- but more often than not he demystifies, sees you as someone who loves the game and casts himself in the same simple role.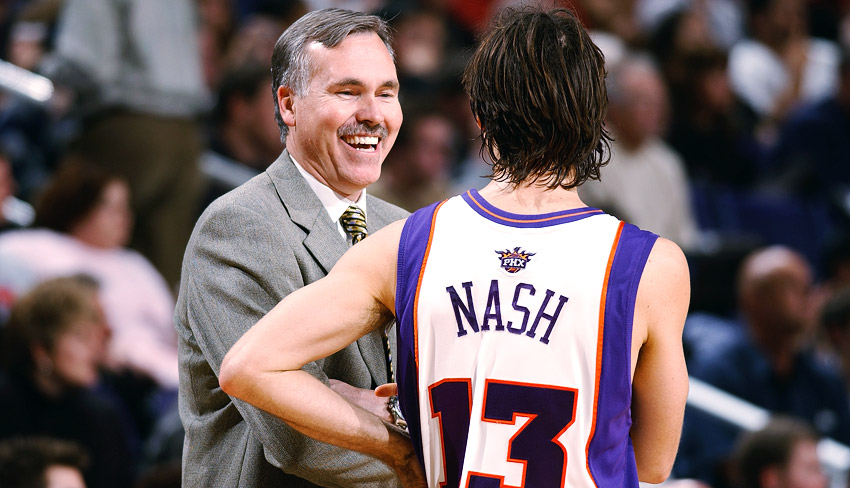 Barry Gossage/NBAE/Getty Images
With Steve Nash running the show, the "Seven Seconds or Less" era brought a lot of smiles to the desert.
Always appreciate the magic of the moment
D'Antoni remembers calling a team meeting when the Suns were 31-4 to start the 2004-05 season.
He doesn't call many meetings, he explains as he tucks himself behind the door of his fifth-floor office in Madison Square Garden and draws up a high-screen-roll set on a dry-erase board hanging on the wall. His crisp white dress shirt is unbuttoned at the collar, and his tie is loose around his neck. He'll cinch it up in a few minutes to address the local media before tonight's game.
"I just wanted to tell them, 'This is special,'" he says of the meeting back in '05. "Whatever else happens, I thought, we have this right here, where we're part of something together."
The Phoenix job unraveled when the management group and the fans became frustrated with 60-win seasons that didn't result in championships. Management started to tweak the roster. New general manager Steve Kerr came in clamoring for more defense. Doubts crept in.
"We lost our juice," D'Antoni says, still grimacing at the thought of how it ended. "We should have been happy with what was going on. We should have been proud of getting to those moments when we played with everything on the line."
He makes an X with a blue marker representing Knicks point guard Chris Duhon to the right of the center circle and just beyond the arc, another representing forward/center David Lee at about the top of the key and a third representing forward Wilson Chandler down in the right corner of the court.
He animates the X's with curved lines and arrows. The imaginary Lee sets himself to the underside of his defender. Duhon drives his man to Lee's outside shoulder. Lee seals for a beat, then swings open and dives to the basket. Duhon, in the flash in which neither man is covered, has options: flip the ball to Lee, stop and pop, drive the bucket or kick it to Chandler, who is edging up from the corner toward the free throw line extended as Duhon and Lee go deeper toward the hole.
It's Basketball 101. The oldest play in the book. When it's done right, it's unstoppable. But all the pieces moving in time, and without hesitation, is a rare and magical thing.
"If you're too loose or if you tighten up, there's nothing there," D'Antoni says, popping the cap back on the marker. "But if you hit it just right, everything opens up."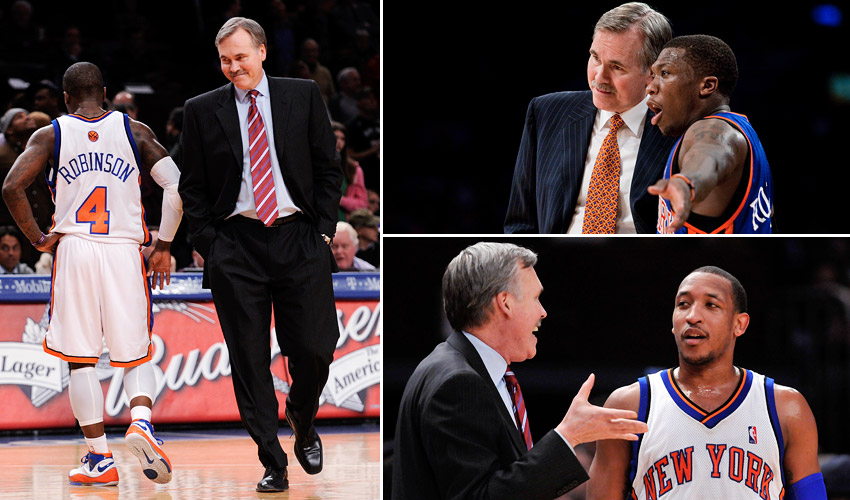 Icon SMI photos (3)
Working with young guards such as Nate Robinson and Chris Duhon, bottom right, D'Antoni hopes to crank the Knicks' offense into gear.
Let the guys know you're there for them
The Knicks players stand in a row along the sideline on the far side of the practice court at their training facility in Tarrytown, N.Y., about half an hour north of Manhattan. It's one of those places the local cabbies don't know how to find, looks like a light-industry factory on the outside: blue sheet metal, no windows, locked doors that lead outside to little grass patches no one ever walks on. Inside, it's all bright light and echoes, spoken voices lost in the bouncing of basketballs.
The players are stretching. Lee balances on his right foot on a small gel ball, straining at the effort. D'Antoni comes up alongside him and whispers something I can't hear from where I'm sitting on the other side of the floor. Lee laughs and loses his balance.
A few minutes later, the team is divided into two groups -- bigs at one end of the floor and littles at the other -- each man taking passes from an assistant coach in stride and firing quick-hit jumpers from the corners.
D'Antoni calls guard Nate Robinson to the middle of the floor to go over a defensive technique. He wants Robinson to dart into the gap between his man and the ball handler, then get back, to show resistance without double-teaming, trouble the waters enough that the guy with the ball will think twice before coming into the lane.
Robinson is the team's most dynamic offensive player, but his creativity sometimes leaves him out of position. Against the Lakers, when he missed a chance to get back on a Bryant breakaway, he and D'Antoni got into it for a bit, squawking at each other like birds. Now, D'Antoni gets down in a crouch and shuffle-steps hard to his right and back left, his arms spread wide. Robinson watches, then gets low, spreads his wings and mirrors his coach.
Soon after, forward Al Harrington arrives late to practice from a doctor's appointment. He hurries onto the floor, eyes up, looking for D'Antoni, looking to explain. D'Antoni crosses over to him and stands close, his head bent down to listen. "Everything all right?" he asks. Harrington nods, his hand on his coach's right shoulder.
And so it goes. D'Antoni makes the rounds. A tap on the shoulder. A quick question. A pat on the back.
Check in. Get a feel. Let 'em know you're there. Let 'em say what needs saying.
"A coach I had in Italy told me once: 'Thirty seconds. Every player. Every day,'" he tells me later. "You want to connect."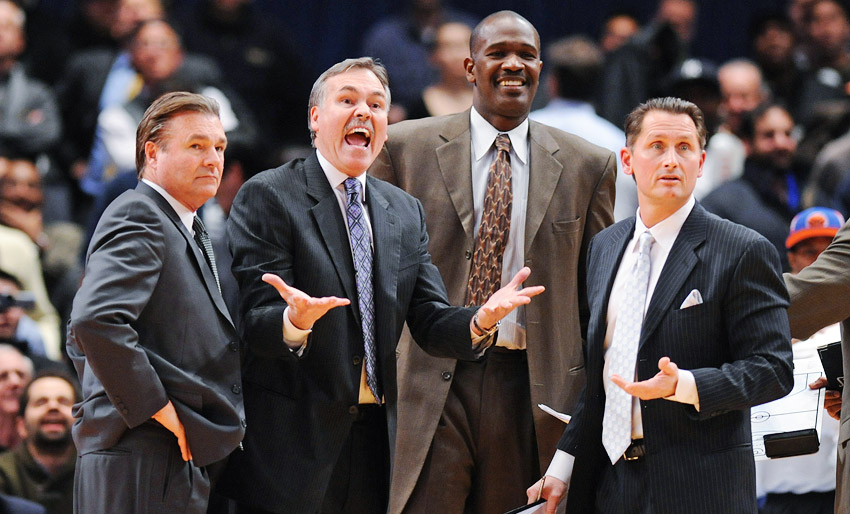 Anthony J. Causi/Icon SMI
Assistants Dan D'Antoni, left, Herb Williams and Phil Weber, right, remain calm while the head man vents.
Vent, let it all hang out. Then let it go.
Film sessions take place each morning at 8:30 in D'Antoni's office in Tarrytown. He leans back in his chair and puts his feet up on the desk, loose pages of box scores and plus-minus reports and a USA Today arrayed in front of him. The rest of the coaches grab chairs around a conference table, some of them still eating bowls of cereal from the cafeteria down the hall.
If X's and arrows on the dry-erase board are the game in theory, the game in its ideal state, a film session is the sometimes harsh reality of how the team has played it.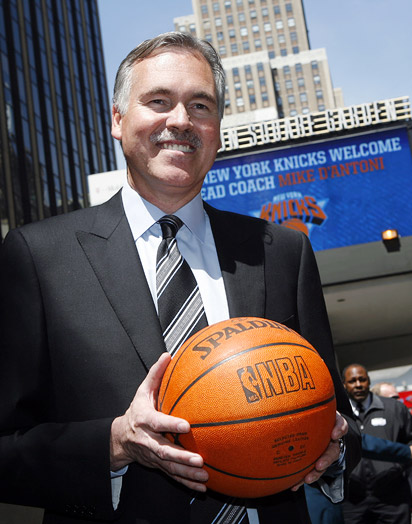 AP Photo/Richard Drew
The weighty expectations of the city aren't lost on the coach.
On this March morning, the staff is looking at a replay of a 26-point loss to New Jersey the night before. In addition to watching the game from the sideline in real time, D'Antoni watched it again at home with his wife, Laurel, before going to bed. All the coaches have reviewed the tape on their own before coming to the morning meeting.
Like literary scholars scanning lines of poetry, they see things in the film I would never think to look for. My eyes track the ball and the outcomes: made shot, missed shot, turnover, pass. They see all that and a bag of chips, noting body language, spotting screens that should have been set, and picking up on the subtle shifts in pace and positioning that make the difference between an easy look and a forced shot.
What they see this morning drives them nuts. The DVD player starts up, and they let loose. This player is too slow to react. That one's clogging the lane. Why wouldn't this guy take that ball to the hole? Why the hell wouldn't that one pass the ball back on the break? We're not playing hard enough. We're not switching -- where's the switch? We're not talking to each other. We're not getting back. Wouldn't you step in right here? Wouldn't you seal him off right there? Somebody explain to me what we're thinking right here.
No holds are barred, and it seems to come all at once, the team's warts and imperfections under a harsh light in front of a full-length mirror. D'Antoni rubs his hands down his face and over his eyes as if he can barely stand to watch. His brother Dan, a Knicks assistant coach, slaps the top of the conference table in front of him in frustration. Assistant Herb Williams shakes his head as if it's a shame what these guys are doing to this beautiful game.
I'm not sure what to make of it. Are they really this ticked? Are things really this bad? What's real? Where's the bottom? Is D'Antoni the guy who coolly connects or the cat who's losing his religion?
Then, as if they've finally purged the bad feeling, as if the freedom to be candid and heated and at their wits' end is itself a kind of curative, the tone in the room starts to shift.
They start talking about what has gone right, even on a bad night. We're good right here: We show hard on this, and they have to take a bad shot. They notice the effort. He's running out on that. They look for teaching moments. I think he would do that if he was aware of it, and that's something we can go over today. They wonder aloud about their method and expectations. Do we show them this clip and maybe talk about that again? Are we asking too much from him on this kind of thing? They reflect on their own mistakes. I need to bring more energy -- that's on me.
And eventually the conversation moves toward a plan for that day's practice, toward a handful of clips that reveal what works and what doesn't that they'll show the team, and toward four or five core ideas they want to communicate.
I'm spent after riding the highs and lows, but by the time the meeting breaks, D'Antoni seems to have reset, like some yogi whose deep breaths have put him in the now.
Coaches talk all the time about putting the defeats behind you and having short memories and all, but I've always figured that as a kind of code for repression, for first shoving how they really feel deep down into the bilious corners of their souls, then later taking it out on their players in some sort of sadistic practice from hell. That is, perhaps, what Bob Knight meant when he said his players would put a bad game behind them. This feels different. This is some kind of exorcistic ritual I can actually believe in.
"We need that room," D'Antoni says, walking toward the practice floor. "Then we need to let it go and say, 'All right, let's go.'"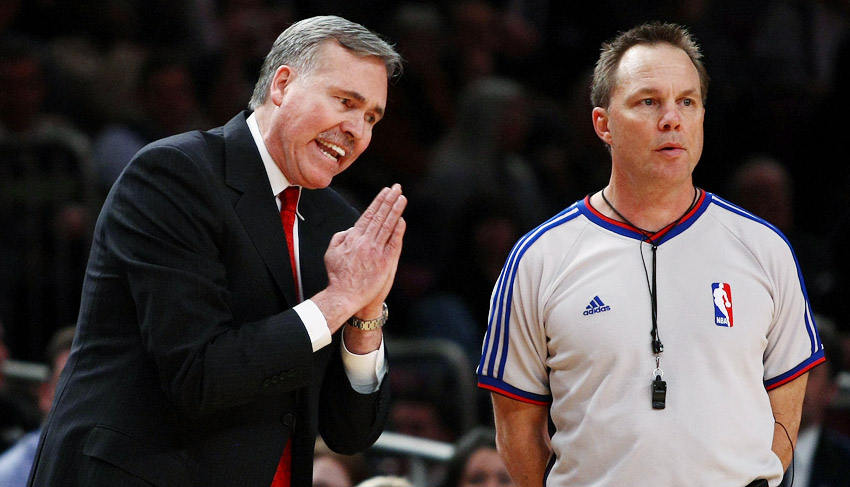 Chris McGrath/Getty Images
Usually stoic on the sideline, D'Antoni still occasionally seeks help from a higher power.
Keep your head, especially when those all around are losing theirs
I'm sitting courtside, watching D'Antoni as he stands on the sideline in front of the Knicks' bench during a game. His feet are shoulder-width apart, and he folds his arms across his chest. There's a slight forward curl to his shoulders. His eyes are quick, following the ball, but his face is still.
The game flies by in front of him, and he almost never moves. Robinson scores on some crazy leaner, the crowd erupts but D'Antoni just chills. Harrington fails to protect the backside, they get beat on a backdoor cut but D'Antoni rides it out.
Like a lightning rod in a storm, he seems to absorb the shocks and pulses. He takes some kind of quiet dominion. All the frantic energy of the guys on the floor, all the heat of the needy metropolis outside the Garden walls, it rises up to him and sprawls around him and is somehow, when he strikes this pose, no longer wild at all.
Some coaches sit back, imperious, as though they want no part of what's going down. D'Antoni is in the thick of it.
Some coaches want to call a different play every time down the floor, pacing and waving, imploring and designing. He lets go.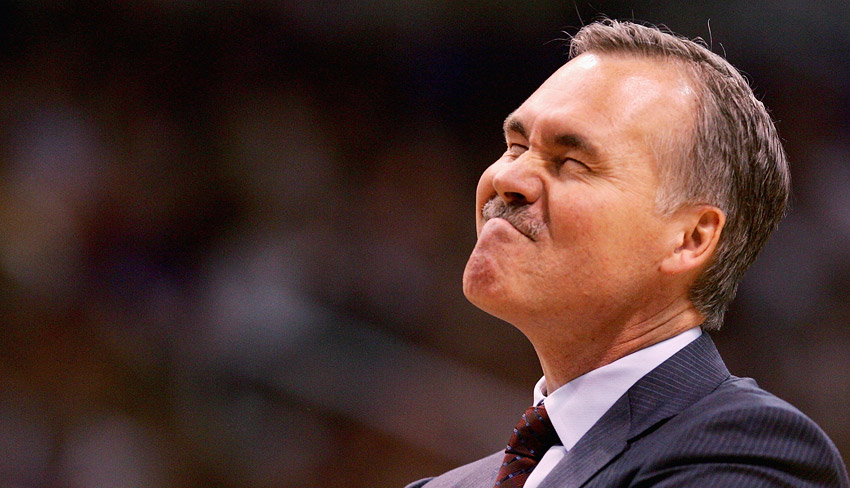 Elsa/Getty Images
Sometimes that poker face fails to hide the raw emotion inside.
Be humble about what you can't control ... which is to say, everything
The topic over lunch among the coaches is the role of chance. Assistant Phil Weber has just finished "Outliers," Malcolm Gladwell's book on the combination of intense effort and good fortune at the heart of greatness. The conversation rolls around to the Suns' near misses in the playoffs in recent years.
In 2005, Joe Johnson fractured his left orbital bone and they lost to the Spurs in the conference finals. In 2006, Raja Bell injured his calf and they fell to the Mavericks in the conference finals. In 2007, Steve Nash suffered a bloody cut to the nose at crunch time in one game, and Amare Stoudemire and Boris Diaw were suspended from another game, and the Suns came up short against the Spurs in the conference semis. And in 2008 -- D'Antoni's last season in Phoenix -- the Spurs roared back to tie the first game, clinching overtime on a Tim Duncan 3-pointer (which is to say an act of God), and the Suns eventually were ousted in the first round.
The coaches quote these moments the way the faithful quote chapter and verse, the way old golfers quote club and distance. They're not things they remember. They're things they know, things carried, things seared into the consciousness. Some bits, like the mean way Johnson defended the perimeter, they like to rehash. Others, like the Stoudemire and Diaw suspensions, are the moments whose names shall not be uttered.
But it's not a rehash or a gripe session. It's armchair philosophers meditating on the nature of the game, and on the folly of thinking you have it all figured out. They recount the history the way Ishmael recounts the story of the whale (only with better laughs), as evidence of their powerlessness in a perilous world.
"If Joe doesn't get hurt and he sticks Parker, if Duncan misses that 3, if that thing [with Stoudemire and Diaw] goes another way, I'm a much smarter coach," D'Antoni says. "And if Tim Thomas doesn't hit that shot with seconds left against the Lakers in the first round in '06 -- a shot I didn't want him to take -- I'm an idiot."
"A coach can't win games," says his brother Dan, who was also a Suns assistant. "He can only mess things up."
"It's the rhythm of life," Mike says. "Sometimes it gets you. Things happen."
"That's what keeps your ego in check," Dan says.
"That and having my pain-in-the-ass brother around every day," Mike shoots back and they laugh.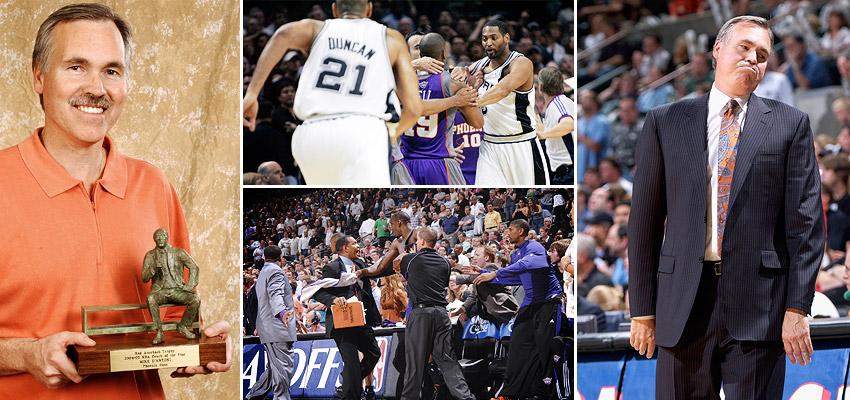 (clockwise from left): Barry Gossage/NBAE/Getty Images, AP Photo/Eric Gay, D. Clarke Evans/NBAE/Getty Images, D. Clarke Evans/NBAE/Getty Images
D'Antoni took home some hardware in Phoenix, but the ultimate trophy eluded him. So, don't ask him about that bench-clearing incident in San Antonio.
Winning is not the only thing. Really.
D'Antoni sits down for an on-camera interview and, as he's putting on the lapel mike, he smiles and asks, "You wanna know about seventh grade, right?"
When he was in the seventh grade, growing up in Mullens, W.Va., he remembers the rains came hard for days on end and the waters of the Guyandotte River rose up over their banks, flooding buildings all over town.
It was hard times for the community but a boon for the kids. Mullens Middle School was shut down for a month.
"Maybe the best four weeks of my life," D'Antoni says. "Played ball every single day, all day."
The next-best stretch, as a baller anyway, came in Milan, where he played for Olimpia Milano between 1978 and 1990. After the games, the players from both teams would go out to dinner together. All the time.
In Milan, the spot was Il Torchietto, a place in the old part of town where they had a regular table. The games were fierce. You worked every angle just this side -- and just the other side -- of the rules to win. But the game itself wasn't the be-all and end-all. It was part of the fabric. You hated the man from the other team when you were on the floor, then you loved him like a brother when you were clinking glasses and sharing stories. You were part of a team, yeah, but you were part of a brotherhood, too, a family.
"I remember one night, we lost to a club by one and it was like our eighth one-point loss in a row or something terrible like that," D'Antoni says. "And we were miserable walking off the floor. Sick to our stomachs. But still, later that night we were at Torchietto, and the other guys were buying, and it was great, too … and they were both a part of who we were."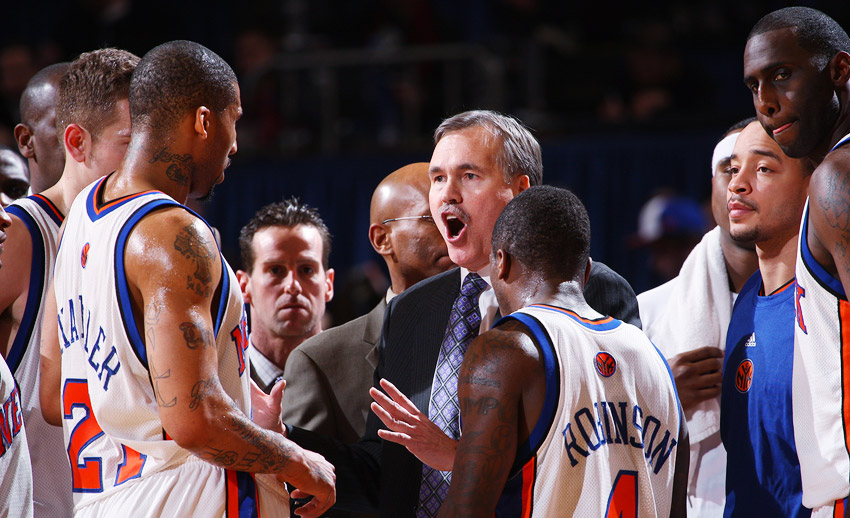 Jesse D. Garrabrant/NBAE/Getty Images
While the rest of New York focuses on the summer of 2010, D'Antoni hopes to shape the guys in his huddle.
Live for tomorrow, but salvage today
The night Cleveland comes to town, 80 feet worth of LeBron James looms over the Seventh Avenue corridor on a billboard above a shoe-store marquee, just a block from Madison Square Garden. A possible herald of the team's tomorrow. A definite avatar of the city's desire.
With the cap-clearing trade of starters Jamal Crawford and Zach Randolph in November, the Knicks declared themselves suitors in the great free-agent signing derby of the summer of 2010, when James, Dwyane Wade, Chris Bosh, Dirk Nowitzki and Stoudemire, among others, could all hit the open market.
Kids come to the Cavs game wearing Knicks jerseys that read "James" on the back, and the talk on sports radio is of landing not just one but two of the big prizes in 2010.
Everything is future tense in Gotham now. The coda to a decade's worth of losing on the court and to all the Isiah Thomas madness off it is a year-and-a-half's worth of prelude, a moment defined by what dreams may come.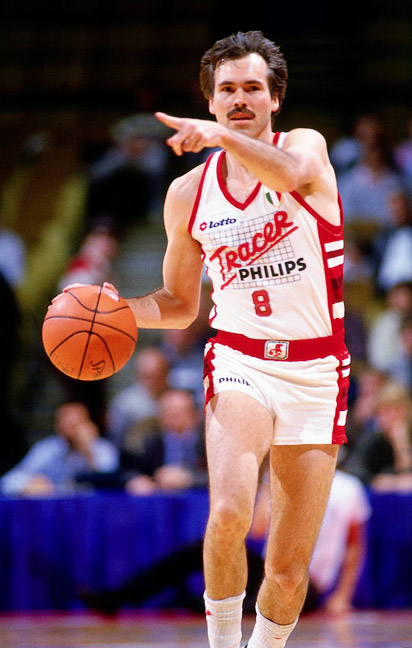 Andrew D. Bernstein/NBAE/Getty Images
During his 12 years as a player in Italy, D'Antoni discovered the simple joys of the game.
D'Antoni took the job knowing he'd be looking ahead, knowing salaries and contracts -- from Crawford and Randolph's being moved to Stephon Marbury's being asked to play a reserve role while the team figured out what its young guards, Duhon and Robinson, were capable of -- would have a serious impact on the shape of things. He knew his job was to lay the groundwork, change the culture, put the club in such a position that its bids, come 2010, would resonate with the top talent on the market.
But he works the job as if the only time is now. He stays away from newspapers and radio. Doesn't go out in the city much. Spends most of his time with Laurel and their 14-year-old son, Michael. "I stay in my cocoon," he says.
At the beginning of the shootaround the morning before the team loses to Cleveland by five points, D'Antoni gathers his players at center court and coaches 'em up:
"We can't drop our shoulders. We have to keep our energy up. The crowd is going to cheer tonight, and they're going to stand up and say, 'LeBron in 2010!' and I don't care about any of that. If we don't let our shoulders drop, we're going to be fine. I don't know if I can get that in your mind so you really, truly believe it, but that's the truth."
Before the changes the team will make after next season, there is this chance to coach the game, to work with the players on the floor, to get them ready for what's next. In Phoenix, with Nash at the helm, with finishers like Stoudemire and Shawn Marion running the wings, most of the time a coach's job was to fine-tune, to keep things running. In Phoenix, the players felt they would win every time they stepped on the floor. This is different. This is teaching and reteaching execution; this is somehow getting guys who've never won to imagine that it's possible, getting them to believe, to play with confidence. This is grinding, failing much more often than you succeed, and saddling up and doing it again tomorrow.
"I don't know what's going to happen in 2010. I can't plan for it," D'Antoni says. "I just know I live with these guys. My focus is on them. I want to wake up in 2010 and have a couple of the players we have now be the guys we want."
It's all about the journey. Well, almost all.
We sit down for lunch at Piccolo Paradiso, an Italian bistro on Los Angeles' west side, just before the All-Star break, and the guy who speaks fluent Italian can't remember the name of the dish he wants.
"Mozzarella, basil …"
"Caprese?" the waitress asks.
"That's it."
A West Coast road swing and the season's second six-game losing streak are taking their toll.
Still, D'Antoni's in an incubator now -- still carrying the clout of winning 54-plus games every season in Phoenix and not yet feeling the full weight of expectations in New York -- compared to the pressure waiting down the line.
We're talking about New York, where coaches are hunted for sport. New York, where the people are waiting for a savior. A New York without Joe Torre, and with a Mets team that has tanked two years running. A New York where the heroes rise 80 feet above the street and the tradition hangs in the rafters at MSG.
Is D'Antoni ready for this? Is he the next king of the hill?
He'll tell you he doesn't know for sure.
He'll tell you he has dealt with pressure since his mother put the family Monopoly scores on the refrigerator door when he was growing up, and he'll tell you his desire to claim the headlines the right way would be the same here, in Phoenix or in small-town Iowa, but he'll tell you he can't be sure.
He'll tell you he might be wrong when he decides which guys to play in big moments and which to sit .
He'll tell you he's still hunting for his crunch-time lineup even in the last two weeks of this season.
He'll tell you he has learned to appreciate all that went right in Phoenix, championship frustrations and bad endings be damned. He'll tell you our fascination with Lombardi and "Winning isn't everything; it's the only thing" too often keeps us from enjoying the journey, from experiencing the rush of each great moment.
He'll tell you the energy with which you play, the spirit, is what matters most, and he'll tell you that doesn't depend on James or anybody else.
Then he'll pour a little extra olive oil on the caprese and check himself and tell you this, straight up:
"I can spout all this stuff, about the journey, about keeping it level. But then I'm laying on the couch in the fetal position when we come up short, too. Ask me how I handled when we lost to San Antonio last time …"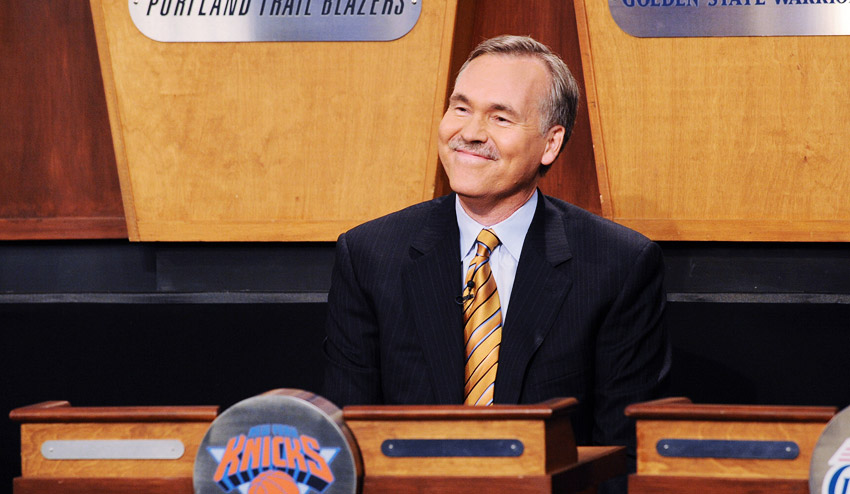 Jennifer Pottheiser/NBAE/Getty Images
The Knicks might end up back in the lottery this spring, but D'Antoni's long-range plans revolve around games in June.
Until you win, you can't say boo
It's two hours before tipoff against the Cavs in early February and D'Antoni is in his office at the Garden, looking over scouting reports and eating popcorn. It's always the same drill: two boxes of popcorn (the kind you buy from a guy walking up and down the aisles in the arena), two small packs of Fig Newtons and two Diet Cokes, lined up on his desk like pins waiting to be knocked down.
We're talking about the way things ended in Phoenix, with Kerr coming in and pressing for more defense. We're talking about how the Suns' defenses actually were consistently in the upper half of the Western Conference in terms of opponents' field goal percentage. We're talking about how he and the other assistants would show Stoudemire game tapes on the plane rides home from road games to try to get him thinking about improvements to his defensive technique while the game was still fresh in his head.
I ask D'Antoni whether he misses Phoenix, and he says he misses 72 degrees in February -- and misses his friends on the team, especially Nash.
I ask whether it's hard to make the transition from playing for division crowns and positioning yourself for playoff seeding, as he did there, to playing for growth, pride and positioning for the next couple of years, as he's doing here, and he says it's like breaking up with your girlfriend: It hurts at first, but you have to believe you're going to find another great girl out there.
I ask whether he gave any thought to changing his style of play coming out of Phoenix and into New York, and he says he has to keep pounding the nail; he knows it works.
I ask whether he tires of the critiques about defense, and he interrupts to remind me of the one about playing only seven-man rotations (not true) and the one about not developing young players (apparently Stoudemire, Leandro Barbosa, Duhon, Lee and Chandler don't count).
Then I ask whether he's driven to build a new thing here that will prove Phoenix was no fluke, that will show everyone that his system really works, that will silence the naysayers once and for all, and he says that until he has won it all, they can say anything they want about him and he can't say boo back.
I say Yeah, but aren't you burning to shut 'em up?
He says it doesn't consume him.
I say I get that, but wouldn't you relish it?
And he leans forward in his chair and reaches across the desk to wipe up a little mess of popcorn kernels with his left hand.
He cups the bits of shell in his right hand, then pours them casually into the nearby wastebasket, and looks up with a sly grin and says, "You're asking if I'm human?"
Eric Neel is a senior writer for ESPN.com and ESPN The Magazine.
Join the conversation about "Gotham's Savior."