OTL: Reaching Out

he put her dad on a shelf and left him there for a quarter-century. Just because the rest of the world is preoccupied with Julius Erving doesn't mean she's had to be. She says she has never Googled him, that she has never even heard of "The Fish That Saved Pittsburgh." Instead, everything she's learned about the man has come second- or eighth-hand. She first found out he was her father when she was 4, and she first started denying it when she was 5. She'd say her father died in the war or that he was a sheik in Kuwait or that his name was "Ken." She didn't celebrate Father's Day, she celebrated
Grandfather's Day.
On dad-daughter nights at school, she'd show up with an uncle or a neighbor. On registration forms that required a father's name, she'd write "N/A" or "None Of Your Business!" Through the years, Dr. J wasn't so much a secret as he was a figment of her imagination.
Until two months ago, when the phone rang ...
Uncharted territory
There's no manual for this. There are no instructions for: Basketball icon meets female sportswriter, has extramarital affair, gets sportswriter pregnant, misses childbirth due to game against Pacers, asks for separate lives, reads about the child 18 years later in the newspaper, has a broken heart, wishes for a way to reconcile, spends nine years thinking about it, can't pull the trigger.
There's no way to fix all that. Is there? There can't possibly be a happily ever after. Can there? There's no phone call that can heal everything. Correct?
Even if we retell the story, examine every nuance, revisit preschool and Wimbledon and the ESPYS and Troy, Ala., the answer still has to be no. Or at least 90 percent no. Or 80 percent no. Or ...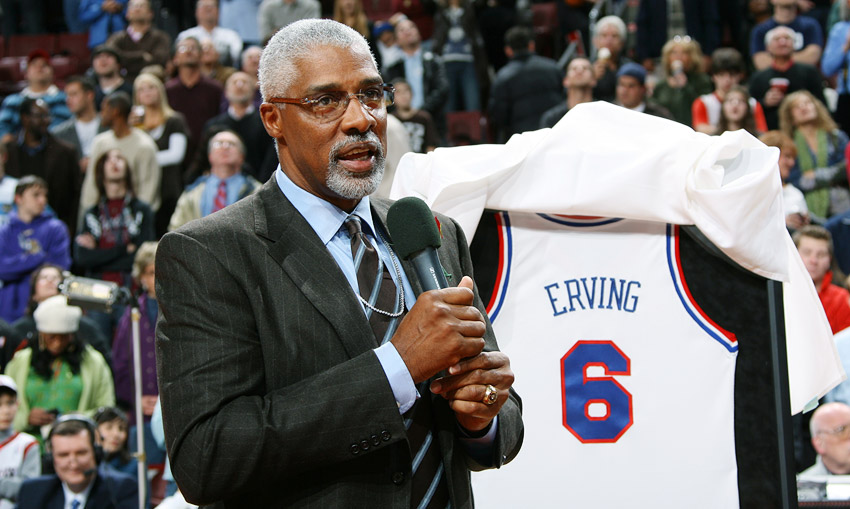 Jesse D. Garrabrant/NBAE/Getty Images
Beloved for his basketball accomplishments, Julius Erving feared repercussions over the truth about his daughter.
Doomed from the get-go
The couple -- Julius Erving and Samantha Stevenson -- had no chance from the start. He was a freelance dunker and she was a freelance writer, but other than that, they were from different planets. He was black, married, worshiped and image-conscious. She was white, single, ostracized and passionate about the truth. He helped pave the way for the NBA-ABA merger; she helped pave the way for women in the locker room. They met in the middle somewhere, circa 1976, and on Dec. 15, 1980, she waited in a San Diego hospital for him to come kiss their newborn daughter.
"He was supposed to meet her, but he didn't show up," Samantha says. "He wasn't coming to rescue me, or be with me, so I moved on. I'm a big girl. The only thing I needed from him was his middle name: Winfield. I gave it to her, because she was a part of him because I wanted her to be tied to him."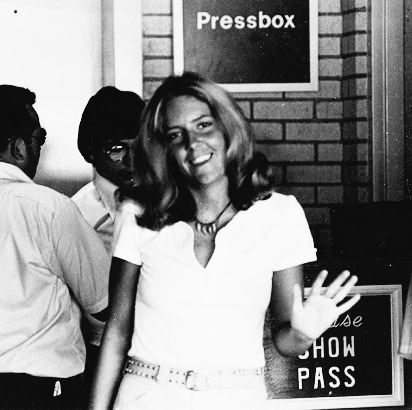 Courtesy of Samantha Stevenson
Working as a sportswriter, Samantha Stevenson first met Julius Erving in the late 1970s.
The baby's full name was Alexandra Winfield Stevenson and, if Samantha had foreseen the drama ahead, she might have omitted his name from the birth certificate. But there it was, as plain as day, under father of child: Julius Winfield Erving II.
The early years were testy. From all accounts, Erving's wife, Turquoise, was fuming over her husband's infidelities and livid at Samantha. In 1977, two years before her affair with Erving, Samantha had ghost-written a piece with Turquoise about life as an NBA wife for the New York Times, and, naturally, Turquoise felt betrayed. So there was little hope of Julius ever flying Alexandra in for a visit. In fact, the terse agreement between the two parties, drawn up by lawyers, was for Samantha to live at least 200 miles away from Julius, keep the birth out of the news, receive a modest monthly stipend and have sole custody. At the time, Julius was the reigning NBA MVP as a Philadelphia 76er, the good Doctor, and a paternity scandal -- much less an interracial affair -- could have been an image- and endorsement-killer. Samantha says she loved him and didn't want to be the cause of that. So she signed the contract, lived off his monthly checks and stayed in her little corner of the world: La Jolla, Calif.
"For better or worse, the parties honored it," Erving says. "We thought it was in the best interest of Alexandra."
All mother and daughter had were each other -- and a Schwinn bicycle to get them from Point A to B. Every morning, Samantha would put a crash helmet on her 3-year-old toddler, and pedal her to the grocery store, to the beach and five miles to preschool. They were an odd couple riding down busy La Jolla Boulevard -- a white mom and a mixed-race toddler -- and one of Samantha's angrier days was when a curious preschool teacher asked Alexandra who her father was and what he did for a living.
Alexandra didn't have a clear answer for them, and when she came home in some distress, Samantha whipped out a book titled, "The Legend of Dr. J." She showed Alexandra a photo of a chiseled Erving, palming an ABA ball, in a New York Nets uniform, and she told her 4-year-old: "This is your father. He's a great person, and he happens to be a basketball player. I'm your mom, and you live with me, but it's important for you to know he loves you."
She also explained his identity was "nobody's business," which is how an entire cover-up began. By kindergarten, Alexandra was drawing self-portraits of herself white, and, by grade school, she was telling her mom, "The next time someone asks me who my father is, I'll say Robert Redford." Samantha suggested she think of someone else, to which Alexandra replied, "Sidney Poitier?"
She also began telling her mom she disliked her middle name, Winfield, and asked to switch it to Chloe or Zoe.
"What's wrong? Winfield sounds presidential," Samantha said.
"But I'm not running for president," Alexandra shot back.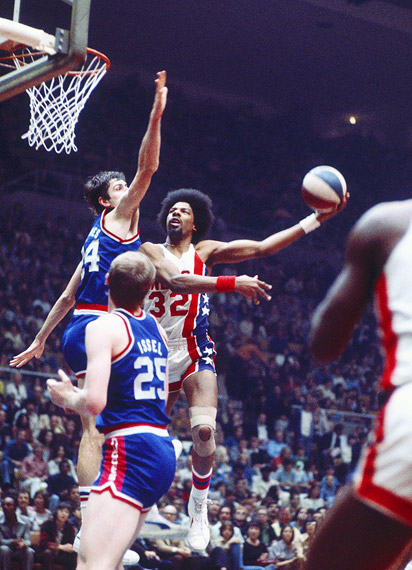 Focus on Sport/Getty Images
Julius elevated the game of basketball, but that only caused Alexandra to shun the sport.
Instead, she was running circles around the other kids in sports. As an infant, she'd done underwater somersaults in the swimming pool, and later she excelled in soccer, gymnastics, tennis and ballet. Basketball she could take or leave. But then one day, at the age of 8, she came home from school with a flier that said the recently retired Julius Erving was conducting a one-time-only clinic at the local gym. All the boys in her class were dying to meet him, and, out of curiosity, Alexandra asked Samantha if she, too, could go, if she could see her father, finally, in the flesh.
Samantha's reaction was, "Are you sure?" And when Alexandra assured her she was, the wheels were set in motion. Samantha did not alert Julius because they weren't communicating anyway. Instead, Alexandra showed up with one of Samantha's close girlfriends, who wrote ALEXANDRA STEVENSON in large block letters on a nametag ... then stepped back to watch the fireworks.
At first, Julius didn't recognize Alexandra. He'd seen photos of her -- Samantha would send some to the 76er offices once or twice a year -- but he didn't make the connection. What he did notice was a lanky, determined little girl, diving all over the court in her Size 9 sneakers, and he chose her as one of the camp's top performers. Her prize was a personal autograph from him, and when he looked down and saw ALEXANDRA STEVENSON, Erving's exact baritone words -- according to Samantha's friend, Geneva Kandel -- were, "Nice to meet you, Alexandra."
The little girl froze. She glared at Julius, said, "I don't want your autograph," and stomped away.
"I realized it was Alexandra, and it was quite embarrassing," Erving says. "I've replayed it a hundred times in my mind and thought about how it could've turned out differently, maybe if it had been set up a little better. It might be a wound that never heals for her. I was at the end of my career; a lot was going on. I was somewhat oblivious during that time."
Kandel actually remembers what she saw in Erving's eyes that day: tears. She remembers Turquoise, who was at the gym, fainting. And she remembers going back to retrieve the autographed basketball.
Alexandra brought the ball home that night and wouldn't let her mother see it or touch it. Instead, the little girl locked the bedroom door and examined her father's autograph for hours. She then placed the ball on the farthest reaches of her closet shelf, hid it behind her dolls and firmly shut the closet door.
Never to look at it again.
Finding her own game
Basketball was now taboo to Alexandra. If her mom was watching a Lakers-Celtics game, circa 1988, the little girl would change the channel, or turn the TV completely off, always in a huff. Samantha would try showing her video highlights of Dr J above the rim -- above the square, for crying out loud -- but Alexandra would roll her eyes. The little girl decided she already had a dad: her mom.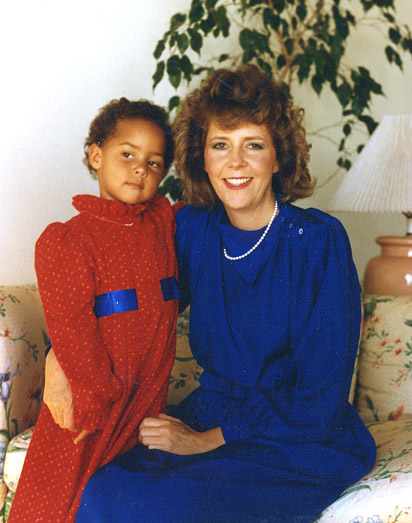 Courtesy of Samantha Stevenson
Samantha devoted all her energies to her daughter and became highly protective.
Samantha fretted over this and decided her daughter needed as many surrogate fathers as possible, which is where tennis came in. By age 8, Alexandra had already mastered every shot in the book -- in pinafores handmade by Samantha's mother -- and men's tennis coaches were fawning all over the kid.
Samantha began taking her to see Tracy Austin's coach, Robert Landsdorp -- who told Samantha that Alexandra could be the next Margaret Court -- and, at the age of 10, she also introduced Alexandra to Pete Sampras' childhood coach, Pete Fischer. Samantha, who had been interviewing Fischer for a story, asked him to evaluate Alexandra's game, and when she served close to 100 mph, he predicted she could be No. 1 in the world someday.
Fischer, a pediatrician, was willing to coach Alexandra, but it would mean Samantha driving 240 miles, round trip, from La Jolla to Los Angeles one day a week, and later three days a week. The Schwinn bicycle wouldn't cut it. They needed a reliable car, and guess who bought them a white Volvo station wagon.
"I wasn't in their life," Erving says, "but I was never a deadbeat dad. I didn't ignore them; I tried to support them."
The truth is, Erving had been raised by a single mother himself and had only laid eyes on his father, Julius Winfield Erving I, twice in his life. "And those couple occasions weren't really all that cool," Erving says.
He empathized with Alexandra's plight; she just didn't know it. She couldn't understand why, on her birthdays, there was never a card or a present. "Presents are big to me," she says. "I can't lie." She had no idea he felt his hands were tied by his wife and the agreement, no idea he was an attentive dad to four other children: Julius III, Jazmin, Cory and an adopted son, Cheo. It was a shame, because both lawyers knew exactly how paternal Erving was and how maternal Samantha was. When Erving would visit Samantha's lawyer, he'd sometimes bring little Jazmin along to play. And when Samantha would negotiate with Erving's attorney, she'd always bring Alexandra, in a Snugli. Erving's lawyer even held baby Alexandra in his arms. They weren't one big happy family, but they weren't coldhearted, either. They were simply separated by legalese.
"With the lawyers involved, and Alexandra's mom and my wife, it put me in a very unusual position that there's no real preparation for," Erving says. "So I honored an agreement that if I look on, would I do it again and do it the same way? I would prefer not to, but what's done is done.
"I've always had a parental love, knowing that I had a child out there, and I knew if there was ever a time she needed me, I would be there."
Regardless, Alexandra already had written him out of her life, and her philosophy on seeing him again became "better never than late." After that basketball clinic, she decided she'd forever belong to her mom and only her mom. She would only sleep in her mother's bed until she was 7, and, after that, they slept in adjacent twin beds in their one-bedroom apartment. Samantha felt it was crucial to almost spin a cocoon around her daughter. She'd hear, "Oh, are you babysitting?" when she'd take her out shopping, and she felt it was necessary to close ranks, to live only for her daughter.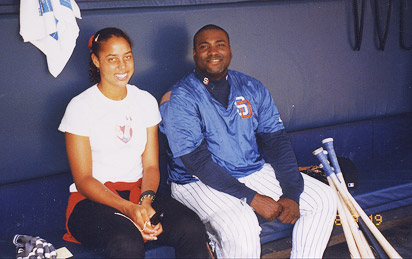 Courtesy of Samantha Stevenson
Samantha introduced Alexandra to top athletes like Tony Gwynn to serve as sports mentors.
So, it was Samantha who chose not to date. It was Samantha who drove Alexandra the five hours back and forth to Fischer's tennis lessons. It was Samantha who brought her along on newspaper assignments, introducing her to top athletes such as Tony Gwynn and Steve Young. And when Alexandra wasn't allowed to be Dorothy in a school production of "The Wizard of Oz" -- because of her skin color -- it was Samantha who told her it was OK to be a green Wicked Witch.
Alexandra seemed content with her life, although someone would always ruin it and bring up the dad question. Lansdorp would joke: "Let's make a list of her potential dads -- everyone in the tennis world wants to know who this brilliant athlete's father is!" Some people even guessed Wilt Chamberlain. Fischer, meanwhile, had noticed Alexandra's elongated hands, how she could palm a medium-sized basketball. Knowing Samantha's Philadelphia roots, he put two and two together and guessed Erving was the father. But he never mentioned it. Instead, he persuaded Alexandra to play a game of H-O-R-S-E, on a 6-foot basket, and announced coyly, "My next shot is a Dr. J slam." Alexandra walked away.
The more she excelled in tennis, the more her secret was at risk. By the time she was 12, Alexandra was already serving 100 mph and had practiced with Bobby Riggs, Ellsworth Vines, Don Budge and Sampras. In high school, she'd blasted a serve so hard that her opponent walked off the court, out of absolute fear. She and two other young girls -- a certain Venus and Serena Williams -- were the talk of amateur tennis, and when Richard Williams asked Fischer whether he'd coach his girls instead, Fischer answered, "No, I've got the better athlete."
That's what Samantha wanted 14-year-old Alexandra to understand -- that she had superstar genetics. So, during a junior tennis tournament in Philadelphia, she took her daughter to the Julius Erving statue, in front of the Spectrum. It was life-sized and bronze, and Alexandra, who had studied the Roman Empire, couldn't fathom why Julius Erving and Julius Caesar each had statues.
"What is so special about him?" she asked her mother.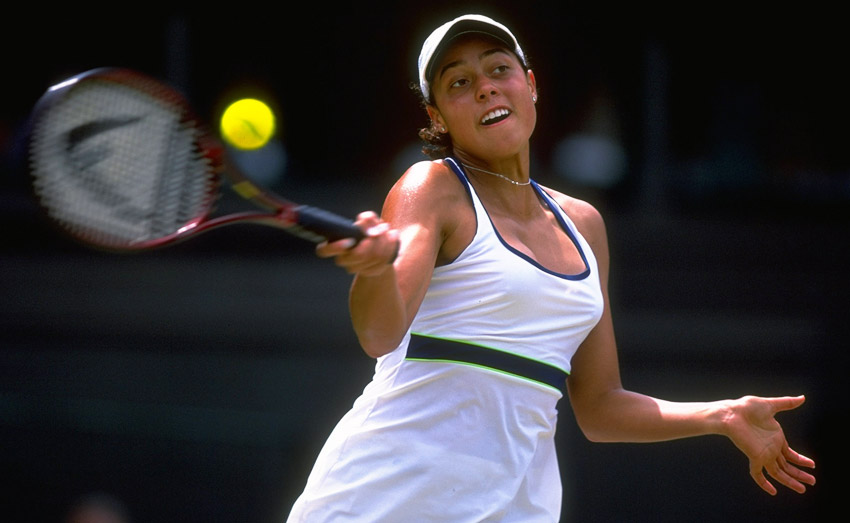 Gary M Prior/Getty Images
Wimbledon was a coming-out party for Alexandra in 1999 -- but her success also prompted her secret to come out.
The vultures circle
The birth certificate was just sitting there in a San Diego hall of records, a 50-cent phone call away.
Someone just had to think of it -- perhaps an ambitious reporter -- and it didn't help that Samantha might have tipped the whole thing off years before. Back in 1986, she had penned a diary for World Tennis Magazine, and one particular excerpt seemed to have the vultures circling: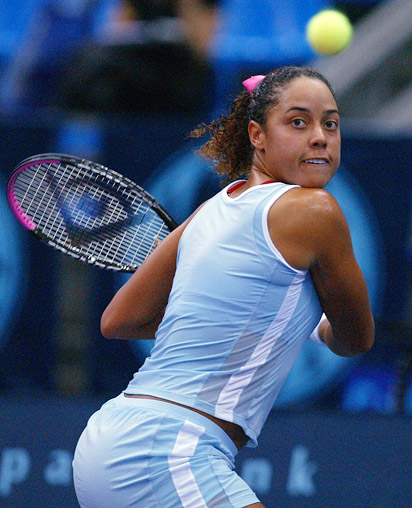 Lisa Blumenfeld/Getty Images
With her natural athletic ability, young Alexandra overwhelmed opponents.
What makes a champion? Red Smith once told me it's in the blood. I agree. A world-class athlete is born with the ability to be great. Alexandra has it. You DO know if your child's got it.
It doesn't seem like much, but a tennis writer from the Fort Lauderdale Sun-Sentinel, Charles Bricker, had heard the gossip, had read that diary, had seen the white mom carting around the mixed-race daughter, and, by 1997 started snooping. Erving would eventually call it a "witch hunt," and, according to Samantha, it all began with a simple question to 16-year-old Alexandra at a national tournament:
"Who's your father?'' Bricker asked.
"None of your business,'' Alexandra snapped.
A year later, in March 1998, Bricker made the inevitable phone call to San Diego. He purchased the birth certificate, for a nominal amount, and saw Erving's name in plain sight.
"I never thought anyone would find it; I didn't think anyone would care," Samantha says. "I had lived my life quietly, and not once had I been asked for it. And I never second-guessed putting his name on it. He was her father, and I didn't want her to feel she was out in the world by herself. She needed to know two people were committed to her. Because I thought, one day, Julius would care."
The newspaper sat on the story, because -- according to explanations given later by the Sun-Sentinel -- Alexandra wasn't enough of a public figure yet. She was ranked only No. 120 in the world at the time, and Bricker hadn't even broached the subject with Alexandra and Samantha. But he was planning to do so, and in December of '98, at the Orange Bowl junior tournament, he took another run at the two of them.
"I know who your father is," Alexandra remembers Bricker saying. Which is when Samantha says she blew a gasket. "I said, 'Stay away from my daughter!' I probably used some bad language. He just stood there. I said, 'Don't you dare come near us again.'"
But it was only a matter of time, or a matter of Alexandra hitting the big time. She skipped the 1999 French Open the following May so she could go to her prom, graduate and portray cheerleader Patty Simcox in her high school's presentation of "Grease." But she wasn't going to miss Wimbledon that June. She had to qualify first, in Roehampton, England, and with her first serve hitting close to 125 mph and her second serve skidding along at 108, she was made for the grass. Before long, she was in the third round of the main draw, recording an upset of 11th-seeded Julie Halard-Decugis. The British crowd adored her classic one-hand backhand and her postmatch curtsies, and serenaded her with a standing ovation. She felt like she was back at La Jolla Country Day School, channeling Sandra Dee. She was barely showing anxiety, which was more than Dr. J could say.
Back in Florida, where Erving was a senior vice president for the Orlando Magic, he says he was evading phone calls from Bricker. Julius hadn't been watching Wimbledon, but he'd seen in the newspaper that Alexandra was torching her opponents, and he sensed the Sun-Sentinel was ready to move with the story.
"First of all, in talking to someone I don't know, it's none of their business," Erving says. "And I wouldn't corroborate, cooperate or confirm what his findings were because, as I said, I thought it was a witch hunt, and I really wasn't properly approached by someone who I knew and could trust."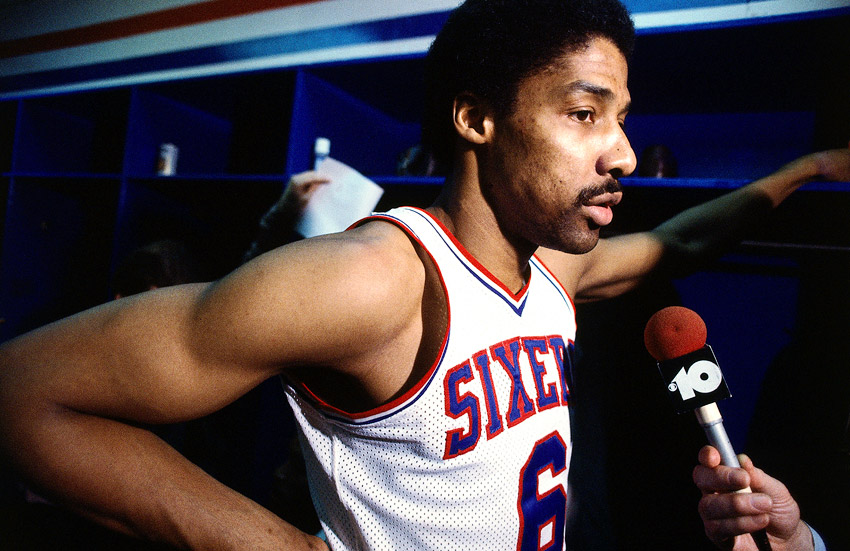 Walter Iooss Jr./NBAE/Getty Images
No stranger to the media, Julius was still unsure how to answer questions about Alexandra.
Back in London, Samantha was still reveling in the victory over Halard-Decugis, when Frank Deford, her sportswriter friend, alerted her of the latest press-room rumor: Someone had scored Alexandra's birth certificate. The British tabloids would've hounded Alexandra to no end if that went public, and Deford's advice, according to Samantha, was to distract the media. So, Samantha did a "walkabout" with the tabs, calling the tennis circuit an "evil place," talking about racism on the tour and proclaiming she wanted her daughter to marry a man. The tabloids inferred she was bashing lesbians on the tour, and the headlines screamed: "Get Your Filthy Hands Off My Daughter." Duplicitous or not, she says she was simply putting her daughter first. And mission accomplished: Good ol' Samantha was now on the front page -- not Alexandra.
"Who cared what Charlie Bricker knew?" Samantha says. "Nobody cared about that. They only cared about the lesbians."
The Stevensons were the rage of Wimbledon. Nike might have dropped Alexandra as a client before the tournament, but now Phil Knight had personally flown in to re-sign her. Here was the next great American player, and after she recorded a scintillating fourth-round, three-set victory over Lisa Raymond, she was the favorite in her quarterfinal match against fellow qualifier Jelena Dokic. One problem: Bricker's story was going public.
"Outside the Lines" documents the meeting of Julius and Alexandra.

The night before the Dokic match, Samantha was told the Sun-Sentinel story would move on the AP wires in the morning. She spoke with her lawyer, coached Alexandra on what to say, and then awoke to another bombshell: Erving had denied it.
Julius claims he just didn't corroborate it, but Alexandra was aghast. "I just thought that was dumb," she says. "Maybe he got blindsided. I mean, I don't know what was going on in his life at the time. Maybe it just got thrown in his face like it got thrown in mine. Maybe he panicked."
Alexandra somehow defeated Dokic in a rain-delayed match, becoming the first woman qualifier ever to reach the Wimbledon semis. But, in her ninth match of the fortnight, a drained Alexandra fell to Lindsay Davenport 6-1, 6-1. By then, Erving had come clean and admitted, in a statement, that Alexandra was indeed his flesh and blood. Privately, Julius was relieved the secret was out, that "another journey was about to begin," and, in his statement, he asked people to give Alexandra her space at this difficult time. But the truth was, she'd never have space again.
When her flight landed in Boston, she was greeted with raucous applause in the terminal. Airport workers and baggage clerks howled, "Dr. J's daughter!" She'd never heard those words in public before, not in all her 18 years. Now, she finally knew the answer to the question she'd asked at the statue: What was so special about her dad? Everybody loved him, which meant everybody adored her.
She waited for his call, but a torn Erving was second-guessing what to do. He'd seen Alexandra's post-Wimbledon quote -- "He didn't change my diapers, my mom did." He'd read that she didn't like being called African-American, that she crumpled up newspapers that referred to her as Dr. J's kid, that she only considered herself a Stevenson. He assumed she was sending him a message.
"With her interviews and her feelings about not having a father and not having brothers and sisters, I thought [contacting] her would be a nightmare," he says. "I really thought she tuned out the Ervings as really existing. The Ervings weren't only at a distance, the Ervings didn't exist."
Reality was, she didn't have anything figured out at 18, other than she wanted a hot pink tennis racket. "Why didn't I call him? Because I thought he should call me," Alexandra says. "He's the grownup. But I just got over it and figured, 'Oh, well, he'll never call.' So you move on. And then I just got annoyed at airports."
It got to the point that whenever she'd hear, "Hey, Dr. J's daughter," at the airport, she'd deny it. She'd say, "No, I'm not." They'd see her rackets and ask, "Are you sure?" And she'd answer, "Yeah, I'm sure." She was stoic on the outside, but there were obviously layers of hurt inside. Later that summer, Alexandra went to visit her friends from La Jolla, the Kandels. They were a traditional family, with a father and mother, brothers and sisters, pillow fights, bunk beds and chores. It struck her that somewhere out there, she had a family, too.
So, for the first time since Wimbledon, for the first time since the Bricker story, Alexandra fell to her knees and sobbed.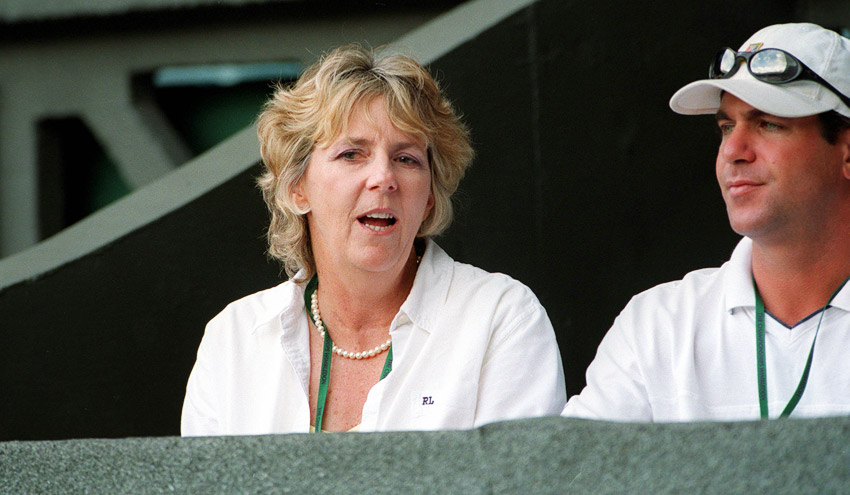 Popperfoto/Getty Images
Samantha tried to take the attention off the paternity issue at Wimbledon by engaging the media on other topics.
Losing her way
Who was going to blink first?
Not the tennis player because she had wins and losses -- mainly losses -- to worry about. In Alexandra's first 32 tournaments following Wimbledon, her first 32 tournaments as a celebrity's kid, she lost in the first round 20 times. And after each loss, the media still wanted her in the interview room.
She quickly learned the routine. They'd start off lobbing softball questions, until some writer with a nervous tic would ask, "Have you contacted your father? Has your father contacted you?"
Her standard answer became, "No, the father ship hasn't landed yet" -- because she felt it was a silly question that deserved a silly answer. But, deep down, it wasn't amusing. Her mother had just lost her writing contract with The New York Times for becoming the story at Wimbledon. And, in all of these first-round matches, the bulls-eye was on Alexandra. She'd gone from the hunter to the hunted, from "Grease" to "Girl, Interrupted." After a first-round loss at the Australian Open, early in 2000, she was MIA for 45 minutes, weeping in a nearby garage. It dawned on her: If she hadn't starred at Wimbledon and turned pro, she'd have been at UCLA or Stanford or Harvard, and Bricker wouldn't have had a reason to blow her cover. But instead she was a top-50 player ... and a wreck.
"At Wimbledon, I was under the radar as myself," Alexandra says. "After Wimbledon, everyone expected me to go win Grand Slams and tournaments right way. Plus, I had the whole father issue. Coaches kept saying, 'Oh, it's mental.' Well, it probably was mental! Because I'm getting interviewed about a father I didn't know every time."
Her surrogate dad, Fischer, wasn't there to save her, either. Shockingly, he'd been charged with child molestation prior to Wimbledon -- a head-turner for Alexandra, who said she had never felt threatened by him. He eventually pleaded guilty and accepted a six-year prison sentence, leaving Alexandra alone with her mother and trying to master the pro tour. They'd hire their coaches du jour -- Nick Bollettieri included -- but it was ultimately up to the kid to figure out how to win.
To her credit, she buckled down. By the end of 2002, she had risen to No. 18 in the world, an absolute budding star. She'd played brilliant matches against all the huge names -- including consecutive wins over No. 1 Jennifer Capriati -- and simply needed to mix in some finesse with all that power. Life was just better. She bought a condo in Florida, decorated it in pink. But her mom wouldn't let her buy a car. They still had the trusty white Volvo station wagon, the one Julius bought them when she was 11, and, even though it had 250,000 miles on it, Samantha saw it almost as a family heirloom.
"That car was his present to her," Samantha says. "It was symbolic, something connected to him. Like when I gave her his middle name. I told her, 'You take care of it, you don't just throw things away.' It had meaning; it was a symbol of her hard work."
Deep down, Samantha must've been wishing for some father-daughter reconciliation because about twice a year, she'd have a recurring dream, where Julius would magically appear on a basketball court, showing Alexandra how to play hoops. They'd be smiling and joking -- until Samantha would wake up in a cold sweat.
In real time, though, Julius was dealing with a nightmare. In the spring of 2000, just months after Wimbledon, his son Cory went missing, the same Cory who was born less than six months after Alexandra. The boy had always been a lost soul, afflicted with attention deficit disorder and sucked in by cocaine. He'd been to rehab and, in 1998, was charged with burglarizing a car and loitering and prowling, charges that were later dropped. But he'd also been the one son with some Dr. J in him, the one son who was 6-foot-4 and able to reverse-dunk. And, at age 19, Cory was finally taking pride in that. He found a job at a restaurant and was playing a lot of hoops at the local blacktop. He seemed to be stable until, one day, he never showed up for a barbecue. He was missing for 40 days, and, during that horrible stretch, Erving went on "Larry King Live" to plea for help. King asked, on the air, whether Alexandra had been in touch, and he said no. So that was two daggers in Julius' heart.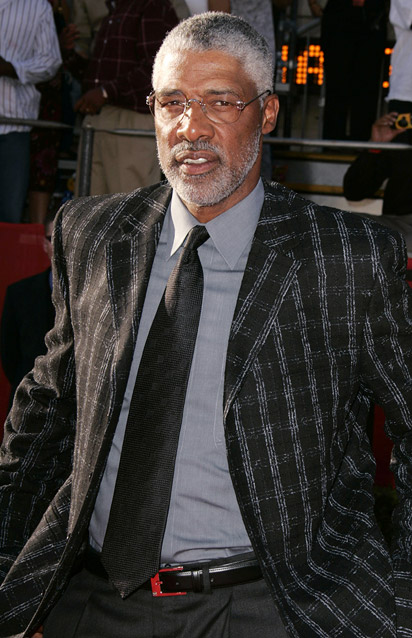 ESPN Communications
Julius thought of arranging a meeting with his daughter at the 2004 ESPYS, but he had second thoughts about the setting.
He'd often think about Alexandra -- "Part of me always missed her, missed not having her around," he says -- but when Cory eventually was found dead, having accidentally driven his car into a pond and drowned, the drama was almost too much to take. Erving's marriage to Turquoise was eroding and, adding to the mayhem, Julius had just become the father of a newborn son, Jules, with another woman, Dorýs Madden. He describes that time in his life as "day to day," and he wasn't entirely certain where Alexandra fit in.
But after he and Turquoise divorced, reaching out to Alexandra seemed more plausible. He'd been following her career; he'd even talked to John McEnroe about her. He'd know when she was in Philly or Florida or California. Some of his close friends urged him to get on a plane, and it was eventually broached to Samantha, through an intermediary, that Erving might like to meet Alexandra backstage at the 2004 ESPYS. Alexandra was going to be there with Venus and Serena, but Samantha thought a backstage reunion would be a logistical disaster, not to mention impersonal. She balked at it, and Erving, at the same time, had his own second thoughts, as well.
"I wanted to meet her and see her, and I played it out a lot of times in my mind how it would go, the hits I would have to take and the surprise factor," Erving says. "But then it kept falling from the list of priorities for me, and I just didn't get it done. It's no excuse. I had pretty much grown accustomed to not having her as part of my life, so I didn't know what I was missing. And she didn't have tremendous need for a father or a father figure to suddenly come into her life and play a dominant role or even a small role. So I was OK with that as long as she was OK."
But she wasn't OK -- not her shoulder, anyway. At the Australian Open in January 2003, she felt an electrical shock in her rotator cuff, and in a match at Amelia Island that spring, the shock spread to her wrist. By July, the diagnosis was a torn right labrum and, although she tried playing through it, her ranking was dropping like an anvil.
In September 2004, Dr. James Andrews performed labrum surgery, and since NFL quarterbacks regularly came back even stronger from that operation, Andrews figured she'd be her old self in 2005. But tennis isn't quarterbacking; it's incessant serving and ball-striking. Alexandra's arm was constantly fatigued and, by August 2005, she'd fallen to a personal low of No. 909 in the world. In 2006, Samantha put her on a quasi-pitch count, meaning she'd retire from any match if her arm tired. Tournament directors complained about it and stopped offering wild-card entries into main draws. Alexandra's ranking fluctuated between 400 and the upper 600s that year, and Andrews, at one point, thought she might need a second surgery. Her agent was gone, Nike was gone and her cash flow took a hit. Samantha, who was now Alexandra's full-time manager, reluctantly had to borrow money from friends.
During 2006, 2007 and 2008, Alexandra had no choice but to play regularly on the Challenger tour, the minor leagues, in cities such as Ashland, Ky., and Rockford, Ill, where a loss in the first round would net her $75. She and Samantha shared meals at restaurants or cooked chicken in their low-budget hotel suites. Much of their life savings had been exhausted on trainers and practice partners and travel and hotels -- it can cost about $3,000 a week to play tournaments -- and they began asking tournament directors for housing. But several directors said no, that foreign players get first dibs. So Samantha was forced to solicit local country clubs, looking for members with a guest room.
Her circumstances became so dire that sometimes Alexandra could sometimes only afford to bring one freshly strung racket onto the court; gut strings were too expensive. She couldn't afford pre-match hitting partners either, so sometimes she'd warm up against a backboard. A friend, Roman Prokus, was still customizing her rackets, but she owned only 6-month-old hard-court shoes. So when she went south to play clay-court tournaments in the Carolinas to try to drum up enough points to reach the 2008 Wimbledon qualifying, she carved grooves in her hard-court sneakers with a pen knife -- anything to improve her footing.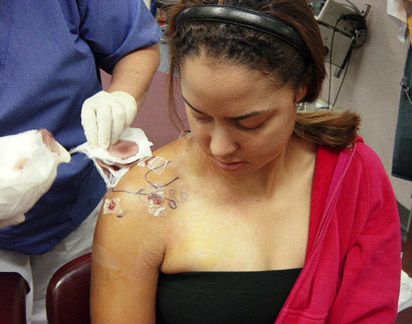 Courtesy of Alexandra Stevenson
Hampered by shoulder problems since 2003, Alexandra plunged in the world rankings.
Samantha would quote Vince Lombardi or Tom Landry to Alexandra, to keep her spirits up. "Well, I didn't have any Julius quotes," she says. But then something happened -- Alexandra began playing more tactical clay-court tennis, slicing her backhand, spinning in more serves. She'd reinvented herself as a finesse player and reached the main draw of a main WTA event in Charleston, S.C., jumping up from 377th in the world to 258th, earning enough points to go to Wimbledon qualifying. She also met a man there, a local 25-year-old teaching pro. They began to date, and she took him with her to Wimbledon.
She hadn't been this excited to be in London since '99 -- and she carried around a picture of the Wimbledon championship plate while she trained. But she slipped on the grass in an early qualifying match, injured her hip and strained her shoulder compensating. Devastated, she wept for four days, and when she returned to the States, she removed all her Wimbledon memorabilia from her house. It was back to the minor leagues at the age of 27, where the tournament directors were pointing her to the back courts and where the other players hated her because she still stole all their headlines. It wasn't her fault camera crews were coming to see only her, or that newspapers put her above the fold. It was all about who her father was. So she quit talking to the media, and in a late September match in Troy, Ala., while trying to play with her strained shoulder, while dealing with boyfriend troubles, she lost it.
"Because of all my emotions and all this hatred toward me -- people wanting me to fail -- I just took it all out on the court," she says. "So I threw my racket, and I never throw my racket. And then I said 'f---,' and I never cuss. I'd say, 'I hate this f---ing sport. I'm done with this. I quit.' And then I had a primal scream that came from nowhere."
She returned to Birmingham that October, so physical therapist Kevin Wilk could treat her mild shoulder strain, and she and Samantha happened to bump into former pro golfer Jerry Pate, a good friend of Erving who'd been rehabbing his own injury. In the past, Pate had bragged how good a fellow Julius was, and they'd said, "Then why won't he call?!!" But Alexandra was desperate for help now, on pace to earn only $35,000 for the year. She needed someone who could find her sponsors, someone who had contacts. And Julius had to have contacts. He'd been hamming it up in Dr. Pepper commercials. He was loved all over the world. They'd heard and seen it. They'd lived it. So they asked Pate for her father's phone number.
"It was time. I didn't want her to turn 30 and not know her father," Samantha says. "We went through the first 18 years holding a secret, and we went through the last nine years keeping people away from her. Enough is enough. She should know her father."
She asked Alexandra to call him, but Alexandra was ambivalent. So Samantha dialed him instead, reached his voice mail, paused ... and let it fly: "Hello, Julius, this is Samantha 27 years later. We were supposed to talk on Dec. 15, 1980, but you never showed up. But since I've got your phone number now, I thought you might like to meet that person you were supposed to meet 27 years ago. Please call me back."
He never returned the call. Not that day, not the next five days. So, before her next tournament in Quebec City on Oct. 28, Alexandra called. It went straight to voice mail again, so she paused, then got right to it: "Hello, Julius, this is Alexandra. I believe my mother called you last week, and we've never heard back from you. Maybe you've been traveling or you've lost the number. Can you please call back?"
At the time, they thought, fat chance, and went to bed. But the next morning, Alexandra awoke to a voicemail from a man with a deep voice:
"Hello, Alexandra, this is your father calling. Thank you for the phone call. Would you please call me back?"
She had a match to play that day, which was her convenient excuse not to call him back. The whole scenario had rattled her. What would they talk about? Was this real? What's with that voice? By the time she and her mother returned from the match, he'd left four more voice messages. He's invisible for 27 years, and now he's stalking her? They climbed into bed, and the lights had barely been out, when the phone rang again at 11 p.m.
Samantha answered, and Erving, mistaking her for his daughter, said it again: "Hi, Alexandra, this is your father."
"Who?" Samantha asked, half asleep. But she quickly gained her bearings, said, "Ooooooh, hold on," and literally threw the phone to Alexandra.
So Erving said it one more time: "Hi, Alexandra. This ... is ... your ... father."
"Hello, Julius," she said.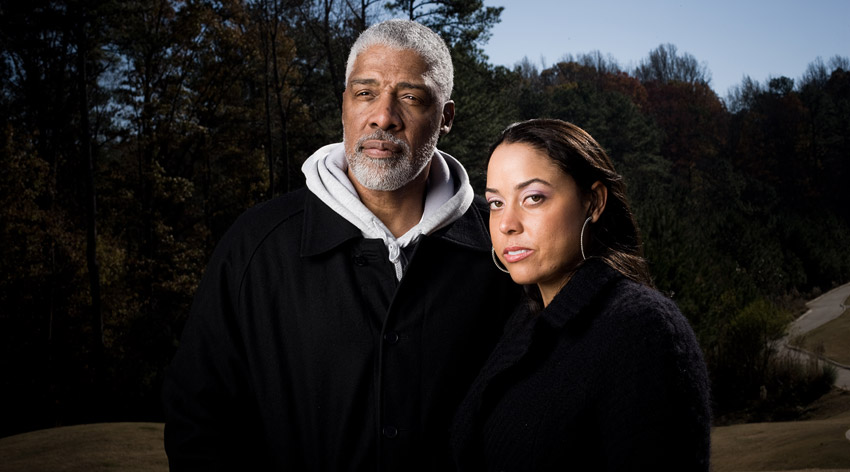 Chris Stanford for ESPN.com
A simple phone call opened the door for Julius to have a presence in Alexandra's life.
Together again ... for the first time
One phone call can't fix the world, but it can thaw it a little.
The minute father and daughter started talking, there were sparks ... in a good way. His first question was, "How are you?" and she answered, "I just lost a match today; I'm not feeling too great." He asked her what happened, and when she told him about her shoulder soreness, he mentioned he used to ice both his knees after every 76er game. He asked her what her career ambitions were, and she almost started crying. If only he knew about Troy and the minor leagues. She told him she still wanted to be No. 1 in the world, and that no one believed in her, and he said he'd always wanted to be No. 1, too, that he always wanted to trash the Celtics, and that no one believed in him coming out of UMass.
Alexandra and Julius discuss their relationship in additional interviews with "OTL."

He told her she had a good seven years left, and she said, "I agree, but it takes money, and I don't have it. And that's one of the reasons I called you because I need financial support. And I hate asking for help, but I need help."
He told her he'd do everything in his power to find her sponsors, but wanted to meet her first. She giggled, and that's what he noticed first -- that she sounded like a schoolgirl, a pleasant, exuberant schoolgirl. He told her he owned and operated a golf club in Atlanta, and that he'd like her to see it, that he'd been thinking about putting in some tennis courts. Maybe she could give him advice.
She told him she was already planning to be in nearby Birmingham that week to see Wilk, and so they made a date for Halloween day.
"Well, I'm looking forward to meeting you," Erving said.
"Me, too," Alexandra said. "And you know why? Because for nine years, I've been going through airports hearing, 'There's Dr. J's kid.' And now I finally get to meet Dr. J."
He laughed his loudest laugh and hung up the phone, a 40-minute phone call that had a stunned Samantha saying, "It was as if they knew each other their whole lives."
But it was hardly a fleeting moment. He called the next day, to see whether she'd made her flight to Birmingham, if she'd arrived safely. He sounded like an overprotective papa, and he still started every message with, "Hi, Alexandra, this is your father." She was flattered, but she still complained to her mom, "Can he just say, 'Julius'?"
Erving was simply ready for this. He was 58, pushing 60. He could think of three times in the previous two years when he'd nearly invited her to events -- a housewarming, a family reunion and a New Year's party. But he'd preferred she make the first move, and now that she had, he wasn't letting go.
"Why did this happen now? It doesn't matter,'' he says. "I'm not curious as to why. I'm not suspicious. I'm not worried about this great ulterior motive that I'm going to help her get back into the world of tennis, and then she's going to kick me to the curb or whatever. I'm OK. I'd be remiss to think she won't have wounds. I'm prepared. I've been around a long time. I'm an old dog and I'm prepared."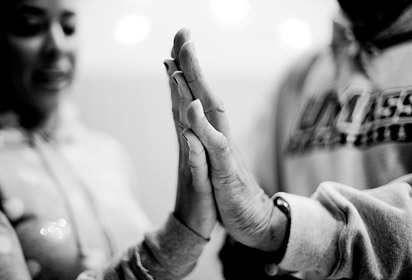 Chris Stanford for ESPN.com
On Halloween, father and daughter finally connected for the first time.
On Halloween morning, she arrived at the golf club and asked the bartender where "Julius" was. She wasn't going to ask for "Dad" or "Father." It was Julius and only Julius. Just a year before, one of her tennis friends had given her a Dr. J DVD, and she'd thrown it out. So this was a leap for her.
He emerged from his office and gave her a bear hug. He couldn't take his eyes off her. He thought she looked like his mother and one of his sisters, neither of whom is still alive, and got emotional. He noticed her chestnut eyes and her long hands. They were his hands. Samantha had noticed their identical hands from the first sonogram of Alexandra in her womb. And when Erving was done admiring her, he invited her into a private room.
His first line was, "Well, I only thought this would happen at my funeral, all seven of my children in the same area, and Cory, of course, in spirit."
She said, "Yes, I'm sorry about Cory," and he thanked her and began talking about his family as if she knew his life story. She stopped him and told them she knew nothing, that she'd never Googled him, that she "wasn't a computer geek." He said, "Oh, you're like an old soul. You're old school, I like that." So he gave her the rundown. There were Jazmin, Julius and Cheo from his marriage to Turquoise and 10-year-old Jules, 7-year-old Justin and baby Julietta from his current relationship with Dorýs. Six half-brothers and sisters, in one fell swoop.
She asked him why he had waited 27 years to call -- the money question -- and she says he answered: "Well, it was a bad situation. My wife wouldn't let me contact you. She was devastated by the affair, but that's not an excuse. We worked everything out through the lawyers, and that's how it was forever." She nodded and didn't ask a follow-up. He was prepared to be peppered, but she let it drop.
"She wasn't walking around with a chip on her shoulder," he says. "What started as a conversation flowed into a sort of camaraderie, where it became 'What are we going to do later?' instead of saying goodbye. We started at midday and kept going for hours, and there's something to be said for that."
He took her back to his condo, where she bonded with Dorýs and their kids. Alexandra was enthralled at how affectionate Erving was with the children, how they nestled in his lap. They later went to dinner and, while Julius was in the restroom, a waiter recognized Alexandra and gushed all over her. The chef even personally brought out Alexandra's food. Dorýs thought they all had a crush on her, but, no, that's just how it was to be Dr. J's celebrity tennis daughter. All over the world.
At the tail end of the evening, seven hours later, she and Julius sat alone in his car, and he brought up her earlier question about why he hadn't called in 27 years. He told her it was because she'd been well-cared for by her mom, and that if she hadn't been, he would've come to rescue her. His eyes were red, he seemed close to breaking down. He told her, "I trust you, and I need you to try to trust me." She asked him again about rounding up sponsors, and that almost had her in tears, too. She told him creditors were always calling her, saying, "We know who your father is -- pay up." He assured her he'd try to help because he knew what it was like to be an athlete, the desire to go out on your own terms.
"It's not how you enter your sport, it's how you exit," her father said. She adored that line.
She finally had her Dr. J quote.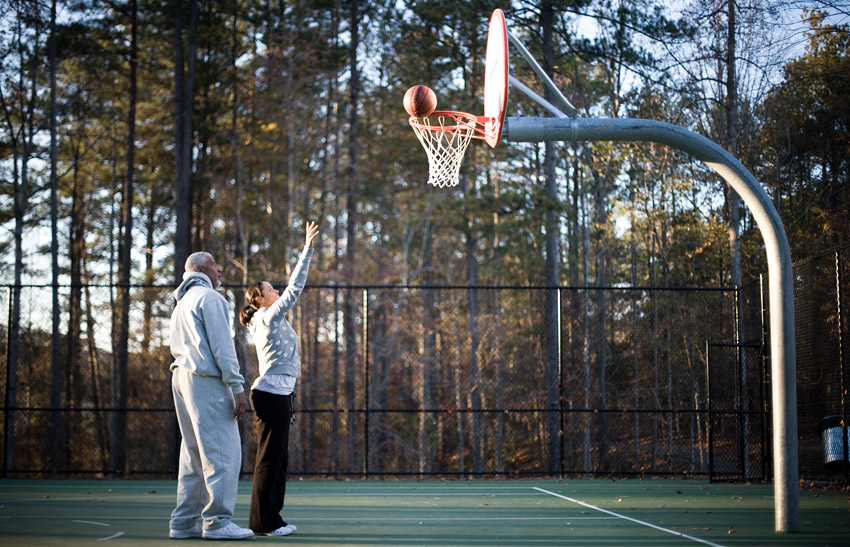 Chris Stanford for ESPN.com
Julius is teaching Alexandra his game ...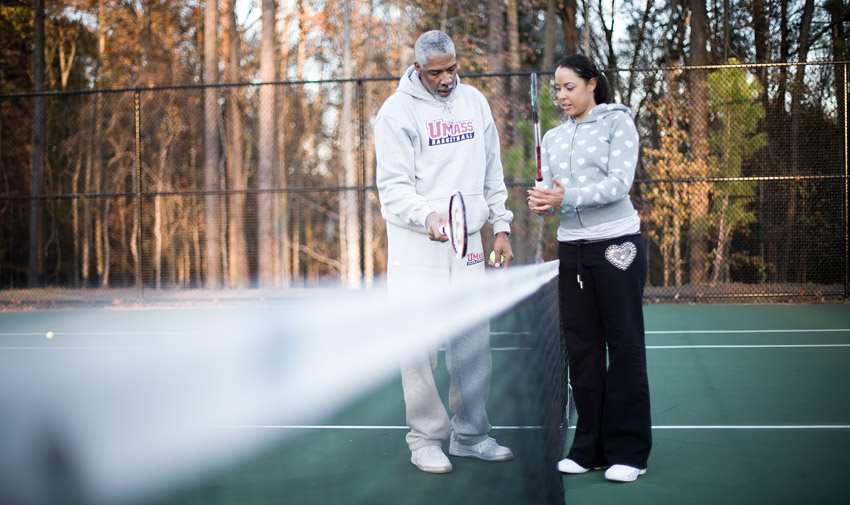 Chris Stanford for ESPN.com
... and she is returning the favor on her court.
"Help me find a way to call you dad"
He wasn't going to wait another 27 years ... or even another 24 hours.
The next day, he invited Alexandra and Samantha to Justin's birthday party, then was thrilled to hear they had accepted. He had gone to bed the previous night overwhelmed. Icons are people, too, and Erving considered it a "life-changing event" to meet his long, lost daughter.
"Meeting her that day for me ranks up there, really, with the NBA championship, the ABA championships, the induction into the Hall of Fame," he says. "I wasn't there when she was born, but that's right up there with the birth of your child -- and this one is a rebirth."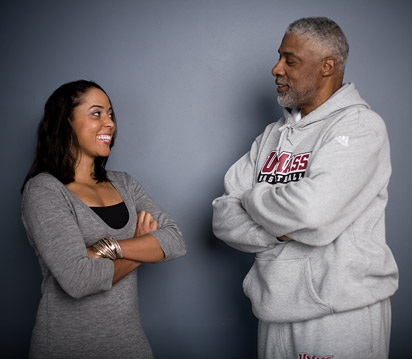 Chris Stanford for ESPN.com
"This one is a rebirth," says Julius, who ranks meeting Alexandra as one of the best days of his life.
Inviting Samantha into his inner circle was a little more perplexing. Their affair had ended when she'd become pregnant with Alexandra, and they had last spoken a few days before she was born. And the last time they'd laid eyes on each other, he was in a limo about to have his DNA tested -- to see whether he was truly Alexandra's father -- and she was on a Philadelphia sidewalk after her own DNA test. So, it'd been a long time, and when she stopped in to see him at the golf club Nov. 1, she shook his hand and said, "Nice to see you again."
"It's really nice to see you," Erving responded.
There was a mutual respect all around. Dorýs conversed with Samantha; Samantha chatted up Jazmin; and the younger kids piled on to Alexandra. At one point, Julius sauntered over to sit alone with Alexandra and Samantha, wanting to hear more about his daughter's life. She told him she'd graduated from the University of Colorado, online, in six and a half years, finishing on the dean's list. She told him she'd lugged textbooks all over Europe. He then asked to hear every detail of the '99 Wimbledon fortnight. The two women happily recounted every match ... Alexandra's curtsies ... Samantha's controversial comments ... Phil Knight flying in. Erving was riveted. He asked why Bricker had exposed their story, and no one had an answer for him. Samantha said, "We kept it secret for 18 years, and we would've kept it longer. But who knew she'd be so talented?"
"Thank God she was," he said. "Thank God."
By day's end, the seven children -- Alexandra included -- posed for a picture with Julius, then Alexandra and her mom were off to the airport. As usual, someone said, "There's Dr. J's daughter" -- and wasn't that the truth.
Back home, Alexandra sat down and crafted letters to each of her brothers and sisters, plus one to her father:
Dear Julius,
It's going to be really difficult for me to find a way to call you dad. So you're going to have to help me with that. But I wanted to write this letter to thank you for giving me the most amazing moment of meeting you, and watching you talk to my mother.
Alexandra
He wrote her back -- although he preferred text messages -- and one of his responses was:
Dearest Alexandra,
For a 27-year-old girl, you've had many disappointments and much pain in your life, more than anyone I know at your age. I understand.
Love, Dad
Two weeks later, Alexandra and Samantha flew again to Atlanta, where Alexandra actually agreed to get on a basketball court with her father, agreed to play the sport she used to hate. It was Samantha's recurring dream come true, and Julius taught Alexandra how to shoot and how to dribble with her head up. The fundamentals. Alexandra coaxed him onto a tennis court and returned the favor. He wasn't half bad hitting from the baseline. He also spent an afternoon watching her train and sprint -- "She runs like I did," he says -- and, when she was done, he hugged her, patted her shoulder ... and felt her pull away.
"For him to hug me, that's just weird to me -- because I've never had that male, dad figure in my life," she says.
"Well," Erving says, "we've lost so much time you've just got to lay it out there. When I see her, I want to hug her, hold her. It's important to show love and affection because I don't want to send any mixed messages, and I'm not a 'sometimey' person.
"But I did sense a hesitancy on her part. I don't expect her to just jump right in, hook, line and sinker. There have to be wounds."
There's no way he can possibly fix them. Is there? There can't possibly be a happily ever after. Can there? There's no phone call that could heal everything. Correct?
The answer had to be no. Or 40 percent no. Or 20 percent no. Or ...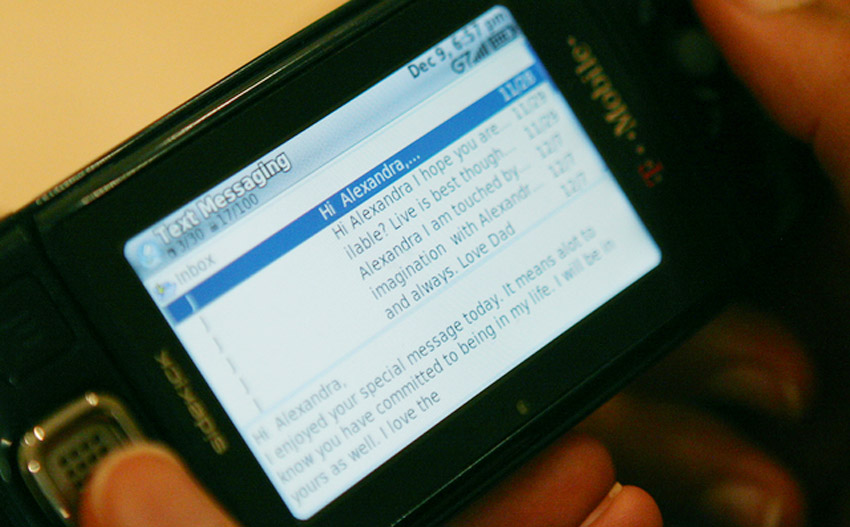 Samson Chan for ESPN.com
Through regular text messages, Alexandra and Julius are starting to build their relationship.
Alexandra "moments" forever
Back at her Los Angeles condo, there was a certain hop in Alexandra's step. Her shoulder was sound again, as sound as it had been since surgery, and former Olympic gold medalist Sherri Howard was training her body, legs and soul. Pete Fischer, out of prison, was asking to work on her serve again, and Robert Lansdorp already had tuned up her groundstrokes. Now ranked No. 212 in the world, she had put her original team back together, plus one slight addition: Dr. J.
He's already making sure, through his contacts, that she has sufficient funds to fly to Australia for January's Australian Open qualifying, and even though he can't be there, he hopes to be courtside at this summer's U.S. Open. He used to be the talk of Rucker Park; why not Flushing Meadow?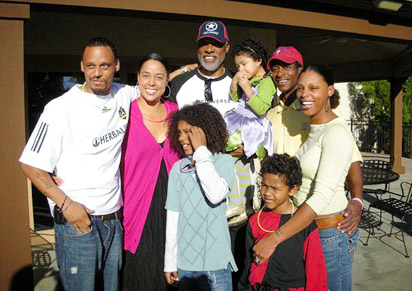 Courtesy of Alexandra Stevenson
Julius was thrilled to introduce Alexandra to the rest of his family.
Alexandra had done a lot of thinking about him while she was home and said to herself, "It's not a movie. He wasn't going to swoop in like a fairy tale." But she also remembered something he said in Atlanta, that the two of them were stronger together than apart. So, she sent him this text about three weeks ago:
Hi. I've decided that I'm going to send you an Alexandra fact, an Alexandra favorite and an Alexandra moment for the rest of your life until the day you die. I hope you don't mind, but I thought you should get to know me. Today's fact: I love the color pink ... but I like to wear black and tan.
His response:
Alexandra,
I enjoyed your special message today. It means a lot to know you've committed to being in my life. I will be in yours, as well. ... You have captured my imagination with Alexandra moments, and I want to at least offer you father's hugs, daddy's kisses and parent support forever. I hope you are OK today and always.
Love, Dad
She saved his messages; their relationship clearly was evolving. She told him she had broken up with the tennis pro from Charleston, and he asked for the guy's phone number, so he could give him a good talking-to. It was such a fatherly thing to do. On another day, she signed a text: "Your daughter, Alexandra," and "It jumped off the phone" to him, Erving said. He wondered if this was the breakthrough, if deep down, she might soon be ready to call him Dad.
Who knew? About that same time, Samantha began cleaning out their garage, as part of getting ready for Australia. She backed out the white Volvo station wagon (still going strong) and started sorting through drawers. She then stumbled onto something archaic, something stunning -- the basketball Erving had autographed 20 years ago for Alexandra, the one she'd hidden away on a shelf in her old bedroom closet.
Samantha had never looked at the ball up close before and saw Erving's signature. Then she squinted ... and found something else sketched there.
It turns out that on that day, 20 years before, little Alexandra had sat in her room and written two more names on that basketball:
Julius ♥ and Alexandra ♥.
That had been the other quarter-century secret:
She'd always missed him.
Tom Friend is a senior writer for ESPN.com and ESPN The Magazine.
Join the conversation about "Reaching Out."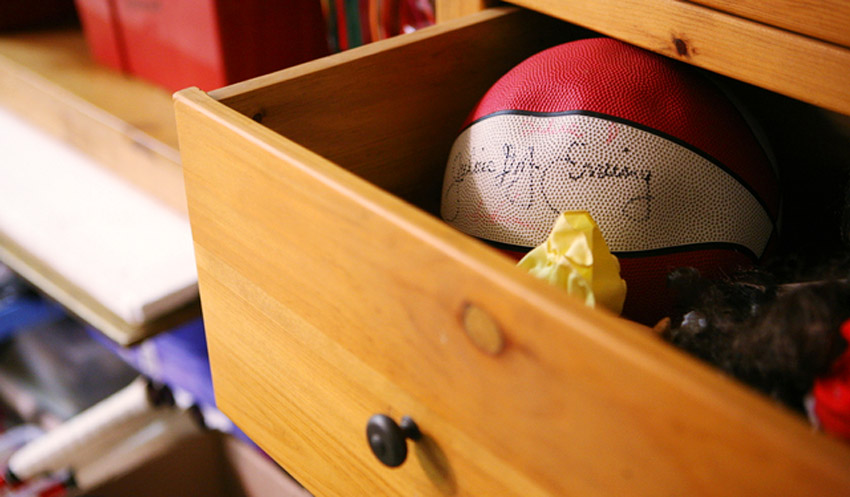 Samson Chan for ESPN.com
Alexandra's autographed basketball contained hints of her feelings for Julius.