OTL: Hollywood Act

t is not every man who commissions an ice sculpture for a party commemorating the silver anniversary of his own sobriety, but Thomas "Hollywood" Henderson is not now, nor has he ever been, a typical representative of the gender. Let us begin by taking a good long look at him, for even in this crowd, he is not particularly difficult to identify -- dressed, as he is, in a black suit, black snakeskin boots and a black shirt unbuttoned halfway down his prodigious torso; and adorned, as he is, with varied precious metal accessories (watch, necklace, ring) that glitter like june bugs in the chintzy light of a hotel ballroom.
It's Saturday evening at the Doubletree in Austin, Texas; dinner has been served, and we await the commencement of a charity roast of a guest of honor who, in his nearly 56 years on this planet, has no doubt compiled the most inimitable bucket list in the history of the modern athlete. Here is a man, after all, who has snorted cocaine while playing in a Super Bowl, who has partied with Lou Rawls and Richard Pryor, who has contracted hepatitis, who has broken his neck, who has flipped the bird to the whole of Giants Stadium, who has attended the Grammy Awards and filmed a 7-Up commercial and claims he slept with a Pointer Sister, who has been convicted of a felony and served 28 months in prison while willing himself off a crippling cocaine addiction, who has gone on a hunger strike for charity, who has won $28 million in the Texas state lottery, and who now lives in a pink house with a bright red roof in a neighborhood where local crack addicts sometimes rattle the bars on his front door in the morning in search of a handout. So, yes, there is quite a bit to talk about when we talk about Thomas Henderson, and we are going to hear a great deal of it this evening. For here is a man who considers false humility to be a con. Here is a man who is not afraid to celebrate himself and the entirety of his bizarre and wondrous life, in all its glory and ignominy.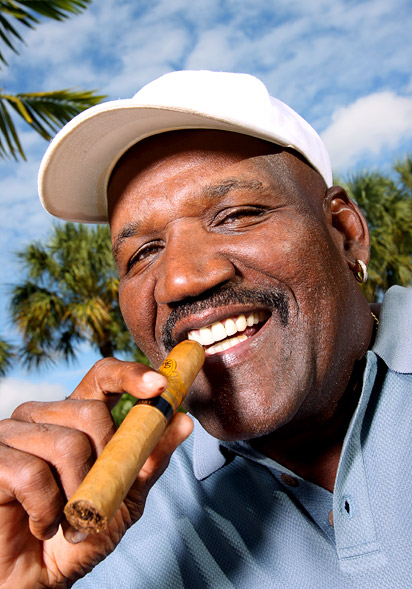 Tom DiPace for ESPN.com
Thomas "Hollywood" Henderson has lived a life of unbelievable highs and lows. His mission now is sharing his experiences with recovering addicts.
In the corner of the room, a slide show periodically clicks from one photo to the next. Up pops one of a shirtless Hollywood, back when he was a Pro Bowl linebacker for the Dallas Cowboys, back when he had hair and a beard and rippled muscles -- back before his second act began and he shaved his head and adorned the back of it with a veritable refrigerator-magnet jumble of word tattoos, including his first name and his uniform number (56). And now here is Hollywood in a beige shirt unbuttoned to the waist, pictured long before the dates bracketed on the massive banner near the Doubletree dais ("THOMAS 'HOLLYWOOD' HENDERSON, 25 YEARS, 9,125 DAYS, NOVEMBER 8, 1983-NOVEMBER 8, 2008, ONE DAY AT A TIME") … and here is Hollywood, bearded and shirtless, in blue jeans, in front of either a photo or a drawing of a nude woman pictured from behind … and here is Hollywood, poolside, shirtless, in a pair of tight bathing trunks … and here is Hollywood, shirtless, in bed … and here is Hollywood as a teenager, shirtless, flexing his muscles … and here is Hollywood shirtless in the pool, smoking a cigar … and now here is Hollywood relaxing while shirtless, his foot wrapped in ice … and here is Hollywood -- skiing? (In this photo, mercifully, he is wearing a sweater.)
The carousel of his past goes round and round, showing us Hollywood at his prettiest, at his most powerful, as a Herculean force of a nature, while a D.J. spins old-school R&B songs in accompaniment. Friends from Henderson's new life are here, as well as some from his old life, as well as a documentary film crew he has hired to chronicle the evening for a video he imagines thousands of addicts will watch in treatment centers across the nation, soaking up every absurdist twist of his life story for inspiration. There are nearly 150 people here, the representatives of Henderson's winding and varied path -- white men in tailored suits and black women in Sunday dresses and priests and men who look vaguely like priests and men who most certainly do not look like priests -- all gorging on barbecue and macaroni and cheese and collard greens and cornbread and lemonade. And the servers at the Doubletree are preparing to slice the 25th-anniversary cake, for if there is an ice sculpture, it is only logical there be a cake as well, for this is a celebration of a man who has never engaged in anything in moderation.
The prelude is long -- 90 minutes between dinner and the roast itself, 90 minutes to set up camera angles and establishing shots, 90 minutes to suffuse the room in the aura of Thomas Henderson. The ice cream melts. A child lays his head on the table. The slide show cycles over and over again, and the man in black continues to make the rounds, pumping hands, falling into lengthy bear hugs, until a few minutes before 7 in the evening, when it is finally time to commence what his friends will later note is always Hollywood's favorite portion of the evening. That is, the portion of the evening that focuses exclusively on Hollywood himself.
Cue music:
Whattaman Whattaman Whatta Mighty Good Man …
"Let's have some fun," he says when he takes the dais. Then a warning, polite but stern: "I'm gonna have a little say, so be careful what you do, OK?"
With that, he collapses into a soft chair near the stage, cedes the microphone to the emcee, a friend named Robert Spellings, and awaits the commemoration of a uniquely American story.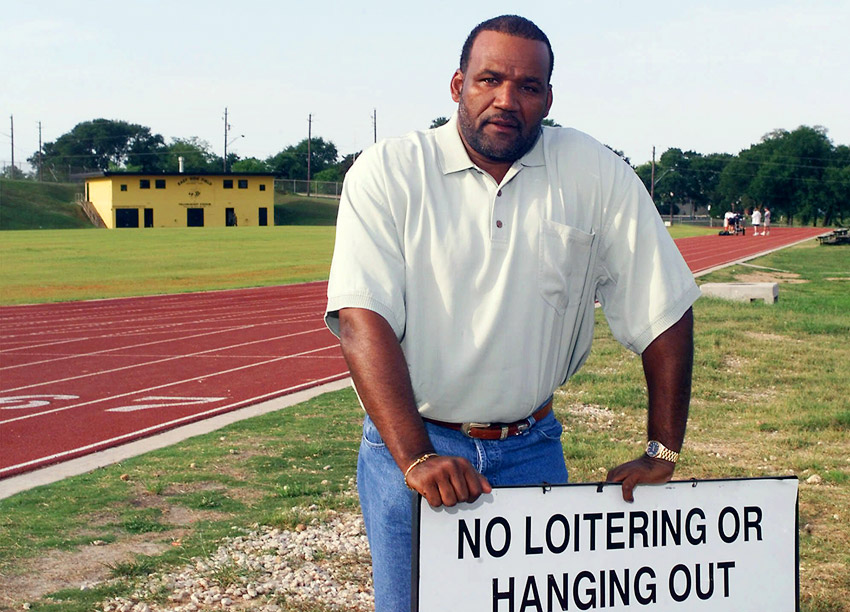 AP Photo/Harry Cabluck
Henderson, pictured at the East Side Field in Austin in 2000, helped lead the efforts to restore the field in his neighborhood. It's "the greatest thing I've ever done in my life," he says.
Trapped in a haze of nostalgic fantasy
Near the corner of 12th and Chicon streets in Austin, in an east-side neighborhood once known as The Cut, Thomas Henderson slows his Mercedes to a halt. The forces of gentrification are closing in, but on this corner there are still remnants of the rundown neighborhood where Henderson grew up, where he befriended street-corner prostitutes and shot dice with homeless men and frequented a market known as Greasy Dick's and sneaked into a pool hall called Frank's, where he learned to hustle for a quarter a game. There is a barbershop and a venerable blues bar called the White Swan, and one block away is the house where Henderson was raised, and the sloped alley next door where he and his siblings and his friends would sprint uphill over and over again, in a perpetual cycle of calisthenics that Henderson is convinced strengthened his legs for his football career. They are all fond memories now, as seen through a haze of several decades of nostalgia, but that wasn't always the case: A few blocks from here, on the front steps of a house at 17th and Chicon, his mother once shot his abusive stepfather in the side with a .22-caliber rifle, which might make you wonder why, of all the places in the world Henderson could have lived, he chose to come back to this very neighborhood.
"Outside the Lines" chronicles the roller-coaster life of Thomas "Hollywood" Henderson.

His mother said the same thing. You're not going to live there, she told him, but in the mid-1990s, after a second failed marriage brought him back from California, Henderson purchased a nearby house for $38,000, had it renovated, bought the adjoining lots, and built a pool and a guest house. He installed the bars on the front door (as a necessary precaution) and a gate at the end of the driveway with his initials, TH, carved into the ironwork (as a characteristic flourish). He did it, he told me, because something about this neighborhood still called to him, because he cannot extract his past from his present, because even though his life has changed completely his essence remains here. "If there were a way to take a GPS photograph of this community, my footprints and handprints are everywhere," he says. "This place is still mine. I know this place like the back of my hand."
For a man who spent the first half of his life building toward one of the most striking personal collapses and professional failures in modern sport, Henderson's acute forthrightness about his past can sometimes be discomfiting. Public confession is obviously a crucial element of the 12-step process of recovery from drug and alcohol addiction, but for Henderson, there would seem to be something especially amplified about it: His story has become his currency. For more than two decades, he has made a career of retelling it, of recounting his own sins both for posterity and for profit, in a bestselling 1987 autobiography (largely written and dictated from prison) titled "Out of Control"; in several institutional videos offered to rehab facilities, including one called "Yes I'm Still Clean," which consists of Henderson delivering a very amusing comedy-routine-cum-motivational speech to a room full of addicts and interested parties, while holding what appears to be 3-wood; and in a 2004 follow-up volume called "In Control," a combination of his own personal 12-step manual and a tying up of the loose ends of his life (all the profits from his ventures -- including the roast -- go to charity now because he doesn't need the money after winning the lottery in 2000).
All of this has come about largely because this is Henderson's method of recovery, because there is an ideal convergence between the 12th step -- about carrying the message along to others, about affecting the lives of those who continue to struggle with addiction -- and the man's considerable self-regard. And if you don't believe me, ask his shrink. "He is known as not only a guy who no longer drinks or uses," Dr. Joseph Pursch says. "He is known as the most spectacularly recovering football player. Who else can tell a tale like he can? In a weird way, his ego helps him by having gone public."
For these reasons, Henderson does not hold back anything. Not anymore. In 1997, he wrote a remarkable open letter to the readers of The Dallas Morning News, in which he apologized for his past behavior and clarified the circumstances of his 1983 arrest on sexual-assault charges (which took place six days before he gave up drugs and alcohol for good), admitting he had traded crack cocaine for sexual favors (as, he says, was the perverse convention among users), but denying he had sexual relations with a second woman who was in a wheelchair. And when I ask him about the article and about that night, he stares out of the windshield of his Mercedes, at a youth baseball field he has taken me to -- a patch of land where he had learned to play football long ago -- and he admits, again, that his life had gone horribly awry at that time. And he insists, again, that even in the midst of his darkest moments, he subsisted by a certain code of honor, that he even endeavored to pay his drug dealers on time because he had grown up believing in making good on one's debts; and he reiterates that, although he most certainly did not have sexual relations with a woman in a wheelchair in exchange for providing her with crack cocaine (not that women in wheelchairs don't smoke crack cocaine, he adds), he did engage in some things that, in retrospect, were not especially savory. And it feels good to admit it again, to let it all go. Every time, it would seem, it feels a little better, and if there is a certain amount of egotism in that process, so be it.
"What has been helpful to me has been to admit I was wrong," he says. "Everything has been confessional. I think there's integrity in confession."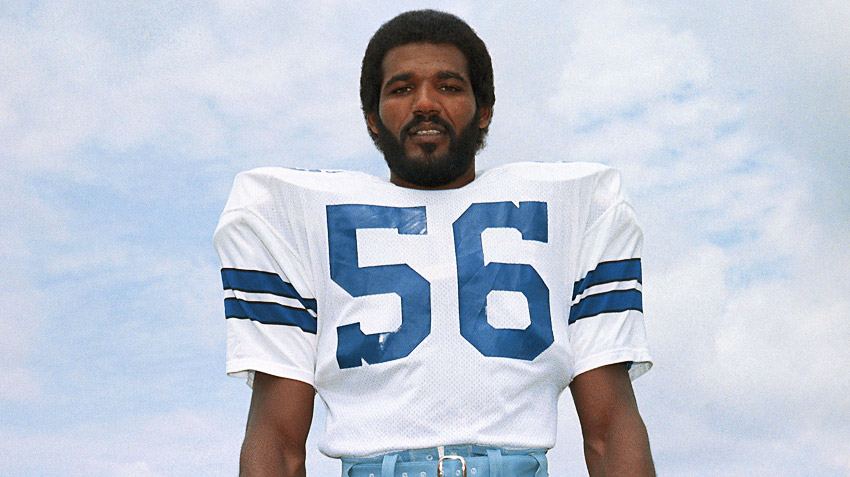 AP Photo
Blessed with speed and athleticism, Henderson made his only Pro Bowl appearance after the 1978 season.
High praise from "Too Tall"
And so we find ourselves here, at the Doubletree, amid the clinking silverware and the drab carpeting and the bare photographs, reveling in one man's admissions and watching a giant lumber toward the dais. His name is Edward Lee "Too Tall" Jones, and he is 6-foot-9, though perhaps due to the sheer force of his own mythology, he appears much larger in person. He is so unbelievably massive that I keep thinking he is going to knock himself silly on a doorway every time he ducks in and out of the Doubletree ballroom.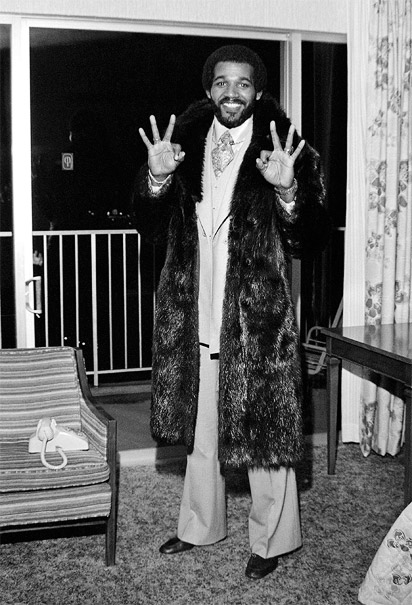 AP Photo
After the Cowboys' win over the Rams in the 1979 NFC title game, Henderson was headed to his third Super Bowl in style.
Too Tall is not an especially audacious public speaker, but he is here, strangling the lectern with his massive palms, his lips hovering several miles above the microphone, his basso tribute the lone oral testimony to the most public stage of Henderson's life: those five tumultuous seasons with the Cowboys. Earlier, Spellings, the emcee (and a recovering addict, as well), read a gracious letter from Roger Staubach, but Too Tall is here in person because he feels as though he should be here. In another time, in another life, Too Tall Jones and Hollywood Henderson were roommates, companions in carousing. They roomed together. They drank together. They attended at least one orgy together. They were Dallas Cowboys, and let us not mince words about what that meant: In the latter half of the 1970s, it meant you owned the whole damned city. In a certain way, you might even say these Cowboys (and Henderson in particular) helped redefine a city -- for is it a coincidence that Henderson's lone Pro Bowl season as a Cowboy coincided with the debut of a television series about the wealthy and dysfunctional oil family that just happened to be set in Dallas? Is it a coincidence that the teams Henderson played on were the ones that first earned the Cowboys the nickname of "America's Team"? The man himself would say it is not. The man himself would ask you this: How many Super Bowls did those Cowboys play in with him (three), and how many did they play in under Tom Landry after they shed themselves of the glittering distraction who devised his own nickname? (The answer, in case you have not guessed already, is zero.)
Too Tall has seen teammates who did not make it this far along in life after football. He bore witness as Thomas Henderson shaped himself into Hollywood Henderson, and he has since witnessed Hollywood Henderson unfold into an altogether different shape after he got clean. But Too Tall will not dispute the man's assessment of his own abilities. "I played 15 years and saw 15 years come and go," Too Tall says, and the crowd applauds. "And I can honestly say, Thomas was the most gifted and talented athlete I've ever had the experience of playing with."
Of course, Henderson himself would agree. "This sounds like bragging," he told me at one point, "but I was just blessed. I was a really special football player. I should be in the Hall of Fame, but that just wasn't in the cards for me."
Which is why, in retrospect, his football career can be seen as both a revolution in attitude and a self-induced failure. Of all the athletes the Cowboys imported to Dallas in the 1970s -- especially out of a 1975 draft class loaded with talent -- Henderson was, indeed, perhaps the greatest of them all: a brazen 220-pound linebacker with the speed of a running back who had been plucked from Langston, a small black college in Oklahoma, and drafted with a first-round pick. From the beginning, Landry, the Cowboys' stoic and authoritarian coach, didn't know what to do with a man like Henderson, who was freewheeling and unabashed and shamelessly self-aggrandizing. Henderson's older black teammates warned him that his independence, his incessant lack of discipline, would only cause trouble with the team's white power structure; he says now that he honestly had no idea what they were talking about. He had grown up in an all-black neighborhood in Texas and attended a black college in Oklahoma in the wake of the civil rights revolution of the 1960s, and he was so insulated that he insists he never once encountered overt racism. "It never occurred to me to be afraid of Landry," Henderson says now. "I was cavalier. I told him dirty jokes. He'd walk by, and I'd go, 'What's up, Tom?' I didn't know my place. Independent. Spirited. New black man. You gotta understand, Landry came out of the NFL of the 1950s, the racism, black guys sort of knowing their place. I spoke to him like a man, instead of in a fearful, subservient position."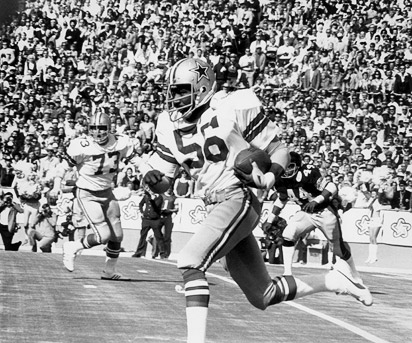 NFL/Getty Images
After taking a handoff on a reverse, Henderson returned the opening kickoff of Super Bowl X for a then-record 48 yards. Henderson's Cowboys lost both of their Super Bowl encounters with the Steelers by four points.
The relationship was complex and fraught with social complications; even today, Henderson speaks of Landry with both a grudging respect (bordering, at times, on love) and a lingering resentment -- in other words, he speaks of Landry as many men speak of their fathers. Landry put up with it because Henderson was a prodigious talent and because his teams were winning. For those few years in the late 1970s, as our society emerged from the tumult of the previous decade and edged toward a more permissive status quo, these men formed a truce, bending back and forth, testing each other's limits. Landry permitted Henderson to keep his beard, purportedly for "medical reasons" (essentially, he went to a dermatologist and got a note saying he had a problem with ingrown hairs and couldn't shave); he allowed Henderson certain indulgences, such as when, in 1975, he became the first man to slam dunk a football over the goalpost after he scored a touchdown on a kickoff return in 1975. He also forced Henderson to compete for a starting job with a "Manster: half-man, half-monster" -- Too Tall's words -- named Randy White, before he moved White to the defensive line. Then he forced Henderson to compete with lesser talents such as Mike Hegman, forever testing him, challenging him to live up to his potential.
Henderson fought it all; he believes Landry played favorites. There was a method to Henderson's mouthing off, beyond the fact that he merely believed his ways were more effective than Landry's. He wanted attention. He craved respect. He wanted to be promoted (something he says the team's publicists declined to do), and he wanted to make money, to live a certain lifestyle; and if the Cowboys weren't going to do it for him, he would facilitate this by himself.
And so, 30 years ago, at Super Bowl XIII in Miami, Henderson purposefully made himself the story, stirring the drink by questioning the intelligence of the opposing team's quarterback, Terry Bradshaw, by remarking to the media that the Steelers star could not spell "cat" if you spotted him the "C" and the "A." This was not a spontaneous verbal assault. It was a premeditated attack from a linebacker whose team had won the Super Bowl the year before, from a man who was a natural-born wise guy, who once talked his way onto an opposing team's bus before a college game by pretending to be an usher, then introduced himself: I'm Thomas Henderson, and we're going to kick your …
Henderson had heard from a Cowboys official that Bradshaw hadn't been smart enough to get into LSU, so he shaped his material to fit, formulating a one-liner that would invite the proper amount of attention. To his credit, it remains one of the best quips in Super Bowl history, as well as the tonal peak of the Hollywood persona he had bestowed upon himself and had been cultivating for several years. It was flippant and clever, laced with the sort of winking and ironic condescension that would carry from one generation to the next.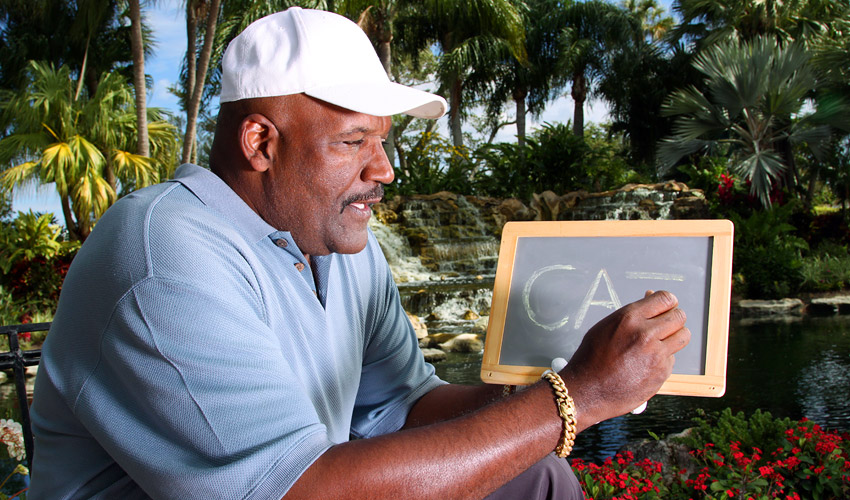 Tom DiPace for ESPN.com
Thirty years later, Henderson's quip about Terry Bradshaw's spelling skills remains one of the most remembered lines in Super Bowl history.
The media flocked to him all week long. He became both a pregame distraction and a multimedia superstar, referring to dentally challenged Steelers linebacker Jack Lambert as "Dracula" and leading one Sports Illustrated writer to call him "the best thing that happened to Super Bowl week" since the rise of Broadway Joe Namath. "It was the beginning of self-promotion," Henderson says. "Others had tried, but Hollywood Henderson was probably the guy in the NFL who did it. I knew, if you are the talk of the Super Bowl, which is the media mecca … I've just always been a hustler, I guess. A hustler who pays his bills."
And it might have worked, too. He might have held on to everything, except that, to fully embrace the illusory glamour of the 1970s, to complete the picture, one crucial element remained, and that was the cocaine. Here was an experiment that not even a man like Hollywood could regulate; here was the spiritual kudzu for a man's ego. Here was a drug so surreptitious in its effects that a number of reputable health experts of the era initially had dismissed it as a harmless diversion for the rich and bored; here was a drug that introduced itself as a frivolous party enhancement and then crept up on you over several years, in the way it was creeping up on Henderson, so much so that by Super Bowl XIII it was literally rotting out his nasal passages.
On the day of the Super Bowl, he emptied a bottle of nasal spray, filled it with a vicious mixture of cocaine and water, and slipped it into the pocket of his uniform pants. Just in case, he thought. He indulged before the game, then again in the third quarter; he forced a Bradshaw fumble that led to a touchdown that night and generally backed up his chatter. Yet the Cowboys lost the game, 35-31, and Hollywood went to the Pro Bowl and drowned his sorrows the only way he knew how, at that point -- in an ocean of illicit substances and questionable liaisons with women he had never met before. He was officially on his way downward, on his way toward that familiar stage of the narrative when our hero, blinded by arrogance, loses it all. It is what those in the audiences of recovering addicts Henderson now addresses refer to as "hitting bottom." And it is Henderson's contention that no one ever has, or ever will, hit bottom quite the way he did.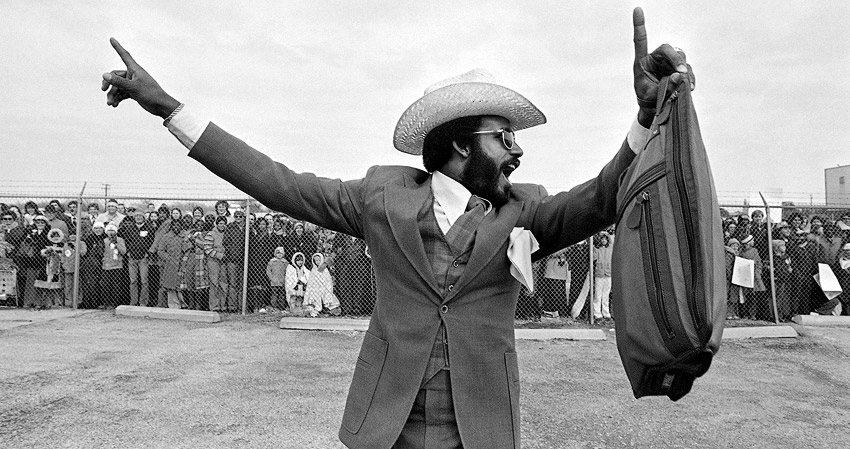 AP Photo
Hollywood never met a crowd he couldn't entertain. Here, he celebrates with Dallas fans before the Cowboys flew to Miami for Super Bowl XIII.
A unique case in the history of psychotherapy
Into the second hour at the Doubletree, and we have heard tributes both ribald and endearing: from Henderson's lawyer, from old AA friends, from a former major league pitcher (also a recovering addict) named Darrell Jackson, from the owner of a local Jewish delicatessen, who mentions that he will soon publish a book titled "Confessions of the Pastrami King," and who says, "This man saved my life." And now Spellings, the emcee, is regaling us with a story about the time he ran a half-marathon and Henderson said, "I'm going to run with you," and Spellings had been training hard and Henderson had not trained at all, and the starter's gun went off and there went Thomas, sprinting off into the distance, and the next time Spellings saw him, he was at the finish line, gnawing on an orange.
There is a pause, affording us a moment to soak in our admiration for the physical gifts of the guest of honor, who in his prime was long and sinewy and, in case we have forgotten, looked great shirtless.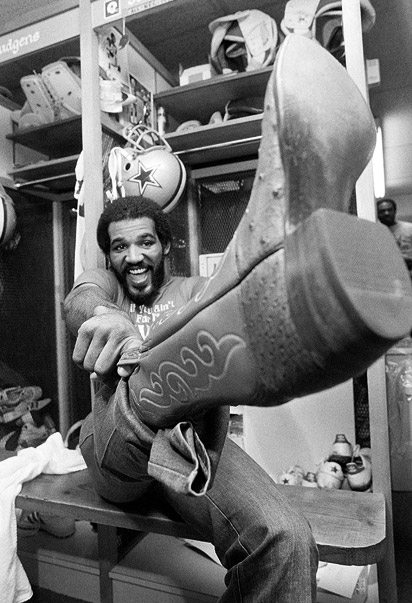 AP Photo
Hollywood rarely treaded lightly in the Cowboys locker room.
"And, of course, I thought, damn, Thomas didn't beat me, did he? And, of course, Thomas carried on for a while. And then he finally admitted he caught the bus!"
Laughter. Howls. Applause. A friend named Jimmy Daniels tells the story of the time Henderson waylaid Jimmy Carter on a ski slope in Aspen, Colo. A couple speaks of Henderson's largesse toward Democratic Party causes, and several more women and men testify to the man's wisdom, to his charity, to his considerable self-regard. And then it is the shrink's turn at the dais.
"I've been abusing alcoholics for many years," Joseph Pursch begins, hammering the punch line. Here is the man who, Hollywood would claim, saved his life, the same genial psychiatrist who treated Betty Ford and Billy Carter. Pursch is a Yugoslavian immigrant who served in the U.S. Navy, put himself through medical school by washing windows and has spent the ensuing years unwinding the addictive personae of the rich and pampered in a comfortingly Freudian Eastern European accent. But never, Pursch says, has he experienced a case quite like that of Thomas "Hollywood" Henderson. "Thomas has a first-rate mind and a high degree of narcissistic grandiosity," the doctor says, and amid the laughter, several heads bob up and down. "Other than that, he has no problems. But when he's loaded, it all goes overboard."
True story: One day not long before he hit bottom, Henderson, living in grim circumstances in Los Angeles, placed a phone call to Pursch. The doctor had read about Henderson's problems in the papers: Late in the 1979 season, fed up with Henderson's runaway ego, Landry simply fired him. Henderson says his teammate, Preston Pearson, had given him a towel with the Cowboys insignia that Pearson was trying to market, and when the television cameras trained on him (as they inevitably did), Henderson waved it, and because the Cowboys were losing to the Washington Redskins at the time, this infuriated an assistant coach named Jerry Tubbs and led to a postgame shouting match. Instead of groveling or begging or asking for help or admitting his problem, Henderson, who had packed his nose with cocaine before the meeting, said Landry couldn't fire him; he would retire first. If Landry knew about the drugs, he didn't mention it, most likely because he didn't know how to handle the issue (Landry admitted as much, Henderson tells me, when he showed up for the roast held 15 years earlier, celebrating the 10th anniversary of Henderson's sobriety). "He made a mistake -- you don't fire your best player when you're trying to make the playoffs," Henderson says now. "All I did was cuss out a coach."
Moments later, he says this: "I wish I could have said, 'I'm in trouble, Coach. I need some help.' But I didn't know how to do that then."
About that time, Henderson began freebasing cocaine, cooking it up and smoking it and forgetting where he was for days at a time; he tried to latch on with San Francisco and Houston and Miami, but none would have him. He became the first NFL player to go public with a cocaine addiction, went to a rehab facility in Arizona, got divorced and broke his neck in a preseason game with the Dolphins, ending his career for good this time. He lived (for a short time) with singer B.J. Thomas and his wife, taking advantage of their charity, and relapsed several times, finally winding up in a small apartment in Long Beach, Calif., and working odd jobs to finance his habit. It was then that he placed the phone call to Pursch. Instead of asking for help, Henderson tried to hustle a deal: He offered the doctor a lucrative partnership. "He said, 'I have so much practical experience that I could supplement your book knowledge,'" Pursch told me. "He honestly wanted to be my assistant. And I remember hanging up the phone, and saying to myself, 'He's really out of it.'"
Months later, Pursch took a phone call at 2 in the morning from Henderson's attorney, who told him Henderson was in jail on sexual-assault charges, and he wasn't sure what to do with him next. This was in November 1983; a couple of days later, the doctor met Hollywood, and Hollywood met the doctor.
"And I said, 'You could conceivably become the first black, ex-convict, former athlete, recovering alcoholic president of the United States because you were born in this country," the doctor utters into the microphone. "And he looked at me and said, 'Yes. I could do that. That could happen.' And I thought, There is no limit to this man's grandiosity. So I said, 'Suppose you did campaign, you did get elected, you are the president, you did get into the White House.' And before I could get the words out: 'You know what would happen?' He said, …" -- and here, you must imagine a septuagenarian Yugoslavian psychiatrist attempting to mimic a Def Comedy Jam performer -- 'They would impeach my black a--.' And you see, what was happening clinically, that was Thomas at his worst and his best. He was still grandiose as hell, but he was able on a theoretical level, at least, to anticipate consequences."
A few months after their conversation -- while clinging to his sobriety by insisting to the doctor that he had simplified the recovery process, that he would master merely the first of the 12 steps (We admitted we were powerless over alcohol; that our lives had become unmanageable) every day for the rest of his life -- Henderson attempted to bribe one of the accusers in his sexual-assault case. And off he went to prison, emerging 28 months later and finding a second wife and a new career as a public speaker. And although the marriage did not last, most everything else did, for it was in prison, amid his own misery and self-denial, that our guest of honor was reborn.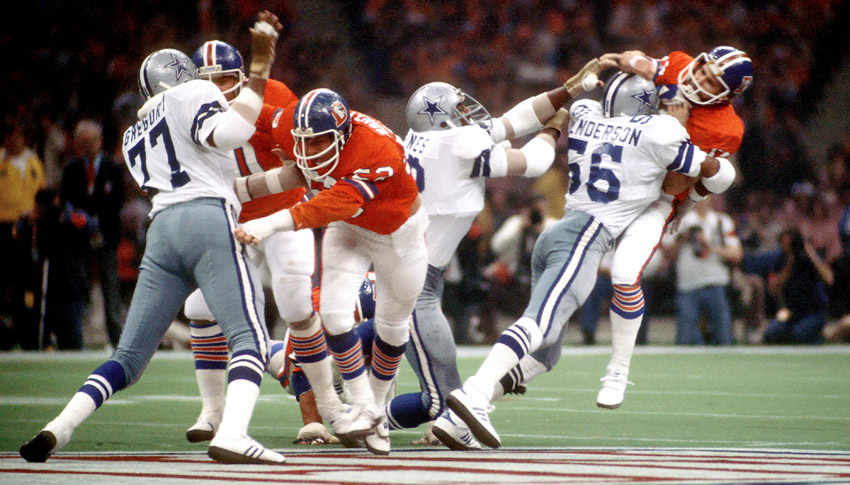 Malcolm Emmons/US Presswire
The Doomsday Defense punished Denver in Super Bowl XII, typified by this bruising Henderson sack.
Taking reconnection to cartoonish extremes
Now he stops his Mercedes in the middle of the road once again, peering out the window at a football field surrounded by a track and bordered by a chain-link fence. It is this once-ragged patch of real estate at 900 Neal St., near a now-shuttered high school Henderson once attended, that a man who embraces grandiosity sincerely refers to as "the greatest thing I've ever done in my life." There are parts of this field that he quite literally built with his bare hands, digging up weeds and hauling concrete bags to support the bleachers. This all happened a decade after Henderson had come out of prison, after he had come home and discovered that the kids in his own neighborhood were playing football in the mud and muck.
And here, you might say, is an oft-told tale, that of an athlete reconnecting with his old community. But as is his tendency, Henderson took it to an almost cartoonish extreme: In 1997, while raising the money to build a new track for the field he had adopted, he decided to embark on a hunger strike. Where the idea came from, he cannot remember ("I thought he was crazy as a s---house rat," one of his friends says). For several days, he lived in a tent onsite, subsisting on a mixture of water, maple syrup and cayenne pepper. Local gang members congregated at the nearby project houses; taken by his audacity, they chose to protect him from harm. He called a news conference, went four days without food, then went to a meeting with the members of a hospital auxiliary board, who had $60,000 in charity money they were looking to distribute. Henderson, dazed and disoriented, began to cry; the board members were so fascinated by this man they stopped by his tent the next day and gave him all the money they had. Henderson raised $180,000 altogether, then he chose to stay for one more night there, for reasons he cannot entirely explain, to me or to himself.
"It was like Jesus -- on the seventh day, man. The last day was the worst day of my life. That day, that night, I've never had that much want. I'm just telling you, that day, that night, I had more want: I wanted a bath, I wanted shelter, I wanted clothes, I wanted deodorant, I wanted a woman. That was the roughest night of my life. It was worse than my addiction to crack. And I actually think it was the sufferage," he says, inventing words to clarify his emotions. "It was like, 'Now I want you to feel this, what you just did.' Does that make sense? Like, 'I want you to feel what you just did.' That's torture. Deprivation."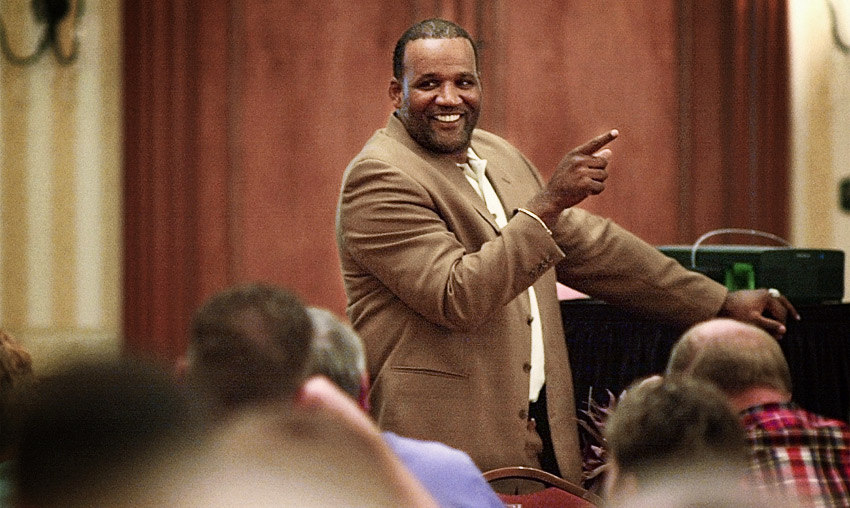 AP Photo/Darwin Weigel
Speaking at the Independent Bankers Association of Texas' convention in 2000, Henderson enjoyed the windfall from winning $28 million in the lottery.
It's all about honesty, no matter how ugly the truth
Ninety-seven minutes after it began, after a heartfelt speech from his daughter Thomesa, after the testimony of a man who tells us of the time Henderson went fly-fishing in waders so snug they resembled ballet tights, after a brief introduction from his granddaughter, the man himself takes the microphone at the Doubletree, pacing back and forth in front of the black curtain behind the dais. He says, "My name is Thomas Henderson, and I'm an alcoholic," then, for approximately 37 minutes, he riffs on his past, on his present, on the week-old election of Barack Obama ("I couldn't be prouder tonight to be an American"), on a man in California who claims to have written a book that can "cure" addiction ("There is a cure -- quit"), on his relationship with his daughters ("My family would say I'm tough, but they'd also say I'm fair"), on the crackhead who knocked on his front gate the other day and tried to sell him the door to a microwave oven ("I said, 'Where's the microwave?' He said, 'I don't know.' I said, 'Get off my damn porch!'"). He says, "I've been philanthropic because I like the way it feels," which explains how a man can impact lives -- even save lives -- and gratify his ego at the same time. He says he has little use for anonymity; his public presence, on this night, raises $82,000 in money for charity. At one point toward the end, he even sings, and the cameras are there to capture it all, for no man has lived a life quite like this one, and the most recent coda is perhaps the most utterly astounding twist of all.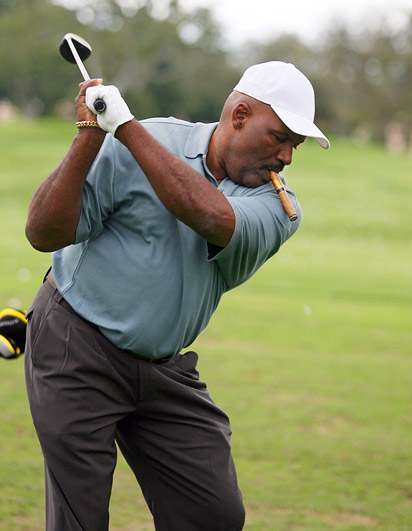 Tom DiPace for ESPN.com
With the traps of his past behind him, Henderson says he is spending life in the fairways now.
Eight-and-a-half years before this evening, Henderson stopped at a drugstore to pick up antibiotics and cough medicine and left with $100 in lottery tickets. The next day, he learned he had won $28 million in the Texas state lottery; by the time Spellings, who is an attorney, told him not to speak to the media until the ticket had been verified, Henderson already had called a news conference. This, says his shrink, is where the Henderson case study becomes truly remarkable: So honed was this man's knowledge of his own psyche -- of the sufferage required to repeat the first of the 12 steps every day for 25 years -- that he celebrated by purchasing a sausage-and-egg biscuit, powdered doughnuts, and a pint of milk at a 7-Eleven. "In that sense, it is the only one of its kind," Pursch told me. "This man's recovery is of such quality that even $28 million couldn't have turned it around."
Of course, Henderson had long considered himself charmed; he claims he'd been expecting to win the lottery for quite some time. And I do believe he means this, just as he means it when he says he hasn't touched a beer or a near beer or attempted to snort an aspirin in a moment of desperation in the past 25 years. Just as he means it when he says there is a "high likelihood" that he will win the lottery again sometime before he dies. Just as he means it when he says his dream job, before he no longer needed to work at all, was to work as a consultant for the professional football team that fired him.
And really, when you think about it, what would have been more appropriate than that? Even now, as his former outfit muddles through another era rife with gossip and rumor, as the quarterback canoodles with a clueless starlet and the former defensive back scuffles with his bodyguard and the wide receiver forever seems one play from a breakdown, this is still Hollywood's team, a wounded and festering collective that, through three decades of relapse and recovery, has come to wear its collective ego on its striped sleeves. There is a certain amount of narcissistic grandiosity involved in being a Dallas Cowboy, and we should credit Hollywood Henderson as one of the godfathers of this tradition, as the progenitor of this lineage: Henderson begat Irvin, who begat Owens. And on it goes, a time-tested story of men losing themselves amid the clouds of their own ego. Strangely enough, many of these people are much like the men whose lives Henderson now endeavors to save, and whose behavior he can immediately recognize. "That's what happens when you're raised by your grandmother," he says, when I ask him about Terrell Owens. "When you don't have direction from a man, you can become a lethal weapon. That's part of my story, too. You can become spoiled, self-centered, self-delusional, if you're raised by your grandma. He's spoiled, he got his way, and he has temper tantrums, and he got his way."
That might seem like a harsh assessment, but that's what this night is about, isn't it? It is about telling the truth, however ugly that truth might be. There is no moderation. Nothing is off the record. Not here, in a room where we unabashedly celebrate one man's opulence and his good looks and his friendships, and the fact that he is still here to enjoy them despite a multitude of harrowing tales. And if he ever changes his mind about all this, if he ever decides he has had enough of deprivation, rest assured he will not tiptoe around the issue. He will not relapse on the corner of 12th and Chicon, with the addicts he once knew, like the childhood friend he helped save from addiction when he found the man sleeping in the trunk of his car.
No, Henderson says if he is going out of this world with a relapse, he's going out in style, man. Think the jungles of Peru, a couple of mules, a couple of 55-gallon drums of crack cocaine, a few dozen pipes, several torches. Think big. Think grandiose. "F--- the small s---," he says, then laughs at his own joke.
Michael Weinreb is a regular contributor to ESPN.com. His book "Game of Kings: A Year Among the Oddballs and Geniuses Who Make Up America's Top High School Chess Team" is now available in paperback from Gotham Books. He is working on a book about sports in the 1980s. He can be reached at http://www.michaelweinreb.com.
Join the conversation about "Hollywood Act."