A
RLINGTON, Texas -- The man still has some catching up to do. Remember that whenever you see Josh Hamilton swing at a bad pitch or run into a wall or dive headlong into first base or, yes, miss a routine pop fly. Every act is a form of recompense. There is a grand ledger somewhere, the ultimate balance sheet, and it goes far beyond statistics of even the most advanced metric. The man is trying to put enough distance between joy and disappointment to carry past eternity.
He wants nothing more than to please. He wants you to remember something from the experience, whether it's a batting-practice homer or a pregame autograph or a sprint from first to third that ought to be impossible for a man his size. He knows the odds are against him: A big league hitter gets, on average, four at-bats a game, and he can't control how many strikes a pitcher throws him over the course of those at-bats, just as he can't determine whether or how the ball is hit to him in the field. Hamilton has to make the most of whatever comes his way. His personal history demands it.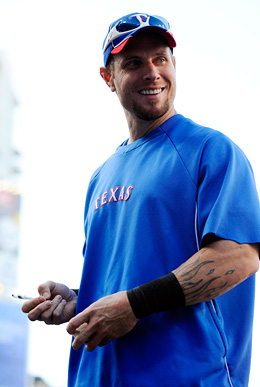 Christopher Hanewinckel/US Presswire
The battle rages. Four at-bats a game is not enough to make a man like Hamilton eager to waste even one of them on a walk. Walks are, by definition, pedestrian. Swings are exciting; swings produce gargantuan homers and line drives wearing screaming cartoon faces and sometimes measly little ground balls that he can beat out just by running down the line like a crazy man. Is there any fan of the Texas Rangers -- or baseball in general -- who spends money on tickets and gas and parking and food in the hope of seeing Josh Hamilton take a pitch a couple of millimeters off the plate and jog dejectedly to first base?
No, so that one-handed, fooled-badly swing at the changeup that bounces in the right-handed batter's box is for everybody who roots for him or pays money to watch him play or stands in wide-eyed supplication asking for his autograph during batting practice. That swing is what happens when belief -- belief that he was given a gift he must not squander for one more millisecond -- overcomes reason.
"That's what I battle," Hamilton says. "I know they're not going to throw me strikes. If they do, they're going to give me one and then expand. Understanding that is very important, and I have plenty of guys behind me who can do the job."
It's tougher than it sounds. The sport demands moments of passivity, especially difficult for a man of Hamilton's talent and personality. That's the outward battle. The inward battle goes deeper, down to a place where the memory of three-and-a-half years lost to the demons of addiction never fades. The psychology seems pretty straightforward: He spent a lot of years disappointing so many people, including himself, that he's intent on making up for the lost time.
It is, paradoxically, a joyous public penance. You can see it before the game, when he bounces from autograph to autograph, handshake to handshake. After he took batting practice before a mid-September game against the Mariners at Rangers Ballpark in Arlington, Hamilton engaged in a long conversation with Air Force Capt. Rob Vorachek, his daughter and her friend. A Rangers employee brought Vorachek and the kids onto the field for a photograph, and Hamilton slid Vorachek's business card into his back pocket as they returned to the stands.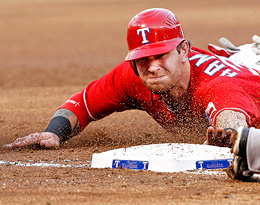 Ron Jenkins/Fort Worth Star-Telegram/MCT
The conversation was so casual and familiar that it seemed they were old friends. Vorachek laughs and says, "Nope. Just met him." His tone was one of giddy disbelief. Nate Washington, the on-field security guard responsible for tracking Hamilton, shakes his head and says, "It's hard to keep up with the man."
The mentality infiltrates everything Hamilton does. There's a part of him that still hears the words his father, Tony, told him before the Rays made Josh the No. 1 pick of the 1999 draft: Son, you're the best who ever played this game. Break it down to its smallest increments: Every game, every at-bat, every pitch … he can hear the clock ticking. He sometimes takes batting practice in the cage under the stands rather than on the field because the spectacle of his tape-measure shots -- the power of his own power -- can cause him to forget the game and focus on showing everyone a good time. As a result, his swing gets too long and too big, and it can seep into games and produce months like June and July when he hit .202 and viewed every pitch as a last chance to prove his worth.
"There are times when I have to tell him I think it's a good idea to stop taking batting practice," says Rangers hitting coach Scott Coolbaugh. "The crowd starts oohing and ahhing, and it becomes a show for them instead of him getting ready for the game. That's just him, though; he really wants to please people. It's not just for them -- it's for him, too. It makes him feel good. It's the same thing during a game. I've told him, 'Josh, I know that for you to take more than one walk in a game is a boring night for you.' He doesn't argue."
Rangers manager Ron Washington, in his inimitable way, distills the phenomenon into five words: "The man love to swing."
Those five words contain mountains. The man love to swing. And every swing is nothing less than an act of faith, a rejection of cynicism, an affirmation that every moment is precious and good. To swing is to embrace possibility, and the man's life is nothing less than a parable of the possible.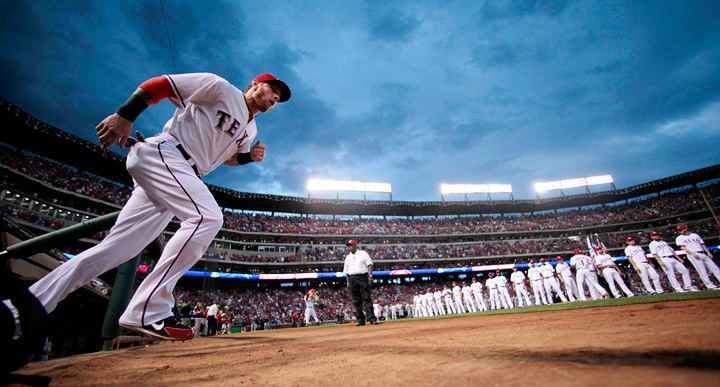 AP Photo/Charlie Riedel
A league of his own
There are practical matters to address. This is a remarkable moment in time for Hamilton and for his team. The Rangers are stumbling into the playoffs as a wild-card team after consecutive World Series defeats. Hamilton is entering what could be his final weeks as a Ranger. In roughly a month, he will be one of the most fascinating free agents in baseball history.
He will be not only the most valuable free agent on the market but also the one with questions swirling in his wake like a mile-long contrail. Every Hamilton action has an equal but opposite reaction. He finished the first two months of the season with 21 homers and 57 RBIs and an outrageous OPS of 1.185. He followed that spectacular start with the .202 of June and July, the lowlight of which came when team president Nolan Ryan expressed his concern by going on a local radio show and saying, "There's a lot of those at-bats he just gives away." The adulation Hamilton received for his insanely productive start was equaled by the publicly expressed confusion over his struggles.
"If he'd kept up what he did the first two months, it would have been unfathomable," outfielder David Murphy says. "There wouldn't have been a league challenging enough for him to play in."
Hamilton is one of a handful of five-tool players in the big leagues, yet his age -- 31 -- by itself could limit the number of contract years he will receive as an elite player hitting free agency for the first time. He played 148 games this year -- second-most of his career -- yet he is viewed as perhaps the sport's most vulnerable player. He is drug-tested three times a week, in and out of season, yet his two well-publicized relapses with alcohol -- both followed by painfully public mea culpas -- might give pause to potential suitors.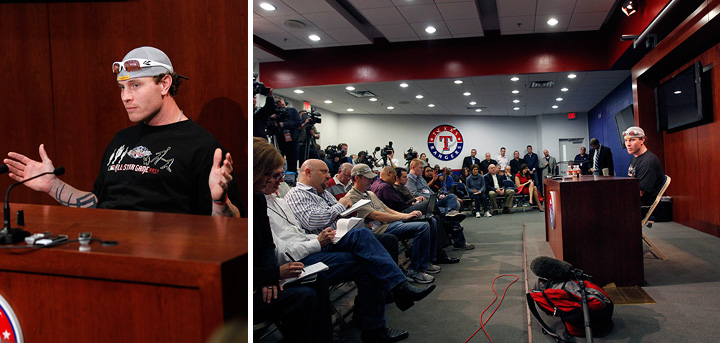 Layne Murdoch/Getty Images
Back, forth. Back, forth.
"People like to look at that one tough stretch," says Ranger infielder Michael Young. "I prefer to focus on the fact that he worked his way out of it. Josh is a very instinctive hitter, a rhythm hitter. When he's in a good rhythm, he feels he can hit anything, and he can. Some guys, when they're not completely locked in, they have to swing their way out of it. If you decide to 'take' all the time, you have no idea where your swing's at. He might be taking a pitch that he might otherwise put into the seats."
Rangers teammate Adrian Beltre says, "He's not the type of guy who studies pitchers or sequences. He just sees the ball and hits it. The rest of us need to study and have a plan before we get out there, but he doesn't need that. He's got that much talent."
How hard is it? According to FanGraphs, pitchers this season have thrown just 34 percent of their pitches for strikes to Hamilton, more than 7 percent lower than his career average of 41.6. He has swung at 45 percent of those pitches out of the zone, giving pitchers an easy decision: Don't throw him strikes. "That sounds good," says Mariners pitcher and former Ranger Kevin Millwood. "But you don't have to miss by much to get hurt."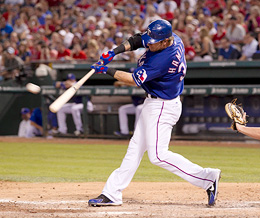 Jim Cowsert/US Presswire
From the couch, the advice for Hamilton is equally easy: Don't swing at bad pitches. Problem solved, right?
"You watch him and you think: Just slow things down and take a few pitches," Coolbaugh says. "Well, yeah, I guess. But if you take a few pitches, then you're in that passive mode. You're caught in between. You might take a pitch and think: I just took my pitch and let him sneak one by me. And then you go right back to speeding things up again."
Hamilton is a former MVP, a batting champion, an RBI champion and just missed the American League home run title this season. He played through the postseason last year with a shredded groin muscle, and his dramatic homer in the top of the 10th in Game 6 was just a bottom-of-the-inning Rangers collapse away from being a Series winner that would have been remembered forever. And yet, in a bizarre twist that is equal parts reverie and homage to his talent, there is one question that persists: How much better could he be?
How much better could he be if he just learned to lay off pitches out of the zone? How much better could he be if he hadn't abused his body for so many years? How much better could he be if he stayed healthy?
Hamilton is, to be fair, susceptible to unusual maladies and the occasional sideshow drama. He attributed some of the blame for his two-month summer slump to his struggle to quit chewing tobacco, but only after a cryptic comment ("There's disobedience, and there's disobedience to God. I've been disobedient.") that allowed anyone with an active imagination to fill in the blanks. He missed five games of a September road trip with a vision issue triggered, apparently, by too much caffeine. When he returned, he told reporters, "It's me we're talking about here. Guys, it's me -- it's Josh. It's going to be something weird." Since that eye issue, he struck out 17 times and committed two big errors, both against Oakland, including Wednesday's muff of a routine fly ball that gave the A's their two go-ahead runs.
Gallery
The arc of Josh Hamilton's season in photos.
LAUNCH GALLERY

Lost in the talk of how good Hamilton could be is another question: Just how good is he now?
Forget the obvious -- the 128 RBIs, the four-homer night in Baltimore, the first 40-homer season of his career -- and dive a little deeper, to the third inning of a game against the Indians on Aug.31. Hamilton drew a one-out walk from Ubaldo Jimenez on an eight-pitch at-bat. (Yes, it does happen.) On a 1-2 pitch, Beltre hit a line-drive, one-hop single three steps to the left of center fielder Ezequiel Carrera, who fielded the ball when Hamilton was a step and a half from second base. Hamilton turned second and accelerated toward third without hesitation, his 6-foot-4, 230-pound body -- timed at 4.5 in the 40 in one offseason workout -- eating up 90 feet faster than Carrera's throw.
Hamilton slid in well ahead of the throw, which allowed Beltre to take second and remove the possibility of a double play. Hamilton scored when Young beat out a slow roller to short that, with runners on first and second, undoubtedly would have been a force out. And Beltre scored on David Murphy's bloop single to left. Hamilton's speed and baserunning instincts changed the game, turning a 1-0 Rangers lead into 3-0 in a game they ultimately won 5-3.
There aren't many power hitters -- "damage" guys, in the ever-changing vernacular of baseball -- who can change the game in so many ways. Mike Trout can, and Matt Kemp and occasionally the Upton brothers and Jason Heyward. It's worth noting that Albert Pujols is just one year older than Hamilton, with nine years remaining on his contract, and his days of going from first to third to alter a game's landscape seem far behind him.
"I think most people would like to see Josh end up on their team," Millwood says. "You just want him to end up somewhere where's he's comfortable and happy, and make his life easy and where there's not too many people pulling at him."
Millwood is presented with a hypothetical: Play general manager. Would he give Hamilton six years?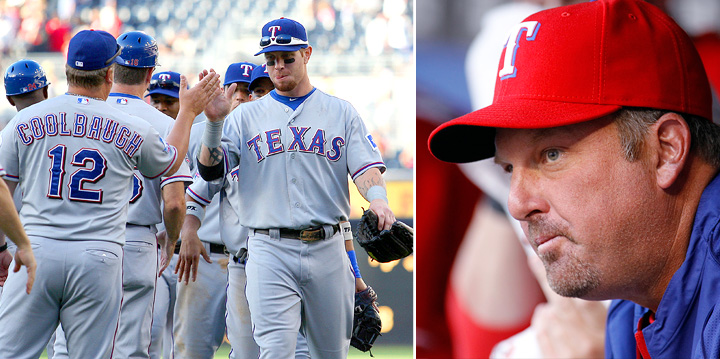 Jake Roth/US Presswire, AP Photo/Sharon Ellman
"That's a tough one," he says. "I'm really glad I'm not a general manager having to make that decision. The talent is obviously there."
He stops. There is an implied caveat at the end of the sentence, a "but" that begs to be explored. Prodded, he sighs and says, "Six years is a long time."
Back, forth. Back, forth.
The cumulative effect of all the reservations -- undoubtedly exacerbated by that crucial two-run error and three strikeouts in the game No. 162 loss on Wednesday that clinched the A.L. West for Oakland and relegated Texas to the wild-card game -- is this: Nobody knows anything. Nobody knows whether Hamilton will receive a contract offer for three years/$75 million or six years/$125 million. Conversely, nobody knows what Hamilton's future holds. There are the same questions raised by every big-money free agent: Will he prove worthy of whatever contract he receives? And, as is always the case with Hamilton, there are the unique, it's-gonna-be-weird questions: Will his body hold up? Will he stay clean and sober?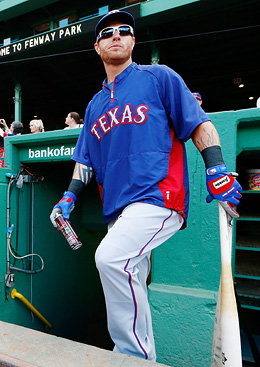 Jared Wickerham/Getty Images
Other than the Rangers, no team has been identified as a guaranteed suitor. Boston would have seemed likely -- especially given Hamilton's .386/.433/.659 career numbers in Fenway Park -- but the Red Sox's recent salary dump and uncertain organizational direction make them less likely to bid high. The Dodgers seemed to be in play until their payroll exploded with Adrian Gonzalez and Carl Crawford. The only park in which Hamilton has better numbers than Fenway is Baltimore's Camden Yards. The Yankees are always a factor, but would Hamilton and his family -- he and his wife, Katie, have four young daughters -- want the New York lifestyle? And if pace of life is a major factor for the native North Carolinians, could Atlanta be a wild card?
"First of all, we all know what's at stake," Young says. "We all have contracts and know when we're up for contracts -- it's part of the game. Josh isn't the only guy who's gone through this; everybody goes through this. You put it aside and deal with it when you have to."
Hamilton, reluctantly, declined to discuss the future -- his, the Rangers' or the potential confluence of both. He's been advised to lie low, which makes sense. But you can tell it doesn't come naturally.
After years of living the deceitful life of the addict, Hamilton committed himself to honesty. He might fail, as evidenced by the two relapses, but he doesn't duck. When you've been through what he's been through and every day in a uniform is perceived as a gift from God, honesty is not optional. Honesty is as much a part of his success as bat speed. Without it, he might not be alive and he definitely wouldn't be making $13.75 million and contemplating how close he might come to doubling it next year.
Sometimes, the honesty seeps into places where honesty is considered impolitic. A big-time free agent in his walk year has to have a bit of the diplomat in him. Hamilton raised some eyebrows in February when he responded to a question regarding the possibility of giving the Rangers a hometown discount -- ostensibly because the organization has been good to him -- by saying, "The Rangers have done a lot for me, but I've got a question for y'all: Have I done a lot for the Rangers? I don't think anybody can say I haven't."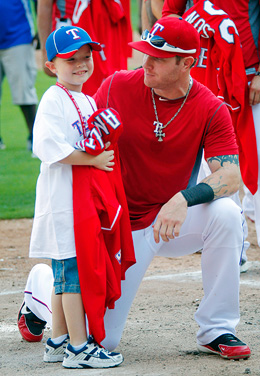 Rodger Mallison/Fort Worth Star-Telegram/MCT
(The "hometown discount" is purely a media construct and should have been retired from the lexicon years ago. It fails to take into account most salient factors that go into a player's free-agent decision, including but not limited to basic human nature and the power of the players' union to dissuade its members from accepting less than market value. Superstars who stay in the same uniform tend to be players who are worth more where they are than anyplace else. Think Joe Mauer.)
Besides, walk around Rangers Ballpark and count the $150 Hamilton jerseys and $40 Hamilton T-shirts in the stands. (Hamilton's jersey is the second-highest seller in MLB since the All-Star break, behind Derek Jeter.) The man is a living, breathing revenue generator. Have I done a lot for the Rangers? The Rangers know it and Hamilton knows it, but it's considered bad form for him to voice it. Honesty is not always the same as truth, but this was both.
The Rangers have surrounded Hamilton with the tools he needs to succeed -- Nolan Ryan's front-row oversight, good teammates, accountability partner Shayne Kelly -- and Hamilton readily admits as much. And for someone with such a strong desire to please, walking away from a competitive offer from the Rangers might prove difficult. But all the talk of the importance of a "support system" is as overcooked as the notion of the hometown discount. Hamilton's main support system is his faith and his family, and they're both portable. Most ballplayers would agree to some version of the same combination.
The next three weeks could tell the story. If the Rangers win their first world title, will that make them more or less likely to make Hamilton an offer he can't refuse? Will Hamilton view free agency as another opportunity to make up for lost time, his last best chance to lock up the money and the security he once believed he had squandered forever?
Back, forth. Back, forth.
So many questions with so many possible answers.
How to win friends . . . and influence enemies
Let's end with a quick story:
After Game 2 of the 2010 World Series at San Francisco's AT&T Park, after the Giants had taken a two-game lead over the Rangers with a 9-0 win and long after the last pitch had been thrown and the field had been cleared of what seemed like a thousand Giants employees posing with the National League championship trophy, Josh Hamilton and his wife, Katie, took a walk. They walked from the visiting clubhouse down an empty tunnel, hung a left and headed toward the city, past a row of food-service carts and parked forklifts, toward a small parking lot near the Lefty O'Doul Bridge.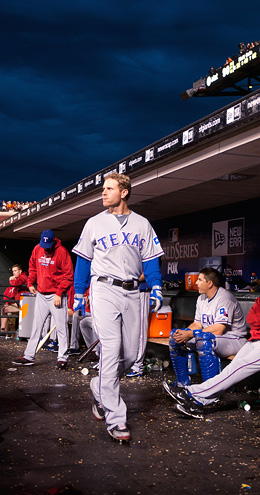 Rob Tringali/SportsChrome/Getty Images
They were quiet. Hamilton was tired and disappointed. The game had been over for close to two hours, but it was still inside him. He'd gone 1-for-4, and his team was heading back to Texas facing what proved to be an insurmountable deficit. There were two or three Giants employees hanging around; they'd just been given the opportunity to have their photographs taken -- by themselves, with their spouses, with their children and their spouses -- with the trophy near home plate.
Out of the silence and the darkness, a voice called out.
"Mr. Hamilton!" it bellowed. "Mr. Hamilton!"
The voice was loud enough and insistent enough and unexpected enough that it startled the few people who were standing near the parking lot. They watched as the Hamiltons stopped and located the voice. They found the source: a young man, maybe 18 or 20, wearing a Giants cap, Giants jersey and orange-and-black face paint.
"Mr. Hamilton," he said, a little quieter. "Will you sign?"
Understand: There was nothing at stake here for Hamilton. Most big-time athletes have perfected the art of hearing but not seeing. They can walk through a room with their eyes focused just above the crowd, the thousand-yard stare of the rich and famous, and pretend they're all alone.
We don't ask for much, though. A smile, a handshake, a name scribbled on a ball or a cap. Give us a chance to walk away and tell someone you're a good guy. Some guys understand this.
Hamilton stopped and approached the man. He smiled, took the ball the guy offered. As he signed, he asked, "You're not one of those guys who was dog-cussing me all night, are you?" The guy said no, of course not, he's always admired Hamilton. And by the way, could he get a photograph?
Sure, Josh said.
Inevitably, something went wrong. The camera didn't work.
At this point, most athletes -- even the nicest ones -- would have begged off politely and told the guy he was tired and had a bus to catch. Most wives would have pulled the plug long ago.
Hamilton posed for another photo, shook the guy's hand and walked away.
"That told me all I needed to know about him," said a Giants employee who witnessed the scene. "This wasn't a kid; it was an 18- to 20-year-old. This wasn't a Rangers fan; he was decked out head to toe in Giants gear. And there was no media there. Nobody ever would have known if he'd walked right past him. I wouldn't have thought twice about it, but how many guys at that level do what he did?"
And more to the point: How many truly believe they have no choice?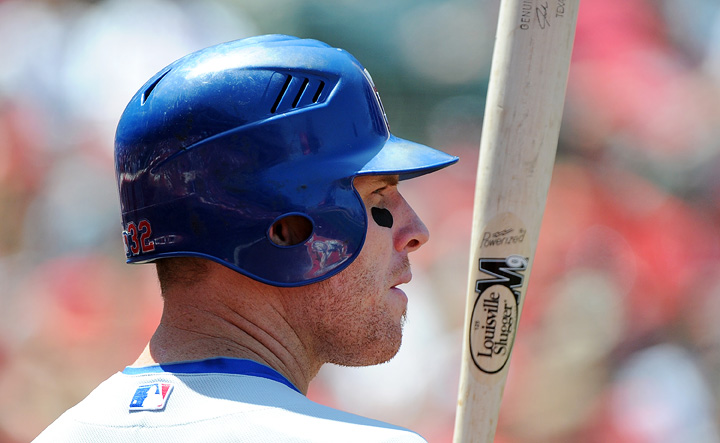 Lisa Blumenfeld/Getty Images
Previously from OTL and E:60