"Even You?"
LDORET, Kenya -- He slips into the backseat of a parked taxi and hides behind its darkly tinted windows. What he is about to say could get him killed.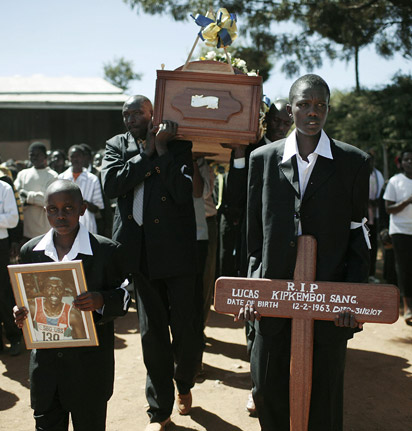 Jose Cendon/AFP/Getty Images
Two of Lucas Sang's sons walk ahead of their father's coffin during his funeral near Eldoret, Kenya, on Jan. 10. Sang's death remains a source of controversy throughout the country.
He won't give his name. On the way over, he couldn't shake the thought this might be a police sting. If he didn't trust the human rights activist who brokered the meeting, he wouldn't have showed. But here he is, uneasy, eyes following every person who walks past the car -- and those who sit inside. From the back, he asks the driver, a member of a rival tribe, to wait in the parking lot.
Then he takes a breath and begins to tell the story of the mysterious death of Lucas Sang.
The witness is a Kikuyu. Sang was a Kalenjin. During the 44-year history of Kenya, like the North and South in early 19th-century America, these two tribes mostly managed to keep an uneasy peace, despite tensions over money, land and power. Then, after December's presidential election, that peace was shattered. For a few weeks, it was as if the earth had split open, taken almost 1,000 lives, then snapped shut again.
The Kikuyu says he was a soldier in that civil war. He says that he lives near a place called Munyaka, and that he knew Lucas Sang. Everyone knew Sang: national hero as an Olympian, local hero as a farmer and philanthropist. Even though he had retired from competitive sports, Sang continued to help young athletes. Together, they'd train outside Eldoret -- the birthplace of many successful Kenyan runners -- sometimes down the red dirt road that runs alongside the cornfields of Munyaka, Sang easily recognizable by his long, smooth strides. The Kikuyus working in the fields would stop and cheer Sang as he passed by.
On Dec. 31, Sang came to Munyaka again, along that familiar road. The Kikuyu man saw him and was enraged.
"Even you?!" he shouted at Sang.
Ten minutes later, Sang was dead.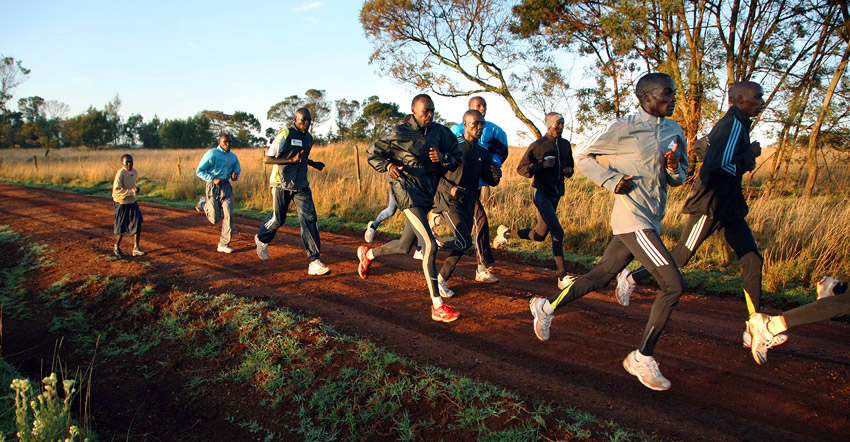 Evelyn Hockstein for ESPN.com
Long-distance runners train in the high-altitude village of Iten, Kenya. Sang was from this renowned running region and trained among the farms.
A man who helped his countrymen become great
No one could have imagined Sang would die in a clash between two lawless mobs, certainly not one that many say he instigated. Everything he'd done in his life suggested the opposite.
He was born a week and a half before the country earned its independence, part of the first generation of true Kenyans. He became a standard-bearer when he ran a leg in the 4x400 relay at the 1988 Olympic Games in Seoul. He never achieved much fame elsewhere, but back home, people respected Lucas Sang. His professional career mainly consisted of selflessly setting a fast early pace in middle-distance races so his friends and teammates could win gold medals and set records. He was a man who helped other Kenyans become great.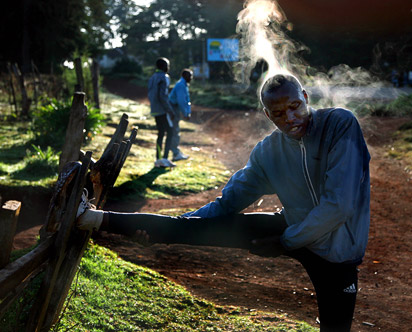 Evelyn Hockstein for ESPN.com
Steam rises from Robert Rotich, a 5,000-meter runner, following a recent morning workout.
When he retired four or five years later, he bought a farm and became a local leader, paying school fees for needy children, buying seeds for neighbors too poor to plant. Hard working. Never wore a necktie. That's how people described him. He helped create the National Association of Kenyan Olympians in 2000 and was immediately named treasurer. "We trusted that he wouldn't touch a shilling," says his friend Paul Ereng, the 1988 gold medalist in the 800 meters, a 4x400 relay teammate and now an assistant track coach at Texas El-Paso.
Ten months before Sang died, the world cross-country championships took place in the coastal city of Mombasa, clear on the other side of Kenya. Brother Colm O'Connell wanted to give his students at St. Patrick's School in Iten a rare opportunity to see elite athletes in action. But the road to Mombasa is dangerous. Bandits patrol the long stretches of desolate terrain, which means breakdowns are potentially fatal. Corrupt police and bogus roadblocks also threaten motorists. So who could Brother Colm trust to safely shepherd a bus of innocent children to their destination?
Lucas Sang. He could handle a broken engine, or smooth talk a robber, or use his military connections to ease through checkpoints (Sang spent his six years in the Kenyan Army running for his country, retiring as a corporal in 1990). He was reliable and kind, and he escorted those children clear to the Indian Ocean and back. Now he's gone. This has shaken Brother Colm, who believes in heaven and hell. If you know a man's goodness, you can have faith in it. But this? Fans once lined the streets of Nairobi to welcome Sang home from the Olympics. How can such a man get hacked to death in a cornfield? By people who once cheered as he ran past? Brother Colm cannot understand what happened to his long-time friend.
"Reason didn't prevail," he says, in his living room high in the mountains above Eldoret. "Everybody just turned into other people."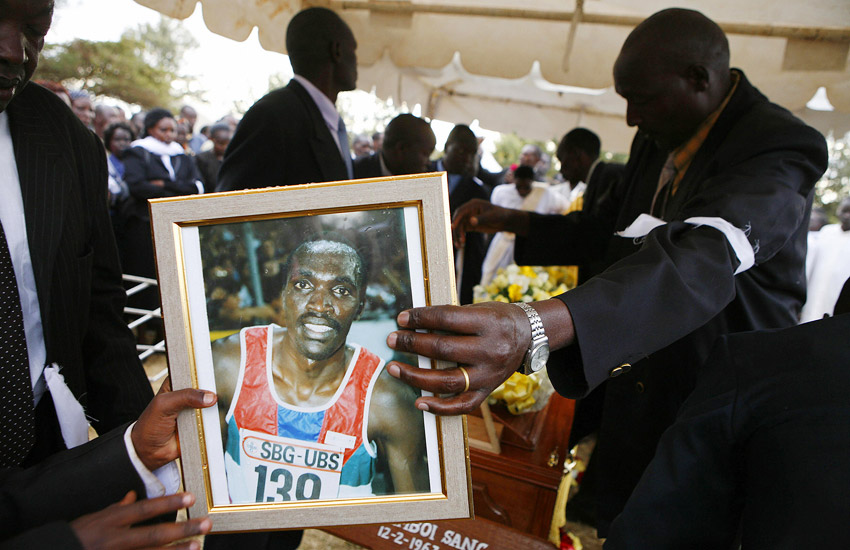 Jose Cendon/AFP/Getty Images
Sang was respected throughout Kenya -- for both his Olympic running career and his work to help the farming community.
Fatally divided loyalties
The cause seemed so important on the last day of his life.
It was around noon. The moment of truth had arrived. Should he stay or go? Behind that small question was a big one, the biggest, the same one put to Robert E. Lee in 1861: Nation or tribe, future or past?
Lucas Sang had to decide: Was he Kenyan or was he Kalenjin?
As Kenya's best athletes compete in Beijing, the country struggles with the aftermath of violent tribal clashes last December. For more on this story, watch "Outside the Lines" on Sunday at 9:30 a.m. ET on ESPN.
Click here for more
from "Outside the Lines."
He was 10 days older than Kenya, so he'd been Kalenjin a little longer. On the other side of the ledger, he'd walked into an Olympic stadium behind the red, black and green of his country's flag. At one moment, he'd been the most Kenyan you could be. Still, it would have been hard for him to turn his back on his heritage. "Deep down," Brother Colm says, "he was a loyal Kalenjin."
That's how he was raised, in the old tradition, a little boy working the fields of his village. Farming was synonymous with his people. Even as he traveled the world as a professional athlete, he never forgot. Driving around Europe, he'd stare out the window when he passed a farm, dreaming. On many occasions, he'd turn to his companions and say, "I would like to own one."
When his racing earnings made that dream come true, he treasured his modest 20 acres just outside Eldoret, growing it little by little, becoming a union leader, organizing strikes, eventually adding some thousand acres of rental land to his operation. Two years ago, fellow national agricultural officials came to see his latest improvement -- the grain warehouse, like a spaceship among the neighboring straw and mud huts, with metal sliding doors and thick concrete walls. Sang dressed up for the occasion, wearing black slacks and a white golf shirt. He walked the officials through the small grove to the back of the property, showing off his nearly finished home. Soon, after one or two more good harvests, he would be able to complete it. Sang beamed.
He told them he was finally in the big leagues.
That was then, this is now. Outside his gates, fires raged, smoke rising into the enormous Kenyan skies that stretch forever here in the Great Rift Valley, site of a geological battle fought eight million years ago, when the world tried to tear itself apart. All that remains is a scar, deep and angry, cut through the fields and villages outside Eldoret.
The world was splitting open again, a rupture born in Kenya's infancy, when new president Jomo Kenyatta took the land the British had stolen from Kalenjin farmers and gave it to his Kikuyu cronies. Four decades later, Mwai Kibaki took power. He was a Kikuyu. After years of dictatorial rule, Kibaki's task was to bring Kenya's economy into the 21st century, creating markets and growing a business class, largely of his own tribesmen. Suspicious Kalenjins saw this as another Kikuyu leader favoring his own. Meanwhile, global economic pressures skyrocketed the price of diesel and fertilizer. Farmers suffered; Sang never had enough money to finish his new home. Between 2002 and 2008, the price of fertilizer quadrupled, each year worse than the one before. "This year is catastrophic," says Moses Tanui, two-time Boston Marathon winner and close friend of Sang's.
Many Kalenjin farmers blamed Kibaki. They blamed the Kikuyus.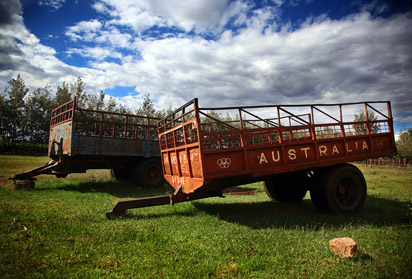 Evelyn Hockstein for ESPN.com
A trailer adorned with the Olympic rings on the side is a reminder of Sang's glorious past.
An opposition party, the Orange Democratic Movement, formed a coalition of most of the other 41 tribes in Kenya, promising to defeat Kibaki and help the farmers. But the Dec. 27 election was rigged, with Kibaki hastily declared the winner; the fraud turned blame into action. In less than 24 hours, the Kalenjins and other aggrieved tribes took to the streets. They would force the Kikuyus from Kalenjin lands. Machetes and torches would do what votes could not. No one seemed to remember or care that there had been violence after almost every election in the history of Kenya, and that all the killing and dying had changed exactly nothing.
So, on the last day of 2007, Sang waved goodbye to his wife. Said he was going to town. She wishes now she'd asked him to stay at home, stay with her and the kids, let other men fight this fight. Around him was all he'd struggled to build: a fleet of tractors and combines, a trailer with Olympic rings painted on the side, a giant grain warehouse, a wife, four children. His life's work. Fatefully, he opened the gate and drove through.
It is impossible to know what went on in his mind in those final hours. But David Koros, a Kenyan human rights activist, said no matter what Sang had believed as a young man, by that afternoon, he'd come to see himself as more of a Kalenjin than a Kenyan. "He believed that other people should be moved away from the region."
Sang left his farm. Some say he was going to get supplies. Some say he was going to avenge four decades of injustice. Others say he was a mercenary who wanted more land. Some say he was on a mission of peace.
Whatever the reason, Lucas Sang walked willingly into the middle of a war.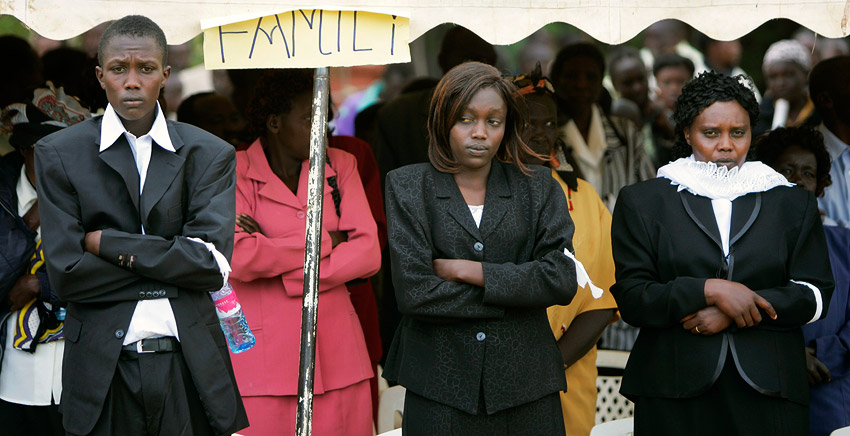 AP photo
Sang's family members still believe he was an innocent victim caught up in the New Year's Eve violence.
Heroes became villains, killers became victims
In the months that followed, a silence settled over Eldoret. Not peace exactly. More like the absence of war. People didn't want to talk about the violence. Didn't want to remember that some of their neighbors were killers and arsonists. Didn't want to remember what had been done to them, or what they themselves had done. What did any of that matter in a place where there was no longer a bright line between good and evil? "There is no black and white," says Francois Grignon, Africa director of the think tank International Crisis Group. "There were victims and killers on both sides. Sometimes it can be the same person. It is a story about fear and disillusionment. About wanting to redress injustice. Therefore heroes can become villains. Therefore killers can become victims."
The entire country went mad, though some days it's as if people want to believe it never happened. But it did. Those who were there, waiting in the fields of Munyaka for Lucas Sang, the ones who heard his dying cries, they know.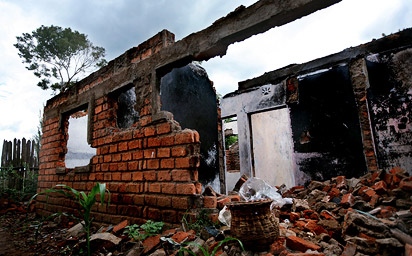 Evelyn Hockstein for ESPN.com
The violence near the village of Munyaka left many Kikuyu homes burned and destroyed.
Shadrack Bett says he knows.
He is a young Kalenjin man, little balls of spittle forming in the corners of his mouth, scared he might be discovered talking about the violence. He looks around the makeshift chapel in a downtown office building to see who is listening, who can see him. His hands shake when he speaks.
On the day Sang left his farm, Bett says he was home. He worked for a Kikuyu farmer, which is why the gang of Kalenjins who came to his door accused him of supporting Kibaki. The Kalenjins are a warrior people, taught since childhood that an attack on one is an attack on all. Not participating wasn't really an option. An impromptu draft took place. "If you don't accompany us," they told Bett, "we are going to kill you."
So he went along, toward Moi University, in between Eldoret and Sang's farm. The Kalenjin mob began burning Kikuyu houses along the roadside. Flames kicked out of windows. When police arrived on the scene, firing shots into the air, the mob dispersed, then re-formed, awaiting instruction.
That's when Bett saw Sang, out front, giving orders. "He was just directing the people," Bett says. "He was respected. Even when he was talking to this crowd, the people were respecting him."
Bett says Sang told the armed warriors not to loot houses. Just burn and go. Do not risk getting caught for material gain. Do your job.
"He said, 'Let us go to war.'"
Burning as they went, the men started for the Kikuyu village of Munyaka. Sang, Bett says, was a leader that day in the fields outside Eldoret. Not one to just give orders and get out of harm's way, he stood with the men. When a soldier was injured, Sang drove him to the hospital, got him treatment, then returned to the battle. "He was brave," Bett says.
By mid-afternoon, the mob had arrived at Munyaka. Sang knew this land well. He had often run these roads and farmed wheat in these fields. The Kalenjins surrounded the town, which sat atop a little hill, now a lonely island in a sea of violence. The work would be quick: Flames would leap from home to home, consuming the little shacks made from timber, mud and grass. In a few minutes, four decades of injustice would be cleansed.
But as Sang and his crew were preparing to strike, three witnesses say, a gang of Kikuyus gathered to repel them. War cries filled the air. Behind the Kikuyu warriors stood their women and children, who screamed, too. That's when the Kikuyu shouted, "Even you!?"
Then the Kikuyus attacked. Most of the Kalenjins ran, but Sang held his ground. He had a pistol in his hand and war in his eyes. As his soldiers retreated through the cornfield behind him, the Kikuyu, armed only with rocks and machetes, decided Sang did not have enough bullets to kill them all. Maybe he didn't have any bullets at all. Whatever the reason, witnesses say Sang began to run, finally, in long, smooth strides. But on this day, in this field, he was too slow and too unlucky.
Separating two cornfields stood a fence with three strands of barbed wire, the top one elbow-high. On the other side lay an enormous fallen tree and safety. Sang tried to climb over or through, but his pants snagged on a barb. He turned to find the gang of Kikuyus almost upon him. Across the field, Bett could see their trapped leader. Before being swallowed up by the enraged Kikuyu, Sang called out to his brothers.
"He just said, 'Help me!'" Bett says.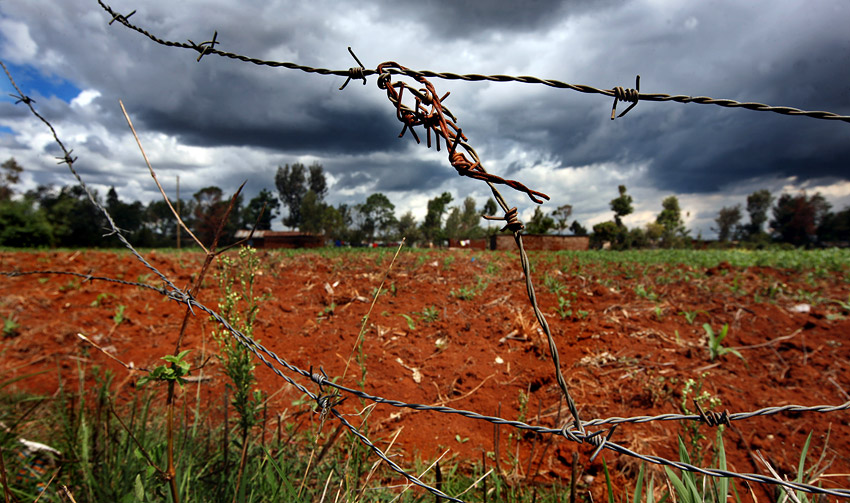 Evelyn Hockstein for ESPN.com
Near this barbed wire fence in Munyaka, the mob caught up to Sang.
Blood-soaked Kenyan dirt
The Kikuyu witness, sitting in the dark corner of a taxi outside an Eldoret hotel, says he still has nightmares about what happened next: Sang struggling to get free, twisting, turning, pulling, the barbed wire hooked to his pants. The Kikuyus descended upon him, the witness less than 10 feet away. First, they cut Sang free of the barbed wire, so they could get clear shots at their enemy. People they'd imagined were friends had burned their homes, and even killed members of their tribe. All of that anger was about to rain down on Lucas Sang. Even you?! "We expected him to be helping people," the witness says, "not attacking."
The Kikuyus screamed at Sang, telling him what they were going to do, and why. Then out came the pangas, what Kenyans call machetes. About five men surrounded Sang, who curled up on his side. From 10 feet away, you couldn't hear the sickening thud of blade on skin for the screaming. "There were so many pangas," the witness says. "People were many, and each one of them wanted to cut him. You could even get cut yourself if you weren't careful."
Sang's blood soaked his clothes, then began to soak into the Kenyan dirt. The blows rained down on his head and his legs, one blade going up as another went down. The life flowed out of him, back into the soil. Dust to dust. At the end, Sang made noises that no one could understand. As he died, was there a battle for his soul? Sang was a devout Catholic, yet never forgot his tribal heritage. The Kalenjins do not believe in the Christian idea of heaven or hell. The end of life isn't death; true death can occur only when people forget you. Everyone passes to an afterlife, to a time before the colonial powers arrived, when their land is still their land. Elders tell stories, making sure every hero is remembered.
Above Sang, the big blue skies towered over the Great Rift Valley. The blows kept coming. The rocks kept hitting his body. To his attackers, his final words had no meaning, just sounds of fear and pain.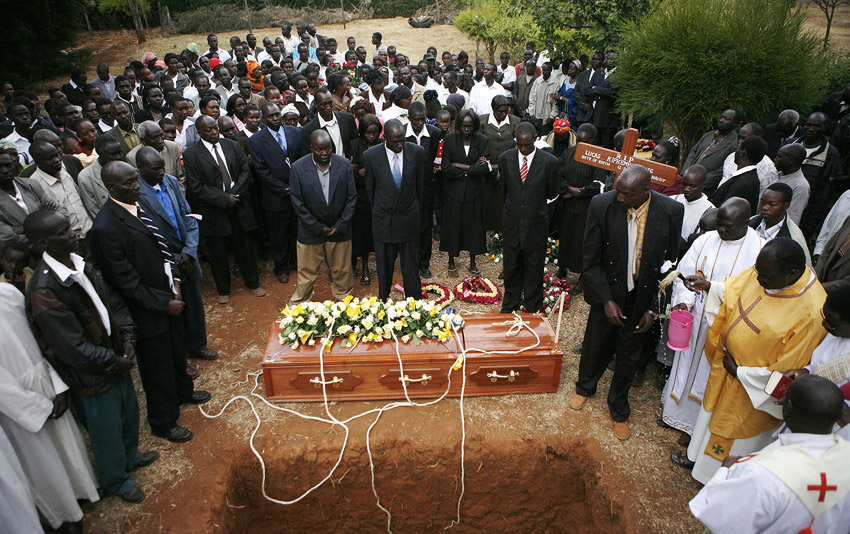 Jose Cendon/AFP/Getty Images
Sang's death served as a rallying cry for the Kalenjin community and prompted many to call for revenge.
The meaning of one death
For a moment, he was a hero. A martyr, even. The Kalenjins raged over the loss of such an important man. "When Lucas was killed," elite marathon runner Wilson Chepkwony says, "it increased the war in Eldoret. Most of the people come from the farms, and they wanted revenge. They said, 'For one Lucas, we want to kill a dozen people.'"
The funeral was a tribal celebration. They came like pilgrims to the Sang homestead, passing through a hellish moonscape of wreckage and rubble, burned-out storefronts and shattered bricks. Dogs chewed on dead bodies.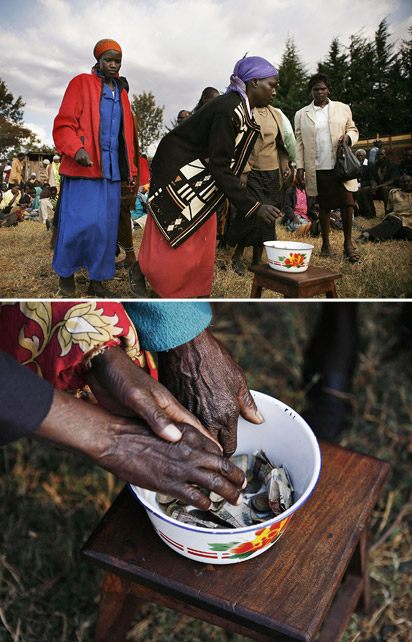 Jose Cendon/AFP/Getty Images
Mourners made donations to help needy Kalenjin during Sang's funeral.
The family sat in the front. Thousands crammed in behind them, Olympic medalists and dignitaries and common folk alike, clutching programs filled with his accomplishments and photographs. On the cover, Sang stared off to the side of the camera. He looked melancholy. Like he knew. Above his head was written: A Life Well Lived.
Brother Colm made his way down the mountain, arriving about 10:30 a.m. to find the speeches had already started. The atmosphere was tense. Outside, homes were still being burned, battles still being fought. "I think it appeared to the Kalenjin community that this was a rallying point at this time of need," Brother Colm says. "They saw Lucas' death and funeral as an opportunity to rally the forces, to really stand up for 'our ethnic group.' Lucas provided it, as nobody else probably could have provided."
A religious fervor swept through the crowd, voices rose in anger. When the priest switched from English to the Kalenjin tribal language, he looked out and said, "Sang died fighting for truth and justice."
Exactly what he died for, and why, would become a hotly debated topic in Kenya. The accounts of the final hours of Sang's life differ depending on who is asked. A month after the violence, Grignon and the International Crisis Group released their report on its root causes. One sentence infuriated the Kenyan running community: "There are various accounts of how Lucas Sang, an athlete and ex-army corporal, died, but most accounts suggest he met his death on the outskirts of Eldoret while commanding part of a Kalenjin raiding party."
Sang's friends deny it, sticking to the victim story. In a newspaper op-ed piece, Sang's former Olympic teammate Peter Rono wrote that attempts to link Sang to the violence were slanderous: "I have found not a shred of evidence to support the ICG allegations."
Tanui, who found Sang's mutilated and burned body, becomes angry when he hears Sang called a killer. Is he right? Is this all a plot to slander the memory of a Kalenjin leader? Is he covering for his friend? Is he na´ve?
"I don't believe it," Tanui says. "There are a lot of stories, but I have confirmed that Lucas was coming to collect diesel."
He sighs. "It is like when you are driving your car, then you have an accident and you find yourself in a hospital. You don't understand what happened in the middle. Do you understand what I'm saying?"
Daniel Kiptugen, a security, conflict and peace adviser for the British charity Oxfam, lives near Sang's farm; they knew each other. He was at home during the violence. "I don't believe," he says.
Do you not believe, or do you not want to believe?
"I don't want to believe."
The funeral lasted all day and into the night. When Brother Colm left around 5:30, the religious part of the service hadn't even started. Finally, they put Lucas Sang into the ground. For a moment, the violence had kept Kibaki from stealing the election. There was still hope for the ODM to keep its promises, to right so many wrongs.
For a moment, Sang's death meant something.
Moments never last.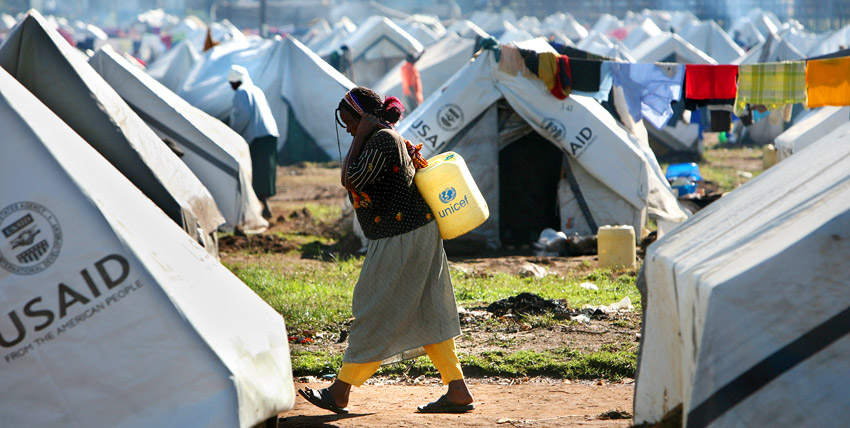 Evelyn Hockstein for ESPN.com
Driven from their homes, many displaced Kenyans are now living in tents at the Eldoret showgrounds.
The more things change ...
Months have passed. Men sit on stools around an Eldoret bar. The barkeep pulls Tusker beers out for most of the patrons. A television is on in the corner, tuned as usual to politics, the most popular sport in Kenya. When a speech comes on in a restaurant, the music is muted, forks hit the plates and the volume is turned way up. Here at the bar, the men stop their conversations to hear President Kibaki.
Yes, President Kibaki.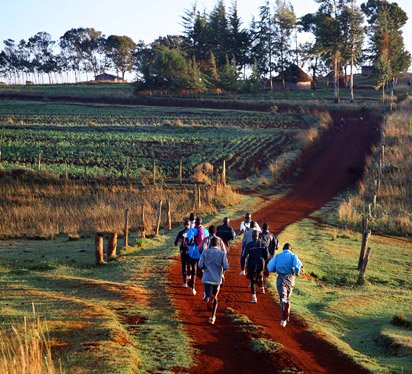 Evelyn Hockstein for ESPN.com
In the hills of Kenya's Great Rift Valley, perhaps the next Lucas Sang will emerge.
All that has come from the violence was a power-sharing agreement between Kibaki and ODM leader Raila Odinga. None of the changes promised to the Kalenjins have happened. Many in Eldoret don't believe they ever will. Even ODM officials are skeptical. "Angels can do nothing with this many devils in power," local official David Nyangoto says. "Now the big thief is going to mix up with a clean man. One rotten potato mixed with a whole sack can make the whole sack rotten."
At the parliament building in Nairobi, the chaotic streets are still packed with the poor and needy of every tribe, bandaged men in worn suits, people with limps. They've come to see the ministers, who were sworn enemies seven months ago but now sit together behind the tall gates, enjoying the gym and sauna paid for by the taxpayers of Kenya, protected by soldiers on horseback carrying assault rifles. This election is over. Already, the politicians are giving speeches about the next one in 2012. Maybe then, true change can come to Kenya.
On the TV, Kibaki begins speaking. "Forget what happened," he says. "It will not help you."
The government is forcing the displaced Kikuyus to leave the refugee camps and return home. Many Kenyans do not support forming a commission to find out who did what to whom, which might deter future violence, and might add meaning to the death of Lucas Sang. "The government wants to say that we are back to business as usual," Grignon says. "'This is over. Let's move forward.'"
For some, things are normal. A Kalenjin named Jackson Kibor sits on a stack of fertilizer bags in an Eldoret warehouse. Some say he is a warlord. Whatever else he might be, he is rich. There is a pocket square in his linen suit jacket. His skin shines like onyx. He owns a thousand times more land than Sang did; he describes Sang as neither rich nor poor. In the days after the violence, Kibor admitted to the BBC that he had helped plan the chaos. But some believe he did it for himself, not just for his people. The workingman, it seems, often doesn't know who is really to blame for his plight. "Jackson Kibor made his millions out of being on the land committee," says Ben Rawlence of the Africa division of Human Rights Watch, "and illegally taking the land and selling it to the Kikuyus and then blaming the Kikuyus. It's basically gangsterism. Just think Chicago, 1920."
Kibor's got juice. If it's worth knowing in this little corner of the world, he knows it. Did Sang's death make a difference? Is he a hero?
Kibor doesn't bother to answer. Just sits there. Around him, his men load bag after bag of fertilizer and seed into waiting trucks. They carry the heavy bags atop their heads. It's time to plant. Life is good. Life goes on.
The rich man smiles. That's his answer. A thin smile, as if to say: What a silly question -- heroes are for campfire stories. He reaches for several wallet-sized coupons to add more cell phone minutes, tapping in the codes, one after another, tossing the spent cards onto the concrete floor of the warehouse. He has calls to make, business to conduct.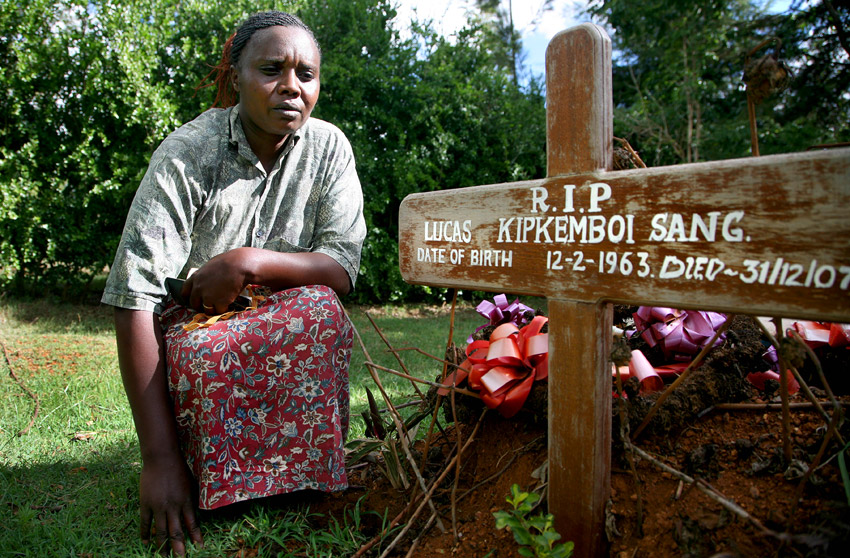 Evelyn Hockstein for ESPN.com
Since Lucas' death, Pamela Sang is struggling to maintain the enormous farm that her husband ran so efficiently.
Reminders of what can never be
Sunday morning brings the sound of hammering. The solid whack of metal on nail is a beautiful song of rebirth outside Eldoret. People are rebuilding, putting together new roof beams, fixing what has been destroyed. Along the Eldoret-Iten road, the epicenter for much of the violence, there are signs of renewal.
But down the road a bit, Pamela Sang sits alone in the grove of trees, the roosters pecking in the patchy grass for food. Every now and then, they crow. A wedding ring is still on her left hand. Her face is dark and cloudy. She looks lost. It has been five months and 19 days since Lucas left here for the last time and never came home. She knew something was wrong when he didn't call to check in. He always checked in. That night, she tried his cell phone twice. The customer you are trying to call cannot be located. She did not try again. She already knew.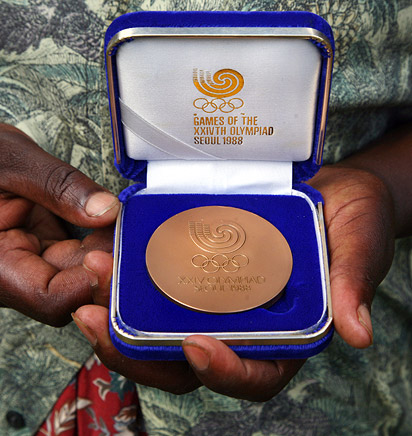 Evelyn Hockstein for ESPN.com
Pamela proudly displays Lucas' participation medal from the 1988 Summer Games.
The crowds who left the farm after the funeral haven't returned. Kalenjin leaders don't check in. People don't visit, save a few old athlete friends. "It's sad," she says. "Nobody comes anymore."
Pamela is doing the best she can. Not long ago, she planted the first corn crop without Lucas. She could afford to lay seed only in the 20 acres they own, not the thousand or so he used to rent and farm. Twenty acres cannot pay for all of this; the life she once knew is over. After the crop was in the ground, she and the workers held a ceremony to honor her husband. "We prayed that God gives us strength so we can continue running what Lucas used to run," she says.
She sits in the plastic chair and tries to appear strong. Around her, signs of former success taunt: the tractors, the warehouse, the trailer with the Olympic rings painted on the side. From the porch of their house, she can see Lucas' grave, a pile of dirt covered with flowers and marked by a simple wooden cross. There's a hole in the mound, like someone has been feverishly digging.
"Dogs," she says.
Behind her is another house, the empty one, the place where she and Lucas planned on growing old together. It is unfinished, and will probably remain that way, a reminder of what once was and what could have been. What can never be. Her husband is already fading from people's minds. The voices of the elders are quiet. "All is forgotten," his friend and fellow farming official David Nyamieno says.
Pamela Sang stands up. It is time for church. She and one of her four children catch a ride to a red dirt path that runs parallel to the highway. They move along the road, on the way to hear about heaven and hell, their figures fading slowly out of sight.
Wright Thompson is a senior writer for ESPN.com and ESPN The Magazine. He can be reached at wrightespn@gmail.com. Special thanks to Ken Wafula, who assisted with logistics and translations.
Join the conversation about "Even You?"