After The Storm

IGGINS, Miss. -- On a recent Friday night, the heavens turned an ominous swamp-water green. The temperature began to plummet, and the air smelled fresh, like a newly washed sheet.
Matt Lawton knew this meant rain was near. Lawton, a 12-year veteran of the major leagues, has called the Gulf Coast his home for 37 years. Retired from baseball, he now spends much of his time at Grand Bear Golf Course, tucked away in the middle of the Mississippi woods in an area the locals call Pine Valley, reachable only through a bending 6-mile road that makes you feel as though you're taking a drive in "The Blair Witch Project." Sometimes, as thunder grumbles, the rain will beat down with such violence that the dirt and gravel roads littering the sides of U.S. Highway 49 will flood, stranding residents.
"We had one last week, and you think about [Hurricane] Camille," Lawton says in the dimly lit den of the course clubhouse. "You think about ... who was that other girl?"
"Katrina."
Lawton did not mention Frederic, the 1979 hurricane that swept through the Caribbean and forced more than a half-million Gulf Coast residents to flee. One of Lawton's close friends, a second cousin, Frederick Deshun Lewis, was named after that storm.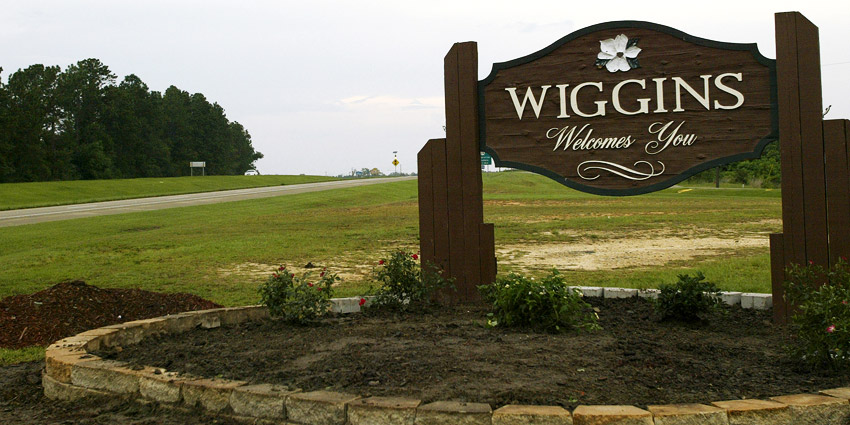 Erin Parker for ESPN.com
U.S. Highway 49 runs right through the middle of Wiggins, Miss., located about halfway between Gulfport and Hattiesburg.
A hard man to read
Even now, nearly seven years later, the starting left fielder for the San Francisco Giants -- the man who took over for Barry Bonds -- will pull over to the side of the road when the rain starts to beat on his windshield. "I tend to drive real slow," Lewis says, almost in a whisper. "I'm very respectful of the rain."
Fred Lewis recalls the tragic events of Thanksgiving 2001.
For more on this story, watch "Outside the Lines: First Report" on Friday at 3 p.m. ET.
Click here for more
from "Outside the Lines."
When the first rain came after the accident, Lewis froze. He couldn't move at all. All of those memories -- the nightmares about the cloud of water that blinded him, the repetitive questions from police officers (Are you sure there were three females in the back?), the funerals that devastated a tiny Mississippi community -- flooded through his mind. The rain never leaves him. His mother says he's a part-time meteorologist, always on the computer looking at the forecast, trying to predict trouble before it arrives.
Drafted out of Southern University in 2002, Lewis spent almost five seasons in the minors before being called up for good by the Giants. He's now 27, firmly entrenched as a starter. He is well-liked in the clubhouse but somewhat inscrutable, most days sitting quietly in front of his locker, listening to gospel music on his iPod.
"How would I describe Fred?" asks outfielder Randy Winn, whose locker is next to Lewis'. "I'm still trying to figure that out."
Into the darkness
Just a few months into his college life at Southern, Fred Lewis returned home to Wiggins for Thanksgiving in 2001.
November weather in Mississippi is unpredictable. It can be swampy hot or cool enough for folks to light their fireplaces. On this Thanksgiving, it was storming, nothing unusual for tiny Wiggins, a town of about 6,000 where Fred had lived his entire life. Despite the whipping wind and the pelting rain, Fred was excited about doing some club-hopping that night in nearby Gulfport and Biloxi, about a 45-minute drive down Highway 49. He was an atypical 20-year-old, abstaining from alcohol and drugs, reading his Bible daily. But he loved the clubs. As the rain beat down, he went out to his backyard to start his hulking 1976 Ford F100, while his father, Levion, played dominoes with a friend.
"Daddy, the engine won't crank," Fred announced after several tries. "Can I use your truck?"
It was raining and late, and Levion thought his son should get some sleep. He could never understand why Fred began his nights after 11; when Levion was growing up in Wiggins, he and his friends would be returning home by then from a night out.
"It won't crank," Fred repeated.
Silence.
"Go ahead," Levion finally said.
About 3 a.m., Fred Lewis and his friend Terranthium Galloway were finally ready to call it a night. At South Beach, a club in Biloxi, Lewis had run into two of his cousins, Krystal Bolden and Yolanda "Kay Kay" Pope, whose ride had left without them. Galloway's girlfriend, Nerfretti Bradshaw, was hanging with Bolden and Pope, and all three girls needed a ride back to Mississippi Gulf Coast Community College -- called Perk by the locals, because it is located in nearby Perkinson -- where they were enrolled. Lewis was uneasy: Why did they have to ask him for a ride? There wasn't even enough room for them in the truck.
Galloway hopped into the front seat, and the three girls piled into the back row, squeezing three into two bucket seats. At 5-foot-2, Bradshaw was a tiny girl, but Bolden played basketball and was close to 6 feet tall. Bolden sat behind Bradshaw, while 19-year-old Pope, a musician who was studying cosmetology, sat in the middle. Lewis and Galloway were wearing seatbelts, but not the girls.
It had been storming, one of those hard Mississippi rains Matt Lawton is so familiar with, the green sky shaded by night. Lewis started north on the dark highway, the Gulf Coast's lifeline, though only two lanes in each direction. It's the best way from Gulfport to Hattiesburg. If you ever need be reminded about its importance to the region, just try avoiding 49. It's impossible.
Everyone was asleep except Bradshaw and Lewis.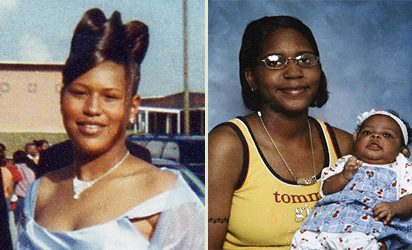 Courtesy Pope and Bolden families
Kay Kay Pope, left, and Krystal Bolden, with her daughter, Jordyn, were inseparable best friends.
Forty minutes into the ride, Lewis, driving in the passing lane, noticed a car approaching from behind on his right. He couldn't tell whether it was trying to race him, the pelting rain making it difficult to interpret the driver's intent. Bradshaw, nervous, cautioned Lewis to slow down, advice he heeded. As the car passed, an enormous wave of water cascaded over the windshield.
Bradshaw barely had time to say, "Watch out!"
Blackness.
The next thing Lewis remembers were the moans coming from behind him. For a minute, he didn't know where he was. He looked to his right, and he saw Galloway, who looked dead. There was blood coming out of his friend's mouth. Lewis was terrified. He somehow -- a miracle? -- got himself out of his father's mangled truck. As the rain poured down, Lewis stumbled away from the truck that had hydroplaned into a gully next to the highway. The green truck smashed into one of the pine trees that lined the highway until they were torn down a few years later because of all the accidents.
Fred clawed his way up to the road, where he found a woman who had pulled over and called police. She lent Lewis her cell phone, and he called his mother, Vivian. It was about 4 a.m.
"Mama," he said, "I've just been in a terrible accident. You got to come down here. Hurry, Mama, hurry."
Vivian Lewis was already awake. A dedicated bargain hunter, she had risen early that morning so she and a sister could make their annual trip to Gulfport for the early-bird holiday sales. The fear in her son's voice that night shook her. She woke her husband, who rolled over and told her to stop fussin'.
"It's Fred," she told him. "And it's bad. Real bad."
A few minutes later, just two miles from their home, they drove up to a horrific scene -- ambulances, fire trucks and Mississippi Highway Safety Patrol cars lining both sides of 49. Vivian Lewis got out of her car, and that is when she saw her son, her youngest, in the middle of the highway.
He was on his knees, screaming to the heavens to take him instead.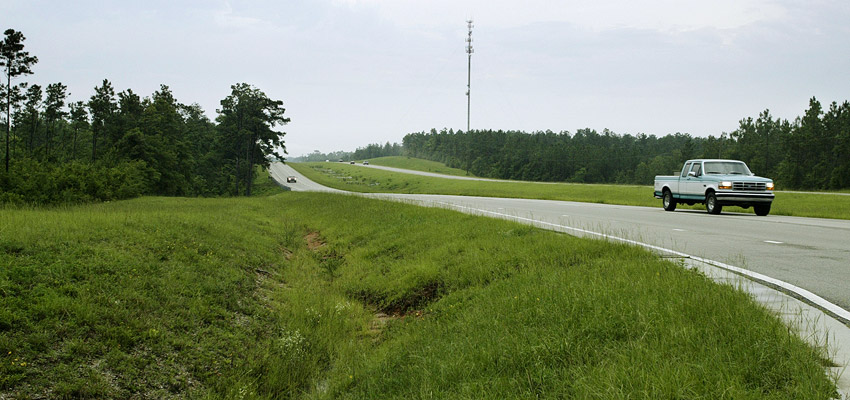 Erin Parker for ESPN.com
In 2001, trees spanned the median between lanes of Highway 49, and the truck Fred Lewis was driving crashed into one after hydroplaning.
An unforgettable call
Downtown Wiggins is really only two blocks of cobblestone streets. A few antique shops, badly in need of a fresh coat of paint, line the old square. On a recent Saturday morning, the thrashing rain forced the locals back into their modest homes.
Perhaps there is wealth in Wiggins, but driving around this timber town, once known as the pickle capital of the world, it's hard to find much evidence of it. Levion and Vivian Lewis grew up here, and Fred heard stories about how the rainwater sometimes would be his parents' only means of bathing. Rain was as much a part of Wiggins as the century-old train station, the main route for shipping freshwater shrimp in the early 1900s.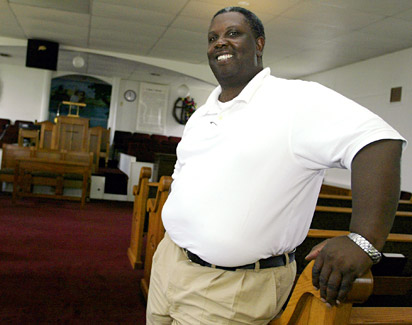 Erin Parker for ESPN.com
As pastor at New Welcome Hill Baptist Church, the Rev. Timothy Munroe personifies the friendliness of Wiggins.
Levion had worked at a glue factory most of Fred's life; Vivian is a custodian at Perk. Neither went to college, so they raised their sons, Fred and Marvin, to value education, occasionally correcting them with a switch when they misbehaved.
Many residential roads in Wiggins are not paved, and most are clustered with small homes, almost all of one story, with pickup trucks parked nearby. The Confederate flag is emblazoned on a monster truck in one dirt driveway, though Wiggins wasn't exactly an epicenter of racial hatred. But this is Mississippi, and older black men can recall when they had to cross to the other side of the street when a white woman approached, how the threat of jail loomed if they were caught with "reckless eyeballs."
Today, Wiggins is known for its friendliness. "There's no reason to look down on anybody," the Rev. Timothy Munroe says, "because you're going to interact with everybody."
Munroe has lived in Wiggins his entire life, and he is the Lewis family's pastor at New Welcome Hill Baptist Church. He works at The People's Bank on weekdays, and says Wiggins is one of the last small old towns in Mississippi, even though a flood of people migrated here after Hurricane Katrina. He has counseled countless people in Wiggins and has overseen numerous funerals, including Kay Kay Pope's when his church was jammed with hundreds of people. Of all of his experience in this town, there's one moment he can never erase from his mind. "I still can remember that call that I got that morning," Munroe says. "It's like yesterday."
The caller on the other end of the line woke Munroe at 4:30: "Fred had a wreck, and someone may have gotten killed."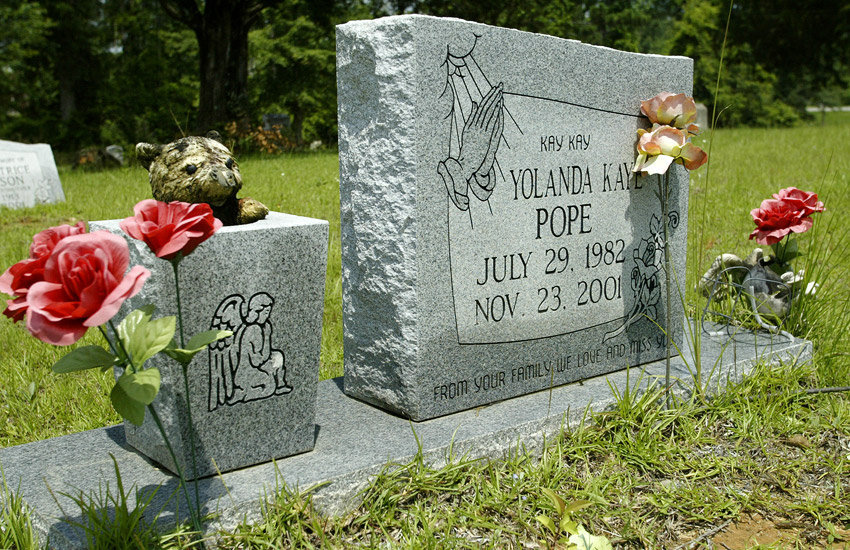 Erin Parker for ESPN.com
Pope was buried in the same pink dress as her best friend, Bolden.
The death of best friends
Something startled Marion Howze awake at 3:30 that morning. It was as if a needle had jabbed her in the side. Groggy but giddy at the prospect of the early-bird sales, she headed down Highway 49 about 45 minutes later. Just beyond the Wire Road intersection, Howze came upon a scene ablaze with red and blue lights. Emergency vehicles were everywhere, though she was able to pass to the side and head on down to Gulfport.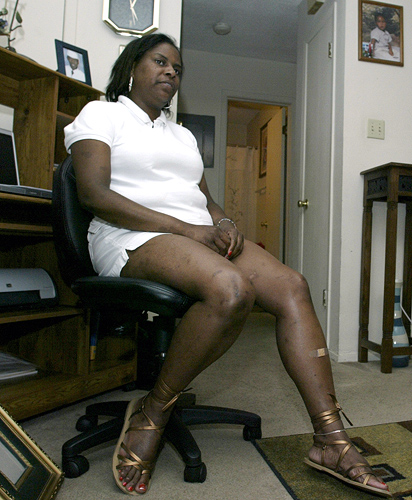 Erin Parker for ESPN.com
Marion Howze admired the way her niece returned to finish high school shortly after giving birth to her daughter.
A few hours later, she got a call on her cell -- her niece, Krystal Bolden, and Krystal's best friend, Kay Kay, had been in a crash. Pope was gone; they weren't sure about Bolden. Howze got into her car and made the unavoidable trip back up 49. As she approached the site of the crash, they were pulling the mangled truck from the gully. Howze took one look at the truck, and her stomach froze.
As Howze pulled into her apartment complex, her brother came to the window and told her Bolden had died. Howze doesn't remember this, but her grief forced her out of the car, and she fell to the ground as it rolled back into the street. "I thank the Lord every day," Howze says, "that I didn't stop at that wreckage."
Bolden, only 19, left behind an 18-month-old daughter, Jordyn. Howze still thinks about how determined Bolden was to finish high school despite having her daughter in March of her senior year. "She didn't let that stop her," Howze says.
Bolden and Pope would go to ballgames together and braid each other's hair. When it came time to pick the caskets and dresses in which to bury the girls, their families unknowingly chose identical pink caskets and the same pink dress from Dillard's. Where there was Kay Kay, there was Krystal, and even in death, the families felt, they were sending a message that they were still together.
Howze, 38, is finishing her psychology degree at the University of Southern Mississippi; she hopes to become a social worker, to help people with disabilities. Her impetus to go back to school was to honor the niece who always valued education; Bolden's dream was to be a sports physical therapist. Jordyn, now 8, is starting to ask about her mother; she tells Howze she wants to change her name to Krystal. Jordyn places a flower at her mother's grave most times she visits, and Howze tells her that one day she'll understand why God took her mother.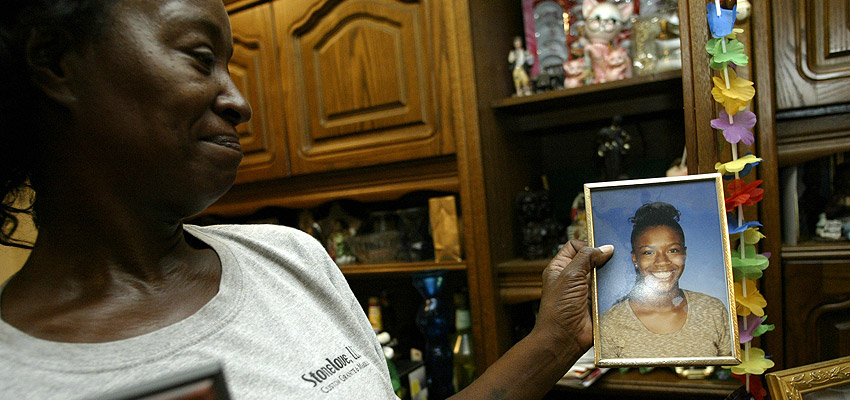 Erin Parker for ESPN.com
Scyvonda Bradshaw says she had a harrowing dream shortly before the death of her daughter, Nerfretti.
Miss Peaches' dream
Every morning, Scyvonda Bradshaw wakes at 3:30. Scyvonda is Nerfretti's mother, though she goes by "Miss Peaches" or just "Peaches." When she says her daughter's name, it sounds like "Freddy," which is also what people call Fred Lewis. Miss Peaches weighed near 200 pounds before the accident. Now she's down to 120, mostly because she still has trouble eating since her little girl's death. It has been almost seven years, and Miss Peaches' sisters say she needs to move on.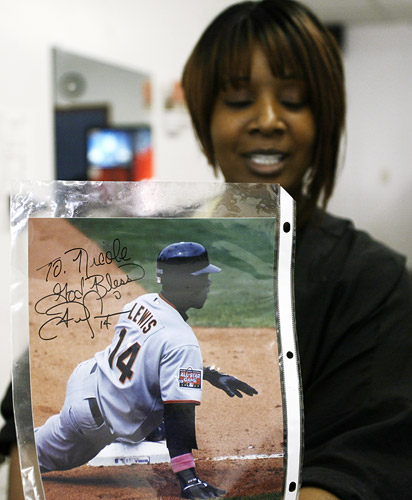 Erin Parker for ESPN.com
Nicole Clark has developed a bond with Lewis since her niece's death.
Just before the accident, Miss Peaches had a dream about a green truck driving over a cliff. Startled awake, she comforted herself that she knew no one who drove a green truck. Today, she shakes her head at the thought of that dream; she just knows someone was trying to send her a message.
The night of her death, Nerfretti Bradshaw was surrounded by family after Thanksgiving dinner at one of her aunt's houses. A fire roared in the fireplace and Bradshaw was beating her mother at spades, which was unprecedented. Miss Peaches still smiles ruefully at the memory and admits she was getting so frustrated that she started cheating. "Mama," her daughter warned, "if you keep cheating, I'm gonna leave."
Bradshaw was a girly-girl, always dressing in the latest fashions and getting her hair braided by her aunt, Nicole Clark. Clark owns All About Hair, a beauty shop in downtown Gulfport where the television is usually tuned to "Oprah." Other than her younger brother, Tommy, no one was closer to her than Clark.
That was why the family asked Clark to do Bradshaw's hair for her funeral. She had always done it, and Bradshaw wouldn't have wanted it any other way. At the back of the funeral home, where her niece's body lay on a table, covered by a sheet, Clark took a peek. She needed closure, she says. She needed to see the damage the crash had inflicted -- beyond the small cut she could see on Bradshaw's face.
"I had never done anything like that in my life," Clark says. "I didn't want to be left alone. Then I realized, she ain't gonna hurt me."
At peace, Clark took a hot iron and styled Bradshaw's hair. She picked out pieces of glass still lodged in her niece's hair and made sure Nerfretti looked beautiful one last time.
It was Miss Peaches, Clark and a few other aunts who went to identify Bradshaw at the morgue, and when Clark walked in and saw the smile on Nerfretti's face, she knew her death was destined. Miss Peaches saw that smile, too.
It was then she realized she could never hold the accident against Fred Lewis.
"Not after I saw my baby's face," she says.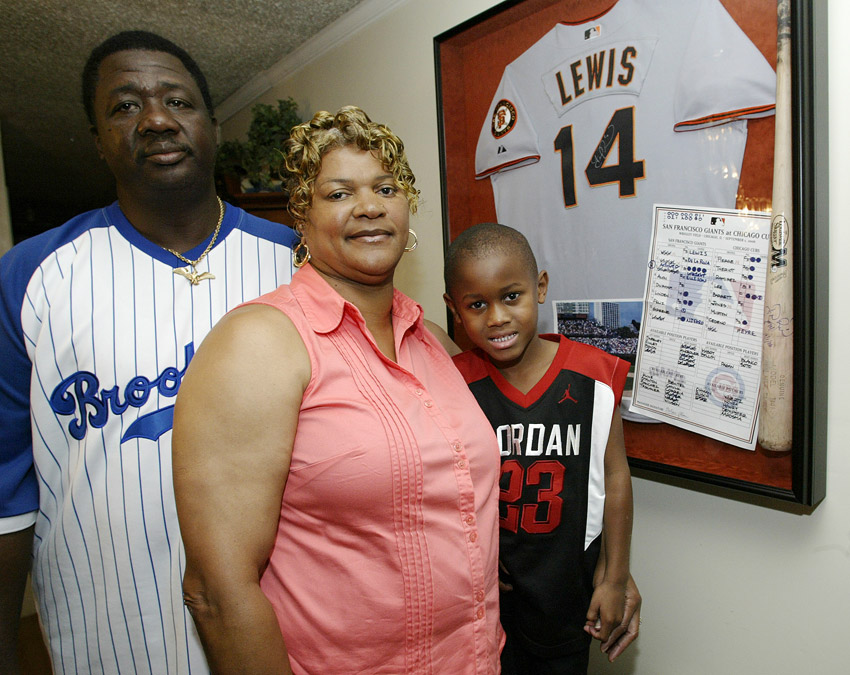 Erin Parker for ESPN.com
Levion and Vivian Lewis, here with Fred's son Kaleb, got the news that Fred was selected in the 2002 baseball draft just months after the accident.
A lifetime of hurt
The sight of her son in the middle of the road was too much to bear. Vivian Lewis went back to her sister's home while Levion brought Fred, with just a scratch on his face, to the hospital to be tested for drugs and alcohol. He was clean. Galloway had survived, they knew this much, and he remained in the hospital for weeks with broken bones all over his body. Accurate information was difficult to obtain that morning; chaos and misinformation abounded about who was and who wasn't alive.
Daylight broke, and soon after, Fred was taken home. Doctors gave him sleeping pills, but before he was able to numb his brain, his older brother, Marvin, told him all three girls were gone. The hurt would last a lifetime. Sleep temporarily washed away the hurt, but when Fred awoke, his lust for life evaporated. He spent days on his parents' couch doing nothing. Eating was unthinkable, sleep had to be induced, yet somehow he made it to all three funerals. He dared not view the open caskets; instead, he chose to keep the images of the girls alive in his mind.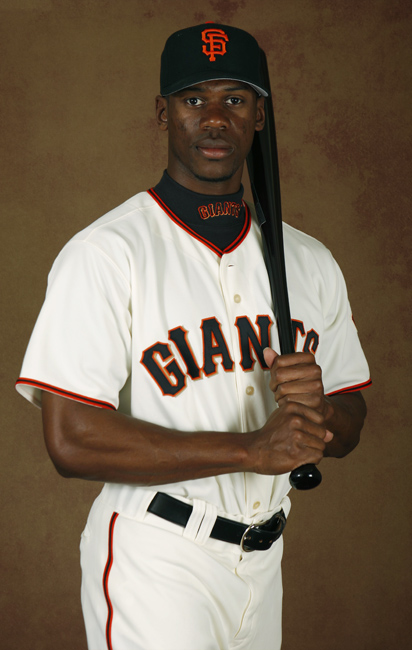 Chris Graythen/Getty Images
Lewis was ready to give up college before the victims' families encouraged him to return to Southern University.
Chrissy Armstrong is Lewis' cousin, Pope's sister. Within days of the accident, she visited the Lewis home and consoled Fred. She was the first one to get him to eat and remained a constant presence, repeatedly telling him it wasn't his fault. That helped but Lewis tired of everyone telling him God has a reason for everything, and this was going to help him.
How could it possibly help?
The girls' relatives told him he had to go back to school. Lewis wanted none of it. Miss Peaches, who hadn't known Lewis before her daughter's death, sought him out at Bradshaw's funeral, encouraging him to return to Southern University. Bolden's family also wanted him to go back.
They all did. Look, baby, we know you didn't do this to try to hurt anybody, they told him. You got a job to do now; you're the only one left. You've got a testimony to tell.
Testimony. Fred Lewis had heard it at his Baptist church for years, from the Rev. Munroe. For five generations, the Lewis family had attended the New Welcome Hill Baptist Church, a modest building with caramel-colored wood pews and red velvet carpet. The pulpit is flanked by an organ and Peavey speakers; small air fresheners spit out fruit-scented spray every few minutes for Sunday service.
Unlike some of the other parishioners, who fancy gossip and need counsel on many issues in their lives, the Lewis family is known for being private and respectful. Fred's granddad was the chairman of the board of trustees, and his grandma is a "mother of the church," a title given to elderly women who lead a godly life.
Levion Lewis was a longtime board member who once imparted a valuable piece of wisdom to Munroe. They were in a board meeting, and the trustees waffling on an important decision, when Levion spoke up: "Look, we need to get away from saying, 'I don't see anything wrong with it,' and say it's right or it's wrong. We need to stand on the principles of God."
That's how he raised his family, and it's on those principles that his son learned how to climb out of tragedy and back into life. Fred leaned on his spirituality, especially readings from the book of Matthew. He poured himself into "the book" -- what his mother calls the Bible -- and somehow found strength in it. Other than being buoyed by his community, it's his only explanation for how he survived the personal devastation of the crash.
"I felt warm inside," Lewis says, reflecting on the families' encouragement. "It felt like a big burden was just lifted off my heart because I didn't really expect that to happen. Nobody did. It's just one of those things that just happened."
Finally convinced by the families, Lewis went back to school for the spring semester, supported by his teammates and Roger Cador, the baseball coach at Southern and a spiritual man himself. Lewis started off slowly; he was failing two courses and hitting around .100 the first month. He told his mother there was too much time to think. He wanted to leave school and turn pro.
But, slowly, he started to hit, and by the end of the 2002 season Fred Lewis had hit himself into the second round of the amateur draft. Giants scouting director Dick Tidrow loved Lewis' speed, his raw hitting ability and his work ethic. The Giants liked Lewis' makeup, but no one in the organization had a clue about the accident.
Fred was sleeping at home when a teammate called and told him he'd been picked 66th overall by San Francisco in the '02 amateur draft. He ran to his computer and impatiently waited for the buzzing dial-up to connect him to his impossible dream. Area scout Tom Koronek called to congratulate him. Fred called his mother at work and said he'd made it and soon would buy that house he promised her back in high school. When Vivian and Levion Lewis arrived home that evening, they embraced as a family and they wept. "Thank you, Jesus," Vivian said.
They wept for their son and the lives that were lost in Levion's truck that night, just six months earlier.
They wept because of what the moment meant to Fred, who had questioned whether he'd ever play baseball again.
They wept because they knew the accident would be with their son for the rest of his life, that he'd still weep with a stranger in a coffeehouse nearly seven years later.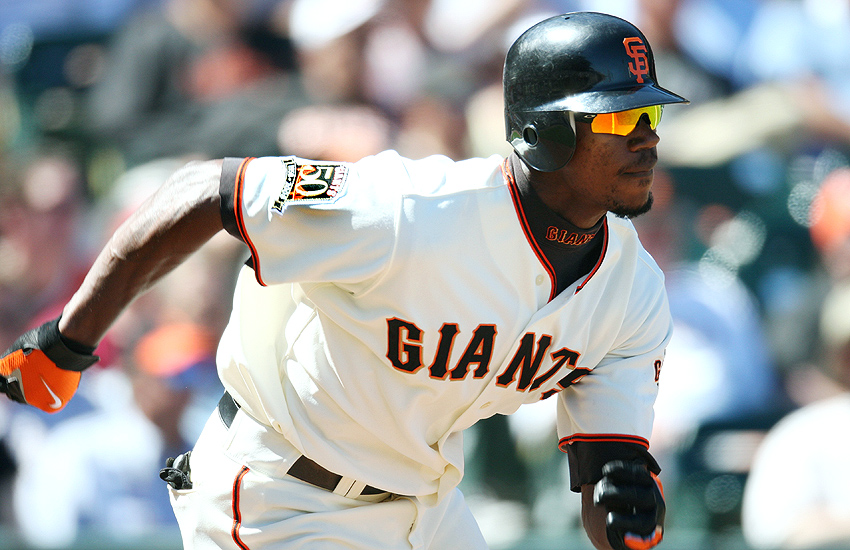 Brad Mangin/MLB Photos/Getty Images
In his second full major-league season, the speedy Lewis is hitting .283 with eight homers and 20 steals for the Giants.
"God don't have no mistakes"
Therefore whosoever heareth these sayings of mine, and doeth them, I will liken him unto a wise man, which built his house upon a rock: And the rain descended, and the floods came, and the winds blew, and beat upon that house; and it fell not: for it was founded upon a rock.
-- Matthew 7:24-25
The rain doesn't paralyze Lewis anymore, but it is always a reminder. It's a reminder to all of those affected by the crash. Nicole Clark, Bradshaw's aunt, drives 20 miles under the speed limit in the rain, and she tells everyone she knows to wear a seatbelt. She didn't know Lewis before the accident, but now he comes around to her hair salon every time he's home. The redemptive part of the tragedy is the friendships formed in spite of it. Clark has photos of Lewis and autographed baseballs, and she considers him a brother and gives him advice on relationships. Same goes for Miss Peaches.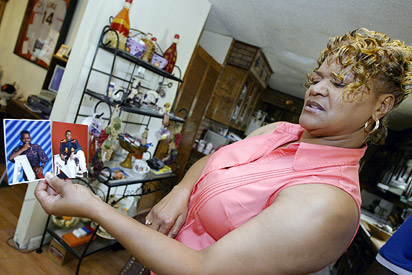 Erin Parker for ESPN.com
Vivian Lewis still has trouble discussing her memories of that night.
"I ain't mad with Fred," Miss Peaches says. "We all gotta leave. And God don't have no mistakes."
His relationship with the families helps Lewis heal. He used to be a person who thought the world owed him a favor; he since has learned how to help others. He gave $5,000 to a church in Wiggins that was in danger of closing, and he started a scholarship fund at Perk in the three girls' names. He contributes to it annually, and pretty soon the fund will be big enough to start sending deserving kids to college. He has visited the graves, but only by himself. No one knew except his girls. And if you ever see Lewis on the field gesture to his chest, tapping it thrice, you'll know why. "Before each game, I pray," he says, "and I write 'RIP 3 Love' inside my hat in remembrance of them. It lets me know they are never forgotten. It lets me know where I came from."
He gets through the season by calling his mother every night after his games; this started back when Lewis went to the minors. Usually, the conversations are brief, a few words of encouragement. His mother also sends him e-mails with scripture, and he often sends his own back to her. They've never spoken about the accident.
Levion Lewis still blames himself for the accident; his friends at work always told him his son would get over the crash long before he would.
In truth, no one has gotten over it.
Vivian Lewis can barely speak about her memories of that night, and both parents have never had a conversation with their son about his feelings. It's too painful, so instead they turn to their faith. For comfort, the book of Matthew, Chapter 7, Verses 24-25 are there to guide them.
Amy K. Nelson is a staff writer for ESPN.com.
Join the conversation about "After The Storm."