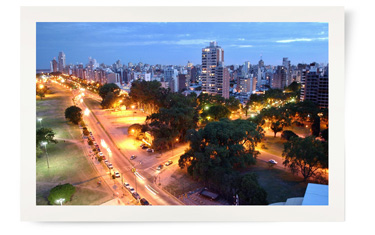 Reuters/Alfredo Celoria
I know this because it said so, right there on page 179 of the "Lonely Planet," which I thumbed through during the three hours of countryside between Buenos Aires and Messi's hometown. An Irish ex-pat named Paul, my translator and friend, drove. He'd agreed to help me act on my obsession with Messi, who is one of the world's most famous athletes, and most unknowable, the combination of which sucked me in. I'd been reading everything I could find, watching internet videos of him scoring one ridiculous goal after another for Barcelona. Other players seem to chase the ball, while Messi moves in concert with it, full speed to full stop. Then, when the game ends, the fire inexplicably goes out: vanishing eye contact, single-syllable answers -- a flatline. The more I read, and the more I watched, the less I understood. Maybe in Rosario, where he was born, that might change.
Pulling into town, Paul and I searched for some sort of acknowledgement, casually at first. You know what I mean. Billy Cannon's Heisman Trophy is on display in a Baton Rouge rib joint, and there's a bar-turned-shrine in Brett Favre's hometown. Signs all over the world let those who happen to rumble past know that this piece of dirt once produced greatness: a football hero, a rock star, an astronaut. Our first day in Rosario, we didn't see a thing that indicated Messi grew up here. The next morning, eating gas station empanadas, we noticed a sports bar across the street, just a few blocks from Messi's old neighborhood. On the windows, there were big photographs of Muhammad Ali, Maria Sharapova and Rafael Nadal. No Messi.
In the coming days, the pattern would repeat itself around town. You'd never know he was from Rosario. Not even at the first pitch where Messi ever played, which we found as the sun set on an urban moonscape of Soviet-style apartment blocks and howling dogs. On the wall outside, in bright colors and abstract lines, someone had spray-painted a graffiti mural. The headband and face looked familiar. Holy hell, I laughed. That's Keith Richards. Then I saw enormous lips next to Keith, as another out-of-context face came into focus: Mick! On the spot where Messi first played, the Rolling Stones capture the imagination more than him. Baffled, and certain I'd missed something obvious, I described what we'd found -- or, rather, hadn't -- to a local youth coach who knows Messi and his family. I felt better. He saw Rosario the same way we did, and he imagined how he'd react if his hometown spurned him. "You don't feel it's the city of Messi," David Treves said. "If you are the best player on the planet, and you don't even get the most miserable bit of love from your own people, most would say, 'Go to hell. I will stay in Barcelona and just keep filling my wallet.'"
Finally, we carried the guidebook into the local tourist office.
"We are interested in Leo Messi," we told the young man behind the counter. "Is there anything in town we can visit?"
One of his co-workers chuckled.
The guy said no.
Before we left, he remembered one thing. Messi's family owns a bar called VIP — the local pronunciation rhymes with zip -- and it was just down the road on the waterfront, with the blue umbrellas, in the shade of a willow tree. The low-slung building arches with slick glass and vaulted ceilings, trendy in a suburban and soulless way. There wasn't a single mention of Messi inside. It was Sunday afternoon. Across the ocean, Messi and his Barcelona teammates were kicking off. The game was being broadcast all over the world, but not in Messi's own bar. I looked up at an enormous high-def television, which at the moment was tuned to a cooking show called "Clasico Shawarma."