Manny Being Manipulated

hen I was working for "Jimmy Kimmel Live" in April 2003, our gregarious executive producer, Daniel Kellison, convinced a few notable Red Sox players to be our guest announcers before a three-game series in Anaheim.
1
This wasn't a ratings ploy, just a way for the show's New England transplants to hang out with as many Boston players as possible. When we learned Johnny Damon
and
Manny Ramirez were coming, we were infinitely more excited than for Britney Spears' appearance six months later.
"And we're going out afterward!" Daniel predicted gleefully. "We're taking them out!"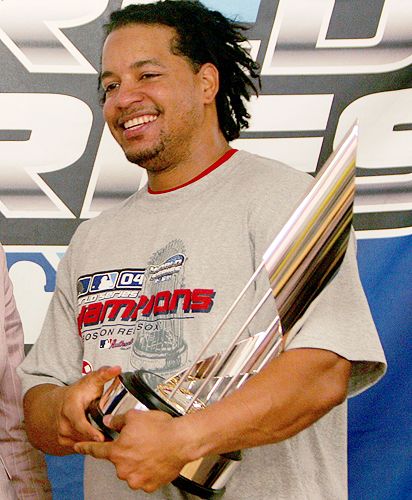 Ezra Shaw/Getty Images
These facts remain indisputable: Manny is a first-ballot Hall of Famer and one of the big reasons The Curse is no more.
To Daniel's disbelief, I made myself a game-time decision. See, I think like a fan, write like a fan and try like hell to keep it that way. If I went drinking with my favorite players, I might see things that couldn't be unseen. That was verified right after the show finished, when everyone poured into our legendary green room and I caught one of my heroes eyeing three scantily clad bimbos like a starving cheetah stalking a herd of grazing deer.2 That was it for me. In retrospect, I should have gone out because my buddies passed along every upsetting nugget anyway. Like the player who yanked his wedding ring off with an exaggerated pull while dancing with one of our attractive co-workers, the implication being, "Tonight, I'm single, baby!" Every time I watched the Sox from then on, when Wedding Ring Guy came to bat, I thought of him hitting on our 22-year-old talent assistant and jamming that ring in his pocket. And you wonder why I never want to drink with my favorite players.
Daniel wasn't nearly as bothered, even gushing the following day, "This was one of the great nights of my life." I made my exit stage right as he was herding a swollen group of players and co-workers to a nearby Hollywood club in two stretch limousines. Sadly, I missed David Ortiz pulling out an AmEx card in Daniel's limo, waving it with his signature gap-toothed smile and announcing happily, "I got Manny's credit card tonight!" Everyone cheered like they'd just won the pennant. With Manny riding in the other limo, they started telling "Manny Being Manny" stories, like how Manny routinely stuffed uncashed paychecks in the top shelf of his locker. Seems he rarely got around to cashing them. The checks were for $978,000 every two weeks during the season. (Big Papi knew the exact number because he made a team employee show him one.) Manny lived in a one-bedroom condo outside of Boston until Ortiz joined the club and made him relocate to the presidential suite at the Four Seasons. Daniel thought Manny's teammates made him sound like Tom Hanks in "Big," a little kid trapped in an adult's body. Everyone got a sincere kick out of him. Or so it seemed.3
They arrived at the club and Daniel started ordering drinks left and right. After all, Manny was paying! Three fun hours that I'm a fool for passing up ensued. The check arrived. Papi pulled out Manny's card, felt an unexpected twinge of guilt and confessed.4 And Manny -- the alleged idiot savant with uncashed checks spilling out of his locker, the so-called dummy who stumbled into a record contract and should have been conned into paying for everything by his much, much, much smarter teammates -- was laughing and saying, "Nononono, I'm not paying" before grabbing the card after a friendly tussle. Manny might have been dumb enough to lose his AmEx card, but he was also smart enough to get it back.
The check sat there. And it sat there.
You know who ended up paying? Daniel. Quite possibly the poorest guy there. Five years later, he remembers the exact figure: "860 dollars." Only in Hollywood.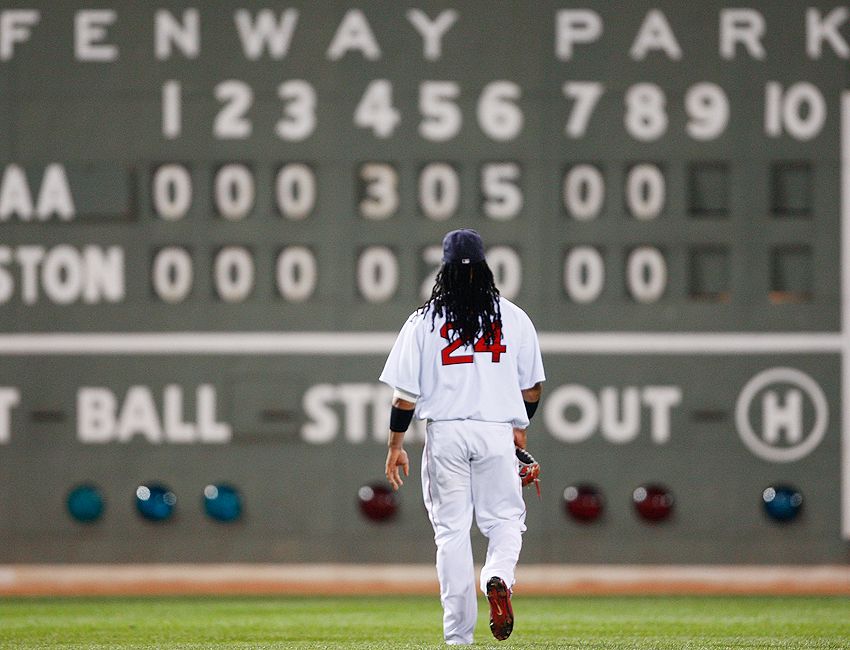 Jim Rogash/Getty Images
Red Sox fans never could figure out Manny ... but they couldn't stop watching him, either.
The invisible villain
I thought of that story when Manny began acting up again this summer. Boston's brain trust had decided to dump him. Again. We were doing this dance for the fourth time in six years. There were two crucial differences this time, the first being Manny had canned his old agents and hired Scott Boras, one of the worst human beings in America who hasn't actually committed a crime.5 Manny's contract was set to expire after the 2008 season, with Boston holding $20 million options for 2009 and 2010. Boras couldn't earn a commission on the option years because those fees belonged to Manny's previous agents. He could only get paid when he negotiated Manny's next contract. And Scott Boras always gets paid.
The second difference? The guys running the Red Sox felt like flexing their muscles this time around. They had renovated Fenway Park, turned the team into a cash cow, captured two titles and become local celebrities on par with Denis Leary and the creepy guys from Aerosmith. They didn't feel like dealing with Manny anymore. Although it's usually impossible to jettison a popular star without a backlash from fans, the Red Sox wield unprecedented sway over nearly every relevant media outlet that covers them. One of the team's minority partners, the New York Times Company, happens to own Boston's signature newspaper (The Globe). The team owns a cable channel (NESN) that shows every Sox game, pregame show and postgame show. The Sox signed cushy deals with Boston's signature sports radio station (WEEI) and sister station (WRKO), and since those rights always can be shopped to a competitor down the road, you'll see CC Sabathia hit an inside-the-park home run before a Red Sox owner gets ripped to shreds on WEEI. They even have good relationships with every relevant national writer, including Peter Gammons, the face of baseball for ESPN, a beloved figure in New England and a longtime friend of general manager Theo Epstein.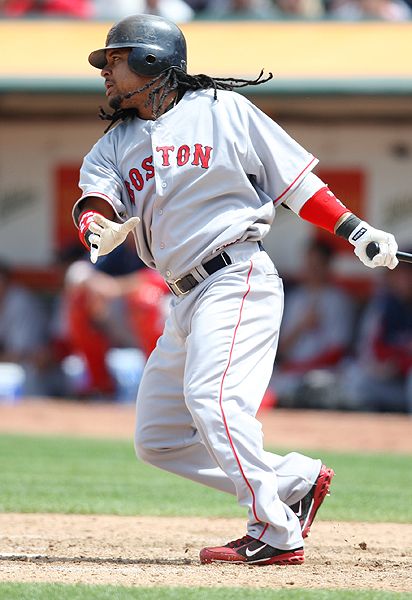 Brad Mangin/MLB Photos via Getty Images
For a guy who doesn't "Respect The Game," Manny still has put up some of the best numbers of his generation.
Why is this important? As Manny Ramirez's memorable Red Sox career began to crumble for good, two people were to blame (Manny and Boras), and yet we only heard about one of them. Had the identity of the second villain been revealed, maybe Boston fans wouldn't have been so eager to downgrade from a first-ballot Hall of Famer to Jason Bay. But we're getting ahead of ourselves. We know for sure that, heading into the last year of a $160 million deal that seemed lavish at the time and turned out to be money well spent, Boston's hierarchy (Epstein and owners John Henry, Tom Werner and Larry Lucchino) basically told Manny and Boras, "We aren't giving you an extension after the best offensive stretch in Red Sox history that didn't involve Ted Williams, and we're also not deciding on our 2009 and 2010 options yet. Let's see how you do this season." In other words, welcome to no-man's land! By not making a decision, the Red Sox did make a decision: They turned the situation over to Boras and expected his most impressionable client to handle himself with professionalism and class. Like that would happen.6
Once Manny shifted into sulk mode, the Red Sox wasted no time painting him as a malcontent. After Manny berated the team's 64-year-old traveling secretary and shoved the poor guy to the ground, the team did everything but hire actors to re-enact the incident on www.redsox.com.7 After Manny skipped a crucial game against the Yankees, claiming he had a sore knee, management made a point of getting MRIs on both knees and telling reporters he was fine. Did the team ever suspend him? Of course not. That would have made too much sense. Once the old school baseball writers started hissing that Manny didn't respect The Game, for many Boston fans, that was the final straw. And maybe they were right -- after all, it's indefensible to quit on your team just because you don't like your bosses, especially in November when you're about to make crucial trades and free-agent signings.
(Whoops, I'm getting my "Guys Who Quit on the Red Sox" confused! I'm thinking of Epstein, who ditched them after the 2005 season because he was tired of dealing with Lucchino. Sorry about that.)8
As the trading deadline approached and Manny continued his "Beavis and Butt-Head" routine, the team steadfastly refused to suspend him or publicly call out his home-wrecking agent. Why? I couldn't possibly tell you. Maybe the Sox wanted Manny to keep hanging himself. In a July game against the Angels, Manny hit a double-play ball and jogged to first base with the intensity of an underpaid bus boy cleaning a table at Denny's. I watched it happen live on TV and didn't blink. On the NESN broadcast, Jerry Remy was coughing up a lung in disgust. Look, I've seen Manny pull this crap at least 200 times in eight years. This was worse than the other 199 times? Come on. Over the course of the next 72 hours, "Baseball Tonight" probably spent 68 of those hours replaying that highlight while Buster Olney's face turned various shades of maroon.
Bill Simmons discusses Manny Ramirez's departure from Boston on "Outside the Lines."

The critics quickly began singing a familiar chorus: Manny doesn't respect The Game! He just doesn't respect The Game! The guy just DOES NOT respect The Game! Manny ... Ramirez ... does not ... respect ... The Game!
Quick tangent: I don't know what the hell this means. If you want to win the old-school media guys, really, you only have to do six things: run out every ground ball, end up with a dirty uniform every once in a while, show up on time, give reporters whatever time they need, light up like a little kid if Willie Mays or Hank Aaron ever walks into the dugout, and smile broadly during games (so the announcers can talk about how you'd play this game for free, even though you just opted out of your contract and held your team hostage for a $100 million raise). Do those things and you earn an "I Respect The Game" card. We should also mention that ...
A. Boston won two titles with a Hall of Famer who didn't respect The Game (Manny) and zero titles with a Hall of Famer who did (Carl Yastrzemski).
B. Players considered "Respects The Game" guys in their primes include Pete Rose (convicted felon, baseball gambler), Roger Clemens (identified as a cheater in the Mitchell Report) and (fill in the names of at least 12-15 other major stars from the Steroids Era).
You can't define "RESPECTS THE GAME!" in this day and age. You really can't. Manny played 135-145 games every season, remained exceedingly durable into his mid-30s and didn't cheat like numerous other sluggers did.9 In his prime, you could bank on an on-base percentage between .405 and .440, as well as 35-45 homers, 105-140 RBIs and countless clutch hits. In his current condition (post-prime, still effective), you can count on a .400-plus OBP, 25-30 homers, 90-100 RBIs and at least two torrid streaks when he carries your offense for two solid weeks ... and that is your worst-case scenario. For someone who didn't respect The Game, he sure was one of the most dependable hitters in The Game.10 Even his funks were reliable. They always happened during the dog days of July and August, when the oppressive New England heat suddenly turned him into a dreadlocked Corey Haim. A defining play or anecdote would get things rolling: Maybe he'd duck a game against a top pitcher, miss a team meeting, dog a flyball or whatever. The media would descend like wolverines because that's what they do in Boston. A few rumored deals would collapse, everything would settle down, and we would start cheering for Manny again.11 Not this time. With the Red Sox underachieving for the first month of summer, even my father grew tired of Manny's crap and wanted him gone ... and Dad was one of Manny's last defenders, the man who once declared, "I don't care if Manny sits in the dugout naked as long as he's putting up those stats every year."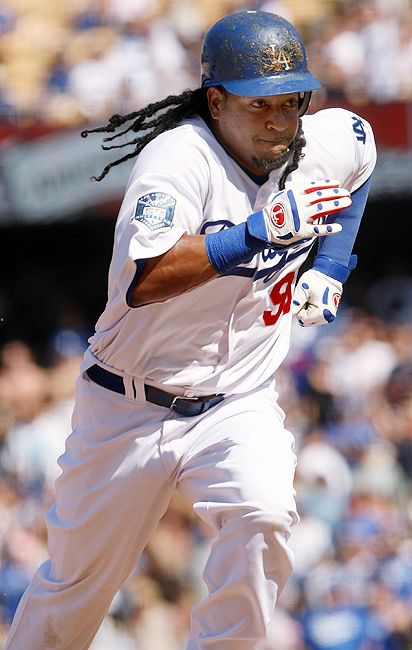 Stephen Dunn/Getty Images
If Manny had run the bases with this much vigor for the Red Sox, he might still be in Boston.
Like a loyal sap, I kept hoping Manny would snap out of his latest huff. Since Boston signed him in 2000, my life changed in the following ways: I started writing for ESPN, moved to California, worked on a TV show, wrote a book, got married, fathered two kids, bought a house, purchased two "Red Sox World Championship" videos and knocked up Jamie-Lynn Spears. Over the last three years, my daughter has seen Manny and Papi on our television more than the Wiggles and Elmo combined. Manny became part of my family, for God's sake. Doesn't that count for anything? Wasn't it hypocritical for any Boston fan to turn on Manny after we willingly signed up for the Manny Experience in December 2000 ... for better or worse, like marriage? We knew we were getting a happy-go-lucky, mercurial slugger with Hall of Fame numbers whom everyone described as "odd but lovable." During ESPN's captivating "Outside the Lines" special about the signing one month later, we learned Manny nearly changed his mind at the last minute when he realized he couldn't bring Frankie Mancini along with him. Who's Frankie Mancini? The Cleveland clubhouse attendant who set up the pitching machine for him every afternoon. Think about that for a second. It's patently insane.12 When that show aired, did anyone say, "Uh-oh, this dude is crazy, get your guards up now, he's gonna break our hearts?"
NO!!!!!!!!!! Nobody said it! Nobody!
We were happy to have a potential folk hero on our hands. When Manny surpassed every comedic expectation and crushed the ball for the first six weeks of 2001, we serenaded him with "Mah-knee! Mah-knee!" chants and acted like we won the fan lottery. Manny's No. 24 home jersey started popping up in New England more frequently than "Re-elect Kennedy" signs. If you were watching at home and flipping channels, you always returned in time for Manny's next at-bat. If you were hungry or thirsty at the game, the best time for a concession run was any inning with a Manny at-bat. Why? Because nobody else in Fenway was getting up. That's how it went for the first seven years, for better and worse. By the 2007 playoffs, Manny had evolved into the jelly to Big Papi's peanut butter. Our quirky cleanup hitter craved big moments and enjoyed celebrating them as much as anyone. During a rain delay against the Yankees last weekend, NESN showed the 2007 team video and one moment startled me: After Dustin Pedroia cranked his insurance home run against Cleveland in Game 7 of the ALCS, he skipped happily back to the dugout and was greeted by a delirious bear hug from ... yup, Manny Ramirez.
Look, I understand how a jerk like Bonds would have been a dreadful teammate: massive ego, bombastic personality, substantial sense of entitlement, painful sense of humor, hogged three lockers, always had 40 media members crowding around him. But what was Manny doing exactly?13 How was Manny's latest "funk" much different than Carlos Delgado seemingly mailing it in until Willie Randolph was fired, then miraculously regaining the ability to smile and hit home runs for Jerry Manuel? For anyone who believes the Manny trade saved the 2008 season -- with the theory being the Sox came together after his departure -- how do we know that wouldn't have happened anyway? Their schedule was significantly easier in August and September.14 Young relievers Justin Masterson and Manny Delcarmen settled into a groove down the stretch, something that would have happened with or without Manny.15 And do you really think a Boras client would sabotage his final two months before free agency? As for the "We couldn't rely on Manny anymore" argument, why could you wager your mortgage on him in September and October? During the winning postseasons in '04 and '07, Manny had 135 plate appearances, reached base 62 times, drove in 27 RBIs, stroked 12 extra-base hits, made it impossible to pitch around Ortiz and worked God-knows-how-many pitch counts. Was that reliable enough for you?
If anything changed other than Boras getting a "Special Guest Star" tag in Manny's ongoing sitcom, it was an ever-evolving 25-man roster: more happy-to-be-there youngsters and businesslike veterans, considerably fewer Latinos and free spirits -- guys who seemed woefully ill-equipped to handle Hurricane Manny. For most of this decade, Boston's veterans and managers looked after Manny the same way you'd look after a dog: Keep remembering to feed him, walk him, rub his belly and occasionally smack his snout and he'll be fine ... and if you forget to keep doing those things, it's your fault when he craps on the rug. Manny's 2008 meltdown wasn't much different than the ones in 2003, 2005 and 2006, only nobody kept him in check this time around. It was just a different team. When Coco Crisp charged the mound in June and got summarily pounded and sucker-punched by a swarm of angry Rays, not a single Boston player had his back or seemed especially perturbed about what happened. I thought it was the most telling moment of the season. If they weren't sticking up for Coco, they certainly weren't standing up to Manny Ramirez.16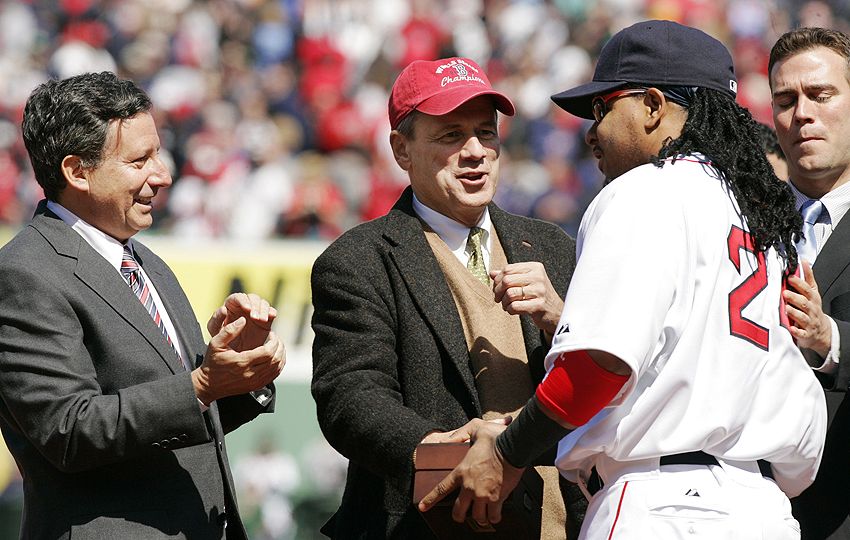 Steven Senne-Pool/Getty Images
Red Sox brass Tom Werner, left, Larry Lucchino and Theo Epstein, right, were willing to put up with Manny during two World Series runs. In 2008, however, they decided they'd had enough.
Love is blind
The relationship between a fan and his baseball team is unlike anything else. If you love a team -- if you truly love it -- then that team infiltrates your daily life for six straight months (seven if you're lucky). You wake up, you shower, you eat, you work, you eat, you watch your baseball team, you sleep. When the Mets collapsed for the third straight season last week, my devastated friends who follow them all said the same thing: it wasn't losing again as much as reflecting on those 162 games and the hundreds of hours wasted along the way. They felt betrayed. Only baseball does that to you. It's a game of routine, of watching one at-bat after another, hoping something different happens, of relishing the little things that happen along the way. You don't know your favorite players personally, but you feel like you do. And I felt like I knew Manny after seven years. At least a little. Which is why I still can't fathom that such an endearing oddball could morph into a cancer.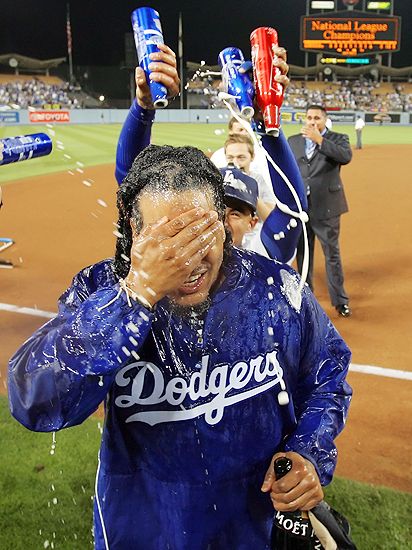 Lisa Blumenfeld/Getty Images
Manny definitely knows his way around a champagne celebration -- but isn't that scoreboard message jumping the gun a little bit?
The man made me giggle and guffaw more than every other Boston athlete combined. His funniest moments always happened in left field, where every crucial line drive left us murmuring, "ohgodohgodohgodohgod," only he would usually make the play as we sighed in relief. Manny kept us on our toes. He took a leak inside the Green Monster during a pitching change. He randomly cut off throws from other outfielders without explanation. He took crazy angles on fly balls and regarded the warning track like a shark-infested moat. At least 50 times over the last eight years, he clumsily chased down short fly balls with his patented "I'm trying like hell to blow out my ACL" slide. An inordinate amount of innings ended with Manny turning a fairly routine catch into a highlight reel, somehow making the play in the end, then laughing happily and tossing the baseball into Section 33. Of all the Boston left fielders in my lifetime, only Yaz played line drives off the Monster better -- yet another wrinkle for the "I will never, ever figure this guy out" angle -- and Manny possesses a sneaky-good throwing arm that many runners underestimated over the years.17 He did everything with a smile on his face. There was nothing contrived about the guy. Even when he belted one of his signature bombs and ogled it for a few impressed steps -- and by the way, this was often -- opposing pitchers rarely seemed to take it personally. Just Manny Being Manny, right? He always seemed happiest after somebody else's walk-off home run, during the ensuing mosh pit at home plate, when everyone crammed into a semi-circle to congratulate the hero with a sea of headslaps and jumps. You could always count on Manny to act like the craziest guy at a Fugazi concert. Nobody loved the walk-off mosh pit more.
I spent more time wondering about his relationship with teammates than you can imagine. No Red Sox player generated a more eclectic collection of dugout reactions.18 Perplexed glances. Hearty laughs. Intense whispers. Even times when his teammates silently peered at Manny like they were watching a drunk guy teetering along on a sidewalk. You know, like they didn't want to miss anything in case something unexpected happened. Always, always, always -- always! -- he remained interesting. As strange as this sounds, he might have been the most interesting person in my life. I spent more time trying to figure him out than anyone else; even my wife. I solved him in certain ways, like how you could pinpoint the precise moment when he was breaking out of a slump: always in a close game, always during an at-bat when the Sox needed him to drive in a big run. Manny would start fouling off pitches and regaining his timing. The at-bat would extend to eight pitches, maybe nine, maybe 10. Finally, the pitcher would try to sneak a third strike by him on the outside corner -- the spot teams always attacked Manny when he was slumping, because a slump meant he was trying to pull everything too much -- but this time, Manny would relax and smack a line drive to right-center. And I would call my father immediately and say, "Did you see it? Did you see it? He's breaking out!" And for the next few weeks, you knew Manny would pound the living crap out of the baseball again. It was that easy.
When Ortiz and Manny were clicking at the same time, like for the first few playoff games last October, the Red Sox simply couldn't be defeated. We had the modern-day Ruth and Gehrig and everyone else knew it.19 Call me crazy, call me nuts, call me a fool ... but I wasn't enthusiastic about giving that up without a reason that surpassed, "Uh-oh, Manny is acting up again." I also believe -- fervently -- that Boston fans needed Manny in our lives. Remember the way Sox fans behaved before October 2004? Tight as a drum, always expecting the worst? Manny never noticed the nail-chewing, knuckle-cracking and hair-pulling. The negative radio shows and columns never bugged him. He just kept showing up with that same dopey smile and cranking line drives. You could say he loosened up the entire city -- never receiving enough credit for this, by the way -- and when other self-proclaimed "Idiots" like Millar and Damon became his partners in crime, we ended up winning the 2004 World Series. Coincidence? I say no. If I had to pick a movie character to describe Manny's effect on the team and its fans, it would be Dunphy from "Outside Providence," the juvenile delinquent who showed up at the uptight '70s prep school, lightened things up, and within a few weeks, everyone knew how to roll a joint.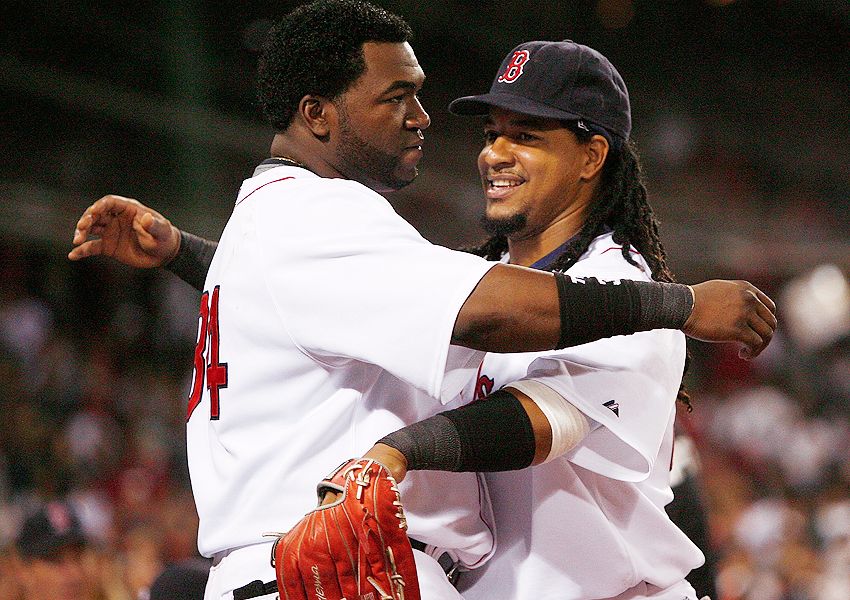 Jim Rogash/Getty Images
Yes, the Red Sox broke up the modern equivalent of Ruth and Gehrig. No, the Sports Guy doesn't want to talk about it.
A lesson in revisionist history
"Outside Providence" ended with Dunph landing the hottest blonde in school, graduating and even heading to junior college.20 Manny's movie didn't end so happily. After he "quit" on the team, the Sox moved heaven and earth to dump him. The final straw happened when he left Fenway in a gorilla's costume to hide from reporters. (Oh, wait, that was Theo Epstein. Sorry, I got my "Guys Who Quit on the Red Sox" group confused again.) The Red Sox shipped him to Los Angeles one minute before the trade deadline, paying the rest of Manny's 2008 salary, landing Bay from Pittsburgh as his "Respects-The-Game" replacement and sacrificing two piddling prospects in the deal.21 This wasn't a trade as much as a foreclosure. They had foreclosed on Manny Ramirez. As part of the transaction -- and this is crucial -- the Dodgers agreed to waive Manny's 2009 option and grant him free agency.
Once the deal was confirmed, the pilot turned off the "No Skewering Manny" sign and allowed the media to move around the cabin carrying hatchets and poison-tipped darts.22 We kept hearing how Manny quit on the Red Sox even if his July numbers didn't reflect it: 75 at-bats, 26 hits, four homers, 16 RBI, a .473 on-base percentage and a 1.060 OPS. Only NESN's Remy handled the situation diplomatically, defending Manny's tenure in Boston while expressing the appropriate amount of outrage at his recent behavior. Remy said he believed the Manny soap opera had affected the clubhouse and needed to be resolved. You know, because these guys were tired of being distracted from more important things, like playing poker, texting their friends or having 15-minute conversations centered around topics like "Does my bat feel heavy?" or "If it burns when I pee, that's bad, right?"23 But like me, Remy had developed genuine affection for Manny and seemed perplexed by those final few weeks. He kept coming back to the one question that nobody else seemed to be asking.
"Why?"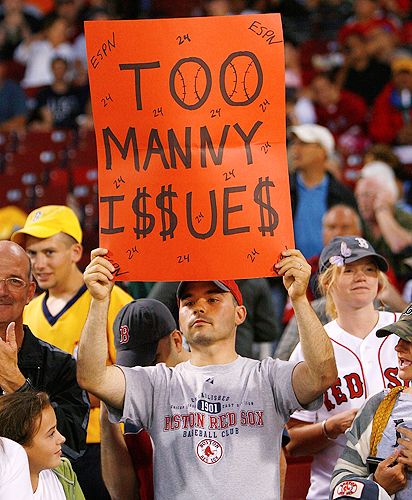 Jim Rogash/Getty Images
By the time the trade deadline arrived, Red Sox Nation had turned against its enigmatic slugger.
Why did Manny start acting out? What triggered it? Manny made a vague reference to "they don't like me and I don't like them" at one point, but why didn't he like "them?" Manny showed up for spring training happier than ever, professed a sincere desire to finish his career in Boston.24 By June, Manny was shoving senior citizens, swinging at teammates, feuding publicly with Henry and acting irrationally even for him. So what happened? Did management offend him by not picking up the 2009 and 2010 options on his contract? Did he spiral out of control as soon as Ortiz and Julio Lugo disappeared with injuries, best friend Julian Tavarez was traded, and his Dominican Buddy Support Group vanished? Was Manny so obsessed with money that he went into napalm mode, hoping Boston would drop that 2009 option (leaving him free to conceivably earn himself a more lucrative four-year deal), even though he already earned close to $200 million and stuffed uncashed paychecks in his locker like fan letters? Or was there a more sinister reason?
(Cue the Darth Vader music.)
(Dah dah dah da-da-da da-da-da ... DAH DAH DAH da-da-da da-da-da ...)
Oh wait, we forgot ... his agent was Scott Boras!
How this double-talking burglar was omitted from the first paragraph of every post-Manny trade story remains one of the greatest inexplicabilities (I just made up that word) in sports media history.25 THE GREEDIEST AND MOST RUTHLESS SPORTS AGENT OF ALL TIME WAS ONLY GETTING PAID IF HE COULD GET MANNY OUT OF THAT CONTRACT! And we were asking "why?"???
Let's pretend you were Boras last spring. First, grow fangs and imagine you sleep in a coffin. Second, divorce yourself from all parameters of human decency. (Concentrate on those dollars signs. Keep concentrating. Block everything else out.) Third, convince yourself the relationship between a player and his fans, no matter how long it has been cultivated, doesn't matter even remotely. Fourth, keep reminding yourself, as long as you can weasel Manny out of that '09 option with Boston, you're looking at a four-year contract elsewhere for $80-100 million ... as well as a big fat commission for yourself. You feeling it? You feeling like Boras yet? (Touch your new fangs to be sure.) Well, here's how you handle the "best interests" of your client: By molding Manny like a piece of cancerous Play-Doh. Maybe you start feeding him lines like, "Hey, I can't make progress on that 2009 option, they're really worried that you're washed up" and "I don't know what's wrong with Theo, supposedly he was ripping you to Gammons last week." You know every secondhand comment has a bigger purpose. You know those little digs will add up. You know Manny will start acting out. The rest is history.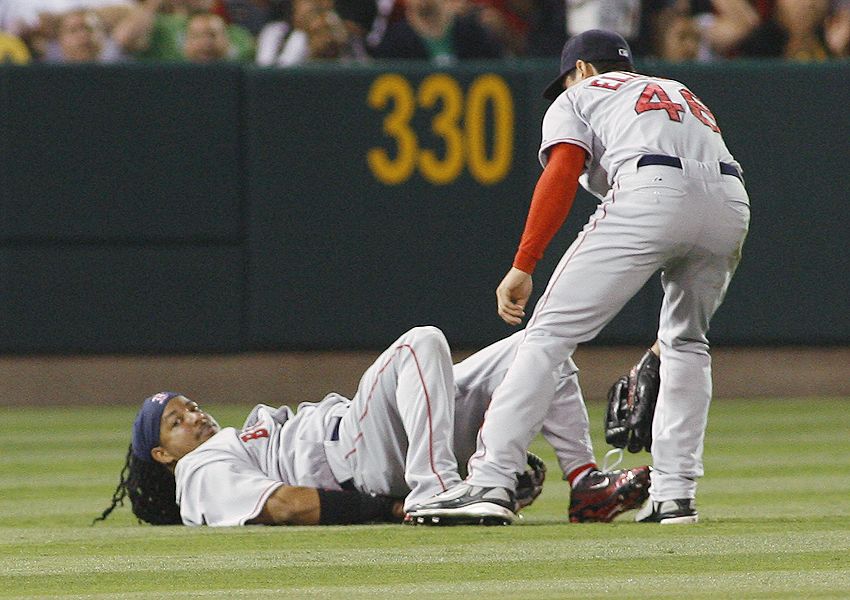 AP Photo/Gus Ruelas
A routine fly ball to left? There was no such thing when Manny was patrolling the outfield for Boston.
If it did play out that way -- and I would bet anything it did -- would that explain Manny's uncharacteristic anger in June and July? I say yes. I say absolutely. Again, it's Scott Boras! The guy could convince a hemophiliac to give blood. Manny's heel turn (to borrow a wrestling term) never could have happened without an evil "manager" prodding him and poking him.26 For the life of me, I can't imagine how anyone could write a column, speak on television or give a radio interview within 72 hours of that trade without blaming Boras, as if the greediest sports agent of our lifetimes happened to be standing there idly while Manny's career in Boston imploded. You can't blame Manny just like you can't blame Lindsay Lohan for having awful parents or any Duke basketball player for turning into a whimpering crybaby.
That didn't stop Boston's hierarchy from ignoring Boras' behavior on the grassy knoll and directing everyone's malice toward Lee Harvey Ramirez in the book depository. As crazy as this sounds, agents seem to be gaining power these days. Earlier this summer, David Falk squashed a potential Elton Brand-Baron Davis partnership and fumed that Brand and the Clippers left him out of the loop. Although Brand had already given his word to Clippers coach Mike Dunleavy, Falk furiously shopped him and secured a bigger offer from Philadelphia, then commenced the process of poisoning Brand against his old team. Lord knows what was said, what was twisted around, what lies were perpetuated. Within a few days, Elton Brand -- the one guy who ever loved being a Clipper, the one-man marketing department who convinced buddy Baron Davis to play with him -- suddenly despised the Clippers and wanted to play somewhere else. He eventually signed with Philly for $82 million, just a shade over what the Clippers were offering, as Falk established himself as a significant power broker again.27 So much for Brand retiring as a Clipper. So much for the relationships Brand had built with teammates, coaches and fellow team employees. After the news broke, a friend who works for the Clippers sent me one of the saddest sports-related e-mails I've ever read, describing the devastation in the office that day, how betrayed everyone felt, how younger employees were walking around in a daze.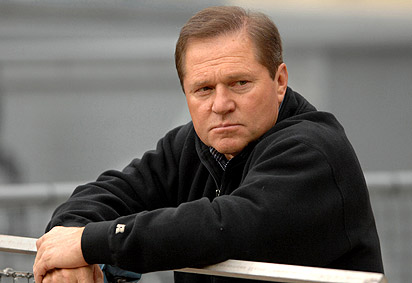 Ezra Shaw/Getty Images
You'd think Scott Boras would be smiling. After all, the man always gets paid.
"You feel like you know a guy," my friend wrote, "and then you don't."
That's sports in the 21st century for you. Like Deep Throat tells Woodward in "All the President's Men," "just follow the money." It's always about the money. Always. We have a slew of highly educated, highly intelligent, consistently devious agents controlling the interests of a broad number of athletes, many of whom aren't nearly as sophisticated as the people representing them. Those athletes are allowed to act like divisive jerks or mope through games with no real repercussions, as long as it's happening for a larger goal -- either a new team or a new contract -- and player unions possess such disproportionate power that the NBA still can't randomly test for marijuana use.28 During Manny's final meltdown in Boston, when he allegedly turned into the clubhouse equivalent of pancreatic cancer, here's how many times the team suspended him: zero.
That's right ... zero.
Don't you find this interesting? The Red Sox were willing to pay $7 million of Manny's 2008 salary to dump him, but they weren't willing to suspend him as a last gasp to rescue their relationship with one of the best right-handed hitters of all time? From a distance, it sure seemed as if the owners never cared about disciplining Manny or salvaging his Boston tenure, only about how their fans and everyone covering the team perceived what was happening. And they sure seemed petrified of crossing Boras, a power broker who will be wreaking havoc long after Manny Ramirez retires.29 Manny took every hit, Boras took few (if any) until Gammons pointed a finger at him in an Aug. 29 column on ESPN.com, writing, "Management people point out that Boras proudly orchestrated the Manny Ramirez shutdown in Boston and, as Boras has told GMs, got Ramirez where he wanted him in Los Angeles. Getting a player to opt out in the middle of his contract and essentially refuse to honor what he'd signed isn't easy."
What???? Five weeks earlier, Gammons wrote that "Boras right now is trying to help Manny understand that it is in his best interest to, in Boras' words, 'fulfill his current obligation,' and put up the free-agent numbers here in Boston." Now Boras had orchestrated Manny's departure? Would Boston fans have blessed this trade knowing that Manny -- painted as a greedy malcontent and a quitter in every medium -- was being manipulated by the real-life Bob Sugar? By mid-August, Sports Illustrated was reporting Boston's decision-makers actually were split on making the Dodgers trade (Henry and Epstein wanted to do it, Lucchino and Werner wanted to keep him), and Gammons said in a Boston.com chat that Manny's former teammates weren't angry at him "because so many of them like Manny off the field, but what happened was that he became a distraction and players don't like answering questions about other players when those players won't answer the questions themselves."
So, Manny wasn't a cancer after all? And everyone didn't agree that he had to go? You have to admit, it's a little befuddling.30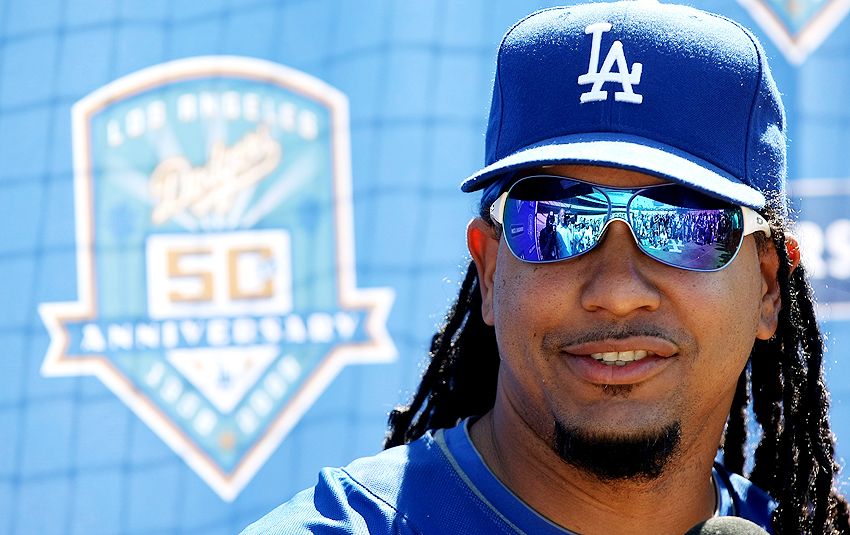 Stephen Dunn/Getty Images
Los Angeles is the perfect place for Manny, who never seems too concerned about his day job.
Still haunted by Manny
If I never imagined the Red Sox would trade Manny Ramirez, I certainly never imagined him landing 20 minutes from my house. L.A. is the perfect city for him: laid-back, bilingual, unfazed by mood swings and diva-like behavior, perfectly willing to embrace a true talent and overlook any other foibles. Manny might seem like a freak in Boston, but in Los Angeles, a place where people spend their days figuring out the likes of the Lohans, the Olsen Twins, Mel Gibson and Britney, he makes more sense than a yoga mat sticking out of a Prius. Unlike in New England, the daily mood in L.A. isn't determined by the fate of the local teams. For a free spirit like Manny, you couldn't ask for a better place to play baseball. Just last weekend, he said to the Los Angeles Times, "Baseball in Boston is like a Sunday football game, but played every day. We lose in L.A., I go to breakfast and people say, 'Well, you'll get them tomorrow.' In Boston, it's 'Hey, what's going on, the Yankees are coming.' It's just a different atmosphere. The fans in Boston got your back no matter what, but I'm talking about the people who write all this bull because it means so much to them. If your happiness depends on Boston winning or losing, you have to get a life."31
On the day the deal happened, I e-mailed my friend Tony, a die-hard Dodgers fan, and guaranteed him Manny would crush baseballs for six solid weeks. There was no doubt.32 I saw everything coming before it happened: the "Mah-knee! Mah-knee!" chants, the palpable buzz at Chavez Ravine, the steady stream of line drives and the bombs, amused smiles from teammates, the giddy hop in his step, the "Thanks again for trading Manny!" e-mails from my Yankee friends, the playful joshing with teammates, everything.33 Now the Dodgers are gunning for their first World Series in 20 years, led by the supposedly washed-up slugger who's only hitting .396 with 17 homers, 53 RBI, a .489 OBP and .743 slugging percentage in Dodger blue. Suddenly, I hear fellow customers discussing baseball as I'm writing at various coffee joints in Hollywood. I notice more Dodgers shirts and caps than ever before. Manny's picture seems to lead the L.A. Times sports section every other day. I even bought $60 worth of gas last week and paid a cashier wearing a No. 99 Ramirez jersey. He's back in my life, only not the way I hoped.34
I thought for sure I would have turned on him by now. Hasn't happened. I keep making excuses for Manny and blaming everyone else. Readers wonder how I could possibly defend Manny after spending the last few years ripping Vince Carter under suspiciously similar circumstances. Friends wonder how I can possibly deny the 2008 Red Sox are better off without him. Even my father can't understand why I'm not rooting against Manny and the Dodgers this week as they battle the long-suffering Cubs. "You don't think it's damning," my Dad wondered recently, "that Manny hasn't missed a game with the Dodgers? Whatever happened to his sore knee?" It's a great question. My defense: We just spent the past decade hearing "Manny Being Manny" stories and allowing the man to be portrayed as a savant of sorts, the most simple of athletes, a happy-go-lucky hitter who rolled with the punches, never took himself seriously and wasn't the sharpest tool in the shed.35 I watched him play for seven and a half years, day in and day out, and never saw anything to make me question that stereotype. Now, I'm expected to believe he was calculating and vindictive this whole time?
Put it this way: I'm not exactly ready to drop my coffee cup in slow motion like Chazz Palmentieri in "The Usual Suspects."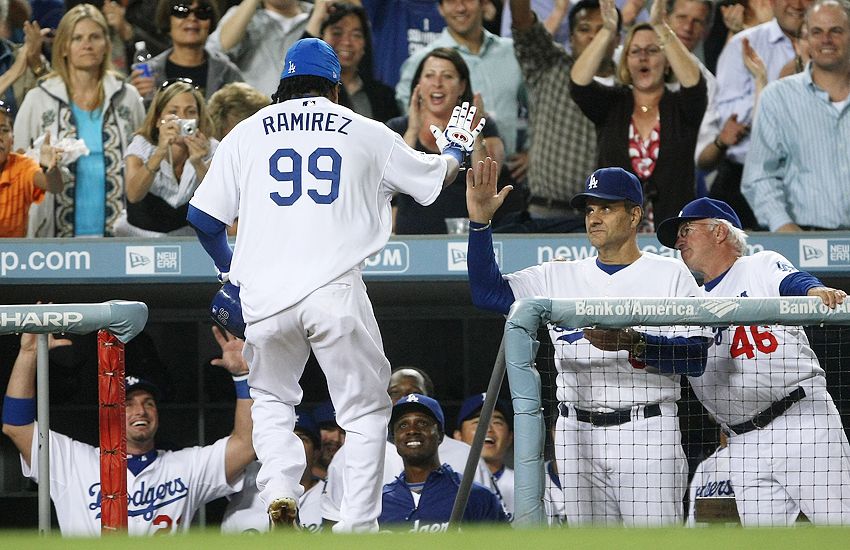 Stephen Dunn/Getty Images
Manny's mere presence has reinvigorated the Dodgers and brought the buzz back to Chavez Ravine.
Meanwhile, Manny's former team putters toward a shaky playoff destiny because of Josh Beckett's strained oblique, unproven setup guys and a lineup that's more banged-up than Shannen Doherty. It's hard to complain because, again, TWO WORLD SERIES IN FOUR YEARS!!! We're like a prep school team now; we might as well be Brunswick School or Greenwich Country Day.36 We have a jarring number of white players with preppy names like "Jed" and "Justin." Our precocious and lovable MVP candidate (Pedroia) looks like a ninth grader who snuck onto the team only because he was related to the manager. Everyone says and does the right things, including Bay, the new guy, a solid all-around player who didn't kill the season by any means.37 If the 2004 team was personified by Manny and Damon, then the 2008 team is personified by Pedroia and Youkilis, who run out every groundball like they're sprinting out of a burning building. The 2008 Red Sox "Respect The Game." There's no question. It's an exceedingly likable team.
And yet ...
I still miss Manny. I can't lie. It took me four solid weeks to accept that he was really gone. Three weeks after the trade happened, I flicked on NESN for the opening pitch of a Sox game, noticed the SkyDome and thought, "Yes, Manny loves hitting in the SkyDome!" A second passed. A lightbulb went on. My shoulders slumped. Manny was gone. I debated going to see him play at Dodger Stadium, finally concluding it would be too painful for me. I thought about trekking down there to interview him, ultimately deciding on keeping a friendly and respectful distance. I checked his box scores every day and prayed he'd keep hitting, only because every big game increased the chances of Manny re-signing with the Dodgers instead of the Yankees, who have the deepest pockets, irrational owners and an overwhelming need to make a splash next year.38 A Manny-Yankees partnership would dwarf the effects of Damon's departure from Boston three years ago. Damon was a lark, a likable player who ultimately didn't matter. Manny matters. That's why New York will overpay him, and that's where Boras will send him unless the Dodgers step up. It's always about the money. Always.
Lisa Blumenfeld/Getty Images
Try telling these guys that Manny is a bad teammate.
Will Manny understand the real reasons when it happens? How much does Manny understand in general? He's dumb enough to leave uncashed paychecks sitting around and smart enough to earn those checks in the first place. Dumb enough to get seduced by Boras, smart enough to heed his advice. Dumb enough to burn bridges in Boston, smart enough to get what he wanted in the end. Dumb enough to betray his old team, smart enough to embrace his new one. He's unredeeming in every way until you add up every little moment that made you like him in the first place. Then he's not so bad. (I swear, this makes sense if you're me.) And so I refuse to blame him for what happened.39 The one thing I learned from 2001 to 2008 was that Manny judged life by simple things: hits, home runs, salaries, fancy cars, even the efficient way someone set up a pitching machine. When he's unhappy, he can't hide it. When he's happy, he can't hide it. He could never fathom spending $20 million a year, but he knows it's the number he should make. He didn't take it personally that the Red Sox never picked up his 2009 option, just that they didn't care whether he stayed or left. He moved from a one-bedroom condo to a presidential suite at the fanciest hotel in town, liked living in both places ... and if that doesn't tell you everything you need to know, then I give up.
So, how will this play out? I see Manny leading the Dodgers to the 2008 World Series, breaking their hearts and donning pinstripes next season. He won't feel bad, because he's Manny. The L.A. fans will feel bad. I will feel worse. It will be the single most painful sports transaction of my lifetime. It will make me question why I follow sports at all, why we spend so much time caring about people who don't care about us. I don't want to hear Manny booed at Fenway. I don't want to root against him. I don't want to hold a grudge. I don't want to hear the "Mah-knee! Mah-knee!" chant echoing through the new Stadium. I am not ready for any of it. You love sports most when you're 16, then you love it a little bit less every year. And it happens because of things like this. Like Manny breaking the hearts of everyone in Boston because his agent wanted to get paid, then Manny landing in New York because the Yanks offered the most money.
And when it happens, his new teammates will spend an inordinate amount of time trying to figure him out. They will like him. They will make fun of him. They will ride his hot streaks for weeks at a time. Within a few months, they might even swipe his credit card for a night on the town, planning to charge drinks to their idiot teammate all night. Someone else will get stuck with the bill. Manny will drink for free. Everyone will have a good laugh, and they will never underestimate Manny Ramirez again.
Bill Simmons is a columnist for Page 2 and ESPN The Magazine. For every Simmons column, as well as podcasts, videos, favorite links and more, check out the revamped Sports Guy's World.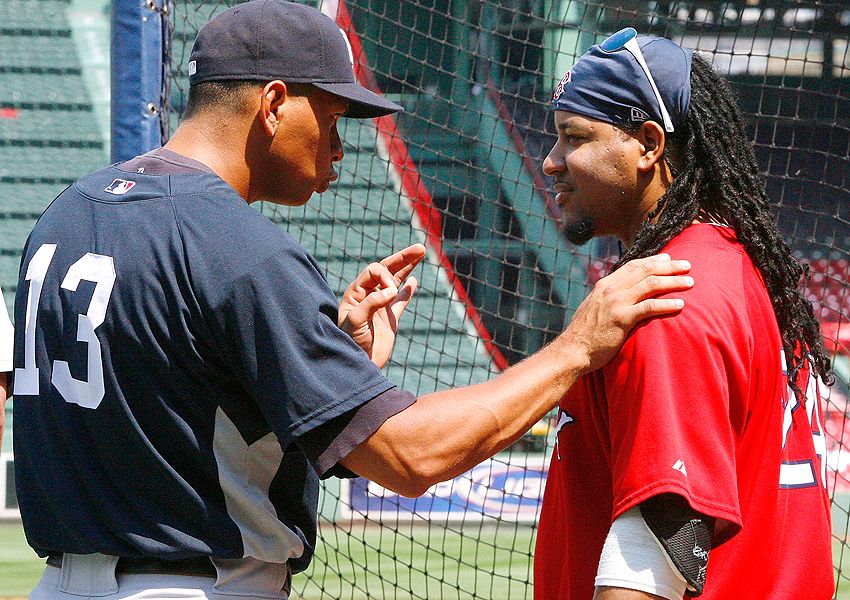 Jim Rogash/Getty Images
Could these two end up as teammates in 2009? Nah, the world couldn't be that cruel. Could it?