OTL: The Legend of Ken Mink
ARRIMAN, Tenn. -- After watching and reading about the legend of Ken Mink again and again, and after getting inside of it myself for months, it should make sense to me. I should know who he is. Only it doesn't and I don't.
I do, however, know the story of its creation by heart: Five decades after being kicked out of school and off his team for a prank he did not commit, a 73-year-old former junior college basketball player decides to rewrite his own history. After a few days of nailing shots on his neighbor's driveway goal, he e-mails a bunch of Knoxville-area coaches. One of them, Randy Nesbit of Roane State, loves dreamers and offers the old man a second chance. In the home opener, the victory secure, Nesbit puts Ken into the game. That's when it happens, the Big Bang moment. In the months that follow, Nesbit and Ken and everyone else will tell this story over and over, first to local reporters, then to Conan and Regis, CNN and CBS, Sports Illustrated and The New York Times, polishing it until Ken Mink the Phenomenon comes to have little in common with Ken Mink the Man.
It's the third time Ken touches the ball. The defender, a young man one-fourth Ken's age, rushes at him wildly. Everyone can see the fear in the kid's eyes: He does not want the old man to score. Arms flailing, he flies toward Ken, who calmly pump fakes, gets the defender in the air, then goes back up with the ball. A ref's whistle brings the action to a halt. On the bench, they can't believe it -- Ken pump-faking a kid! With everyone watching, including his wife Emilia wearing a 1950s cheerleader outfit, Ken calmly steps to the line and sinks both free throws.
The Knoxville News Sentinel posts video on its Web site. The site crashes. The video goes up on YouTube. A half million people watch it. Within days, Ken Mink's phone begins to ring.
He is a star.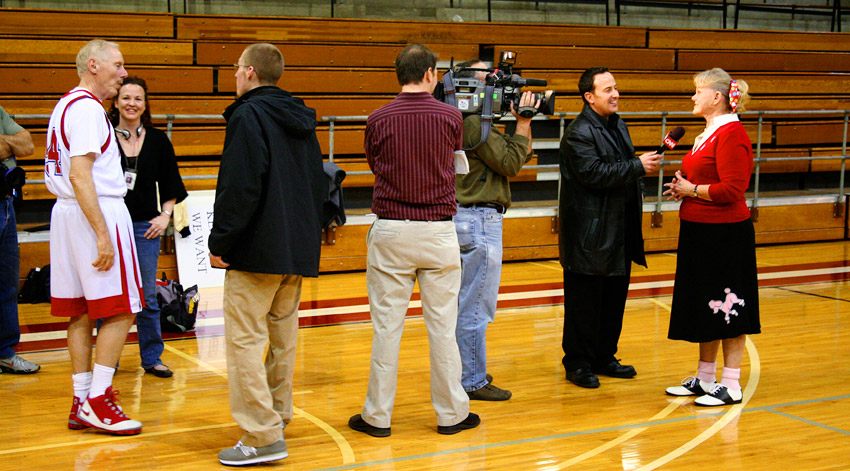 Joe York for ESPN.com
Ken Mink and his wife Emilia have been basking in the glow of the media spotlight since the 73-year-old returned to the court last fall.
Just your typical septuagenarian college freshman
I meet Ken for the first time at his home early one morning before history class. With his shock of blond hair and wispy mustache, he doesn't look 73. As we drive toward campus, I search for common ground with someone more than twice my age. He has spent a lifetime as a newspaper reporter and editor, and he's a rabid SEC sports fan, so I mention the challenges of covering Nick Saban every day. Ken smiles.
"I know the feeling," he says. "I had to cover Adolph Rupp."
Ken Mink discusses his return to college basketball on ESPN's "First Take."

I laugh. He laughs. We've bonded. His little Ford Ranger bounces down the Interstate, and he explains why someone his age would do this. He quickly defines the enemy as time itself, and himself as a Don Quixote. "I may not be able to beat age," he says, "but I'm gonna put up a helluva fight. I wanted to prove that even though people reach senior class, there are things they can achieve in life."
Roane State sits on the outskirts of Harriman, a small Tennessee town, down the road from the Oak Ridge reactors, 45 minutes outside of Knoxville. As Ken walks to class, students casually nod their heads, and basketball players say hello. Ken wears team sweats, hurrying with the masses hunched against the cold, racing the clock to one of the buildings.
Across campus, Nesbit, the head coach and athletic director, prepares for the afternoon's practice. He played at The Citadel because it was his only Division I offer and the 5-foot-9 guard wanted to prove people wrong. He preaches fundamentals and intensity. Once when the team was on a road trip and he pulled over to help a motorist whose car had broken down, he shuffled across the highway in a defensive crouch and closed out to the stalled car with his hands raised. When Ken's e-mail arrived, telling of a college basketball player whose career was taken away, he couldn't say no. "I'm a sucker for a good story," he says. "There are seven or eight times in the movie 'Rudy' where I'll cry." Besides, he knew others would fall for Ken, too, and that would get some people in the gym.
I ask him to describe Ken as a player. He says Ken is a good shooter. He tells a familiar story about how Ken is the best zone passer they have, how once during practice, he whipped a behind-the-back pass to a wide-open teammate. "He must have been really good," Nesbit says. "He'll throw some passes in practice that none of our guys are capable of throwing. The first time I saw him do this, I just about had a heart attack."
Across campus, Ken goes in and out of classrooms. He answers questions loudly when he knows, mumbles when he doesn't, falls asleep when he's tired or bored, snapping awake when he's on the spot. All the things the other students are doing. Usually, he hangs out with other players, making small talk about college hoops. Away from practice, most seem to see him as a father, or grandfather, figure. One player even confides in Ken that he has gotten his girlfriend pregnant. The foreign players seem to relate especially well. They understand how it feels to be out of place.
That's not to say people aren't curious. Before one class, as a kid with blue hair snaps out of his feigned indifference, another non-traditional student, a single mother, asks, "What year did you graduate?"
"Fifty-three years ago," Ken says. "I graduated before you were born. I graduated before these guys' parents were born."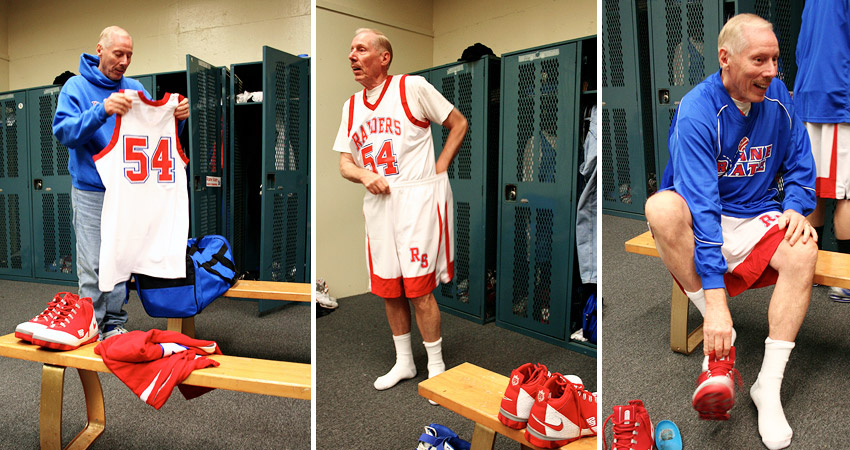 Joe York for ESPN.com
Roane State offered Ken the chance to don a college basketball uniform for the first time in more than five decades.
A lifetime of raw deals
The first hint at the intense currents that run beneath the smooth surface of Ken Mink comes when he takes out his old yearbook. Lees College, 1955-56. It's worn from years of reading.
For the past five decades, sometimes when he felt low, or felt like his life was an exercise in diminished dreams, he'd flip through the pages, remembering a brief time when everything seemed possible. His dad worked in a coal mine, and Ken was the first member of his family to graduate from high school, much less go to college. The campus was a strange new world, and he loved it. Turning the pages, reliving the brief glory of Paul Mink, as he was known then: freshman class vice president … newspaper staff … basketball team … notes from a dozen or more girls.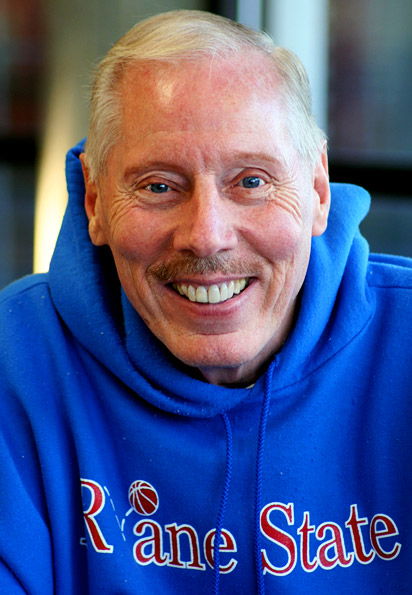 Joe York for ESPN.com
"I wanted to prove that even though people reach senior class, there are things they can achieve in life," Ken says.
"You are the only boy that ever made me forget a few things in the past."

"It has been nice receiving you and having music with you."

"It took me a long time to get acquainted with you -- I even called you conceited, but now I know you aren't."
His roommate, who seemed to sense things would not end well at Lees for Ken, wrote: "I know I will never forget No. 25 on the floor even if I live to be a hundred years old. If you are not back next year, don't ever forget me as a friend."
"It's sort of like an isolated oasis in my life," Ken says, looking up from the book.
That oasis didn't last long. Shortly before his second season began, he explains, someone pranked the coach's office, sprayed shaving cream on the walls and the desk and in his shoes. A witness put Ken near the scene and, he says, the dominos fell quickly: President Robert Landolt called him in and expelled him, no chance at appeal, no going away party, just a lonely drive back home and, immediately, a one-way ticket to Air Force basic training.
He took the yearbook with him, and during those early morning wake-up calls in the service, he'd think about it, already sensing how much the arc of his life had been altered. Anger turned to resentment and it burrowed deep. He let the Air Force rename him, dropping his middle name and going by his first name: Ken. The cloak of victimhood settled nicely on his shoulders. Later, when he'd get passed over for promotions or new jobs, he says he blamed the lack of a college degree. "Not a month went by I didn't think about it," he says. "Who did this? Why did they do this? Somebody did it and didn't confess. I've often wondered how my life would be totally different. It's a life-changing circumstance. You often think about, I could have been so-and-so."
Opening the book rolled back the years, brought in a flood of memories, of girls named Wilma and Avanell, of his teammates and the night they beat the University of Kentucky freshmen. Those journeys energized him but also brought him back to the present unfulfilled, deep down in a place he tried to keep hidden, which could only escape his subconscious by taking the shape of personality quirks -- his grandiosity, a view of himself as a daring swashbuckler, a pervading sense of being wronged by the cosmos.
"It's like so many things that have happened to me," he says. "I don't know if I'm rationalizing my problems as not being my fault. It seems like I've been victimized so many times in life. I told my wife, so many raw deals have happened to me that I had no control over."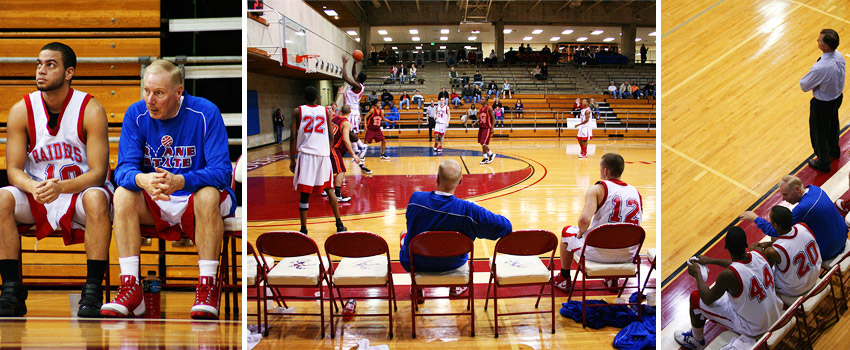 Joe York for ESPN.com
Coach Randy Nesbit gave Ken a second chance ... now Ken is hoping for a little more playing time.
Star of his own movie
This other side of Ken Mink -- the non-legendary side -- takes shape the longer I spend with him. There are things I notice. I don't fully understand what they mean, but they give shape and definition to the real person obscured by his own cute-slash-remarkable journey back to the court.
It starts with that sense of being victimized. A thread runs through many stories: nothing is ever his fault. His divorce after 33 years -- her fault. Neither of his daughters speak to him -- their fault. A grandchild he has never met -- not his fault. Pranking the coach -- not his fault.
His stories also have another thing in common: a disconnect, sometimes large and sometimes small, between how he views a moment and how others do, between how he views himself and how others do. It isn't that he's lying, exactly, just that he is the star in the movie of his life, and he gets to write the script and aim the cameras. A kid from a poor coal-mining town, the youngest in a big family, who saw brothers go off to the war, who saw his dad come home every day black from the dust and take a bath his mother fixed by boiling water. A kid whose dad took him down into a mine once, as if to say: You make something of yourself.
He has a hunger to be extraordinary. Regardless of how small the goals were at the beginning, he tried on a new life and liked the fit. The television portrayals of his life please him. Heady stuff fills his spare time: talking to movie producers, sitting on a contract for thousands of dollars, aiming for more … conversations with big-time literary agents, setting up meetings with them in New York. "A year from today," he tells me, "I hope that I'm involved as an advisor on a film that someone is doing about my story. And I hope that I'm doing a lot of commercials, sponsorships, inspirational talks, traveling around the country for a speaker's bureau thing."
Attention makes him feel different, it's a high, and if he doesn't have any, he goes looking to score. We are in a dentist's office and the ladies behind the counter don't know the story, and he seems bothered by that.
"Did you pass, Ken?" the receptionist says.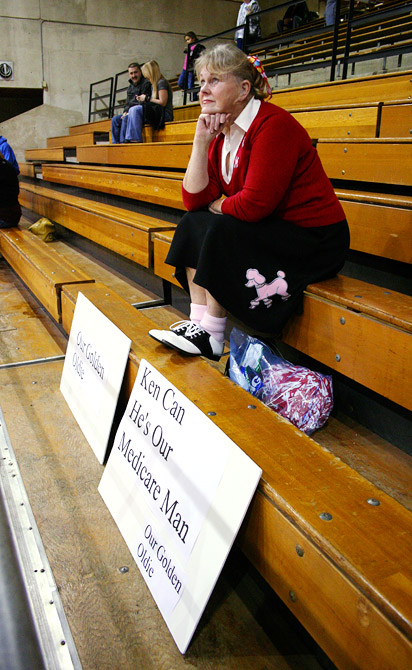 Joe York for ESPN.com
Emilia is there at every game, visibly and vocally supporting her husband's quest.
"Yeah, he wants me to come back in a few weeks."
"Do you have a preference with our scheduler?"
"I don't know if we'll have a game."
"You at school? Where do you go?"
"Roane State." Then, after a pause, he asks, "You haven't seen any of the TV stuff, the oldest basketball player in the world?"
"Yes, I have."
"That's me."
"Well, I'll have to read it again. I didn't pay attention."
"It's one of your patients and you didn't know?"
He suggests she Google him, then we leave and one of the first things he says is how the dentist called him his most famous patient. I wonder what that means. Is he embarrassed? Is he trying to erase the stain of the previous moment's anonymity? Is he just a guy who's proud of being extraordinary?
The biggest dose of reality comes when I watch a December practice and get to know the other players. They spend time during many drills giving Ken instructions; he doesn't really know the offense or the defense and has trouble with the daily practice routine. This entire experience is a gift from them to him, given because they like him, because they see him out here every day, sore and creaky, because they admire his determination, because they wonder what they'll be like at 73. But it is most assuredly a gift, something Ken doesn't seem to understand. "People like his personality but at the same time," forward Keith Bauer tells me, "they know it's a joke. He doesn't have a clue."
During one drill, assistant coach Jonathan Stanley points at Ken to change position. He doesn't. Four different people point, and Ken moves, but to the wrong place, so now the whole drill has stopped, and another teammate says, "Right there, Ken." But Ken looks lost. One guy points and another laughs.
"Ken! Ken!"
The drills continue. Three guys tell him, "Ken, you keep coming," but he's still out of position. Someone says, "Ken, you're up at the elbow. Ken, face me. Ken, face me. If I point at you, you crash."
Finally, the coaches send Ken's group to the side for a moment, and when they call the group back a few minutes later, Ken stays on the sideline.
The coaches have been working with him on the drills and on the complicated offense and defense the team runs -- much more complex than what Lees College ran -- but he's making slow progress. Mostly, he complains, to anyone who will listen, including his teammates, about how needlessly complicated Nesbit's system is and how if the coach would implement a system more in line with Ken's thinking, the team would be more successful. All the other guys agree, he says.
In other words, none of it is his fault.
I sit on the bench next to him during a game and part of his commentary is complaining about tactical decisions: "These plays we're running, I don't know half of them." … "This gimmick defense we're using doesn't work against really good players." … And when the coach makes some substitutions after an 11-0 run by Roane, "I don't understand."
As he explains to me later, "Coach Nesbit is a great guy, but he and I are not on the same page as far as coaching goes. Maybe he knows a whole hell of a lot more about it than I do."
The next game, he gets in for the final 60 or so seconds, and afterward, he goes to find Emilia near the concession stand. "I need a hug," he says. "I got a minute."
I expect her to be thrilled. Her 73-year-old husband just played in a college basketball game and, though the team put him in the middle of a sagging zone to protect him, looked decent running the court. She's not. I wonder if they've lost touch with reality.
"He could have put you in a lot earlier," she says. "I'm hot! If he can't put you in when you're 20 points up, when can he put you in?"
They walk out of the gym together, back to the house filled with reminders of their travels, and it occurs to me they might be the most suited couple I've ever met. They are perfect for each other. He likes to see the world as a grand drama, and she likes to encourage him. He loves to tell his stories, and she loves to hear them.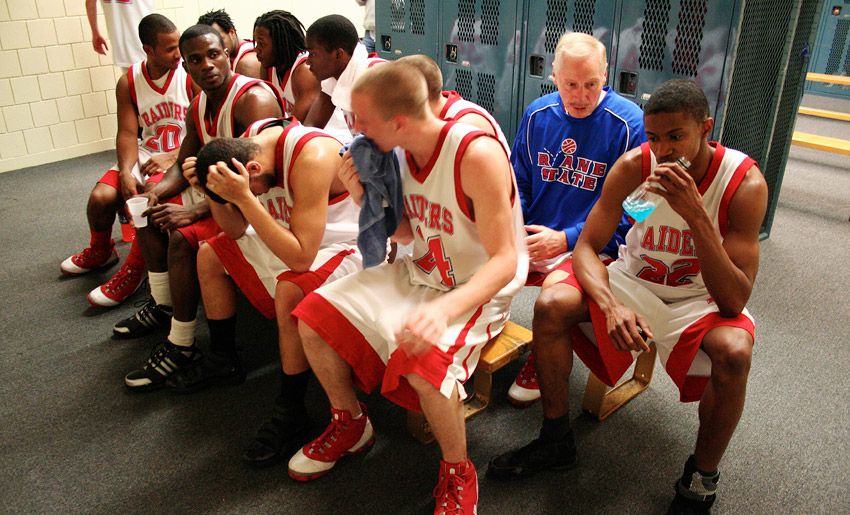 Joe York for ESPN.com
Ken's teammates view him as part father figure, part nuisance and part curiosity.
Ken the bruiser
I think about a couple of things on the way home from Tennessee.
One is something Nesbit told me. If you stick around past the first few great zone-passer and spot-up-shooter stories, you get closer to the truth. After a few weeks of practice, the players didn't know how to treat Ken, so they laid off and Ken began to think he could actually play. He talked of his "role" being a shooter. Finally, Nesbit realized Ken needed to understand the intensity of real games. He told the guys to play Ken like they played everyone else. They swarmed. When Ken tells this story, he says the guys were playing him tougher than anyone else. When Nesbit tells it, "He got an unrealistic idea that he was actually effective in practice. I think he got to where he thought he could handle the ball. They started stripping him and embarrassing him, and he got the message real fast."
The other is a moment from practice. If the behind-the-back story and YouTube videos are the public face of his return to basketball, this is the private one. One should not be presented without the other. He's called into practice to replace one of the Raiders, and he runs into a teammate, falls down. He calls for the ball, and it bounces off his hand. Then Ken is out of position and gets tangled up with one of Roane State's highly touted redshirts, who slams to the floor. The player gets up and touches his lip.
"S---, I'm bleeding!"
A tenseness settles over the gym.
The freshman goes over to the side. "Ken's a killer," he says, mostly to himself.
After practice, Ken's crowing about an assist he got for making a pass -- he is strangely obsessed with calculating statistics, even during practice -- and doesn't seem the least bit worried about tripping a teammate. He seems … proud.
"I flattened his ass," he says.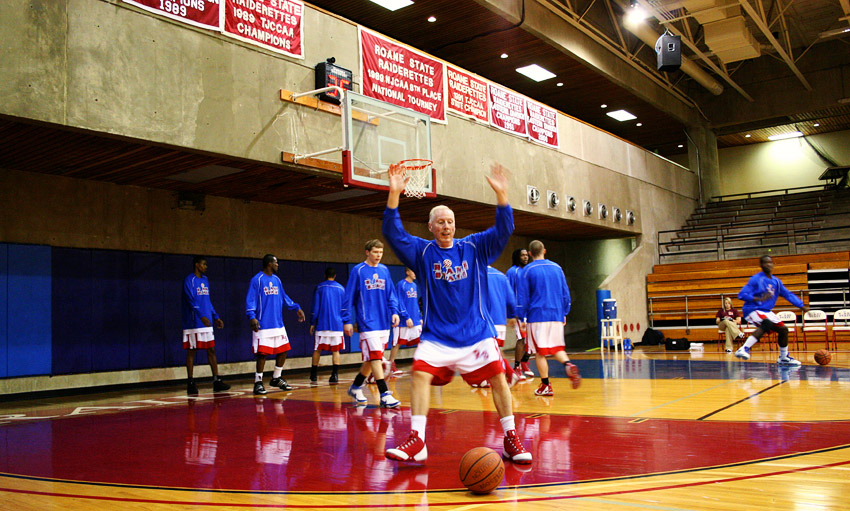 Joe York for ESPN.com
With a little guidance from his teammates and coaches, Ken is starting to pick up the Raiders' offense.
The James Dean of Lees College
The past colors everything. Like this, for instance: When Ken Mink got kicked off his college team, it wasn't the first "injustice" he'd ever had to endure. Turns out Ken also got booted from his high school basketball team as a junior. Twice in four years, he was kicked off a team.
How does that change the story for you?
His best friend growing up, Dacker Combs, offers a familiar scenario. "We didn't make starting five, we were kinda subs, benchwarmers," he says. "One time, he brought a magazine to sit on the bench. … We didn't like our coach. Naturally, we're gonna sit over there, malcontents. We got kicked off the team, and they went to the state tournament."
When I e-mail Ken about this, he writes: "That was about 20 games into the 1953-54 season and Coach Warren Cooper got pissed off because he thought Dacker and I were not being serious enough on the bench (we would sometimes kid around a bit, but nothing really loud). I was the sixth man on the team and Dacker was about the 10th man. We both had played significant minutes during the season and did pretty well. But Coach Cooper gave us no warning, just said we were through for the rest of the year. I became the team's biggest fan, attending every game, and I was offered a shot at rejoining the team with a few games left, but declined since I felt I was not in good playing shape by then. Our team went on to a 32-3 record and beat the No. 1 team in the state (Louisville Male) in the opening round of the 16-team state tournament before losing to eventual state champ Inez. Several people told me they thought we could have won the state championship had I stayed with the team. I came back the next year and led the team in scoring much of the season before catching the flu at the end of the year. Coach Cooper made a special courage award presentation to me at our team awards banquet at the end of the year and recommended me for a basketball scholarship to several colleges after the season (got 3-4 offers and settled on Lees close to home)."
How does this change the picture? Does it suggest Ken Mink might have not been kicked out of Lees College but, rather, might have quit on his own in a temper tantrum over being blamed for the prank?
"The story fluctuates," daughter Susan Mink says. "I'd heard that he'd left, that he wasn't gonna be accused of that and left to go to the Air Force." She adds that they moved around a lot growing up. "He would pop off at the mouth and either get fired or quit, storm out, 'I'm out of here' type of thing."
I knew there was bad blood -- her brother Mark said Ken wasn't totally to blame for the issues with his sisters -- but Susan's description stuck with me. "He told me one time the truth is what he says it is," she says. "A lot of people are really drawn into him initially, but when you get to know him a bit, you see these other things that come out."
How about this? People close to Ken in college don't remember the incident at all.
Charles "Jitter" Fouts knew Ken in high school and college. They spent a lot of time together; Fouts dated (and later married) one twin sister, and Ken dated the other.
"Well, he's always done things his way," he tells me in a phone conversation. "That's not necessarily the establishment's way."
I hear Suedell Fouts talking in the background.
"My wife just said, 'rabble rouser,' " he says. "That's probably a pretty good description."
I ask about the prank.
"As a matter of fact, when my wife and I read that, I didn't remember anything," he says. "In a small school like Lees, you'd have thought everybody at Lees would know it. My old college roommate, once that story came out, I called him and said, 'Do you know anything about a coach's desk being greased up, and he said, 'S---, no.' I don't know if that's a made-up tale."
Once again, that familiar disconnect, the one between the way Ken remembers something and the way other people do, makes an appearance. When Ken tells about being kicked out of Lees College, he describes brandishing a small stick of dynamite, screaming for everyone to get out of the dorm 'cause he's gonna light the fuse, and folks rushing wild-eyed to see him and a big explosion and a huge hole in the ground. And then he speeds away, hugging the curves of Highway 15, passing a cop at 10 mph over the speed limit, but the cop doesn't move. So he turns around and goes the other way 20 miles over, but the cop doesn't move. So he turns around a third time, engine racing, 30 miles over, and the officer pulls out, blue lights flashing. But Ken Mink, courter of danger, rips up the ticket and joins the Air Force. The only thing left to complete his James Dean act is to seduce Natalie Wood.
When the other people at school tell it, he just disappeared one day and few people thought much about it. Avanell (one of the twins) remembers Ken coming to tell her, his knuckles scraped, and her playing a song they liked on the jukebox at a local diner and Ken being sad. "He was kind of a rebel, but he was always really nice to me," she says. "Really was. Sometimes those rebels are rebels all the way, but he wasn't."
The next step is clear: Find out what really happened all those years ago at Lees College.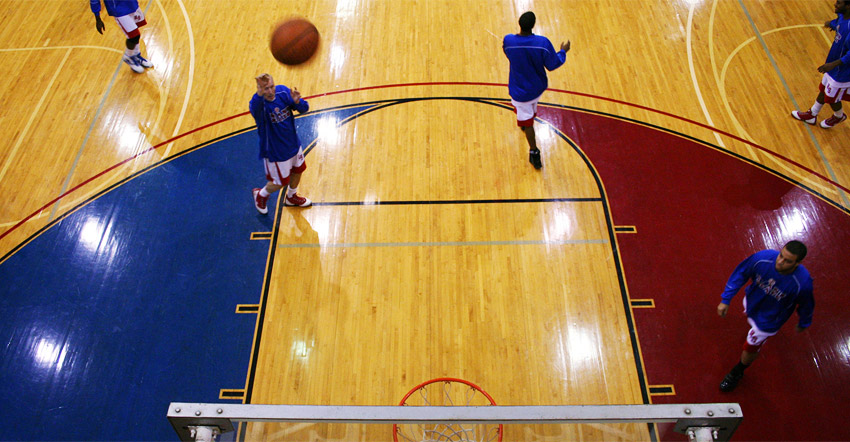 Joe York for ESPN.com
Coach Nesbit says Ken is still a good spot-up shooter. "He must have been really good."
The former president of Lees College respectfully disagrees
Turns out, President Robert Landolt is alive and well. He's 95 and resides in Texas. I e-mail Landolt the question, and all of the background. A day later, he writes back.
Dear Mr. Thompson:

Thanks for your enquiry [sic]. I regret that I do not remember Mr. Mink. I can assure you no one was dismissed from Lees Junior College during my tenure as president for putting shaving cream in the coach's shoe. It is possible, though unlikely, the coach dismissed him from the team. Apparently, Mr. Mink is embellishing his story or his memory is flawed.

Sincerely,
Dr. Robert G. Landolt
I feel a lot of things: sadness at what might happen to all of Ken's dreams, confusion about what all of this means, anger at the way he seems to have lied and used people to act out his own little one-man ego trip. I call Landolt to make sure.
"You don't expel people for things like that," he says. "You may make 'em clean it up, but you don't expel people for things like that. I suspect this fellow was on the basketball team, and it may be he got crosswise with the coach. As he'd admitted himself, he had some problems before and it could be that this culminated in his being kicked off the team. You have to realize this is over 50 years ago, but I would remember if anybody got expelled. The boy's got a pretty good story, and I don't mind him playing it up, but I think he's pushing it a little bit by saying I kicked him out."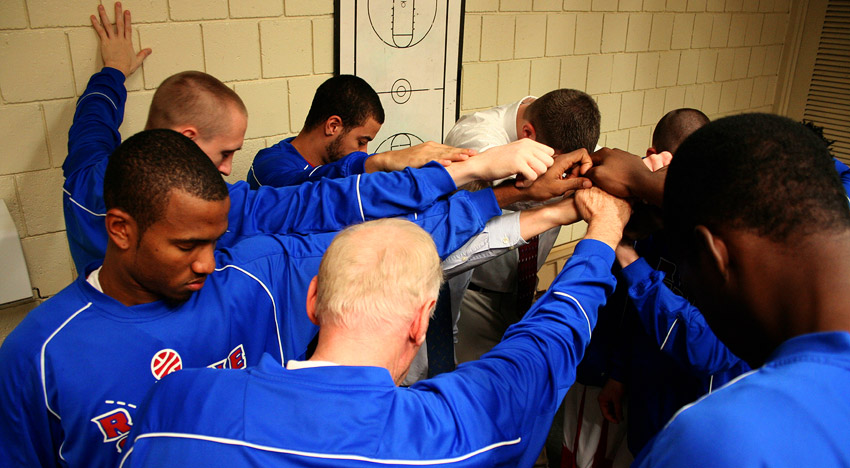 Joe York for ESPN.com
Ken takes great pride in telling anyone who will listen that he's part of a college basketball squad.
A man living on the extreme edge of the truth
The real Ken Mink is coming into clearer focus -- a man who seems to take as gospel the story he has chosen to tell about his life. As I look deeper, I find not so much outright falsifications -- although there are a few of those -- but, rather, a man living on the extreme edge of the truth. I suspect Ken isn't trying to change the way other people view him -- this is the way he views himself. In a résumé that seems to be from the late 1980s, he lists himself as a graduate of Lees College and of Arkansas State University. Neither is true. The past that was taken from him? Somewhere along the line, Ken Mink took it back.
This brings us to Web hits for Ken's travel site, travellingadventurer.com. In one bio, Ken claims the site averages 104,371 unique users a month. In a more recent bio, he claims it has 114,875 readers a month and a yearly readership of 1.4 million. Total fiction. According to Ken's own data, its best month ever, October 2008 -- when his basketball story broke -- was 22,122 hits. That was twice its previous high. And unique users, the number he put at more than 100,000? In October, it was less than 2,000. This could be an honest mistake, an old man who doesn't understand the Internet, or it could be something else. A lot of Ken and Emilia's memorable 10-year marriage is the result of these media trips they've taken. "Our life since then has been exciting, fascinating, unusual," she says, "and it just keeps going." Both of them love to travel and, around her, he turns into a seasoned wanderer, riding down Central Park West when they're in New York for a segment on "Regis and Kelly," pointing out the park and, later, Rockefeller Center. He is her tour guide to a whole new world.
There are other things. One magazine he supposedly wrote for doesn't seem to exist, two more don't remember him. Could be their mistake; both make sure to say that. There are explanations aplenty but no way to miss the smoke filling up the rooms of Ken Mink's past. There's something almost everywhere you look. As the judge in his divorce wrote about both Mink and his ex: "This case involved altered checks, falsified or highly exaggerated business résumés, possible tampering with military service records and the existence of a 'phantom' appraiser who appeared out of nowhere, conducted an appraisal for one of the parties and cannot be located any place on earth at this time."
He was fired as editor of one newspaper in Kentucky, sources there say, because he allegedly forged two letters to the editor -- to himself -- in defense of a controversial column he'd written.
"Anything he touches turns bizarre," a former employee says.
Standing up for Ken
From some angles, Ken seems to be a guy whose exaggerations, or fabrications, hurt everyone around him. One of his kids asks me to help find out what parts of her past are real. "I guess it's my own tenacious hope that one day my dad will own up to his actions, so I continue to pray for him," daughter Laura Spencer says. "I guess lying has been giving my dad an advantage for some time now."
From other angles, though, he seems to be someone who just wants the world to know how far he has come from Vicco, Ky. Someone whose only vice is a touch of the Walter Mittys.
A former student manager at Lees College suggests that maybe Landolt isn't remembering correctly. "R.G. Landolt, in the 19 and 55, ran Lees College with an iron hand," Marcus Mullins says. "To be honest, I believe what Ken Mink says. That's my opinion, and I have nothing to back that up except that I know the personalities."
Ken says he wrote an episode for the show "I-40 Paradise" on The Nashville Network. The head writer on the show has never heard of Ken, but after some looking, I find the owner of the production company, retired and living in Florida. "Oh, yeah," Ross Bagwell says. "Ken Mink was a newspaper reporter and he had a small part and he did one of the scripts for us. I had 13 writers. There were 415 episodes. I can't remember the title of it."
I'd started off asking why the Regises and Kellys of the world didn't find the actual thing happening at Roane State good enough. Now I wonder the same thing about Ken. He has done some impressive things in his life, impressive enough, it seems, for everyone but him. The myths created by our modern fame machine just reflect the myths we create about ourselves.
Then comes the latest thing that gives me pause: a faxed photocopy of a transcript that Ken sends me, saying he'd been "expelled for a reason." I show the document to an official at Lees College, who tells me that it is legit.
With the transcript, the issue should be settled in my mind, but I'm still not sure what to make of all of this. Current Lees College officials say one thing; the former president of Lees College says another.
It's time to go back to Roane State.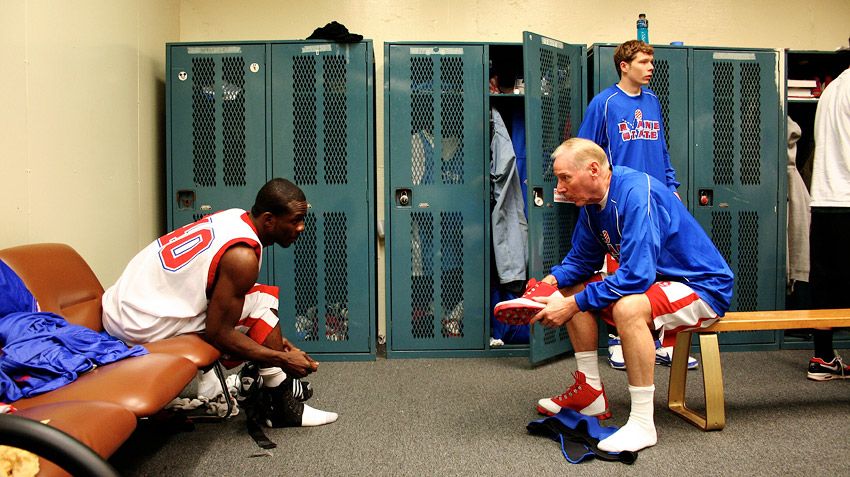 Joe York for ESPN.com
Teammate Camille Ngon a' Ngon and Ken share a moment before taking the court.
Phony, or just one of the guys?
The library is quiet, except for Ken on the phone, who is not quiet at all. He is talking loudly to what could only be a television producer. Other people are trying to study or read, and a few of them glance over at the new-found celebrity in their midst, in an otherwise serene building, talking on his cell phone.
"John, good to hear from you," he says. "Oh, the 17th."
"The guy from the 'Today Show,'" Emilia explains.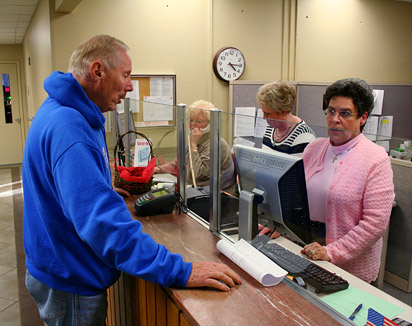 Joe York for ESPN.com
A mini-celebrity on the Roane State campus, Ken stops by to pay his tuition.
Ken's in a little lounge area across from the computers, a little early for that night's game since he needs to find a professor to make sure his grade was turned in; he missed a final and there was some worry that he might be ineligible (assistant Jonathan Stanley has a recurring dream in which they are forced to forfeit a game because of Ken). His teammates rolled their eyes when they heard, cracked the usual jokes about what would happen to them if they just "forgot" to take a final. Tonight, sitting in the stands an hour or so before tipoff, a group of guys launch into a stream of stories. "Has Phil told you when he calls him on his cell phone and he pretends it's something different?" Stanley asks.
Team jokester Phil Helton laughs and explains that sometimes he will call Ken from a private number and either pretend to be someone else or just hang up. A few times, when he called and then hung up, the funniest thing happened.
"He would answer it and then keep talking," Helton says, "so I thought he had a beep. Then I'll call back expecting to beep in, and I'll hear his phone start ringing. He was just pretending to be talking. I've done it a couple of times. I'll be like, 'Ken, who are you talking to?' 'Oh, it was the Bob and Tom Show.'"
"At first, we didn't believe nothing he said because of that," Keith Bauer says.
They laugh at a mainstay of a Ken interview: making jokes about explaining basketball history to the whippersnappers.
"Like we didn't know who Kareem was," Helton says.
"I know who Bob Cousy was," Bauer says.
They dish some praise, too. Ken played H-O-R-S-E against Regis and hit almost everything. The guys love that. "It was the best shooting day he's ever had," Bauer says. "He was having his best shooting day I've ever seen. He's clutch. He gets on national TV and doesn't miss."
Some of the tension I sensed earlier is finally explained. "I guess before they just thought it was a joke," starting guard B.J. Ware says. "He wasn't good at all. He started coming out and everybody was mad. I was mad myself. But then I realized: It's not really hurting the team. It's kinda helping the team, and we've blocked out the media from then on. It doesn't really get to me anymore. I used to be, why the f--- is this dude playing with us? He couldn't run with the middle school team. But if it's making him happy …"
An hour later, Ken drops Emilia off in the stands and heads down the stairs to the locker room. He has found his place in the room and, mostly, fits in. The guys are getting dressed and busting on Helton, calling him "Little Ken."
"I bet Ken was Phil when he was young," forward Danny Schultz says.
"I was a lot like Phil," Ken says.
"That means you did put the soap in the coach's office," Danny shoots back.
"No," Ken says, "I did a lot worse than that and never got caught."
"Everybody exaggerates a little"
We meet the following morning at a Hardee's restaurant. Ken gets there first, and I see him making small talk with other older men. We sit down, chit-chat for a second, talk about how he got a lot of minutes the night before and actually looked decent. He brings up Landolt. I tell him the former president says his story isn't true.
Ken's first reaction is laughter.
"I don't know where Landolt is coming from," he says. "That's ridiculous even to imagine. You think I just left on my own? Does it make any sense to you? I was a week away from starting the season. I had no problems."
He laughs again. "Well, I don't really understand. Does he even remember me?"
I ask about the exaggerations.
"I'm not sure what exaggerations you're talking about."
We go through some of them. I tell him I'm more interested in understanding what things in his past are at the heart of this than in just playing gotcha with his résumé. In the past few months, while being annoyed by a lot of his, um, quirks, I've also come to sort of like Ken, and I feel bad for him. I ask as gently as possible.
He says the Web traffic goof was simply a multiplication error. He says the Kentucky paper let him go because of a personality conflict and not the two letters. He says the staff liked him there and mentions a positive conversation he had with the senior photographer after his dismissal. I ask him what he wrote for the two magazines who've never heard of him; he remembers one story but can't remember the other. Maybe the mistake is theirs, not his. I ask if there's anything on his résumé he'd like to correct right here and now.
"Everybody exaggerates a little in those things," he says, "but I can't think of anything significant."
A little while later, after more conversation about how Landolt should definitely remember, he blurts, apropos of nothing, "I'm trying to be as honest with you as I can. There are things in my past where I've probably exaggerated my résumé a little, like most people tend to do. It's been nothing harmful or significant."
He tells some more stories, about the Laurel he got from the Columbia Journalism Review for outstanding journalism ethics (true), about a group in his hometown that wants him to come to a reunion.
The hour-long conversation returns often to Landolt. Ken looks hurt that he wasn't believed, that Landolt could change his life and not even remember. He says he understands my dilemma. "It defies logic, doesn't it?
"The good thing on my part is I have the record of me being expelled."
And, finally, "You're in a whodunit now."
As he leaves, a scene from the night before sticks in my head. The game's over. He's surrounded by reporters and cameramen. Moments before the tape begins to roll, Ken's talking mostly to himself.
"I gotta think of something outrageous to say," he says.
A vexing but somehow reassuring consistency
That's where the story was going to end.
A 73-year-old man laid bare, a man who, despite his past, has done something extraordinary these past few months, going into that locker room every day, wrapping knees and ankles and back, rubbing in the sports cream, taking ibuprofen, running enough that some nights it's hard to climb out of his truck when he finally gets home.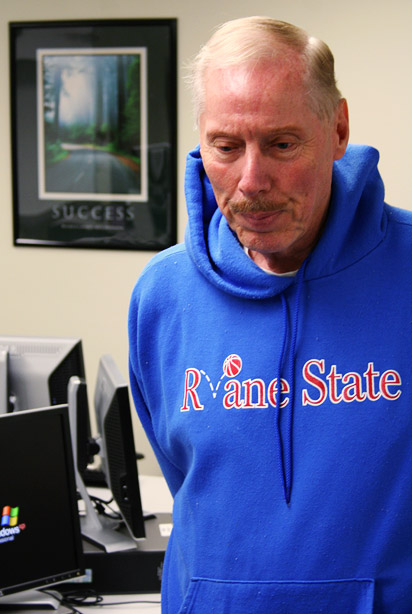 Joe York for ESPN.com
Ken's life has been filled with some bad breaks and some impressive accomplishments.
Only, on the day I plan to start writing, I'm still uneasy. I need to keep chasing corroboration. So I make more phone calls, to people in Jackson, Ky., where Lees College is located, though it's now called Hazard Community and Technical College. One person leads to another until I'm on the phone with Buford Williams, a Lees fan and former student -- and unofficial historian of the school's basketball program.
He remembers Ken.
That year was coach William Kruse's first year. He was a strict disciplinarian -- at his next job in Ohio, he'd make the kids line up in military formation to tell them John F. Kennedy had been killed -- and had changed the team's offense. The previous coach had been all about a half-court set, and Ken excelled. A spot-up shooter even then, Ken struggled when Kruse wanted his players to run the floor and do more in transition. Create shots. The hard-headed young player and the new coach soon found themselves at odds. Sound familiar? "He just didn't fit in," Williams says, "and the coach and he, I don't think, ever got on the same page."
The next question is obvious and a long time coming. Did Ken Mink pull the prank on coach Kruse's office?
"It was not Mink," Williams says, "but he got blamed for it."
Williams explains that several years later, another guy admitted to the prank, a freshman stunt that snared Mink and changed his life forever. "From what I remember about the situation," Williams says, "it was just the talk of the student union that so-and-so had finally owned up to it, but by that time Mink had already been expelled from school."
Nobody then had trouble believing Ken was responsible. His past and his personality caught up with him, and Kruse didn't waste any time. "He didn't like the guy anyway," Williams says, "and he was just looking for a reason to get rid of him. They made an example of the Mink guy, to be totally honest with you. They had to find an excuse, and this instance gave them the excuse they were looking for."
I understand, finally. Ken probably has been a victim many times in his life, but he has never been told, or ever realized on his own, that there are parts of his personality -- the whiner, the know-it-all, the man who looks outward to blame instead of inward to accept responsibility -- that make people do him wrong. I call Ken, tell him I've found someone to corroborate his story, and ask if things had been tense between himself and coach Kruse just before his dismissal. His answer makes me smile. I find myself liking his consistency. It's reassuring.
"I don't recall having any words with this guy at all," he says. "I know a lot of the guys were mumbling and grumbling in the locker room, just like they do here at Roane State. There's a lot of grumbling about Randy."
This bizarre journey is nearing its destination. The season is in the homestretch, and he scores a field goal, his first of the season, and dishes two no-look assists, more reminders that Ken Mink cannot easily be defined. "You should have seen him in practice," Stanley says. "He's getting so much better. The passes he makes. He never turns the ball over. He sets up plays."
Sure, Ken is complicated: a victim, a storyteller, a prima donna, a traveler, a man who is still interested in sex and likes to watch "Seinfeld" reruns and eat with chopsticks, a model of physical fitness, someone with gray-headed groupies who now come to his games, someone who will walk into the middle of the women's team practice to shoot 3-pointers because rules do not apply to him, a dead-eye shooter who needs an open look, the same at 73 as he'd been at 20. He is what he has always been. That seems strangely impressive. Nothing can make Ken different, not even this. Fame didn't change him.
It unleashed his true character on the world.
It's not over 'til it's over
Once again, that's where the story was going to end.
With a bit of redemption after all -- he stayed himself despite becoming an overnight star -- just not how or where I'd expected to find it. I've written the story of a complex man. I think Ken will like some parts, dislike other parts but will feel like it's fair. I'm happy to be done.
Then, about five hours after finishing, I receive the following e-mail from Ken: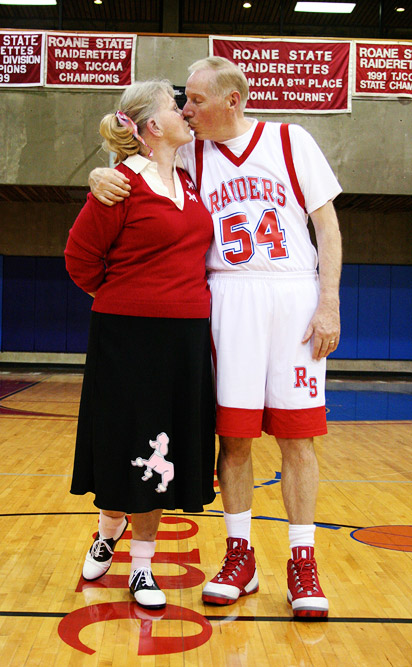 Joe York for ESPN.com
Ken and Emilia managed to turn back the clock for a few months.
"You won't believe the final act. … Shakespeare would be proud."
It could literally be anything.
He's a woman.
He's in witness protection.
He's actually an alien.
Anything.
Soon enough, I find out. He has been declared ineligible. The team forfeits the one game he'd played in since second semester began -- his best game. The field goal and two assists never happened. There is one bit of good news. He almost cost them another game, a big conference upset, but the clock ran out with him at the scorer's table, waiting to get in.
The correspondence class he has been taking -- he was failing Spanish and added another class -- is being ruled unacceptable. Lots of people messed up. Ken should have passed Spanish. The coaches should have known to get preapproval for his correspondence class. The school should have mailed in its forms on time and avoided the audit that caught this mistake. The National Junior College Athletic Association staff is not particularly organized, so initially they give one reason for ineligibility, and when Roane State clears that up, come back with another, giving the impression they are gunning for Ken, which only fuels his paranoia. There is plenty of blame to go around. "If he passes the other class, he's eligible," says Mark Krug, NJCAA director of sports information and media relations. "I do feel sorry for him, and I do feel sorry for the school."
At first, the coaches aren't going to tell him. The last few games are tough, and he isn't playing anyway. But the NJCAA won't let him sit on the bench. Nesbit calls him in, explains they have some heart-wrenching news. Ken reacts, they notice, arrogantly. A "they can't do this to me" pose. Don't they know who I am? I'm Ken Mink!
That doesn't matter.
It's over.
"I am being made a scapegoat for something totally beyond my control," he says. "I continue to suffer the slings and arrows of administrative arrogance and injustice, just as I did 53 years ago. If this ruling is allowed to stand, it will go down as one of college basketball's most shameful decisions and, in my view, be a black eye on the system of collegiate due process."
Once again, his past is repeating itself: He doesn't finish the season. Last time, he left quietly, disappearing into the curves of Kentucky Highway 15. This time, he does it differently. He talks of a lawsuit. He writes a rap song and begins looking for a recording studio. The story will end on his terms, in the spotlight. I get an e-mail about the rough cut of the rap.
Finally, Nesbit says no. There have been enough shenanigans. He wants the last game to be about honoring those sophomores who'll be moving on once the season ends. This is their night. It is a basketball game, not a circus. Ken wants to play his song and make it a big production, and he and Nesbit compromise: It will be worked into the songs streamed during pregame. He'll be there, but in the background. When it comes time, the volume on the recording doesn't work right. Ken Mink is rapping, but few hear him.
The Raiders go on without him, losing by one point in the tournament, and Ken returns to his senior team. The last I hear from him, he has gone back to a familiar role: a victim trying to prove that he has been wronged. He has borrowed Nesbit's NJCAA rule book, pored over it, losing himself in the minutiae of his own defense, searching for grounds to sue.
He sounds happy.
Wright Thompson is a senior writer for ESPN.com and ESPN The Magazine. He can be reached at wrightespn@gmail.com. Additional reporting by Mike Ogle.
Join the conversation about "The Legend of Ken Mink."