It was his boys being on a roll, going 46-28 in the second half, including 18-7 in their last 25. You ignore what your body is saying at a time like that; you forget how cranky your shoulder is. Your heart is the one doing the driving. "It was a phenomenal time," Nen says. "I kept imagining getting the final outs of every game and series, and it just kept happening."
It was the right time of year. "They were in the middle of a pennant race," Jendi, his wife, says. "There was just no way he would give up pitching then."
It was the fact that he could. Maybe he couldn't go like he once did; maybe he couldn't go like he'd like. But he could go. "If I could play catch before a game," he says, "I knew all I'd need was to get between the lines and then deal with the pain the next day."
The fantasy about the kind of commitment Nen made is that there is some defining moment, some particular instant in which, like Doyle Brunson at the tables at Binion's, or Gary Cooper in the streets of Hadleyville, he went all-in.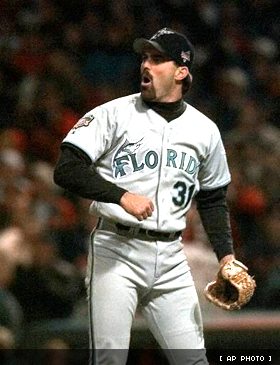 The truth is more gradual than that. It's a decision he made bit by bit, warm-up by warm-up. Like a kid puffing anxiously into a balloon, he kept stretching the skin, wondering how much and how long it would hold.
It was the sense he had, never spoken but always clung to, that in this day and age, the doctors could fix him up when the season was over, no matter what he did. "You see what they do with Tommy John surgeries and things now," he says, "and you feel like there's nothing they can't do, you know?"
It was the indescribable giddiness he'd felt winning with the Marlins back in '97, and the fervent hope of sharing it with his Giants friends and teammates in '02. "When we beat St. Louis in the LCS, and guys were jumping around the clubhouse, laughing and shouting, pouring champagne everywhere," he says, "I remember I just sat at my locker for a minute and watched it. To see their faces light up like that … that's what I pitched for."
It was the personal high, too. Forty thousand screaming fans in the stands. TV cameras. Bright lights. The guy in the box wanting a piece of you, and you looking to take him down. The game in the balance. It's an intoxicating blend.
"I remember during my rehab, we were in L.A., and I drove to the stadium that afternoon and all I could think about was maybe I'd never get another chance to take the mound in front of a full house," he says. "I'd never get that adrenaline rush again. The little white towels waving in the air, the moment, everyone screaming. There's no better rush than that."