OTL: Lessons From My Father

here was never a goodbye, just a final lecture out at sea. If he shuts his eyes, Nolan Smith can still beam himself back there, back to Aug. 9, 1996, back to the luxury liner with the makeshift basketball court. It was warm that day, somewhere on the Atlantic, and he can still remember the salt in the air, the salt in his father's voice, the sway of the boat, the grab of his wrist and the warning. He's not saying this is a good memory or a bad memory; it's simply the memory of his life.
He was 8 at the time, the great age of 8, which means he thought the world was his and only his. He walked around that ship with his tiny chest puffed out, proud of his father's basketball card. He might have weighed only 70 pounds, but he was Derek Smith's kid, the Derek Smith who had played nine kamikaze seasons in the NBA, the Derek Smith who had become a Washington Bullets assistant coach, the Derek Smith who had been a big brother to almost every player he had come across -- even Charles Barkley. But the best part of being Derek Smith's kid was being Derek Smith's sidekick. They were attached at the hip bone. Wherever dad went, kid went. Wherever kid went, dad went. And when Derek was asked by the Bullets to conduct youth clinics on that cruise ship, sailing to and from the Bahamas, the kid -- precocious Nolan Smith -- naturally went along for the ride, their last ride.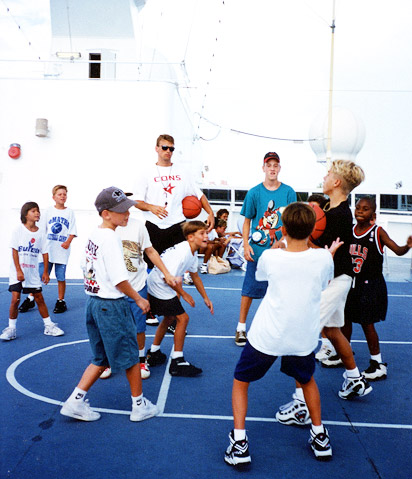 Courtesy of Rick Moreland
Nolan Smith, far right, wanted to dominate every basketball drill during that 1996 cruise -- even when matched against older kids. Tim Legler, with whistle, supervises.
That entire week on the boat, Nolan was obsessed with finishing first in every basketball drill. Part of it was being 8, and part of it was feeling the need to represent the Bullets, his father's team. The kids around him were the sons of season-ticket holders or corporate sponsors, most of them older, and he felt it was his duty to kick their butts. He dominated virtually every suicide drill, every dribbling drill, every shooting drill. And that smile afterward -- that was his dad's smile! The kid was willing to take on all comers, and on the afternoon of Aug. 9, 1996, a 14-year-old -- a 14-year-old -- challenged him to a game of one-on-one.
Nolan was giving away about 2 feet and 50 pounds, maybe more, but he figured he'd take the 14-year-old outside and start raining jumpers. Of course, he eventually missed, and when the older boy grabbed the rebound, it began to get ugly. The bigger kid started backing him inside for layups and hip checking him while going for loose balls. Derek had always told Nolan to play every game as if it were his last. So Nolan fought. He banged the kid back, bumped and grinded. But 50 pounds is 50 pounds, and he ended up losing, 11-5 -- 11 layups to five jumpers.
Right away, Nolan was scowling. He refused to shake the bigger kid's hand, and, even worse, he took the basketball and … heaved it into the Atlantic Ocean.
A second later, Nolan's wrist was in a vise. Derek had been watching from a distance, and he was now squeezing his son's arm, scaring Nolan with the tension in his face.
Derek was livid. He had always been the quintessential sportsman, a teammate's teammate who could always deal with being benched, defeated or humiliated. No son of his was going to refuse a handshake. He wagged a finger and said, in his Southern drawl, "I'm warning you: If you have a bad attitude, nobody is going to want to play with you. If this is the sport you choose to play the rest of your life, it's all going to come down to your attitude. Atttiiiituuuude. You hear me?"
They never spoke again.
Coach K's tough decision
Thirteen years later, Nolan Smith, now 6-foot-2, has been summoned to see his college basketball coach, Duke's Mike Krzyzewski. The coach has something to tell him, something not entirely pleasant. He has decided to take Nolan out of the starting lineup, 23 games into the 2008-09 season and with the team still ranked in the top 10, something certain to break the kid's heart. It is the worst thing a coach has to do -- demote one of his players -- and Coach K wonders how Nolan will take the news, wonders about the kid's … attitude.
Here comes Nolan into his office. Coach K is about to find out.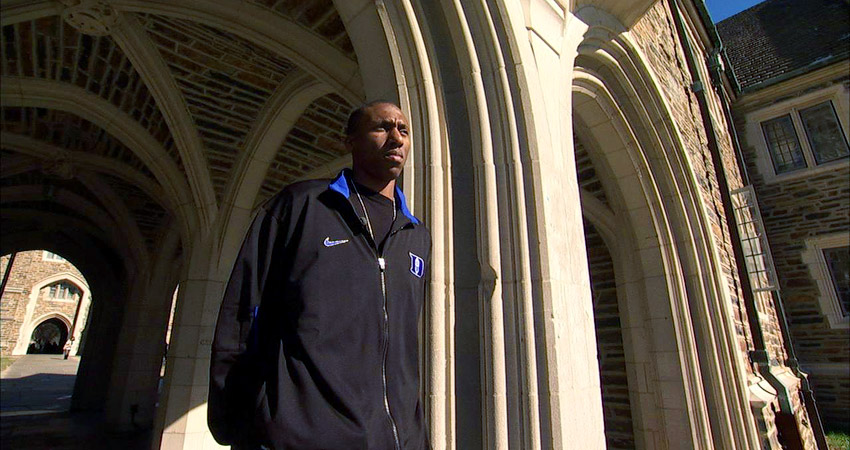 Gregg Hoerdemann for ESPN
In his sophomore season at Duke, Nolan is averaging 8.5 points and 2.3 rebounds per game.
Fueled by rage
Go back to the University of Louisville, circa 1979, and the youngest, spunkiest player on the court was a skinny Derek Smith. He had shown up on campus as a 6-foot-6, 16-year-old freshman -- 16 years old -- with his entire wardrobe in a brown paper sack. He'd barely been recruited out of Hogansville, Ga., population 1,000-something, and he didn't exactly have a father to show him the ropes.
The fact was, Derek's father was married to another woman down the street. The whole idea of being an illegitimate child -- the product of an extramarital affair -- devastated Derek, and, in turn, he seemed to play with such abandon, such rage. When he met a young Louisville coed named Monica Miller and began sharing his world with her, he'd often say, "I hate my father … I hate him." Then he'd leave for practice and take his anger out on the poor SOB ahead of him on the depth chart.
Coach Denny Crum barely knew him at first. Derek had been referred to the athletic director by a Louisville football player who'd gone to high school in Hogansville; in other words, Derek was secondhand news. Louisville happened to have an extra scholarship, and since Derek was 16, Crum figured they'd redshirt him a season. Instead, he beat out a senior and started as a freshman.
By 1980, Derek was a major contributor to the Cardinals' national championship team, the "Dr. Dunkenstein" team that defeated a young, restless UCLA coach named Larry Brown in the NCAA final. No one dived on the floor more or smiled more than Derek, and, in 1982, the Golden State Warriors drafted him in the second round. He appeared to be the classic tweener -- too short to play forward, too plodding to be a guard -- and the Warriors tried the forward route for 27 games. Derek averaged 2.2 points in 5.7 minutes, shooting just 41 percent from the field, and he was released.
He needed a tryout somewhere, anywhere, and, in June 1983, the rookie coach for the Clippers, Jim Lynam, agreed to take a look at Derek for their summer league team. Lynam basically just wanted to get it over with. He'd always thought Derek was "a fish out of water in the NBA," and when Derek showed up the day before the first summer league practice, Lynam tried to tell him to come back the next day.
"My intent was to tell him, 'Look it, we practice at 10, bring your sneaks,'" Lynam says, "But I mean this, literally: In the first 80 seconds he hit me with, like, his sixth 'Yes sir.' His eyes -- and I can still feel it now -- were, like, penetrating me, and he's saying, 'Yes sir, yes sir,' and finally after a minute and a half, I said, 'Derek, you have your gear? Let's do this now.'"
At an old gym at Loyola Marymount University, Lynam instructed Derek to run full-bore up the court, catch the ball on the right wing and take it to the rim, over and over. "The heat index in that gym had to be close to 115, 120 degrees," Lynam says, "and he dunked, like, six straight. So I said, 'Let's go to the other wing.' And with each dunk, he's saying, 'I can't play in this league? -- Boom! Yeah, watch!' He played with such a passion, and finally I said to myself, 'He's gonna dunk until he drops.' I said, 'That's good, Derek; go get a drink. We'll do one more thing.'"
Next, Lynam wanted to see him shoot, because he didn't think Derek could. He positioned Derek at the top of the key extended, then asked him simply to catch the ball and let it fly. Forty shots later, Derek had made about 20, and Lynam was thinking, "I told you so." But he asked Derek to keep shooting, only this time he wanted him to take a dribble or two first. "I'm under the goal. Bam! Bam! Bambambambam! He makes 90-ish of his next 100 shots! I said to him, 'Good Derek, I'll see you tomorrow at 10.' I've worked out probably thousands of players, and this one is on the top shelf by itself. I walk outside, and there's a pay phone. I call my wife. I said, 'Kay, I just had to tell this to somebody: I may have just been hit by lightning.'"
Taking on MJ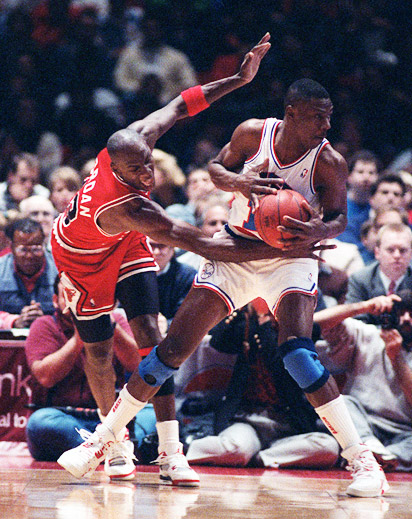 AP Photo/Carol Francavilla
For one night, in November 1984, Derek outshined even Michael Jordan. Here, the two renewed acquaintances during Derek's time with the Sixers in 1990.
Lynam did the only proper thing -- he sicced Derek on Michael Jordan.
This was in late November 1984, the Clippers' first season in Los Angeles, and Jordan's first season away from Dean Smith. Although he was only a month into his NBA career, Jordan was already a favorite of the hype machine, and before the Clippers played the Bulls at the L.A. Sports Arena, Derek told his new wife, Monica, "Michael may get his points, but he's going to have to work hard for them."
By this time, Derek was the Clippers' starting shooting guard, the kind of player who meditated before games and felt obligated to make Lynam look good. After that informal workout, Lynam had realized Derek was the quintessential wing player, who played best on the move, so he gave him the green light nightly. Jordan just didn't know it.
The game turned out to be a highlight reel … for Derek. He blocked Jordan's shot, dunked on MJ's head and finished with a career-high 33 points. The Bulls won, of course -- the Clippers, after all, are the Clippers -- but it proved that all Derek's sweat had been worth it. Before games, he would tell every teammate, from Norm Nixon to James Donaldson, "Let's go to work." Nixon started calling him "Joe Rock," and that's what Derek was the rest of the 1984-85 season: a lock to get 22 points and five boards.
Everything was ahead of him … until he blew out his knee 11 games into the 1985-86 season.
He was scared as he lay there; he knew nothing would be the same. The next season, he was shipped to Sacramento, where his knee would eventually collapse again two seasons later. But no one worked more diligently to get back. He'd go to dinner with Monica with an ice pack under his dress slacks. She'd roll over in bed at night and get drenched by more of his ice. It was never-ending.
He was a journeyman now, holding on to his career for dear life. But there was a silver lining: his attttiiittuuuude. Teams wanted him around, wanted his smile, his leadership. He was in Bible study all the time, always trying to further himself. He would discuss his life with other churchgoers, and, one day, he mentioned his hatred for his father. Another man at church told him he "should never hate." He told Derek that his father loved him and that he had to be a son back to him. He said that fathers and sons are sacred and that Derek had to go make it right.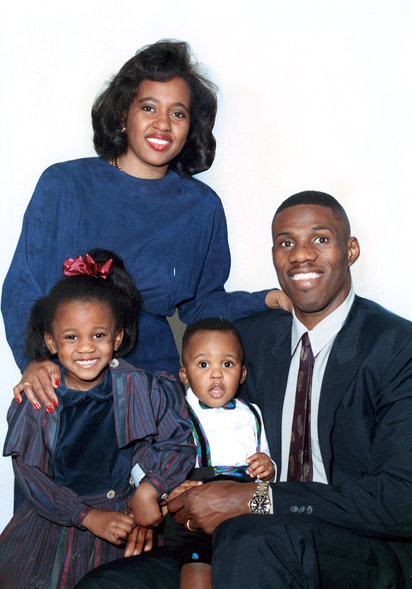 Courtesy of Monica Malone
Monica says becoming a father "changed Derek's life" and caused him to plan for life after basketball.
Derek couldn't wipe that out of his head. At the time, Monica had just given birth to their first child, Sydney, so he invited his father to fly from Hogansville to Sacramento to meet his baby girl. They began to repair their relationship, and Derek began thinking, dreaming about having a son of his own.
It happened July 25, 1988. They named their baby boy Nolan Derek Smith, and Monica says it "changed Derek's life" because he finally faced, even embraced, his basketball mortality. He was about to be traded again, this time to Philadelphia, and he told Monica he was ready to retire at any time. "I have my son now," he said. "I'm going to teach him everything and do for him what I never got from my father."
That didn't mean he was quitting; it just meant the pressure was finally off. He went to Philly, happy to be playing for Lynam, again. And along with Barkley, Rick Mahorn and Johnny Dawkins, he helped the Sixers win a division title in 1989-90. He paid special attention to Dawkins, who became his closest friend on the team. Dawkins was often at the Smith home for dinner, and Nolan, a toddler, began to call him "Uncle Johnny."
The next season, Derek was on the move again, this time to Boston. The Celtics still had Larry Bird and Kevin McHale, plus a young Reggie Lewis, and they never really leaned on Derek until the fifth and deciding game of their first-round playoff series against Indiana. No one on the Celtics had been able to nullify the Pacers' Chuck Person In crunch time, Derek was given the assignment -- on one good leg.
Monica says that, for one of the few times in Derek's career, he took a painkiller injection to play that day, a needle to his knee. He got in Person's grille, bumped him, hip checked him, kneed him. It was galling, and a young Pacers assistant trainer, Kevin Johnson, remembers howling at the referees. "I mean, it looked like were going to win the series -- no one could stop Chuck Person. And all of a sudden this guy comes off the bench with this look in his eyes. He had one goal, and that was to defend Chuck Person. He was all over him. I can remember screaming from the bench, 'He's a hack! Get him off the guy!'"
The episode encapsulated Derek's career, another unexpected flash of lightning. With 15 seconds left and Indiana trailing by only two, Person posted up peg-legged Derek and demanded the basketball. But Derek fronted Person, forearmed Person and obstructed Person, so he was forced to retreat to the perimeter, where he caught a contested pass and fired a contorting 3-pointer. With Derek's hand flying at him, Person missed, and the Celtics essentially clinched the game. Although Person finished with 32 points, Derek had held him to fewer than 40, and he scored 12 himself in Boston's 124-121 victory. More than anything else, he fought. That was his mantra. He'd tell it to every aspiring player, and he'd even tell it to his wide-eyed 3-year-old son:
Play every game as if it's your last.
And when the Celtics were eliminated two weeks later by Detroit, Derek Smith really had played his last. He retired … and began taking little Nolan to the gym.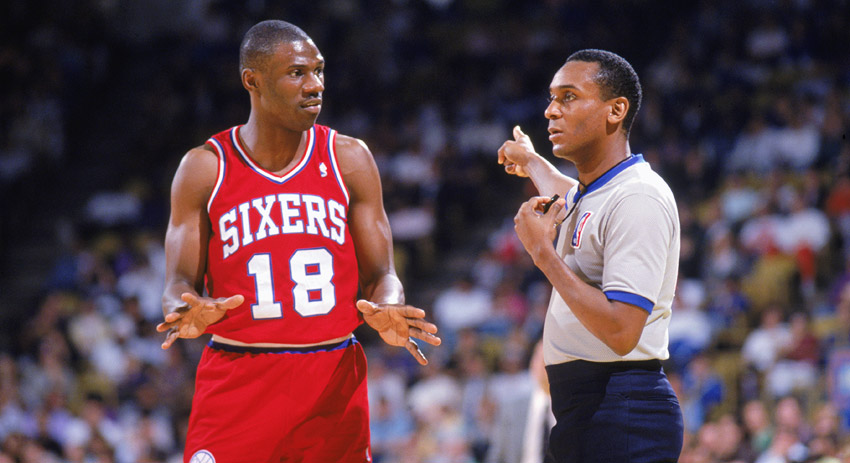 Tim Defrisco/Getty Images
Playing for five teams over nine seasons, Derek averaged 12.8 points per game during his NBA career.
Just when he was finally out …
It was Lynam who pulled him back in.
Derek was happily entrenched in retirement, coaching Nolan's 6-and-under AAU team, when his old friend called with a job offer. Lynam had just been hired to coach the Bullets, a franchise in need of a culture change, and he felt Derek had the grit and spirit to be an effective assistant coach.
At first, Derek was lukewarm because the grind and travel of the NBA would mean extended time away from Nolan. His daughter, Sydney, was just as special to Derek -- he sang "My Girl" every day he saw her -- but he and Nolan were absolutely inseparable by now. Still, Lynam invited Derek to dinner and made his pitch. He promised Derek he could bring Nolan everywhere: to games, practices, road trips, film sessions.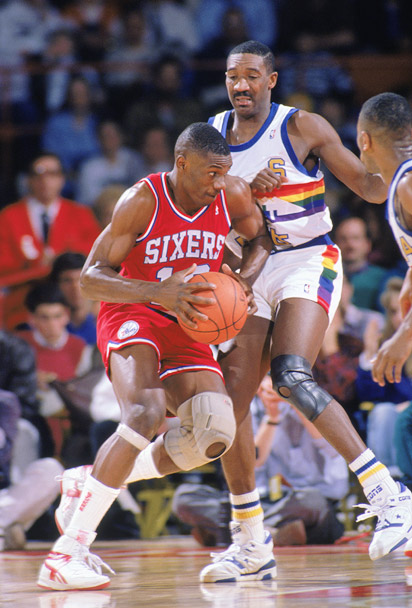 Tim Defrisco/Getty Images
A knee injury robbed Derek of much of his athleticism, but he stayed in the NBA with hard work.
At the first staff meeting, Derek was introduced to the team's new head trainer, Kevin Johnson, the same Kevin Johnson who had raged at him from the Indiana bench during the '91 Celtics series. KJ said, "You're not going to believe this, but a couple years ago I couldn't stand you."
"Couldn't stand me?" Derek asked.
"Yeah, for what you did to Chuck Person."
Derek laughed and slapped KJ on the back, and they became instant friends. Derek introduced KJ to Nolan, and when KJ would tape the players' ankles and wrists, he'd tape Nolan's, too.
And those players were intriguing. Early in the 1994-95 season, the front office traded Tom Gugliotta and a parade of draft picks to Golden State for Chris Webber, teaming C-Webb with Fab Five teammate Juwan Howard. These were two thoroughbreds who needed taming, and it was clearly a job for Derek.
Webber and Howard sometimes seemed to be playing two-on-five, throwing no-look alley-oops to each other. KJ used to lower the practice basket for Nolan, and they'd re-create the Howard-to-Webber lobs themselves. Another day, Nolan stood on a box and Howard himself threw him an alley-oop. By this time, 7-year-old Nolan idolized the Fab Two. Webber and Howard monopolized the kid at their lockers, and Howard would invite Nolan over to his house to play PlayStation. In some ways, the Fab Two weren't that much older than Nolan … or, at least, didn't act it.
But that was Derek's job: to make men out of them. In practice, if the team was short on players, KJ would tape up Derek's ankles and hand him a couple of Advil and out Derek would go to bang. One day, the players thought they were supposed to be practicing half-speed, when Derek ended up hurdling for a loose ball and throwing his weight around. Some players objected, but -- with 7-year-old Nolan looking on -- Derek told them there's no such thing as a day off.
That '94-95 season, Webber dislocated his shoulder, meaning Howard ended up being a one-man show for the next year and a half. So Derek worked on Howard's psyche. One game in Milwaukee, a day after Howard had partied too hard in Chicago, he seemed to be dogging it against the Bucks. During a timeout, while the other coaches huddled, Derek barged into the player huddle and snapped at Howard: "Juwan, that's not good enough. You can fool them, but not me. That's not good enough." Howard literally started crying.
The browbeating and the pleas for professionalism were working, and the players knew it. Big Gheorghe Muresan, Calbert Cheaney, Jim McIlvaine, Tracy Murray, Tim Legler, Mitchell Butler -- they all swore by Derek. By 1995-96, the Bullets had gone from a 21-win team to a 39-win team and Howard had emerged as an All-Star. "He was my personal coach," Howard says. "Like a big brother."
But he was also Nolan's shadow, or vice versa, and the players were amused by the kid's constant presence in Derek's life. The kid would stretch with the team before practice, be a ball boy during games and say to KJ: "Mr. Kevin, can I get electric stim on my knee like my dad?" Nolan even designed a play for Lynam to run in a game -- a play he saw in a kids movie -- and Derek promised to pass it along to the coach. But, most of all, everyone marveled at how Derek parented Nolan. One day, at the Bullets' practice facility, Derek was leading Nolan through some dribbling drills, and Nolan was only half trying. Derek shouted: "No! Gimme the ball. If you're not going to do these drills with intensity, we're going home because this isn't going to get it done." Nolan straightened up.
So, that's who Nolan was and that's who Derek was when Bullets management staged their promotional cruise to Bermuda in the summer of '96. That's the trip when Nolan got bullied in the one-on-one game … the trip when he whipped the ball into the Atlantic Ocean … the trip when Derek grabbed his wrist and warned him … the trip when Derek collapsed.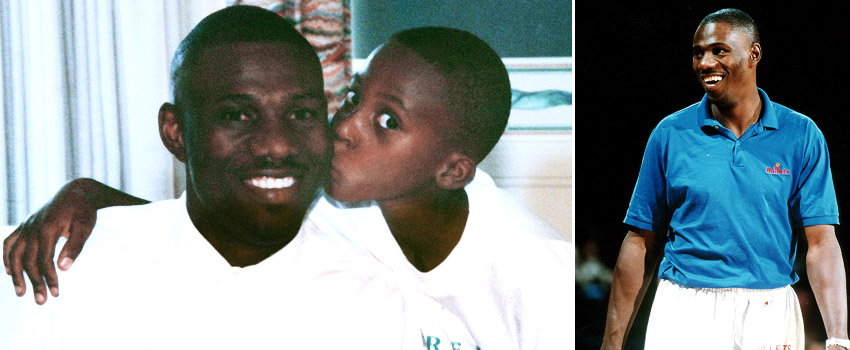 Courtesy of Monica Malone (left); Courtesy of Washington Wizards
When Derek joined the Bullets coaching staff in 1994, young Nolan became a constant presence around the team.
Derek's last voyage
On Aug. 9, 1996, just hours after he had reprimanded Nolan, Derek joined a ship cocktail party. The cruise was ending the next morning, and it was a last chance for the guests to mingle with Derek and the only Bullets player on the cruise, Legler, a 3-point shooter extraordinaire.
Derek and Legler had been sitting in leather recliners for much of the evening, kibitzing and telling stories, and they agreed it had been a memorable trip. Legler had stood up to join his own family when he heard someone say: "Derek, what's wrong?"
Legler turned and saw Derek's shoulders stiffen and his chest tighten. "He just kind of put his neck and head back," Legler says, "and the person that was talking to him said, 'Derek, cut it out.' He thought maybe he was clowning around."
Clearly, though, Derek was in genuine discomfort, and someone shouted, "He might be choking!" Legler and Bullets marketing executive Rick Moreland quickly checked his mouth, but there were no obstructions. Paramedics arrived and began CPR. Minutes later, the crowd could hear Monica outside the ballroom door, frantically screaming Derek's name. She was trying to force her way in, but they were using a defibrillator now and held her back. Legler remembers thinking how healthy Derek had been, how vivacious. But after about 25 minutes, it was over. Derek was dead at the age of 34.
"I remember how surreal a feeling it was," Legler says. "How numb everyone immediately got. And Monica just absolutely hysterical. People trying to console her. She pretty much collapsed, and people were trying to hold her up and get her someplace where she could sit or lay down. Because she just looked like every ounce of life in her was gone.
"I was, 'Where's Nolan? Where's Sydney?' I couldn't believe someone was going to have to be telling these kids right now they're never going to see their father again."
Monica eventually pried herself free and ran to see Derek one last time. They were preparing to put him in a black bag. "And I looked over," Monica says, "and the kids were right next to me, leaning over their dad."
Nolan's 8-year-old face was blank. He didn't weep or show anger. He just touched his father's hand and said, "Wake up, Dad. Wake up."
In the elevator ride to their room, Nolan still was expressionless. "He was kind of just standing there like nothing had happened," says Sydney, who was 10 at the time. "He didn't know why my mother was crying. He wanted to know what was going on. He was trying to get answers to why the whole ship was crying. He didn't understand. That was his best friend."
The next morning, Legler was eating breakfast on the main deck when Nolan and Sydney walked in. The day before, both kids had sat with Legler and Derek, but today it was only Legler. "It was one of the most difficult moments of my life because none of us knew what to say," Legler says. Sydney was sobbing, her face swollen. She was inconsolable, literally crying into her plate. But Nolan remained stoic. Holding a toy airplane, he sat down next to Legler. He began to play with the airplane, rolling it on the breakfast table.
Legler put his arm around him and played with the airplane, too.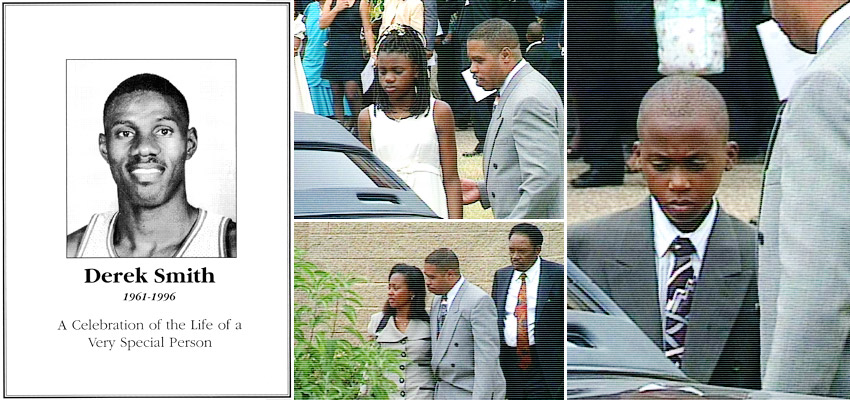 Courtesy of WHAS-TV, Louisville
More than 3,000 people turned out for Derek's funeral in Louisville, offering support for Sydney, Monica and Nolan.
Saying goodbye
Derek was so beloved that there were two funerals, one in Hogansville and one in Louisville. The one in Kentucky -- the one designed to celebrate his life -- drew an overflow crowd of 3,000 people, many of whom were turned away from the church.
This was August, the middle of an NBA offseason, yet pro players kept arriving and arriving. Charles Barkley, Tyrone Hill, John Starks, Allan Houston, Scottie Brooks -- the list went on and on. Think about what Derek had just told Nolan on the ship: "If you don't have a good attitude, no one will want to play with you." Well, they all wanted to play with Derek, and the presence of his former teammates -- from the Clippers to the Kings to the Sixers to the Celtics -- validated all of that.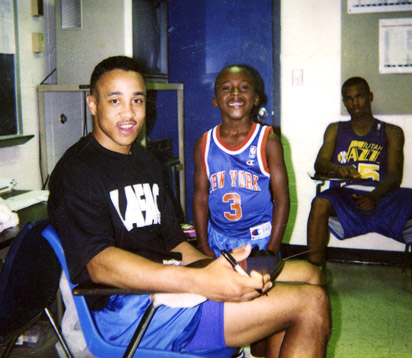 Courtesy of Monica Malone
After Derek's death, NBA players such as John Starks, left, took Nolan under their wings.
Bullets owner Abe Pollin, who adored Derek, flew down his entire organization. KJ told Howard he dreaded seeing Derek's body in the casket, that he might not be able to look. Juwan told him, "Don't you think Derek wants to see you?"
As Monica, Sydney and Nolan arrived in a limousine, they could see that a main Louisville street was closed down and that people were lining the boulevard. "It was literally like a president was coming through," Sydney says. The eulogy was stirring, and friends such as Lynam stood and spoke. Sydney rose to talk, too, and she said, "Dad, you taught us so much … we're going to be fine." Nearly 3,000 people were in tears … but still not Nolan.
KJ, who had been Derek's closest confidant on the staff, remembers having lunch with Nolan afterward, remembers how lonely he looked. Then Nolan, staring into space, said: "My dad's not going to be around anymore."
Monica felt the weight of that on her shoulders. She was going to have be both mom and dad, and it frightened her. "I was like, 'Oh gosh, I've got to raise a son alone. Soon it'll be the years that are most important, his teenage years. How am I going to do this?'"
But there were more than a dozen men volunteering for the job: the Bullets players. Legler and the others called a team meeting and agreed, to a man: "It's our job now." The plan was for KJ, who lived near the family, to bring Nolan to as many practices and games as he could. They didn't want that part of Nolan's world to change; he'd still be their 13th man. "We formed basically the guardrail for him," Legler says, "and made sure he'd stay on the path that Derek set."
The snapshots from that 1996-97 season were priceless: Nolan going for ice cream with Juwan … Nolan getting his ankles wrapped by KJ … Nolan getting in the layup line during practice … Nolan dressing in Lynam's office … Nolan jumping into the arms of 7-foot-7 Muresan after a big win … Nolan doing the Cabbage Patch dance on the sideline.
"All of them became like my father figures," Nolan says. "They played that season for my dad with black stripes on their jerseys. If I didn't have the Coach Lynams, Juwans and those guys, I feel like I probably would've quit basketball. But being around them, they helped me get through it."
But it wasn't all a fairy tale. Lynam was fired 46 games into the season, and Howard was vilified for not living up to his $100 million deal, the big contract Derek had helped him get. KJ or Monica would drive Nolan home from the games, and KJ could sense the recurring emptiness, the void in the child's life. "I think seeing Nolan there at games kind of helped us see Derek, as well," KJ says. "But I just felt bad at the end of the night he wasn't going home with his dad. Those are the times fathers and sons talk. Nobody could replace Derek. Our hug isn't the same hug as from his dad."
Nolan was learning that, sooner or later, he could be alone again, and in the ensuing years, C-Webb, Legler and Juwan were all traded. The only constant was Nolan. Team owner Pollin gave Monica a job in the legal department, so the kid was still at most games, still had his run of the place. But even KJ left after the 2000-01 season, leaving yet another void to be filled.
But that was the magic of Nolan's father -- Derek's friends kept coming out of the woodwork at the most opportune times. They were going to turn Nolan into a man if it was the last thing they did. Brooks, who played with Derek in Philadelphia, kept inviting Nolan to see him, kept phoning, as did Starks and Houston and Hill and another former Philadelphia teammate, Dawkins.
Uncle Johnny was now an assistant at Duke, his alma mater, and he implored Monica to send Nolan to the Duke summer basketball camp. Coach K got his first look at the kid at the camp, where he noticed Nolan's huge feet. The kid was little, but they all assumed he'd grow, maybe to Derek's size.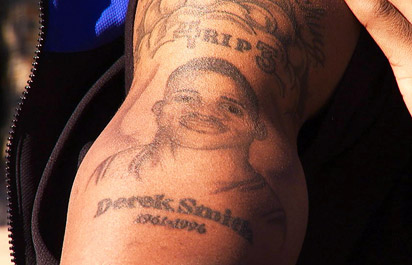 Gregg Hoerdemann for ESPN
On his right arm, Nolan carries a permanent reminder of his father.
With all these men only a phone call away, Nolan's game took flight. By the time he was 17, he was considered one of the top high school players in the nation, a lithe shooting guard who could score, dunk and defend. Facially, he was Derek's spitting image, almost hauntingly so, but he also had more acclaim than his father -- the underdog from Hogansville -- had ever had. Louisville, which had barely recruited Derek, was all over Nolan. Rick Pitino's Louisville! Sydney was already enrolled there, and he liked the idea of joining her. Either way, the kid was certain to be going places. But first, he just wanted to go to a tattoo parlor.
"Mom, I want to do something for Dad," he told Monica one day.
"What do you have in mind?"
"A tattoo of him on my arm."
"You know I dislike tattoos. But I … I … I guess it's OK."
"It's gonna look just like your husband."
"It better."
So, for his final season of high school hoops, Nolan played with his father on his right biceps. It was a drawing of Derek's face above some clouds.
With this inscription: "Forever Watching."
Constant, painful reminders
Sydney called home from college one night, in tears. She'd been walking the Louisville campus and had bumped into a teacher who told Sydney she'd taught her father. Other faculty members had done the same, and it was starting to break her up.
Her freshman year, the school had honored the 1980 championship team during a game, and she'd had to walk out at halftime in place of her dad. Every time she stepped inside Freedom Hall, she'd see his retired number -- 43 in the rafters. It was getting to be too much now. She told Nolan he might need to say no to Pitino.
"I don't think I ever had to sit and deal with his death until I got to school," Sydney says. "And then I was by myself. I didn't want Nolan to have to go through that. Every day, there was a constant reminder of my dad."
So Nolan turned to Duke. Sydney had been alone and haunted at Louisville, but at Duke, Nolan wouldn't be alone: He'd have Uncle Johnny.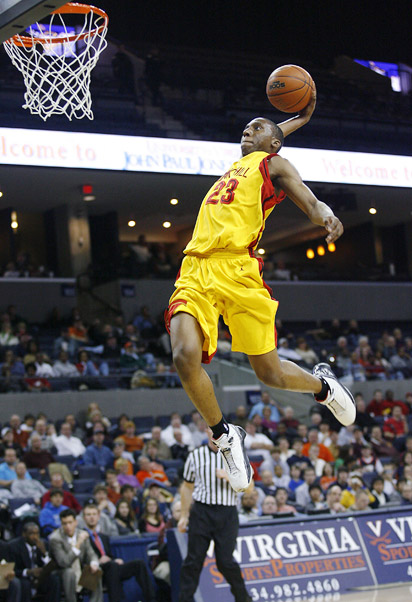 Geoff Burke/US Presswire
At Oak Hill Academy, Nolan developed into one of the nation's top prep prospects.
Regardless, his freshman year, in 2007-08, was emotional and difficult. He remembers taking the floor for his first game at Cameron Indoor Stadium, a moment Nolan had wanted so badly to share with Derek, and he found himself looking up at the ceiling for his father all night. It became his ritual. Every building in the ACC, every time he took the floor, he'd stare at the roof. Always the roof.
Monica -- who by now had remarried a Washington, D.C., AAU guru, Curtis Malone -- sat behind the bench at most every game, trying to soothe him. Nolan would search for her during the national anthem, and before every tip-off, she'd shout, "Go … to … work!" It was their ode to Derek, and Nolan depended on her for that.
He began to get comfortable, and although he was playing just 15 minutes a game, the Cameron Crazies liked how he flew around on the court. One of their fans asked Monica what would be a meaningful chant for her son, and she told them to just say what she says.
So that's how Nolan was greeted early in his freshman year -- by a bunch of undergrads in blue face paint, shouting, "Go to work … Go to work."
That's when the tears finally came.
The day his father died, Nolan didn't cry. The day of the funeral, he didn't cry. But now, as a 19-year-old, he was weeping in his dorm room, uncontrollably.
"A lot of people think I'm the happiest kid in the world, and, well, I am," he says. "But at times I'm not. Those people don't know when I get off the court after a big game, I go back to my dorm room, and I'm crying that my father wasn't there."
Thankfully, he had Uncle Johnny. Who knows how he would've coped without him? Dawkins would shoot with him, just like Derek used to. He'd berate him if he got lazy, just like Derek used to. "I would tell him stories about his dad," Dawkins says. "Like, 'Nolan, this is who you come from. This is what you're capable of doing. This is what you have to tap into.'"
But Nolan was about to be alone again, because, poof, Dawkins was gone after the season. He had taken the head-coaching job at Stanford, and a bewildered Nolan was initially hurt. There was speculation Nolan would transfer out west with him, or simply leave Duke, but Dawkins sat him down for a chat, the kind of chat Derek had lived for. Dawkins told Nolan that he hadn't left casually, that he took his responsibilities to Nolan seriously. He said he would text him and e-mail him daily, would still be a presence in his life. And then, in so many words, he said it was time to be a man.
"Me removing myself -- I think it forced him to think that, well, 'Who's going to help me?'" Dawkins says. "Who's gonna help you, Nolan? You're going to help you. And you've always been able to help yourself."
Nolan said thank you and pulled himself together. He immersed himself in basketball over the summer, training with his former high school teammate, the Miami Heat's Michael Beasley. And when he returned to campus this past fall and started dominating Greg Paulus, Coach K's eyes got large, very large.
The kid grows up
Nolan had pulled a Derek -- the sophomore had taken the starting point guard job from a senior, Paulus.
"You know, I had to fight," Nolan says. "Something my dad had to do from Day One. He had to fight to get into the NBA, fight to get to college … and in my mind, I wanted to come back and fight because that's what my father would've did."
All of Derek's old friends were overwhelmed. They'd see Duke on TV -- because Duke's always on TV -- and there would be the mini-Derek running the Blue Devils offense. They'd all raised him! He was all grown up! C-Webb called him after Duke beat Michigan, and then C-Webb called him back when Michigan beat Duke in a rematch. "There, we're even," Webber said. Howard, who was playing down the road for the Charlotte Bobcats, was dialing Nolan, as well, telling him how proud he was. "If he needs anything -- I don't care if it's an NCAA violation -- he's got it from me."
People like Legler kept thinking back to Aug. 9, 1996, and, as Nolan was leading Duke to a 19-2 record and a top-5 ranking, it was arguably the feel-good story of the year. "It's just amazing to me that he's been able to achieve all that he has without Derek being there," says Legler, now an NBA analyst for ESPN. "He made it. He got to the other side."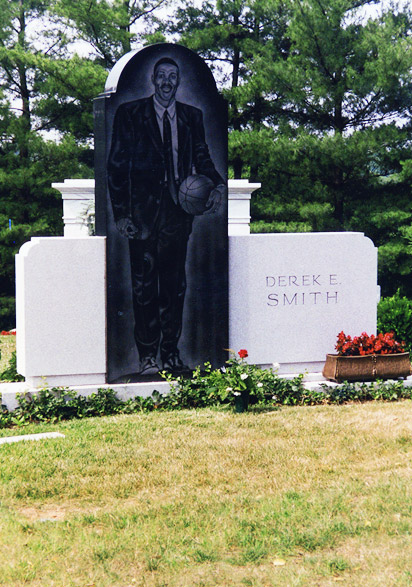 Courtesy of Monica Malone
Derek's loss was felt throughout Louisville and the NBA.
But, the truth was, Nolan was hurting inside, on several levels. He had never been a point guard before, and he still wasn't sure when to shoot, when to distribute. He was thinking too much, not being assertive and, with Dawkins gone, he needed Derek more than ever. He'd look down at his tattoo for comfort, or at the poster he kept over his desk of his father dunking. He then decided to write a rap song about his dad, a song he called "Outta My System."
This is for all you people who think you know Nolan Smith … but you really don't.

The smiling, the funny Nolan Smith … it's a whole different story if you listen to these words … check it out:

I'm sitting here wondering why I bother … S--- is getting hard without my father.

I need someone there to tell me they love me; even though none of them will be the 4-3.

Man, he was such a great dad; as I get older, I just keep getting sad.

I got my mom to keep on pushing me; one day, I'm gonna get to the league.

At an early age, he left my life; now I know he won't be there to meet my wife.

Man, this life is tough; I had my mom and sister to get me through the rough.

Days I wake up just missing my dad; thinking about those times that I could've had.

People see my smiling face every day; but nobody knows how I feel, and that's the way …

I want someone to hear my heart -- when I wanna rip it out and kick it to the park.

Man, I feel so empty for real; I just wish we could've shared just one last meal -- maybe chilled.

Now you know the deal! Everything that I'm saying is from my heart -- and it's real.

I just wish we had a little more time … so I coulda told my dad that I would be fine.
It was a crossroads for the kid, although nobody knew it. Then, before a Feb. 4 game at Clemson, just one month ago, Nolan suffered back spasms. He received treatment, and -- like father, like son -- tried playing through it. But it was a debacle. Nolan was flustered by the relentless Clemson press and turned the ball over four egregious times. He shot 1-for-7, with no assists, in a disastrous 27-point defeat.
Coach K's eyes were big again, for all the wrong reasons.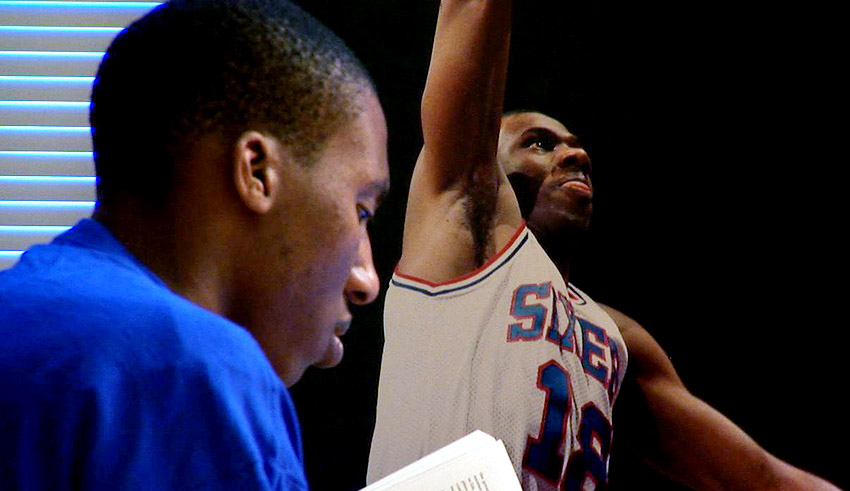 Gregg Hoerdemann for ESPN
Even when studying in his room at Duke, Nolan is never far from reminders of his father.
The test Derek had prepared him for
"Nolan, I'm going to have to put you on the bench. We're starting Greg."
So there it was -- the defining moment of young Nolan Smith's basketball life. Coach K wasn't sure how the kid would react; Nolan wasn't sure how he'd react. A coach was ripping his job away, telling him he didn't look comfortable on the court. It was a test, a test Derek had prepared him for 13 years earlier.
Nolan wanted to throw the ball overboard. He was 8 years old all over again, getting bullied by that 14-year-old. Only this time, the 14-year-old was 62-year-old Michael William Krzyzewski.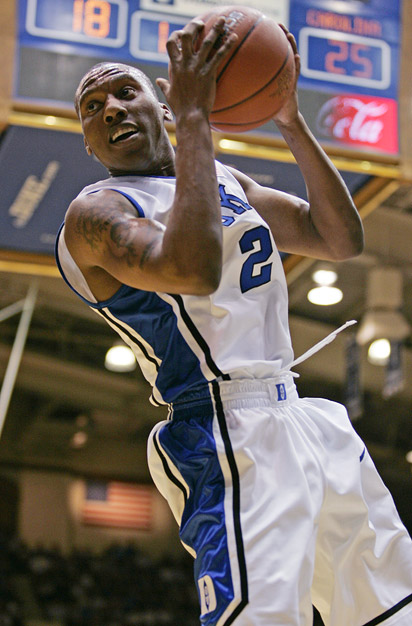 Andrew Synowiez/US Presswire
Nolan "goes to work" every game, doing the little things for the Blue Devils.
Nolan could've come up with an excuse; he could've blamed it on his back. He could've threatened to go join Dawkins. But he remembered the salt in the air, the salt in his father's voice, the grab of his wrist and the warning.
So Nolan Smith turned to Mike Krzyzewski and said, "I'll work harder, Coach."
Coming full circle
Perhaps it would take just one gigantic game to get back in the lineup, perhaps a game like the one his dad had against Michael Jordan.
Clearly, the Duke guard situation was in flux. Paulus had been replaced in the lineup by freshman Elliot Williams, with Jon Scheyer shifting over to the point. These were all drastic moves by Coach K, and Nolan assumed he could maybe play himself back into the starting five.
Against Wake Forest on Feb. 22, Nolan dived 10 feet for a loose ball, completely laying out, a move Derek would've applauded. In fact, Coach K did applaud. But Nolan got into major foul trouble that game and did little else.
The next game, at Maryland, was a homecoming of sorts. Monica's house was only about 20 minutes from campus, so the entire family was going to be watching in person. Nolan had a bounce in his step the morning of the game, felt this was the breakout night and, after the national anthem, Monica shouted, "Go to work!" Nolan was the first guard off the bench, and he quickly swished a 3-pointer. A minute later, he caught the ball on the left wing and soared in for a layup. He had five points in barely 90 seconds. Maybe this was his Jordan night.
After his layup, Nolan picked up Maryland guard Eric Hayes full court. He was in Hayes' grille, so the Maryland center, a 267-pound rock named David Neal, set a sturdy screen. Nolan didn't see it and caromed off Neal's chest like a tennis ball.
He was on his back, staring at the roof, his father's roof. He almost looked unconscious. Wake up, Nolan. Wake up.
While Nolan was flat on his back, Neal came down and drilled a 3-point shot. Coach K complained to the refs that Neal had leaned into the pick too fiercely. Scheyer then ran over to check on Nolan, as did the son of one of Derek Smith's old teammates in Philadelphia -- Gerald Henderson Jr.
Although Neal's screen was legal, Henderson was livid. After a timeout, he got the ball on the left wing, gestured for a teammate to clear out, dribbled straight toward Neal and tomahawk-dunked. He stomped his feet: That was for Nolan. Everything that night was for Nolan.
It was another moment in his life. The kid had come full circle. On Aug. 9, 1996 -- a day a man with a big heart died of a heart attack -- Derek Smith had told his son: "If you have a bad attitude, nobody is going to want to play with you."
Well, here was Nolan's response. Thirteen years later, they did want to play with him. Thirteen years later, he could handle being benched, defeated, humiliated. Thirteen years later, he wasn't throwing basketballs overboard. Thirteen years later, he had arguably the best attttiiittuuuude in college basketball. Thirteen years later, he was … Derek.
His dad was forever watching. But Nolan was forever on that boat.
Tom Friend is a senior writer for ESPN.com and ESPN The Magazine.
Join the conversation about "Lessons From My Father."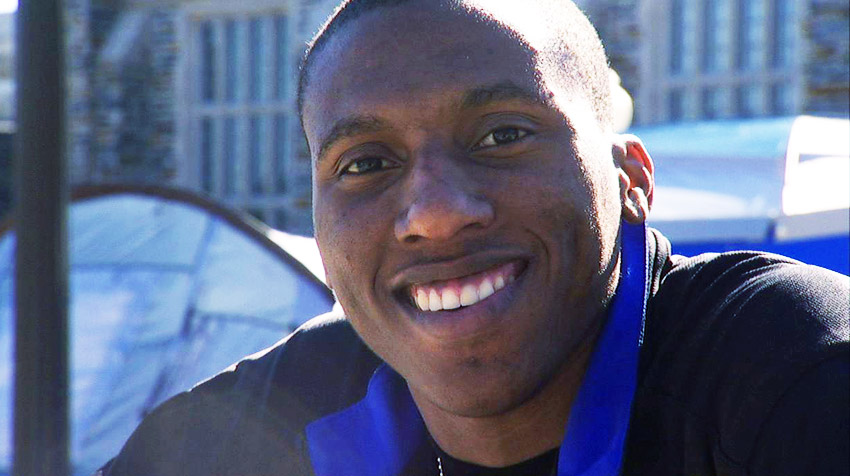 Gregg Hoerdemann for ESPN
No matter what obstacles he encounters on or off the court, Nolan aims to stay upbeat.