Praying for Closure

wo years later, here's the irony: Bryan Pata might have been the lucky one. Like many talented athletes dying young, he never had to face the inevitable diminishment of his physical gifts, the betrayals of mind and body, the failure to achieve dreams.
And unlike those who were left behind -- Bryan's mother, his siblings, his girlfriend, former teammates -- the University of Miami defensive lineman never had to feel the anger, the frustration, the sense of loss, the maddening lack of closure that follows a murder still no closer to being solved than it was more than 700 days ago.

At night, Bryan speaks. He is dreadlocked and 280 pounds strong, and he touches his brother Edwin's head. There is no pain anymore, Bryan tells him. Over and over, Edwin asks him the same question:
"Who did it?"
The answer is always unintelligible. Edwin sees the number 27, and Bryan tells him to look out the window. And then Edwin wakes up, tries to scribble notes, wonders what it all means. "The dreams, that's when you really miss him," he says. "You wish you could actually touch him and just hold him.
"I believe he's trying to tell me something. ... I know that he is."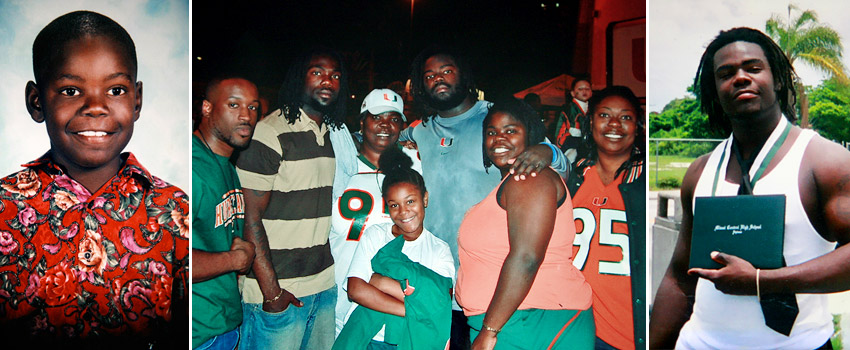 Courtesy of the Pata family
Bryan was the youngest of nine children in the Pata family, but he grew up to become the biggest.
In a family of nine kids, tight bonds were forged in cramped quarters. Six boys slept in one room, three girls in another. Edwin and Bryan were separated by one year and a few feet of space. As kids, they did not socialize much with the outside world; their mother, Jeanette, always stressed that they should lean on each other. They moved at least seven times in 20 years, lugging their hand-me-downs to the next crowded house or rented apartment.
Football, Edwin and Bryan both hoped, would eventually get them out of inner-city Miami. Edwin walked on as a tight end at Florida State; Bryan, the baby of the family who also happened to be the biggest, earned a scholarship to Miami and seemed to be on his way to the NFL.
Jeanette and Edrick Pata discuss Bryan's death with Bob Ley on ESPN's "Outside the Lines."

They posed together for a photo in the last days of Bryan's life, gripping hands as they stood in their football uniforms. Bryan posted the shot on his MySpace page. The first few months, Edwin couldn't look at it, a life suspended in cyberspace. Now it gives him comfort.
The page says Bryan is 24 now, 6-foot-4, athletic and a Leo. In the line that lists children, it says, "Someday." His page still averages at least one message a week, from friends or spammers selling table dances. Bryan got five posts around his birthday, Aug. 12.
"It's getting crazy out here," a woman who calls herself "Priceless" wrote this past July. "A lot of things done changed since you been gone. I mean gas prices have gone up ridiculously. Haters hating even harder. We might have a black president soon. It's crazy, but I'm sure you looking down on it all laughing and smiling, with that beautiful smile of yours."
Sometimes, Edwin wonders who else is lurking. Is the killer on MySpace, reading about their collective pain? Does it make the killer feel anything?
"Are they living a normal life, smiling and eating while we have to watch our mom go through what she has to go through?" Edwin asks. "That's the part that seems so unfair and hard to think about. You've done the ultimate wrong, but you're still living. How unfair is that?
"The hardest part is not four days or five days after he died. The hardest part is two or three months down the road when you realize the person's not coming back. I think about him every single day. I probably haven't gone an hour without thinking about my brother since he died."

US Presswire and Getty Images (right)
Pata had become a force on Miami's defensive front and appeared destined for the NFL.

It's hard to know the toll Bryan's murder has taken on Jada Brody. She isn't talking. A lawyer who serves as her spokesman says he will pass a message on to her, but he wants to protect Brody and won't confirm anything.
Here's what is known: On Nov. 6, 2006, Pata and Brody celebrated their one-year anniversary. Twenty-four hours later, she stood over his lifeless body in their apartment parking lot as blood poured from his head.
"Does anyone know CPR?" she screamed into her cell phone.
"Do you know who the person is?" the 911 operator asked.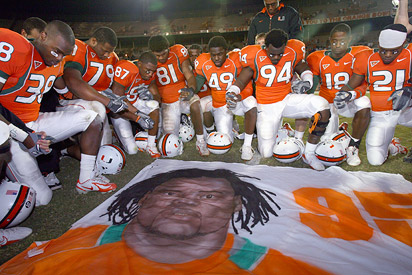 Doug Benc/Getty Images
Miami players remembered their fallen teammate after their victory over Boston College on Nov. 23, 2006.
"My boyfriend, Bryan Pata. He got shot. I don't know what happened. He's lying on the floor. He's bleeding."
She was 19 when Bryan died. She had been waiting for him that night, waiting to see him pull his black luxury SUV -- the 2005 Infiniti QX56 was a gift from a relative, people close to Pata have said -- into his parking space. The day had been like a hundred others in Pata's life: class, football practice, then home to his girl and their Yorkshire terrier, Cheerio. They lived in a gated apartment complex in suburban Kendall, about four miles from the university. For Bryan, it represented convenience and adulthood, seemingly a safe upgrade from most of the neighborhoods of his youth. Up the street are a Starbucks and a sushi restaurant, and the local mall boasts the country's largest Limited/Express store.
Despite the obvious improvement in his living conditions, Bryan's mother was less than thrilled with the situation. Jeanette was having a hard time letting her baby go. When he finally packed up for good, at 21, to move closer to campus, she followed him to the elevator and wept. And when Bryan told her he'd met his true love, once a high school honors student from Palm Beach, his mom was uneasy and overly protective.
The night of Bryan's murder, Jeanette rushed to the apartment, wearing a Hurricanes jersey with his No. 95 on the front, and collapsed into the arms of police officers at the scene. The back of her shirt read: "#1 mom."
Though they were bound that night by their mutual loss, Brody and the Patas grieved separately. At the funeral, she sat away from the family, sparking whispers and rumors, some of which were published in the local papers, that the couple's relationship had its ups and downs.
Then, five weeks after Bryan's death, The Boston Globe reported Brody's twin brother, Jerome, was a person of interest in the case. (Jerome was never charged.) To make matters even more tense, the Patas began to wonder whether Brody was doing enough to help the investigation.
Brody did her best to calm the waters. "I'm being so strong for you and the fam," she wrote on a memorial Web page for Bryan. "I'm doing my best. You would be proud, I think. ... Just know I think of you every second of every minute of every hour of every day."
Brody reportedly received death threats in the weeks after Pata's death. Looking for a change of scenery, she left the University of Miami and transferred to Clemson.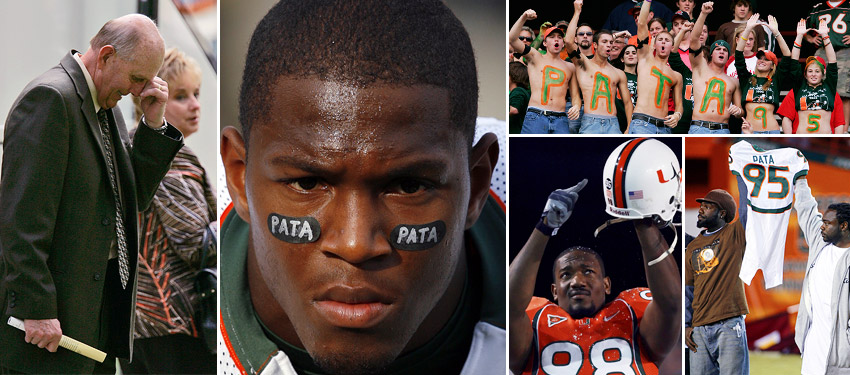 AP Photo (3) and Getty Images (2)
From coach Larry Coker, left, to teammates Javaris James and Baraka Atkins (98), Pata's death stunned the Miami football family.

Greg Olsen was one of the first people to meet Pata at Miami and one of the last to see him alive. A strapping tight end from New Jersey, Olsen was considered one of the top prospects in college football. Freshman year, he was placed in the same suite as Pata, whose future looked just as bright.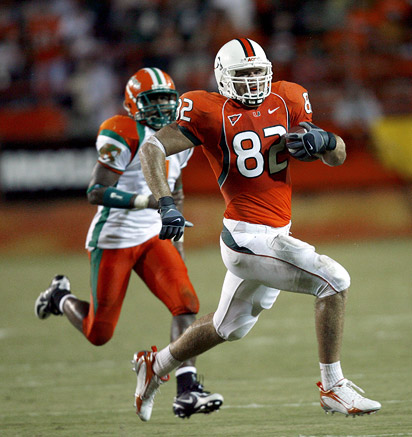 Joel Auerbach
Tight end Greg Olsen says Pata's easy-going personality kept the Canes loose.
They didn't hang out much, because Pata went home most weekends to be with his family. "He was a happy, fun guy," Olsen says. "He was that guy in the locker room that kept everybody entertained. He always had the one-liners that made everybody laugh. He was a good spirit and a good guy to have around."
Clouds hung over a warm South Beach day as the Hurricanes wrapped up practice on Nov. 7, 2006. It was defensive line coach Clint Hurtt's birthday, and Pata and a couple of teammates added some levity in to an otherwise uptight 5-4 season by dumping water on him after the workout. As Pata headed to the parking lot wrapped in ice bags, Olsen asked how he was doing.
"Good," Pata said, flashing a big smile. Then he climbed into his Infiniti and headed down Highway 1 toward his apartment.
Two hours later, Olsen was shopping with his girlfriend when his phone rang. You've gotta come over to the facility. You've just got to come.
What was happening? Was coach Larry Coker, on the hot seat because of the Canes' uncharacteristically lackluster season, calling them in for a good tongue-lashing? Was it about Saturday's crucial game at Maryland? When Olsen and his teammates saw so many police officers, they knew this was something much worse than a football problem.
Shortly after Pata's death, Olsen declared early for the draft. He was selected by the Chicago Bears in the first round, with the 31st pick of the 2007 draft. He sees former teammates at various NFL stops, and it takes him back to Pata.
"It's something that none of us will ever forget," he says.

A woman standing outside a Starbucks in Miami spots the tattoo on Yvince Constant's forearm and wants to strike up a conversation. Constant is a hearty man in uniform, sleepy-eyed from a long day as a corrections officer in South Florida. He always hated tattoos, but a month and a half after Pata died, he felt he had to do something, had to find a way to remember his former high school linemate. So he got inked. A six-inch tattoo on the inside of his left forearm, with a picture of Bryan in his No. 95 uniform and angels' wings.
"Is that that guy who died?" the woman outside Starbucks asks. "What was his name, Sean?"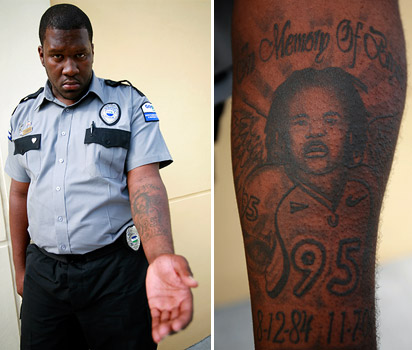 Tom DiPace for ESPN.com
Yvince Constant never liked tattoos, but he wanted to do something special to remember his friend.
"Bryan Pata," Constant says.
"Oh, not Sean Taylor? This is another one? Oh, oh, that's so sad. OK, OK."
They called each other "Fat Boy." "What's up, Fat Boy?" on the phone. "Nice game, Fat Boy," in a text. Constant eases his big body into a plastic chair, then decides he doesn't want any coffee. He knew many of Pata's secrets, including the ones that seem so much bigger when you're 14. That Bryan was shy around girls and would take three or four months to muster up enough courage to ask someone out. That he played football, for a long time, for just about everybody but himself.
"It's hard, but you have to be strong," Constant says. "Especially when I'm talking to his mom. I could be dying inside, but I'm going to show a smile. Every time she sees me, I make her laugh. But there are many days where his mom can't get out of bed. She's mourning and crying like it happened yesterday."
Pata never knew this, but his family was planning a surprise party for him on draft day. During his senior season, Pata started maturing, Constant says. He took the fancy rims off his Infiniti and curtailed his clubbing. The NFL finally seemed within his reach. He was going to escape the clutches of inner-city Miami, which would have been a good thing, a life-saving thing. "When you're a successful athlete living in Miami, there's a lot of people who are jealous of you," Constant says. "The more success you have, the more people don't like you or just hate on you because they want to be in your spot."
The night Pata died, Constant called his friend's cell at least six times, waiting for the voicemail to turn into a voice. Until he saw Pata's body, lying in the casket, Constant couldn't bring himself to believe Pata was really dead.
To distract himself from the hurt, he threw himself into work. Alarm clock set for 4:45 a.m. Longer shifts. Before Nov. 7, 2006, Constant just wanted to put in his quick eight hours and "go hang out and party and do something crazy" at night. Now he works longer shifts, tries not to hold grudges and makes a point not to stay mad at his girlfriend or mom for too long.
"I feel that he'll always be with me no matter what," Constant says. "He's on my body. When I die, he's dying with me."
He tries not to let Pata's murder get in the way of his work, but that's easier said than done. Sometimes, he stares into an inmate's eyes and wonders if he's the one.

Two years after a high-profile murder, and it is unknown whether the police have any new leads, any useful information, any "person of interest" on their radar screen. Was Pata familiar with his killer? Was this a random murder? Who knows?
Shortly after the murder, one of the only known witnesses told The Palm Beach Post she saw Pata arguing with a man in the parking lot outside his apartment. In Adrenia Lynes' account to the newspaper, Pata turned away, before the man shot him in the back of the head. But when the police filmed a "reenactment," which was distributed to local TV stations, it showed Pata being followed once he got out of his SUV, apparently oblivious to the shooter. He was still clutching his cell phone as he dropped to the ground.
Miami-Dade County had 258 murders in 2006. Sometimes, the Patas worry about Bryan becoming a few pages in a manila folder stuffed in a cold-case storage box. They still call two detectives about once a week for updates. The response is generally some version of We're still working on it. Stay positive.
Pat Diaz, one of the detectives still working the case, has taken the murder personally. He has the same birthday as Pata, and the Patas call him on holidays. "I've been in homicide for 22 years," Diaz says. "I've dealt with all kinds of high-profile cases. Sometimes we're the only sense of hope a family has. They have my cell phone, and they call me all the time. Most detectives don't give cell-phone numbers."
Diaz, who has been invited to the Pata home for dinner several times, suddenly stops himself before going any further. He says he couldn't make any other comments until they were cleared with the public information officer at the Miami-Dade Police Department.
A spokesperson said the department would have no further comment. "The detectives are not at a point in the investigation that they are comfortable conducting interviews at this time," according to an e-mail.
The Patas, who were awarded a $2 million settlement for insufficient security from the insurance companies of his apartment complex in 2007, at one point hired private investigators to help find the killer. Now, they hold out hope police will eventually crack the case.
"It will be solved," Bryan's sister Ronette Pata says, sounding like she's trying to reassure herself. "It will. It just seems like two years is forever."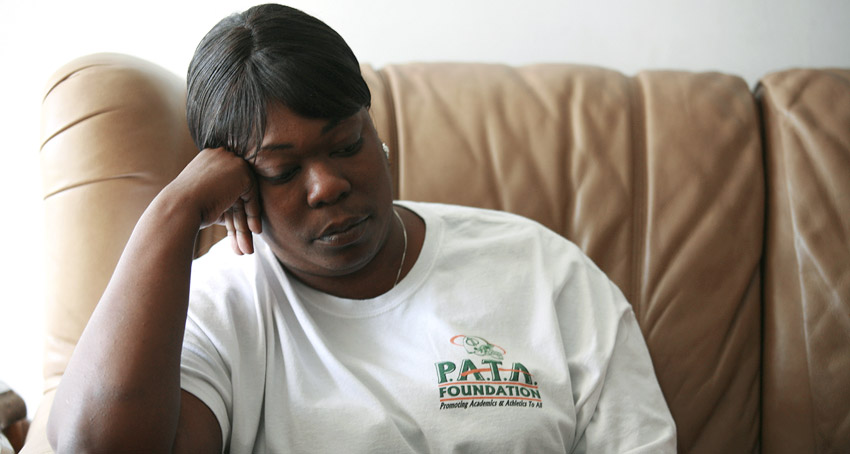 Tom DiPace for ESPN.com
Ronette Pata carries on her brother's legacy by helping underprivileged children through the Bryan Pata Foundation.

In late October 2006, Bryan thought about death. He was on a plane coming back from a game in Atlanta when turbulence hit. Promos for the movie "We Are Marshall" were playing that fall, and Bryan, thinking about that ill-fated 1970 flight, was sure his plane was about to crash. He talked to Ronette about it a few days later as they sat in his SUV for more than an hour. He told her he was scared, and one thought kept bouncing through his head: How can I leave my family?
Ronette was 8 when her brother was born. She got to name him. With her mother working most nights, she learned to cook in mass quantities -- spaghetti and rice and anything that would last for a few days' leftovers -- and helped Bryan with his homework.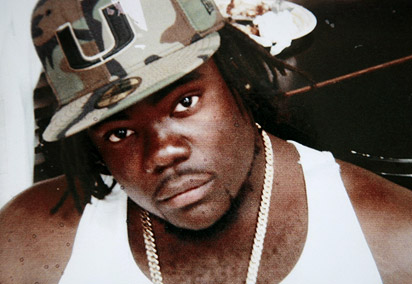 Courtesy of the Pata family
After moving seven times during his youth, Bryan was happy to finally have his own place close to campus.
That night in his SUV, he asked her to keep a secret. He'd just heard that if he kept playing well and finished the season strong, he might go high in the NFL draft. Don't tell Mom, he said. He wanted it to be a surprise. As he got bigger and better, Pata knew he was a lottery ticket waiting to be split at least 10 ways. He didn't always like football, but knew what it could eventually bring his family. His coaches switched him to the interior line his senior season at Miami, and Pata fretted, not because of the 40 pounds he'd have to gain, but that the move to defensive tackle might hurt his chances of being drafted.
"He was just a big kid at heart," Ronette says. "He was very loving, very sensitive. Everybody saw this big football player, but he had a very gentle heart."
Two days before Bryan was murdered, Ronette invited him and a couple of his friends over for a Sunday meal. She cooked all of his favorites: T-bone steaks, jerk chicken, seafood salad. He washed everything down with four half-liters of iced tea. But he seemed distant. He said he was upset because the Hurricanes hadn't played well the day before in a loss to Virginia Tech. But now, Ronette wonders whether Bryan had more on his mind. "I don't know because I haven't gone there yet," she says. "But I guess when you're getting ready to die, you feel something."
Shortly after his death, she set up the Bryan Pata Foundation to help underprivileged kids in Miami stay in school. She had always preached to Bryan about getting his degree, because football wouldn't be there forever. Now, she's back in college, studying business management. She thinks Bryan would be proud of that. Her old apartment in Miami Gardens, a short hike from Dolphin Stadium, where she hoped he'd play someday, turned into a shrine to her youngest brother. On one sunny afternoon in April, it sat dark with a candle burning near the dinner table where he usually sat. Photos and his No. 95 jersey covered an entire wall. In one shot, he's a precocious grade-schooler with a sly grin. In others, he's a man-child on the cusp of greatness.
His mom was lying on Ronette's couch the last day they saw him, and they can choreograph just about every one of his moves from that Sunday, what he ate, when he laughed, what he said when he headed out the door:
"Bye-bye."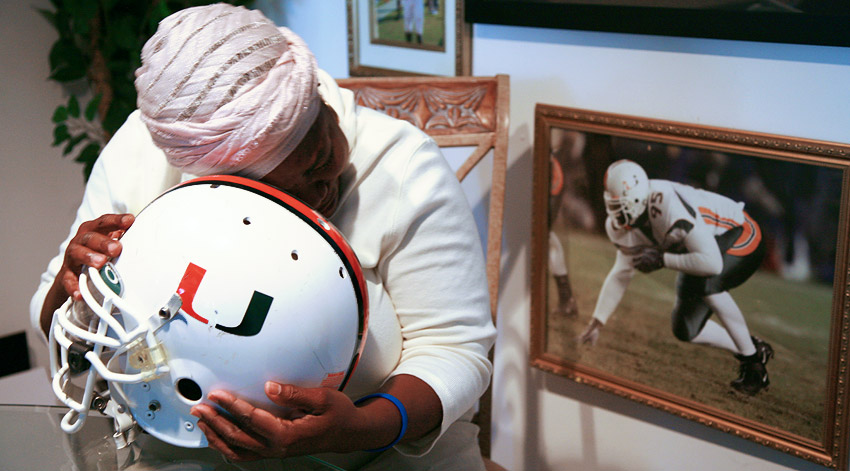 Tom DiPace for ESPN.com
Two years after her son's death, Jeanette Pata is still regularly overcome by emotion.

Here lies Bryan's final resting place, a granite crypt. Palm trees sway near perfectly trimmed bushes, lizards bob in and out of the grass, and visitors stop occasionally to read his epitaph.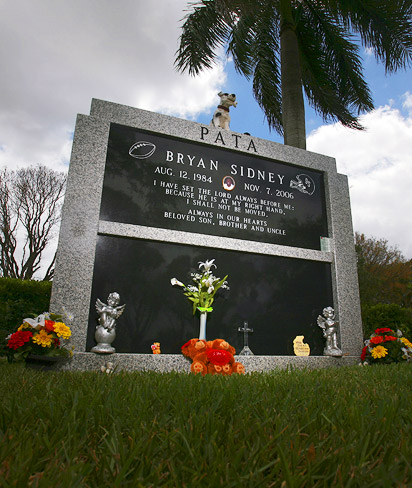 Tom DiPace for ESPN.com
Jeanette visits Bryan's grave three or four times a week.
He promised his family they'd be together, in a spacious house, 15 rooms at least, when he made it big. "Mommy, you want to be rich?" Pata asked when he was 4. He'd just lost his first tooth. He placed it under her pillow.
The multiplot crypt off a paved road at Dade Memorial Park ensures that, yes, they will be together again someday. Jeanette Pata comes three or four times a week, when she needs to feel better. In the two years since her youngest son's death, she has suffered a minor stroke, dropped 20 pounds and rejected numerous suggestions to seek help for her depression. She sleeps with Ronette at night and wails, uncontrollably, for several minutes at a time. Anything can spark an outburst -- a picture, a word, a place where he was supposed to be.
This sturdy Haitian woman who raised nine kids pretty much by herself always had an uncanny knack for knowing where all of them were at any given moment. "Mommy's here," she'd announce after she came home from her 16-hour double shift as a hotel maid, and she'd check each bunk bed to make sure all nine heads were accounted for.
"My other kids keep telling me I spoiled Bryan," Jeanette says, breaking down and mumbling in Creole and broken English. "Everything Bryan asked of me, I have to give it to him. He was my baby."
He was buried in a sharp beige suit, the one he had to have after seeing it on a store rack. This was the one he planned to wear on the day of the NFL draft. Two years -- and two drafts -- have passed and time stumbles on, slowly and quickly, in an I-can't-believe-it-has-been-two-years sort of way. Down in Palmetto Bay, six miles from where Bryan was shot in the back of the head, Washington Redskins safety Sean Taylor was gunned down in his house last year. The media attention was huge after Taylor died, and arrests were made within days. Jeanette and her kids still wait, suspended in 2006, while the world spins around them. They cannot move on without an ending. They can't help but wonder: Does anyone outside their circle of grief care?
Jeanette pulls up next to Bryan's tomb, gets out of her SUV and begins to clean up some debris in the grass nearby. She wonders whether the lizards are there to protect him. She taps on the wall.
"Mommy's here."
Elizabeth Merrill is a senior writer for ESPN.com.
Join the conversation about "Praying for Closure."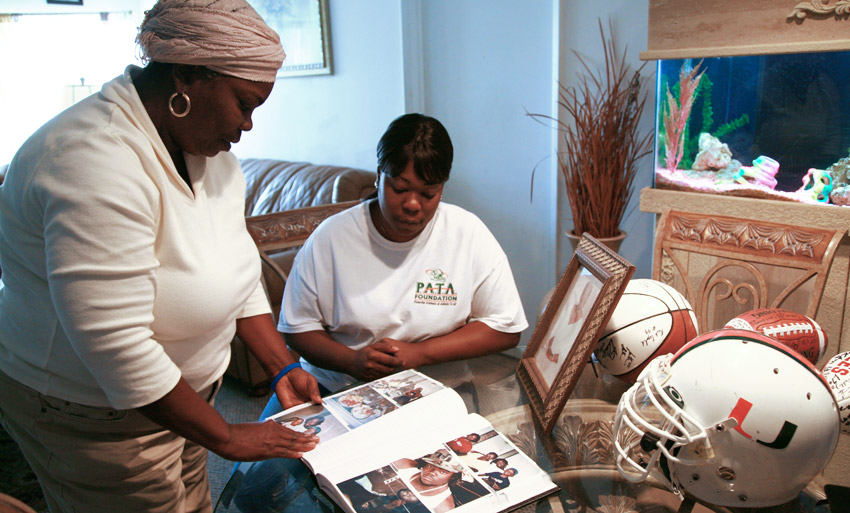 Tom DiPace for ESPN.com
"Everybody saw this big football player, but he had a very gentle heart," Ronette says.