Look at the photograph on the left.
This, obviously, is New England Patriots quarterback Tom Brady, walking with impeccably sweatered girlfriend Gisele Bundchen. I do not know where or when this picture was shot, but it was jammed into the blogosphere sometime in December (I saw it on a site called The Big Lead, which subsequently compared Brady to John F. Kennedy Jr.). Much like the cover image from "The Freewheelin' Bob Dylan," the photo's spontaneous power to stupefy springs from its unrehearsed contradictions: The expression on Brady's face can be simultaneously taken as confidence, annoyance or indifference. Gisele holds his hand, but she also clutches her bag and looks away; were this an oil painting, her turtleneck would imply insecurity. Her hair is responding brilliantly. I can't imagine what she's thinking, though I assume it is something paradoxically sad. Their strides are synchronized, but they lean in opposing directions. Brady is dressed casually, but his scarf is expertly tied, his shoes are unbelievably white and, for some reason, he's casually sporting a chain. He looks cool, and he looks famous but, more than anything else, he looks perfect. He looks like a perfect human living a perfect life, effortlessly incarnating the relentless perfectitude of the football team he has led to precipice of a perfect season.
ALMOST IMMORTAL
If the Patriots lose Super Bowl XLII, they'll join a group that finished one step short of perfection.
Eric Neel looks at this club of near-misses
, including the 1990-91 UNLV men's basketball team and 1983 Nebraska football squad.
It is not just that the Patriots have not lost any games; it is that they seem incapable of being a team that loses. At no point has their 18-0 run felt unnatural or unreasonable, just as there is no element of this photo that makes Tom Brady seem anything less than a man who is supposed to date Brazilian supermodels without any hint of awkwardness or guile or self-adulation. This is normal. For Tom Brady, being perfect is normal.
Which raises a question:
Does this make you like him more, or make you like him less?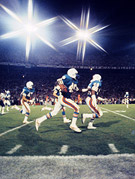 Regardless of what happens in Super Bowl XLII, the debate about whether the Patriots are the best team in NFL history seems to be over: They are. If they played the 1979 Steelers, the Pats would simply outscore them. If they faced the '85 Bears, the Pats would employ the same kind of quick-strike, anti-blitz passing scheme Dan Marino's Dolphins used to beat Chicago on "Monday Night Football" (Wes Welker would be huge). Only the '89 San Francisco 49ers could match the Patriots' offensive personnel, but New England is more complete on defense. On the most basic historical level, the '07 Patriots have scored the most points and won games by the widest average margin. It's impossible to definitively compare teams from different seasons in any objective way, but -- statistically and anecdotally -- this is the finest pro football team ever assembled.

But that does not necessarily define New England as, ahem, "most perfect." Though the Patriots would likely dismantle the 1972 Dolphins on a neutral playing field, a loss to the Giants in Super Bowl XLII would completely annihilate the perceived value of their greatness. Moreover, the very nature of football makes the definition of "perfection" especially tricky. Taken to its logical (and therefore most absurd) extreme, a truly perfect football team would score on every offensive play, surrender zero yards defensively, and never miss an extra point. Even on PlayStation, this is impossible. The closest real-world examples of pigskin perfection come from college teams that played before the conclusion of World War II: The 1938 Duke Blue Devils and the 1939 Tennessee Volunteers both went through their respective regular seasons unbeaten, untied and unscored upon, although both squads ended their seasons with losses in the Rose Bowl. Grambling went 9-0 without giving up a point in 1942, but the Tigers were playing the equivalent of I-AA competition. The "most profoundly perfect" performance in college football history probably would have to be by the 1909 Yale team (which did not allow any opponent inside the 25-yard line) or the 1888 Yale squad (which outscored its foes 698-0) -- but those seasons took place during a different era, before the advent of downfield passing or air conditioning. They're interesting footnotes, but not really reasonable comparisons.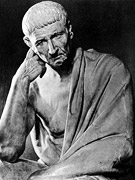 To better contextualize the meaning of the Patriots' potential perfection, we first must establish what perfection in modern football is supposed to signify, beyond the straightforward definition of not losing. To do this, one must go back even further than 1888 -- the clearest explanation of perfection is still the first one. While writing "Metaphysics," Aristotle outlined the three concepts of perfection as follows:
Something that is complete.

Something that is so good that nothing of the kind could be better.

Something that has achieved its purpose.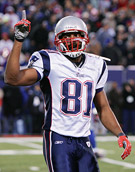 The '72 Dolphins were "perfect" by virtue of Aristotle's first and third definitions (the squad was a self-contained, untarnished unit that won the championship). The Patriots cannot make similar claims unless they win Feb. 3 (and if they lose, everything turns to smoke). However, they can already allege to embody that second designation of perfection: When one considers the advent of free agency, the salary cap, the enforced distribution of talent and the realties of present-day professional football, it's possible New England has built a team "so good that nothing of the kind could be better." Some of this was a product of chance (Brady was not drafted until the 199th pick in 2000), and some of this was a product of other teams' failures (the Packers could have acquired Randy Moss in 2007 for a third-round pick). But most of this has to do with the way the Pats perform: They have the most talent, combined with the most unselfishness, fueled by the greatest desire to unilaterally dominate. Their most consistent criticism has been running up the score against already humiliated opponents, a condemnation almost never applied to contemporary teams at the pro level. The Patriots are not literally perfect, but they are perfect enough to be historically singular.
Which is why it would be so much more interesting if they lose.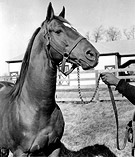 Man o' War is arguably the finest horse who ever lived, and one of the best arguments for thoroughbred perfection. It is, however, very difficult to name any horse he raced against, except one: Upset, the only ungulate who ever beat him. This is how it goes. When measuring -- and particularly when remembering -- the greatest performances in the history of any sport, the moments that matter most are almost always tied to situations when that entity failed. Very often, those specific failures are the essential details people recall about dynastic achievement. The memory of perfection is inevitably tied to the memory of lost perfection.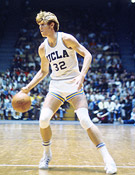 Objectively speaking, the "most perfect" teams of the TV era were Wooden's UCLA Bruins who won 10 hoop championships in 12 years, going undefeated four times. In the abstract, everyone understands this, simply because those squads rarely lost to anyone. But those rare UCLA losses outlive almost all of the wins. Lew Alcindor was beaten only twice during his tenure as a Bruin, but his most famous collegiate game is one of the defeats (1968's "Game of the Century" against Houston). Bill Walton led UCLA to 88 straight wins in the early '70s, yet the two most memorable games of his career were losses in 1974 (the streak-ending defeat at Notre Dame and the double-overtime Final Four loss to David Thompson's NC State Wolfpack). Wins tend to run together, negating their own influence. Conversely, losses demarcate time.
Which, of course, is not what the winners like to hear.
"Fans want to see the ultimate levels of success," Walton says after I pose him my theory. "The record numbers of people who have been watching New England are trying to see their expectation of perfection fulfilled. Generally, these Patriots games are not close. The reason so many people are watching them is for the execution and the emotional ferocity. I don't believe the Patriots think about perfection very much. When you're really good at something, you don't believe your opponents are worth a darn. It's not like New England is upsetting anyone."
Individually, the closest Walton ever came to perfection was against Memphis in the 1973 NCAA championship. In that game, the radical redhead shot 21-for-22 from the floor. But he claims not to remember the lone shot he missed, saying he merely knows it happened during the first half. Today, Walton feels the nearest to perfection he ever came as a ballplayer was when he was 12 years old, before injuring his knee for the first time. He says the concept of perfection is merely "memorized excellence against an ideal," and that the larger meaning of losing (or not losing) isn't something a focused athlete consciously considers.
But that, of course, suggests focused athletes somehow have a choice in the matter. The possibility of the Patriots' not considering perfection is unfathomable: They are asked about it every day.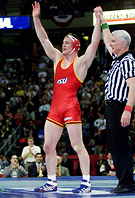 "You are going to be thinking about it. There's no way around that." These are the words of Cael Sanderson, one of the few Americans who can speak directly to the experience of being athletically perfect. During his four years as an Iowa State wrestler, Sanderson went 159-0. He is the only wrestler in Division I history to go undefeated in more than 100 matches.
"I think I thought more about how I would answer the media's questions," he said. "After my freshman year, I knew I wanted to go undefeated, but I also knew I had to keep my focus simple and direct. However, that means giving a boring media interview. I had to focus on being my best for the next match, and I had to move my feet and attack with my hands. It had to be that simple. I would guess that the Patriots are very aware of the magnitude of what they are doing."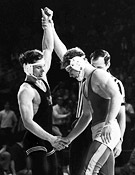 Now a coach at ISU, Sanderson expresses all the sentiments athletes need to will themselves to perfection -- he is maniacally obsessed with focus and admits he likes winning only a fraction as much as he hates losing. As a wrestler, he fulfilled all three of Aristotle's categories of perfection. Yet one obvious paradox remains: Despite being the most statistically flawless grappler in NCAA history, he is not the most famous one. That designation still goes to Iowa State's Dan Gable, who, not coincidentally, lost his final collegiate match (in heartbreaking fashion) after 181 straight wins.
"Gable losing his final match is probably talked about more -- or at least as often -- as his greatest victory. The circumstances of that one loss did add a lot to his fame," Sanderson concedes. "My first thought is that fans like perfection. Perfection is the ultimate goal. But then again, perfection seems unattainable to me. Perfection goes beyond winning and losing. You can win a game and not be perfect. Even though I went undefeated in college, I wouldn't say I had a perfect career. Since true perfection in sports is unrealistic, I would say that fans want to see that their teams are human, whether they win every game or not."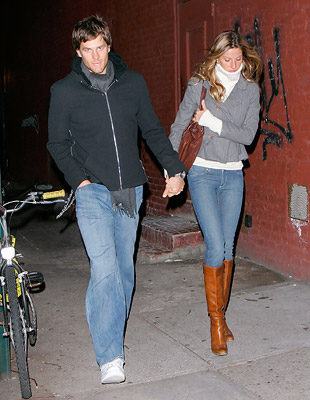 Jackson Lee/Splash News Online
Look at this photo again.
Unless you have ingested peyote while reading this story, the details of the picture are identical to the first time you saw it. Neither of their cheekbones have become any less flawless. This is the function of photography: It takes something ephemeral and makes it concrete. This is also the goal of perfection: If the Patriots complete their run undefeated, they will have mastered the seemingly impossible undertaking of being better than everyone, all of the time, within every framework that counts. Any phrase that begins "On any given Sunday ..." still will be intuitively true, but not technically accurate. The Patriots are the best team. It would be a shame if they did not win.
Yet we would care so much more if they lost.
If the Patriots win, they will just become this thing that scorched the earth for five months before capturing a trophy that was never in doubt. Future historians will describe this New England team as if it were a machine. Everyone will concede the Pats' superlative greatness, but the 19 wins will be just a collection of numbers. But if they lose -- especially if they lose late -- the New England Patriots will be the most memorable collection of individuals in the history of pro football. They will prove that nothing in this world is guaranteed, that past returns do not guarantee future results, that failure is what ultimately defines us and that Gisele will probably date a bunch of other dudes in her life, because man is eternally fallible.
Losing isn't everything. It's the only thing.
I love these Patriots. As such, go Giants?
Chuck Klosterman is the author of several books, including "Chuck Klosterman IV: A Decade of Curious People and Dangerous Ideas ," and a columnist for Esquire. He is a regular contributor to ESPN.com and ESPN The Magazine.
Join the conversation about "All Too Perfect."
Photo credits: 1985 Dolphins, Al Messerschmidt/NFL/Getty Images; Playstation, Sony; Aristotle, Time Life Pictures/Getty Images; Randy Moss, Jim McIsaac/Getty Images; Man o' War, AP Photo; Bill Walton, Malcolm Emmons/US Presswire; Cael Sanderson, AP Photo/Scott Norris; Dan Gable, AP Photo; Gisele Bundchen, Vanderlei Almeida/AFP/Getty Images.