Fists of Phiri
thing
, intimidates the champ as no opponent ever has.
"So do you want to ride the roller coaster?" she is asked.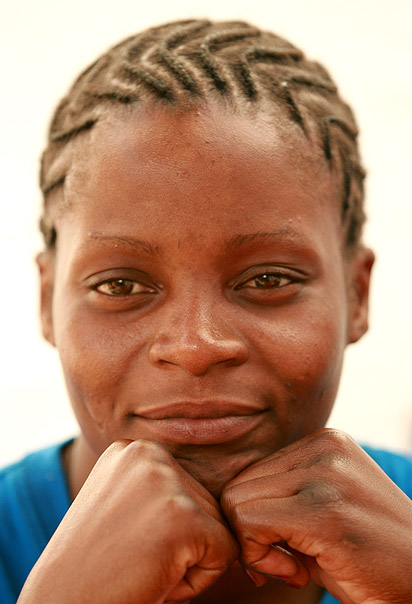 Carl Fourie for ESPN.com
These fists powered Esther Phiri from the streets of Zambia to the top of the world.
Phiri smiles and shakes her head emphatically. Are you crazy? Not a chance. No way is she getting on that, whatever you call it.
The boxer is here in famed Tivoli Gardens, the world's oldest amusement park, in the heart of Copenhagen. She has traveled from her native Zambia to this grand old capital of Europe on a training tour of the land of Hans Christian Andersen, The Little Mermaid and $10 beers. There are no roller coasters back in Zambia. AIDS has decimated her homeland, virtually wiping out a generation and lowering life expectancy to less than 40 years. Half the country is unemployed and nearly 90 percent of the population lives below the poverty line. Yet against all odds, Phiri not only has muscled her way out of that economic statistic -- she owns a farm, an apartment building and two houses, one of which she received as a gift from an impressed government, and will fight for more than $100,000 this weekend -- she has inspired women in a country where they rarely enjoy any power at all.
"I have a house and four cars. Not one car. Four cars," she says proudly. "To me, people say, 'We didn't think it was possible that a woman could do this. We thought all you could do is get a man, get married, be a housewife, maybe go to school.'
"I made a mistake when I was young and had a child. I found something to do in my life. I was looking for something to do in my life and I found it in boxing. I'm keeping my family happy. I'm building a life through boxing.
"A woman can work and be somebody. They don't need to depend on a man."
After passing on the roller coaster, she and her trainer/manager, Anthony Mwamba, walk toward a tamer attraction. It is a strong-man apparatus, the sort of thing that previously seemed to exist only for bare-chested men with handlebar mustaches in silent movies from Coney Island. You pick up a sledgehammer, swing it down as hard as you can on the levered target and see if you can make a metal puck shoot up a pole and ring the bell at the top. Phiri swings once and the puck climbs two-thirds of the way up. She swings again and sends it three-quarters up. She swings again and the puck soars all the way to the top and makes the bell ring.
"First woman we've ever had do that," the carny says.
Phiri grins broadly. Perhaps the carny says that to every woman who rings the bell. Or maybe Phiri is a pioneer in yet another land.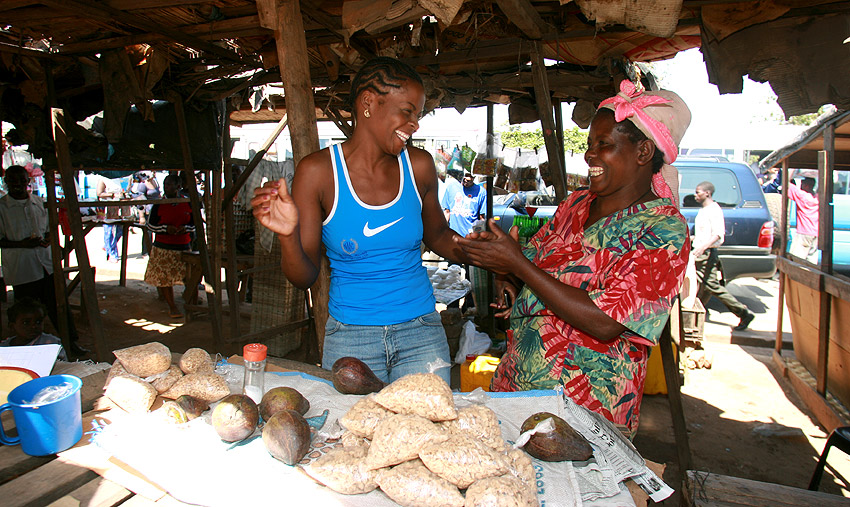 Carl Fourie for ESPN.com
In the market where she once sold vegetables, the people take pride in Phiri's success.
The best, the brightest … the only
To describe Phiri as Zambia's most famous athlete is both accurate and a little misleading. There isn't a lot of competition for the distinction. Which is to say, Zambians have heard of her, even if no one else has.
She is largely known in Lusaka by her first name ("Esther, Tissen Square Off," a newspaper headline read before a bout in April), partly because a staggering number of Zambians share her last name, partly because she has entered that rarefied group of athletes for whom a first name is sufficient identification. Tiger, Kobe, Ichiro, Lance … Esther. Her face shines down on Lusaka residents from billboards sprinkled around the city by her sponsor, National Milling, the country's No. 1 producer and distributor of Zambia's food staple, cornmeal. Phiri endorses the product in return for a $3,000 monthly retainer, a fortune by Zambian standards, plus guaranteed purses for her fights.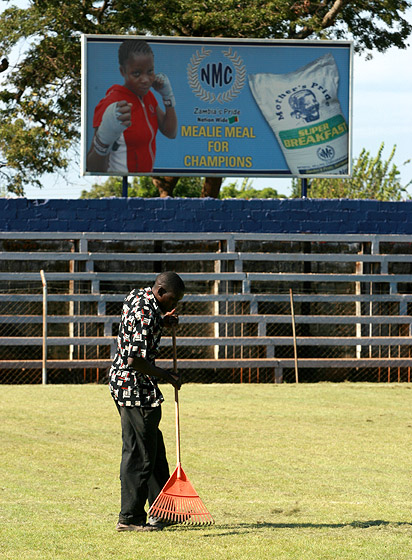 Carl Fourie for ESPN.com
Zambians are accustomed to seeing Phiri's face on billboards, like this one for National Milling.
Using athletes to sell products is about as old as sports themselves, but a Zambian company sponsoring any athlete, let alone a woman, on this scale is rare, if not unprecedented. Phiri, however, has given National Milling very favorable publicity, and the arrangement has been successful enough that Barclays has signed up as a major sponsor as well (the bank funded the Copenhagen tour). The champ, meanwhile, clearly has her sponsorship sights set beyond cornmeal. Virtually every shirt she owns bears a Nike logo, even though she doesn't have an endorsement deal with the company. But she wants one, to the point of asking during an interview how to get in contact with a representative from Nike (which she rhymed with bike, an understandable mispronunciation given that English is her second language).
Phiri is a good pitch woman, pretty with piercing eyes, prominent cheek bones, superb dimples, engaging smile and an amused giggle. She can be both stubborn and playful. Walking down a crowded Copenhagen street, she suddenly insists on a piggyback ride. Immensely proud of what she has accomplished, she says she doesn't feel guilty for having so much money compared with so many of her countrymen because "I made it through my sweat." A hard hitter, when she focuses on an opponent, her glare shows the fierce determination that has carried her from the streets to the billboards. When she met German boxer Elina Tissen for the first time before their title bout in April, Phiri sat down across from Tissen with such confidence that her opponent looked not only intimidated but scared.
"Expect a tough fight," she told Tissen during a news conference the next day. "I've put in two months of training. I've trained like a man. I wake up early. I run. I fight. That belt is mine." It was. Phiri won a clear decision and, with it, the Women's International Boxing Federation super featherweight world title.
Her rise to the top has been thanks to talent and sacrifice certainly, but also to her managers' shrewd choice of opponents. Her modest 7-3-1 record with two knockouts since turning pro in 2005 includes three victories against the same opponent (Patience Master); a win against Monika Petrova, who dropped to 1-10 with the decision; and a controversial split decision over American Belinda Laracuente. That bout came in a stretch in which Laracuente fought nine times in 16 months, losing seven times and winning once, leaving her with fewer career wins (23) than non-wins (22 losses and three no-decisions). Another of Phiri's victories was in Kenya against Kelli Cofer (13-7-4), who was a last-minute substitute when the scheduled opponent failed to show.
Having beaten Tissen (7-3) for the world title in the spring, Phiri will fight Saturday night in Lusaka against Arizona boxer Hondi Hernandez for the vacant Global Boxing Union lightweight title. She originally was slated to fight American boxer Angel McNamara, who had not fought for two years. When McNamara abruptly withdrew from the fight at the end of August, she was replaced by Hernandez, who is 5-3 for her career and lost by TKO 30 seconds into the third round of a bout in February.
Of course, with a jumble of governing bodies and the vaguest of scheduling structures, there is a certain haphazard nature to boxing matchups no matter the gender or level -- quick, name the three current men's heavyweight champs and their next logical opponents.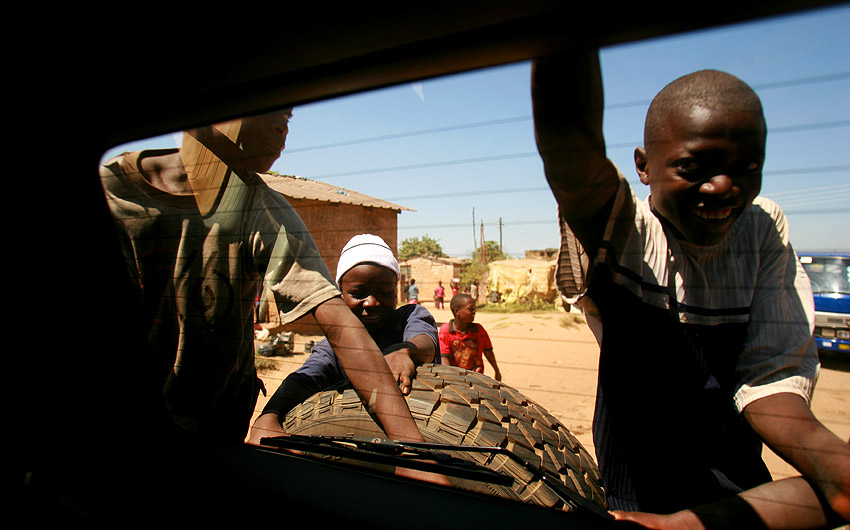 Carl Fourie for ESPN.com
When the champ is on the move, eager Zambian children often give chase.
400 Million Kwacha Baby
Phiri earned 200 million Zambian kwacha for her title fight against Tissen, and this weekend's purse is double that. Four-hundred million kwacha is a princely sum in Zambia, but not as princely as it sounds. With an exchange rate of 3,500 to the U.S. dollar, 400 million kwacha equals about $115,000. And the Zambian kwacha is worth drastically more than the currency of neighboring Zimbabwe, which has been so ravaged by an annual hyperinflation rate of 9 million percent that its banknotes recently were printed with an expiration date.
In other words, times are difficult in this area of the world. "When she fought Monika Petrova [in 2007]," Mwamba says, "the media published how much she made in the fight, 40 million kwacha [about $11,500]. I was scared guys would go and kill her for the money."
Journey to Zambia for a look inside the world of boxer Esther Phiri.

Poverty is a fundamental part of most boxing stories -- precious few boxers choose their sport because they have easier, less painful, more lucrative career options -- but there is Western poverty and then there is African poverty. Men balance huge loads of firewood and charcoal on their bicycles along Lusaka's dusty roads while women crouch along the roadside selling the charcoal for fuel. Elderly women can be found methodically crushing small stones into even smaller bits for sale as material to spread when heavy rains flood the walkways. One of the few growth industries is the sale of coffins, which are advertised down the street from the health ministry.
This is the world in which Phiri grew up.
Impoverished by her father's death from malaria when she was girl, Phiri left school after the sixth grade and was pregnant at 16. To feed herself and her daughter, Eunice (now 9), she sold potatoes, chickens and vegetables in a public market on the crowded streets. She bought the food wholesale in the early morning, then cooked and re-sold it for a modest profit. She lived in a nearby compound -- what American activists would call a shantytown -- in a shabby, two-room building that rented for $30 a month. There are worse neighborhoods in Lusaka, but this one is extremely poor.
"If you don't go to school, what do you expect?" Phiri says of those days. "Life is tough."
Life is easier now. After Phiri beat Petrova, Zambian president Levy Mwanawasa (who recently died) and the government gave her a three-bedroom house in a middle-class neighborhood where she is raising her daughter and the four children of a sister who died of complications from childbirth.
During a visit to her old neighborhood this past spring, Phiri hugged and chatted with the vendors in the market as well as her former neighbors in the compound. She stopped by the old shop where she got her hair styled -- she often wears it in cornrows -- and laughed with the owner. When the local boys and girls recognized the champ, they began chanting "Esther Phiri!" and reaching their hands to the window of her SUV. "Esther Phiri!" they shouted as they ran along the vehicle for perhaps a quarter-mile. "Esther Phiri!" they yelled, grabbing the spare wheel on the back of the SUV and crawling aboard.
"Esther Phiri!"
"'Million Dollar Baby' is a copycat story of this," says Peter Cottan, the engaging director for National Milling in Lusaka who arranged Phiri's endorsement deal with his company and provides her financial advice. "It's just that 'Million Dollar Baby' takes place in America and this is Africa. You can build it up as another 'Million Dollar Baby' but this is reality, and that was a movie. She was selling bloody chickens! That's why she has so much support from the average people here. They know she's one of them."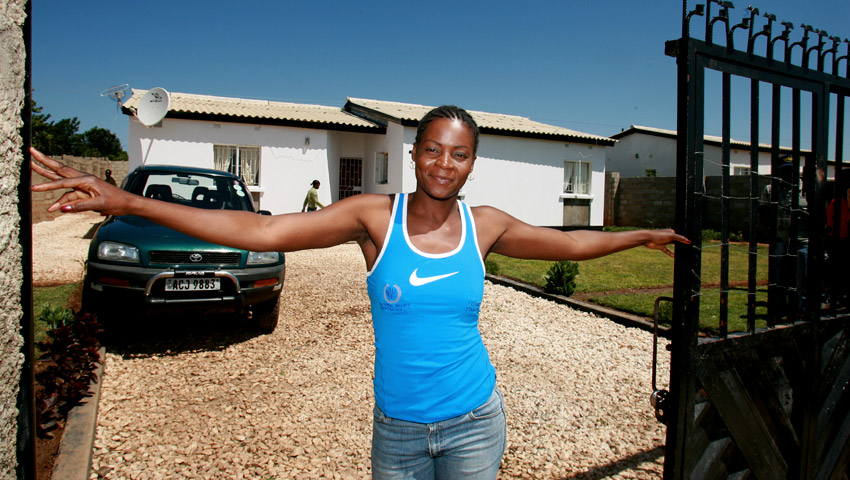 Carl Fourie for ESPN.com
Raised in one of the poorest areas of Lusaka, Phiri now lives in a house given to her by Zambia's late president, Levy Mwanawasa.
They're not laughing now
Mwamba -- a former soldier and Olympic boxer, and a current trainer, promoter and preacher -- steered a heavily used sedan, its brake drums moaning, down Cairo Road in the center of Lusaka toward yet another planning meeting for Phiri's April bout against Tissen. He had ducked out of the hotel via the back stairs and alley, hoping to avoid a crush of fans seeking freebies, but was quickly recognized driving down the street. As he juggled calls on three cell phones, fans gave chase, begging for free tickets. "Everyone wants free tickets," he complained mildly in his gentle voice. "But if we give away the tickets, how are we supposed to make money on the fight?"
This is a universal truth of sports. Whether it is a baseball game in the States or a boxing match in Africa, everyone, regardless of financial circumstances, wants a free ticket.
Mwamba was driving the sedan because he loaned his heavily used convertible to an official with the Global Boxing Union who was overseeing the Tissen bout. That he had any car to drive is a reflection of how far he'd come since starting his Exodus Stables boxing club in 2003 when he was so poor he had to walk several miles to the gym. "I had literally nothing."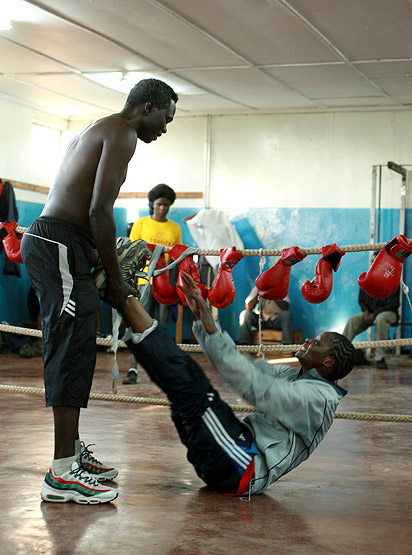 Carl Fourie for ESPN.com
Trainer Anthony Mwamba could relate to Phiri's background when he began training her in 2003.
Phiri began training with Mwamba after she had been introduced to boxing during an HIV awareness program in 2003. Just as it was for Mwamba, getting to the gym was difficult -- she says she had to take four buses. But at least those rides were shorter than the four-day odyssey on public buses she took to a bout in Kenya for a $200 payoff. Phiri also had to endure people heckling her and telling her she was wasting her time. A woman boxer? In Zambia? She wasn't Hilary Swank and this wasn't some Clint Eastwood movie. Get real. "People used to laugh at me," Phiri says. "They would say, 'She's mad. She's mad!' And they said I was just following the men to the gym."
Indeed, there were rumors of a romantic relationship between Mwamba and Phiri (she has a fiancé, computer technician Sandie Chinombwe), rumors that Mwamba calls ridiculous. "I'm a married man," he says. "I have five kids. She's more like a daughter to me."
"He has made us what we are now," Phiri says of Mwamba. "He has played a big role in my life."
When in Zambia, Phiri trains at Mwamba's Exodus Stables. Stables might seem an odd term for an athletic program, but it's almost fitting when you see the training gym. The facility is a 40-foot-by-70-foot whitewashed slab of a building with only four old punching bags -- five, if you count the old Goodyear tire that hangs from a bar on the wall. There is one battered speed bag, but when its cord is broken, the boxers instead punch at a tennis ball dangling from a cord. The only ornamentation: two wall calendars, one depicting the "Last Supper," the other Phiri holding what is perhaps the next meal (she has bags of rice in each hand).
The boxers have extra incentive not to get knocked down in the lone ring, because there is no canvas, just a painted concrete floor. If the punch doesn't knock you out, the landing will.
Mwamba's nickname is Preacherman, and he says his plan when starting Exodus Stables was to preach the Gospel to boxers. He leads his boxers in prayer each day and brings in Pastor Azili Chirowa for a longer session once a week. Phiri, Chirowa and Mwamba are Pentecostals, and the prayer sessions are lively. Phiri, the hard-hitting champ, helps lead one prayer session by singing hymns, dancing among her fellow boxers, chanting and speaking in tongues. "Boxing is not all about the punching," Chirowa says. "It needs some spiritual encouragement and strength, as well. The nature of the sport is that of drinking and sex. But the Bible encourages focus."
Phiri's boxing trunks bear both the name Exodus Stables and "John 10:9," the Scripture that reads, "I am the door: by me if any man enter in, he shall be saved, and shall go in and out, and find pasture."
During afternoons, you can find many of the 42 boxers who have walked through Mwamba's door in search of that pasture. They range from kids to men in their 40s, and include Zambian heavyweight champ Joseph Chingangu, plus six female boxers. They skip rope, shadow-box, punch the tire and occasionally step into the ring for more personal instruction. Some wear T-shirts donated by American charities (you can tell by the teams and chain stores represented on the shirts -- Twins, Lakers, Old Navy, etc.), some wear sweatpants and some wear collared shirts. Children from the surrounding area often stand near the entrance watching the sessions, hoping to catch a glimpse of the woman who proved one can escape from this life through boxing.
Asked how he would fare against Phiri, a 24-year-old boxer/baker named Noah Mwelwa replies, "I could not hurt her. We have too much respect for her. She is like a mother to us."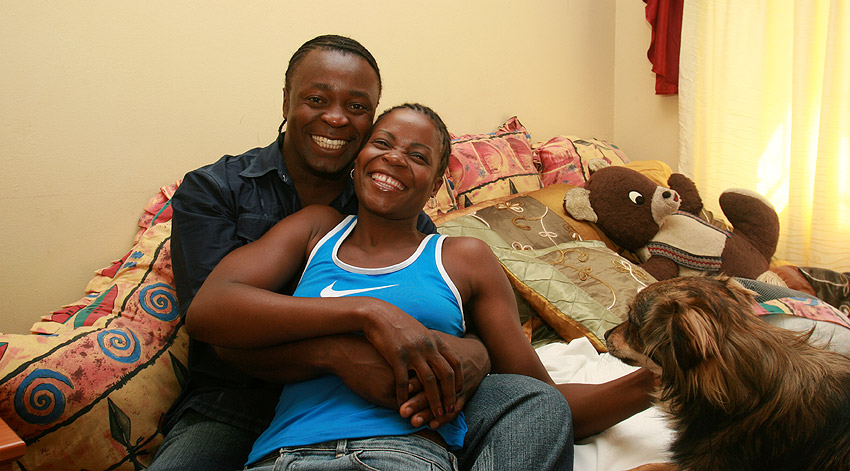 Carl Fourie for ESPN.com
Phiri is engaged to computer technician Sandie Chinombwe, but her handlers are in no hurry for her to marry.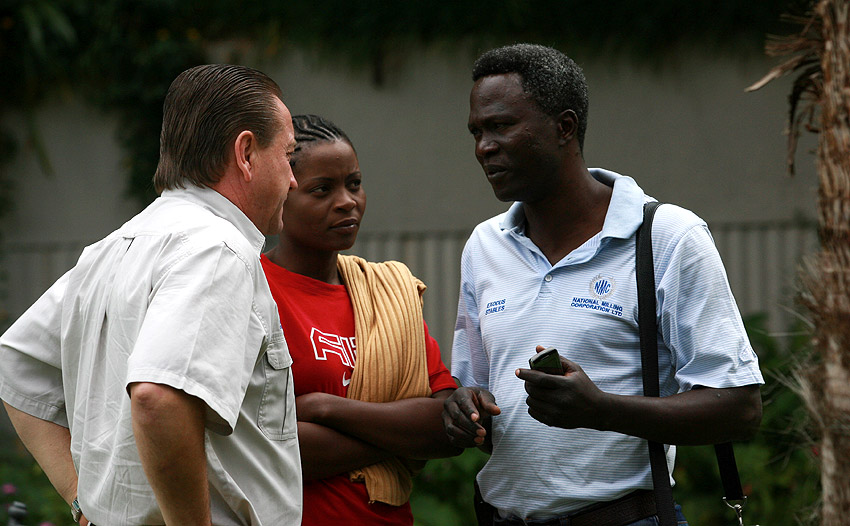 Carl Fourie for ESPN.com
For now, sponsor Peter Cottan and trainer Mwamba are trying to focus Phiri solely on boxing.
A fighter or a lover?
It is a warm late-April evening and Phiri has just bloodied and beaten Elina Tissen clearly and unanimously under the stars at Lusaka's Woodlands Stadium and in front of a live TV audience. When the referee raises Phiri's hand in triumph, the boxer drops to her knees and lowers her face to the canvas, giving thanks to God for her victory. As fans rush the ring and reach toward the champ, Mwamba and security guards usher Phiri to a spartan dressing room underneath the stadium grandstand. There she hugs Chinombwe, her fiancé, from whom she was separated during the long weeks spent training for the fight. While Cottan and Mwamba talk of a possible training tour to Las Vegas, she talks of a wedding.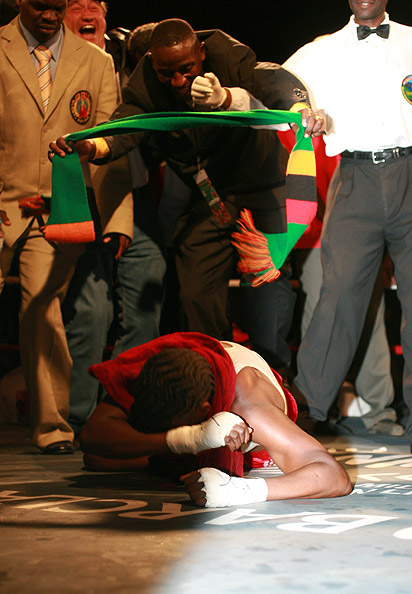 Carl Fourie for ESPN.com
Phiri's only trip to the canvas during her most recent title bout came when she was overwhelmed by emotion after winning.
The Vegas trip is eventually replaced by the tour to Copenhagen, Sweden and Germany, partly out of fear that an American promoter might try to steal Phiri away, partly to give her exposure in Europe. The wedding plans are also changed. When the wedding is brought up over dinner in Copenhagen, Phiri provides a vague reply and the conversation shifts to a debate in which Mwamba argues that marriage is detrimental to a boxing career because it takes away an athlete's focus and drive. How many champions are married? What spouse wants to see his or her beloved pounded in the face? To paraphrase Mickey in "Rocky," men can weaken legs, as well.
It is clear, however, that Phiri and Mwamba do not see eye to eye on the subject. "She's madly in love with [Chinombwe]," Cottan says. "And he doesn't see that getting married is a problem. And Anthony says no. And if Anthony says no, I say no. Because getting married and having babies disrupts your career."
Phiri might be a symbol of female empowerment in Zambia, but she is not yet ready to have a career and a husband. She eventually goes along with her male managers and puts the wedding on hold, but such is her position in the country that the issue stirs a national conversation. "Esther must think through the marriage as critically as she can so that she does not let a chance of a lifetime slip through her fingers," a journalist writes in the Zambia Daily Mail. "I am not an expert on marriage and boxing, but I think it is only fair that we give Esther the pros and cons of marriage and let her make her own decision."
Such choices are key to the future of Phiri's career. Boxing is hard, and she hates cutting weight -- as much as 20 pounds to get to the limit of 136 for her weight class. Indeed, some National Milling posters and billboards show her with a definite stomach roll, which is mentioned when there's a point to be made about sticking to a diet. When Phiri accepts an offer of an ice cream near Copenhagen's Little Mermaid statue, Mwamba tells her she cannot have it. He is the coach and she is the boxer, and she must lose weight.
"The problem is when you pay these girls too much money," Cottan says. "She sees all that money, and she thinks she never has to box or fight again. She never thought she would see a kwacha from boxing, let alone 200 million kwacha."
One day you're selling potatoes on the street, the next you're living in a house given to you by the president. But there are still reminders of the old days: In addition to the children and pet dogs, she is also raising chickens at home. Boxing has provided her with a good life, but she says she tells her daughter to go to school and study hard. Phiri does not want Eunice to follow her into the ring.
Her contract with National Milling runs through the spring. Cottan and Mwamba both would like to see her continue to fight, with the possibility of her winning an even bigger purse should she gain a big fight in the United States. Phiri, already rich beyond both Zambian standards and her wildest dreams, declines to say how long she plans to continue boxing. "I can't tell you. It's my secret," she says. "It's God's secret."
So she will fight this weekend against Hernandez, dedicating the bout to the memory of her late president and supporter. Whatever the record, whatever the buildup, Hernandez is just one more opponent for a 25-year-old woman boxer breaking barriers and supporting five children, plus her own mother, in a poor African nation. Forget the rankings, forget the continent, forget the size; when it comes to opponents, this woman has already fought and whipped the largest there are.
Jim Caple is a senior writer for ESPN.com.
Join the conversation about "Fists Of Phiri."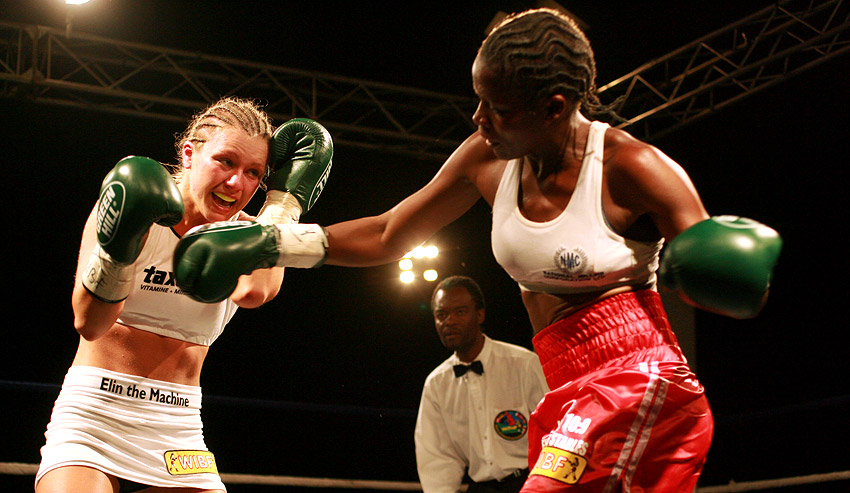 Carl Fourie for ESPN.com
Germany's Elina Tissen couldn't escape Phiri's blows during their April title bout.