harlotte Ray knew she was overmatched. As caring and considerate as her son was, he was just as hardheaded. So when Jason walked into the kitchen that afternoon and flipped his driver's license onto the table, grinning ear to ear after the decision he had just made, she knew she was in trouble.
"What does this little heart mean?" she remembers asking, pointing to the tiny red icon on his license.
"It means I'm going to be an organ donor," Jason said.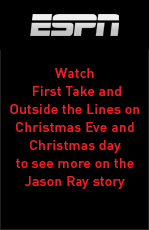 "Let's be serious," Charlotte shot back. "Your father and I believe that you come here with all these little parts, you ought to leave here with all these parts. I'm not so sure about this."
Charlotte was putting up a fight, but deep down she knew it was a waste of time. Her son wouldn't budge. He never did. At 19, he had the maturity of someone twice his age. Though he worshiped his parents, he didn't accept being told what to think. By anyone.
It's the reason he burned through Sunday school teachers like Dale Earnhardt burned through tires, the reason he was once suspended in junior high after questioning the authority of a teacher. Jason Ray accepted zero absolutes about the world in which he lived -- he wanted to probe, research and discover the meanings of life for himself. And no one -- Mom and Dad included -- could change that.
"Mom, you're crazy," he told his disapproving mother. "If something happens to me and I have a heart that could help save someone's life, then what good does it do to bury that heart in the ground? That doesn't make any sense at all."
It was tough to argue the point, so Charlotte moved on.
"I just kind of gave up," she says, "figuring it won't have anything to do with my life anyway."
DESTINED FOR GREATNESS
The tryout judges gave no specific instructions. No rules. The only thing they told Jason to do was put on the costume for the yellow-horned ram mascot, Rameses, at the University of North Carolina and prove he deserved to wear the suit.
So Jason climbed into the furry blue and white outfit, pulled on the smelly Ram head and did his thing. Within seconds, the traffic on the two-lane stretch of South Road that cuts through the heart of campus stopped. On the north side of the street, they chanted, "Tar." On the south side, they chanted, "Heels." Horns honked, students screamed and Jason climbed on top of cars. It was the beginning of a perfect marriage. North Carolina had found its newest mascot. Jason Ray had found his newest vehicle of expression.
"When you step into that suit, you become this giant cartoon character," says Tyler Treadaway, one of two current Rameses. "But Jason was that way every day -- he was born to wear that suit."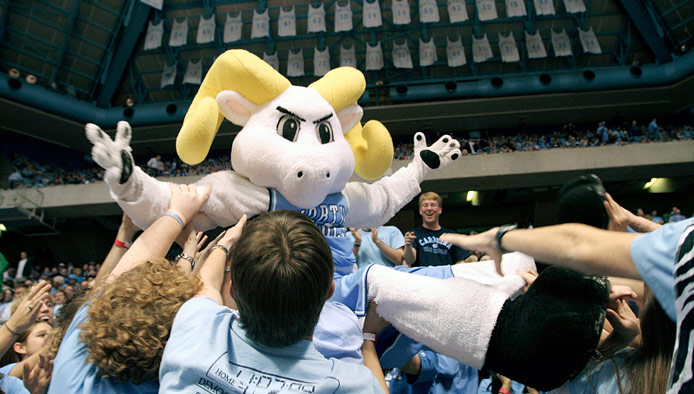 Jonathan Stotts
Perhaps current North Carolina mascot Tyler Treadaway put it best: "Jason was born to wear that suit."
Emmitt and Charlotte Ray always knew their son was special. Heck, even his birth was something of a miracle, the fruit of a love between two teenage sweethearts who went their separate ways after high school only to find each other again some 25 years later. While they both had children from previous marriages, Jason was their only child together.
He was a pesky kid, the type who, in the middle of a whipping from Emmitt, would mouth back, "That doesn't hurt." (After which, Emmitt says he would respond, "Who said I was finished?")
Jeff Oakes, Jason's youth pastor who later became one of his closest friends, remembers the time he was trying to teach a group of teenagers about God when Jason entered the room and sat down, positioning himself about three inches from Jeff's face. "He was always testing people," Oakes says. "I've never known another kid to be so distracting to a classroom environment. If you weren't 'on,' he could tear apart the entire classroom in a second."
Behind Jason's wit and cleverness was a heart. Emmitt and Charlotte were touched when their son came home from mission trips to Haiti and Honduras with tears in his eyes, unable to shake the images of starving, sick children from his head.
They were amazed when a high school girlfriend cheated on Jason with one of his friends and he responded not in anger but in prayer, writing in a journal that his parents would later find:
Thanks for teaching me patience and forgiveness … I pray for them now.
I pray you would speak to them and they would see the light and love that only comes from you.
And they smiled when he carried a Bible with him to his senior prom, knowing he still had to prepare for a sermon he had been asked to give the next morning. Jason, they like to tell people now, "got the message." At 6-foot-5 and 220 pounds, with that gregarious, in-your-face, who-in-the-world-is-that-guy personality, he loved people, connecting with them through laughter, tears or stimulating conversation.
At North Carolina, he began every morning the same way: by crawling out of bed about 8 a.m. to meet two of his roommates for prayer. "And he hated mornings," says Chad Hines, one of the roommates. "So as soon as we were finished, he'd head right back to bed."
Unbeknownst to his parents, Jason led a Friday morning Bible study for older men. On Tuesday nights, he was a student leader for InterVarsity, a campus ministry.
Yet for all of his faith, for all the stories that make him sound like some sort of can-do-no-wrong saint, Jason was just like any other college kid. He loved beer, keeping a journal in which he rated all the beers he tasted, and what he liked and didn't like about them. He even held a Bible study at a bar in Chapel Hill, N.C., before InterVarsity's leadership told him that was a no-no. He loved smoking cigars for the camaraderie and conversation it stirred. And he was a prankster, one night lighting a package of firecrackers under a friend's dorm room door and then hiding under his sheets when the police and fire department responded to the smoke alarm. "He was hardcore," close friend Tyler Hollis says. "Whatever he did, he was just so darn passionate about it: Religion, music, school, Rameses -- it didn't matter. Whatever he was focused on, he was 100 percent hardcore."
It wasn't unusual for Jason to stop on his way to class and help an overwhelmed underclassman -- someone he didn't even know -- carry moving boxes into a dorm room. Brown Walters, the North Carolina cheerleading coach, remembers the day Jason introduced himself on a bus ride to Wake Forest. Ninety minutes after leaving Chapel Hill, the bus pulled into Winston-Salem and the two were still engrossed in conversation. "We were talking like we had known each other for years," Walters says. "And that's the way he was -- with everybody. Whether it was the first time he had met you or you were his lifelong best friend, he treated you with such warmth. I simply haven't known many people like that. The world is not that way."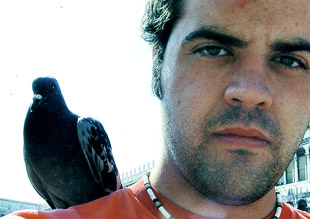 courtesy Ray family
Jason was a deep thinker, constantly probing lifeís bigger questions.
For Jason, every day was a quest to discover something or someone new. While some kids are content listening to music or reading about the Sistine Chapel, Jason wanted to experience both. So he crisscrossed the Southeast to see the Foo Fighters, Rage Against the Machine and Tool. He studied in Europe, seeing Michelangelo's greatest work with his own eyes. He visited Spain, running with the bulls in Pamplona in 2006.
Through it all, he probed life's deeper questions, be they about religion, death, sex or anything else. Jason combed through the Bible, picking apart every passage he could and pestering Oakes with questions: Why are there 66 books? How authentic are the writings? What does the Bible say about drinking? About sex? About death?
Stuffed into his pockets and backpack were miniature journals. Whenever Jason had a spare second on campus, he'd jot down his thoughts for the day. Maybe it was lyrics to a new song for Nine PM Traffic, the band he and a group of friends started when they were 15. Maybe it was a prayer for a struggling friend. Or maybe it was a conversation he was having with himself in hopes of conquering his biggest fear: the death of his parents.
Wrote Jason, in one miniature blue notepad:
Is it possible to have a healthy fear of death? Since Adam, all but two people have passed away. It's an inevitable end. People must see death, for ignoring it is simply lying to yourself. There are two ways to look at it: 1.) people acknowledge death and live toward it. 2.) people choose to ignore death and distance themselves away from it.
Jason accumulated enough credits to graduate from North Carolina in December, but had no interest in leaving college early. He wanted to finish the final semester with his friends. And he wanted to be on the sidelines, as Rameses, when North Carolina won the national men's basketball championship. "He was always convinced they were going to win his senior year," close friend Nick Burns says. "Like that was his destiny or something."
In his final semester before graduation, everything was coming together. Jason was about to graduate, with honors, from the prestigious Kenan-Flagler Business School. He had job offers on the table in Boston and nearby Raleigh. And he had begun dating Madison Withrow. He'd told his parents he thought she might be "the one."
"One thing that shocked me more than anything in all the years I knew Jason was when he would talk about Madison," Oakes says. "He was always so insecure. All this, 'I'm not sure she likes me. I think I like her more than she likes me.' And that was so incredibly out of character for him. I told him he was nuts. Everybody loved him."
While Emmitt envisioned his son as a future CEO, Jason had other ideas. He wanted to be a rock star. Music fueled the everyday passion in his life. From blocks away, you would hear Jason's SUV rolling down the street, blasting Audioslave, Jimi Hendrix or the Red Hot Chili Peppers at deafening volumes.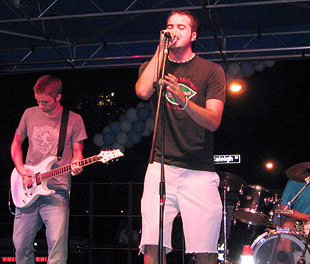 courtesy Ray family
Jason and his band mates were committed to taking Nine PM Traffic to the top.
In December, Jason and his Nine PM Traffic bandmates committed themselves to making a life out of their love for music. Emmitt recalls the night last winter when he and his son stayed up past 2 a.m., discussing whether Jason's pursuit of rock superstardom was a good idea. The plan, Jason explained, was to accept the job offer in Raleigh and then, in his free time, practice with the band and try to build a local fan base. He would use the marketing and management skills he learned in college and combine it with his skills as a frontman to see just what Nine PM Traffic could accomplish.
"I went up to bed that night and Charlotte says to me, 'How did it go? Did you talk him out of it?' " Emmitt recalls. "And I told her, 'Honey, I had to come up here and go to bed because your son was starting to convince me that this was a good idea. It was all starting to make too much sense.' "
This past March, less than a week before traveling with the Tar Heels for the NCAA Tournament, he began chasing those dreams, laying down the vocals for the band's demo CD. Little did he know the lyrics he had written and recorded for "My Ordinary," the band's first single, would prove chilling later that month.
A car crash grabs your attention. The white flags fly for protection. A heartbeat is a window of opportunity …