Unlikely BFFs

n the corner of Irrelevance and Oblivion sits Pete Rose. Baseball won't have him, but Las Vegas will, so he plops down in the far reaches of a designer mall, behind a rope, hawking the only thing he has left: himself.
He sits there every Thursday through Sunday, six hours at a time, signing balls, bats, photos, jerseys and jokes. For $199, he'll sign: "Hits-4,256, Steroids-0." For $299, he'll sign: "Sorry I Bet On Baseball." And if you ask politely, he might even write: "Sorry I Shot JFK" or "Sorry I Broke Up The Beatles."
Pete Rose and Alex Rodriguez discuss their unique relationship on "Outside the Lines."

The mall is almost always bustling, and stragglers are herded toward Rose's booth -- inside the memorabilia store Field of Dreams -- by a pseudo-ringmaster: Come meet Pete Rose, riiiiiight here, riiiiiight now. Baseball's all-time hit leader is riiiiiight here, riiiiiight now. Come on in, we can set you up with Charlie Hustle. Step right up. Pete Rose! If it smacks of desperation, that's because it is. But the crowds are mesmerized by the old pro, by his bulbous nose, by his snakeskin boots, by the words "Hit King" embroidered on his shirt collar.
He talks to everyone. He'll ask the tourists from Chicago, "Cubbies or White Sox?" And he'll listen to all the stories they tell. One day, a 40-something Reds fan said, "Remember me, Pete? Back in '71, one of your games was rained out, and I had to walk home from Riverfront Stadium. And you stopped in your Corvette and gave me a ride."
Pete's priceless reaction was: "I did? Well, if I ain't got Alzheimer's, I'm pretty sure I got Sometimers."
Inevitably, the gushing will stop, and a bored Hit King will avert his eyes to a 19-inch TV on his table. He'll flip the channels, looking for a ballgame. Damn, nothing beats a ballgame. When he's home in Sherman Oaks, Calif., he watches East Coast games, Central time zone games, then West Coast games. Maybe he has got raging bets on all of them, but he says no. He says he just can't get enough, that he wishes he could get closer to baseball than a TV and a Sharpie, that he'd sell his soul to be able to manage today's ballplayers.
Over the years, some of these players have sauntered in to see him. Roger Clemens has stopped by to pose for pictures, as have Frank Thomas, Jim Edmonds, David Eckstein, Jimmy Rollins and Gary Matthews Jr.
Rollins asked, "Pete, what's the most hits you ever got in a season?"
"Um, 230," Rose said.
"How'd you do that?" Rollins asked.
"Saw ball, hit ball," Rose said.
They all end up leaving amused, while Rose ends up alone again, squinting at his tiny TV set, wishing for another ballgame to watch, wishing for a breakthrough, wishing for a way to get back into baseball.
And then it happened, one winter day about two years and a half years ago.
In walked the big fish.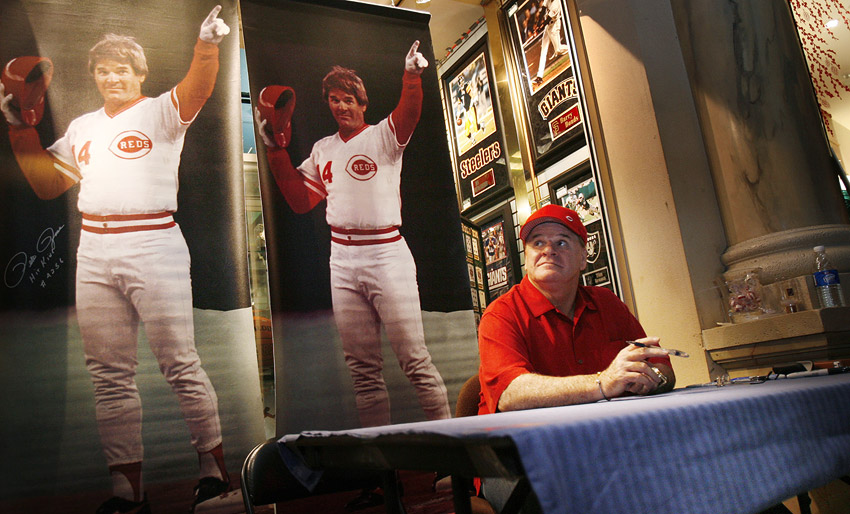 AP Photo/Isaac Brekken
If you're looking for Pete Rose, you'll find him at the Field of Dreams store in Las Vegas every week, Thursday through Sunday.
LOOKING FOR LOVE, 24/7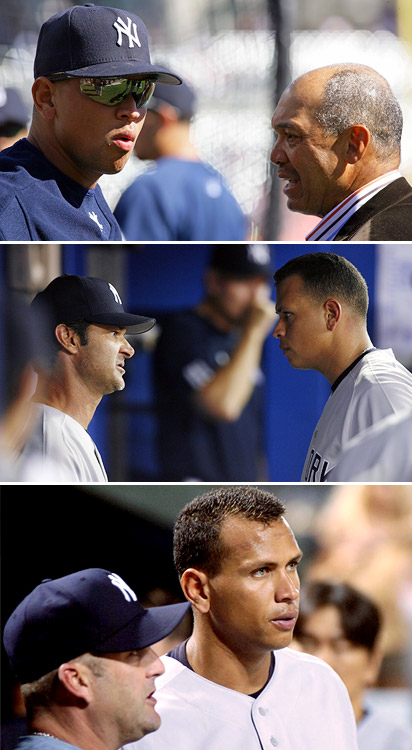 US Presswire (top, middle), Icon SMI (bottom)
Alex Rodriguez has sought advice from every corner, including Reggie Jackson, top, Don Mattingly, middle, and Kevin Long.
On the corner of Obsessed and Overwrought sits Alex Rodriguez. He has a batting cage in his home, a batting cage in Yankee Stadium and a batting cage in his mind -- which are probably two too many.
But that's A-Rod. The rap on him is that he gets himself out, not the pitcher, that his brain is so cluttered with stay back, lower your leg kick, hit a five-run homer that he ends up choking in the most taut moments of the season. It's probably unfair criticism, considering he's the only big leaguer in history to amass 35 homers, 100 runs and 100 RBIs in 10 consecutive seasons, but he clearly cares too much about what's on the back of his baseball card, cares around the clock.
His year-round preparation is both admirable and myopic. On the one hand, he eats egg whites and lean bacon and drinks protein shakes. He rarely downs alcohol, employs a full-time trainer and will try almost any legal vitamin or supplement under the sun. His pectoral muscles are frightening. But hand him a baseball bat, and all sense of serenity disappears.
Before he hits in the cage, he likes to watch video highlights of himself, so he has a mental picture of the ball traveling 450 feet. That makes sense, until he goes out, hits the ball only 75 feet ... and starts to stress.
He prides himself on being able to will himself out of batting slumps, via trips to the videotape, the weight room and the cage. Eventually he'll need advice, and that's when he leans on his small, eclectic circle of batting gurus. These aren't all big, impressive names, either. Two are his childhood buddies from Miami, Pepe Gomez and Guillermo Socarras, friends of A-Rod since he was 10. His theory is they knew his swing in the fifth grade, so they must know it now. But if they can't solve the case -- and neither played a nanosecond of professional baseball -- A-Rod's options begin to dwindle.
He has been known to consult with Yankees great Reggie Jackson, but Reggie's not around 24/7, which is the kind of counseling Rodriguez often craves. That leaves the Yankees' hitting coach, whoever he might be. From 2003 to 2006, it was Don Mattingly, another Yankees great, but someone who obviously couldn't be at A-Rod's beck and call. A-Rod needed someone who was willing to eat, drink, sleep and dream his swing -- and only his swing. He needed someone who watched three ballgames a day like he did. He needed someone who knew the history of the game, because A-Rod would often study the mechanics of Mays, Aaron and even Babe Ruth -- and apply them to his stroke. He needed someone he could text message, day and night. Someone who had nothing else to do but text him back.
During slumps, A-Rod used to fret about this -- about needing someone else in his corner, someone else to help save the back of his baseball card.
And then it happened, one winter day about two and a half years ago, as A-Rod was strolling through a designer mall in Las Vegas.
There sat the big fish.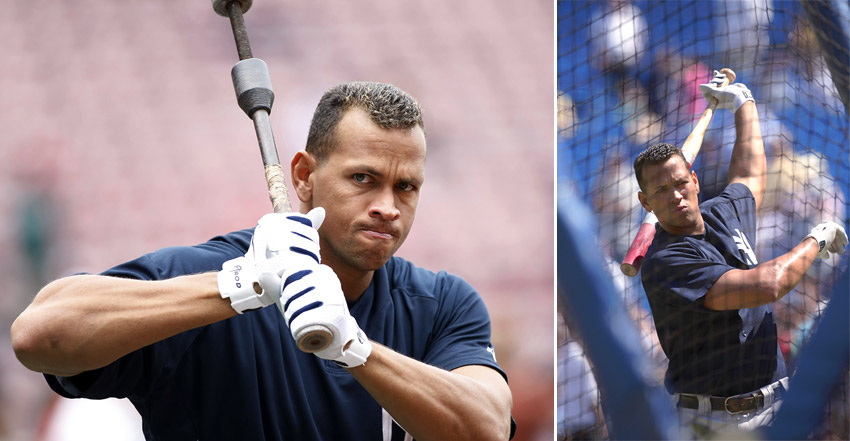 US Presswire
A-Rod lives in the cage, constantly looking for an edge and trying to hone his swing.
FROM HIT KING TO HIT DOCTOR
Pete Rose needed A-Rod, and A-Rod needed Pete Rose, and the rest is ... a huge wireless phone bill.
That day in Vegas, in January of 2006, Rose ignored all the gawkers and the lurkers and invited Alex Rodriguez to sit right on down. "I made people wait while we talked, you're damn right," Rose says.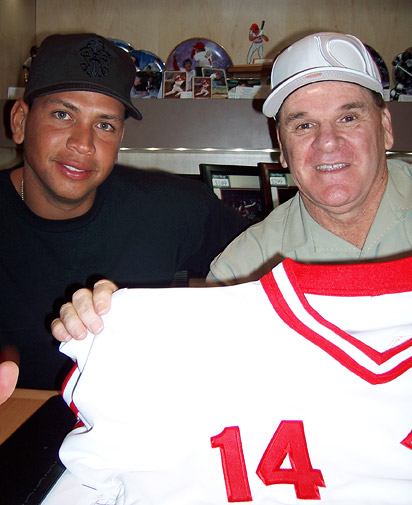 Courtesy of Field of Dreams
Since their first meeting in January 2006, Rodriguez and Rose have talked hitting via the wonders of modern technology.
The first question A-Rod asked was, "How'd you get all them hits?" And Rose's ensuing dissertation, alarmingly, had nothing to do with studying videotape.
As a mesmerized A-Rod listened, mouth agape, Rose told him he got 4,256 career hits without watching a single frame of film. He said he never hit off a tee, barely lifted a weight and had an offseason program that consisted of playing full-court basketball. He told A-Rod every game was a "four at-bat war," that he was a "grinder," that he remembered every pitch a pitcher ever threw him. He told him he didn't buy into this notion of "hitting inside the ball or outside the ball," that his only goal was to hit the thing hard someplace.
A-Rod, barely breathing, asked Rose, "How was Willie Mays to play against? How was Hank Aaron?"
Rose harrumphed and said, "They're just like you, Alex. They were good, they prepared themselves and they loved the game."
A-Rod, glowing, asked: "Wouldn't it have been fun to play against Babe Ruth?"
Rose answered, "Yeah, it'd have been fun to play against him, but I'd be dead by now. So I wouldn't be able to talk to you."
That captures Rose's sense of humor to a T, but with the crowd swelling and the ringmaster itching to say, Pete Rose and A-Rod riiiiiight here, riiiiiight now, it was time to wrap it up. A-Rod told Rose, "Text me -- let's talk hitting." So they exchanged numbers and posed for a beaming picture.
It began to dawn on the Hit King that he had a chance to become the Hit Doctor. The elite hitter in today's game teaming up with the all-time hit leader -- such an odd yet fortuitous match. Their disparities made it charming. A-Rod was all about image, while Rose -- banned from the sport -- was long past trying to fix his. Rose still wasn't allowed in a big-league clubhouse, dugout or press box. If he attended a game, he had to pay for his own parking and ticket -- "That's right, Alex couldn't leave me a pass,'' he says -- and he was still ineligible for the Hall of Fame. But he had a satellite dish at home, which meant he had the best seat a high-def television could buy. And that meant he could study every nuance of Alex Rodriguez's stroke and report back to the big guy himself.
"Baseball can keep me out of it, but they can't tell me who I can befriend," Rose says. "Texting's not illegal."
By spring training in 2006, their text messages began in earnest. And A-Rod is a text-messaging fool. He'll text Yankees players, coaches and staffers ... even when they're sitting 15 feet away in the same clubhouse. He'll text "LOL" when something amuses him, and he'll text :-( when he's bummed. And the first text message from Rose that spring definitely had them LOLing. (Editor's note: All text messages in this story are from A-Rod and Rose's best recollections.)
"What did I want to gain from him? Well, I mean, it's obvious," A-Rod says. "He's the world's all-time leading hitter. I mean, it's kind of like, if you're a writer, why wouldn't you want to talk to Ernest Hemingway? You know? If you're a painter, Picasso. Baseball ... Pete Rose. That's just what it comes down to."
Says Pete: "Well, if I wanted to talk to somebody about hitting, I'd talk to me, too."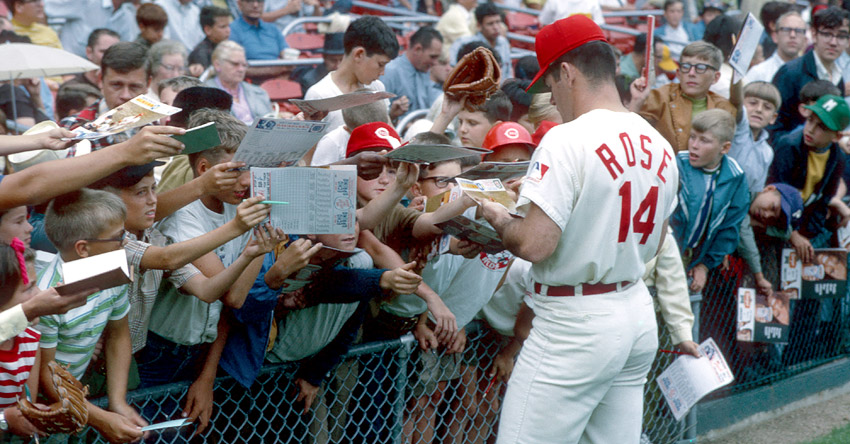 Malcolm Emmons/US Presswire
Known for his work ethic and nicknamed Charlie Hustle, Rose was extremely popular during his playing days.
But just as the '06 season began that April, they suffered their first glitch. A-Rod somehow lost his cell phone and all the numbers stored inside. Every day, Rose would check his texts, and, every day, nothing.
"I thought he was mad at me," Rose says.
Two months flew by, and Rose assumed A-Rod had grown bored of his advice or was too busy to write. To get his baseball fix, he'd talk to his son, Pete Jr., who was still playing minor-league ball at 36. And while Rose enjoyed his chats with Petey, he and A-Rod simply had more in common.
"Well, I mean, Petey was in an 0-for-20 slump one time, and asked me what he should do," Rose says. "So I told him, 'Go call [Dave] Concepcion. I've never been 0-for-20.'"
Little did Rose know, but A-Rod was dying to reconnect. By late June, A-Rod had drifted into a hellacious 1-for-14 slump, so he had an agent friend contact Rose at the Field of Dreams store. By June 30, the slump had bottomed out at 3-for-23, and Rose noticed on TV that A-Rod was "swinging at bad pitches away." He felt A-Rod had fallen into the habit of trying to pull sliders to left field, and so, on July 1, Rose fired off the following text:
The next night against the Mets, A-Rod blasted a home run to right-center in the third inning, roped a single to right in the fourth and clubbed a home run to center in the fifth. Which prompted this follow-up:
From that moment on, A-Rod was hooked, and by season's end, they were texting at least once every week or so. But even the Hit King couldn't rescue A-Rod from his neurotic postseason self. Pete had heard about A-Rod's playoff swoon the year before (2-for-15 against the Angels in '05), but he wasn't going to bring it up unless A-Rod did. And then, right before the Yankees' first-round series against the Tigers, A-Rod coyly went there:
But the Yankees lost. And worse, A-Rod skulked away with a .071 batting average (1-for-14). His swing was so heinous that manager Joe Torre actually batted him eighth in Game 4. The backlash was inevitable. New York booed and hissed, with all of its New York phlegm, and other than Miami, there was just one place for Alex Rodriguez to go that brutal, miserable offseason.
Vegas.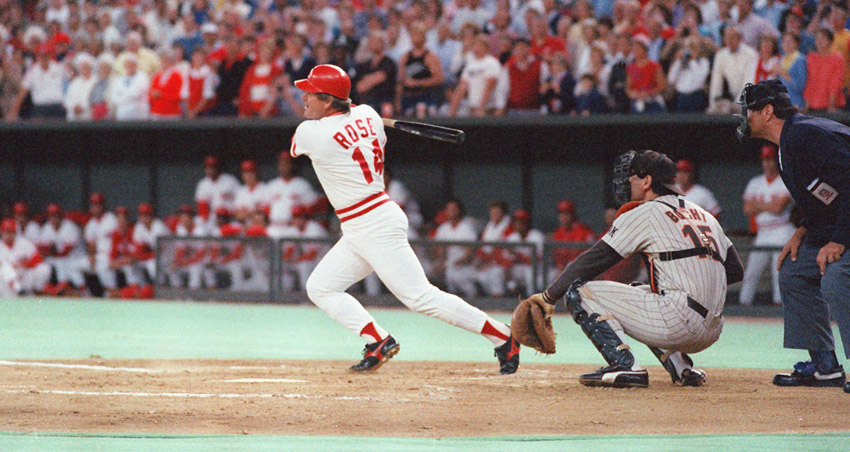 AP Photo
After breaking the hits record in 1985, Rose became a pariah in 1989 when he was banned from baseball.
SHORING UP THE KOBE OF BASEBALL
By now, the New York tabloids had their Taser guns aimed directly at the Yankees star. They dug for dirt and mistresses and the New York Post reported that, between October 2006 and May 2007, A-Rod had taken his private jet to Las Vegas 13 times. The tabloids insinuated he was there for the clubs, the concerts and one particular stripper. But whatever the case, he was certainly also there for the Hit King.
Every time A-Rod flew to Sin City, he would try to flag down Rose. He'd call the Field of Dreams store at the Caesars Palace Forum Shops and ask whether Rose was in town signing for his flock. If so, he'd ask politely whether he could stop by and speak with him, saying he didn't want to create a ruckus or a scene. But that's exactly what the store wanted: a scene.
So that's how a reeling A-Rod began to resuscitate himself. He'd waltz into the store and say, "Hey, Hit King." And Rose would respond, "Hey, Mr. MVP."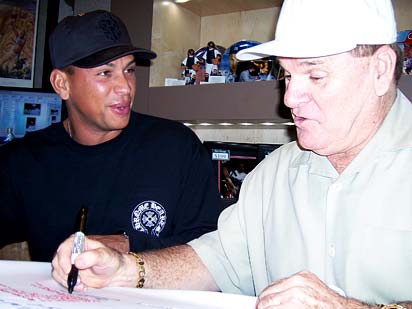 Courtesy of Field of Dreams
Whenever he's in Vegas, Rodriguez will call Field of Dreams to see whether Rose is signing that day.
That October, November and December, they hammered some things out. Rose always stayed positive with A-Rod. He told him when Yankees fans boo, "Try to kill them with kindness." He told him, "The best way to shut 'em up is to hit it out. Because there's no fence that can hold you. You can hit 'em out of Yellowstone Park."
A-Rod began to beam, and Rose broached the subject of overthinking. Watching TV, he'd notice A-Rod in the dugout, fidgeting, pointing, gesturing toward the pitcher. He told him, "Quit worrying about it. Don't think so much about the game. Wait until you're in the batter's box before you think about hitting."
Half of New York had been saying that for years, but it felt legitimate coming from Charlie Hustle. They ended up visiting at least four times that winter in Vegas and bonded to the point they became trusted friends. "I don't have a relationship like that with a lot of people," A-Rod says. Rose decided he was now closer to A-Rod than any other active player in the game. He'd always considered himself tight with Ken Griffey Jr., having played with Junior's dad, but Rodriguez was now a pal, confidant, student and fellow legend.
"I think I do the same thing for A-Rod that Sparky [Anderson] did for me, and Sparky did for Joe [Morgan] and Johnny [Bench] and Tony [Perez]," Rose says. "I just keep patting him on the butt and telling him how good he is, because he is. A-Rod is the Kobe of baseball. Talking to A-Rod is like talking to Michael Jordan, Brett Favre.
"I communicate with other guys, but he is the No. 1 guy because he is the best player. A-Rod is not a know-it-all by any stretch. Even though he's going to be the home run king, he still wants to learn. I think it's great that the highest-paid player in baseball likes to hear my advice about hitting. It's like I'm communicating with Babe Ruth. He's going to be the next Babe Ruth. I mean, I'm convinced of that. Not because I text him, either. It's just he has that kind of ability, and I understand pitching today. He's going to hit 800 home runs."
By January 2007, A-Rod's chest was puffed out again and, with Miami about to host Super Bowl XLI, he wanted Rose to fly to him this time.
Unfortunately, Rose couldn't get away. Super Bowl weekend in Vegas is a virtual holiday, and Rose was under contract to sign all the way up until kickoff that day. A-Rod was disappointed -- "Pete and I in a cage? That'd be fun for anyone to watch, and for me to participate in. How'd you like to watch that?" -- but Rose texted him not to worry.
By April, that swing was flawless. A-Rod was not only killing Yankees fans with kindness, he was killing the rest of the American League. He had two walk-off home runs by April 19 and 10 homers through his first 14 games, a league record. He was the first Yankee ever to have extra-base hits in each of the first eight games, and by April 23 he was on pace for 120 homers and 320 RBIs.
Rose wasn't about to take credit for A-Rod's April. It had just been a perfect storm. Rose had spent the winter rebuilding A-Rod's self-esteem, while A-Rod had spent the winter reinventing his physique. Rodriguez's body fat was cut from 16 percent to 9 percent, and his smile was up 50 percent. New York TV announcers noticed him winking and clowning more; he was no longer the iceman.
He also had a new Yankees batting coach, Kevin Long, who was the perfect complement to Rose. Long quenched A-Rod's thirst for video and would even watch tape of A-Rod during the game, between A-Rod at-bats. Then, he'd rush back to A-Rod, telling him to lower his leg kick or to stop reaching. But just when A-Rod would start overthinking again, here'd come the text exchanges with Rose.
It made for an entertaining 2007, to always have Pete Rose buzzing A-Rod's cell phone. They would text a minimum of twice a week -- "We like texting; you're kind of secret," Rose says -- and A-Rod began to think of Rose as a coach/mentor/adviser. He even stopped by to see Rose in Vegas on an off-day, May 14 (he was in town for an appearance, though gossip site TMZ.com reported Rodriguez spent much of that day with a stripper friend), and that shows how badly he wanted to pick Pete's brain. Rose would never go to a ballpark to see A-Rod -- "I don't want to bother him; he knows I'm watching," Rose says -- so, by summer, A-Rod says he began texting regularly for feedback.
"Yeah,'' Rodriguez says. "Sometimes he'll say, 'I haven't been watching. I've been out of the house.' And I'll say, 'Well, get back and watch. Let me know what you think.'"
By October, A-Rod's final 2007 numbers were a career-best 54 homers, 156 RBIs, 143 runs, 24 steals, a .314 average, about 90 texts from Rose ... and another postseason flameout. This time, A-Rod was 4-for-15 with six strikeouts in a first-round loss to Cleveland (some things even Rose can't cure), and the New York acid was back again. But A-Rod didn't have to take it anymore. He could opt out of his contract. He could pack up and go.
Two days after the exchange, on Nov. 15, it was none of the above. A-Rod signed a 10-year, $275 million deal with the Yankees, and Rose congratulated him for being loyal, for not flying the coop.
In fact, the only place A-Rod was flying to was ... Vegas. To celebrate.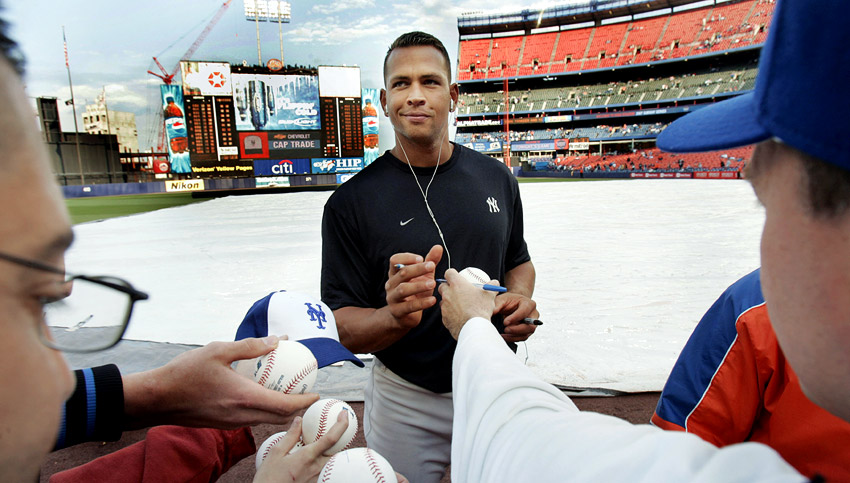 Andrew Mills/The Star-Ledger/US Presswire
When A-Rod talks about living in a fishbowl, Rose can relate to the superstar's experience.
ROSE'S LITTLE SECRET: BACK IN THE GAME
On the corner of Pertinent and Grateful sat Pete Rose. And on the corner of Confident and Hopeful sat Alex Rodriguez.
They were together in Sin City again this past winter, and it was clear they had helped fix each other's act. For A-Rod, he had this new rugged voice in his ear, someone who'd prodded him through the greatest season of his life, someone who'd seen even more vitriol and paparazzi than he had -- and more breaking pitches, too. "His accomplishments are incredible," A-Rod says. "Again, 4,000 hits are hard to even imagine. I play now and realize how hard it is to get one hit."
As for 67-year-old Rose, A-Rod had been his ticket back into baseball -- even though baseball didn't know it yet. "Oh yeah, I'm in," Rose says, smirking. "But don't tell Bud Selig that 'cause he might get mad. We won't tell Bud Selig that, will we? See, I'm trying to help Bud. What I try to do with my life is I try to make baseball a better game. So if I can make a player a better player, then I have helped the game of baseball.
"See, communicating with A-Rod keeps me close to the game. In my way, I can be involved in the game, as I'm watching. I'm still around the athletes and understand them, if I ever get a shot to get back. It's not like the game is passing me by."
During spring training this year, Rose and A-Rod resumed texting, and, as the season began, Pete sensed A-Rod was starting to think again about the back of his baseball card.
So the Odd Couple was back for another year and, oh, the places they'll go together. Think about it. This July 15, the All-Star Game returns to venerable Yankee Stadium for the final time, and baseball has invited every living Hall of Famer to an extravagant pregame ceremony. Of course, conspicuous by his absence will be the Hit King, who is persona non grata, who probably will spend that day in a Las Vegas mall, in snakeskin boots, signing "Sorry I Bet On Baseball."
Or maybe not. Maybe he'll be in the Yankees clubhouse the whole All-Star Game, via Alex Rodriguez's cell phone. Maybe he'll send his good friend, the best player in baseball, one simple text.
Tom Friend is a senior writer for ESPN.com and ESPN The Magazine.
Join the conversation about "Unlikely BFFs."